Back in the day, we had a gigantic entertainment center to hold our bulky television.
Decorating around the TV just involved styling the shelves on each side with books, photos, and maybe even VHS tapes.
As TV's got skinnier, but wider, our entertainment center went to Goodwill and a more streamlined console took it's place. Based on all the huge units in thrift stores, I know many other living rooms have gone through the same evolution.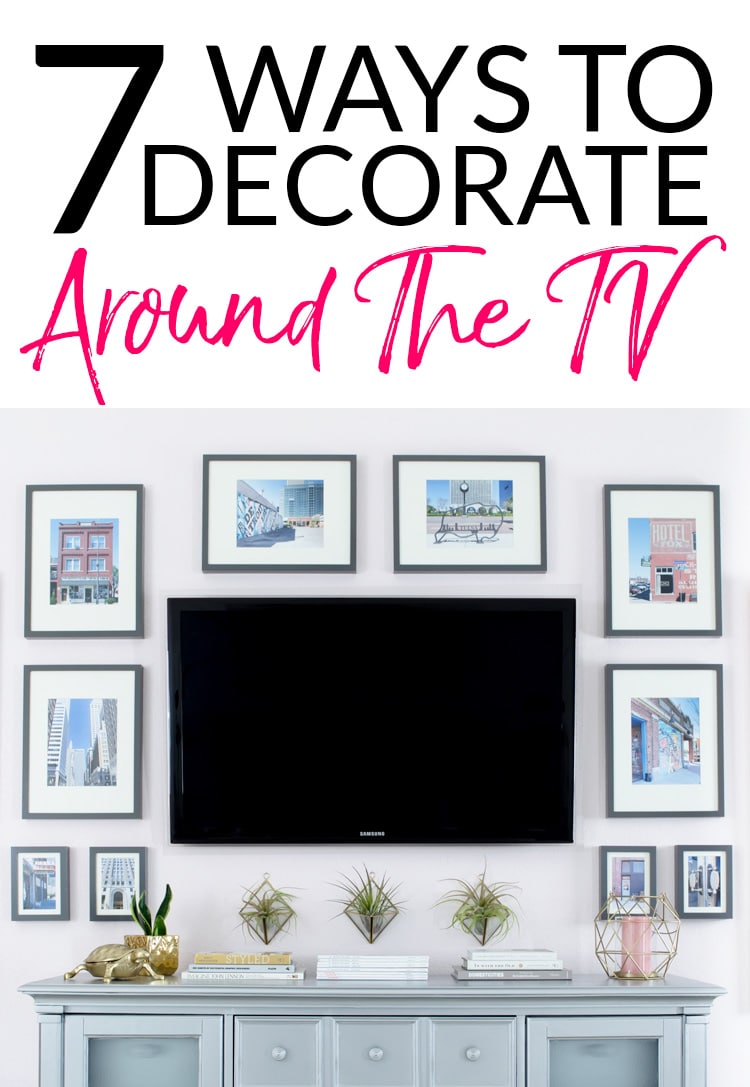 It wasn't a bad change, but we were left with a big black box and tons of wall space. The first couple of years we lived in this house that big blank wall taunted me.
Then when we decided to add a TV to the wall in the bedroom, I was forced to conquer the challenge a second time.
Knowing how much I struggled, I thought it might be helpful to pull together a bunch of options in one spot for you!
Whether you are decorating around a wall mounted tv or one on a console, I think you'll find some inspiration as you scroll below!
Uniform Repetition with Homemade Art
In our living room, I solved the big blank wall problem with a huge gallery wall of Gs. I used 32 of the 11×14 IKEA RIBBA frames, which were $6.99 when I got them.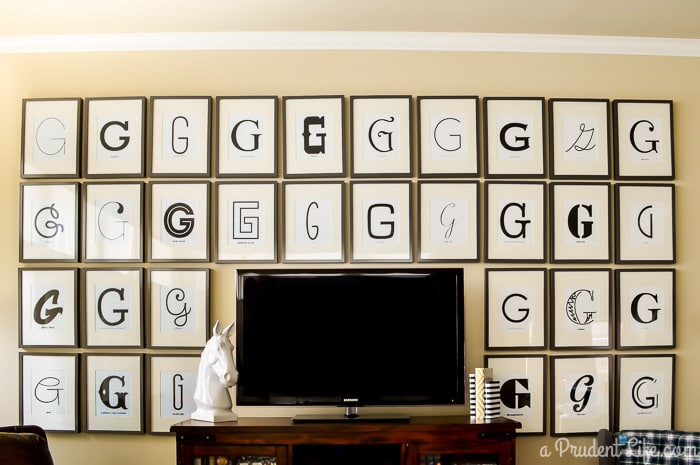 To fill them, we picked out 32 cool fonts and used the letter G (from our last name) over and over to create a uniform gallery showing many different styles of typography.
We just printed them at home, so the expense was just paper and ink, which helped offset the cost of all the frames. Hung uniformly, they create one giant art piece around the TV.
2019 Update: We still have the G's and they're still amazing!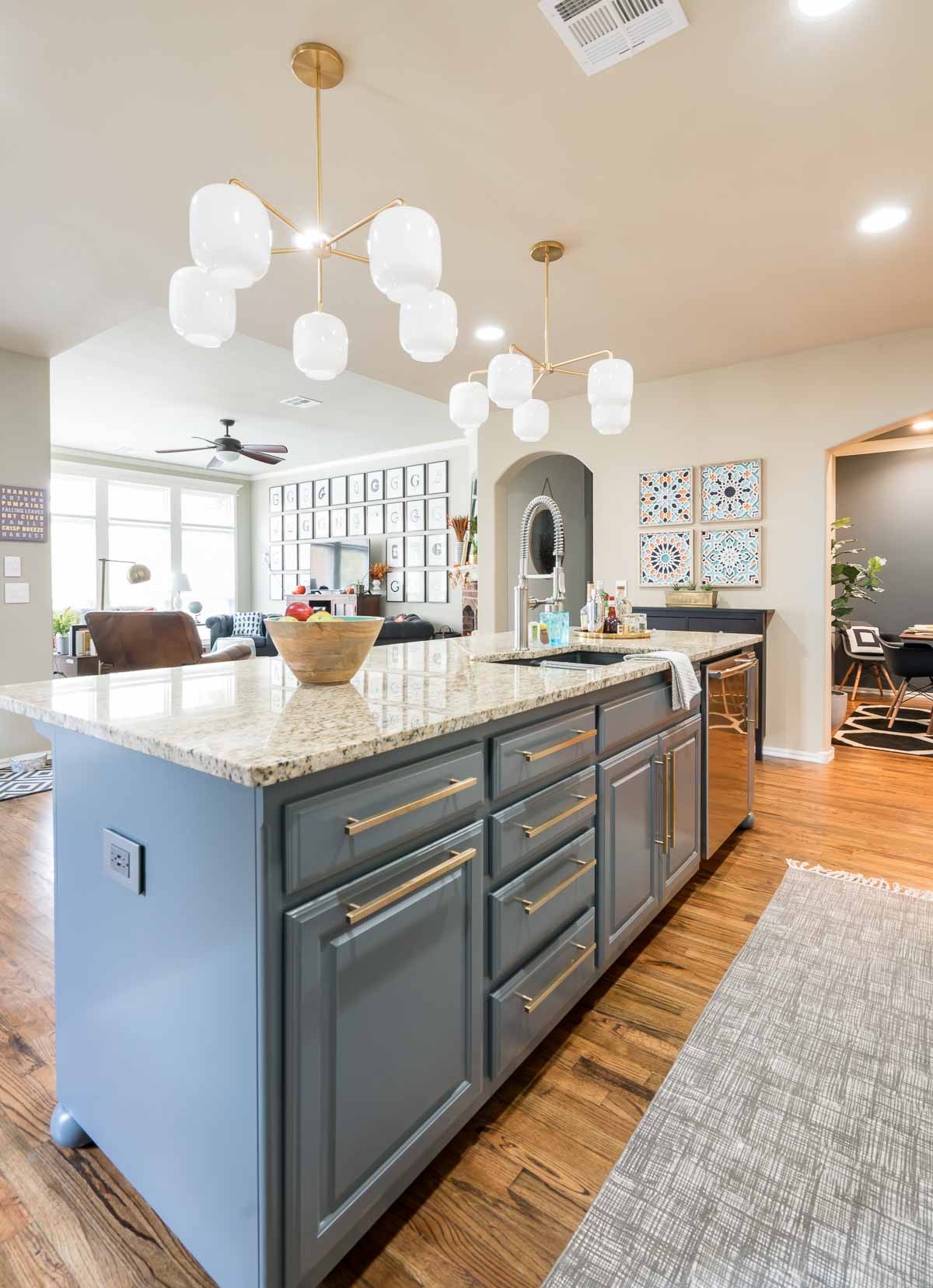 Black & White Family Photos
Maggie from Maggie Overby Studios also went for a black and white approach around the TV, but opted to use mainly family photos along with some sketches.
I love that she mixed up the frame sizes, but still has a bit of uniformity.
All the black frames keep your eye moving instead of being drawn only to the television. Just like the typography option, you could print the art at home to save some cash!
Color Architectural Photography
If black & white isn't right for your space, you can still get a great look with color photos. For our master bedroom, I surrounded our TV with photographs I took of my favorite buildings in Tulsa.
In addition to the photographs, I used some air plants below the TV to add a little bit of life.
You can find the wall-mounted vases at Target, or similar ones at CB2 (affiliate links). The Target ones have poor reviews mentioning breakage which I noticed in the store as well, so while I found a pack that seems okay, the CB2 ones might be a better buy long-run.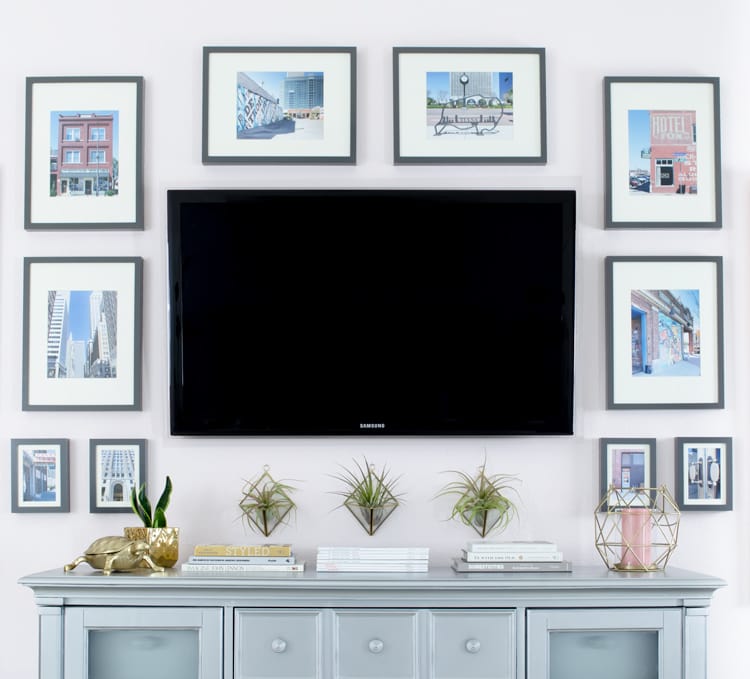 Zooming out a bit, I used large scale (30″ x 40″) prints from Leigh Viner to fill out the wall.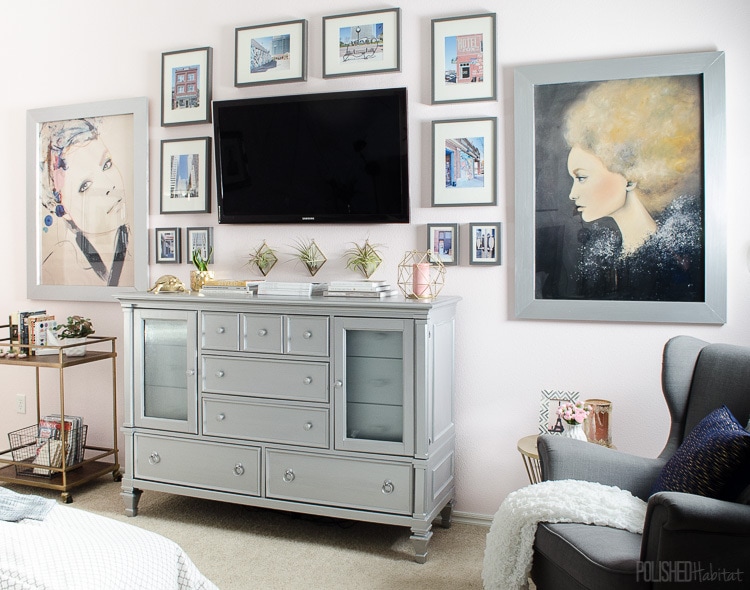 Paint the WALL Black
Jenna from Rain on a Tin Roof had the most brilliant idea! She painted a black frame on the wall, which totally hides the TV.
I love her choice of white frames with white matting to further draw your eye from the television. So freakin' smart! The before and after of her old TV gallery and this one is dramatic, so don't miss it!

Try a Combo
If you're like me and gravitate toward total order and linear arrangements, Rachel from This is Our Bliss can help us baby step toward the gorgeous things that can happen when you mix things up.
She used a large sculptural piece above the TV, then a blend of black and white frames that work together perfectly without being matchy-matchy.
Hiding Things in Plain Sight
This one is another step bolder, but Angela from Blue i Style provides an entire tutorial for creating a non-uniform gallery wall, even when you have Type A linear personality.
As a bonus, she includes a great idea for incorporating things like thermostats and alarm panels into the gallery!
Bold & Beautiful Mix
Jennifer from Dimples & Tangles shows that there is no need to obsess over matching frames or uniform art.
As with people, gallery walls can be gorgeous with a combination of colors, shapes, and sizes. I feel like the key to this one was centering the large photo over the TV as a focal point and working out from there.
Even though the wall seems random at first glance, you can find lots of intention, like the black frames balancing each side.
I don't have a picture of my last idea, but I think it would be awesome to do a wall of vintage oil paintings in big frames around the TV.
A bit of old with new is always a good interior design idea in my book!
Okay, are you feeling inspired to decorate around your TV or did you already have your own perfect solution implemented?
For more decorating ideas, check out my step by step how to decorate series next!
Don't forget to pin this post to your decorating and living rooms boards for easy reference as you tackle your wall!