So, you may be wondering what making lemonade has to do with the dining room makeover. Stick with me here for a minute and it will make sense. Remember that SUV full of IKEA boxes I shared on Instagram?  Well, some of them were a floating BESTA system that we were going to set up as a console table in our entry way. We were SO excited to finally be working on the entry. We even bought two chairs to stain, one for each side of the console. Imagine my horror when Corey opened the first box and said the wood was lighter than he remembered. I took one look and knew it was wrong! Normally, this would just be an inconvenience and we'd go switch out the boxes and go about our day. Except that IKEA is just over FOUR HOURS away!
So, I pouted. I tried to convince Corey it was a good idea to get in the car and drive back to Texas, make the exchange, and drive back the same day.
He wasn't so convinced that was the best idea 🙂 So I schemed and planned and schemed some more. Looking at the calendar, it was going to be mid-July before we could get back to do the exchange. And I'm just not that patient. Instead, I started carrying a piece of the cabinet around the house. After a few tries, I ended up in the dining room. If I tilted my head, and squinted my eyes just right I could envision the BESTA cabinet working as a side table in the dining room!
There you have it. I took my lemon of bringing the wrong cabinet home into the lemonade of doing a mini-makeover of the dining room! We choose to leave the upper shelf open instead of installing the drawer units that we bought when it was going to be an entry table, but that was the only adjustment we needed.
Now that you've read the long-winded back story, it's time for the fun part!
Here is a before shot from Christmas. The bones of the room were great, it was just a little boring. The stand on the left was just there for Christmas because we needed somewhere for the nativity scene. And the giant poinsettia was just there because I won it at a Christmas party 🙂 The rest of the time both corners were empty.
Before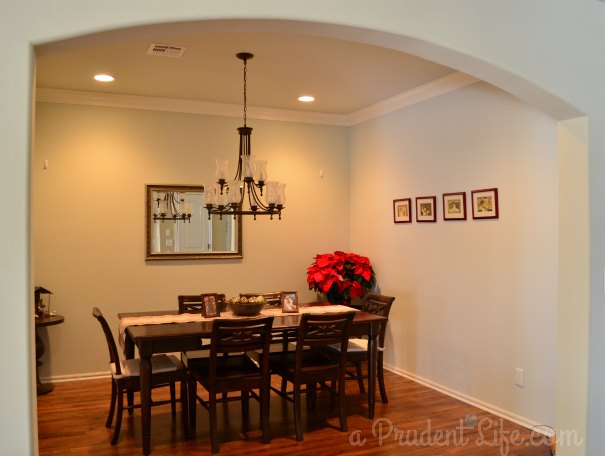 Here are the after shots! I'll add a source list at the bottom so you can just enjoy the pictures for a moment!
After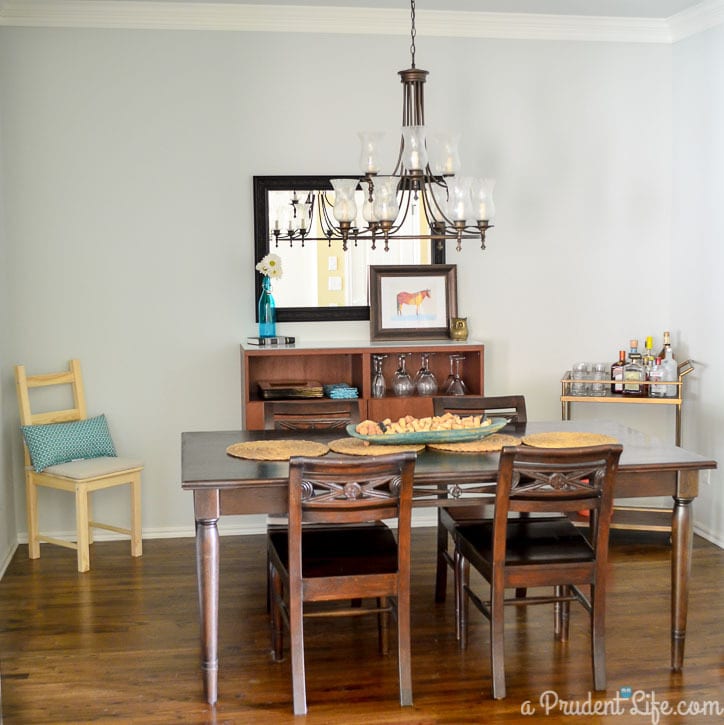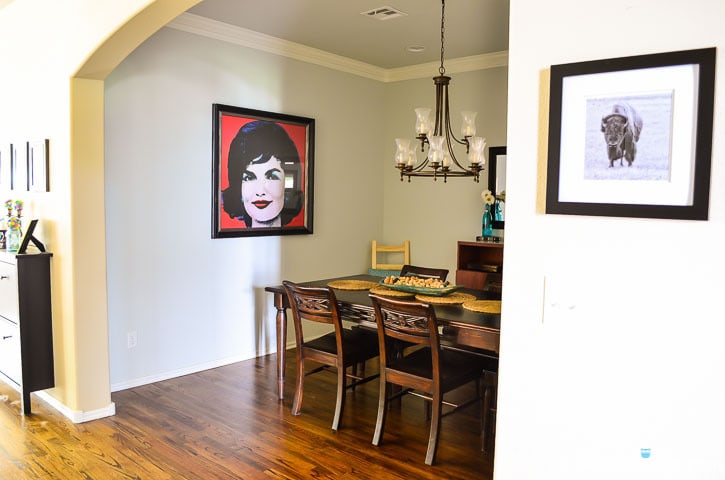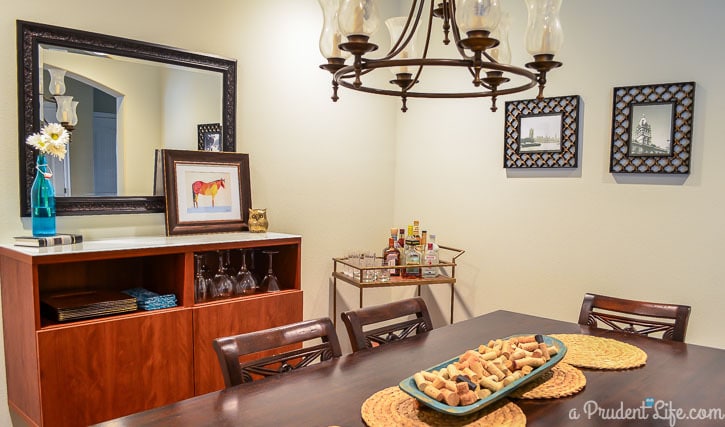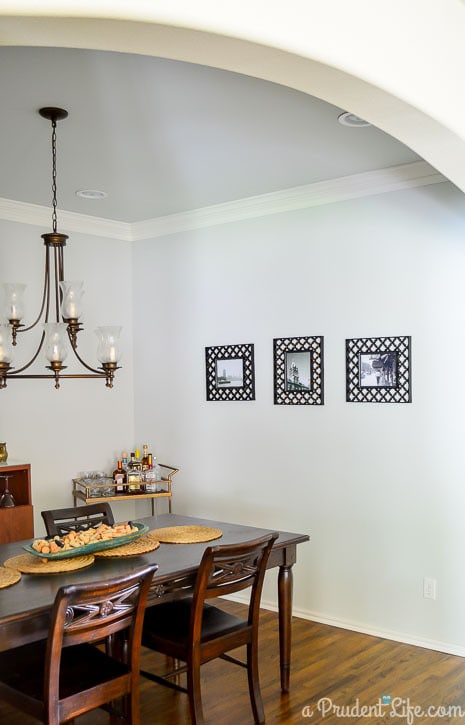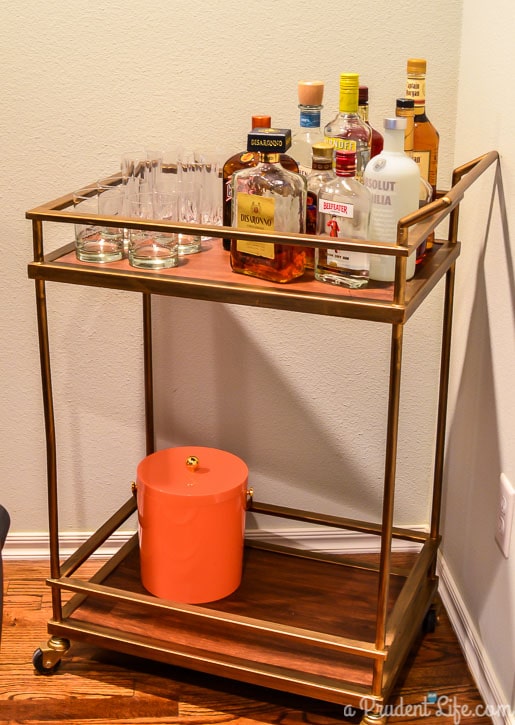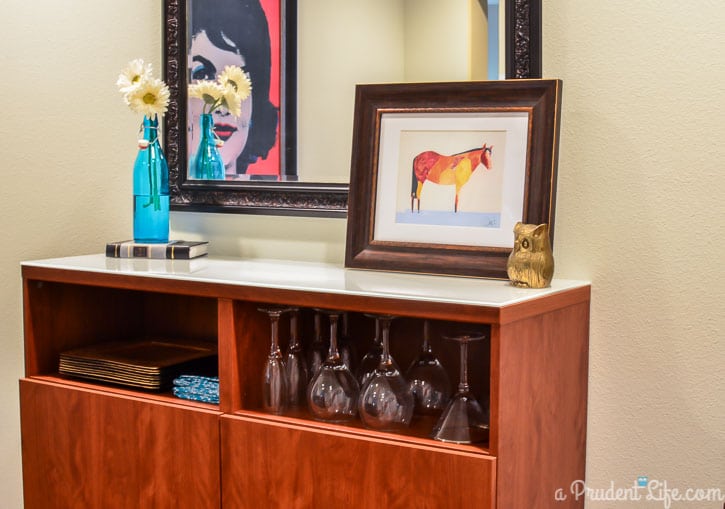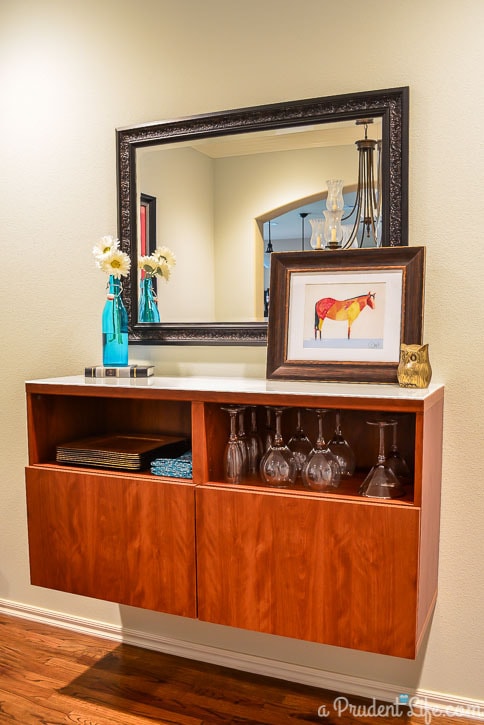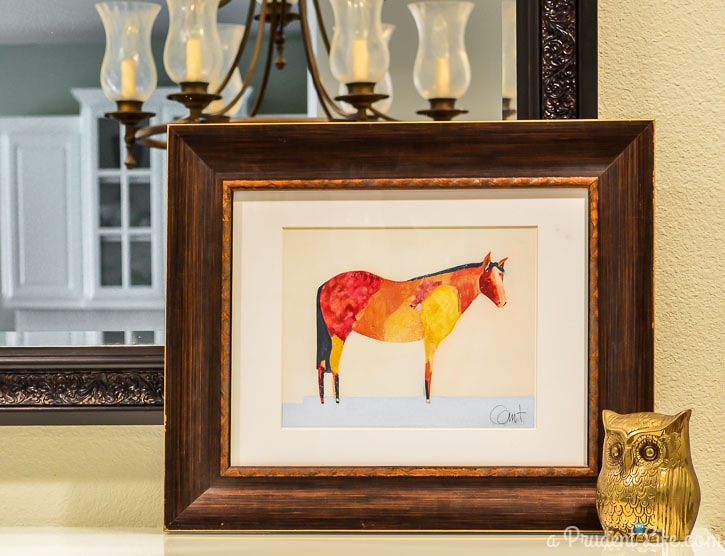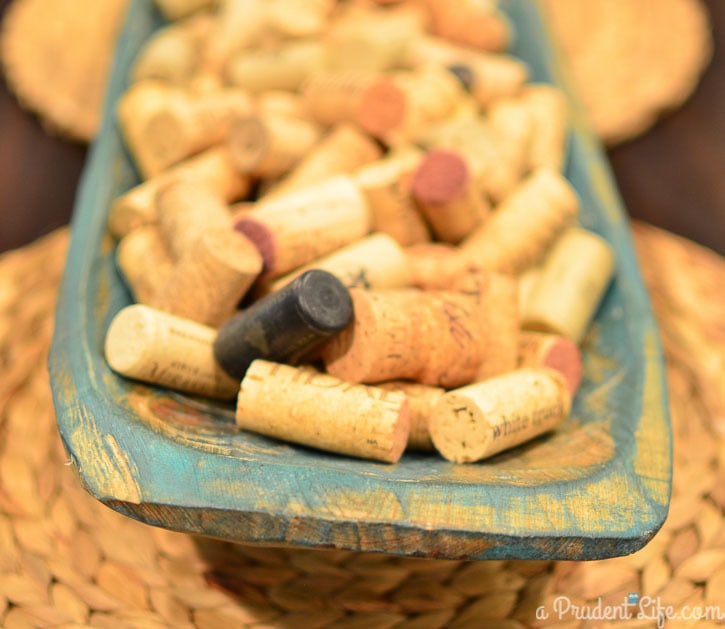 Some of you wondered what we were going to do with the giant Jackie when you noticed her missing from our office makeover before & afters. Once we installed the new console, we realized Jackie would work great in the dining room since the BESTA series is more modern that most of our furnishing and Jackie needs a swanky modern space.
In addition to bringing Jackie in, I painted the silver mirror black and added a few accessories we had picked up in thrift/antique stores lately. The bar cart was added in the spring after months of stalking it at Target waiting for it to go on clearance.  I also re-framed some photos with clearance frames from Hobby Lobby for the right side wall. 
Source List:
Bar Cart : Target (Clearance – woot woot)
Ice Bucket: Oh Joy for Target Spring Collection
Horse Print: Artist Anthony Grant (purchased at local art festival)
Console: IKEA BESTA ($120 total)
Pieces needed to match our side table set up:
1 – BESTA shelf unit/height extension unit47 1/4 x 15 3/4 x 25 1/4   ($70)
2 – BESTA VARA doors 23 5/8 x 15″  ($5 each)
2  – BESTA Suspension Rails  23 5/8 ($10 each)
1 – BESTA top panel in gloss white 47 1/4 x 15 3/4 ($20)
Oh yeah, the color of the console in the photos is Medium Brown. They also come in white & BLACK-BROWN, which is what we intended to buy. In our defense, the aisle we were in had about two million boxes labeled either white or brown. I can't tell you how many times we checked every box to make sure it said brown and not white. So tricky that there must have been another aisle with the darker brown!
For a room makeover that started with a BIG box picking mistake at IKEA, I am in love with the way it turned out.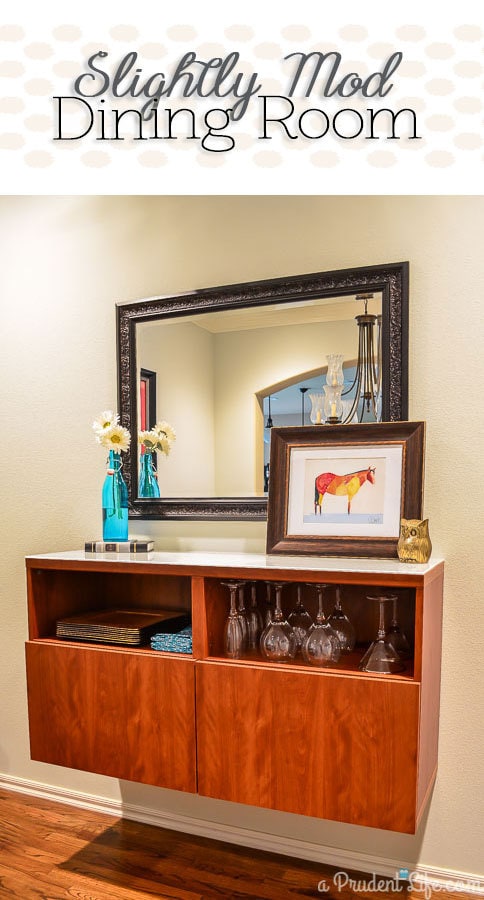 If you love room reveals, make sure you check out the kitchen tour!
Post linked up at: Take a Look Tuesday, DIY'ers, Do Tell Tuesday, The Makers, Whimsy Wednesday, Hit Me With Your Best Shot, Inspiration Gallery, The Pin Junkie, Craft Frenzy Friday, Remodelaholic, Work It Wednesday, Link It or Lump It, Thrifty Decor Chick