What would you say if someone wanted to send you a box of miscellaneous thrift store purchases of their choosing? Then said that you have to revamp whatever you get into something that actually works in your home? Probably, "Um, no, that's crazy".  But that's how the game of #swapitlikeitshot is played, and I have trouble turning down a fun challenge.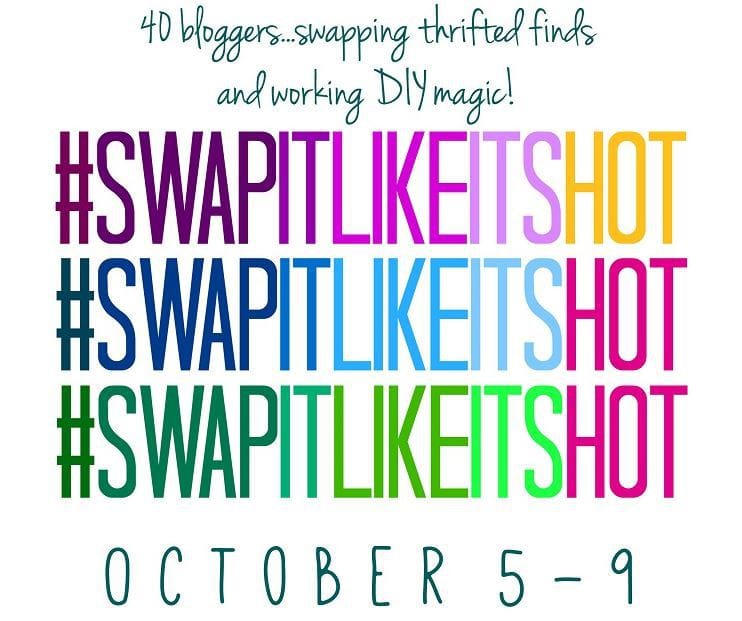 Charlotte from Ciburbanity came up with this insanity and recruited 40 bloggers to join in this time. Each of us went shopping for $10 worth of thrift store goodies, and shipped them off to our assigned victim..err..blogging friend. And we each received a box from our new enemy….err…blogging friend.
Let's start with what I received in the mail from Corinna, who blogs at A Designer At Home. And if you're visiting from Corinna's blog, WELCOME! You can read a little more about me here in a fun interview or here on my legit about me page. 
I was seriously nervous waiting for my box of goodies from Corinna. What if I had NO ideas? What if she sent me something insane to work with, like a shrunken head? I mean, I've seen some crazy stuff in thrift stores!
When I tore into my box, she gave me ALOT to work with! Three baskets, two glass candle holders, and a set of metal napkin rings. Wow!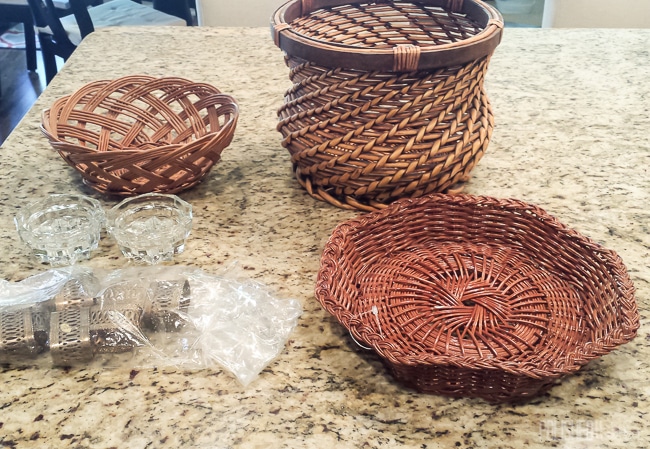 If I had unlimited time, and a green thumb, I would have macramaed the smaller round basket and the tall basket together into a two tiered hanging planter. Wouldn't that have been cool? But, since I didn't have time to learn a new skill, and I am known to kill plants, I needed a different plan.
Sometimes you just get lucky and inspiration strikes.
I decided to work with the tall basket, and weave chunky yarn between all the diagonal sections to add a little softness and fun. Before I started, I painted the whole thing white.
Then I sat down in front of  Jimmy Fallon to see if my idea would actually work. On the TV, he wasn't in the living room. That would have been a way better story.
Lookie here, progress!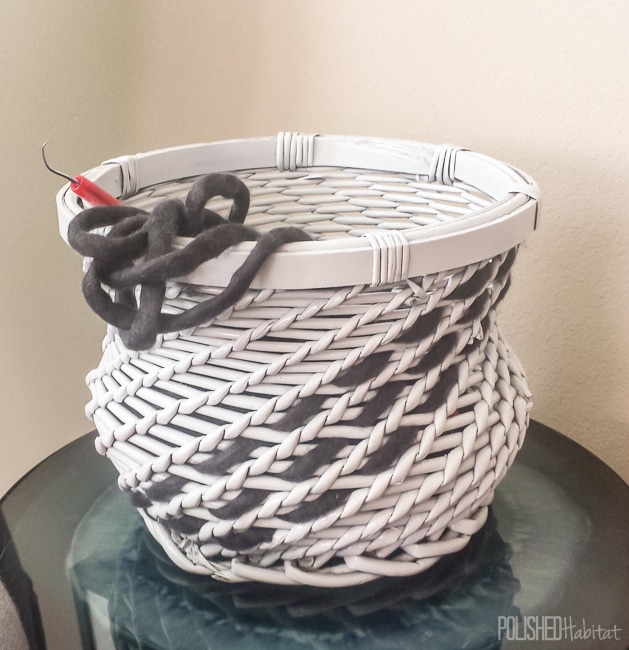 Once I figured out the best way to get the yarn woven through the basket, it actually went quicker than I expected.
I cut a long piece of yarn, enough for three rows. Otherwise I would have been pulling the whole skein through each gap.
Then I just used my vinyl weeding hook to push and pull the yarn through. I wanted more yarn to show, so I went with a pattern of going over two rows, under one, over two, etc.
Don't stab your other hand that's probably inside the basket when you put your hook through to grab the yarn. It hurts.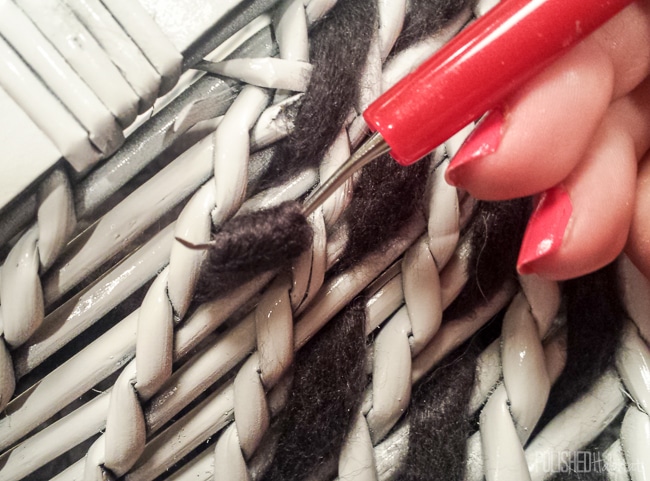 I used the flat back of the hook when I needed to start pushing the yard through to the inside of the basket. Once I got some through, I could pull the rest of the tail with my hands.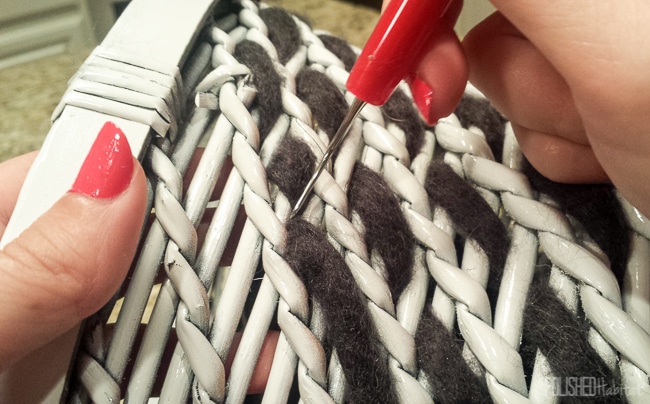 When I was done, I decided the rim of the basket needed an accent color. It would have been easier to decide that before the yarn, but I was still able to tape it off and paint the rim with copper metallic spray paint.
When the paint was dry, I had a new place to store magazines!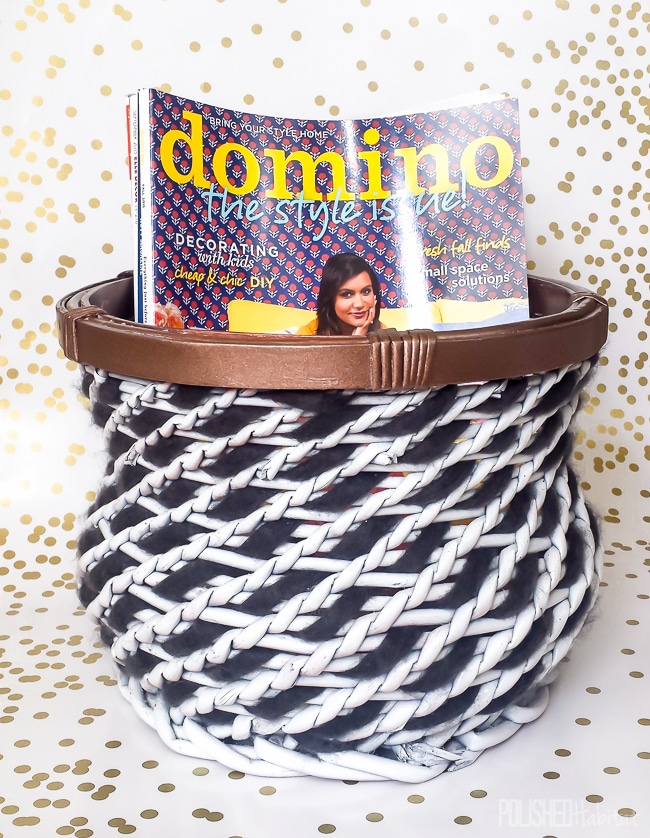 Leaving the rim the original wood would have been a nice touch in retrospect. But overall, I think it turned into a pretty cool transformation!
I think I've got a plan for the napkin rings Corinna sent too, but I'll get back to those after the One Room Challenge (don't know what I'm talking about – check THIS out!)
Now don't forget, I had to go shopping for thrift store items to ship too! It was extra fun for me because my items happened to be going to Angela from Blue i Style. We are real life friends (seperated by 700 miles)! In fact, we had just met Charlotte (the #swapitlikeitshot host) together on a trip to New York City.
Anyways…I found this granny peeling apples art and became obsessed with the frame. It had some fun potential. I kinda wanted to keep it and use mirror paint on the glass to turn it in jewelry tray. I also scored a crisp legal size clipboard, perfect for a blogger who is as obsessed with organization as I am. I wanted something blue to keep up with Angela's Blue i Style name, and lucked into some blue fabric.
Click here to see what Angela made. I might have already seen it and know it's brilliant.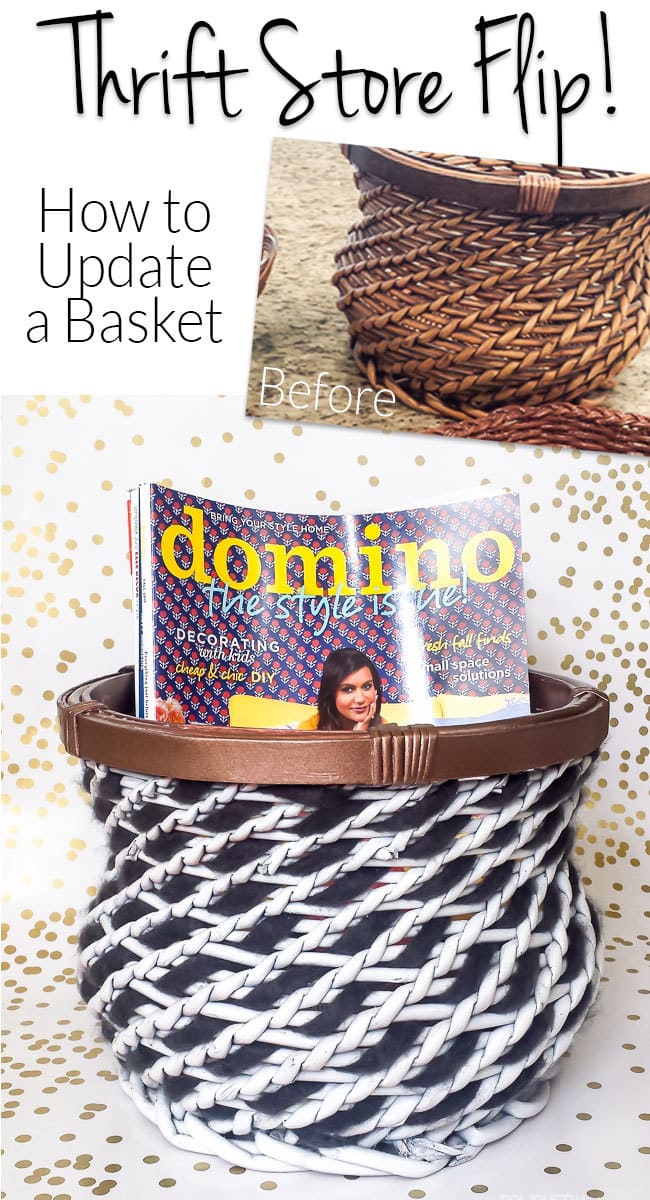 Search the hashtag #swapitlikeitshot on social media to follow along with all the fun or check out our Pinterest Board. Here's the full list of participants!
MONDAY
That's My Letter / DIY On the Cheap / Run To Radiance / The Gathered Home
Two Thirty Five Designs / Chaotically Creative / Decor Adventures / Homemade By Carmona
TUESDAY
Thoughts From Alice / Reinvented / Confessions Of A Serial Do-It-Yourselfer / Restoration Redoux
Always Never Done / I Am a Homemaker / Black and White Obsession / Windgate Lane
WEDNESDAY
Town and Country Living / brepurposed / The Charming Farmer / 58 Water Street
Designer Trapped In A Lawyer's Body / Year of Serendipity / White House Black Shutters / Desert Domicile
THURSDAY
Two Purple Couches / Like A Saturday / Finding Silver Pennies / Artsy Chicks Rule
Something to Be Found / Shades of Blue Interiors / Simple Designing / Our Southern Home
FRIDAY
Evey's Creations / Dragonfly and Lilypads / Weekend Craft / Ciburbanity
A Designer At Home / Polished Habitat / Blue i Style / Addicted 2 DIY
Post shared at: Remodelaholic