Oh boy. I'm about to take on the most disorganized, embarrassing, clutter-filled space in our house. Our master closet has become my nemesis, sucking the life out of me every time I walk though. I've got some beautifully organized spaces in our home, and a pretty good knack for coming up with organizing solutions that are sustainable for the long-term. The problem is that before I've dedicated time to creating a functional space, I'm a disaster!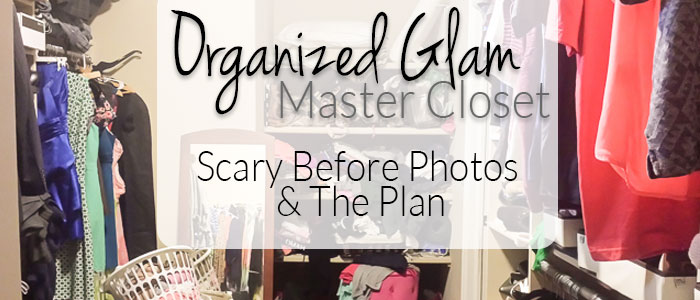 When I found out about the One Room Challenge, it gave me the perfect opportunity to work through my most problematic spaces one by one, on a deadline. Twice a year Linda from Calling it Home hosts the event, and 100+ bloggers and designers tackle rooms over 5 weeks. You can read more about my prior spaces in yesterday's post. There is also an introduction to my sponsor, HomeRight, AND a giveaway you need to enter! So go do that, and then meet me back here. Okay?
Everyone back? Let's rip the band-aid off and check out my disaster.
The master closet is also a walkway. It connects our master bathroom to the laundry room (which makes putting away laundry so much easier!). You can see how it flows in the floor plan.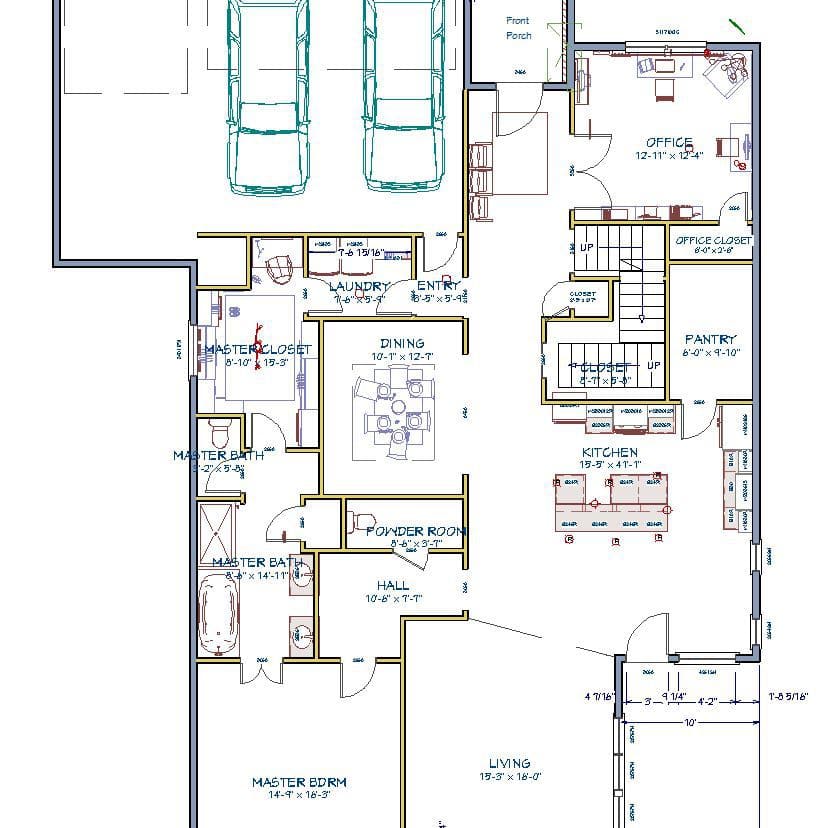 In addition to making the space prettier, we have a few functional issues that need to be solved. The lighting isn't bright enough and has been making us crazy. After some quotes for adding recessed lighting equalled 90% of my entire closet budget, I had to pivot and come up with a new solution. I THINK I've got one and will let you know how it goes in week #2!
Because the closet is on one side of the bathroom, and the bedroom is on the other, we seriously NEVER use the dresser in the bedroom. EVERYTHING is in the closet from normal clothes and undergarments to PJs and swimwear. We need drawers to keep the space tidy.
Some of the current shoe shelves are too far apart AND I might have too many shoes, which means shoes end up piled on top of each other on every shelf. Not cool.
Outside of the lighting, the biggest issue in the closet has always been the shelves in the recessed area next to the laundry room door. They are too deep and tall, so we end up with things hidden and there are piles on piles on piles. On piles. Ugh. At one point, there were at least some organized baskets involved, but once I decided we were gutting the closet, all hell broke loose. And I decided the closet was getting done way back in February. So yeah, 8 months of chaos results in a big mess.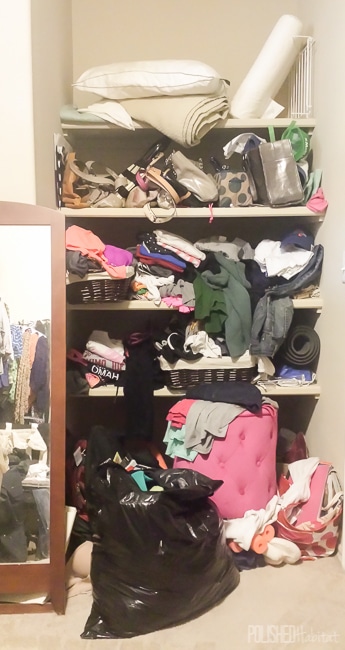 Thankfully, there isn't a pile of ACTUAL trash in the room, it's a donation bag. I couldn't wait to get started!
My new plan for the space makes me pretty happy. All those problem shelves are going, and the nook is turning into a vanity area. And you probably noticed the walls are getting some navy love. Because that's what any logical girl struggling with not enough lighting would do, right?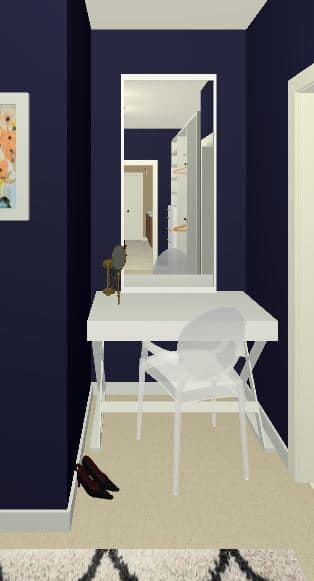 Here's a farther out view.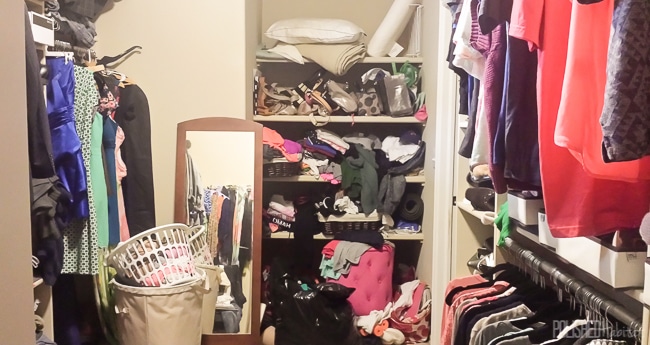 And the plan. So. Much. Better.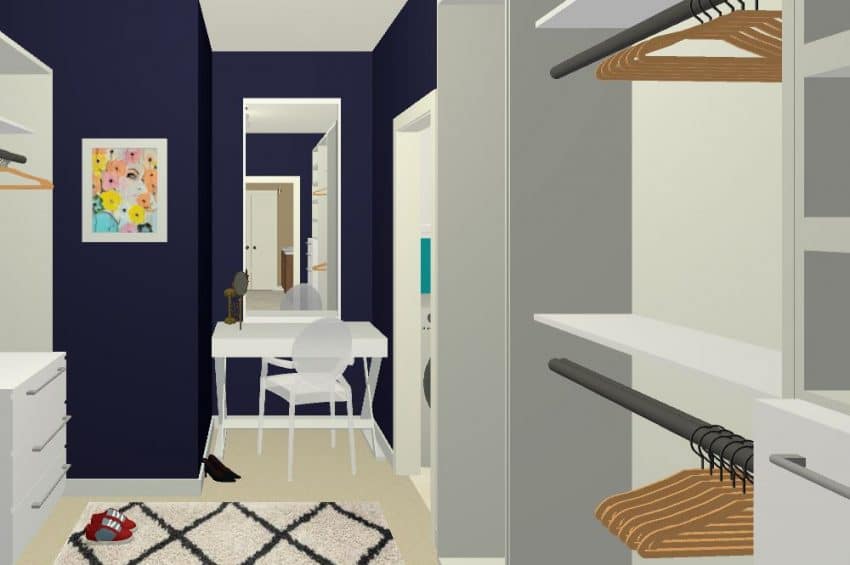 This is the current view looking in from the laundry room.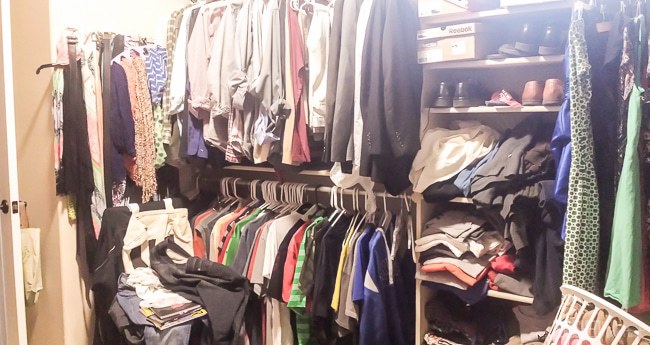 We have a high skinny window, but the light is blocked by a shelf directly below it. It took MANY iterations to come up with the perfect design to let the light shine, but I think I've got it. Directly under the window will be some amazing DIY acrylic small purse/clutch racks, and under that I'll have storage for larger purses. More organizing magic will be happening, but I can't give away all my secrets now. This is just the rough plan.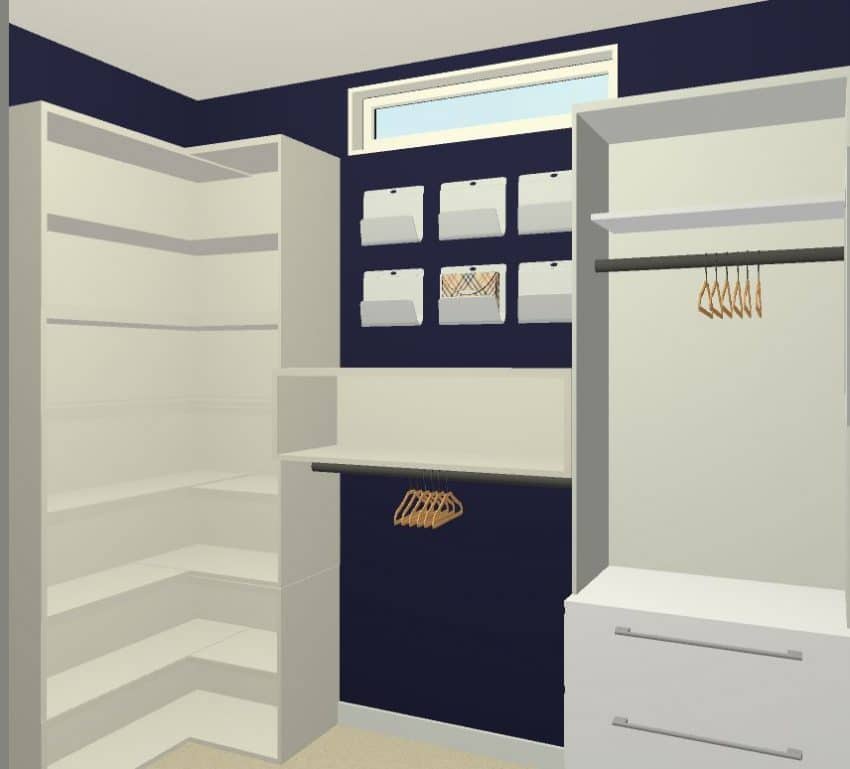 On the other large wall, everything is getting ripped out as well. This side used to be completely jammed full, but I've managed to do a pretty good job moving things to the donate pile. I had to get a head start so I could sell my old wood hangers at a garage sale. My clothes are now all on these velvet hangers (affiliate link) from Amazon and I love them. Nothing falls off! Plus they take up way less space. I should have bought them years ago.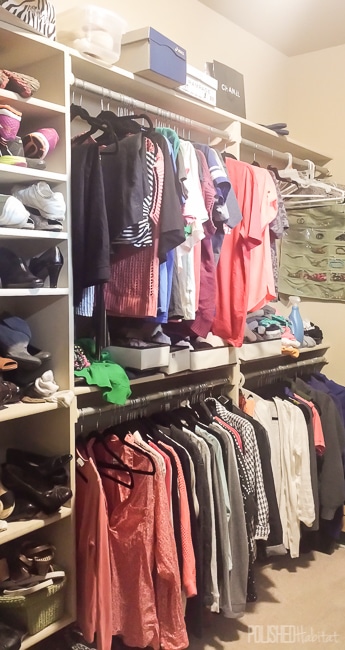 More drawers, more shelves, more hanging space, more happiness.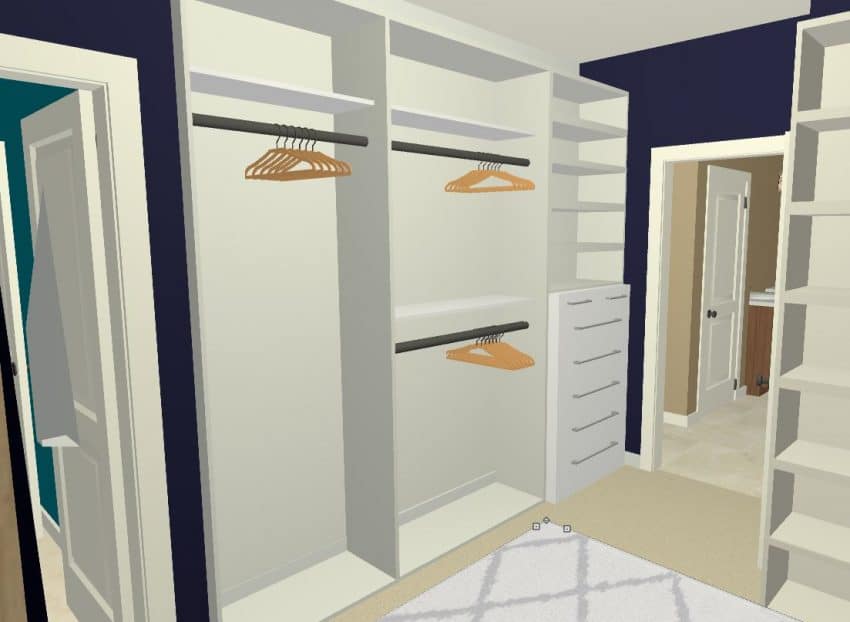 As you could see, navy and white are the primary colors happening this round. Satin brass, shiny chrome and acrylic are also going to have supporting roles. Because the actual clothes coming back into the space are a variety of colors, I wanted the room to stay neutral so it didn't turn into a circus tent. I've also considered changing out our entire wardrobe to better match the space, but I've got 99 budget problems and a new wardrobe ain't happenin'.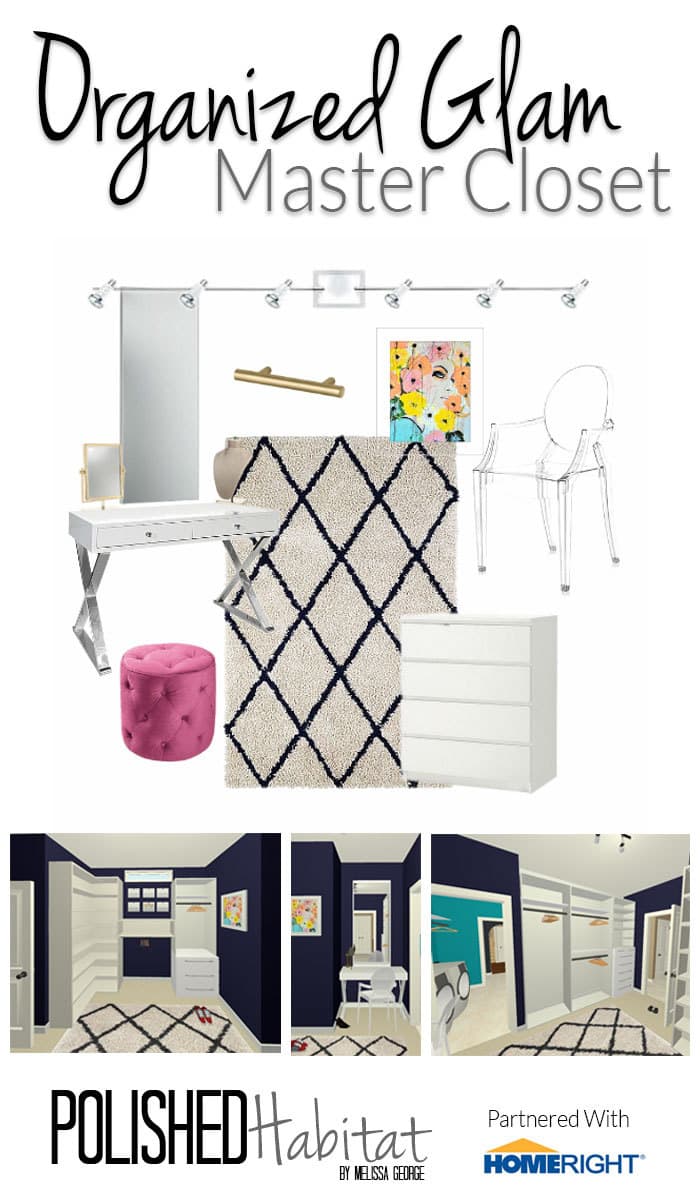 I had to go with a different desk for the vanity because the dreamy beauty from my mood board is out of stock, seemingly everywhere in the country, until December. I almost cried. But the new option still has chrometastic legs, and saved me some money, so it's not a total loss.
Whew! I can't believe we actually get to start demo now. You know, after we finish weeding through all the clothes and moving everything upstairs to the guest closet for the next five weeks. Anyone want to come help with that? Bueller? Anyone?
See the whole closet makeover week by week:
Don't forget to hop over to yesterday's post to enter the HomeRight SteamMachine giveaway – everyone needs one of these magic machines! Mine most recently saved me when I thought I was going to have to iron my 118″ curtains. Anything that gets me out of ironing AND helps me clean is a must have product around here.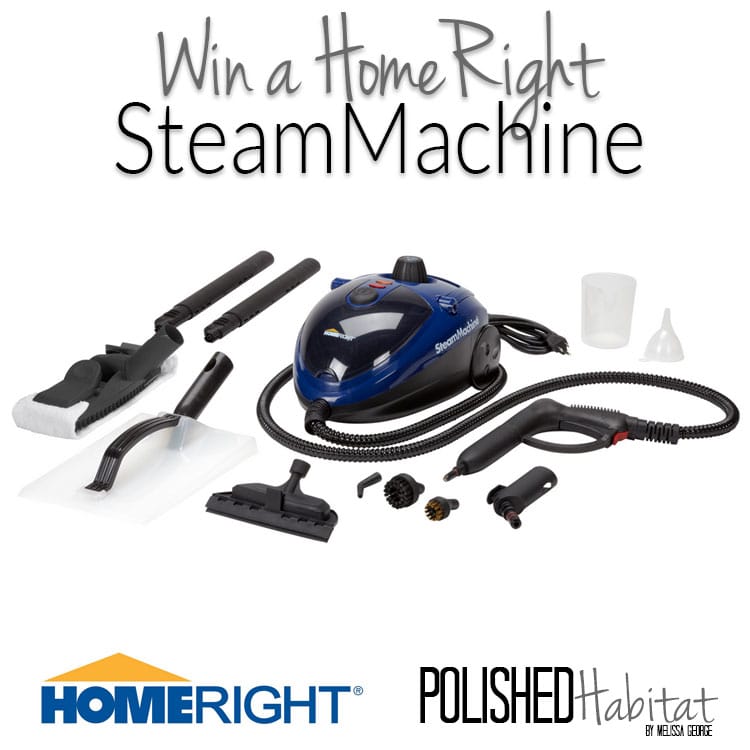 Have you seen my first ORC reveal from Fall 2014?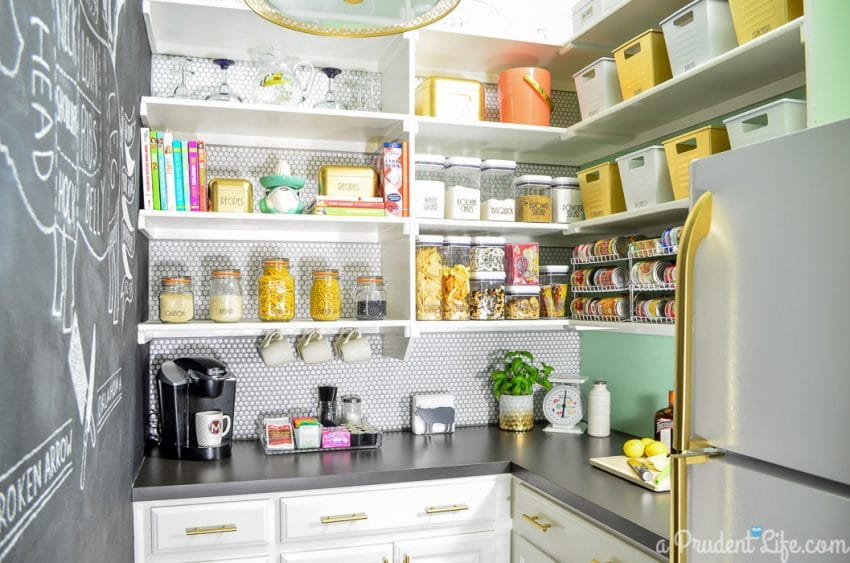 Post shared at: Remodelaholic