As I promised in the garage makeover reveal, I'm sharing the full tutorial of how we hacked IKEA pieces into that awesome custom garage workbench. Aside from being a budget-friendly option, this tutorial will work for any size space. It's totally customizable!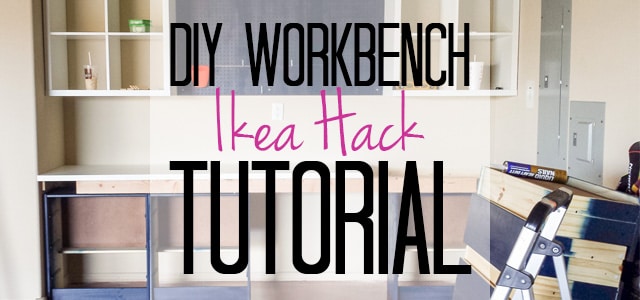 Before I came up with the IKEA plan, we considered going with a pre-made bench like the one below from Amazon. But the nice ones we could find were not cheap, and we would have needed at least 2. Plus, it seemed like a waste not to have some storage down below. A girl needs STORAGE!
Plan B was to purchase unfinished lower kitchen cabinets and add a countertop. I was day-dreaming about how organized the garage could be if I had a ton of drawer space. BUT, standard lower cabinets were a bit too deep for the area of the garage we were using. And again, the price was getting a little out of control as I figured out how many we would need.
Plan C was darn near perfect. What if I could hack together inexpensive IKEA storage into something amazing? I grabbed some graph paper and marched out to the garage to scheme up my dream workbench. Once I had my measurements, I flipped through my well-loved IKEA catalog to see what kind of options I had.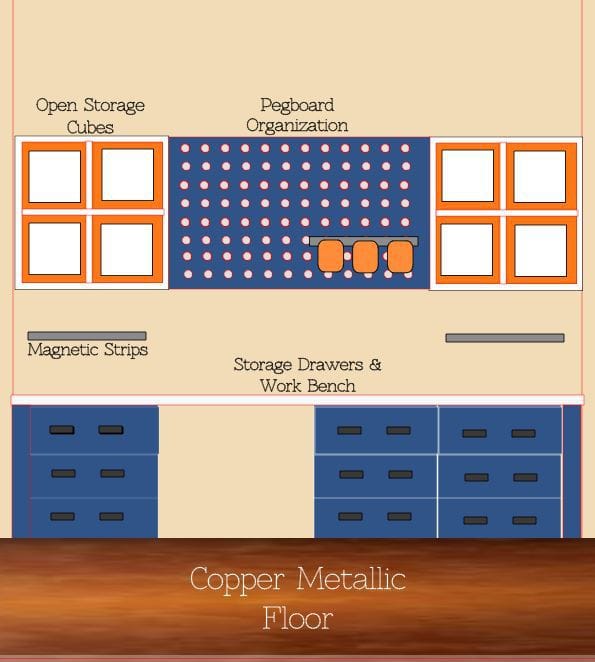 For the base of the workbench, I picked out 3 drawer RAST dressers. They are only $34.99 each! To create the top to the workbench, I got a little brave. Instead of spending money buying or building a custom countertop, I bought 3 LINNMON table tops. The depth was ideal and we would just need to cut a little length off one of them to get the perfect fit. It was a risk because I didn't know how well they would look since they wouldn't be a solid sheet, but they are $5.99 each. At that low price, I wanted to at least give it a try. Spoiler alert – it works!
Above the workbench, I wanted a big pegboard so frequently used tools would be easy to access. When I saw the KALLAX storage cubes in the catalog, I realized they would provide tons of storage if I hung them on the wall and used them to frame the pegboard. The cubes are HUGE and sturdy for their price – $34.99.
The downside of my brilliant plan was that IKEA is almost 4 hours away. Conveniently, at the same time I was scheming up this workbench, my mom was scheming up a trip to my brother's house. And conveniently his house is only 45 minutes from IKEA. And conveniently, she has a big SUV that I could drag all this stuff home in! Sometimes life works out so well.
Sadly, the first step in putting the workbench together was assembling all the separate pieces I hauled home. I spent several hours with Netflix and a screwdriver. The tool, not the drink. Although in retrospect…
Once everything was assembled, I spray painted all the dressers and the pegboard in Rust-Oleum Painter's Touch Satin Midnight Blue.  When I was talking to Rust-Oleum about the copper floor project, they were awesome enough to send me this paint as well. It's the same paint I would have used even if I was buying it. Anytime I can spray paint something instead of brushing it, I'm all in!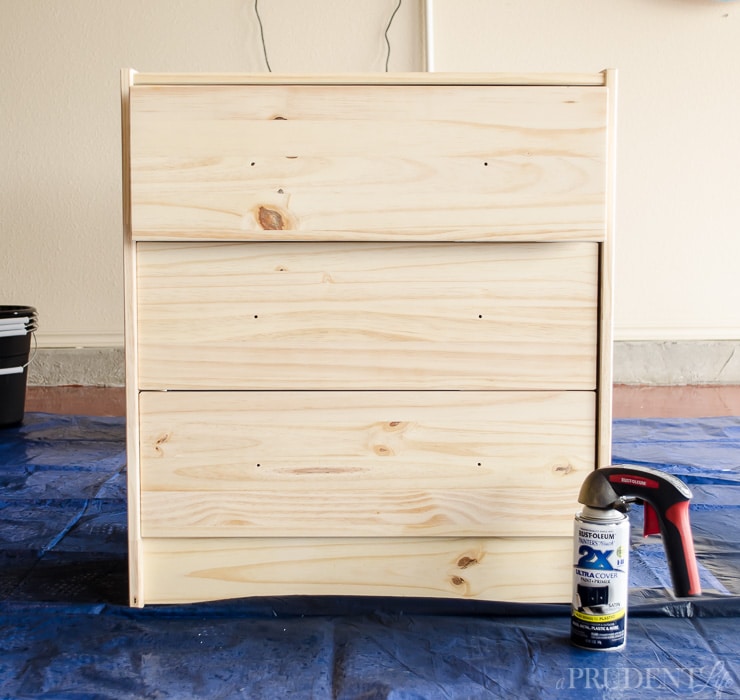 That handle on the paint was mine before this project and I LOVE LOVE LOVE it. If you EVER spray paint, you need one. It's the Rust-Oleum Comfort Grip
 (affiliate link) and you can get them on Amazon or at most hardware stores.
To paint the pegboard, I just hauled a tarp to the front yard and let all the neighbors think I was crazy. Try to pick a day that isn't too windy.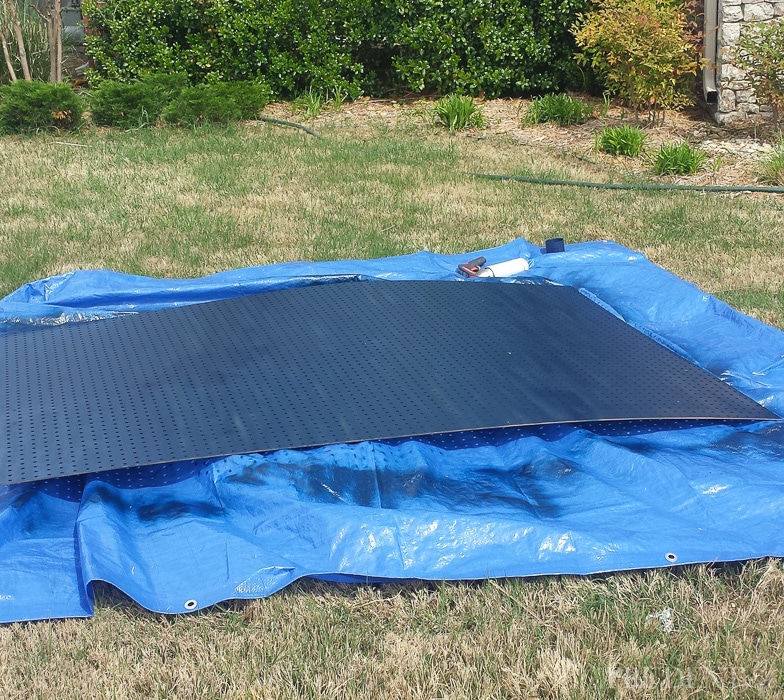 With everything assembled and painted, it was finally install day! We started with the upper KALLAX shelves.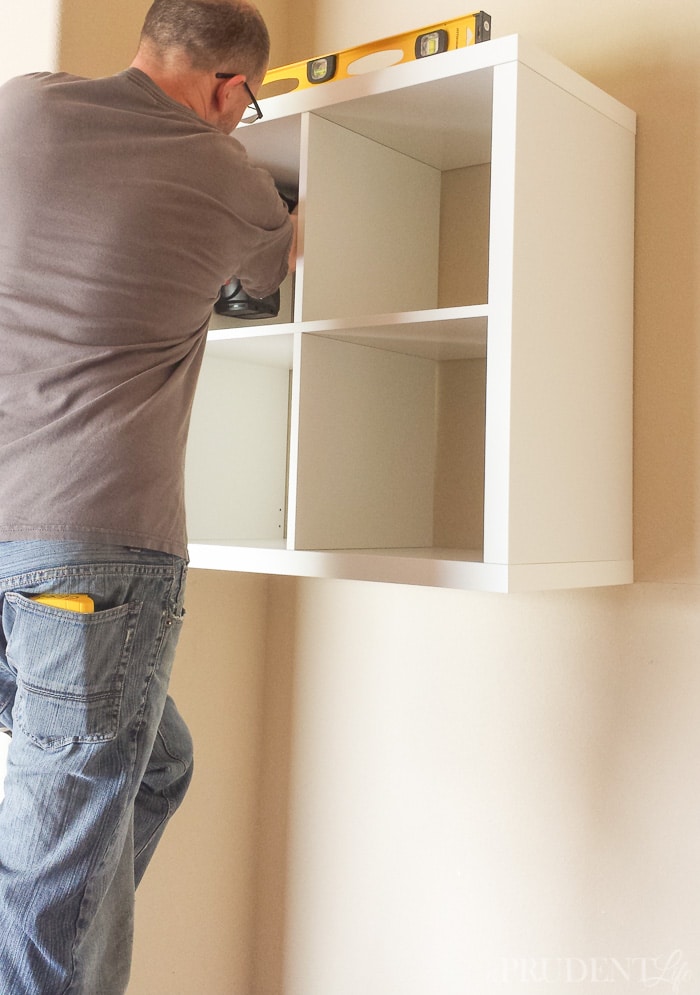 They are HEAVY when they are empty, so you'll need some serious anchors and some strong arms. We used 265 lb toggle bolts to secure both units to the wall.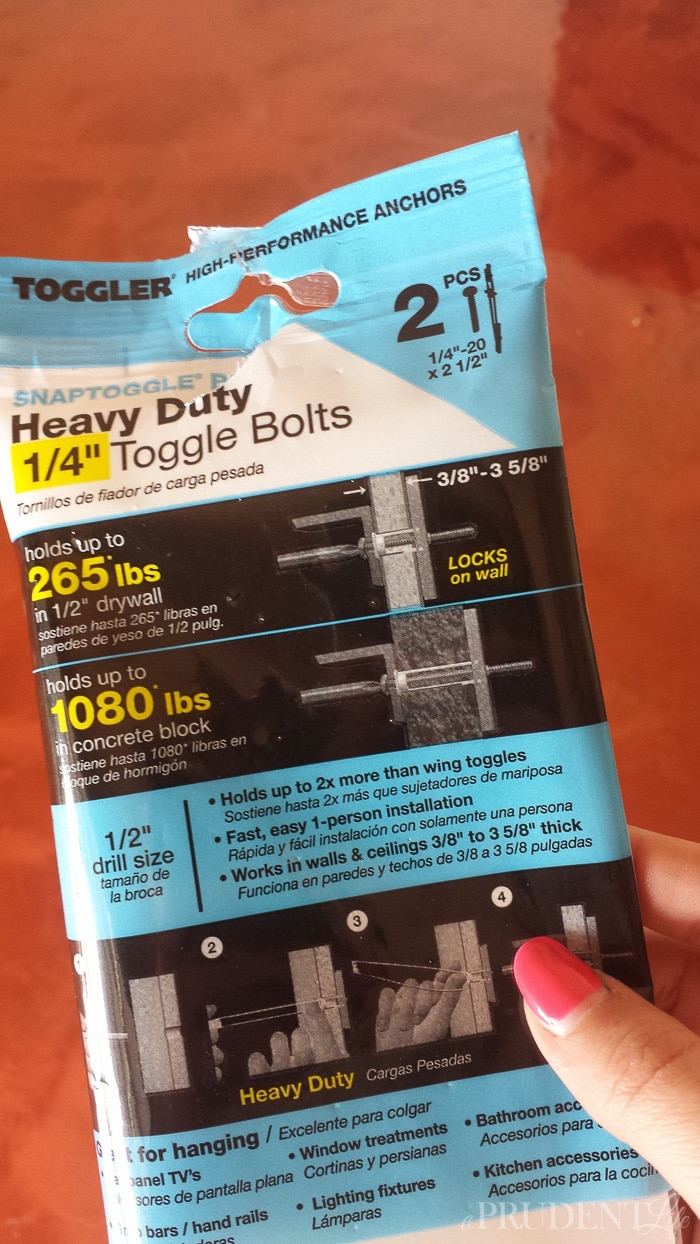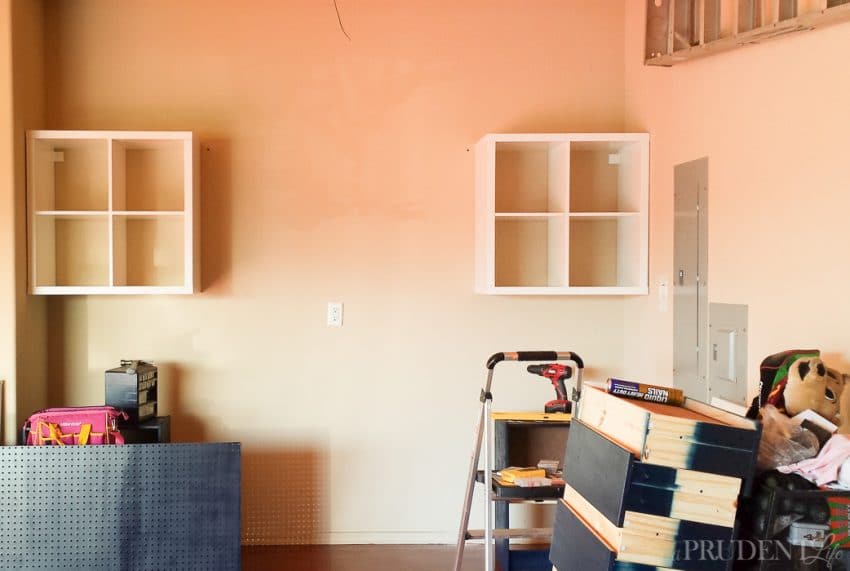 Next up was the pegboard. We measured the distance between the KALLAX shelving units and cut the pegboard to fit. Don't forget that you'll need a gap behind the pegboard in order for the pegs to actually work. We used stacks of washers between the pegboard and the wall.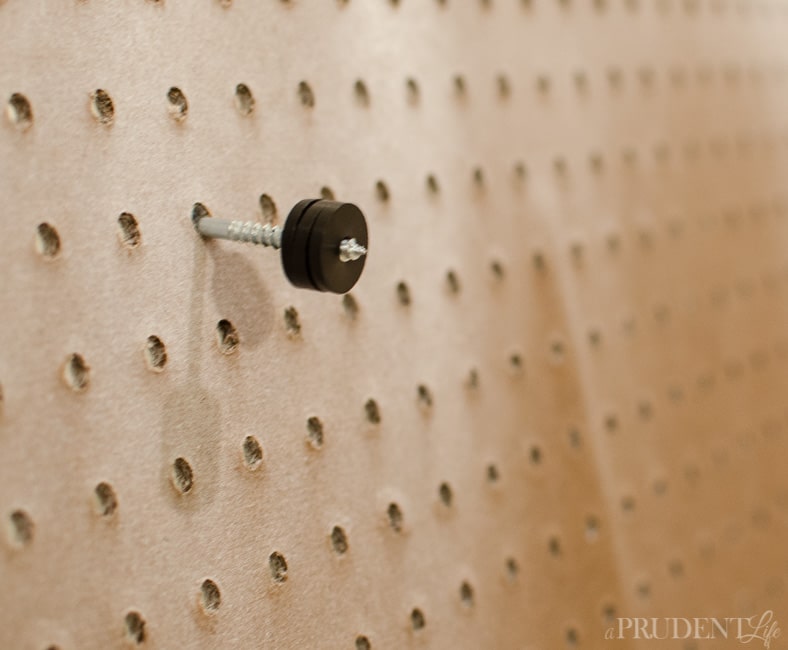 With the upper section done, it was time to tackle the workbench! I designed the workbench to have some  open storage space, which meant we had two dressers on the left side and one on the right side. To add stability, we attached the right side dressers together. First we clamped them, then we screwed them together, making sure the screws wouldn't impeded the drawers.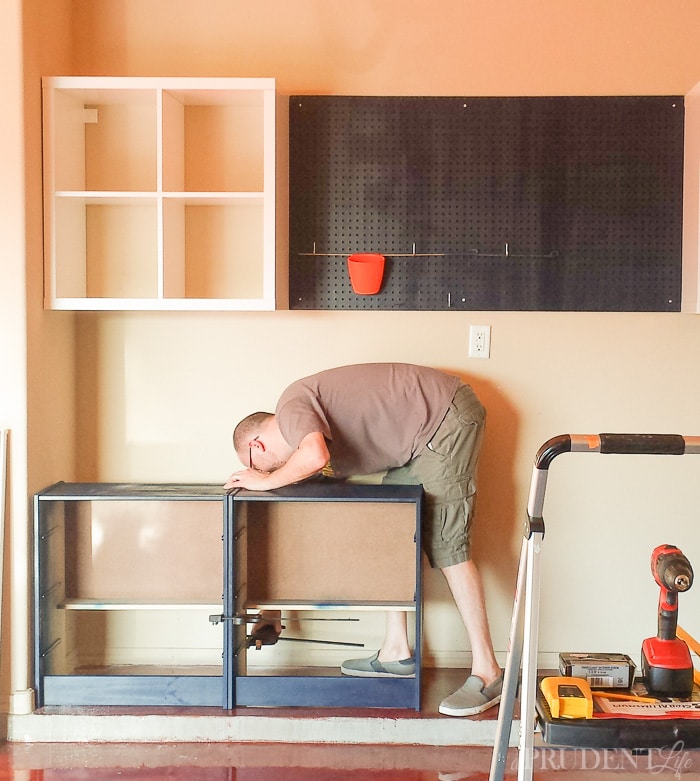 Even though our workbench was on a raised step in the garage, we still needed to add a little height to make it comfortable to use. Our options were either building a platform base, or adding a spacer between the dressers and the counter. Because we only needed to raise it 3-4 inches, going the spacer route was easier for us.
First we added a 4×4 across the top in the front.
Then we created a ledge at the same height all the way around the walls.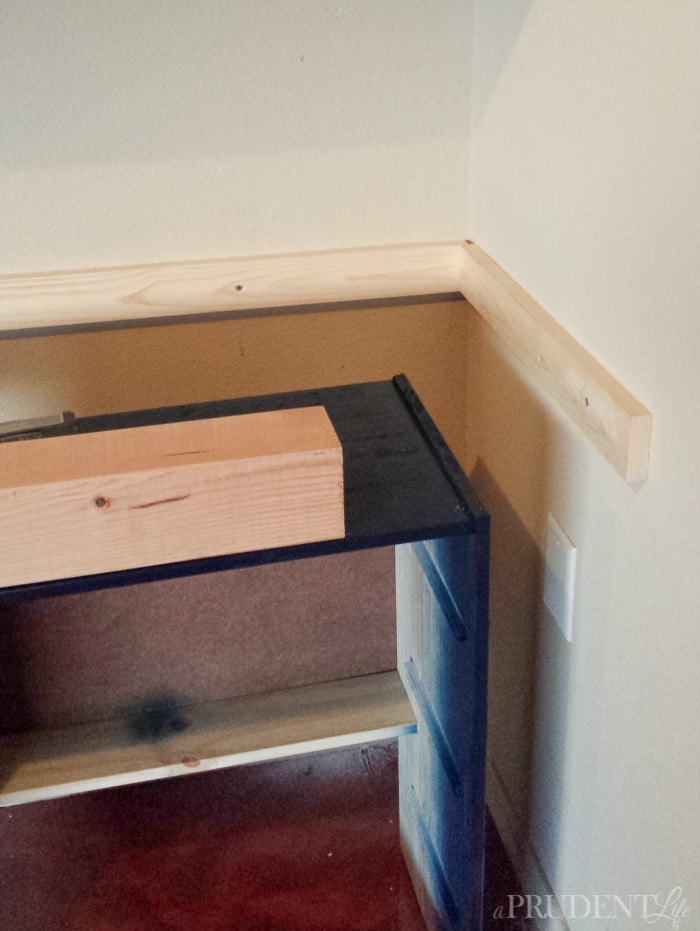 Once the ledge was screwed to the studs, we set the first two LINNMON desktops in place using Liquid Nails. We were constantly using the level and using shims as needed. We paid extra attention to spaces where the countertops butted up against each other to make sure they stayed flush. I was willing to sacrifice the entire surface being slightly off level if it meant the seams would be clean.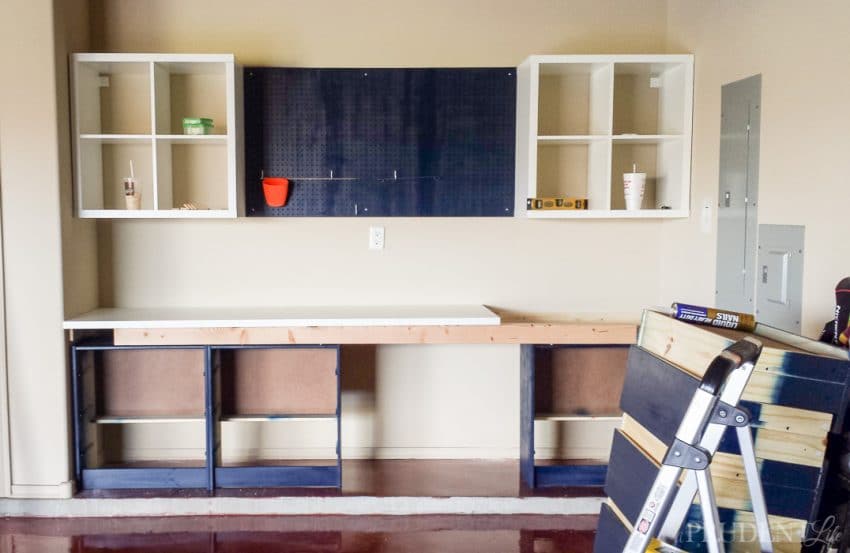 Once the first two pieces were attached, we could get a good measurement to cut the third piece to fit. To protect the surface, we applied tape before cutting with a circular saw.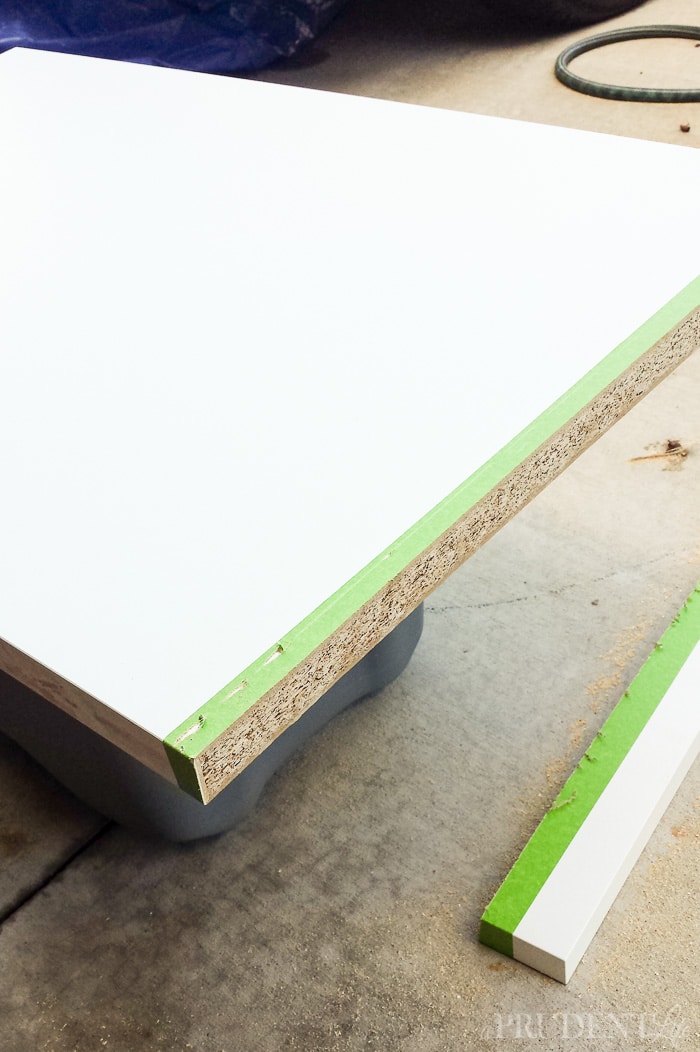 The ALMOST last step was covering up the 4×4. We got totally lucky and had some leftover trim that was almost the perfect height. We attached it with more Liquid Nails and some actual nails.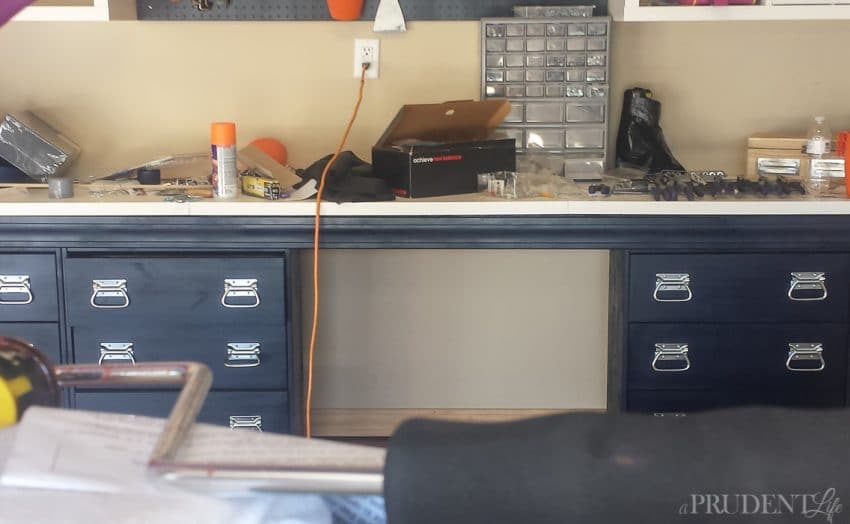 I missed getting a picture of the trim installed, but before the new drawer pulls were installed, so you can see them in the above picture as well. Picking a handle that required four tiny screws per pull wasn't my brightest idea. It wasn't the most fun install ever, but I managed to get it done and keep them pretty consistent.  The pulls were $3.50 for TWO on Amazon, which I thought was pretty reasonable considering how big they are. Just note that they do NOT come with the hardware, so you'll need to pick that up separately. I used 1/2″ sheet metal screws and they look great.
Whew, so that's how we did it! I know it seems like a lot, but we did the actual install in a day (not including the painting and initial assembly).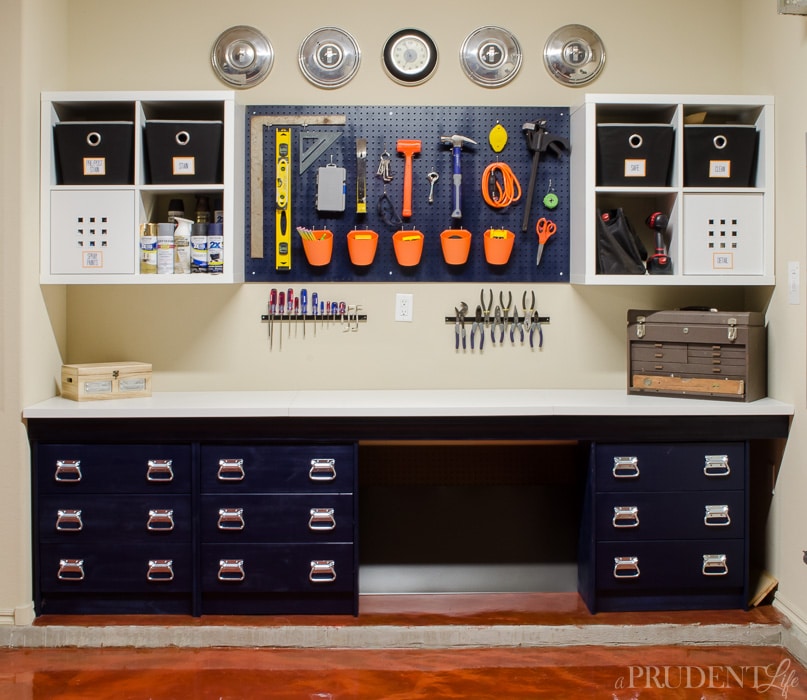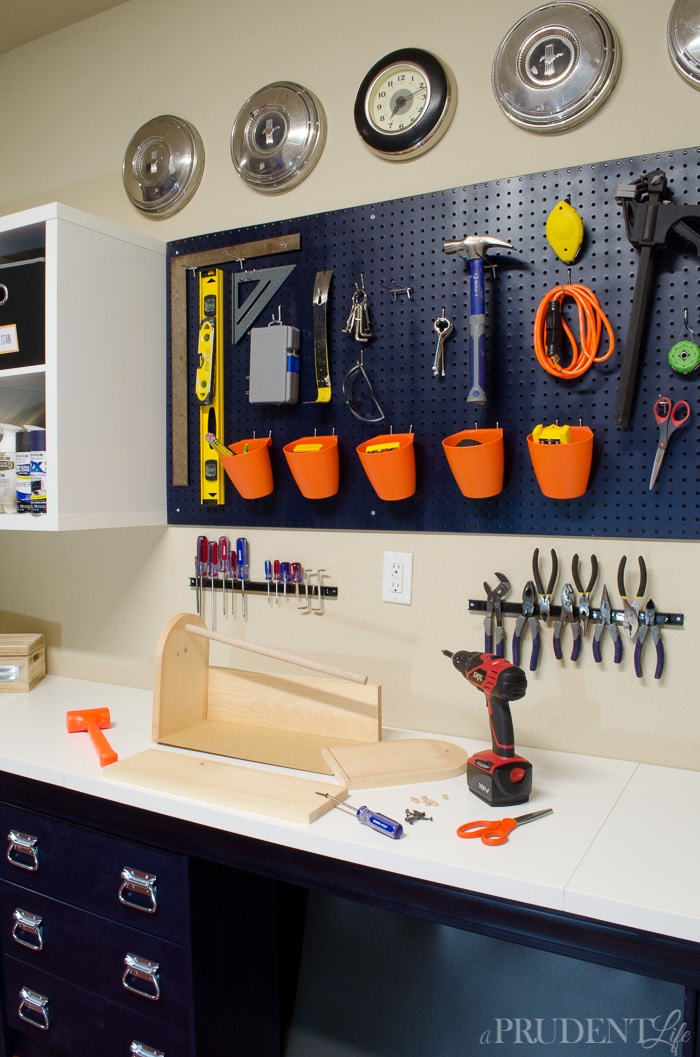 Garage Workbench DIY Budget:
KALLAX Units $34.99 x 2 = $70
LINNMON Desktop $5.99 x 3 = $18
RAST Dressers $34.00 x 3 = $105
Drawer Pulls $3.50 x 9 = $32
Pegboard, Wood, & Anchors = $40
Total = $265
So, for the cost of ONE of the prebuilt units we looked at, we created a TON of built-in custom storage. Win! As I mentioned in the beginning, I love that anyone can adapt this plan to their own space, the width can be whatever works for you!
If you  haven't seen the rest of the garage makeover, check it out now!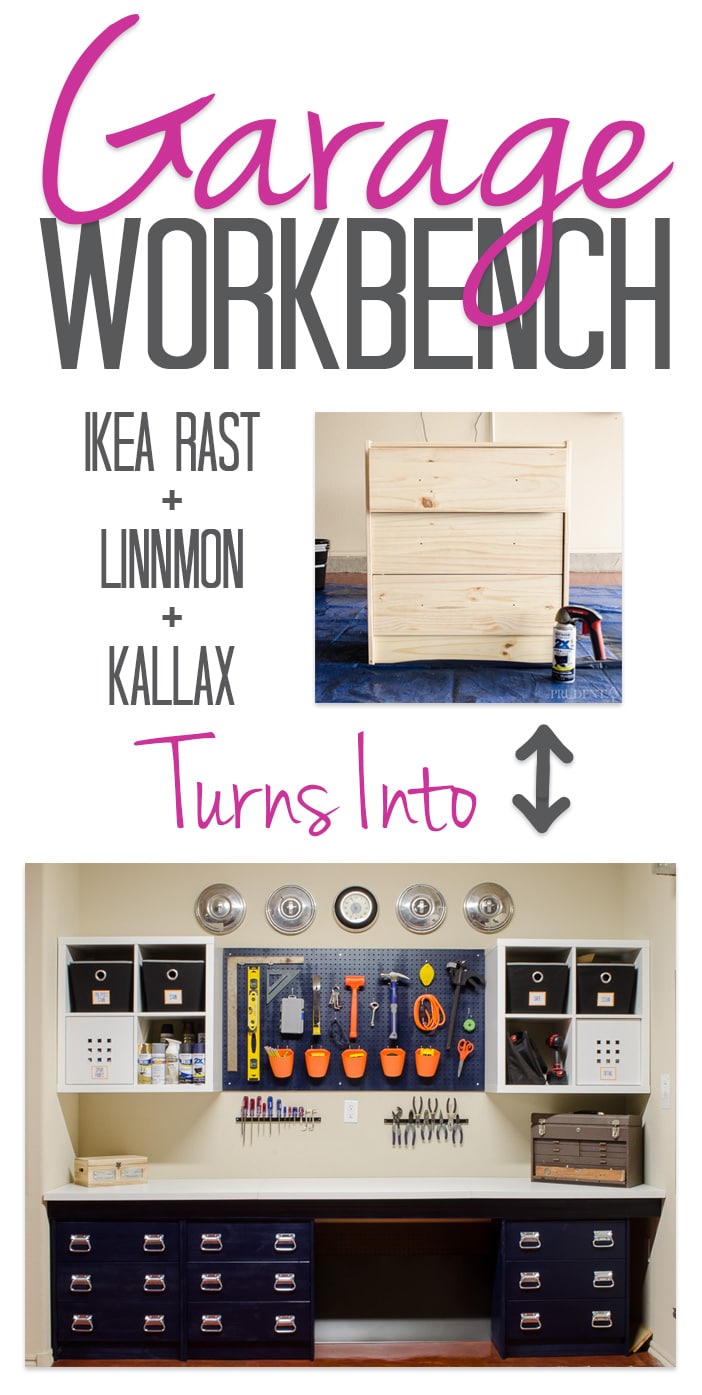 If you  haven't seen the rest of the garage makeover, check it out now!
Would you try this IKEA hack for your garage workbench?