OH what I wouldn't give for a flux capacitor to give us a do over of this week! Progress was made, but it was SLOW going in the closet.
If you are wondering what I'm talking about, we gutted the master closet down to the drywall as part of the One Room Challenge. Now we have two weeks left to put everything back together. Yes, I'm crazy. Luckily there are over 150 other crazies like me, also beating their heads against walls wondering why we decide to do this challenge twice a year. You can see my before photos and after plan in the week one post, and check out the rest of the rooms at the host blog, Calling it Home.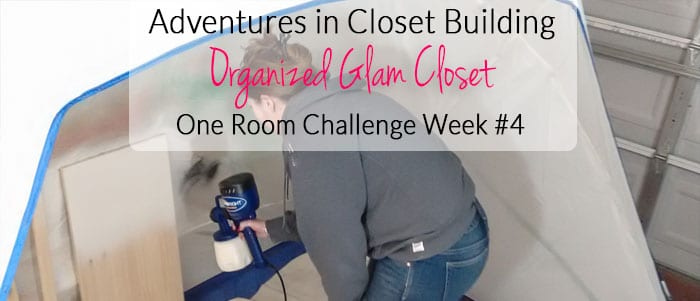 The adventures of our week started nice and early Saturday morning with a trip to Lowe's to buy all the wood we needed for one side of the closet. To create more of a custom built-it look, we wanted all the shelving to be deeper than the prior 11″ shelves. We found some 16″ wide pieces, eight feet long, and knew they'd be perfect. Except there were only TWO in stock, and we needed SEVEN just to do one side.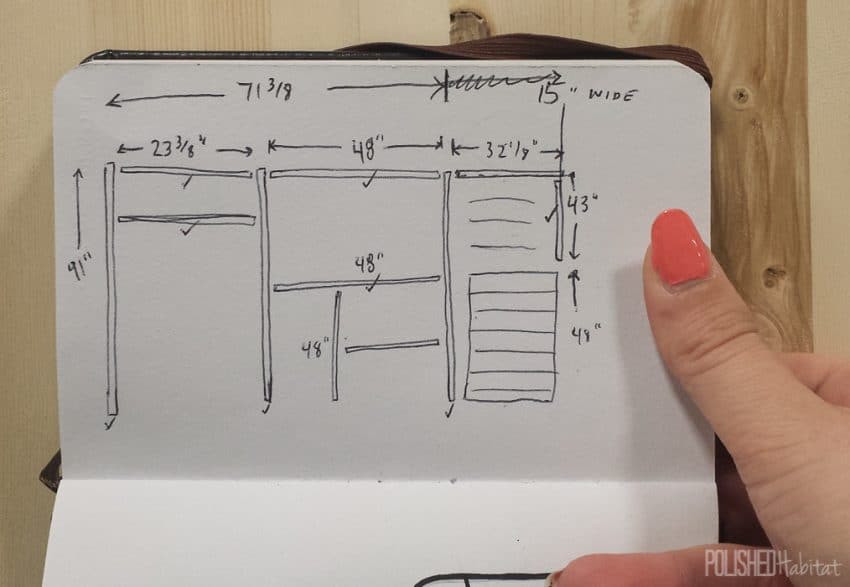 No problem, there's another Lowe's a few miles down the road.
Yikes, they only had one piece. Three down, four to go. The Home Depot next to Lowe's? Nothing in 16″ width. Hmm. Should I panic?
Hardware store number four of the morning was a third Lowe's, and hallelujah they had four pieces, which got us to the seven we needed. Another big hallelujah came when we fit all 7 big pieces, plus some extra wood for braces, in my little SUV. Whew.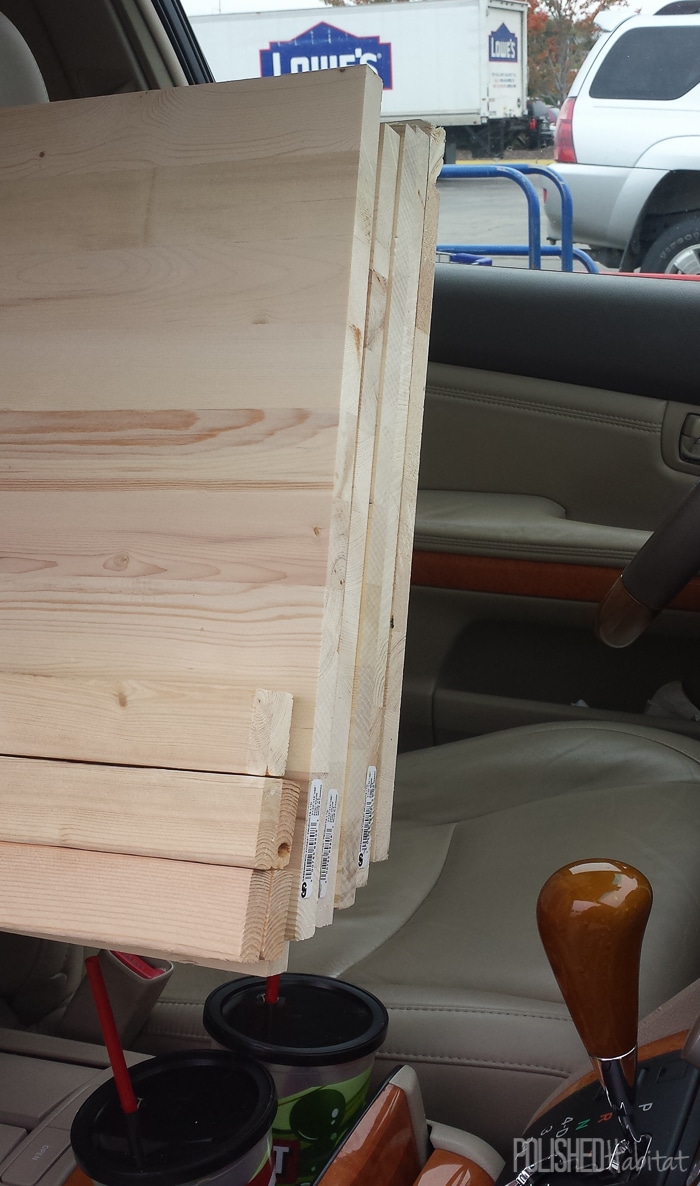 Three hours later, we were finally back home and ready to start. Or so we thought.
Perhaps we should have thought through how we were going to cut this gigantic wide wood. Our miter saw can only do a 6″ cut, so cutting one side, flipping the wood, and cutting the other would only get us to 12″. Plus, it's been on the fritz.
We made a straight edge with a scrap piece of wood and tried the circular saw, except it was nearly impossible to keep the circular saw exactly level, so instead of a nice flat edge on the wood, it had a bit of an angle.
We've been looking at sliding miter saws to replace our fritzy non-sliding version, but had been putting off spending the money. But if there was ever a time to buy one, it was before this project. Thankfully, Home Depot had just dropped the price on one we had looked at, so after some extra internet research, we were back to Home Depot (yep, 5th trip to a hardware store, but who's counting).
We went with the Ryobi 10″ Sliding Miter saw (affiliate link) and so far it has been PERFECT for us. We don't do enough woodworking to rationalize something high-end, but needed something sturdy that we wouldn't be cursing at like the old one. We are really happy with it, especially for the low price tag.  Now we can cut 13″ of the 16″ planks, then flip the wood over and get the last few inches.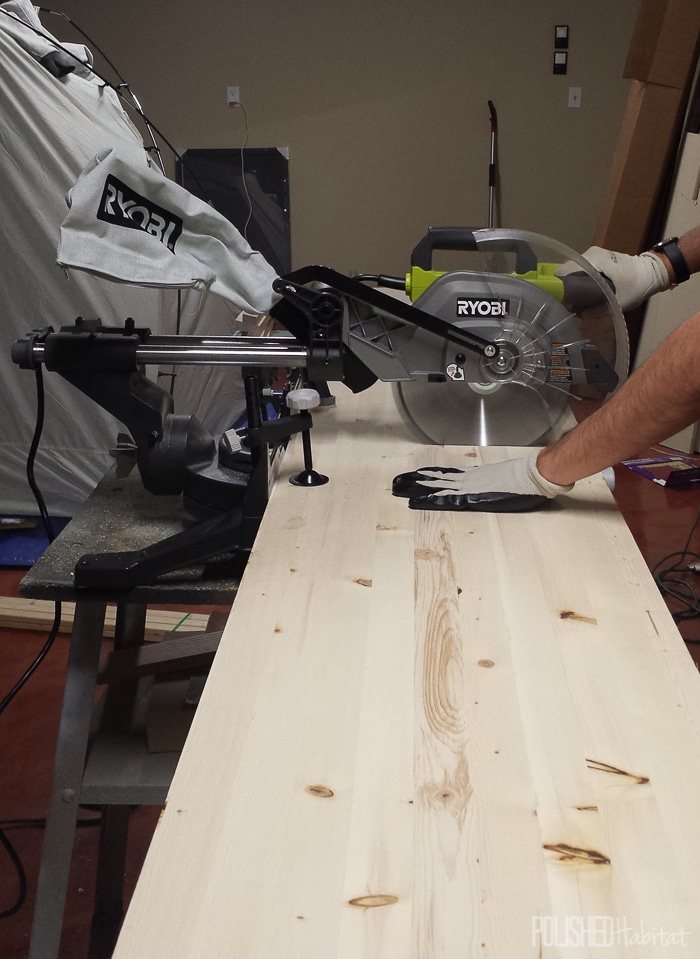 Thankfully that isn't my hairy arm. My husband was on saw duty and I was wood-filling knots and sanding the pieces. There was SO MUCH SANDING this week.
Anyways, by the time we got home with the new saw Saturday, we only had an hour before it was time to stop and get ready for dinner out with my parents. And boy was I ready for a margarita.
During that hour we were finally able to build, we got the first piece cut, wood filled, sanded, AND found out the walls aren't square. Are you karate kidding me???
Much time was spent staring at the wood, and the dresser, and the wall. And staring, and brainstorming, and staring. No crying, but probably only because the margarita was in sight.
So day one of closet building, we were off to Lowe's by 8 AM to get an early start, but that resulted in ZERO actual progress in the closet.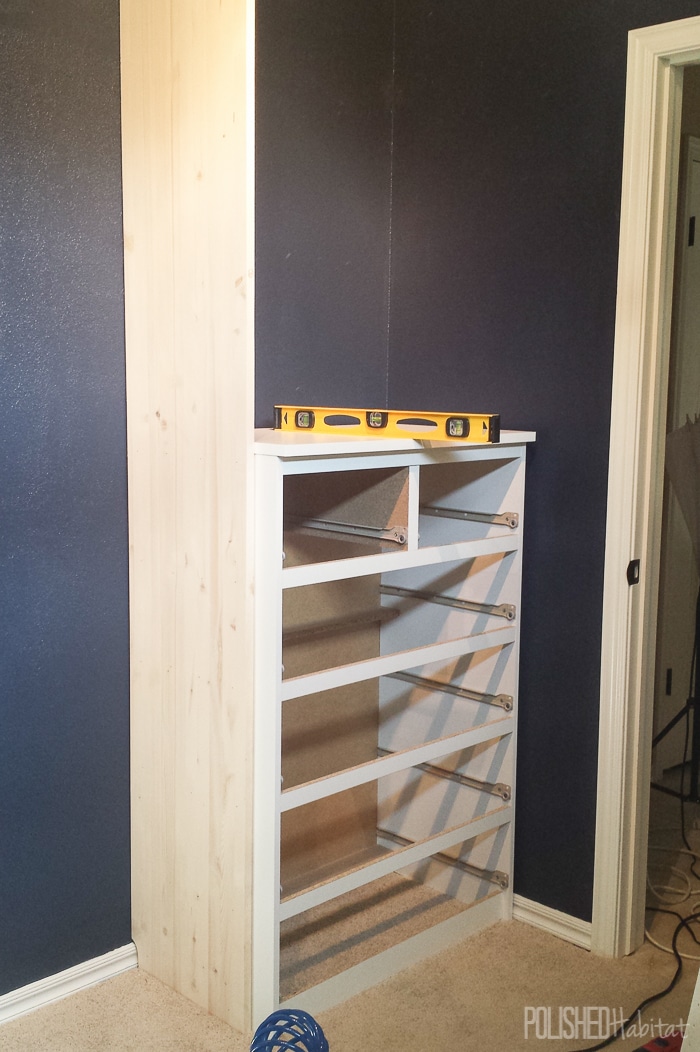 Sunday, we finally decided how to handle the not-so-square issue, which involved caulking and doing whatever had to happen to make sure everything WAS squared up for the next section. We got several pieces of wood attached to the walls, which I was able to paint on Monday.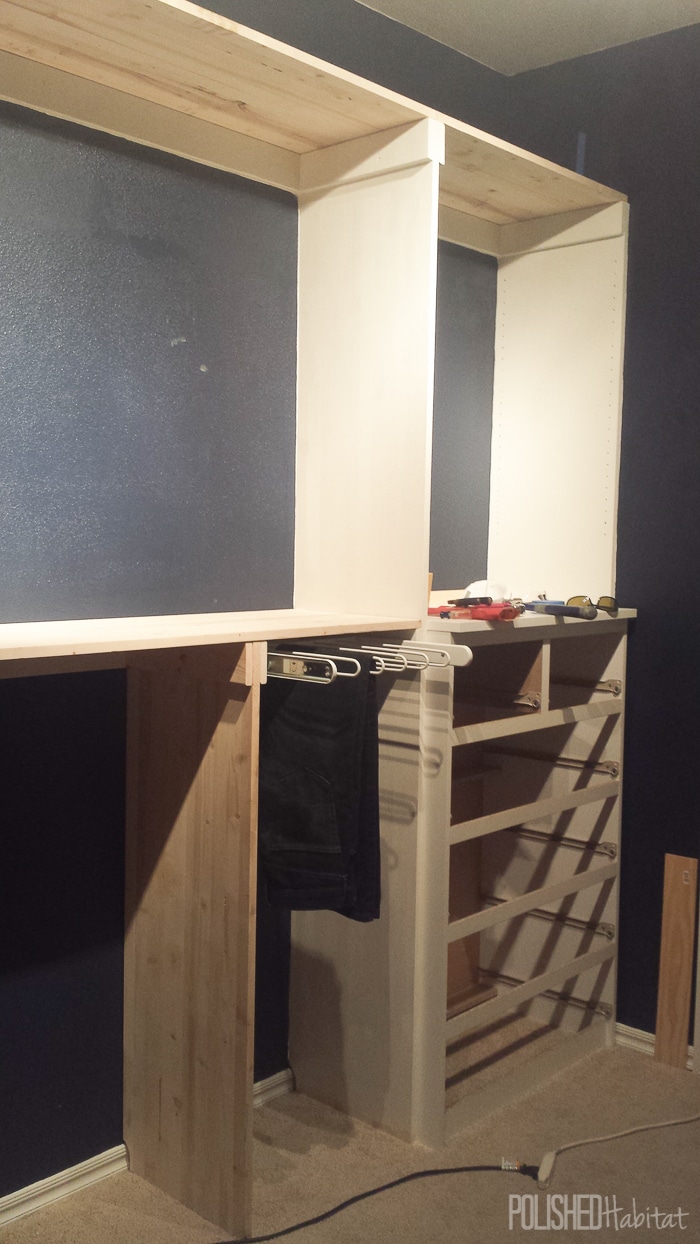 We were working behind all week (until last night!), so we kept having to install non-painted wood while my husband was home to help, which meant I could paint them during the next day. It was such a time-wasting process because we had a paint sprayer just waiting to be called into action. Finally last night, we were able to paint some of our prepped wood with our FinishMax so we could install it painted and then just do touch ups.
SO MUCH BETTER.
HomeRight is giving away a FinishMax Fine Finish sprayer (affiliate link) this week, and whoever wins will be amazed at how fast you can paint, and how much better the finish is over rolling or brushing. And whoever wins should always wear a mask when painting. I'm normally pretty good about it, but was so focused last night that I forget until after we took photos and I stepped back to see the haze in the garage. #fail
We're definitely behind my goal to have one side of the closet finished by today. We have some more shelves to add, along with the new shiny chrome rods, but here's how it stands today.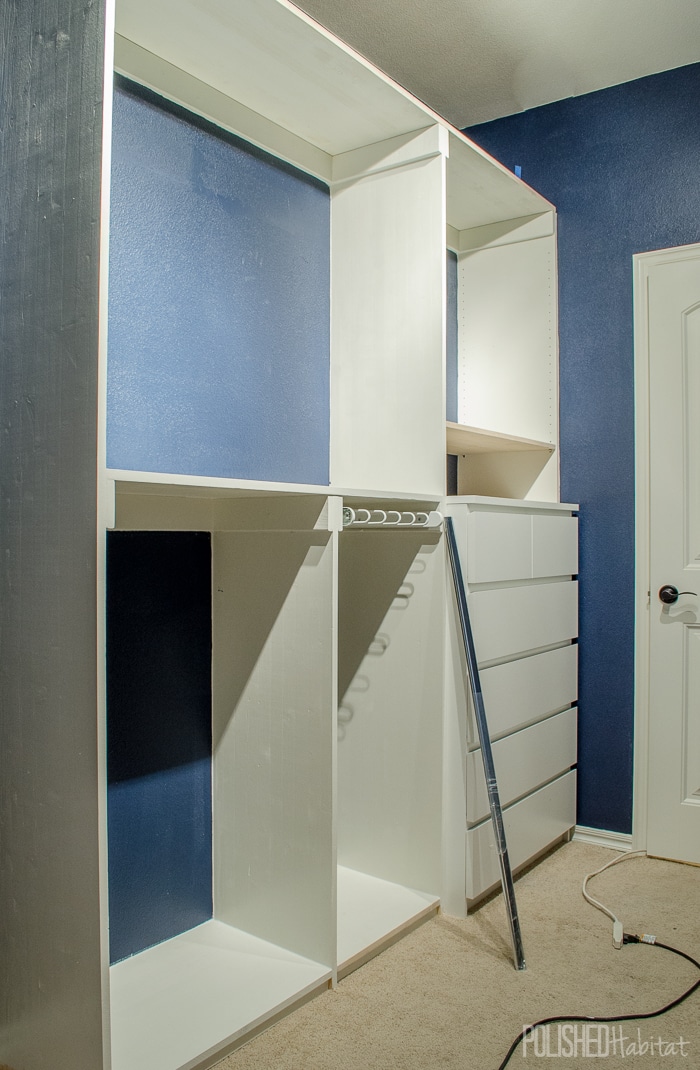 I thought we'd have the pretty gold pulls installed on the dresser for the above photo, but alas, the screws that came with them are too short for the Malm drawer fronts, so I've got to pick up some new ones tomorrow.
To top off the week, I had also worked myself into a panic that we weren't going to have enough hanging space. Another hour of staring at the closet and we've tweaked the plan again. I'm losing some shelving, but gaining some symmetry and more rod space.
Here's the new plan (you can see the old plan in week #1). More storage will be going on the wall above the peninsula. This was just my fast and rough alteration to see if this idea had any potential.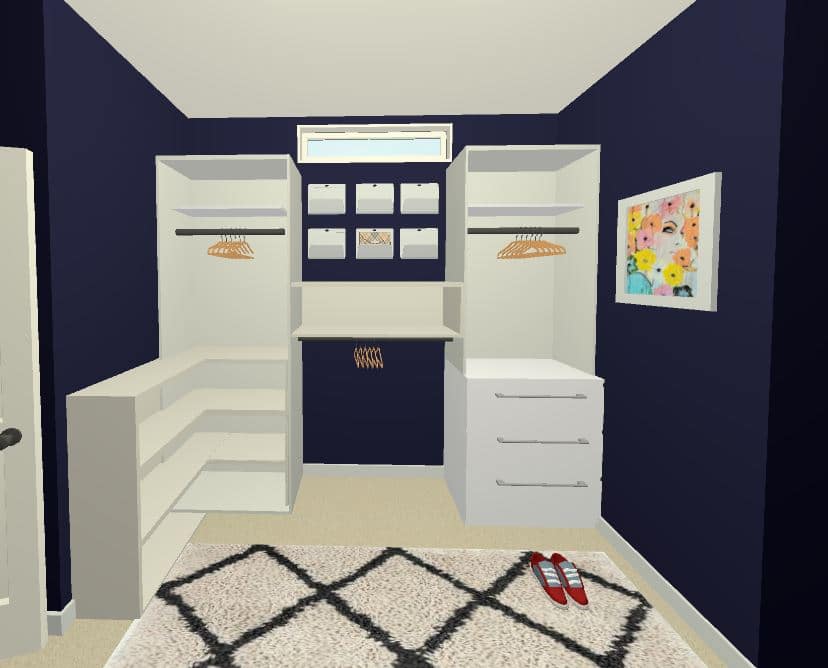 I know we can catch up with our plan to prep and paint all the wood for side two Thursday and Friday, then we'll be building like crazy Saturday and Sunday. My husband deserves a huge shout out for working on this every night after exhausting days at work. And for picking up more wood on his lunch break from yet another Lowe's location. I'm so relieved we'll be able to get right to work this weekend. Things are looking up.
See the whole closet makeover week by week:
Don't forget to enter this week's giveaway. I'm SO grateful for HomeRight's partnership on this closet makeover. Even after a rough week, we don't regret tackling this project and can't wait to see it finished. Two weeks to go!
If you don't see a box to enter below, click the words "a Rafflecopter giveaway".
Don't forget to visit Calling it Home to see how the other participants are doing! Week #4 can be brutal, so head over to give some extra encouragement to your favorites.