Three weeks down, three to go! We made some serious progress this week that gives me hope that our wardrobe won't be living on a rack in the bedroom forever. Whew.
Psst: If you've got no idea what I'm talking about, I'm in the middle of the One Room Challenge, hosted by Linda from Calling it Home. Click here to start at the beginning (warning-scary before photos included).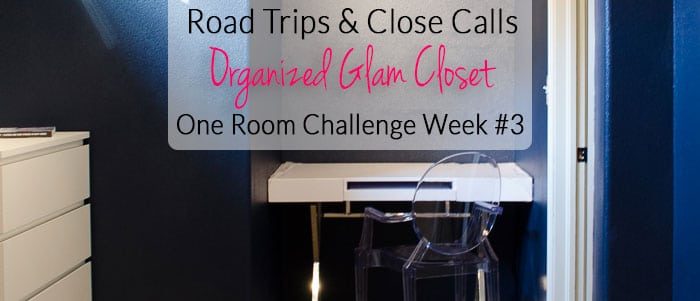 When we left off last week, I was a little concerned that I was STILL painting. By Friday, the closet was even more of a disaster zone, as you can see in the very fuzzy photo below.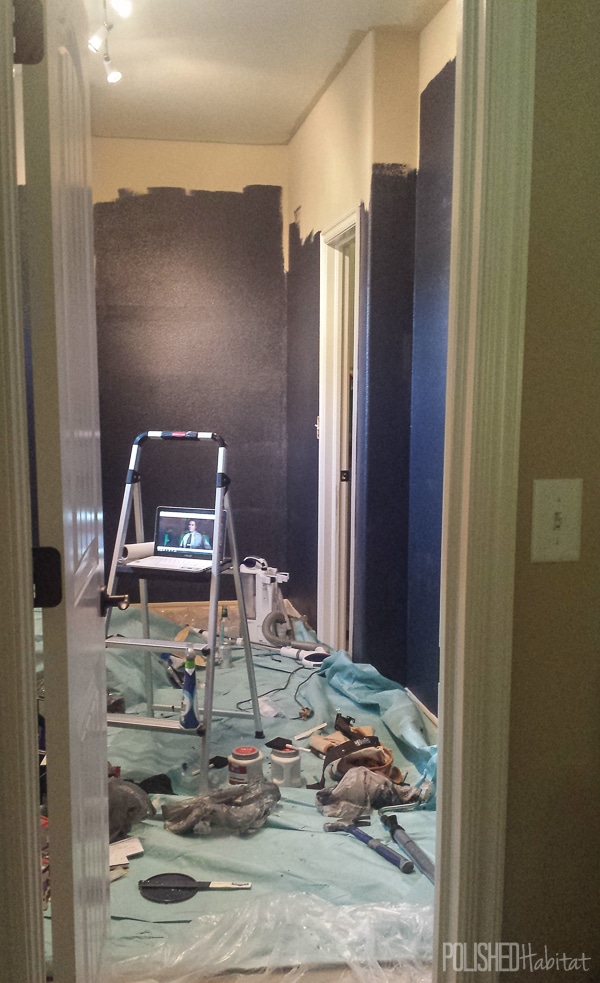 Bonus points if you noticed my constant One Room Challenge companions, the Gilmore Girls, hiding in the photo.
One of the biggest challenges I had this round was that I created the closet plan with a few pieces from IKEA, including a mirror that they don't ship. I looked for alternatives, but the price/quality/style trifecta led me back to IKEA every time. The problem is that IKEA is precisely 245 miles away.
Cue up an epic road trip! We headed out Saturday morning at 6:15 so we could get to Dallas/Frisco pretty close to opening at 10 AM. A couple of hours later, we had sped through IKEA picking up everything on our list and not TOO many extras.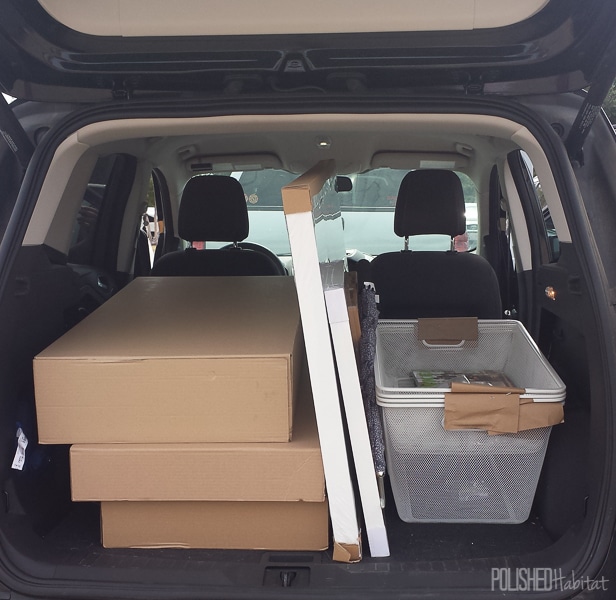 What is a road trip without a crazy deadline?  We had plans to go to a new Warhol exhibit opening party at my favorite place in Tulsa – Philbrook museum at 6 PM Saturday. Which meant we needed to be back home by at least 5 to quickly go from IKEA clothes to exhibit opening clothes and drive downtown. Craziness! But we did it!
Five hundred miles round trip and we had what we needed for the closet, which meant Sunday looked like this for me.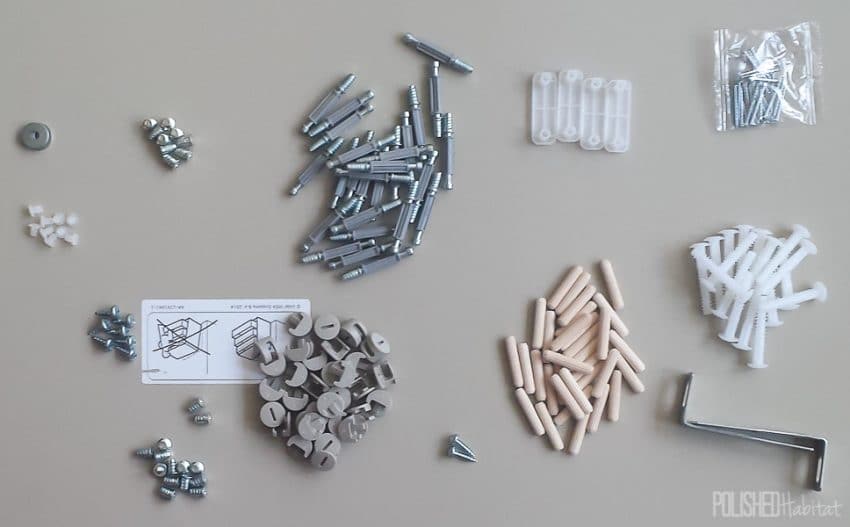 I assembled one of the dressers while my husband painted around the top of the closet. Darn the luck that I can't reach the detail work where the wall meets the ceiling.
With the painting finished, and dressers assembled, the closet was finally starting to look like a real room! The walls are Naval by HGTV Home by Sherwin-Williams and I am obsessed with the color.
We still have the hard part ahead of building out the rest of the shelves and organization, but for today, I'm ignoring that and enjoying the lack of drop cloth on the floor!
That covers the road trip part of the title, but we still had one more challenge to overcome. I spent hours sourcing an affordable desk to use as a vanity that would fit in closet alcove. HOURS. It didn't help that I wanted chrome X legs, a white lacquered top, and drawers.
So I found one, but might not have realized what a close call it would actually be. You see, the desk is 3/8″ smaller than the space, giving us a whole 3/16″ wiggle room on each side. Which might have been okay if we didn't have to get around the laundry room door molding. We tried everything, including attempting to lift the vanity straight into the air, over the door, and then back down again. Thankfully no one was injured in that failed attempt.
Finally, we realized the only option was to take the molding off.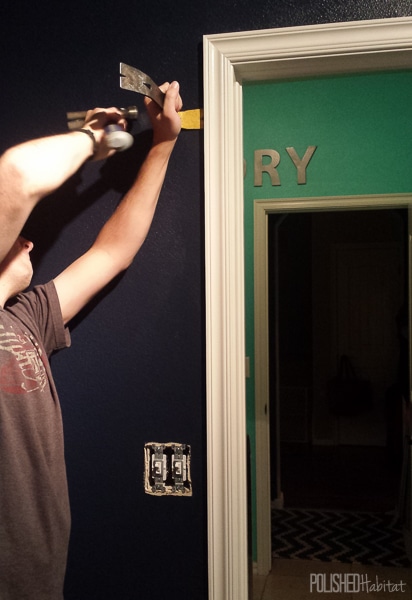 I'm really surprised my husband doesn't find a way to leave town during the One Room Challenge.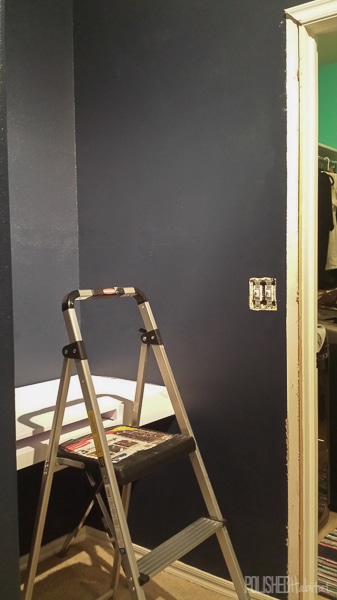 The molding is back up and now the vanity almost looks built-in! I can not WAIT to get the mirror hung up. It's 5 feet tall and is going to be fabulous!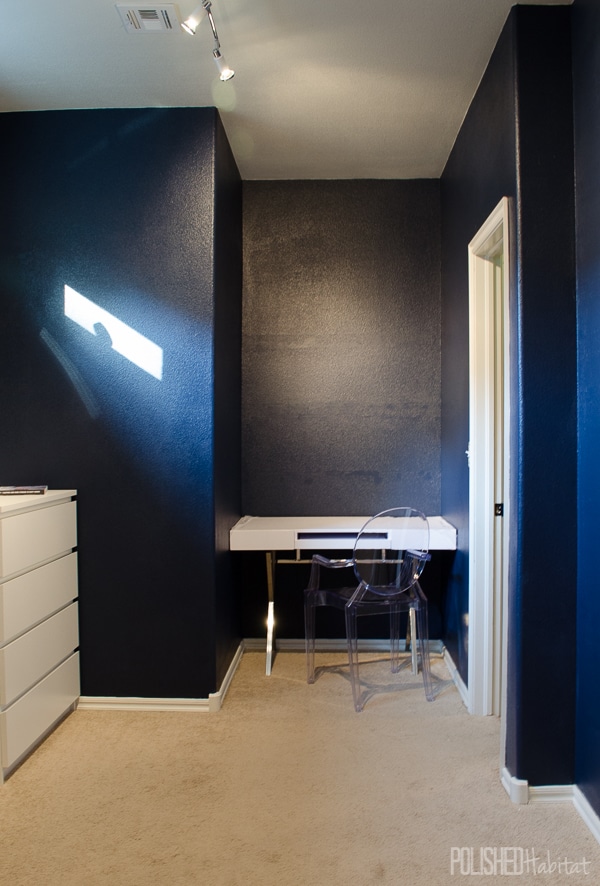 Just when I thought the room was looking pretty good, FedEx came to remind me how much more we have to do. Our new chrome closet rods arrived today along with some of the organizational goodies like pull out tie racks. I had to laugh when I saw the GIGANTIC boxes on the porch.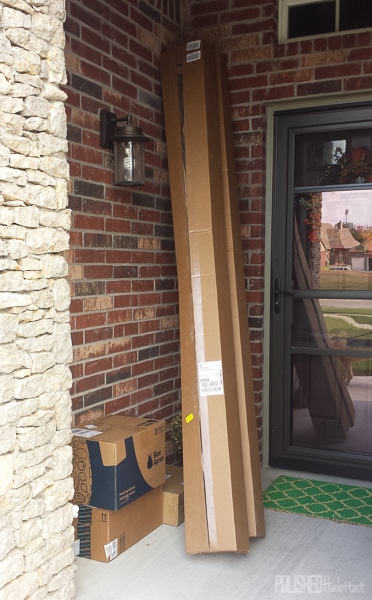 The drawer pulls for the dressers also arrived, so I was able to knock one more thing off the list this week. Remember all the money I saved (84%) in the pantry painting Euro style pulls gold myself versus buying them that way? I decided to do it again in the closet. This time I went with the same style and brand, but in a big 15″ size, which will give my Malm dressers a custom look.
Here's the before and after!
That last task of the week brings me to this week's HomeRight giveaway. All my spray painting these days happens in my Spray Shelter
. Especially since I can set it up and take it down by myself.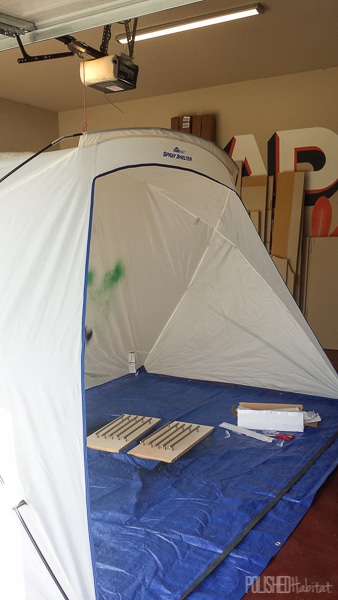 When I'm done, it fits into this magic little bag. I admit being quite skeptical that I'd ever get it back in the bag, but I was wrong. It works! I've had it up and down several times, and each time it fits right back in the bag.
Since I'm not the only one obsessed with the Spray Shelter, HomeRight asked me to let you know they are temporarily SOLD OUT. Don't cry, more are on the way! The winner's Spray Shelter will be delivered in December.
See the whole closet makeover week by week:
If you don't see a box to enter below, click the words "a Rafflecopter giveaway".
Don't forget to visit Calling it Home to see how the other participants are doing! Week #3 can be rough so head over to give some extra encouragement to your favorites. And send me lots of prayers and happy thoughts for shelving week.