How has a full week already passed since I shared my plans for my organized glam master closet makeover? I go back and forth in confidence on whether we killed it this week, or if I really should be done painting. As I thought about what to share in this update, I realized that we really did get a lot done.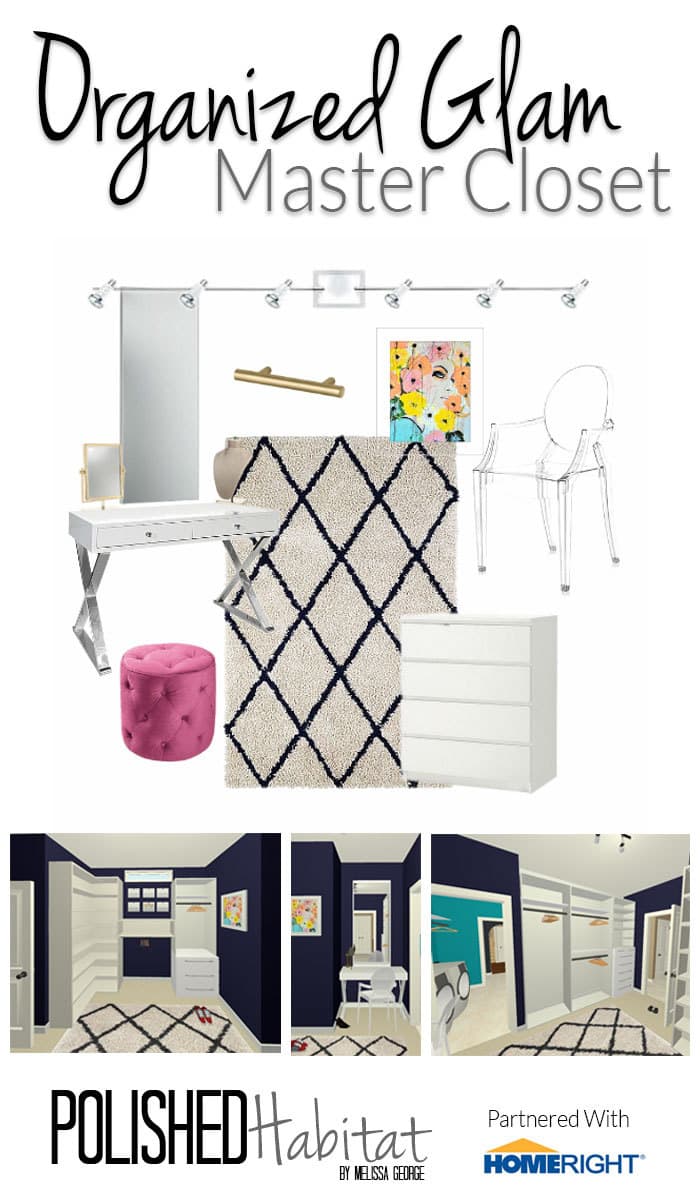 I thought it would be fun to walk though the progress from one angle.
Heaven help us, this is what we started with.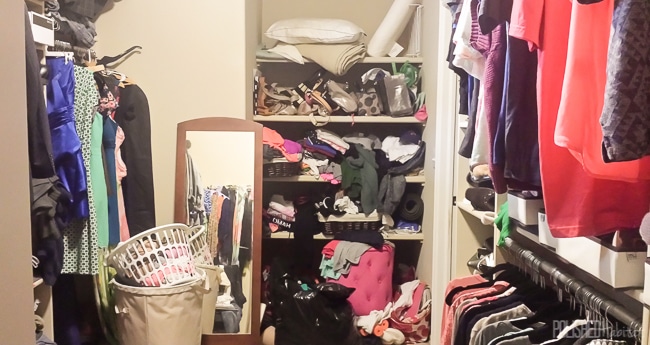 And this is the destination.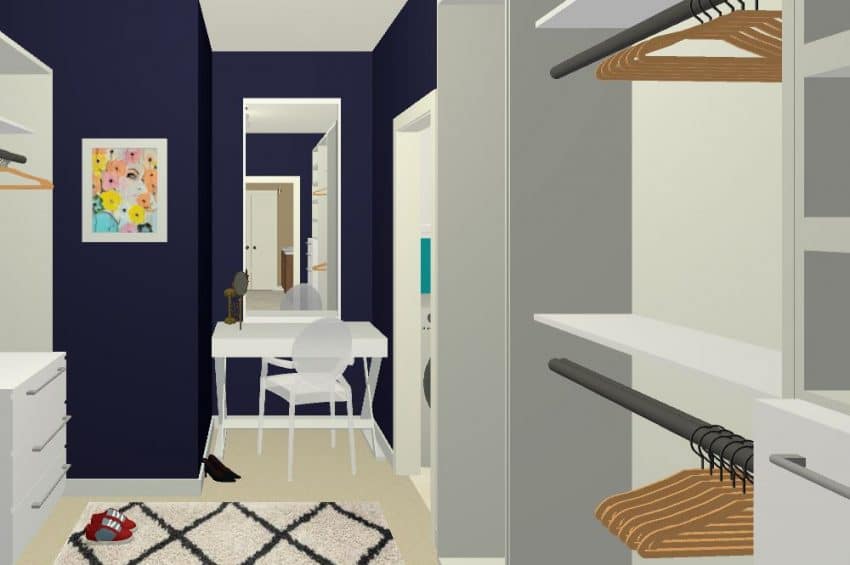 The first step was pretty major – we had to get EVERYTHING out of the closet. I was dreading this step. From the sorting to the hauling upstairs, everything sounded pretty overwhelming. Sometimes I have to really think about what is stopping me from starting something. More than going through all the clothes and shoes, I was dreading five weeks of having all our clothes and accessories on a different floor than our bedroom and bathroom. Totally NOT the end of the world, but the weeks of the ORC are so draining, I just wanted to be able to put on my pjs without climbing Everest to do it.
Twenty dollars later, I found a perfect solution. A garment rack for the bedroom! I grabbed mine at Target, but it's really similar to this one from Amazon.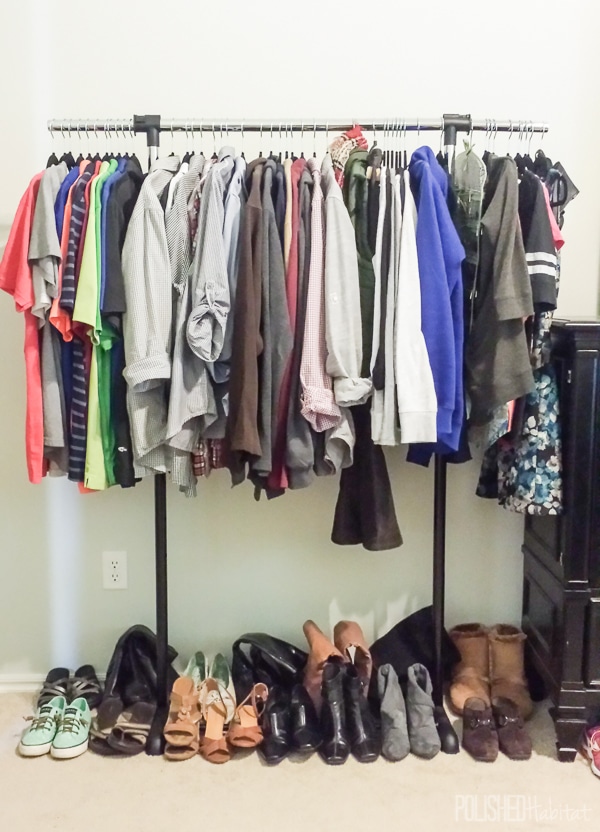 I know, I know, I probably didn't need 15 pairs of shoes for 5 weeks, but in my defense, we keep teetering between summer and fall weather! And what can I say, I like shoes. 
The weird side effect of this whole garment rack situation is the new feeling in our bedroom that we live in a NYC loft. I don't hate it.
We also cleared out our dresser, which pretty much hadn't been opened in three years, to make room for folded items during the ORC. Afterwards, we'll have drawers in the closet, and I'm thinking the dresser will be perfect for extra linen storage. It's going to be an interesting experiment to find out how many of the clothes that are being stored upstairs we still think we need after not seeing them for five weeks, even though we THINK we already got rid of everything that could go. I have a feeling another bag of clothes may get collected for donation.
Here's what the closet looked like with everything removed. Better already!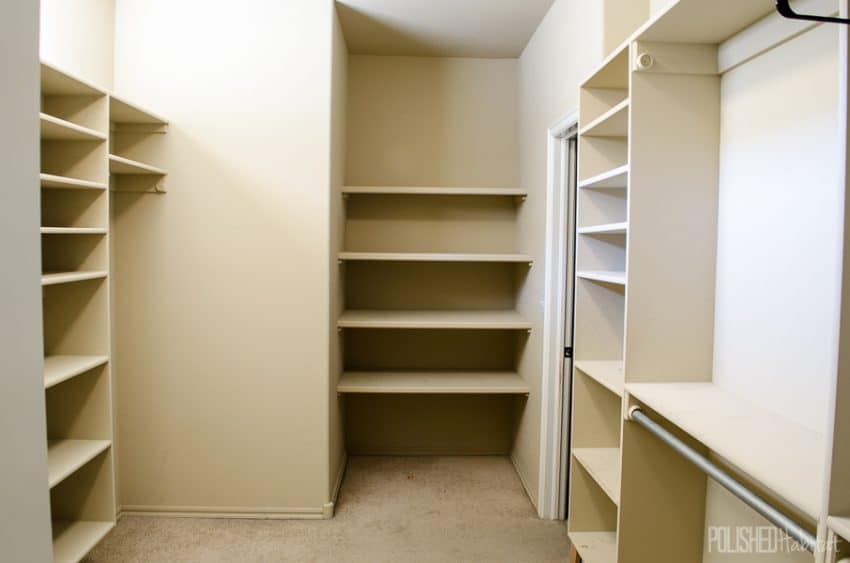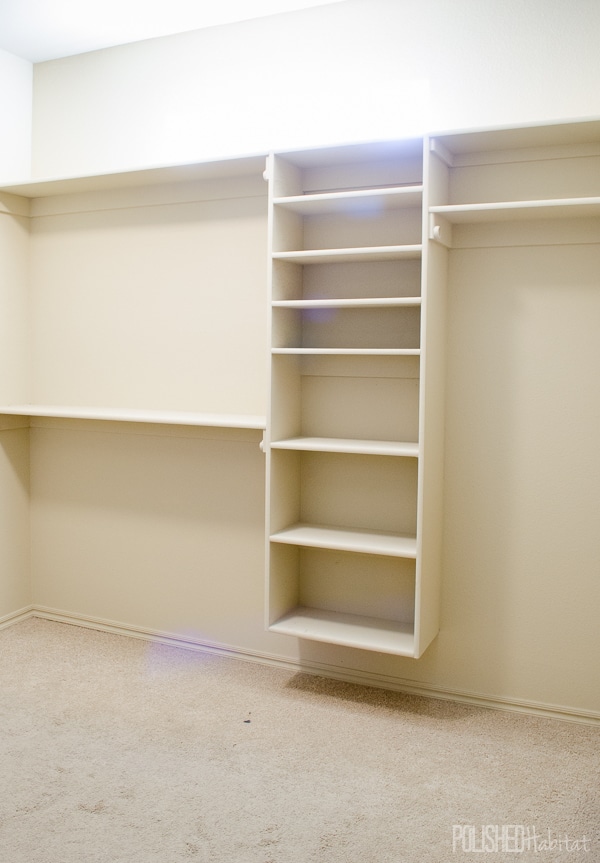 Then it got really noisy, messy, and sweaty for a few hours during demolition. If it's killing you that we are ripping out shelving, don't worry, we saved as much as we could and are going to use it to add shelves in our attic.
I'm not sure why there isn't any photographic evidence that I hammered and crow-barred too, but I did! It was fun for like 2 minutes, and then it was exhausting, but also rewarding.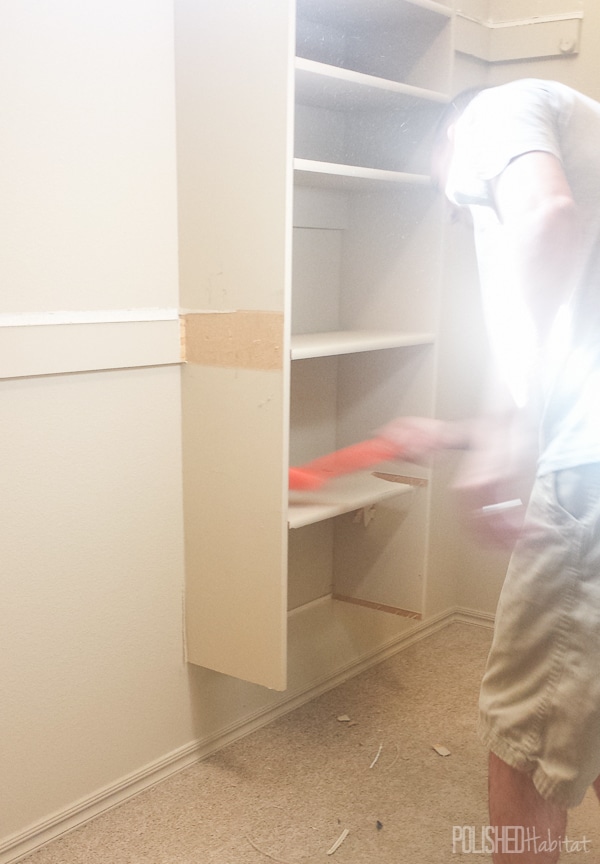 Somewhere between these two photos, I had a definite "hmm..no going back now" panicked thought. I mean, we KINDA have a plan for how we are going to build the new shelves, but what if we can't do it? What if it all goes horribly wrong?
Being on the short timeline AND sharing updates publicly adds a layer of stress to these big commitments. But that's also what I love about the One Room Challenge, and why Linda's idea for this event was so brilliant. It motivates you to take risks, push through fear, and make things happen.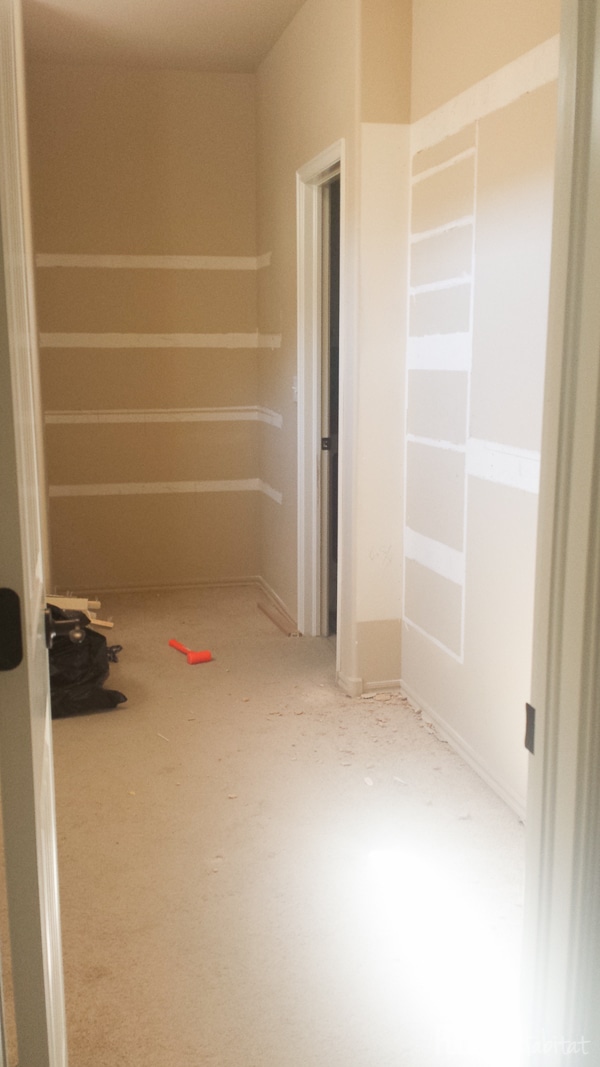 Now, the next part is the one I failed to include in both the time and money budgets. I kinda knew the drywall wasn't going to be perfect when we removed all the existing shelves, but I think I was trying to block it out. Even being extremely careful, there was some serious damage hiding behind our shelves.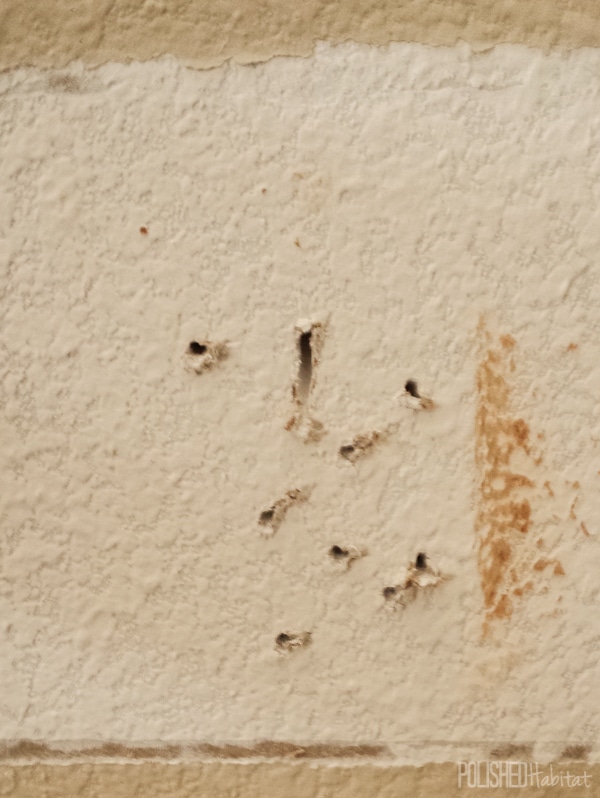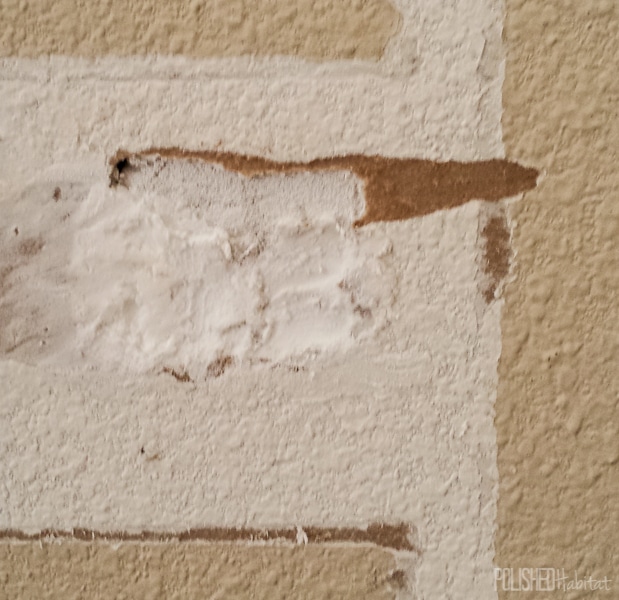 I won't bore you with 100 other photos, but I've spent the last two days sanding, spackling, and retexturizing the walls. Spray texture is one of my new least favorite things. Also, I find it annoying that I don't WANT textured walls, yet have to pay $15/can to repair them. Yuck. And it stinks. Literally. I THINK *fingers crossed* that I'm done with that part now and can finish painting tomorrow!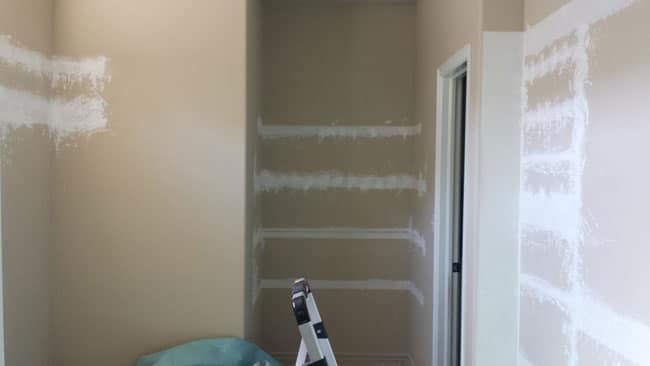 I did get a great start on the ceiling paint with the help of my HomeRight Ez-Twist PaintStick.  I've talked before about my love of the PaintStick, and HomeRight's sponsorship of this makeover. I can't say enough how much I love not having to bend over to refill my roller constantly. Especially because I need the step-ladder for the ceiling. It's bad enough going up and down to move the ladder, but trying to go up and down to constantly refill the roller would drive me batty! If you don't have one of these magic devices, stay tuned to the end for a giveaway!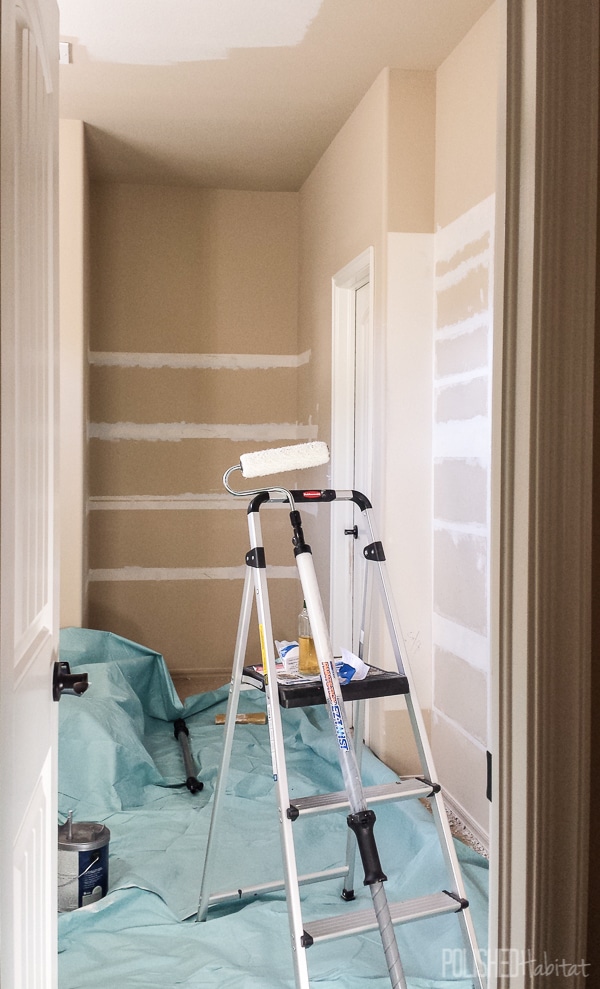 I got a new-to-me toy/tool to try out from HomeRight as well. The Quick Painter works in a similar way to the PaintStick, holding paint in the handle. But, it's got a flat pad for trimming out spaces and an angled option for corners. I think the corner pad was my favorite – so much faster than brushing. I also loved the pad for painting a small section of wall that wouldn't work to be rolled.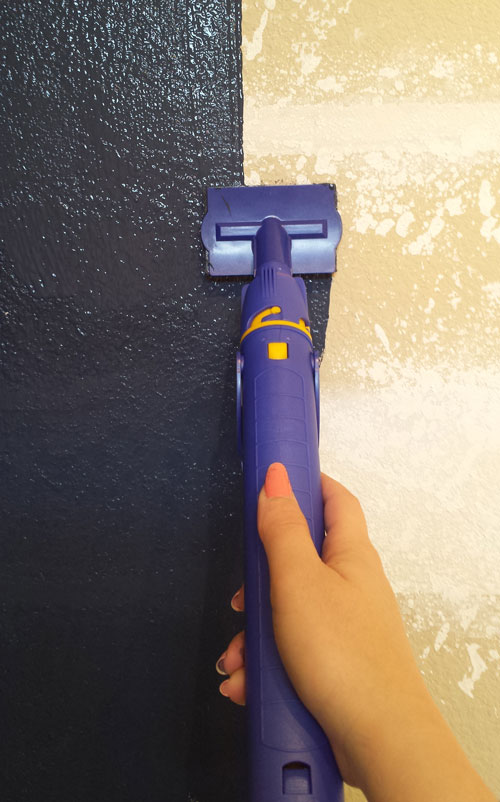 So to recap, we emptied the closet, did some serious demo of all the existing shelves, patched and retextured the walls, had a mild panic that we couldn't go back, and got a start on painting.
While all that was happening, I was also accepting deliveries from the tired UPS man. The ghost chair, rug, and vanity all arrived! You can see the chair and rug over on Instagram now, and I'm hoping to put the vanity together for next week's post!
See the whole closet makeover week by week:
Congrats to Ruthie for winning the SteamMachine giveaway last week. This week HomeRight is giving away an EZ-Twist PaintStick AND a Quick Painter to help a lucky winner transform their own home! Enter in the widget below (if you don't see a box to fill out, click the words A Rafflecopter Giveaway – thanks!) a Rafflecopter giveaway
Please send happy thoughts that I get the painting finished tomorrow. I'm pretty good at the whole avoiding it, dragging it out, stressing myself out thing. Wine would also be acceptable.
Don't forget to pop over to Calling it Home to see what the other 176 (whoa!)  guest participants are up to this week!