You are all in for a great treat today! Katie from View from the Fridge stopped by to share a step by step tutorial for creating DIY Koozies!
Hello, Polished Habitat readers! I'm simply thrilled to be here today sharing a fun project with you … DIY Koozies!
Now … before I begin I want to first say that you DON'T need to be a good seamstress for this project!!
Really … the majority of the work involves cutting fabric, pinning the fabric pieces together, a little ironing, and some manual button sewing.
The sewing machine part takes only about a minute (maybe two), and it's a simple rectangle. Easy Peasy … even for a very beginner (I promise!). (And if you're an expert … bear with me, as I am not).
SUPPLIES
For each Koozie, here's what you'll need:
2 pieces of fabric cut to 4.5″ x 11.5″ (I used the same fabric for the inside and outside of each koozie, but you could totally jazz it up a bit with two different patterns here).
2 pieces of batting also cut to 4.5″ x 11.5″
1 piece of Insul-Bright cut to 4.5″ x 11.5″. This just looks like 'stiffer' batting, and you can usually find it in the fabric store by the interfacing. It's just insulated batting that works to keep things hot or cold (hence the definition of insulation, I guess). 🙂
2 large buttons
2 pieces of elastic cut to about 4″ each. I used some fold over elastic (buy this at the fabric store in the notions aisle), but you could totally use regular elastic, or even a thicker hair rubber band.
Sewing supplies (thread of your color choice, sewing machine, supplies for manually sewing on a button … I used embroidery floss and a larger needle).
The longest part of this whole process is cutting all the fabric pieces. Second longest (at least for me) was manually sewing on the buttons. I'm not sure I know how to properly do this, but they're secure and look just fine to me!
How To Make A DIY Koozie
Here's the picture version (don't be alarmed by the number of steps … this whole thing takes about 10 minutes after you cut your fabric!).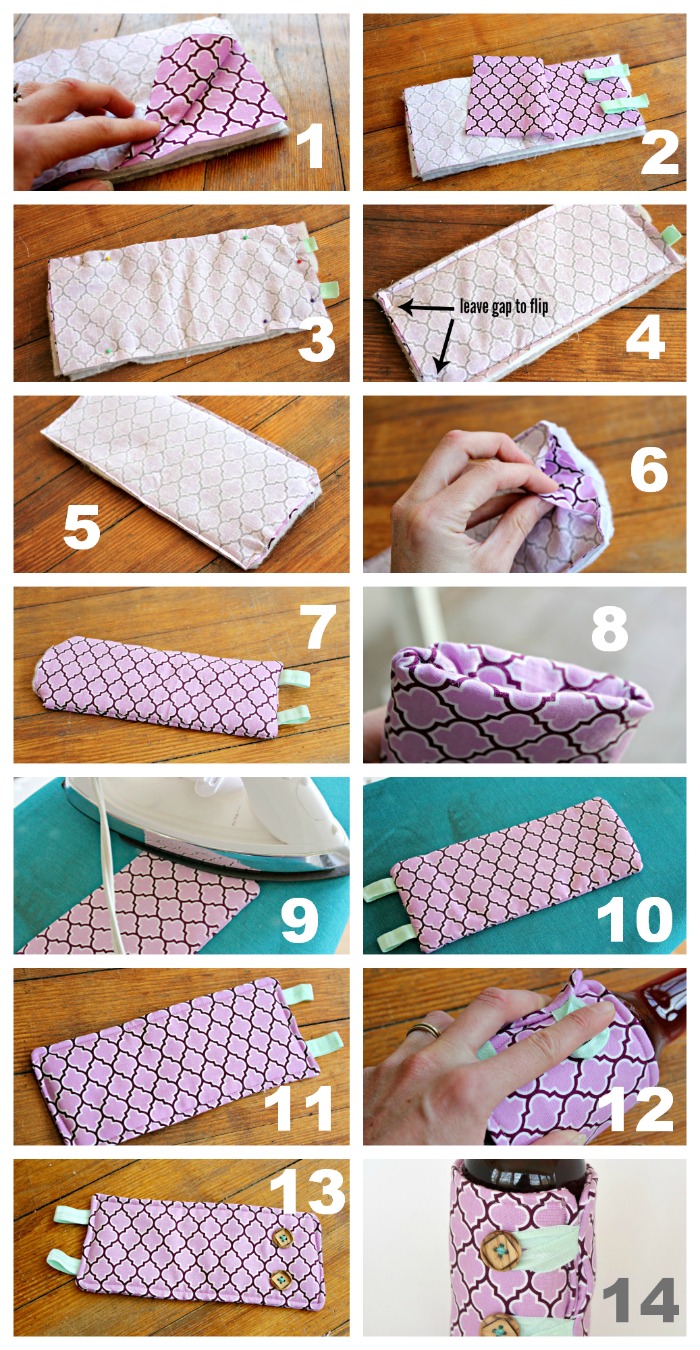 And the details of each step:
Make a fabric 'sandwich' with your fabric pieces, batting, and insul-bright in this order (from bottom to top):

Batting
Insul-Bright
Batting
Fabric piece FACE UP
Fabric piece FACE DOWN

Fold your elastic pieces in half and pin between the two fabric pieces on one end. The loop should be facing IN (ends hanging off the outside of 'sandwich').
Pin fabric sandwich together
Starting near the corner on the short side opposite the one with the elastics, sew around sandwich rectangle leaving a 3.5″ gap (gap will be on short side opposite the elastics. Be sure to backstitch at start and end of stitching.
Trim excess fabric from the three edges without the gap (you'll need the extra fabric to tuck in at the gap after flipping).
Open up the 'sandwich' between the two fabric pieces that have right sides facing.
Flip the sandwich so fabric pieces are right side out.
Tuck the extra fabric inside at the gap.
Iron entire sandwich on both sides.
Pay particular attention to ironing down fabric tucked into gap.
Top stitch around entire koozie (about 1/4″ from edge seam). This top stitching should close gap on the one end.
Roughly measure where your buttons need to go by wrapping koozie around bottle, stretching elastic pieces, and marking spots for button.
Stitch on buttons. I think my machine does this, but I haven't a clue how to use it, so I resorted to a needle and embroidery floss.
COMPLETE!! Hooray … time to pop the top!
From Naked Bottles …
To fully dressed and ready to party …
Now … these koozies work perfectly with BEER bottles, too. We just happen to be expecting a new arrival in a month, so these are my current beverage of choice. Can't wait to enjoy a good IPA later this summer with my new koozies … and newborn.
Wouldn't these be fun to make for a bridal shower/bachelorette party?
Or maybe as a gift to your wedding attendees for the bus ride after the ceremony?!? A hostess gift for a backyard BBQ this summer?? So many possibilities!!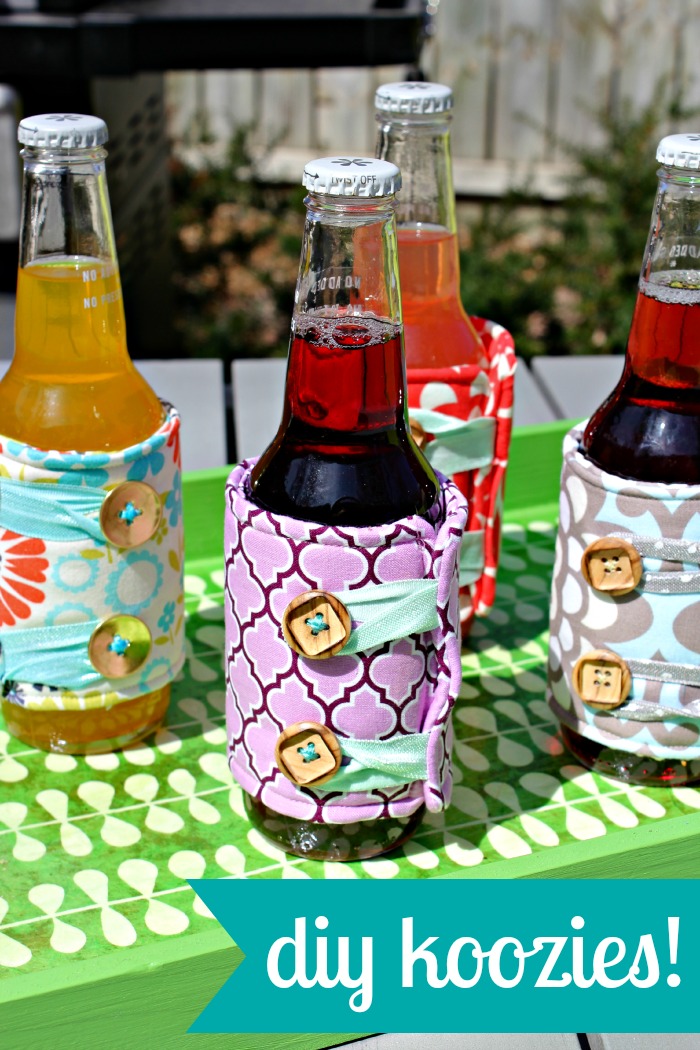 Thanks for having me here today! I had such a fun time with this project! Here's to patio drinking weather!!