UPDATE: We've redone the office again – click here to see the latest version!
I have had a serious inability to concentrate on one room at a time this month. I started redecorating the dining room, and even painted a mirror and made some napkins. Then when I added my new sunburst mirror  to the powder room, I decided to abandon the dining room and update the powder room. Well, I got a great start in there, but then my bookcases arrived for the office and the focus shifted again! Although I totally abandoned my plan to only work on one room at a time, it was worth it because I am so happy with the progress we have made in the office. It isn't "done", but it is done to the point I really enjoy being in the space and I can shift my focus back to the dining room OR bathroom in May.
Let's get to the fun before and after photos and then I'll tell you what I still want to do in here. And I get to say "here" because I LOVE working IN the office now instead of trying to avoid it 🙂
BEFORE: Left Side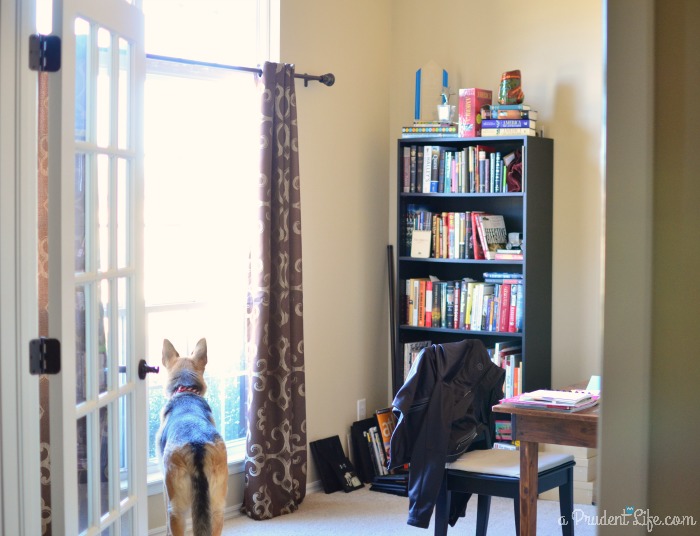 Before: Middle
We bought an awesome farmhouse table to use as a shared desk, but as you can see, it was a disaster. Sorry about the doors in the picture, I thought I had better before photos but forgot to check them before we started painting!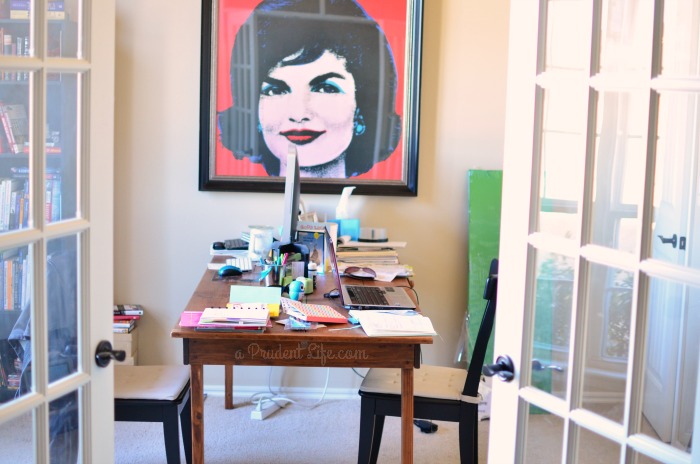 Before: Right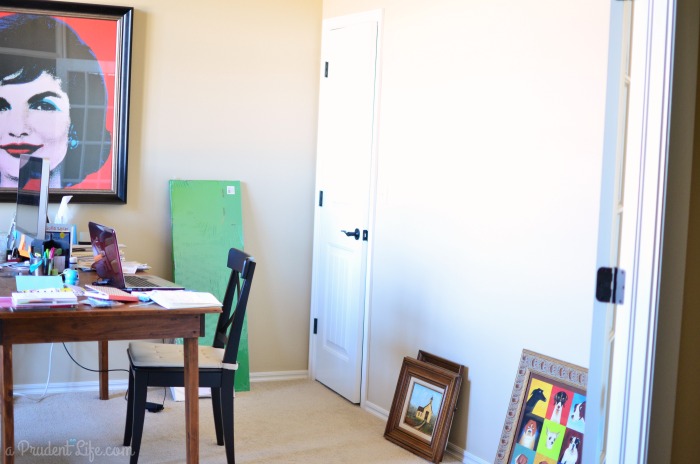 I spent ALOT of time trying to figure out furniture placement in this room. There is a bench in our entryway that looks directly into this space and I sat there with a notebook one morning until I figured it out. Now that it is done, it seems so obvious!
To the left, I get the entire farmhouse table to myself. It's delightful!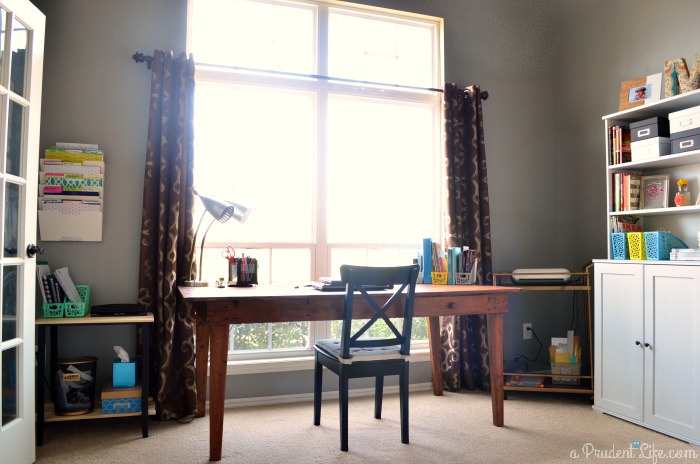 I can't wait until the grass is all green and pretty again, but after 10 years of being in offices with no windows, I am so grateful for a view. Everybody pray with me now that they don't ever build houses on the lots across the street 🙂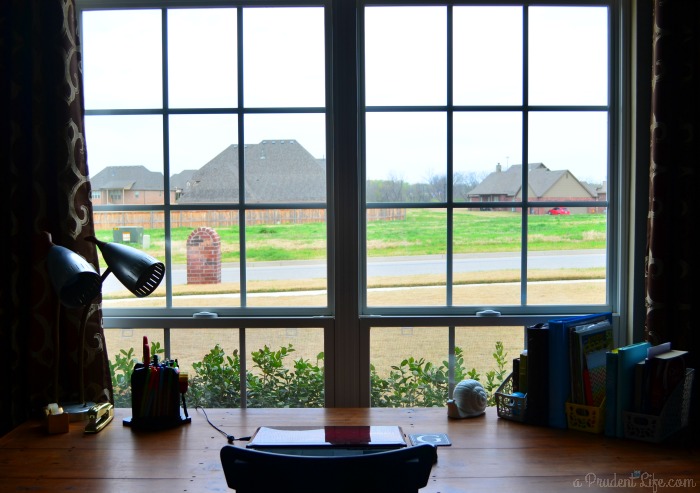 To the left of my desk, I have a blog command center. I made a great color coded editorial calendar for the wall and I don't know how I ever functioned without it! This location is great for the calendar because I can see it from the desk, but it isn't viewable from the entryway.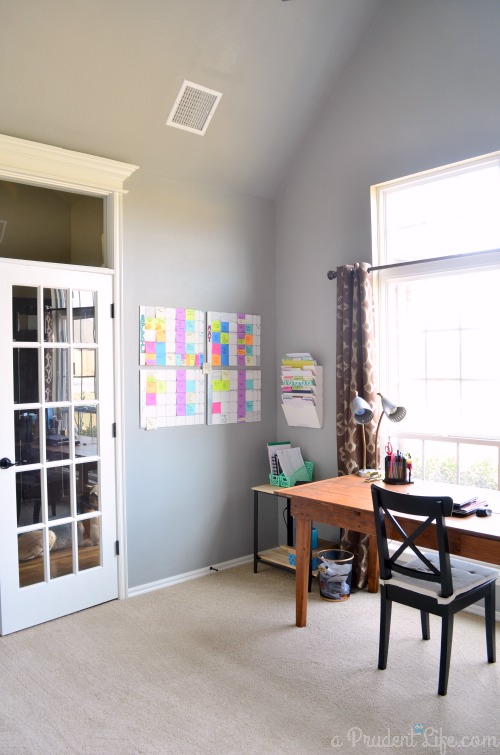 To the right of the desk, I re-purposed my deal of the century Target bar cart into a Silhouette station. It works perfectly! The top holds the machine and the bottom has a basket for scrap materials. Full size materials are right next to it in the bookcase.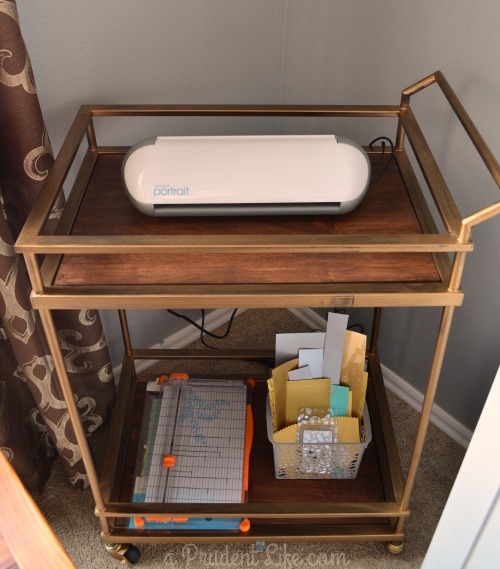 The back wall is now full of storage! We ordered the IKEA Borgsjo shelf units, and love that they are deeper on the bottom than the top. I didn't have that much time to spend staging, but for now it works! We didn't buy anything new, just shopped the house.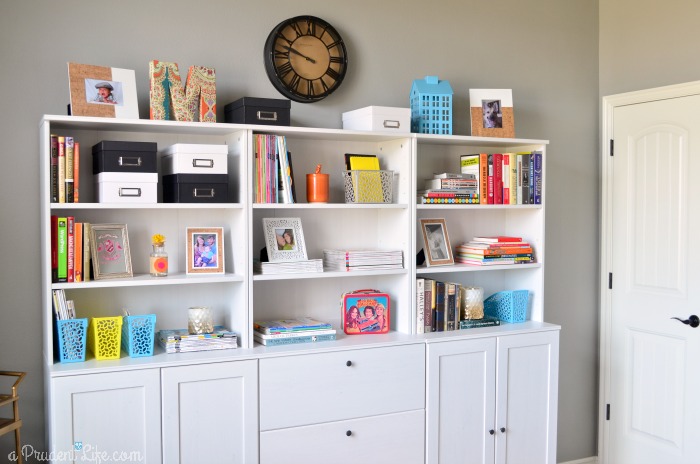 Spinning to the right, you'll see my husband's desk. We had a dark Threshold Avington desk that we were using as a console table (aka junk catcher) in our bedroom. I painted it with DecoArt Chalky Paint in Everlasting and it works great in our new space (tutorial coming)!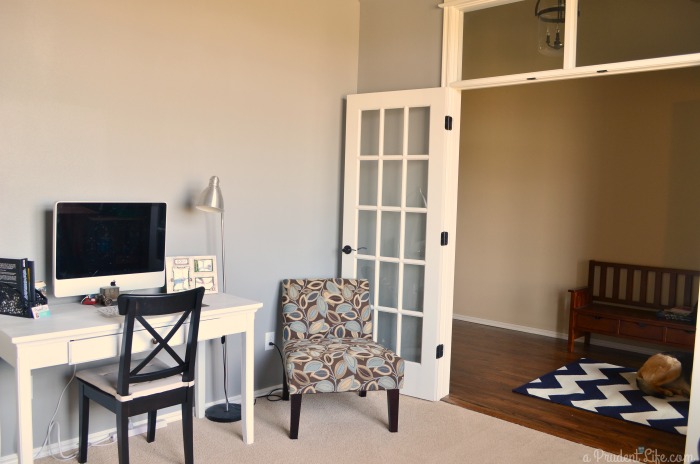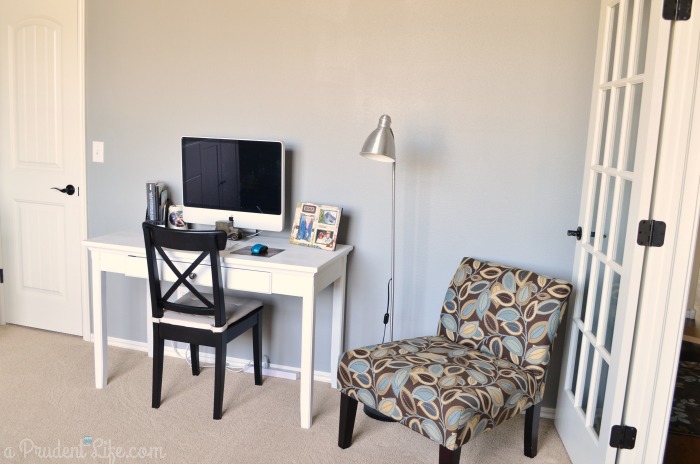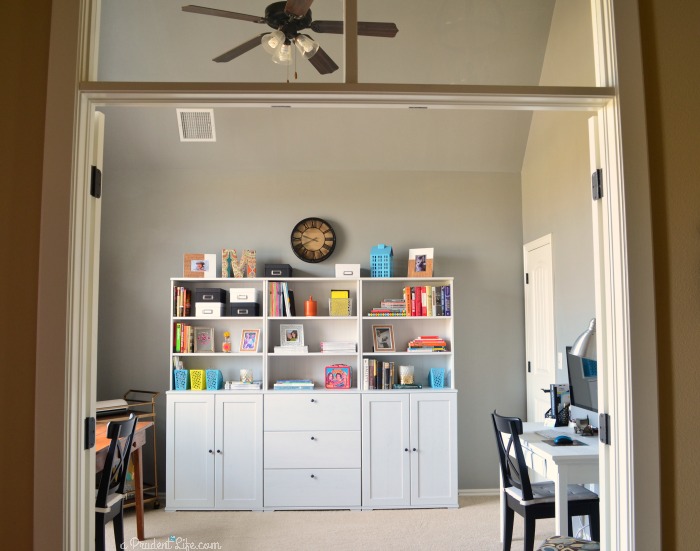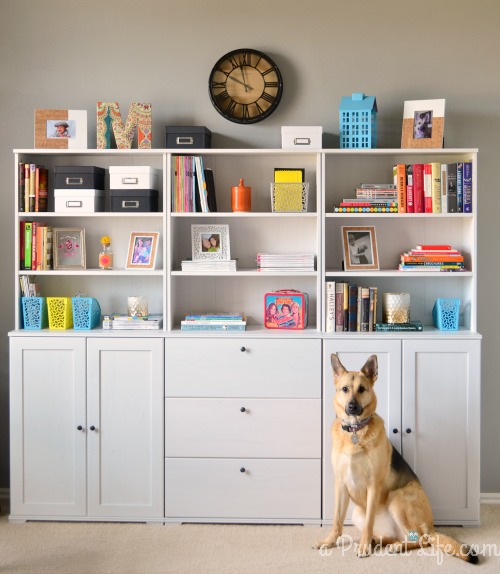 Source List
Wall Paint – Valspar Hazy Stratus (LOVE LOVE LOVE this color)
Bookcases – IKEA Borgsjo Shelf Unit x3, plus 2 door packs and 3 drawer
Smaller Desk – Target Threshold Avington with DecoArt Chalky Paint in Everlasting
Left To Do List
Rug
Curtains
Redo Vintage Lamp (on my desk)
Chair (either slipcover or buy new)
Gallery Wall (hubby's desk wall)
Bookcase Trim (add crown & trim between separate units)
Replace drawer pulls
Floor???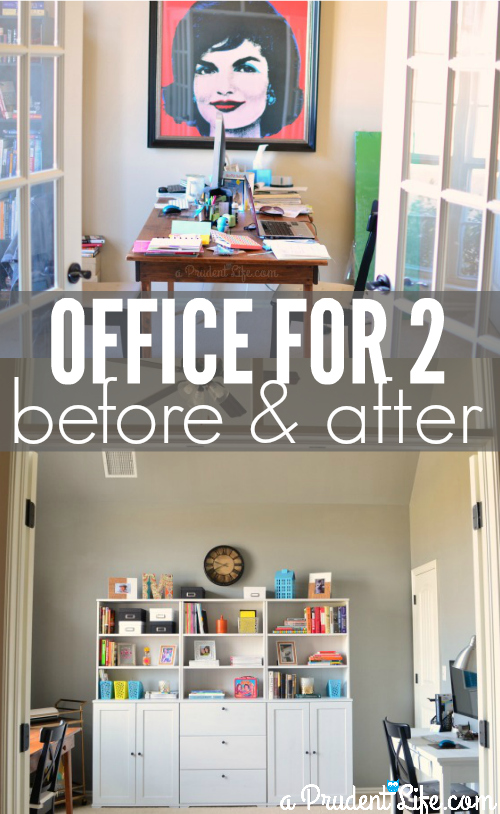 I get a little giddy every time I walk past the office now. Even though we painted the walls a darker color, the space feel so much brighter and happier! Since this is a room right off our front door, I love that it feels so welcoming.  And even more than that, I love that it is now a fully functional space!
UPDATE: We've redone the office again – click here to see the latest version!