For someone who loves to be organized, I'm a bit of a travel-disaster. I always over-pack because I REALLY like to have clothing options. The idea of only having one thing to wear each day of a trip freaks me out more than it should.
I could have gone to therapy about that, but instead, I found a way to control the chaos.
I started researching packing cube options for my trip to Beverly Hills last week. The Complete Bundle by EzPacking was my perfect solution!
They thought of everything I needed to make packing, traveling, and returning home a smoother process. Minus the part where I almost missed my connecting flight after a 2-hour layover because I was sitting at the wrong gate the entire time. At least I got some exercise running to the right spot.
My love of EzPacking started during the ordering process when I realized they would let me split one bundle into two different colors. They have many colors, so you could designate a color for each member of the family!
Here's a peek at everything that comes in one Complete Bundle. Since my confessed over-packing tendency includes shoes, I also ordered three extra shoe bags. Don't miss the coupon code at the end of the post – it will help you rationalize your own extra shoe bags.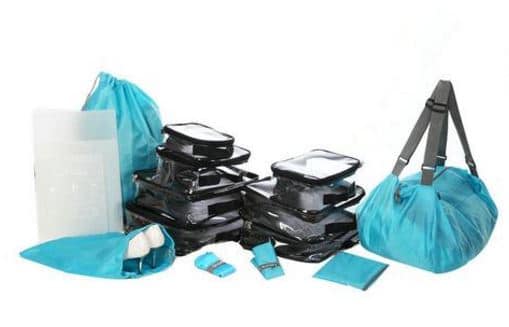 Packing
Ever since I saw Jeanine Garafalo is perfectly folding clothes at GAP in Reality Bites, I've been obsessed with the idea of having folding boards. I couldn't believe it when I realized the bundle comes with THREE boards, each designed to fold clothes into the size that perfectly fits into the coordinating cube. An organizer's dream, right!?!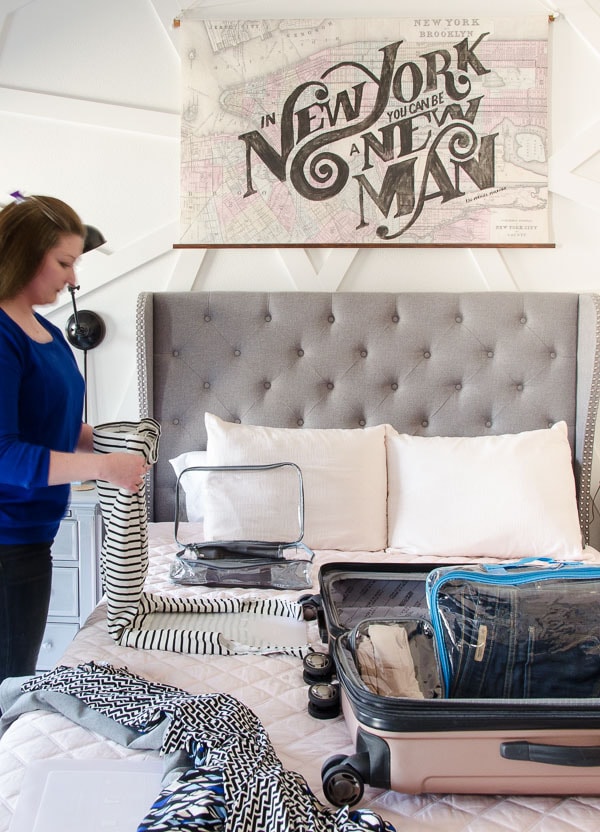 Before I started folding and filling the cubes, I picked out all the clothes I wanted to take along. In addition to being an over-packer, I'm an over-thinker, so I like to see everything laid out in outfits to make sure I'm not missing anything. When I had about 7 days worth of clothes (for a 3 day trip), I knew I had to cut myself off.
I had dresses for the evening, and daytime clothes that could be mixed and matched depending on my mood. Based on the flexibility of my choices, I decided to use one cube for each type of clothing – dresses, shirts, sweaters/jackets, & pants. To give myself plenty of room, I used our bed to lay everything out.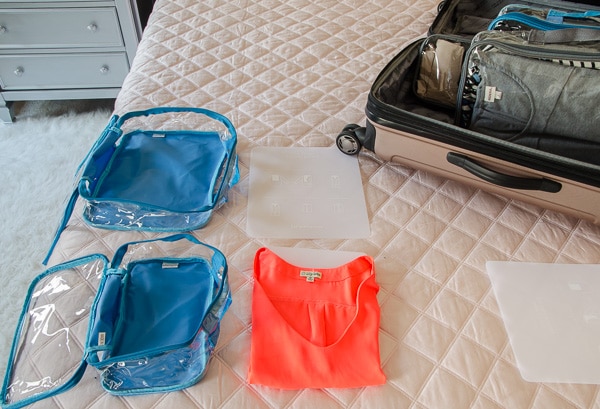 I was really shocked at how many items would fit neatly in each cube. At the same time, the cubes provided a nice stopping point for me when they were full. They prevented me from throwing a ton of random extras in the suitcase at the last minute because everything looked so nice when it was contained.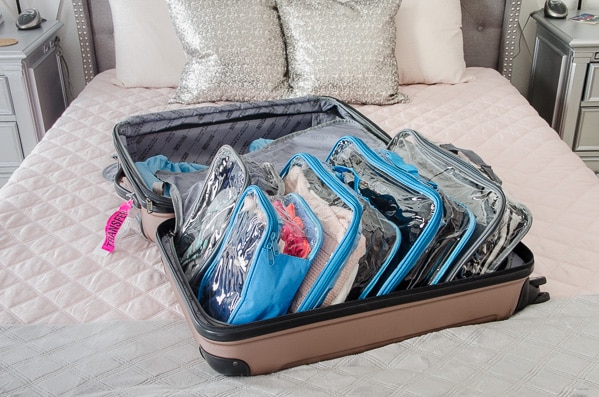 PS: If any of you are those sane people who fit everything in a carry-on, you should check out the Starter Set. It's a smaller set of four cubes that would be perfect to keep that carry-on organized in style.
At the Hotel
It was so lovely to open the suitcase to organization when I got checked into the hotel. When I needed to quickly change from my comfy travel pants to a better-looking option before my first meeting, it was fast to grab the cube with the pants in it instead of digging through everything.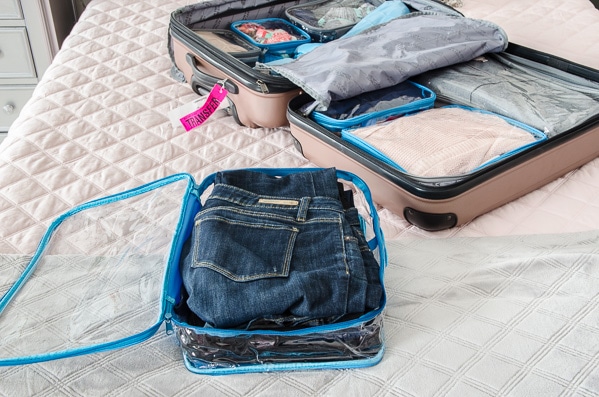 Because the EzPacking cubes are clear, unlike others I considered, I didn't have to open any extra cubes trying to find the pants. I could see them through the top and side.
The first evening, I unfolded the fabric laundry bag and it was way bigger than I expected. I normally rely on the hotel having a plastic laundry bag in the room, but they've never held all my clothes. This one fit EVERYTHING!
In the past, it has always taken me way too long to repack my suitcase for the flight home. I didn't have any trouble this time, the cubes are modular and just popped back into place.
Because everything stays contained, the clothes come out of the cubes no more wrinkled than when you put them in. Now that I know how well they work, I'll be steaming wrinkles out before I pack!
From cube: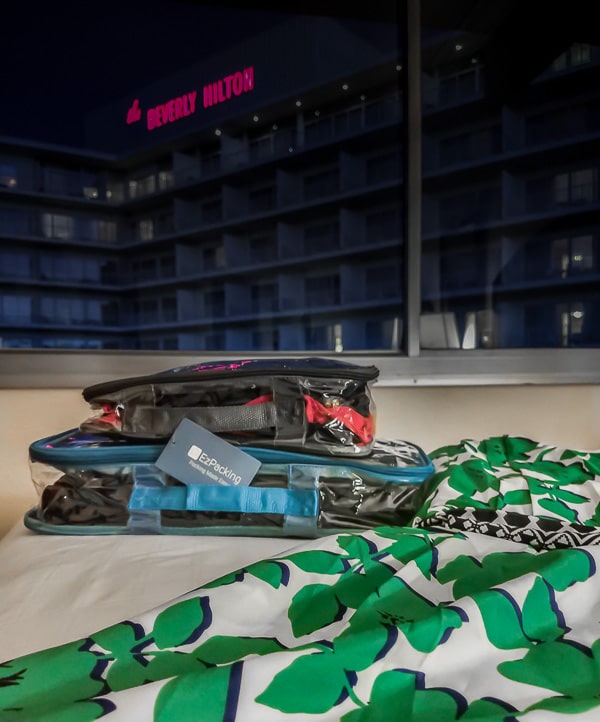 To dinner:

Returning Home
In the past, when I arrived home from a trip, everything went straight to the laundry hamper. Even when I used laundry bags, my shoes had been rolling around the suitcase with all the "clean" clothes and nothing felt clean.
When I came home from Beverly Hills, all my clean clothes were still safely in cubes. The laundry bag went straight to the washing machine, and everything could go right back into the closet.
Anything that cuts down on laundry is priceless!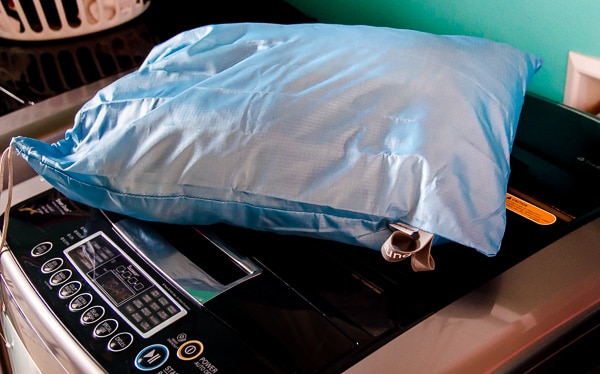 My FAVORITE Thing
While I love the great service, smart design, and quality of these cubes, something I hadn't mentioned yet is my favorite thing about the brand. EzPacking was founded by and is still run by a mother and son. Supporting small businesses/ entrepreneurs who are doing an amazing job chasing their dreams makes me so much happier than buying from a giant conglomerate who isn't in touch with their customers or employees.
Coincidentally, the son, Salo, lives close to where my conference was at last week and I had the chance to meet him in person. I only recommend products I love, but I get even more excited to share them when I know the people behind the product. I can whole-heartedly tell you that this is a brand we should all support. They're clearly a smart, hard-working, and creative family. They value making travel easier for people and are passionate about making customers happy.
So, in addition to having the best product on the market, I'm convinced they are the best people you could buy from! Check out all the products here. I think I need some of the large storage cubes before I put our heavy blankets away for the summer!
GET A DISCOUNT!
EzPacking set up a 15% off coupon, just for you guys!
Use code POLISHEDHABITAT15
to order now!