I'm so excited to be here from Restyle it Wright to share with you the ultimate decor challenge – re-creating a dream room for a fraction of the cost. When I think of dream spaces, Anthropologie often comes to mind. When their house and home catalog comes in the mail, I grab a cup of coffee and sink into the couch to slowly pour over every page ohhhh and ahhhhh'ing.
Aside from the hefty price tag, I love everything about their house and home line. While their vibe is more bohemian glam, so many of their pieces are sure to fit into any niche. After perusing their new Spring 2017 House and Home Catalog I was determined to take an inspiration space from one of those pages and re-create the look for less. How much less you might ask? Well…stay tuned to find out!
Let's get to the nitty gritty.
I started with this inspiration image from the catalog.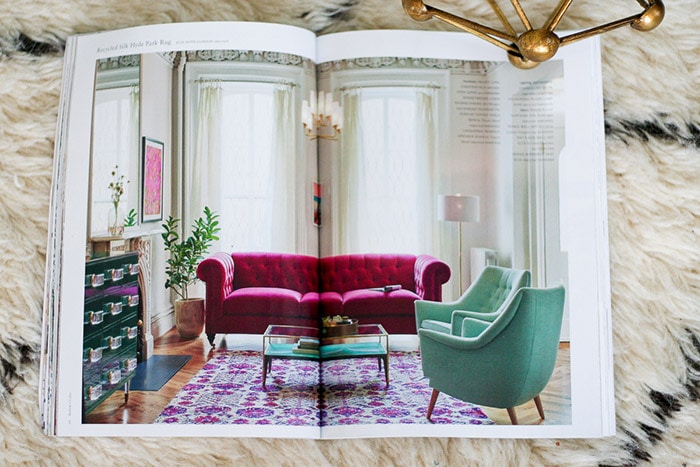 Glam and Gorgeous right? A luxurious velvet sofa, warm metallic accents, and an unexpected pop of mint green work together beautifully to create a timeless space. I picked some key elements from this inspiration and created a mood board to get an idea of cost. Let's just say this room will set you back a pretty penny.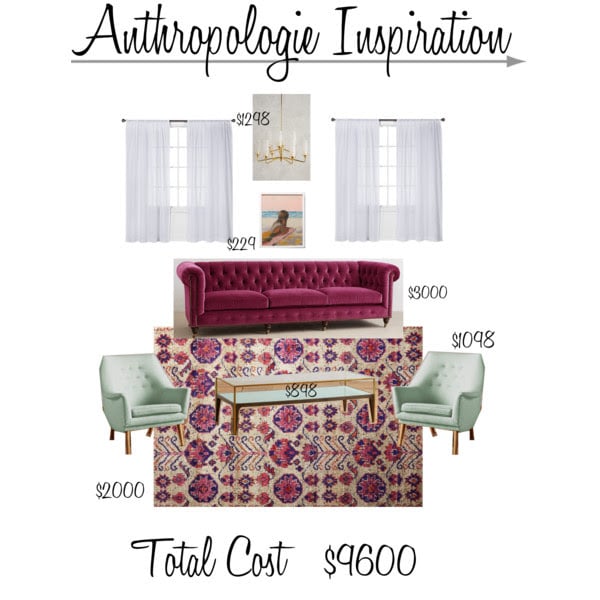 All prices as of March 2017 – Subject to change 
Mayworth Chandelier – A classically shaped gold chandelier at 31" wide  // $1298
Days End Wall Art –  Artist Clare Elasser creates a piece with corral, marigold, and beachy vibes // $229
Chesterfield Sofa – The luxe fuchsia pink velvet couch (also in 18 other colors) is 8 ft wide and GORGEOUS // $3000
Rivona Chair – These modern mint green chairs also come in 14 other colors // $1048 each
Silhouette Display Coffee Table – A classic coffee table with glass top, hardwood, and gold // $898
Hyde Park Rug – A 9×12 rug in floral pattern made of recycled silk // $2000
Now, if budget were limitless, I may entertain the idea of buying everything I see…because it's heavenly.  BUT I live in reality and this $9600 on one room may be just a tad out of my price range. So let's see if we can do better.
I shopped online at some of my favorite budget-friendly places like Target, Home Depot, Joss and Main, and more to re-create this space for a third of the inspiration cost. I can't wait to show you this!
Prices in the image are BEFORE sales or coupon codes, so they're the worse case scenario. I listed out today's sales prices below.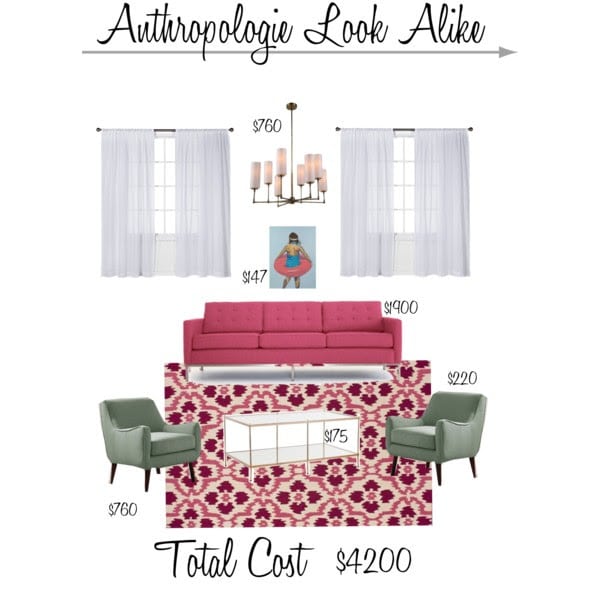 Richmond Brass Pendant–  Gold Pendant slightly larger than our Anthro Inspo at 34″ wide and half the price // $760
Violent Intertube – Limited Edition Art print by Annie Seaton selected in an 18×24 size // $147
Franklin Sofa – Linen couch that comes in 49 other colors (Bubblegum selected) and is 7.5 ft wide. Currently 20% off! // $1500
Margot Arm Chair – These mint green chairs are strikingly similar to our inspo but a 1/4 of the cost! What a steal! // $210 each
Benton Coffee Table – This tempered glass coffee table lacks the wood tones of our inspo but a great value at under $200// $175
Radiante Dulce Ikat Rug Pink*- If you love this rug RUN (virtually) and grab it because its 90% 0ff! This 5×8 is $76!!! That's basically free!  // $760
*We're worried this rug isn't going to last at this price, so we dug up some affordable alternates just in case.
This one is the closest AND best deal. This one adds in some pops of blue and would be gorgeous. And you want a more modern flair, this one is perfection!
With current sale prices, you can get everything for $3000…1/3 of our inspo room! Holy Mama!
Just think of all the fun we can have with that extra dough in our pocket. Trip to Disney? Mexico? Another room makeover?  Be responsible and save it all? Well, maybe save some of it. But let's be honest- there are always lamps, and rugs, and pretty things to buy.
With some creative thinking, internet searching, and deal digging there's always a way to bring your dream space to life without breaking the bank. Wanna splurge on that pink velvet chesterfield sofa? Hey, thats okay too. Creating your dream space is all about give and take and a combo of splurge and save.
Well, this sure was fun friends! I'd love to hear how you create a space for less!
But first one more look side-by-side.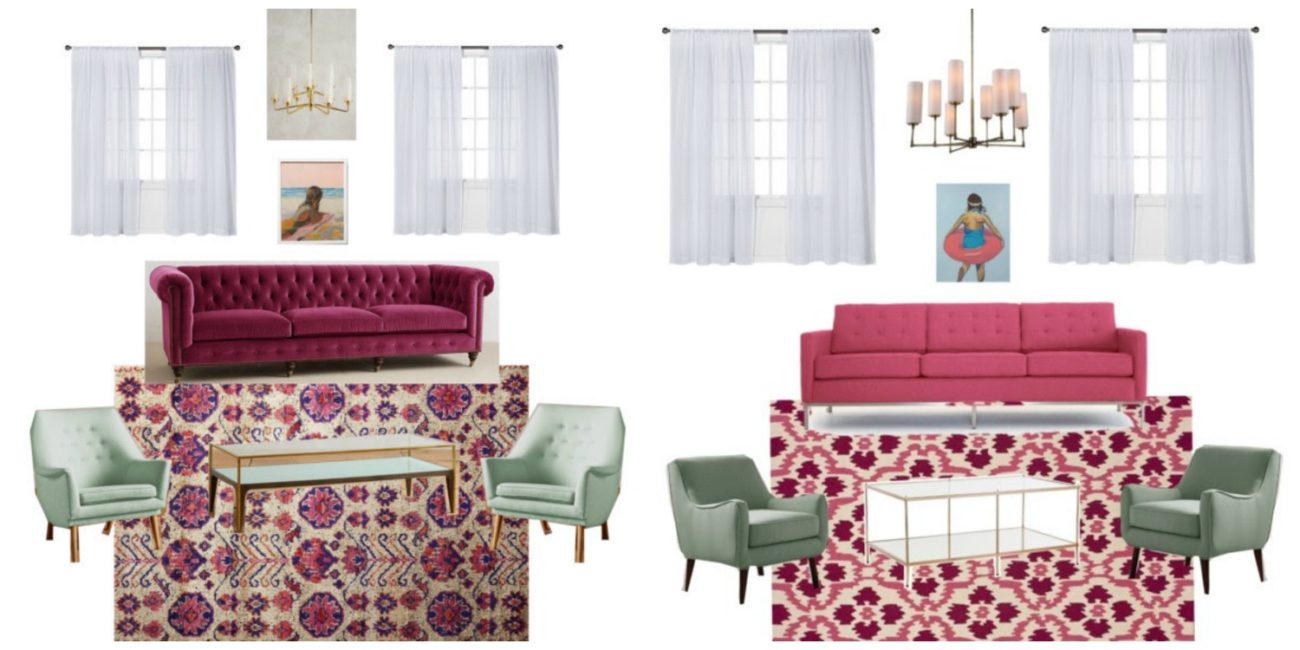 See you next month!