I rarely show my living room on the blog, because it's never felt like my style. From the beige carpet and old under-sized beige rug to the droopy, almost-green couch, not much was screaming Modern Industrial Glam. The lack of style was a minor embarrassment, but the condition of the rug and ottoman had crossed over into the MAJOR embarrassment category.
Seriously. The ottoman was torn, scratched, and missing buttons. The rug was stained in multiple places, including lots of large greenish-yellow splotches from slobbery tennis balls. So gross. I put off replacing both items, assuming I'd eventually do a whole room makeover.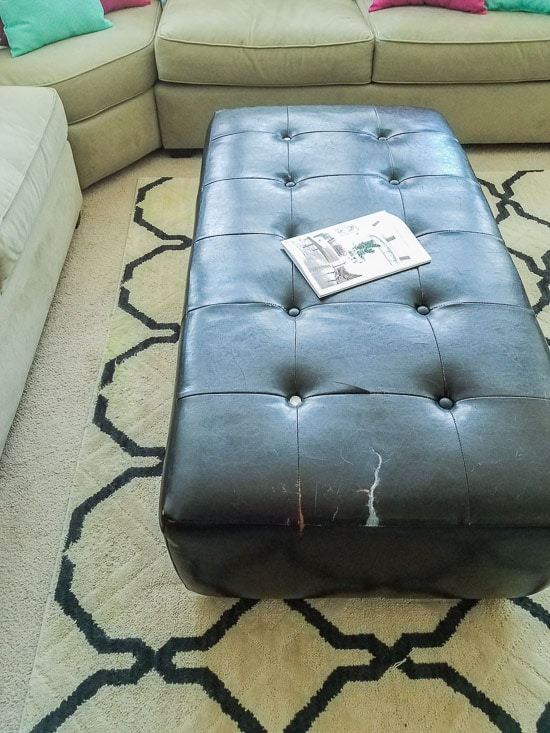 This month, I reached the point of not being able to wait any longer. On the blog, I could hide the living room or only show strategic angles. In real life, it wasn't so easy to ignore the bad vibes in the main space we use for ourselves and for entertaining. It was time to make a rug and new ottoman/coffee table decision.
I really underestimated what a HUGE impact updating those two items would make. Check out the difference!
BEFORE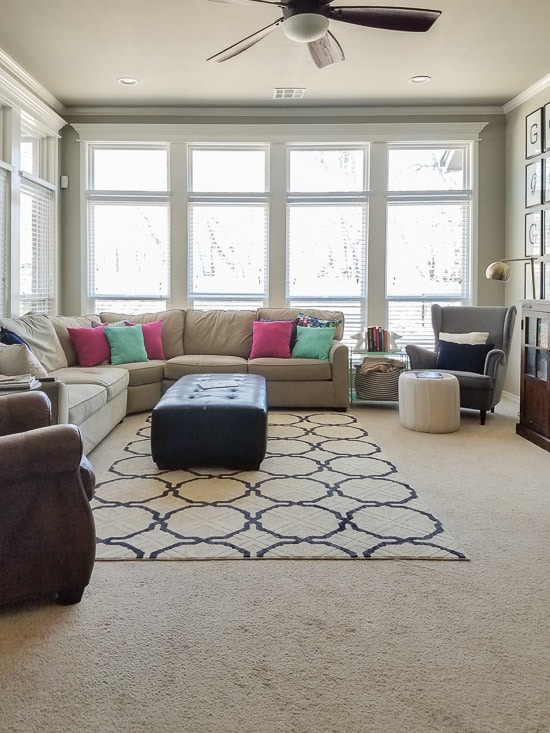 DURING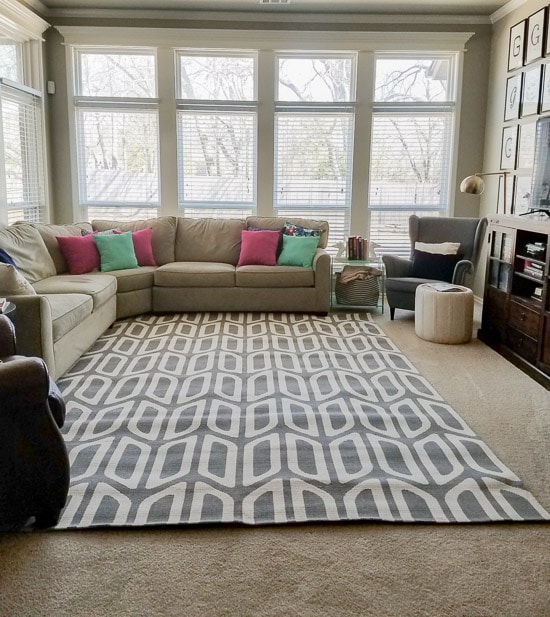 AFTER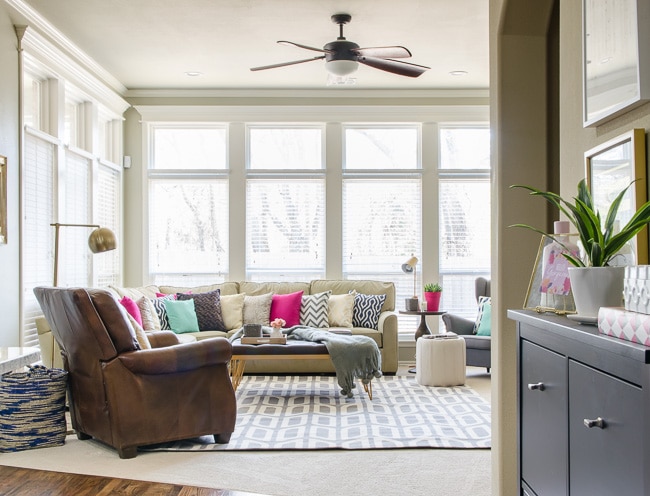 The rug came from my new favorite rug retailer, PlushRugs.com . It's always a bit scary to order rugs online, but you can't match the selection. Plus, after struggling to get a 5'x8′ rug into my car last summer, I realized there was no way I could get a larger rug home from a store.
PlushRugs.com is way easier to navigate than the other places I've shopped for rugs. First, they have categories like glam, mid-century modern and even ikat. My favorite thing is the color swatch tool. For each rug you look at, the website shows color swatches from that rug, which click to find more designs that feature the same colors.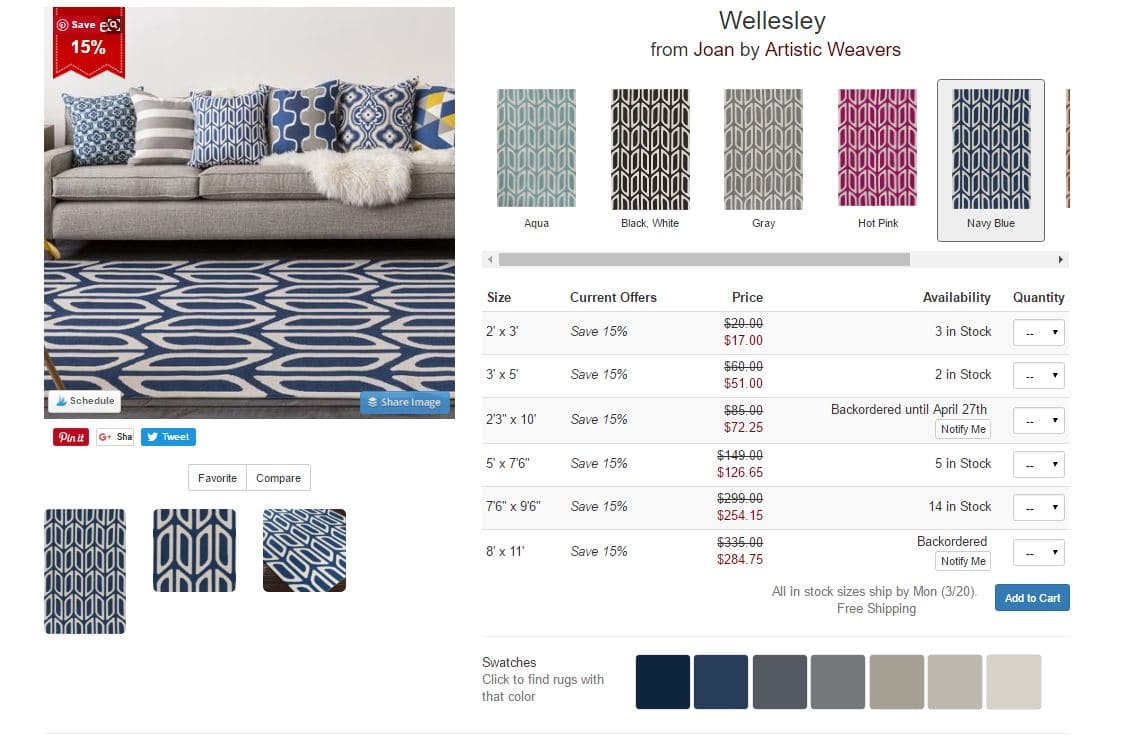 I knew I wanted something in a neutral color, but modern print.  The tricky part was finding something that would look great with all the current furniture AND still work if I replaced the flooring and sofa later. The Wellesley pattern from Artistic Weavers hit all my requirements and came in 8'x11′ for a great price! Doesn't it fit perfectly with our wall of G's?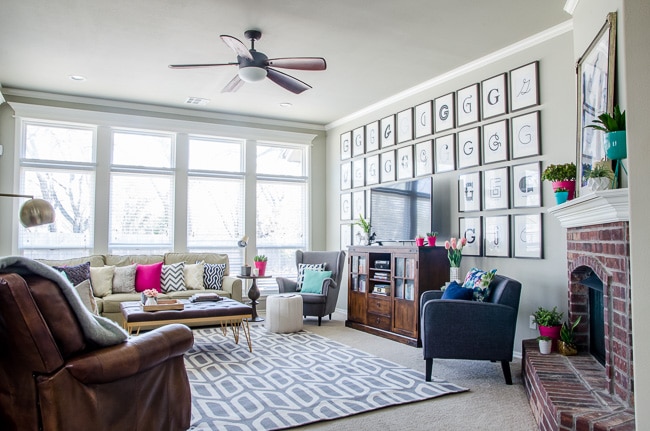 After deciding on the rug, it was time to figure out the coffee table situation. After 10 years with a faux-leather ottoman, part of me wanted an actual coffee table. But where would we put our feet!?!  And when we have larger groups of people over, we always moved the ottoman in front of the TV to provide extra seating.
After much internal debate, I came up with the perfect situation! I didn't buy a coffee table OR an ottoman.
I ordered TWO Safeviah benches from HedgeApple.com instead! The have more structure and style than a stuffed ottoman but function the same way.  PS:  I'm not sure how I wasn't aware of HedgeApple.com before, but they have a ridiculously good selection of stylish furniture and lighting. Most of it is stuff I haven't seen other places, which is important as I try to make our home unique to us.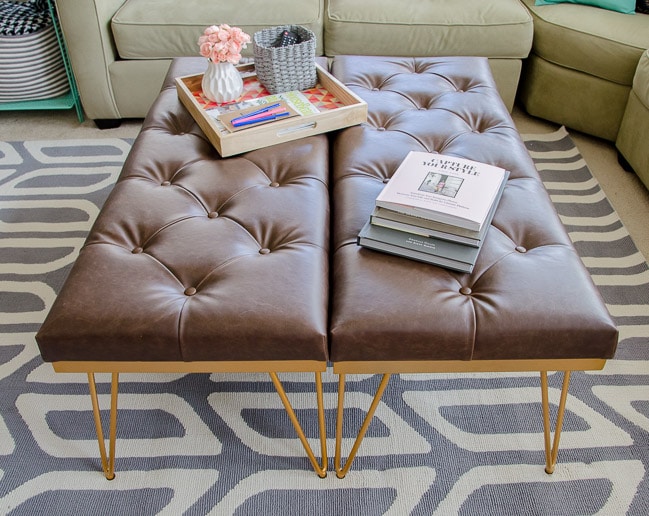 Most of the time, the benches will be side-by-side making a large almost-square surface.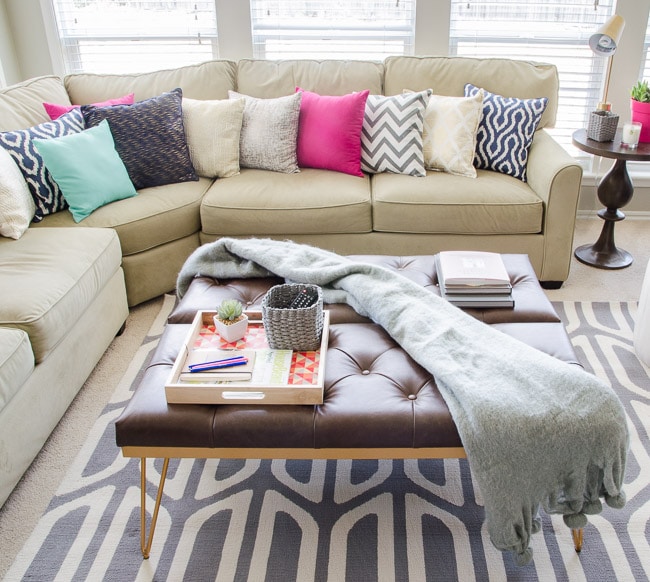 When we just need a couple extra seats, one can be moved to the fireplace.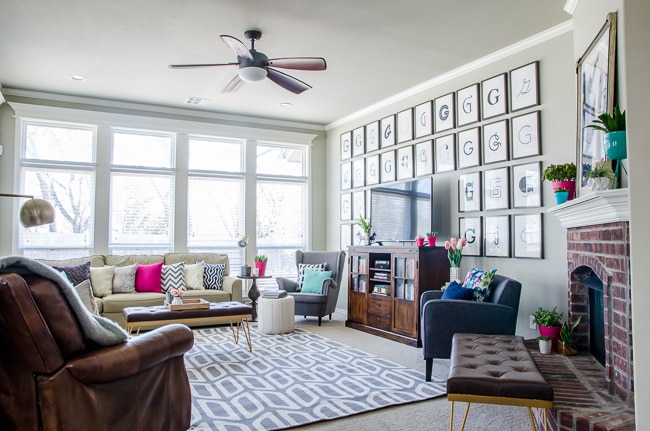 For larger groups, like our big Christmas Eve get-together, we can use both for seating.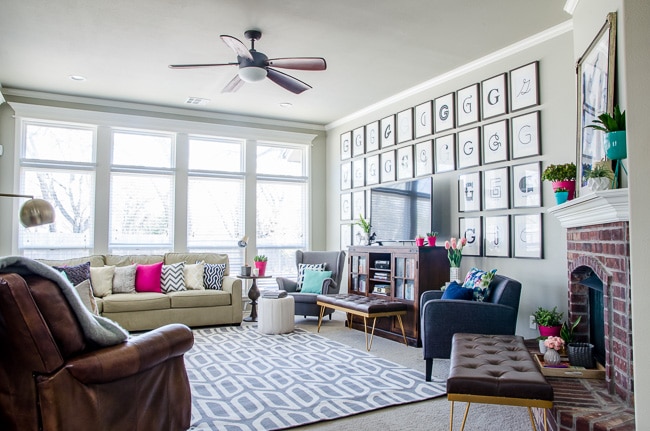 If you decide to duplicate my bench idea with different benches, just make sure you check the height compared to your couch before ordering. These are 18″ tall and perfect with our couch, but other benches I saw were 21″ tall and would have been awkward.
With the new rug and benches in place, I added some plants and gathered some other accessories from around the house to freshen up the room without blowing the budget. We already owned all the pillows I added to the couch, but I did pick up a couple inexpensive pillow covers to update some dark fall pillows for spring.
I used the same end tables we already had in the living room, but swapped them from each end of the couch.  Shopping the house is always a good idea when you're making a quick change!
Here's one more look at the before & after. Can you believe what a huge difference a new rug and benches made?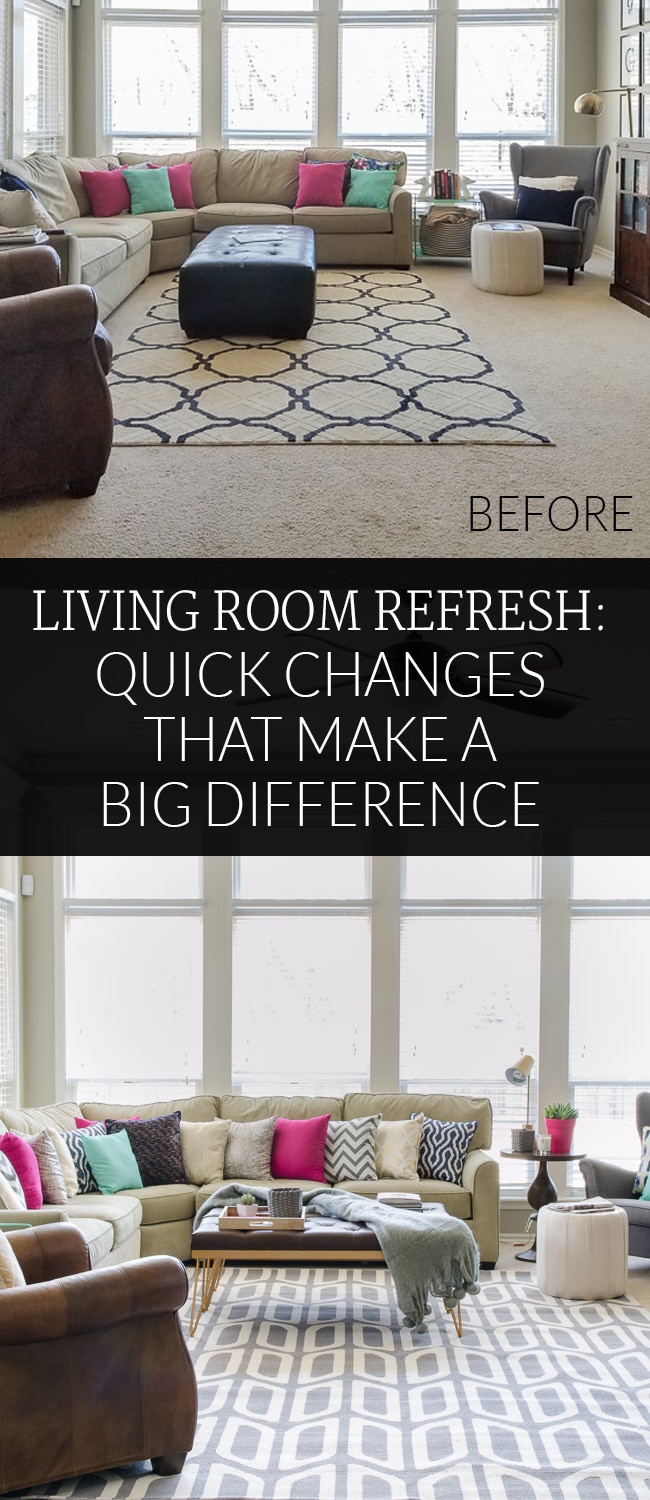 This transformation reminds me of the entryway update I did last summer. I never seem to fully learn how different a room can look with minor updates. In both spaces, doing a rug swap made an unbelievable impact on how the room looks and feels. Why haven't I been rug-obsessed my whole life?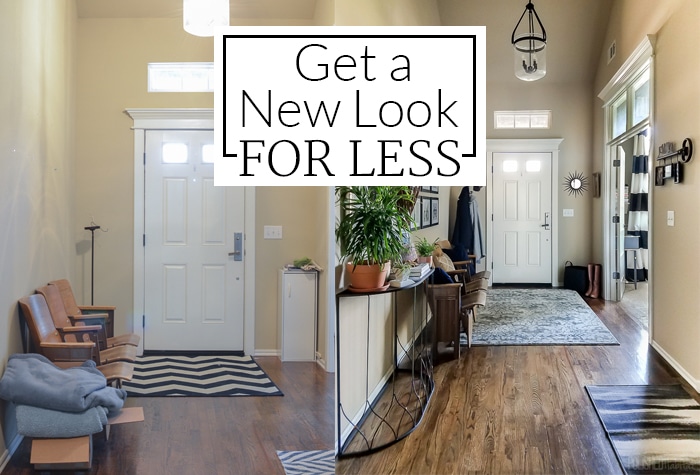 The dining room better watch out, because it's next on my list!
What room needs some attention at your house?