Happy Monday!
When I started 5 Favorite Things back in this post, it was all about starting Monday off with a smile. After about two weeks, I figured out that having a quota of 5 things to write about each week didn't really make me smile. I still love the concept, and love sharing my favorite things with you. Instead of ditching the series all together, I'm going to test out dropping the "5" and just sharing however many come to mind each week.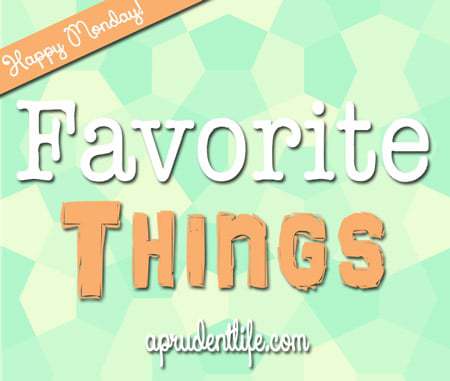 Being my own boss and making the rules up as I go is definitely one of my favorite things 🙂 See, isn't it nice that I don't have to number the list any more?
John Green is new on my favorite authors list. Technically his books are considered Young Adult Fiction, but they definitely don't feel "young" in any way. First I listened to the audiobook of The Fault in Our Stars*
 while I was refinishing the park bench. I was prepared for a tearjerker, but not for the brilliant dialogue. Has anyone that read the book seen the movie yet? I've heard it's good,  but worry the movie will have a hard time living up to the book. A couple weeks ago, I picked up An Abundance of Katherines* on sale at Target. It was another winner. John Green describes situations and emotions in a way that makes you truly relate to and love all the characters. I'm reading Looking for Alaska
* next!
Rock Candy – I totally get that rock candy is literally sugar on a stick, but I LOVE it. It's my special vacation treat. Conveniently, I can always track down a little shop that sells it wherever we go. Do you have any treats you only enjoy on vacation?
Although, I'm just going to throw it out there that Christmas is kinda like vacation. So if Santa is reading, he can click on the image below to order me some on Amazon.

Logan Huntzberger – Yep, I'm still working my way through the entire Gilmore Girls series on Netflix.  Luckily I've been doing a ton of work that allows Netflix to be streaming as I go (like the pantry project). I'm already on the 5th season, which means Logan is finally on the scene! He's my favorite of all the boyfriends.
What are you loving this week?
*Post contains affiliates links, which means I get a SMALL commission if you make a purchase through my links.  My selection of favorite things is NEVER influenced by availability of affiliate links, it's just a nice bonus when Amazon sells my favorites and I can provide you an exact link of the product I'm talking about.