Today we'll be chatting about how to functionally organize an important part of any office – your file cabinet!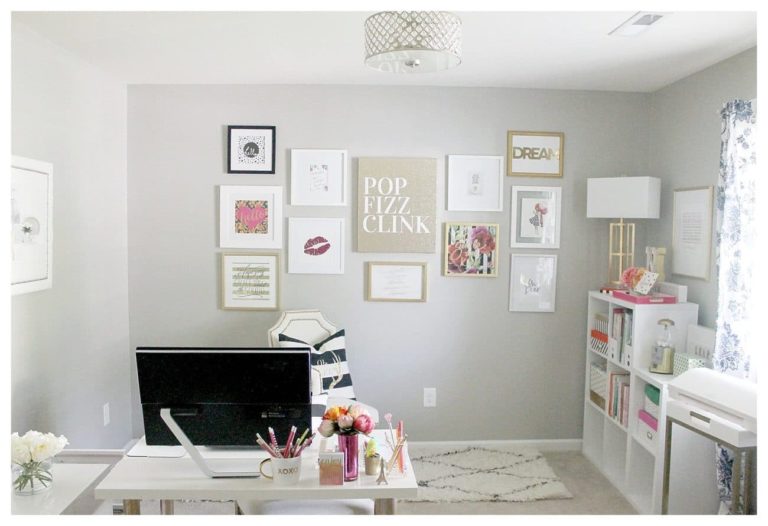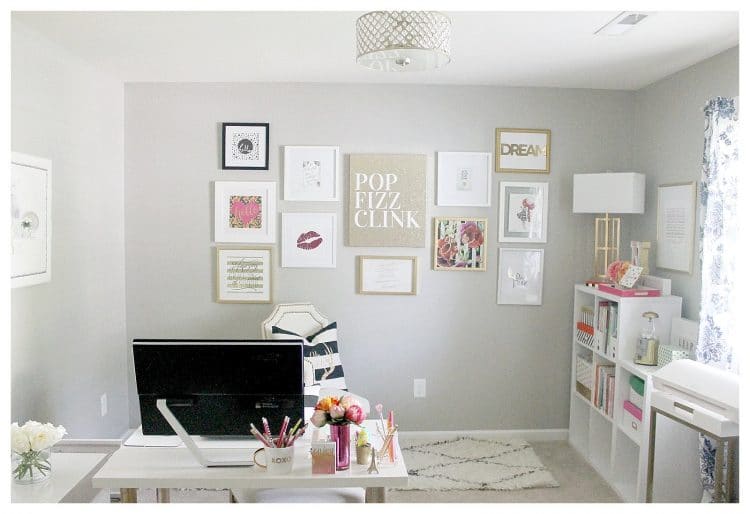 If your desk doesn't have any (or enough) drawer space, I'd recommend looking for a three drawer file cabinet.
You'll still get a good amount of hanging file space, along with two drawers of storage for office supplies. It keeps the supplies readily accessible, but still hidden so they don't create clutter.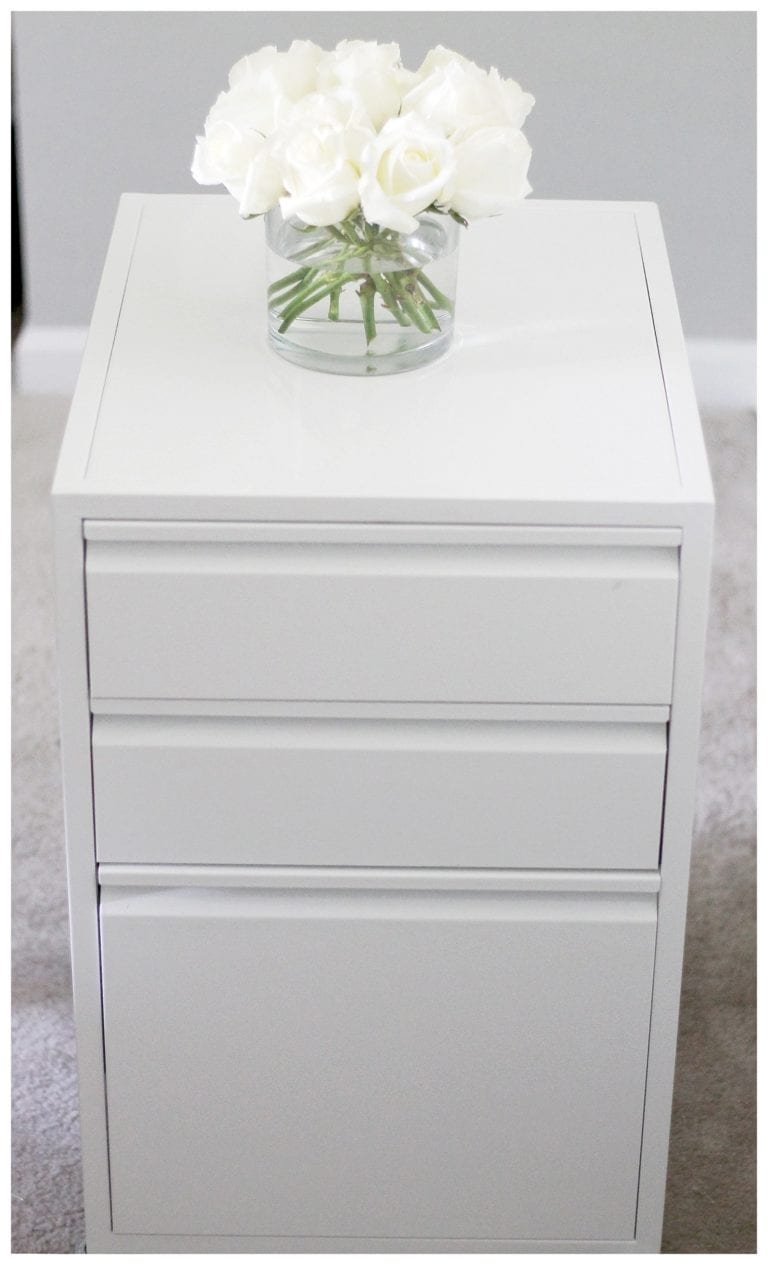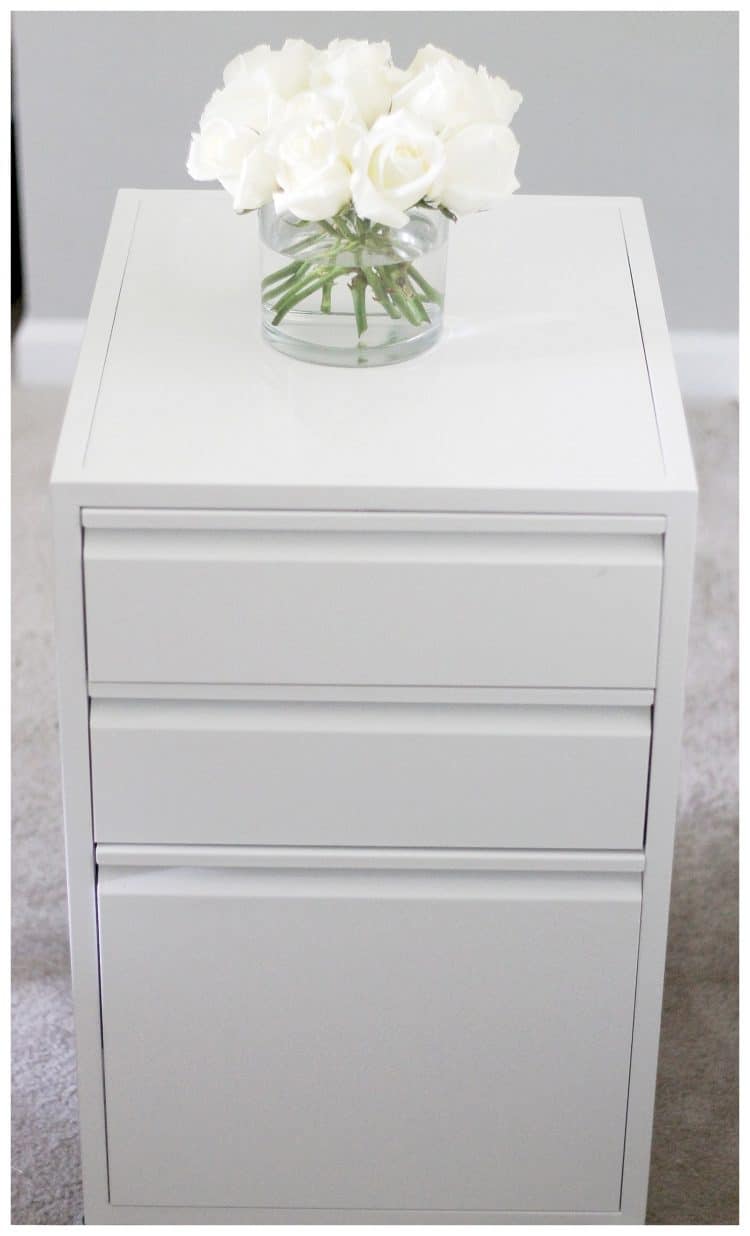 File Cabinet Organization
I found a few options similar to my cabinet for you here, here, and here in a ton of fun colors.
Now let's take a peek inside!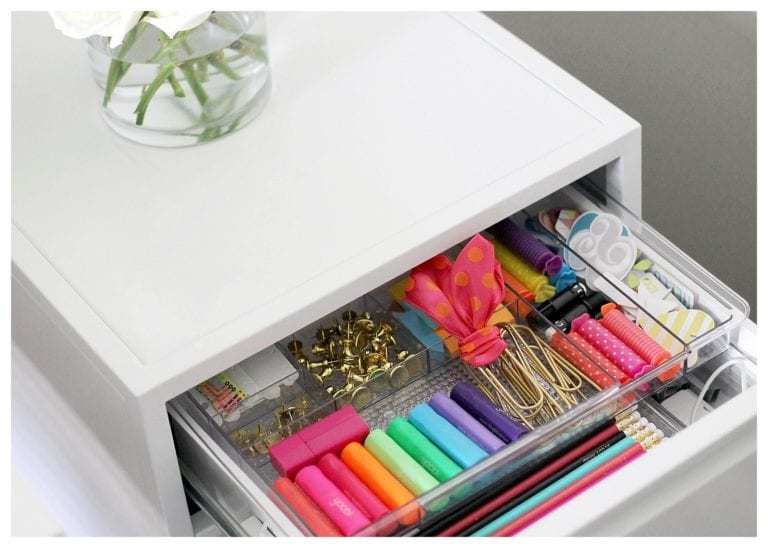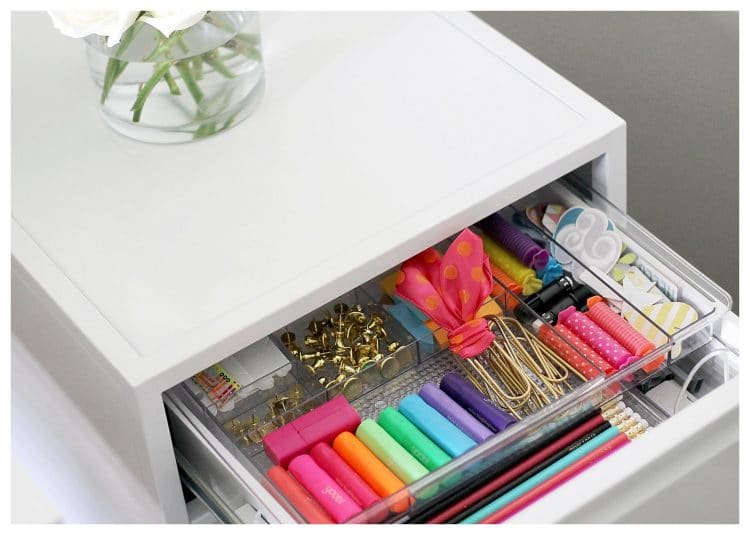 I use acrylic drawer dividers to house things such as sticky notes, paper clips, pencils. Anything that I need to have direct access to from my desk. Dividing up the drawers into smaller sections has been vital to keeping the file cabinet organized.
My file cabinet is directly beside my desk, so I'm always reaching for something to write on and something to write with! I love having my most used office supplies within arms reach.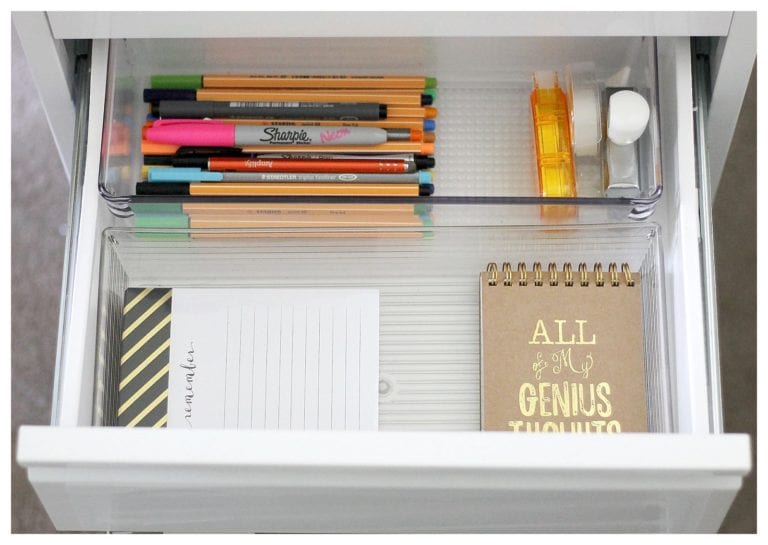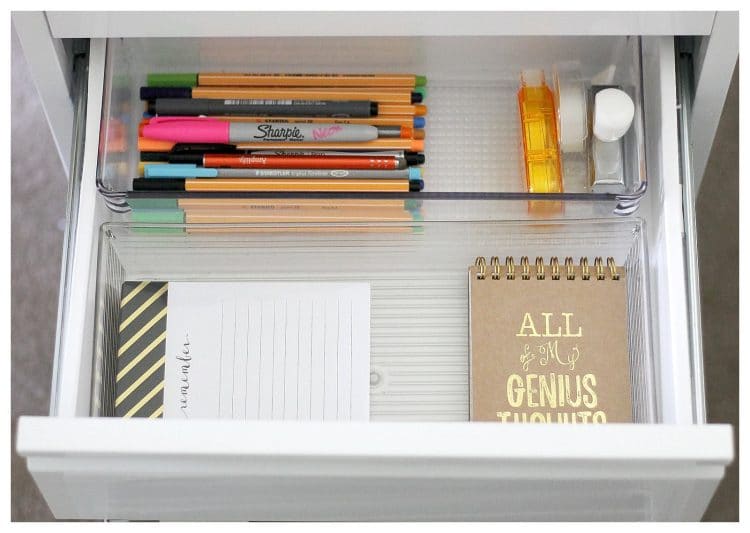 The bottom drawer is all about getting important papers organized. I'd recommend keeping your filing system simple so it doesn't become overwhelming.
Each house is a bit different, but breaking things into three categories has been working very well for us over the past few years.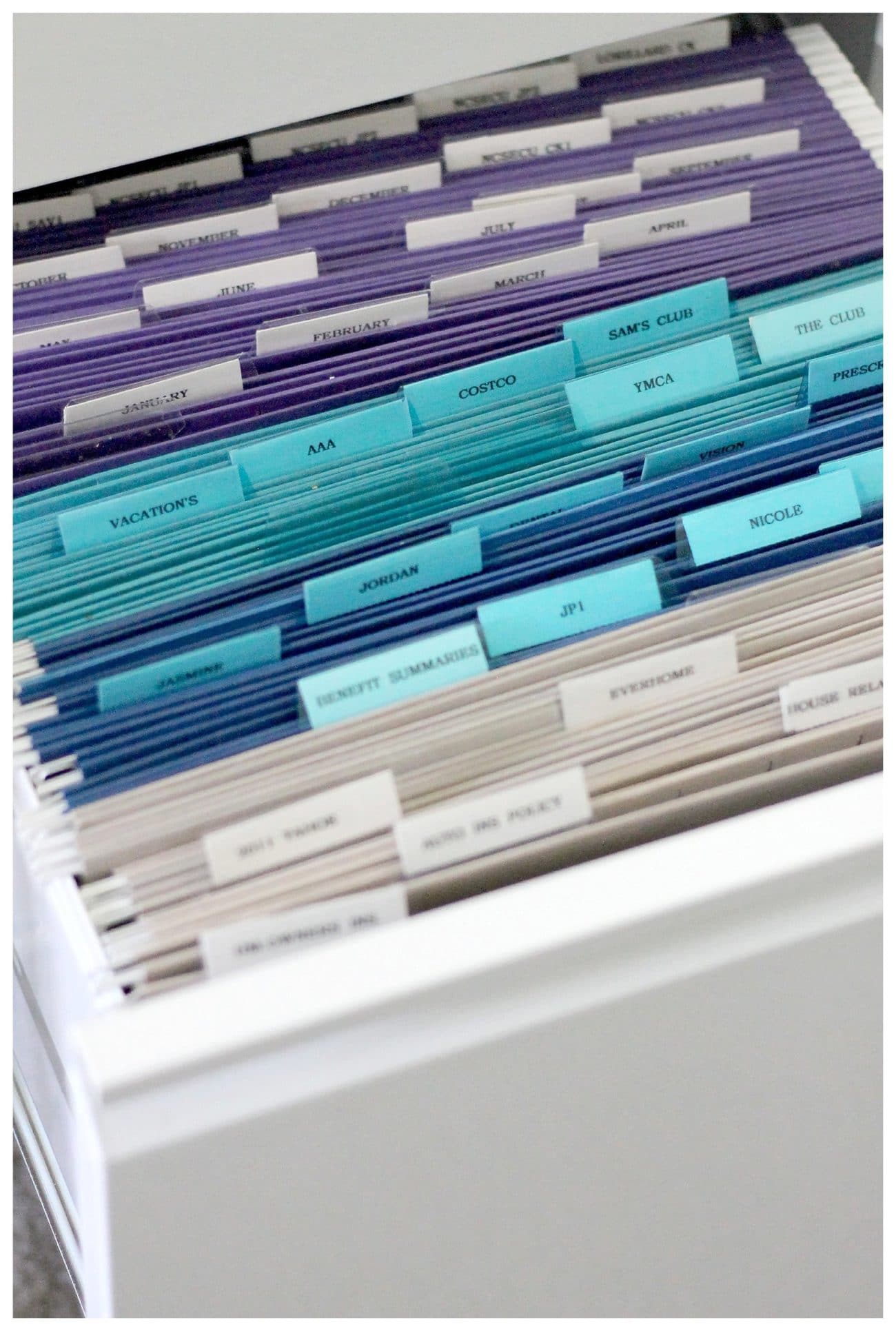 Blue – Family Related, Health Insurance, Memberships.
I have a folder for each child, my husband, and myself. I place important school papers, report cards, doctor and dentist reports here. My oldest in is his 2nd year of college, so anything that deals with his university, I place in there as well. I also have Sams Club, Costco and gym membership information.
Beige – Mortgage information, Home Warranty, House and Auto insurance
Purple – Tax information (Last 7 years) IRA & Pension, Utilities, Bank Account Information, Paystubs for the last 12 months.
Every file that I need not only has a home, but it's organized and I am able to access it quickly.
The real key is making sure I file things before they form an overwhelming pile. It takes less than a minute to file any incoming mail each day, and getting it done is SO worth it!
CONTINUE READING for more details on how to declutter & organize all the paper in your home!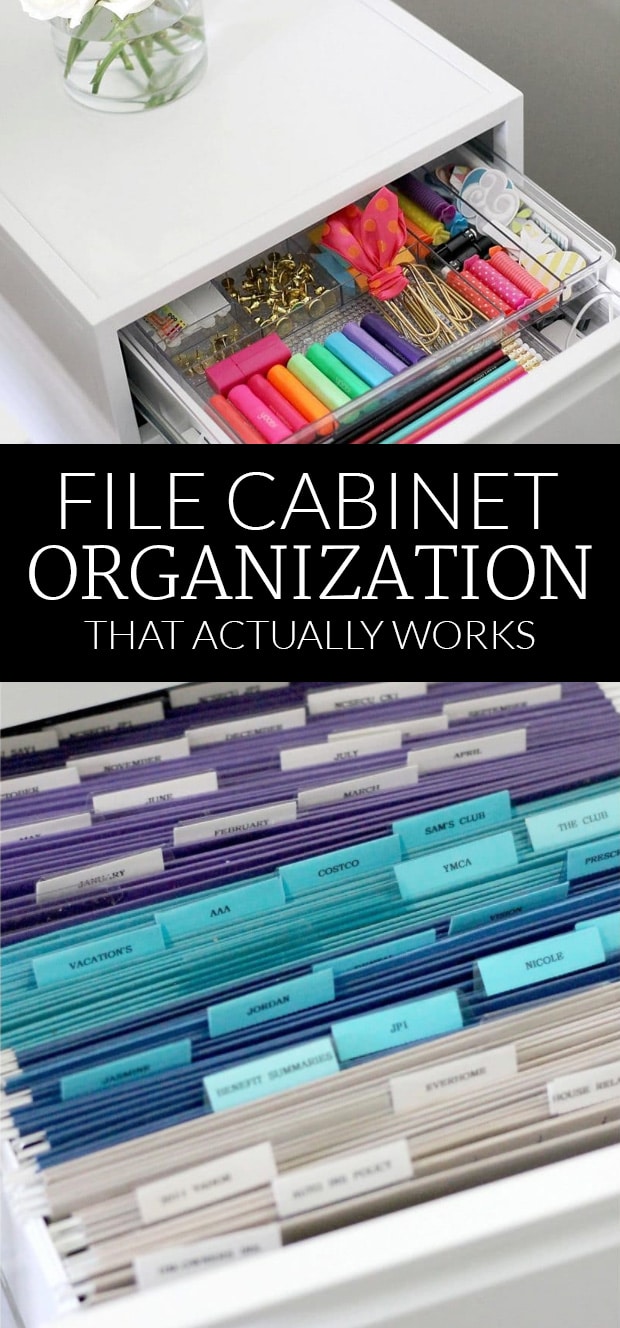 Do you have a file cabinet system that you use? If so, how do you make your system work for you and your family?