If you struggle with a countertop or table being overrun with paper and mail clutter, this is a must-read!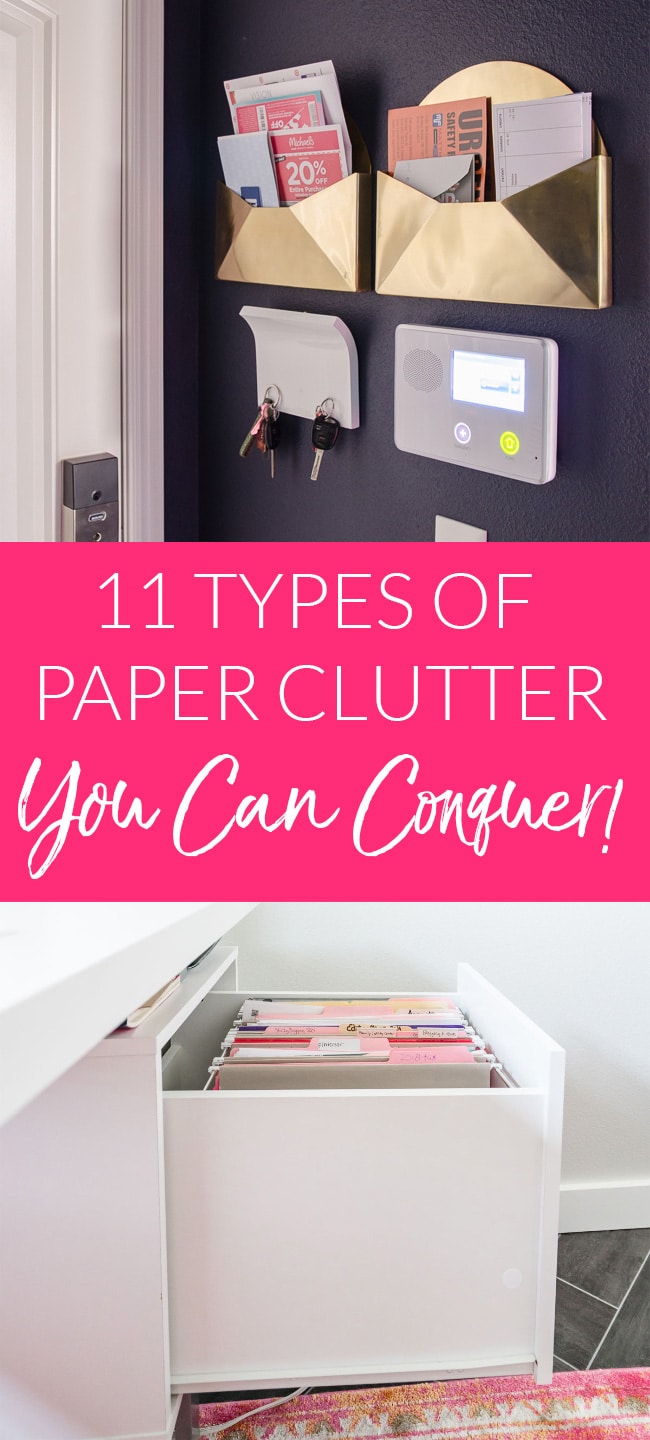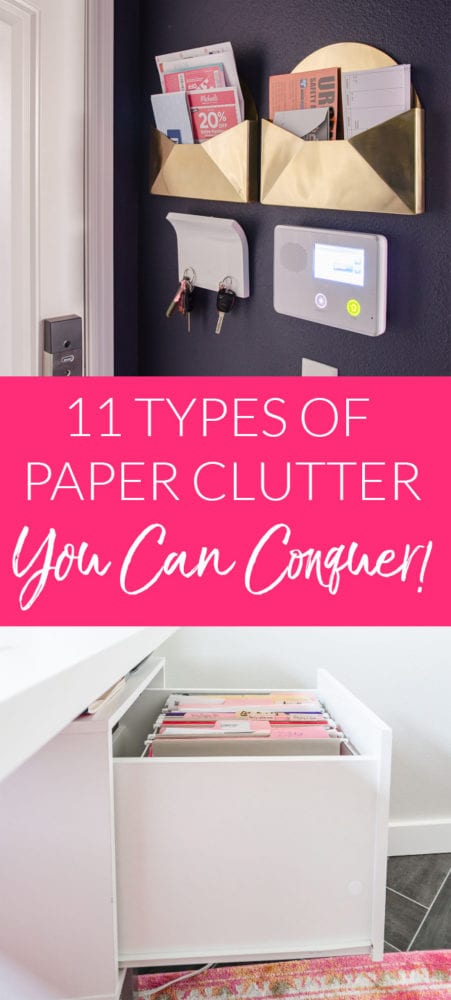 Our kitchen island is the heart of our house – for family to gather and for STUFF to gather.
It's also one of the key spots that I have to keep clear to avoid a volcano of messiness from oozing out to the rest of the house.
My makeup vanity can be a disaster with no adverse effects beyond that area, but once the island gets cluttered, suddenly dishes stay in the sink longer, dog hair stays on the floor longer, and anything coming into the house gets added to the pile.
Which then grows beyond the island to the dining room table and any other open flat surface.
Sound dramatic? I only wish I was exaggerating.
The good news is that once you figure out the hot spots in your house, you can fix them!
Incoming mail & paper clutter was one of our most significant challenges on the island.
From what I've read, we're far from the only ones that struggle with this.
I'm kicking myself for not taking the few minutes it took to fix the problem sooner.
Actually, we did try to problem solve along the way.
One method had a positive impact until it became a problem of its own. I put a box in a cabinet to collect everything that needed to be shredded. The first time it got full, I took it to a non-profit shredding center.
But then I got a bit freaked out by the idea of that – how long does the stuff sit unshredded? What precautions are in place to make sure no one walks off with our documents?
So we kept filling up the box, but never emptied it. I can't believe the cabinet door even closes anymore…
Dealing with the things to be shredded was only part of the problem.
To fix our mail clutter situation once and for all, I listed out the categories of all incoming papers we had. Don't skip this part!
Since every house is different, you'll want to make your own list, but here's mine to get you started.
Straight to the Trash/Recycling Bin
Straight to the Shredder
Straight to be Filed
Catalogs
Magazines
Bills to Pay
RSVP/Action Needed
Invites/Info on things we've RSVPd for but need to keep until the event
Coupons/Sales Flyers we may use
Receipts (Business & Personal)
Sentimental Cards and Notes
The magazines were a bit of a side issue. They usually didn't stay on the counter TOO long, but instead would end up someplace different every time. I never knew which ones I had read!
Enough about problems, let's move onto the fast solutions.
Links below may be affiliate links, which means if you purchase after clicking the link I may get a small commission. The price you pay stays the same.
Trash/Recycle
The immediate trash/recyclables are my favorite category (if I block out that someone wasted a tree). Most days this stuff never even gets set down now, I put it right into the recycling. Once it leaves your hand to land on a flat surface, it could be there for weeks, so I avoid that whenever possible.
Things to Shred
The shredder situation was resolved when I finally spent the money on our own decent shredder. I picked up a micro-cut shredder at WalMart that seems like it's somewhere between this one and this one on Amazon.
I made a spot for the shredder in the office. Things we don't need (that have personal info on them) can get shredded as soon as the mail comes in the house. After trash and shredding, the pile I have left to deal with is much smaller.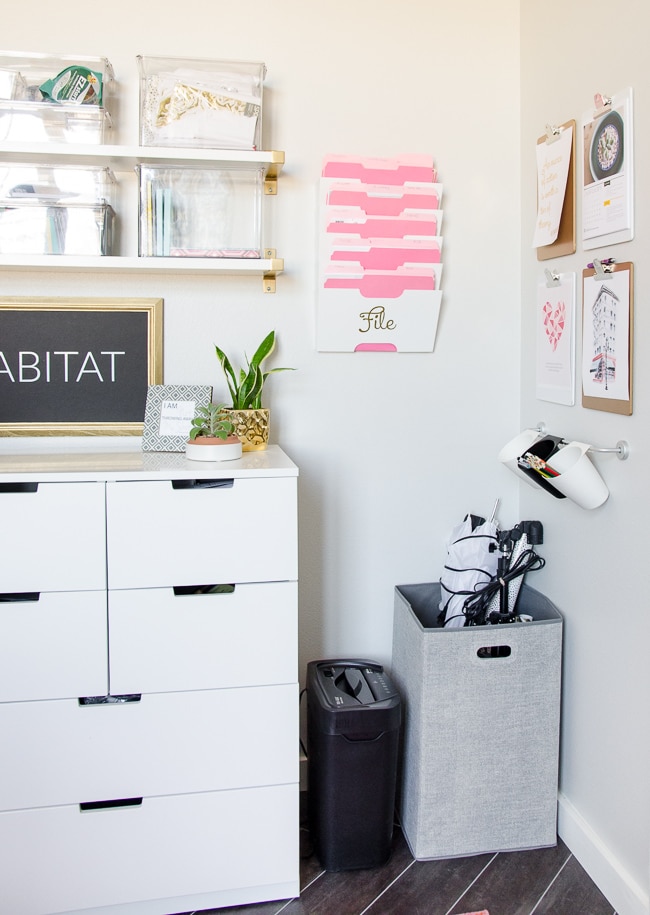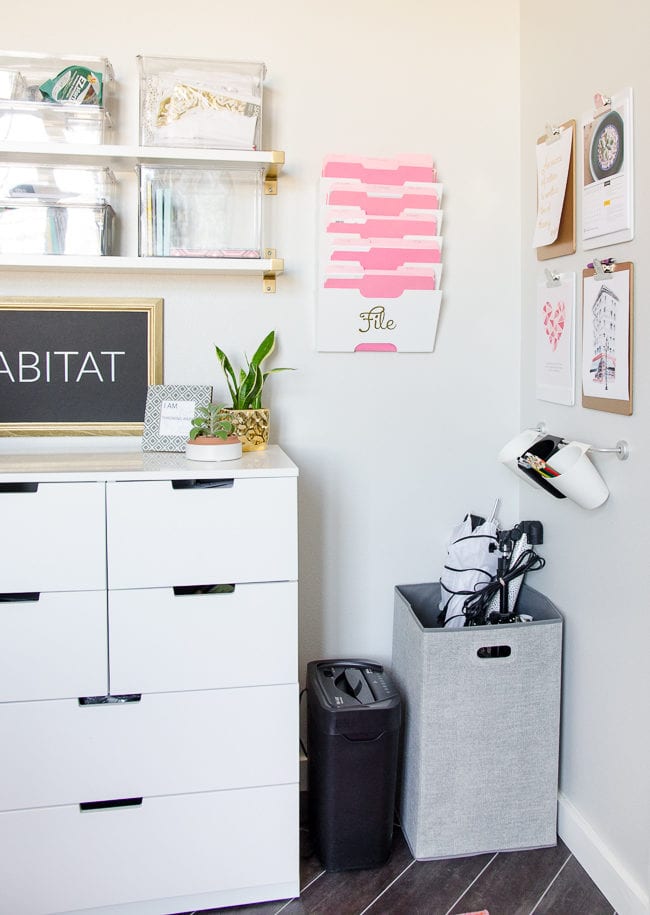 Things to File
Conveniently, the shredder is right below our wall-mounted file organizer from IKEA. As an alternative, you can use a scanning system for this step and then shred the original. We just haven't gone paperless yet.
However, the "things to file" section of this paper decluttering process was my nemesis for a while.
You see, like the secret shredding cabinet, I also had a drawer full of papers that had been shoved into one of the office drawers. The problem was that our actual files were also a disaster. We had the pretty wall files in the office, a fireproof file box that was so overstuffed it no longer closed all the way, rendering it NOT fireproof, and a large plastic file box containing who knows what.
The wall files were super handy, but I never bothered labeling them with all the things we actually needed. And when there isn't an appropriate file handy, papers end up in piles. Boo!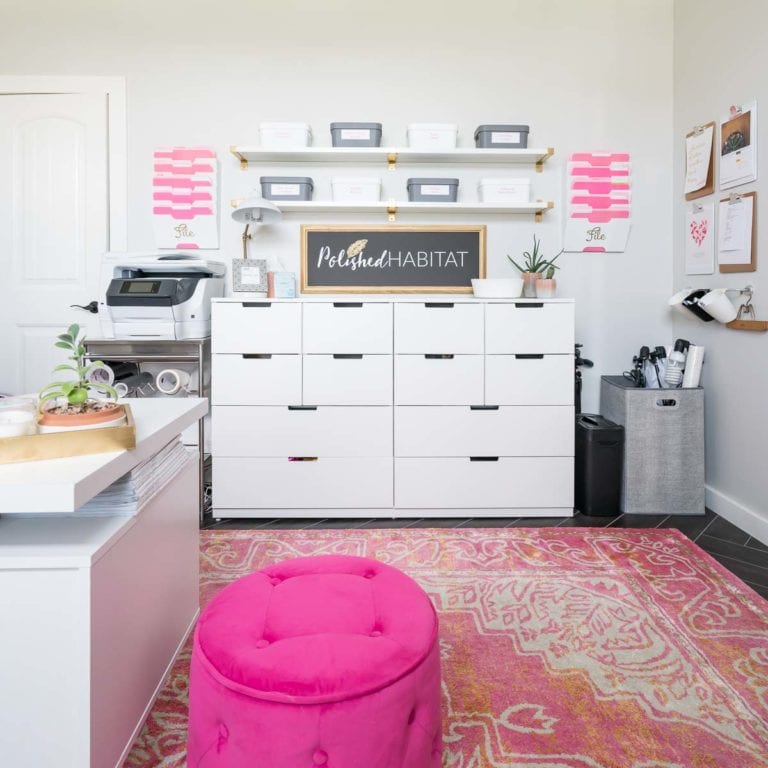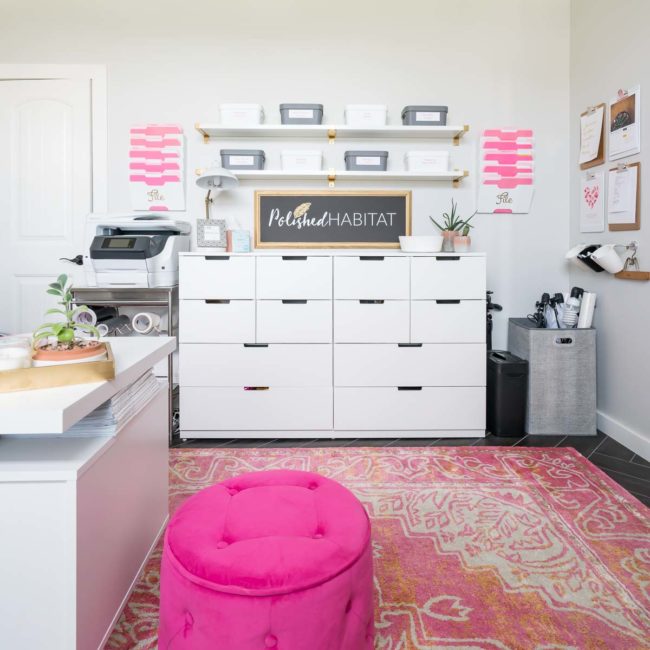 I decided to take a pretty drastic, but necessary measure. Every file folder was pulled out of every filing location in the house.
I couldn't solidify a plan of attack until I really knew what we were dealing with. For example, did we need another fireproof file box or a safety deposit box (which is probably a good idea)?
Depending on your storage available and file needs, you may be able to fit everything in one file cabinet, or you may need more of a tiered system like I created.
Personal Paperwork
1. The fireproof box was designated for essential documents. Passports, titles, birth & marriage certificates, life insurance certificates, and the most recent 3 years of tax returns. Most audits happen in that timeline so we want to make sure all the documentation is protected.
2. Any old files we still needed to hang onto to, but that we won't actively be adding to got archived into our plastic file box. The box includes things like tax returns from more than 3 years ago, paperwork for old houses with corresponding insurance documentation for them, and a few other old legal documents. The box can go in the back of a closet because it's pretty much stuff you HOPE you'll never need.
The remaining files are things that we need access to either add papers or to reference. For most setups, you'll have them all in one place, but I ended up using the existing wall files and a new single drawer file cabinet.
3. The right side wall file holds things that need to be accessed more frequently. Those retirement statements that come monthly? They go in the wall until the year-end statement comes. I also have a file for contact info for friends and family.
4. For everything else, I found a new file cabinet that would slide under the shelf in the closet. For our house, this means medical and dental files for each of us, a folder for each car, and warranty info and/or receipts for household purchases.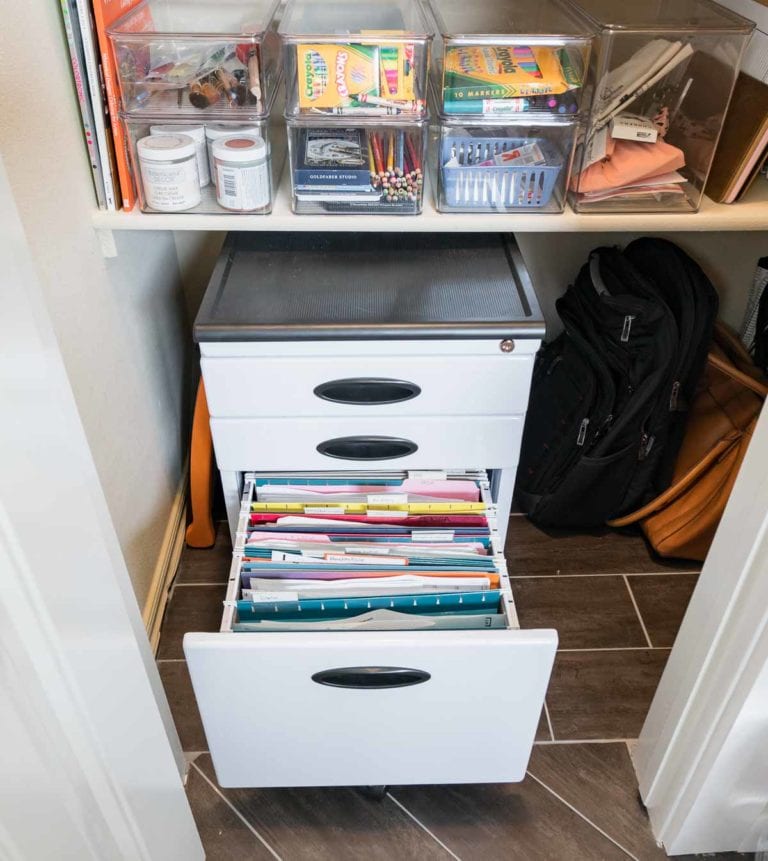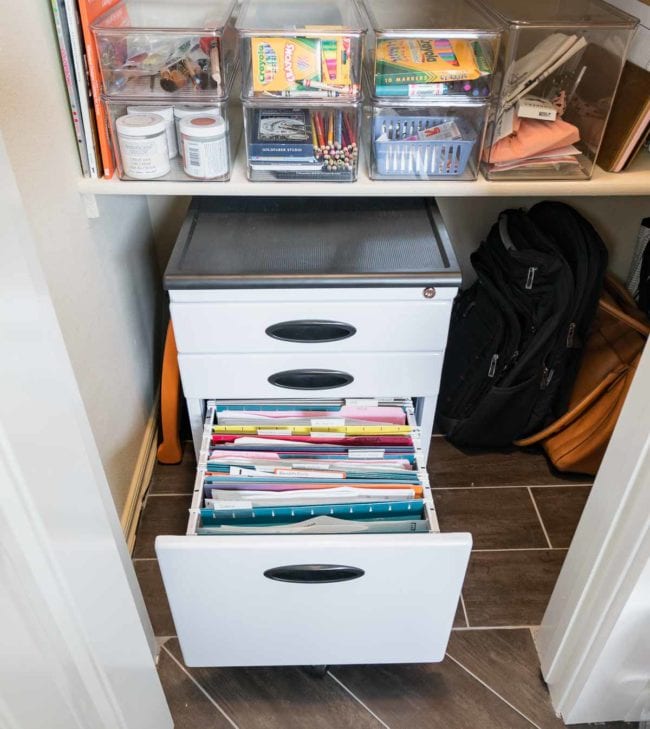 You'll notice the contents of the cabinet include a mix of different file folders. One day, I'd love to go through and color code everything, but sometimes you have to be okay with progress over perfection. It took about 4 hours straight to go through all my files WITH a helper. For our sanity, I needed to worry about the function first, and as long as something already had an existing folder, I just went with it instead of creating a "pretty" version.
The important thing is that everything I could think of that routinely needs to be filed has a designated home now. And if I could get our file mess under control, I know you can do it too!
Business Paperwork
If you have a home business, I recommend keeping business files separate from personal records. For Polished Habitat, I have a wall file and then use the file drawer in my desk for everything else. I made sure anything I need to reference sitting at my desk, like contracts, are in the desk file.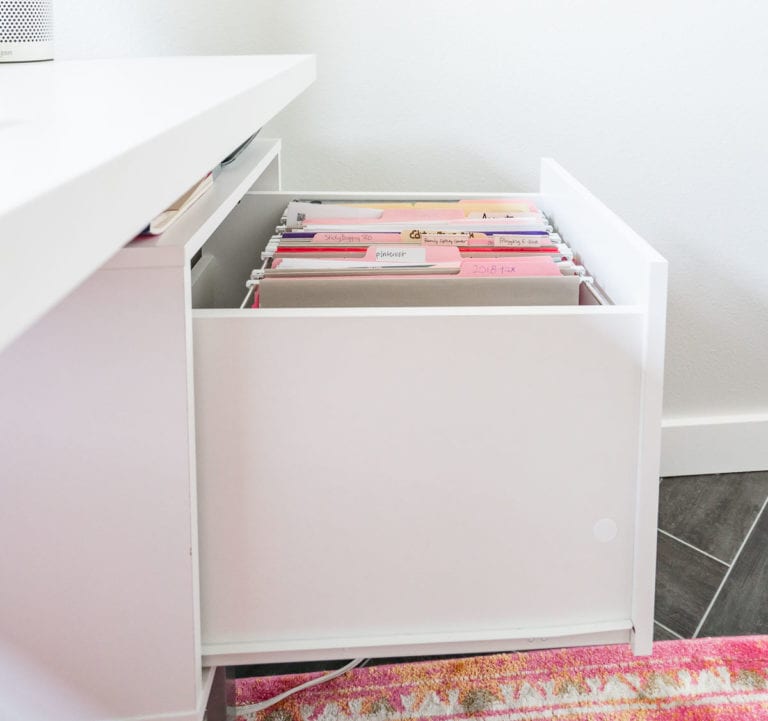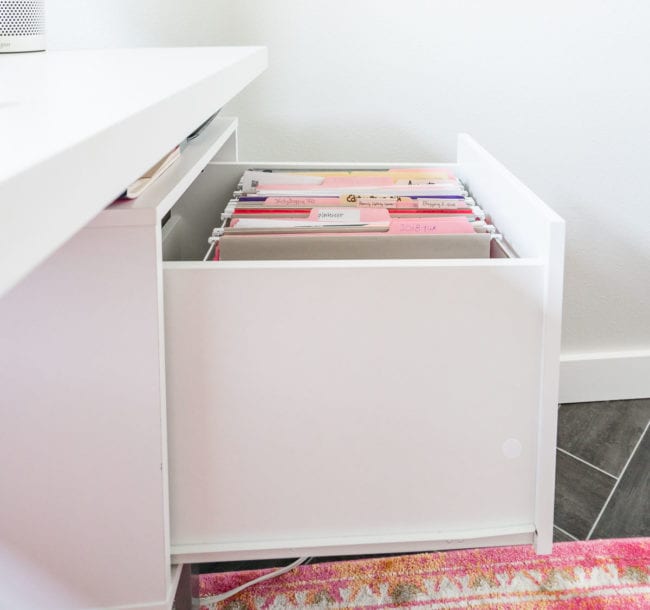 Receipts
After initially implementing our paper clutter control system, I realized we were still having a problem with receipts (both business and personal).
When I thought through the why, I realized there were 2 issues.
Business receipts that I didn't want to put in the tax file until they were entered into the accounting system.
Personal receipts that I did NOT need to keep long-term, but couldn't throw away yet. For example, a Target receipt that I want to hold onto until I make sure nothing needs to be returned.
The solution was so much easier than I expected. I designated two small bins in the office – one for personal and one for business. Neither should be a long-term storage solution, but more of a temporary drop zone.
I'll have to go through the business receipts weekly to account for them, so I'll go through the personal receipt bin at the same time and either shred, file, or leave each receipt in the box if a possible return is still on the table.
The receipt bins are labeled and on the bottom shelf, so it's easy to drop them right in.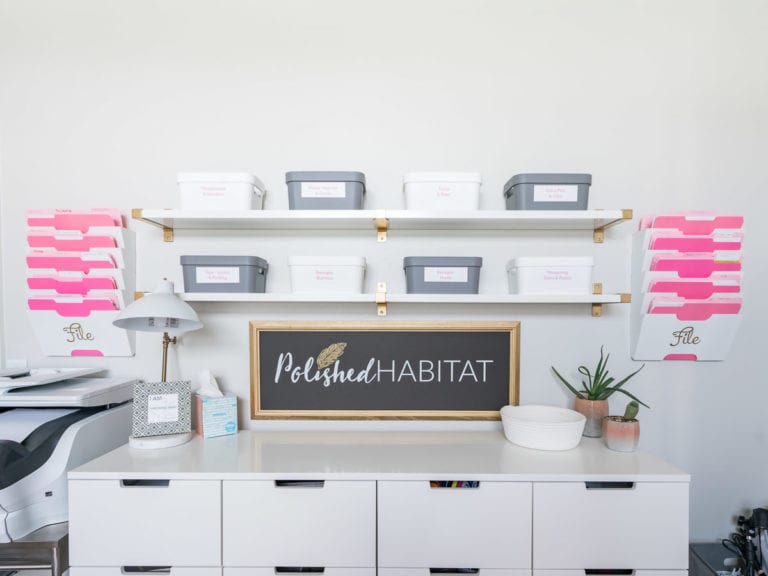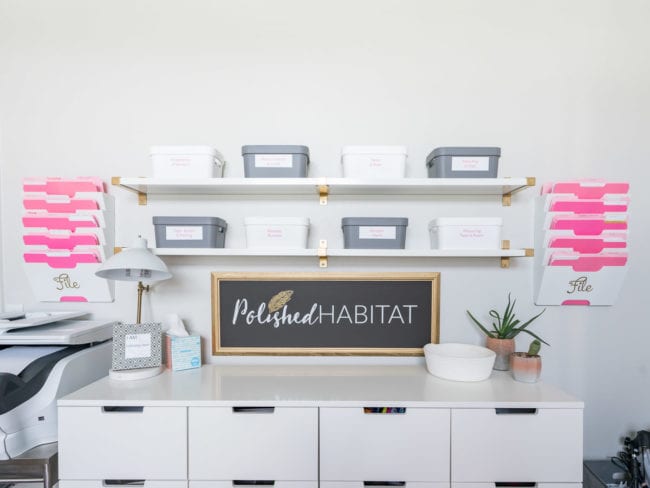 Catalogs & Magazines
And by catalogs, I'm only talking about the ones I REALLY want to look at for inspiration. Others may get a quick flip-through right away and then hit the recycling bin.
Last fall, I swapped the old console table in the entry with this bar cart. The lower shelf is the perfect spot for incoming magazines/catalogs that I want to look at. I found this faux leather bin at Target that has a vintage-look to hang out next to the auditorium seats.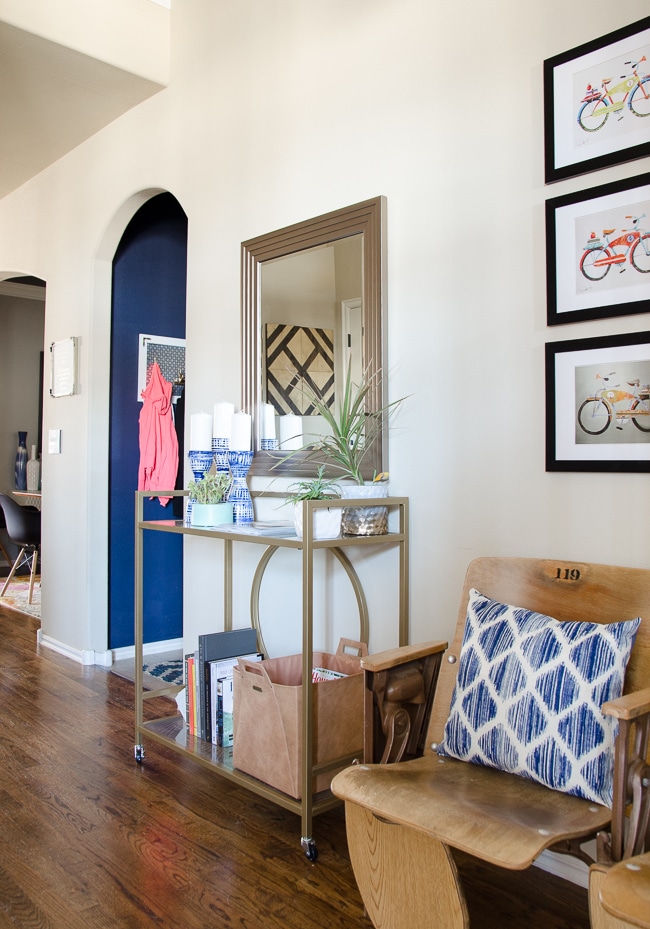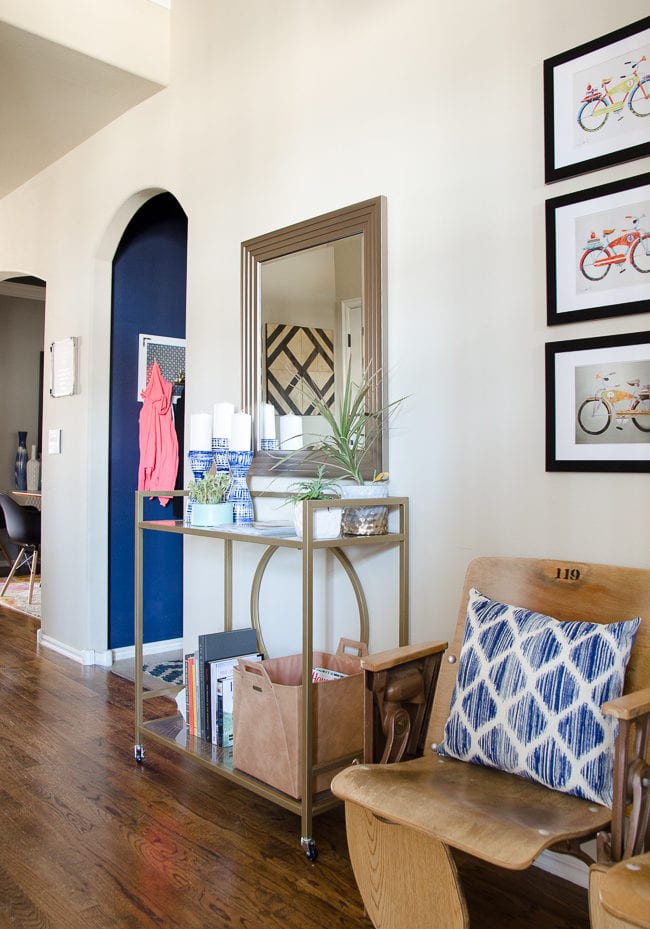 You can use any bin or basket that works for your house, as long as you have one dedicated spot. I'm excited to have all the new issues together to grab when I need a little break.
After using this system for several months, I realized that there were certain magazines I wanted to hold onto for later inspiration. Recycle as many as you can right away, but then make sure you have a spot for the others to be stored where you can find them. I added some inexpensive paper magazine files to the office closet. It's been awesome!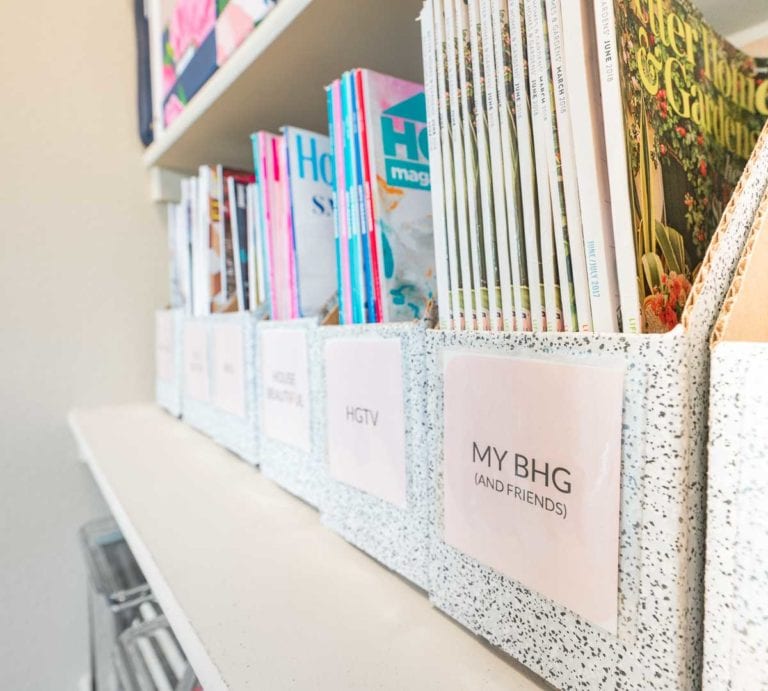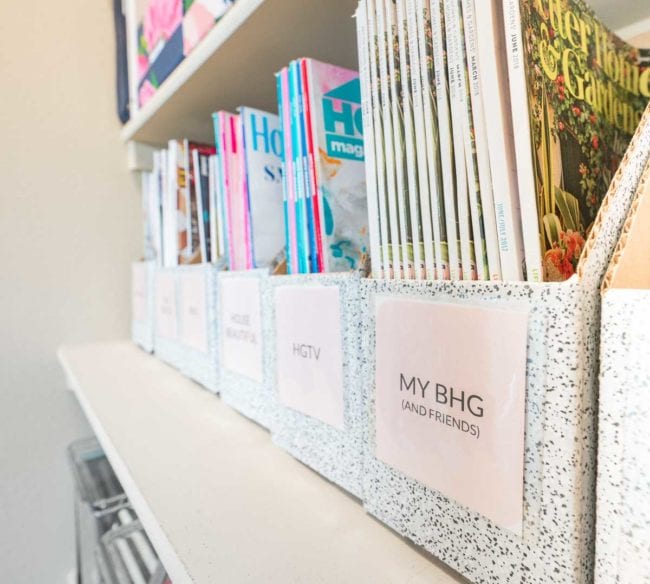 Bills, Invites, Coupons
I knocked a few items off my list by finding two wall-mounted containers that we mounted next to the garage door. One for things that require something from me, and one for things I might need again soon.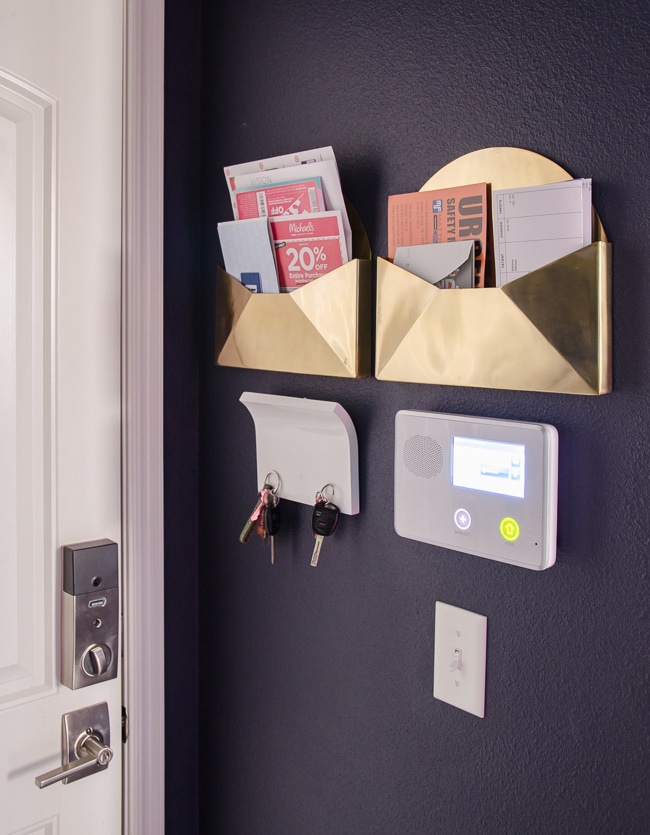 The left-side gold envelope hangs onto store coupons I might use, things I might need to reference again (like invites after we've RSVPed), and weekly sales flyers for the grocery store we regularly use.
The right-side is only for things that need some kind of action. Right now, there is a safety recall for Corey's car, a card I need to mail, and a bill I need to pay. If there is some kind of financial statement we need to review together before filing, it goes here as well.
The key to making this work is setting a reminder to go through BOTH wall-mounted containers once a week. It'll give you a chance to DO everything in your Action Needed bin, and weed-out anything expired in your 2nd bin.
If gold isn't your thing, I found some clear wall pockets on Amazon that would be great for this too.
Don't get stuck on the exact products I use, just the categories of things that linger around your house and how you can make it easier to handle them.
Sentimental Cards & Notes

The last group of paper items we needed a system for was sweet notes, cards or little mementos. When I cleaned out the office, I found them mixed into several areas, and I know there are more in my nightstand. Before they ended up any of those places, they always wandered around different flat surfaces for a good month.
Now, we each have a photo box in the office closet that is stored with the top open on the top shelf. It's SO easy to just drop in things that are worth saving.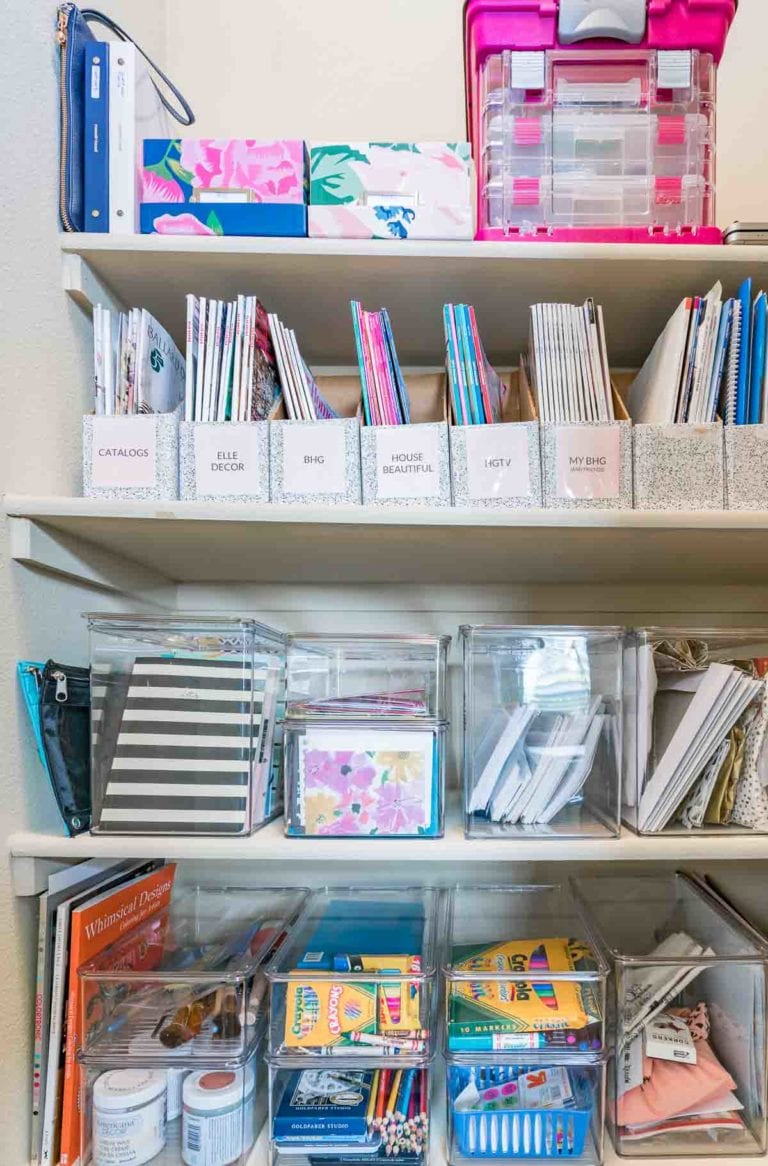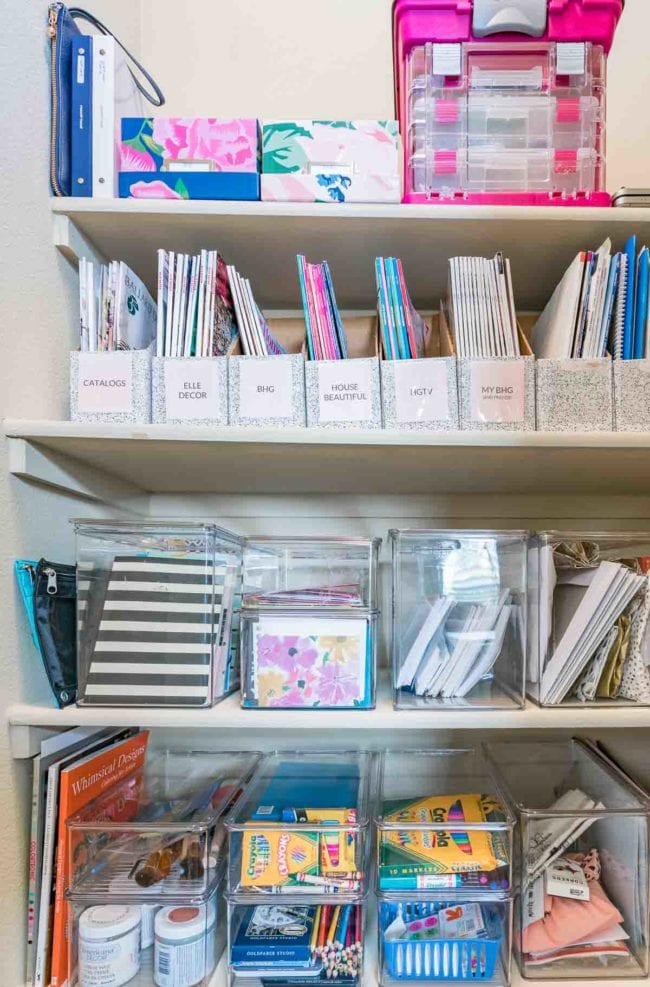 Whew!
This turned into a long post, but setting up all the new systems was a speedy process.

Make sure you've divided up each day's mail to the right place before bed every night. If possible, do it right when the mail comes through the door. It takes 2 or 3 minutes max IF we stay on top of it daily.
If you find that paper is starting to accumulate again, step back and do a quick evaluation of your system. What kinds of things are causing clutter now? It may take a couple rounds of trial and error to find your perfect system, but I promise it's worth it. I'm kicking myself for waiting so long.
Now that we have FINALLY dealt with all the different kinds of paper that end up on the island, I'm pretty excited to start the long-overdue process of shredding everything in that scary cabinet.
I feel a shredding session with a glass of wine and Gilmore Girls coming on.
Let me know if you think any of these ideas will help your mail clutter situation in the comments below!
Next up, check out my two methods for decluttering EVERYTHING – the quick microwave method, and the takes longer but tastes better oven method!