Color is a fabulous, but fickle concept when it comes to our home decor. Whether you love a soft palette of layered neutrals or bright, saturated accents, there are some important things to consider before picking up another paintbrush, adding a new piece of art, or replacing a light bulb.
Even though it seems like a simple question, I get worried every time a reader asks me for one of our interior paint colors. Not because I don't want to share, but because it will likely look FAR different at their house than what they see in my photos.
Paint samples will always be vital, but understanding some concepts when it comes to lighting in interior design may help us all do a better job of selecting colors in the future.
Let's start with the sun as a lighting source, and then I'll share how different light bulbs affect color. Spoiler alert: Soraa Radiant lightbulbs are the first full-spectrum color option with LED efficiency. Can't wait for you to see what a difference they make!
How Window Direction Affects Color
While every beam of light is made up of a spectrum of colors, the words you'll hear describing them most often are warm and cool. Think of a sliding scale with yellow on one side and blue on the other. Light sources all land somewhere on that scale and affect everything they illuminate. "Warm" is the yellow side of the scale and "cool" is the blue end.
Did you know that the paint colors and art in your room will appear differently depending on which way the windows face?
When we built our house, we told them to replicate the primary paint color from a model we toured. Once it was on the walls, it didn't look the same here. Now I realize the model faced north/south and our home faces east/west. If only I had known how light affected color back then!
The examples below are for the northern hemisphere. If you're below the equator, you'll want to reverse the north and south descriptions.
North Facing Windows
Rooms that face north will generally be the darkest and feel the coolest in your home. It's a tricky combo that can leave you with a space that feels cold and unwelcoming. Never fear, it can also be a beautiful and comforting space!
Look for paint shades that have warm undertones for north-facing rooms. The limited sun may tempt you to paint white or bright colors, but remember cool colors may end up feeling very cold and may appear blue in a north facing room.
East Facing Windows
East facing rooms start off the morning with a warm hue and then transition to a cooler light in the afternoon. Our living room sunlight comes from the east. I'm always shocked how much the wall color changes throughout the day.
In the morning, it's a medium gray with warm beige undertones. It the afternoon, it's a light neutral gray, and then as the sun goes down, the cooler light shining over the paint adds a slight green hue.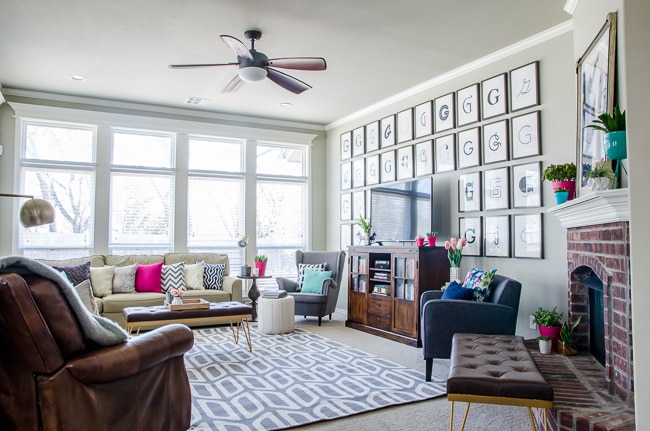 Previously, the room was beige and VERY yellow in the warm morning light. It wasn't bad in the afternoon or evening, but I cringed every morning and knew the next color had to be more versatile.
When putting paint samples on the wall, it's vital to live with them a minimum of 24 hours and consciously pick your favorites in the morning, afternoon, and evening. I bet your pick will change throughout the day!
South Facing Windows
Good news if you have south facing rooms – they're the least-complicated when it comes to selecting colors!
Because they're beaming with light and naturally more warm, you can get away with colors that wouldn't work in other spaces. Think about whether you want to accentuate the warmth by creating a cozy space with dark colors or go bold with a bright color.
West Facing Windows
As you may have guessed by now, west facing windows have an opposite light pattern from the east. The morning starts off with a blue color cast and warms up as the sun gets over your roof in the afternoon. My office faces west, and with the original gray paint color, we must have only picked colors in the evening. The room had a bit of a prison-vibe in the mornings. Whoops!
About 11 paint samples later, we landed on a color that still takes on a cooler tone throughout the morning (below), but now it's more intentional and works throughout the day.

I know that the north, south, east, west thing seems complicated, but if you can remember that direct sunlight feels warm and indirect sunlight feels cooler, you'll be ahead of the game when it's time to paint!
So that covers the sun, but what about the rooms on the interior of the house and every space in the evening?
Turns out the light bulbs you use will have a MAJOR impact on color as well.
How Light Bulbs Affect Paint Color
In recent years, there has been a huge increase of options when it comes to light bulbs. Like the sun, they come in a wide range from warm to cool. If you look at the packaging, most will even tell you the color temperature in Kelvin, which usually falls between 2000k (warm) – 6500K (cool).
We've been transitioning to all LED bulbs, and choosing a 5100K bulb for most rooms as we prefer the cool hue to balance some of our warmer walls.
However, a common complaint about LED bulbs, especially the daylight version we use, is that they feel artificial. I've felt it, but never understood why. Until now!
It turns out, LED bulbs for home use have never produced full spectrum color, which means they can't replicate the sun. It also means that they'll make your paint look much different at night and that colorful art may not pop the way you imagined.
Soraa has been making full spectrum bulbs for museums, restaurants, and hotels for years. All those commercial venues have an emphasis on the importance of lighting in interior design, and now we can learn from that in our homes!
After discovering that deep red is one of the color gaps in other LED bulbs, I knew I wanted to test out the Soraa Radiant line in the dining room. Jackie deserves great lighting!
The image on the left below was taken with our Daylight bulbs. Notice that the red is a bit washed out. The right is after switching to Soraa Radiant bulbs in our recessed fixtures. Jackie really pops now and everything feels richer!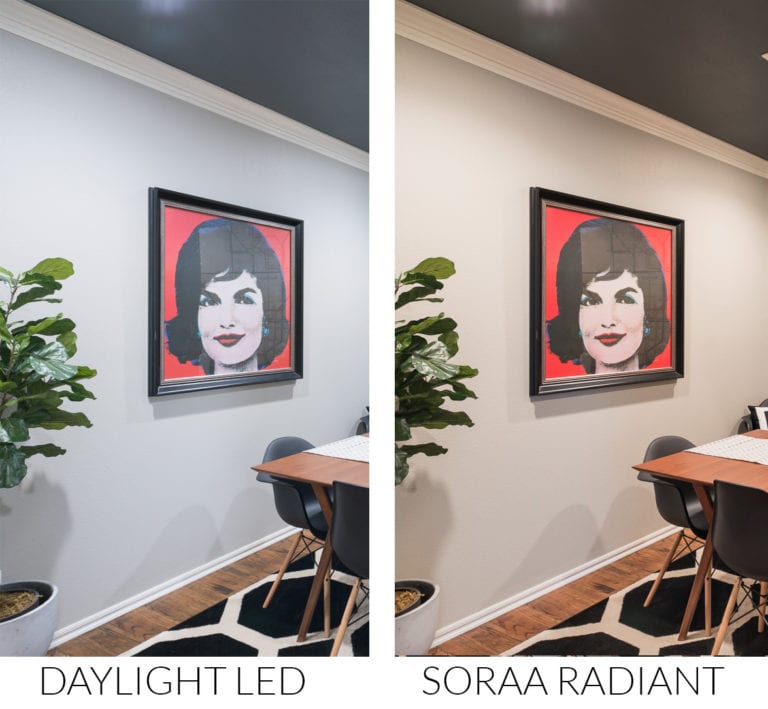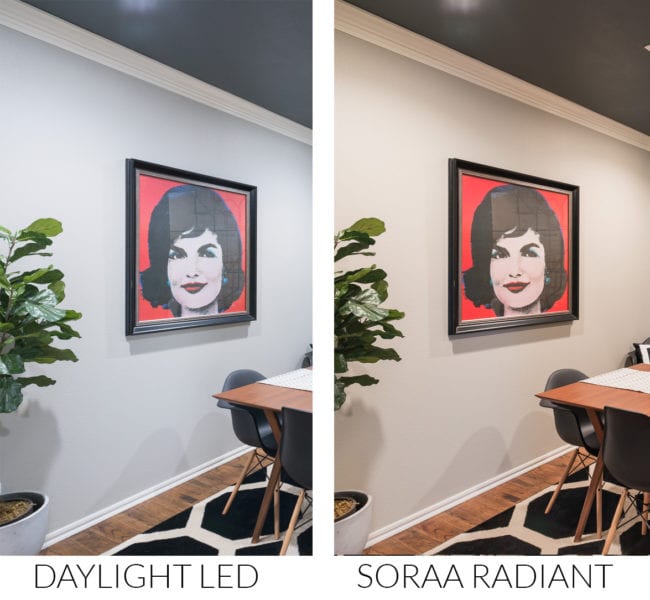 In addition to Jackie, the comparison above is an excellent example of how different the same paint can look when you change light bulbs. The walls have a blue tone on the left in the cool lighting and are more neutral on the right with the Soraa bulbs.
See why I'm always nervous when sharing paint colors?
If you have any plans to paint, make sure you're committed to your light bulb choice before painting test swatches on the wall.
Here's another example of how the Soraa Radiant bulbs help colors pop. Each subway route stands out as a unique, bold color without being muddled.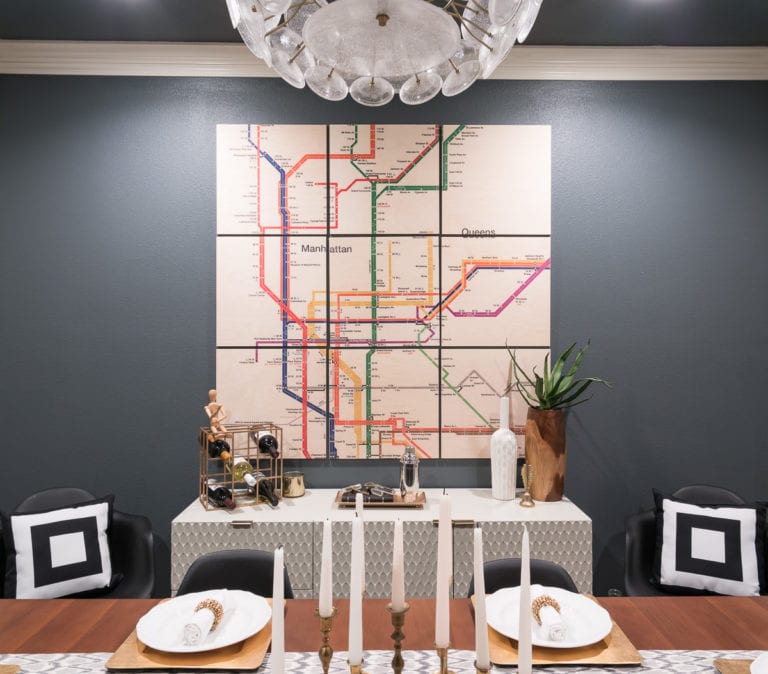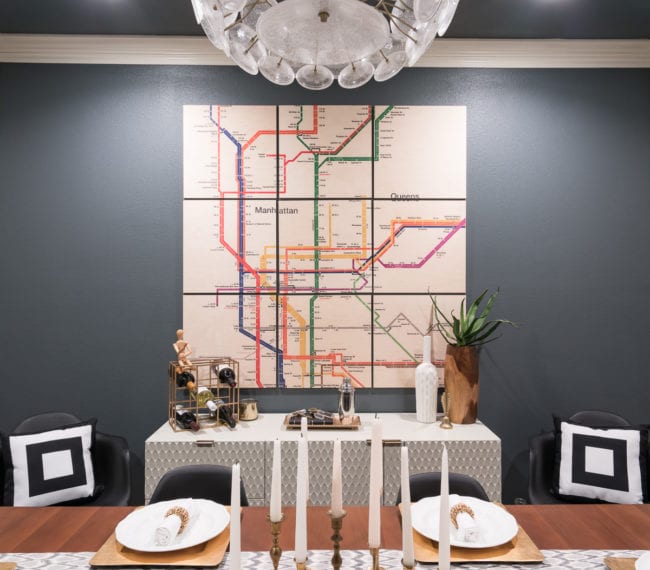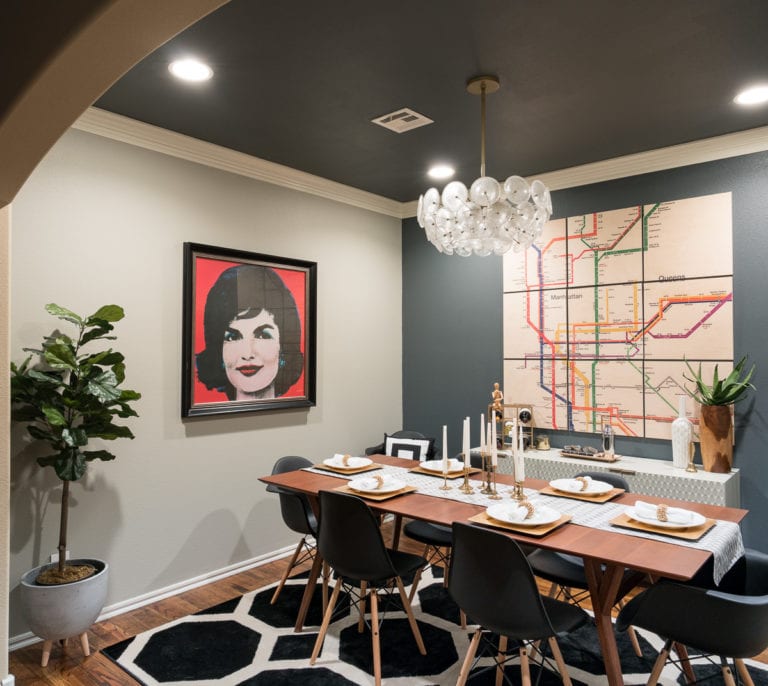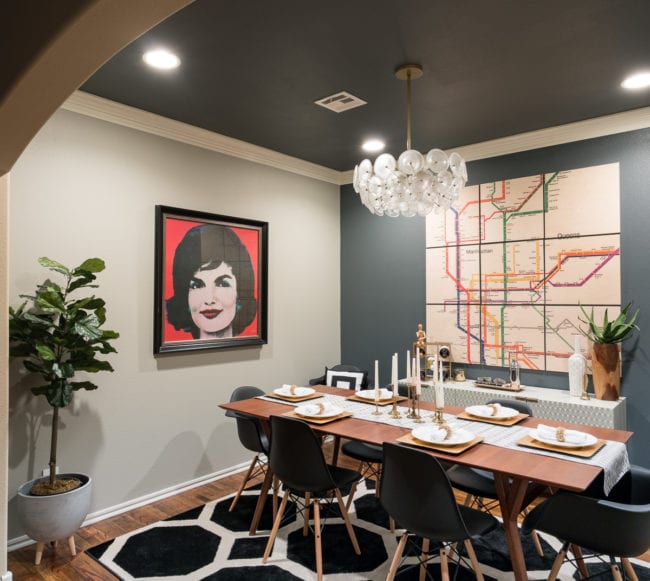 While these bulbs would be ideal in any home, if you love colorful walls, accents, or art, you need to test them out in your space ASAP.
People often complain that the wall color in their rentals feels cold, but they aren't allowed to paint. Switching to the full spectrum Radiant bulbs could be a great solution for that as well!
You can purchase them right on Amazon here.
How Lighting Affects Sleep
When I was reading about the Soraa Radiant light bulbs for the dining room, I noticed they have another line called Soraa Healthy. While the Radiant bulbs are full spectrum, the Healthy line has Zero Blue technology which helps prep your body for sleep.
Most people could use a little assist when it comes to improving the quality of their sleep. Using the Healthy lightbulbs is a simple change we can all make this week! They put out plenty of light for reading, but it's a soft relaxing tone. They are also ideal for a nursery or kid's room.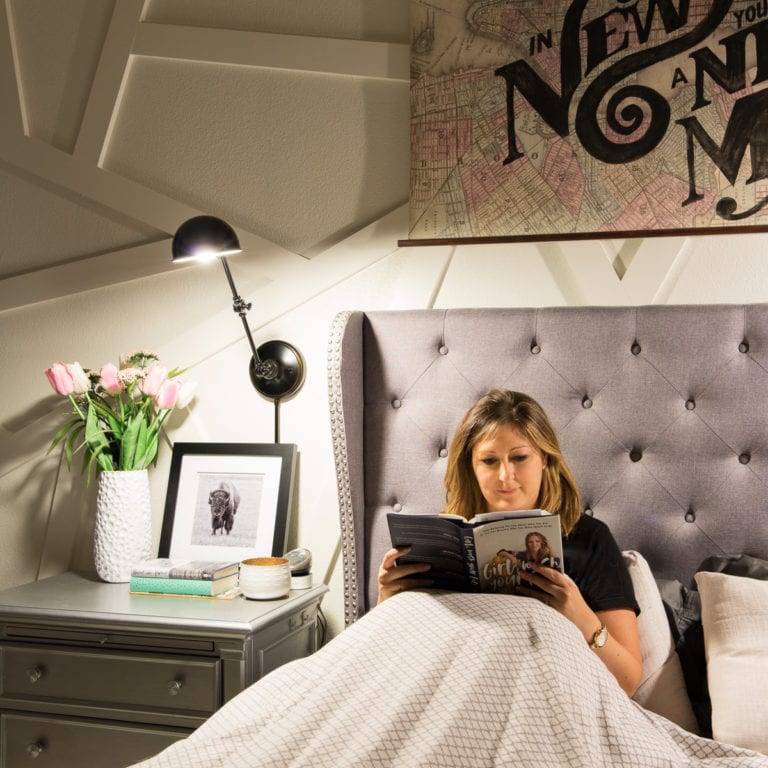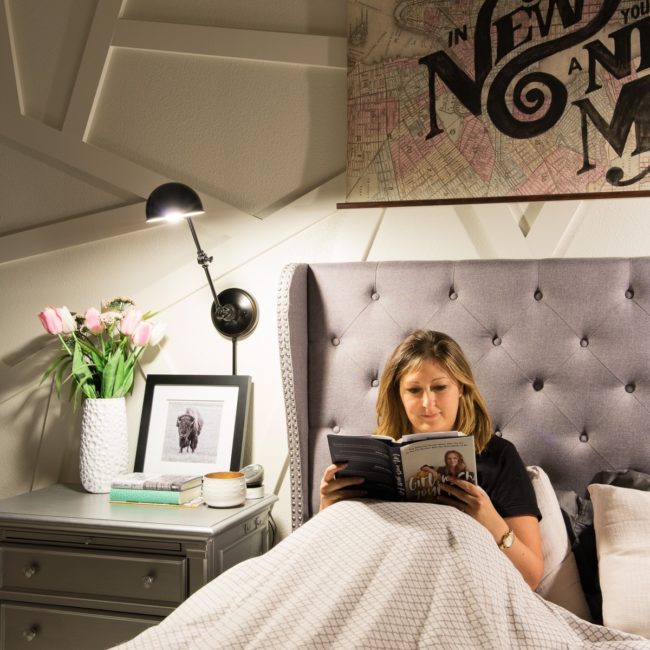 With the blue light filtered out, more yellow remains, which makes sense. Keep that in mind that you may want full spectrum Radiant bulbs in the ceiling fixtures and then Healthy bulbs just in the bedside lamps.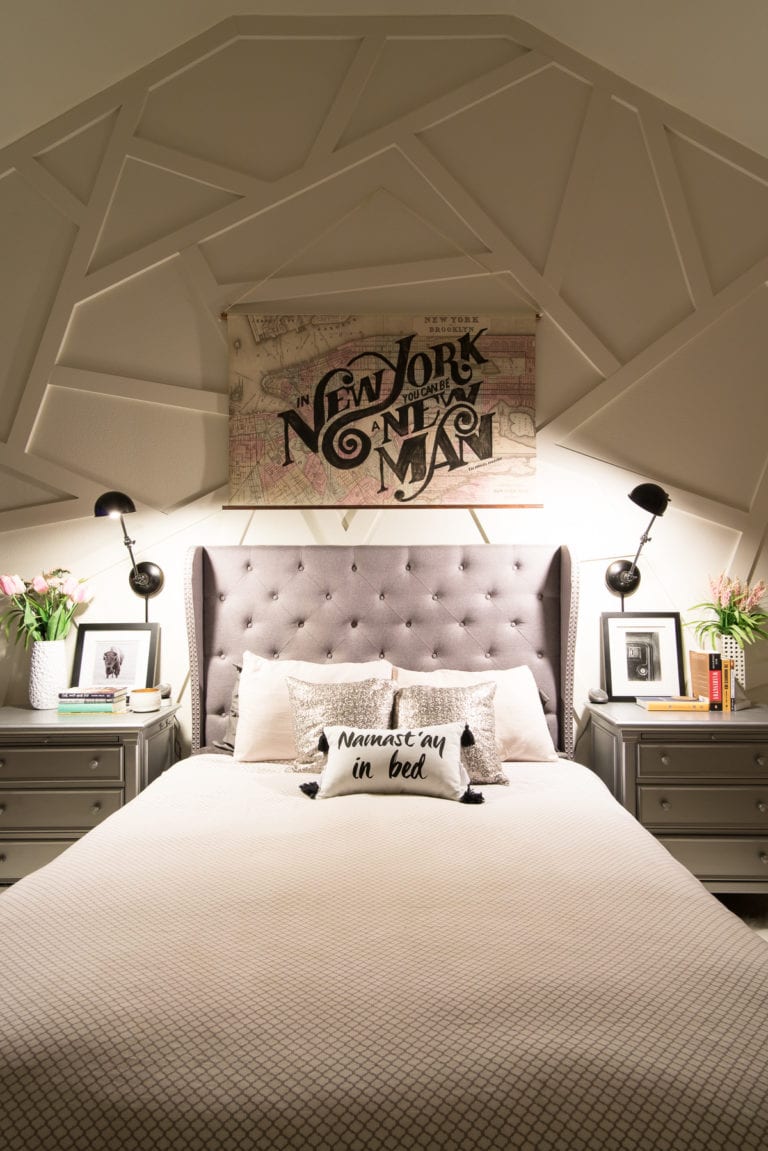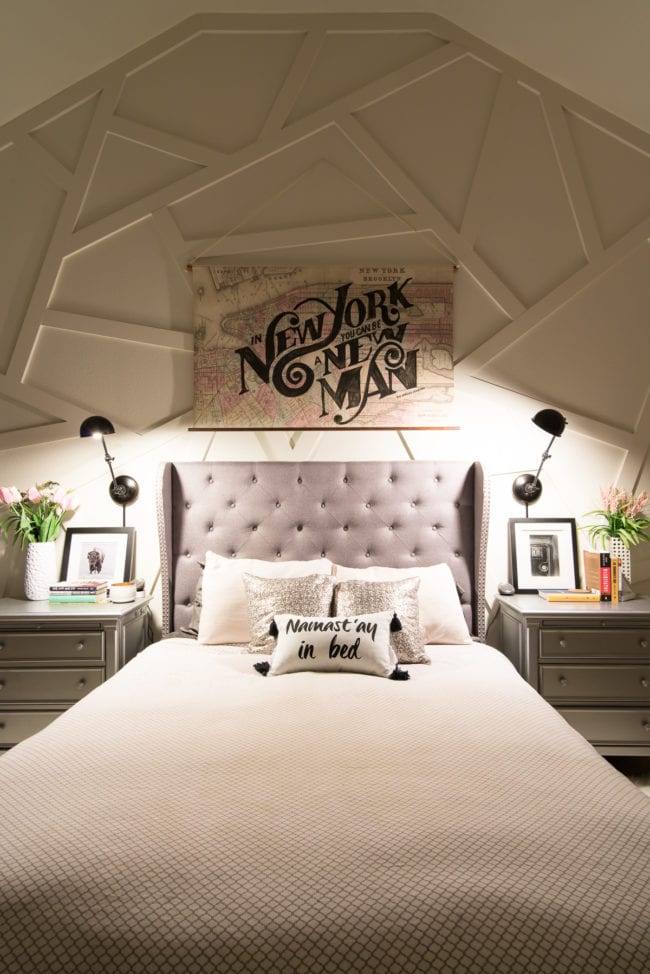 Do you feel a bit more prepared to pick your next paint color or light bulb now? Let me know if you try the Soraa Radiant line to help your artwork pop or the Healthy line to help you sleep!