What a difference a week makes!  I was happy we at least had the office floors done in last week's One Room Challenge update, but that was it. There was nothing in the room other than tools. And we weren't even ready to move stuff in. We still had to rip out the baseboards and replace them. I was doing my best to stay calm, but panic was bubbling up.
That is all in the past now and the only thing bubbling up is bliss.
Don't get me wrong, we still have more than I'd like left on the list, but we made an unbelievable amount of progress.
PS: If you're a new reader, welcome to Polished Habitat! You should head back to week #1 to start at the beginning of this 6 post event hosted by Linda from Calling it Home. The short version is that 200+ people are making over one room in their house. Each week, we all post progress updates until the final reveals on 11/10/17.  I'm one of those crazy people who take part in the event each spring and fall, even though it usually makes me cry. 
Just look at the updated version of the to do's that I shared at the end of last week's post:
Install New Baseboards –
Install Blinds – They should be delivered next week
Install Curtains – Dang, I still need to buy a curtain rod!
Hang Shelves – In the MIA IKEA Truck
Hang File Organizers – In the MIA IKEA Truck
Hang Art – Just need the furniture in place
DIY the Gold Boards – Bought the frames, just need to finish the DIY part
DIY the Calendars – Finished the test version and it worked great, just need to finish the real ones
Assemble Dresser – In the MIA IKEA Truck
New Backing for Bookcases? – Hmm, still deciding. Need to see them as is with the curtains
Pick and Order Chairs
ORGANIZE EVERYTHING – In progress!
That's right, 9 of the 12 things were crossed off and I made progress on the other 3 as well. Unprecedented!
Perhaps all the progress came from the power of the gold spray paint? I'm sure you're not suprised that I've whipped out the spray paint to help me get the look I want within the budget. Yesterday, I popped open my small HomeRight Spray Shelter and let the goldifying begin.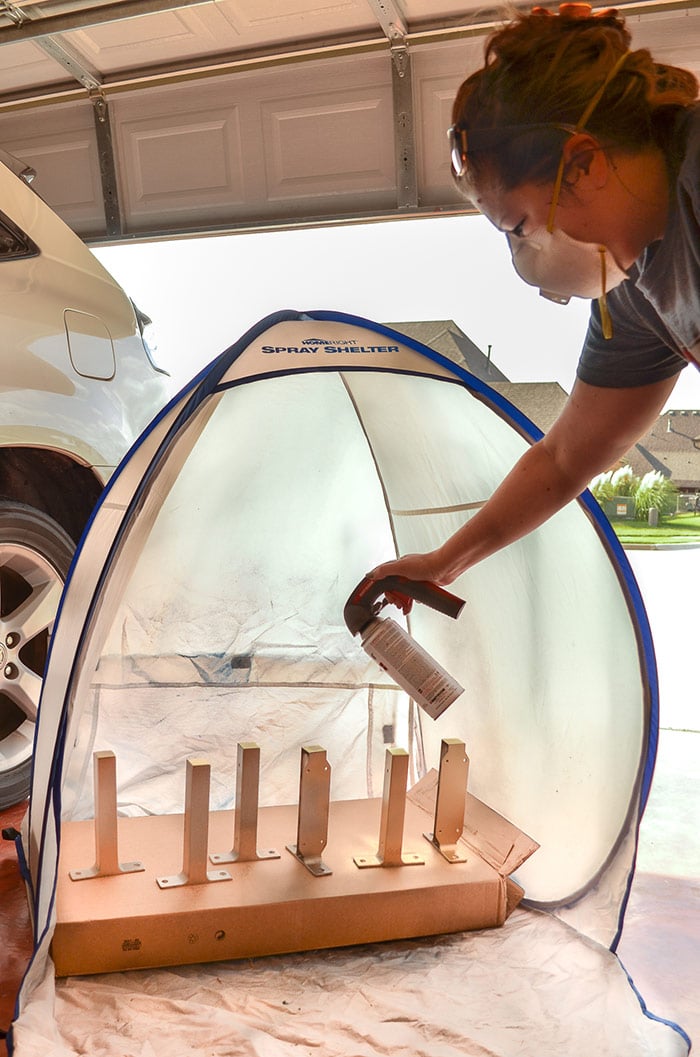 HomeRight has been a long term partner of mine both within and outside of the One Room Challenge. One of the many reasons I love them is that they're always generous in letting me give away the products I use.
This week, we're giving away both the small pop-up Spray Shelter AND the full-size version! Make sure you enter the giveaway at the end of the post!
I use both of them quite a bit, but the instant set up of the small version is my favorite. It's perfect when you are impatient like me.
When I was painting yesterday, it was crazy windy outside. Before, I just would have had to wait to do my project. But the tent kept the wind out.  It also keeps me from getting over-spray all over the garage. Not that I have a history of doing that or anything.
Anyways….
Here's a little peek at what those shelf brackets I was painting look like now.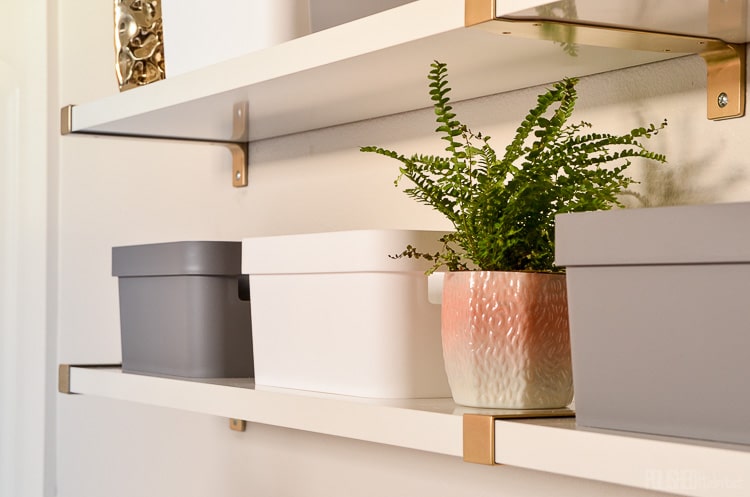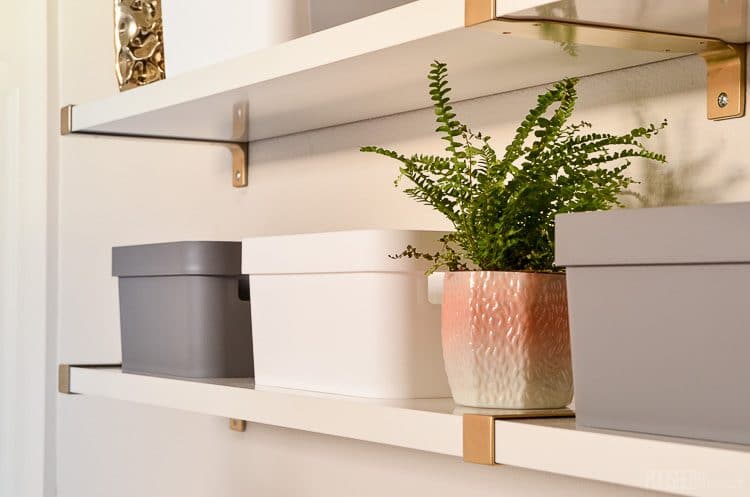 It was hard to pick the best part of this week with so much progress made, but I think having blinds on the window wins. I have been struggling with what to do with the over-sized, west-facing window since we moved in. I liked the Black & White striped curtains that I DIYed last year, but they were not easy to open and close. Since that had to happen every day, frustration was growing.
The problem was that the windows were too tall for any type of blinds (other than vertical). There was a natural break were we could leave the top open as a transom, but any blinds wide enough required a center bracket. We couldn't do that because it was just window in the center and nothing to attach a bracket to.
I'm not sure why asking an expert is always my last move. After spending hours trying to come up with a solution, I emailed SelectBlinds begging for help. I sent a rambling email of all the things that I knew wouldn't work, and my dream scenario.
I should have contacted SelectBlinds from the beginning. They knew just what to do!
The recommendation was to order a floating header, which would let me attach blinds across the full width of the window. A company called Ultimate Install manufactures them custom to each window. It was a bit of a blow to the budget to buy the header, but it was so worth it.
With the header ordered, I was back to having a whole range of options for blinds. I loved the idea of having white blinds that could be tilted depending on the sun situation.
The exact blind I went with was the  Designer Contemporary 2″ faux wood blinds, in Carrara White. Since the window is 70″ wide, I picked the option of having two sets of blinds mounted to one head-rail. It's way less awkward than having one super-wide blind.
After my panicked email and a zillion questions, somehow SelectBlinds was't sick of me yet and they ended up sponsoring the blinds for the room. That worked out perfectly because I had spent the blinds budget on the custom header!
I'm trying not to reveal too much this week, but here's a peek at the blinds installed!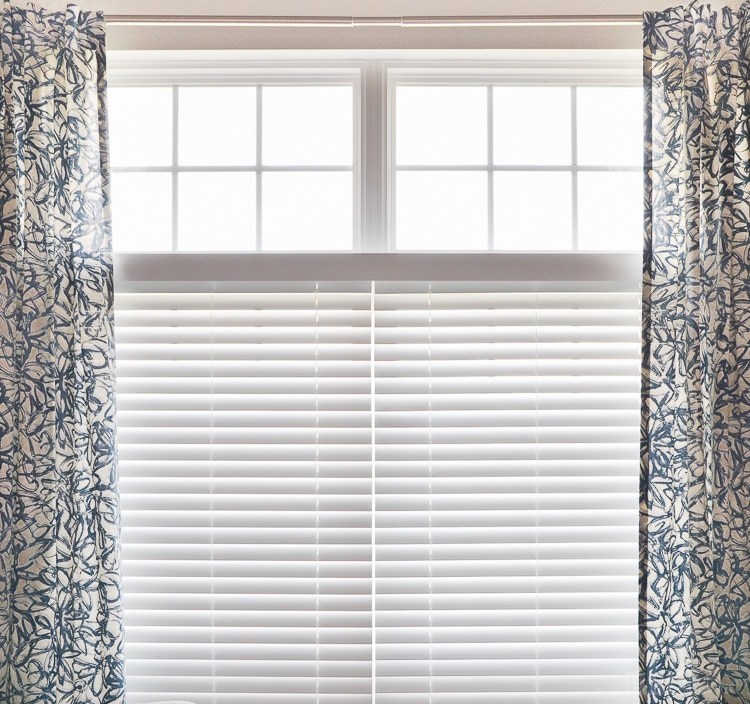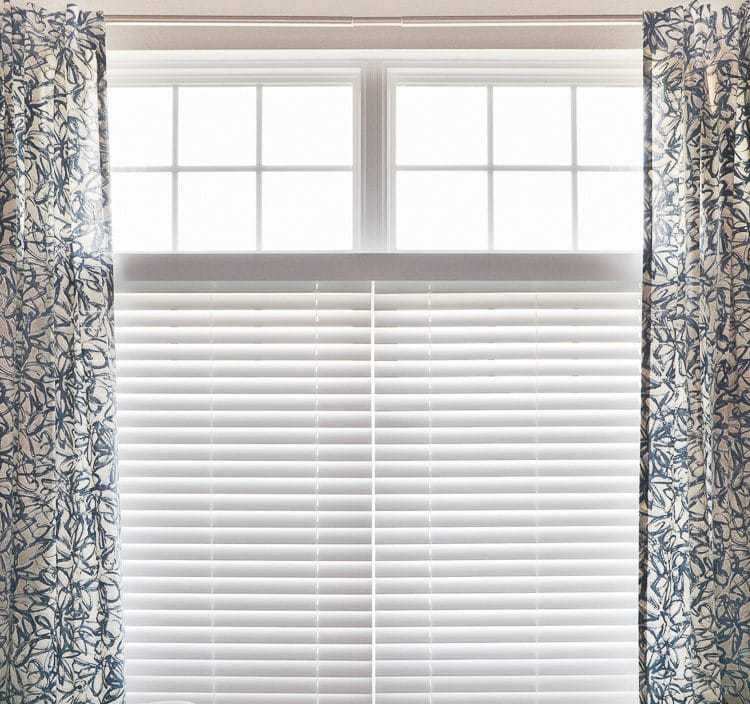 Since I'm just dying to show you guys everything, here's another little peek I shared on Instagram earlier this week. Maddie is enjoying the big pink rug in front of the window.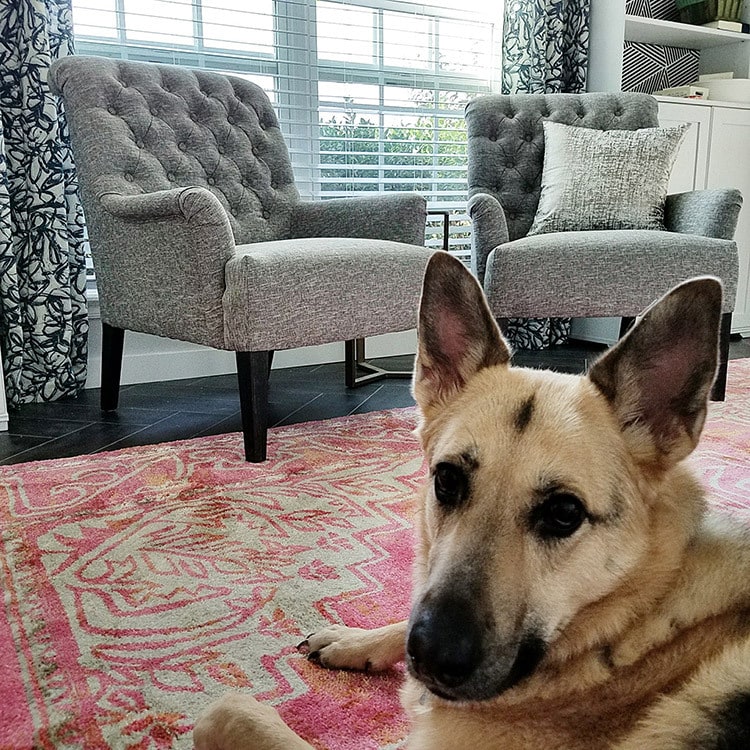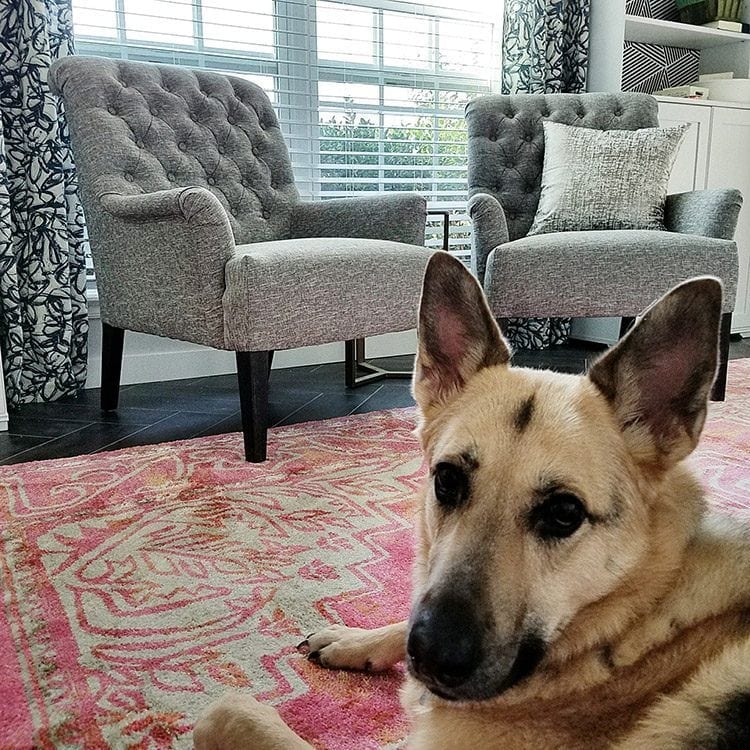 The bookcase in the background looks quite a bit different now than it did in that picture from a couple days ago. It's got new hardware AND a snazzy new backing that I'm completely obsessed with. Again, can't wait to show you next week!
One last fun update before we get to the "what's left" list. My Strawberry Crepes artwork from Minted arrived and is a perfect focal point above my desk.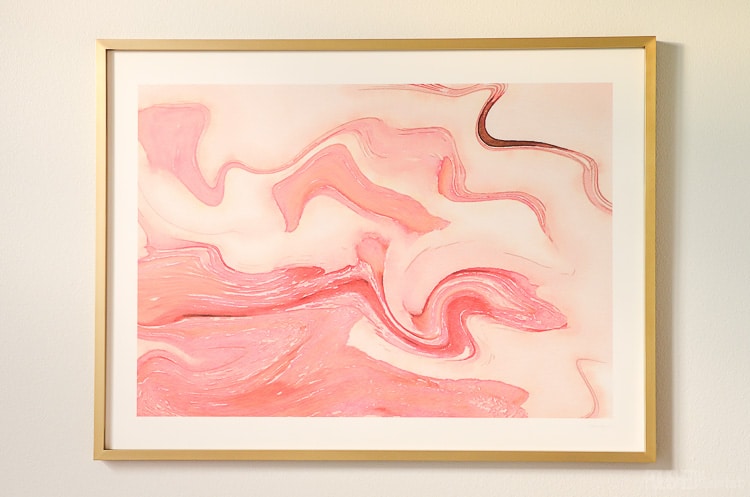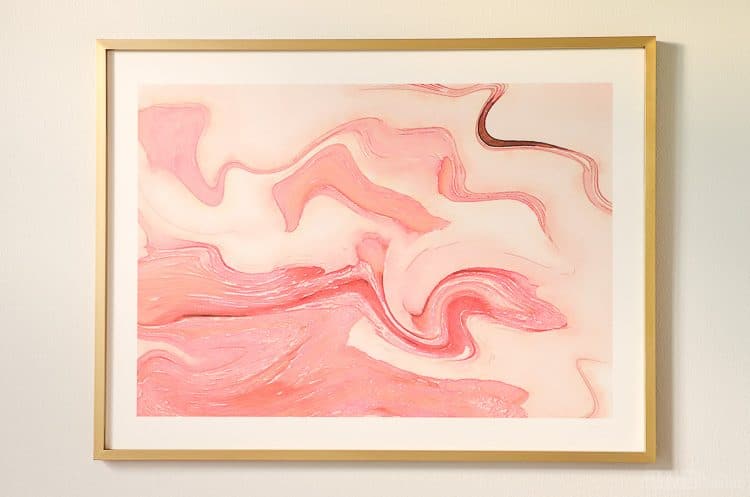 I didn't work with many sponsors this round because I was struggling to commit to both a room and a design plan. Having HomeRight, SelectBlinds and Minted all being willing to join in the fun at the last minute was beyond appreciated!
Here's what I have left to do:
Finish and Hang Gold Dry Erase Calendars & Boards (Watch for the Tutorial on Monday!)
File/Style Bookshelves
Organize Desk
Organize New Workstation
Shop for Accessories?
Take the photos!
The final styling always takes longer than I expect, and trying to make the photos really reflect the room may make me cry. But, getting to work in this office every day will be totally worth it! I'm already pinching myself every time I see it these days.
Don't forget to enter the HomeRight Spray Shelter giveaway below!
Now head over to the One Room Challenge site, Calling it Home, to see how everyone else is doing with one week to go!