This week had a hefty dose of progress in the office, mixed with some panic that we have less that two weeks left to finish. Let's start with all the good news first. The floor is done!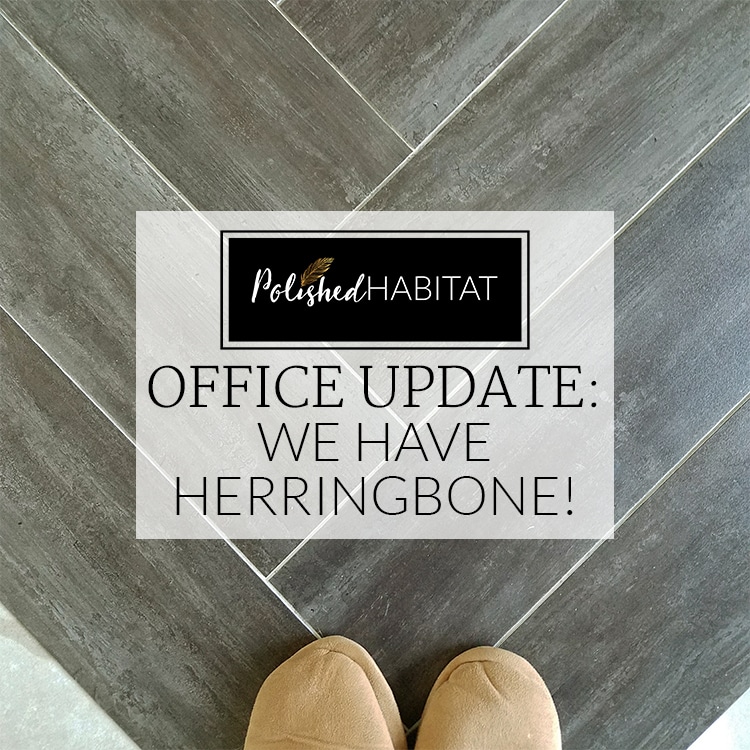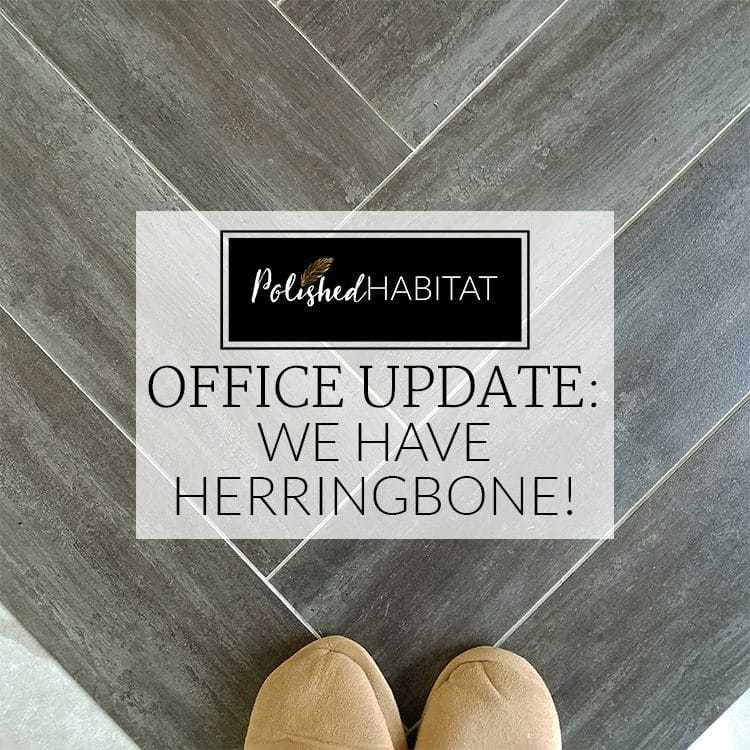 PS: If you're a new reader, welcome to Polished Habitat! You should head back to week #1 to start at the beginning of this 6 post event hosted by Linda from Calling it Home. The short version is that 200+ people are making over one room in their house. Each week, we all post progress updates until the final reveals on 11/10/17.  I'm one of those crazy people who take part in the event each spring and fall, even though it usually makes me cry. 
Last week, we had picked a paint color (SW Repose Gray lightened to 50%), painted, and pulled up all the carpet. With that out of the way, we started laying the new floor on Friday.
I didn't think there was any way to swing new flooring in the budget. But where there is a will, there is a way! I found some 6″ x 24″ vinyl tiles at Lowe's that could be grouted like real tile, but were completely affordable. Plus, they could be cut with an Exacto knife. No wet saw required. When I added up the cost and realized the whole office floor could be done for under $300, I was in.
The tiles went down easily and would have been fast in a brick pattern. The herringbone took a bit longer, but the floor looks like it cost WAY more than $300.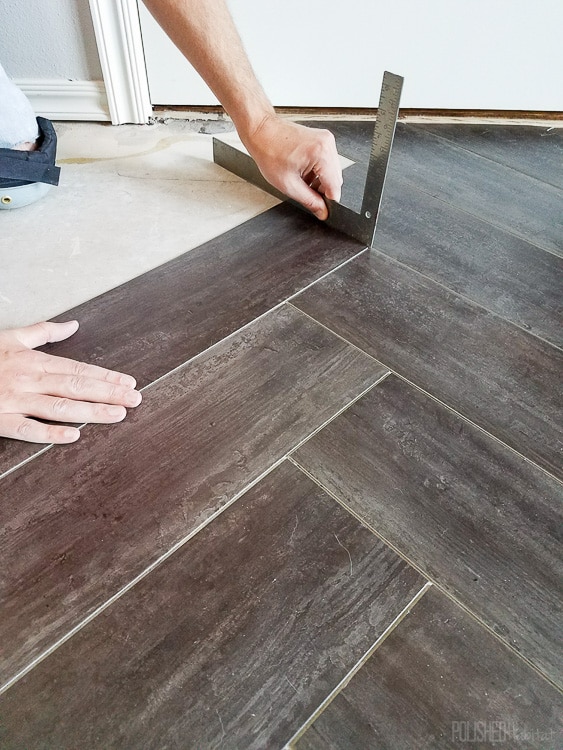 I don't want to spoil all the reveal fun, but here's a pretty major peek that shows where we were at on Sunday morning.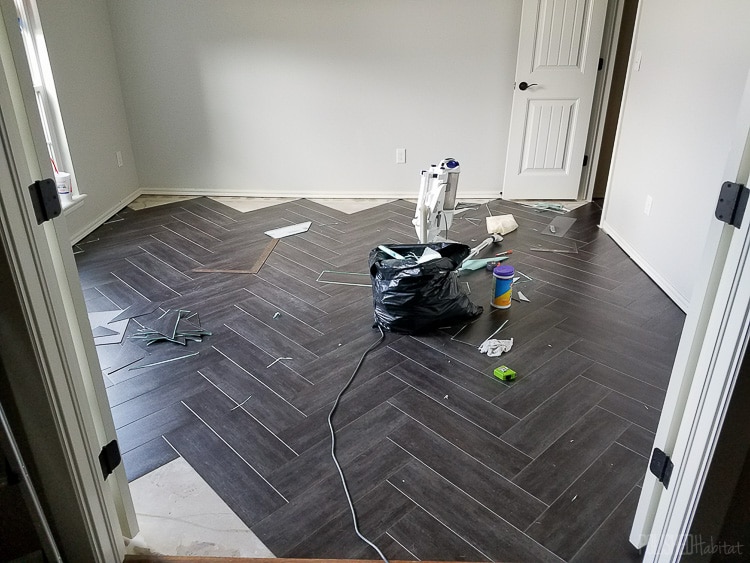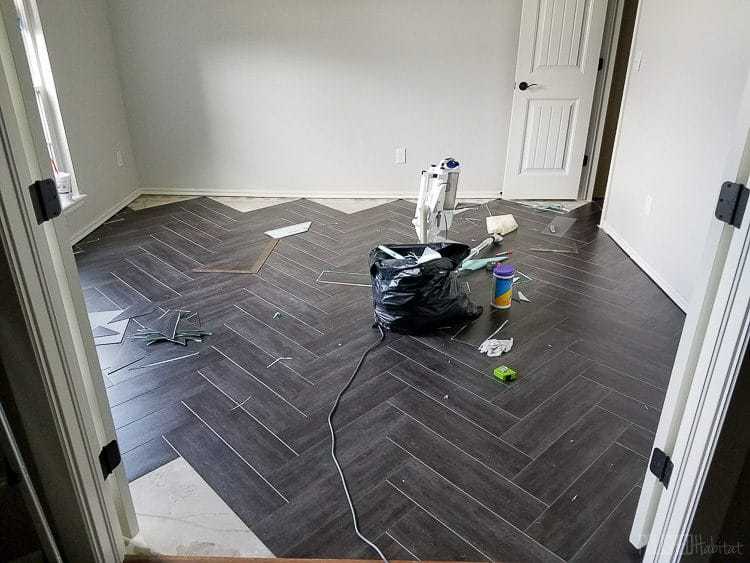 After we finished all the perimeter cuts, it was time for the grout. Mom came over Monday to hand model for me. Actually, don't let her pretty finger nail polish fool you, she worked HARD on grouting day and saved me. I was able to apply the grout while she worked behind me doing the clean up of the tiles. As she pointed out, I like to make messes and she likes to clean, so it was the perfect division of labor!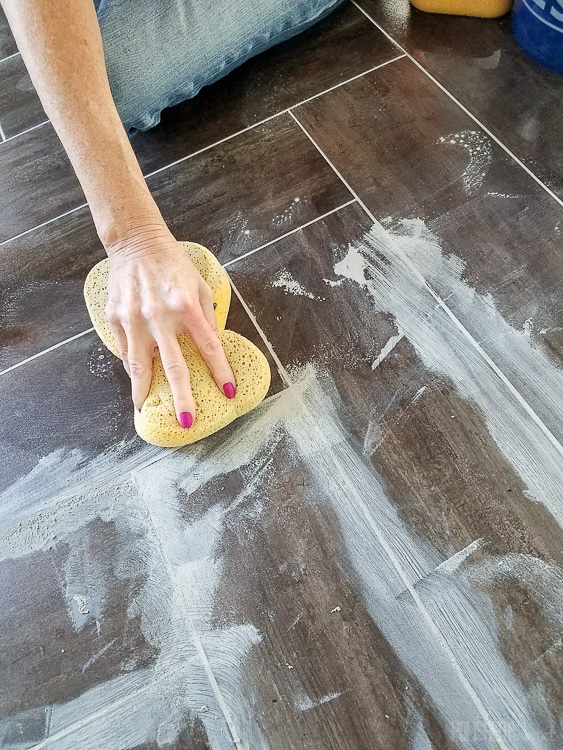 Tuesday night, we finally started replacing the molding. First, we pulled the old stuff off the wall. Why yes, we probably should have done that before painting.
After demo, we finished the closet door frame and then those dang Cubs and Indians got in the way of my progress. Did someone forget to tell the MLB that the One Room Challenge is going on? Couldn't the World Series start after the reveals? Not okay, baseball. Not okay.
Hopefully we can finish the molding today, which means I'll finally get to move some of the furniture back in and start organizing. Quite a few key things are coming from IKEA, and they are MIA at the moment. Delivery was scheduled for today by a local courier.  But, they haven't even received the stuff yet. YIKES! They think they will get it tomorrow. I'm crossing my fingers they'll be able to turn around and bring it to me Friday.
In happier news, the rug did show up and I love it!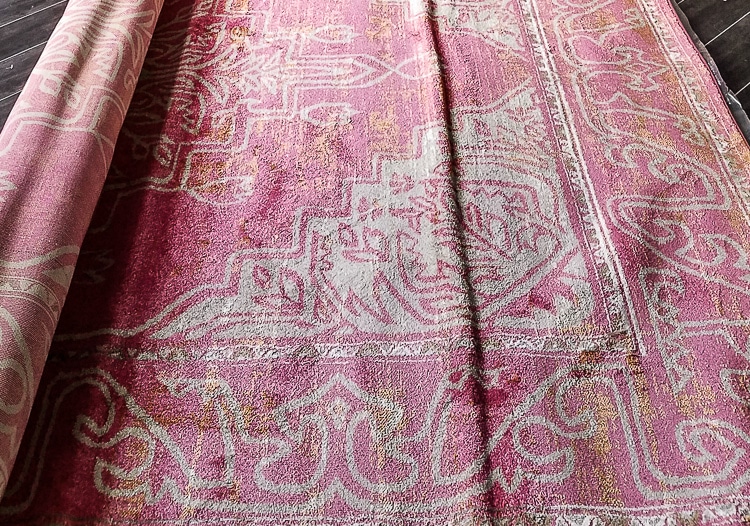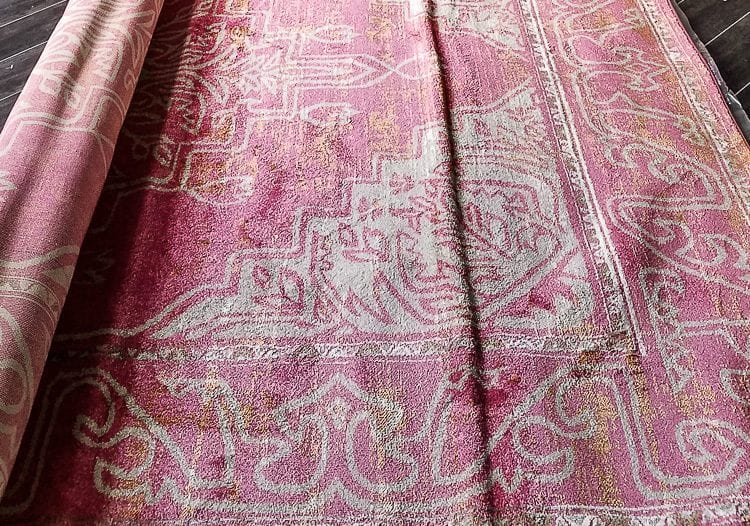 I ended up picking this rug in case anyone else is looking for the perfect pink rug! (affiliate links)
All in all, it was a good week. Two weeks left is scary,  but we can do it!
Here's the updated status since last week
Install Flooring  – Done
Buy and Install New Baseboards – Getting Closer
Install Blinds – They should be delivered next week
Install Curtains – Dang, I still need to buy a curtain rod!
Install Fan – Done
Hang Shelves – In the MIA IKEA Truck
Hang File Organizers – In the MIA IKEA Truck
Hang Art – Just need the furniture in place
DIY the Gold Boards – Yep, still need to buy the frames and make the boards
DIY the Calendars – Frames in the MIA IKEA Truck
Assemble Dresser – In the MIA IKEA Truck
New Backing for Bookcases? – Hmm, still deciding. Need to see them as is with the curtains
Pick and Order Rug (I can't find the one I used in the mock up – help!) –Done and Delivered!
Pick and Order Chairs – Might go with these white beauties from At Home. I need to go sit in them ASAP!
ORGANIZE EVERYTHING – Can't wait to get to this part!
If you're pulling your hair out trying to stay sane amidst the One Room Challenge or any room remodel, I've got some tips for you! Monday, I shared all the things we've learned over the years that help us stay married during times like these. Without them, I'd probably be crying every day of the One Room Challenge. With the tips, it's greatly reduced. 🙂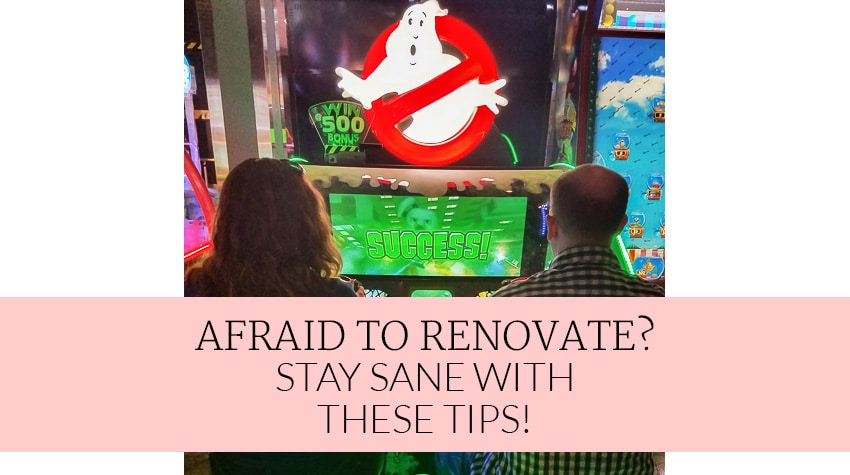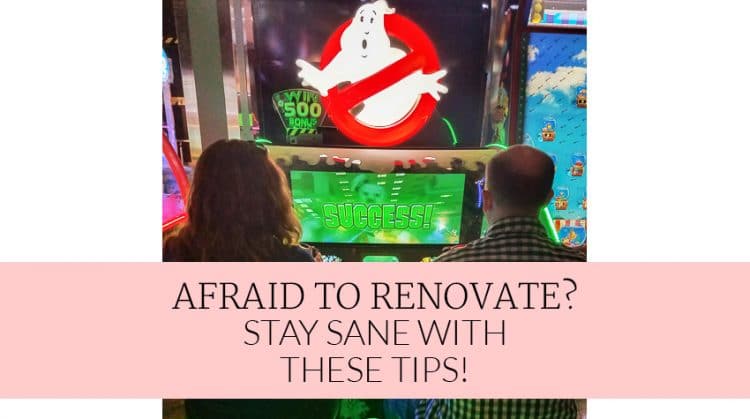 Don't forget to check out all the other One Room Challenge progress this week at Calling it Home. With two weeks to go, some will be almost done and others will be panicked. It's a bit like a reality show. I love every minute!