Let's just put this out there. Participating in the One Room Challenge makes me cry. Of course, I do it again and again anyways because the payoff is totally worth it. If you've ever renovated a room or a house, I bet you can relate.
Think about it, your physical space is chaotic, you're spending extra time whether you are DIYing or getting bids from various traders, AND you're spending a chunk of money. That doesn't even consider the stress from making decision after decision! Or the exhaustion. Total recipe for disaster.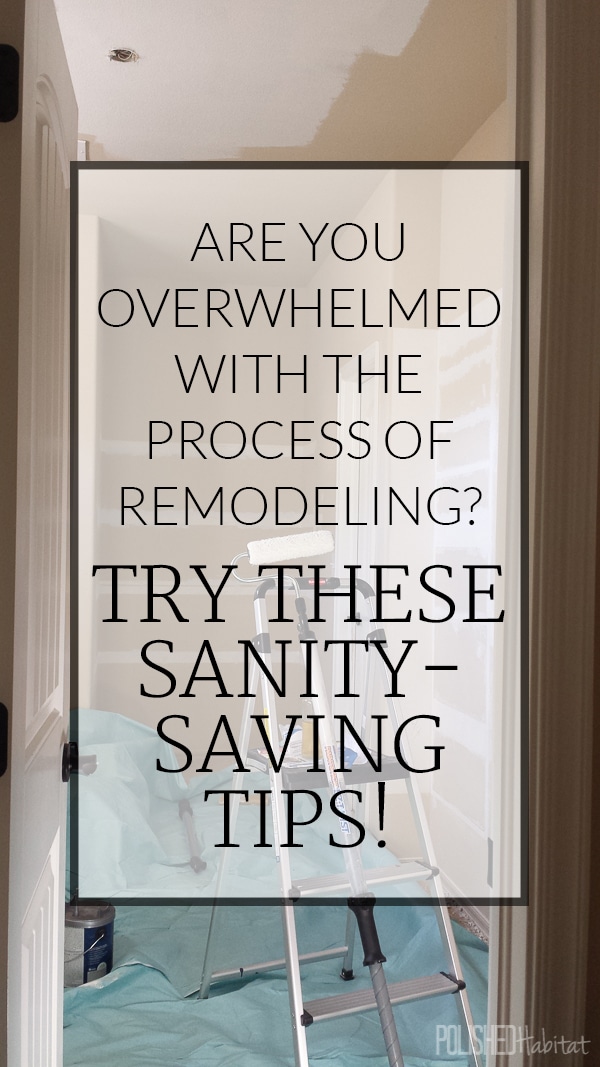 Going back before I was even blogging, we've slowly learned some things that help us stay sane (and married!) when we're taking on a big home project. This stuff is more important than any project tutorial I could show you or decor advice I could give. Here we go!
Stay Organized
Renovation and decorating budgets can get out of control fast. Even bargain purchases add up. Unless you were blessed with a photographic memory,  keeping track of everything in your head just won't work. I've tried it. My brain has a convenient way of forgetting things, making me think it's okay to buy more. Whoops.
Now I use Google Sheets to keep all the purchases organized. Which keeps me sane.


Adding the budget, confirmation of what I have ordered,  and when it is supposed to arrive has been the biggest help. Seriously, sometimes I research things for so long that I can't remember if I've actually decided and placed an order! Now I don't have to dig through my email, I just open my handy spreadsheet. Excel or even a paper notebook would also work, but I prefer Google Sheets because I can open the document on the computer or on the phone to check the budget when I'm out shopping.
Give Yourself Deadlines
I almost said "no one likes a deadline". But, that isn't totally true. I thrive with real deadlines. Not random deadlines I set for myself with no real consequence, but hard core deadlines that involve embarrassment if I don't meet them.
Without those kinds of deadlines, I'm a master of procrastination. When it comes to renovating, that is a huge issue because projects can drag out forever. There is a reason that the only finished rooms in the house are the ones I do during the One Room Challenge. I'm forced to show you my progress every week, and I promise a big room reveal at the end, so I'm totally motivated and committed to do whatever it takes to finish.
Since most of you aren't bloggers, there are two great options. You can play along with the One Room Challenge and publicly commit on your FB or Instagram account to updating a room along side me every six months. Or, you can set a reasonable timeline and then send out invitations for a get together at your house for the end of your timeline. Be bold and tell them all you're inviting them over to see your new space. It works!
You probably shouldn't start a kitchen renovation a few weeks before Christmas, so make sure you check the calendar and start the work at a good time. I know from experience. 🙂
Make Time for Fun
This is my favorite! During a big project, it's pretty natural to become completely obsessed with it.  When we redid our closet last year, stress was through the roof because we worked on it from the time my husband got home from work until it was time for bed day after day after day. Not only was it not healthy, it lead to mistakes because we were burnt out.  Everything took longer than it should have. I  think the only fun we had was going to college football games we already had tickets for. Which we do love, but between plays and at halftime, I was still thinking about the dang closet.
I found a solution this week that made me forget we were even working on the office! A few weeks ago, Main Event asked if I'd like to visit their Tulsa location for dinner, drinks, and games. Since I'm obsessed with trying to beat my husband at arcade basketball, I was all in. We had been to the Frisco, TX Main Event a few years ago to play pool and loved it. I was so excited when they built one locally.  As much as I wanted to take Main Event up on their offer right away, I checked the calendar and scheduled it for week 3 of our 5 week renovation. I gotta tell you, it was brilliant!
We invited my parents to join us so we could get in some rare time with them during the One Room Challenge. I was tempted to run straight to the Skee-Ball, but the restaurant was also calling. Mom and I started with margaritas and the guys found a great Pale Ale on tap. With our thirst-quenched, we moved on to BBQ brisket street tacos, bacon cheddar burgers, and an order of chicken and ribs. Mmm!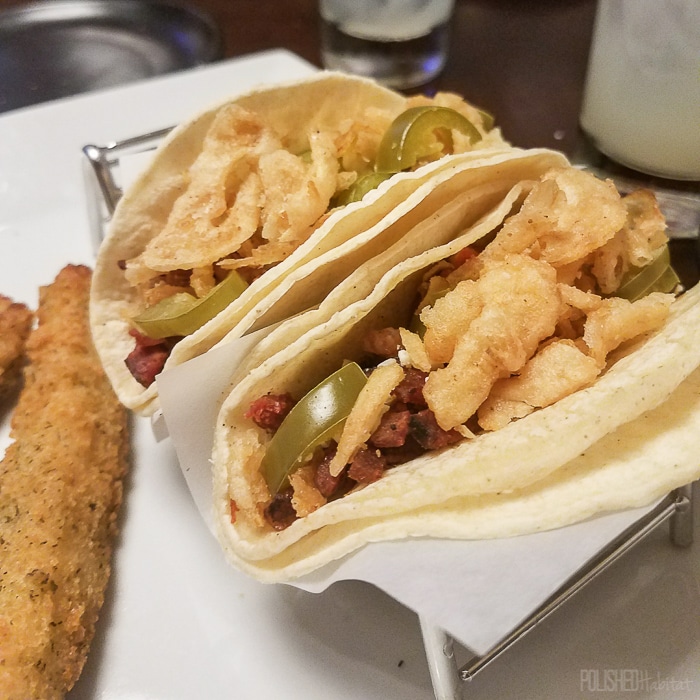 Between the food, drinks, and company, the stress of the office makeover started to melt away.
But, part 2 of the night was were we really forgot all about our to do list. It was time for fun!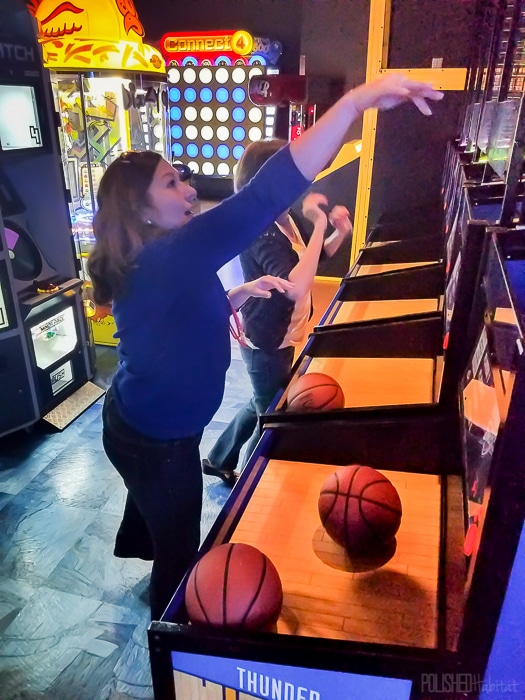 After we all conquered basketball, Corey and my dad moved on to the motorcycles. We might have tricked dad into playing by telling him to pose for a picture and then starting the game. That's how we do it around here. Fun isn't optional.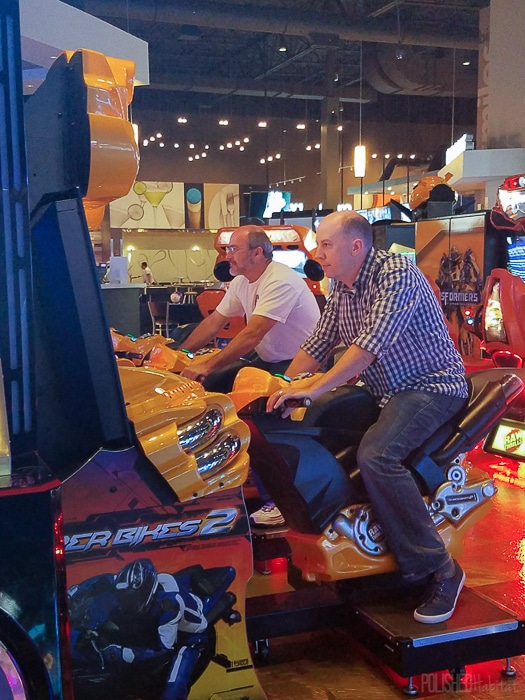 We ain't afraid of no ghosts!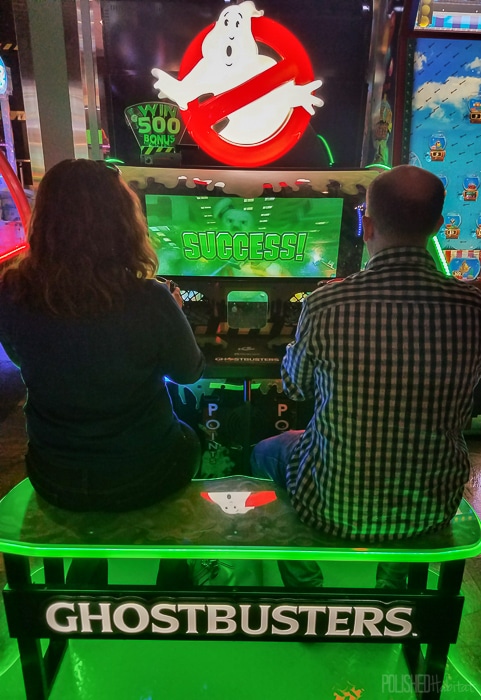 Let's just pretend the air hockey game ended in a tie like it was in this picture.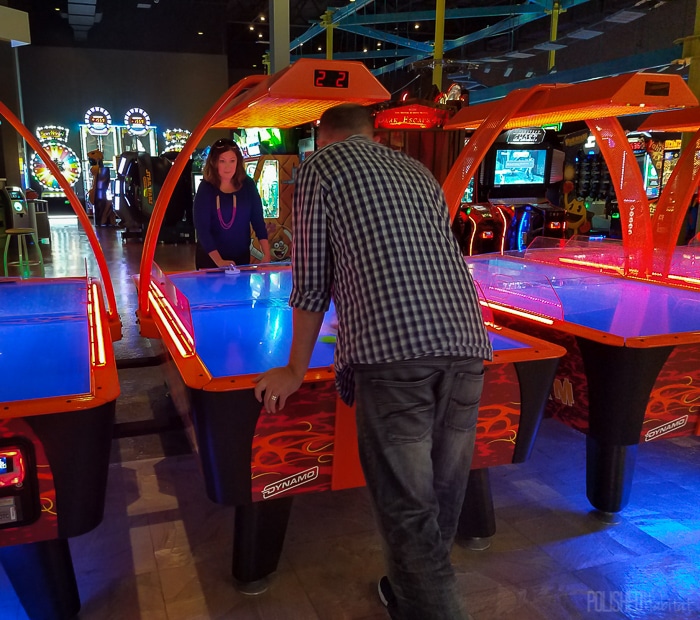 Then we took advantage of the ultimate renovation-forgetting activity.
I can promise you that nothing was in my mind in the next photo other than attempting foot-eye coordination. Since I don't excel at hand-eye coordination, I'm not sure why I thought this was a good idea.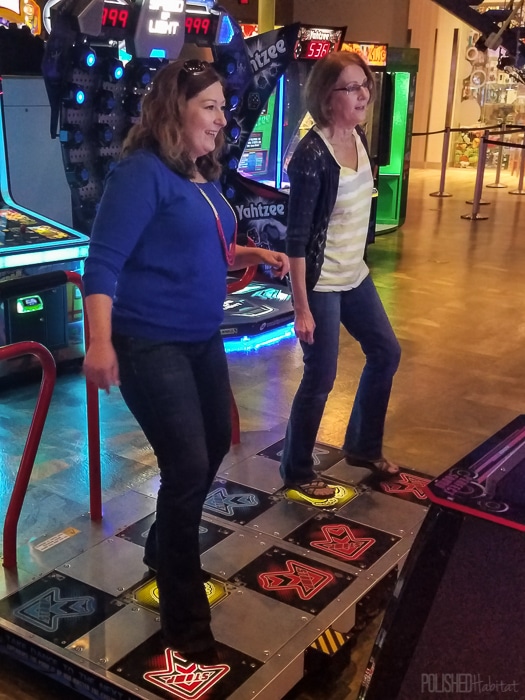 We might have spent more time laughing than we did getting the steps right, but laughter is the best medicine, right?
You guys, it was SO fun to hang out inside Main Event for two hours and forget everything happening at our house. We can't wait to go back and try out the bowling and pool. Little known fact here on Polished Habitat, but I've got my own pink bowling ball and pink bowling shoes!
We came home refreshed and ready to tackle the rest of our project.
Ready for the final tip?
Control the Clutter
We get a little better at this one each time, but it can still be a struggle. When one room is emptied out for a makeover, the contents have to go somewhere. And then deliveries start arriving. And tools end up all over the house. Serenity now!
You know the worse thing about clutter? It attracts more clutter like girls are attracted to Channing Tatum.
When I walk into the kitchen and the island is covered in a strange mix of mail and tools, and then I look in the dining room and the table is buried by more junk, and entryway is full of delivery boxes, it makes me cranky. So very cranky. Some of it is unavoidable, but other stuff is controllable.
Since we see the island right when we come out of the bedroom every morning,  we try to keep it cleared off. That change alone is a big help over our first few room re-dos.
Figure out your own clutter trigger points and commit to picking them up before bed every night. You'll be so glad you did in the morning.
So, stay organized, set deadlines, take time out for fun, and control the clutter. They all seem kind of obvious when I list them out like that, but when you're in the moment of a renovation, none of them come naturally at our house.  I hope some of the things we learned the hard way will help keep the peace at your house during your next space makeover!
Now it's time for us to knock out the rest of the office so we can go back to Main Event to celebrate!
Go to MainEvent.com to find a Main Event Entertainment Center near you.
This is a sponsored conversation written by me on behalf of Main Event. The opinions and text are all mine.