After last week's excitement that I finally had a plan for the office, I was ready to see some actual progress in the room.  Ten paint samples later, my dreams of a brighter work space came true. That wasn't even my favorite part of the week. We also pulled up the horrible, no good, very bad, beige builder-grade carpet. Let the angels rejoice!
While we were getting a physical workout removing carpet, the credit card was getting a virtual work out as I made design decisions. I'm pretty sure someone at Visa is rolling their eyes and saying, 'Oh, that Melissa, she must be doing the One Room Challenge again'.
PS: If you're a new reader, welcome to Polished Habitat! You should head back to week #1 to start at the beginning of this 6 post event hosted by Linda from Calling it Home. The short version is that 200+ people are making over one room in their house. Each week, we all post progress updates until the final reveals on 11/10/17.  I'm one of those crazy people who take part in the event each spring and fall, even though it usually makes me cry. 
Thankfully, I found some great deals that are helping out with the budget. Check out these gorgeous curtains from West Elm. I lucked out and spotted them when the 108″ version was still available at the crazy cheap clearance pricing. Late night shopping win! They're looking great in the updated mock up.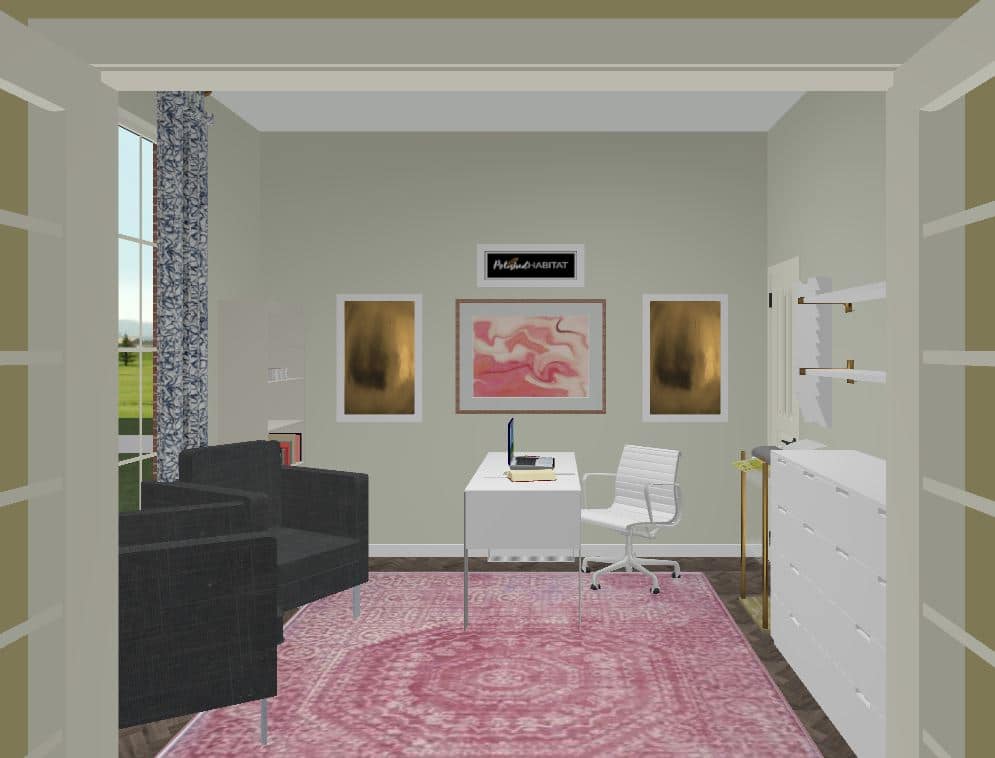 For the hard work part of the week, I started with lots of paint samples. I'm pretty sure the paint man at Lowe's thought I was insane.  They all looked the same when he blotted the color on the lids.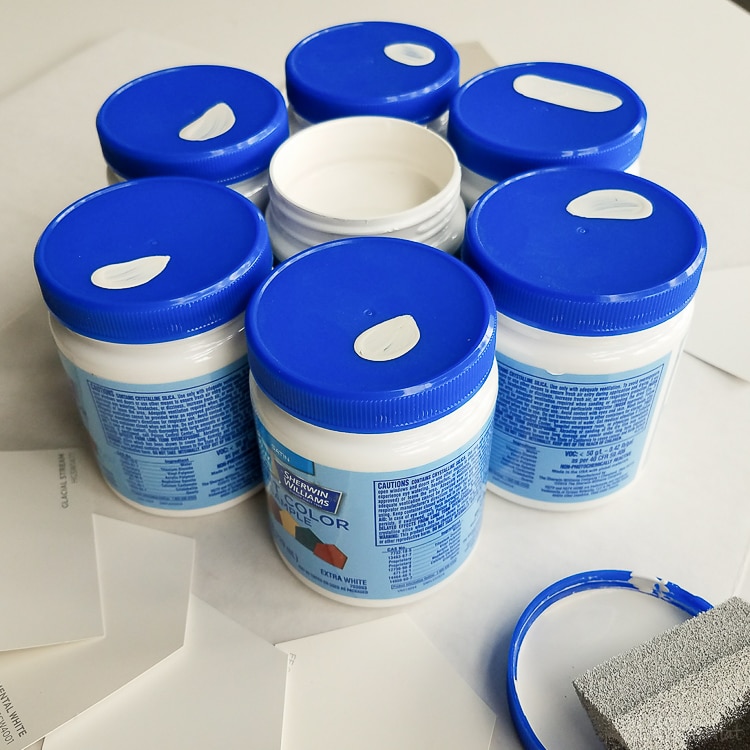 I might have questioned my sanity a bit too, but on the walls they were definitely different. I figured out quickly that I only thought I wanted a bright white. Our "white" trim looks yellow against the brightest whites. Seven samples and I wasn't crazy about any of the options.
After lots of Googling, I decided to try Sherwin-Williams Repose Gray. I almost loved it, but it was a tad too dark. I took a 3rd trip back to Lowe's and I asked for another sample of Repose Gray, but asked them to lighten it to 50%.  I also picked out another light gray. Because if you are going to have 9 test colors on the wall, you might as well make it an even 10.
As I was testing paint, we were also clearing out the space. Before we took the bookcases and desk out of the room, we tried out the bookcase by the window. It's going to work perfectly! Woo hoo!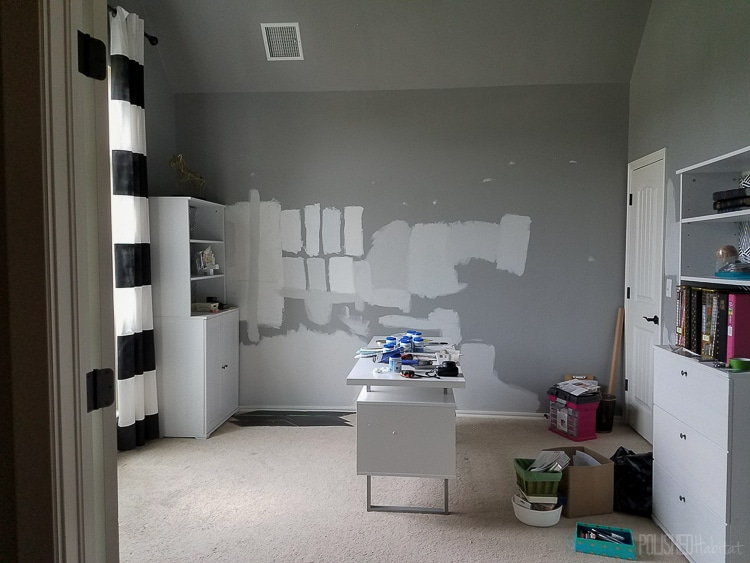 By Saturday morning, I had paint samples everywhere. Most of them looked different on every wall. It was like some sort of circus fun house. This is where the deadlines of the One Room Challenge come in handy.  I had to make a decision and the winner was…
Repose Gray lightened to 50%!!!
It wouldn't be a challenge if a normal color worked in the room, right?
We spent Saturday painting, and by the end of the day I had a happy bright space. Hooray!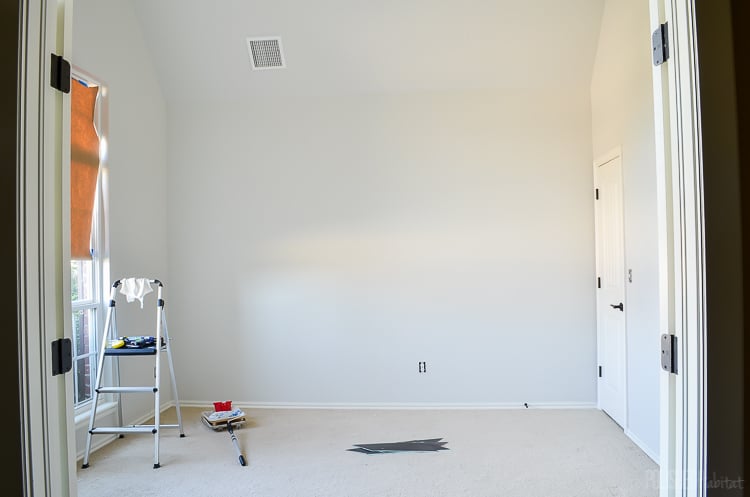 The paint was only the 2nd most exciting thing that happened in the room this week. Sunday, the carpet channeled Justin Timberlake and went Bye, Bye, Bye.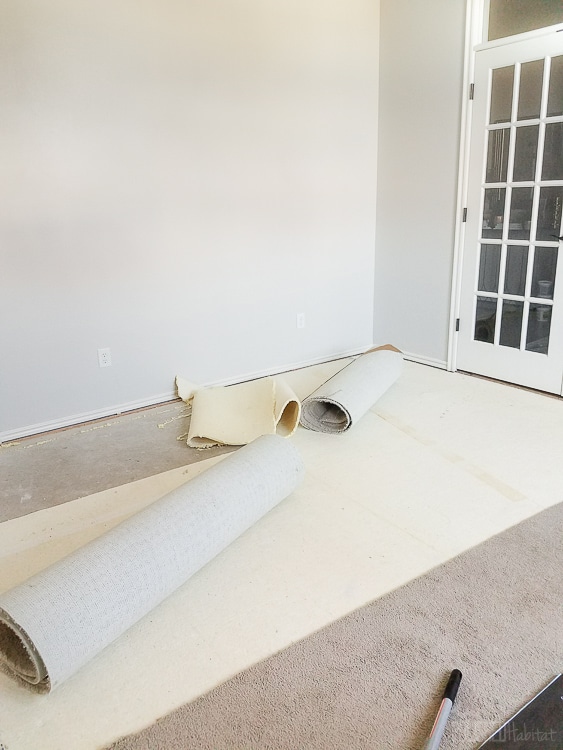 The carpet departure left us with chunks of padding stuck to the foundation.  And the carpet tack strips were nailed in every 5ish inches all around the room. Every time we pulled out a nail, a chunk of foundation came up with it.
But who cares. The carpet was gone!
We got that mess cleaned up and can't wait to start the next step tomorrow. We are starting the herringbone floor!
By next week, we should have the floor and new baseboards done. I keep forgetting to mention the baseboards, but we're going with a taller, more modern version. I'm hoping we can knock that out by Sunday.  If I'm lucky, we may get the ceiling fan and curtains installed by next Thursday's post too. Things are getting exciting!
Here's what I have left for the last three weeks:
Install Flooring
Buy and Install New Baseboards
Install Blinds
Install Curtains
Hang Shelves
Hang File Organizers
Hang Art
DIY the Gold Boards
DIY the Calendars
Assemble Dresser
New Backing for Bookcases?
Pick and Order Rug (I can't find the one I used in the mock up – help!)
Pick and Order Chairs
ORGANIZE EVERYTHING
It feels like a lot, but I think it's doable as long as this next week goes as planned. Fingers crossed!
Don't forget to pop over to Calling it Home to see the rest of the One Room Challenge participants and check up on their progress!