Quitting crossed my mind this week. Not just once or twice, but over and over as I struggled to come up with an arrangement for my office that was functional and pretty. I started the week confident a plan would appear if I just kept moving forward with what I could do.
But, it didn't. We cleared everything from the walls and I had no plan. We emptied the room and I tried to plan, but there was something majorly wrong with every iteration.
If you're new to Polished Habitat, welcome!  I'm in week #2 of the One Room Challenge, which is a fun room makeover event hosted by Linda from Calling it Home.  Catch up with the week #1 before photos here. 
Monday, I picked up 7 paint samples and used them on every wall.  Not only did they not help my plan, none of them were winners! What in the world was going on!?!  I looked around my torn-apart room and wondered what I had gotten myself into.  I alternated between wanting to quit and telling myself it would be okay.
I tried designing the room starting with pieces we already owned. When that failed, I tried starting from scratch, imagining I had an unlimited budget. Nope. Still nothing.
Finally, 15 hours before I had to publish this week two update, the epiphany FINALLY happened!
I was missing an inspiration piece. How did I not think of that earlier?  This spring when I was planning the master bedroom, I  struggled with whether I wanted a bright room or a moody room. Then, I found a piece of art that showed me I could have both. Once I saw the art, everything fell into place.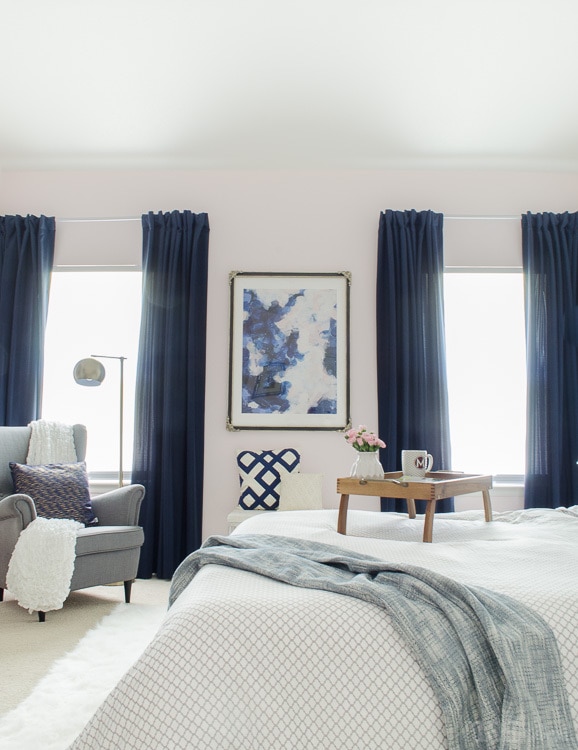 My favorite online sources of art are Etsy and Minted. I already have lots of pieces saved as favorites both places. Why didn't I think of that two weeks ago? After browsing my favorites, and checking for new things on each site, I narrowed it down to two options.
The first was Prada Palazzo by Leigh Viner. I love it, but as the main focal point in the office I worried it was too dark.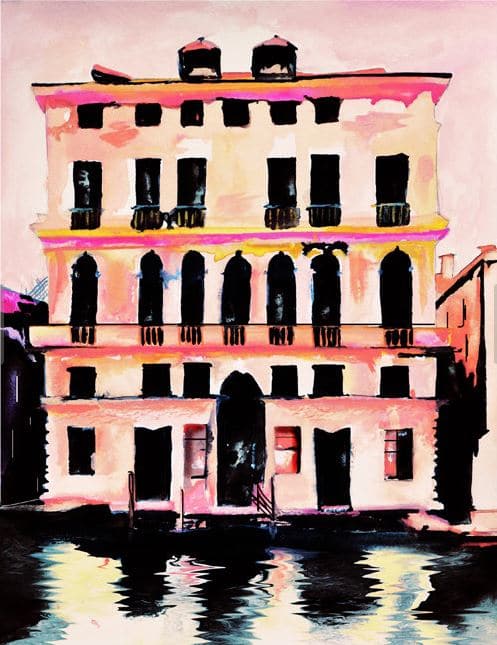 When I spotted strawberry crepes by Naomi Eggers, I immediate wanted to see it in the room. That was an excellent sign!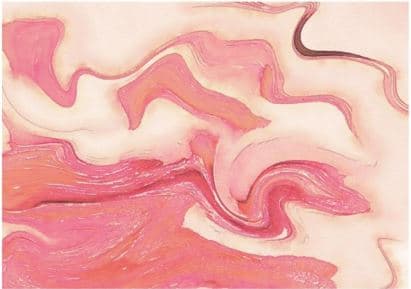 Eight hours of design later, I had only emerged from my temporary office in the dining room for food, but I had a plan!
As a reminder, here's what the office looked like before we tore it apart.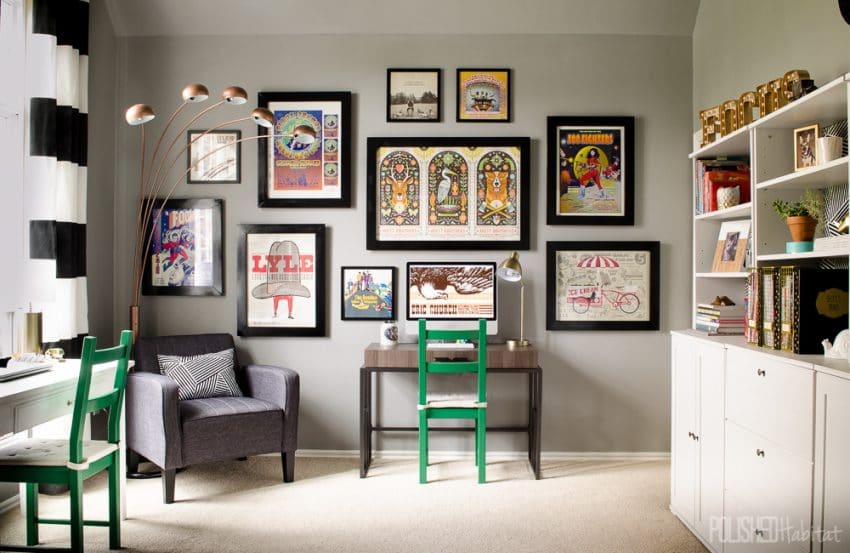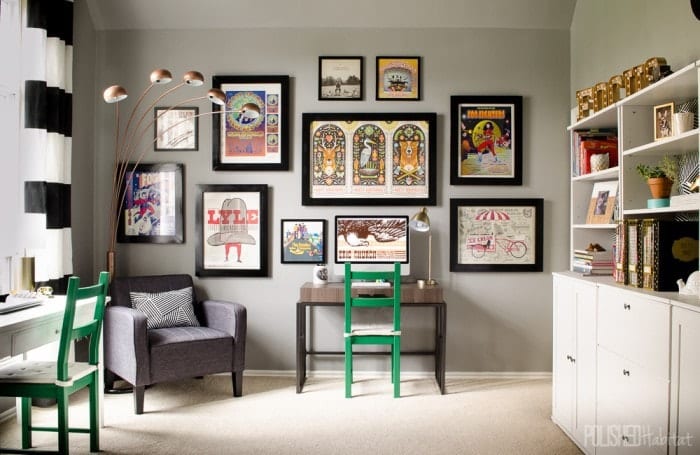 And here's what I came up with today as the new plan.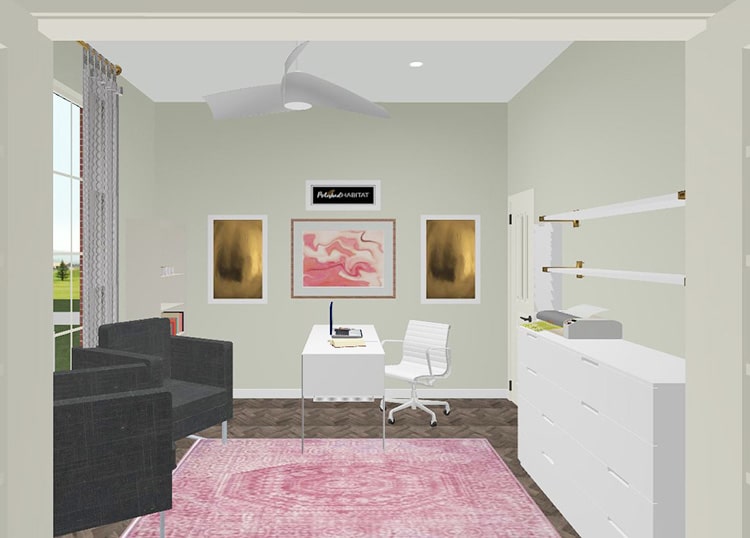 The inspiration art is the focal point. On each side of it, there will be gold dry erase boards for brainstorming and goal setting. The carpet is going away this weekend (hooray!) and we'll be installing a herringbone floor. I can't wait!
One of my biggest issues with the office has been the lack of a flat surface to make and package orders for my Etsy shop. I also needed a spot for the Silhouette machine, vinyl, and mailing supplies. Thinking outside the box when I was shopping online helped me find the perfect solution. The IKEA NORDLI series of dressers come in many configurations. I found one that is counter height, which will make the perfect workstation. And look at all that storage!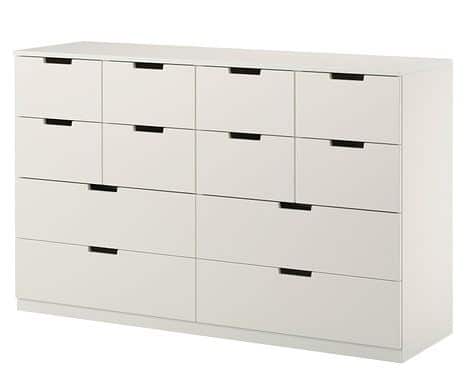 I didn't have time to mock up anything pretty on the dresser wall. But, in a few short week, those shelves will be the perfect mix of function and beauty.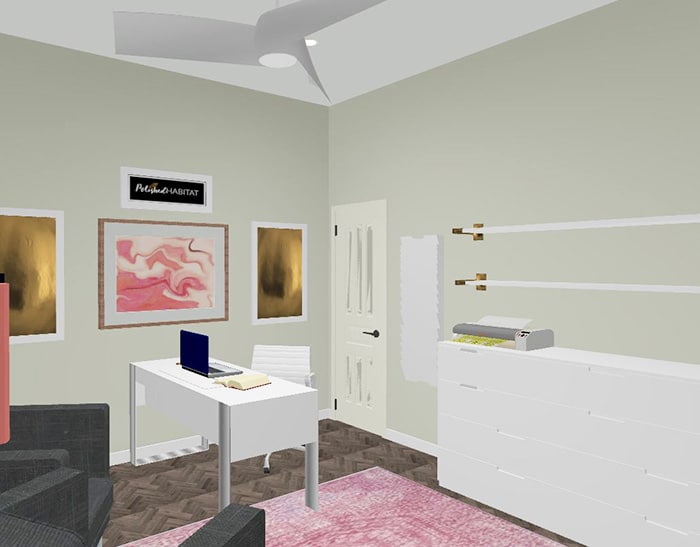 I'm excited about all the file storage on the wall next to the closet door.  The thought of being able to spin in my chair and reach those files makes me more giddy than I should admit.
On the window wall, I had some pleasant surprises.  Two of our existing bookcases fit, one on each side of the window. After moving the actual furniture around to test out real life spacing, we realized there was just enough room to add two chairs. It looks squishy in the renderings, but it fit really well in the test.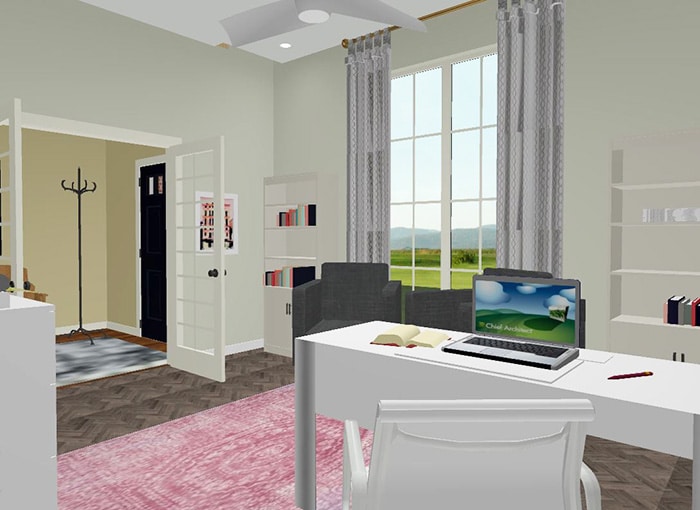 The only thing on my long list of office "wants" that didn't make the cut was a spot for my husband's huge Mac.  Since he has a tablet and a work-issued MacBook, he rarely has to use his older desktop. Luckily, he was on board with getting kicked out of the office. He's a keeper!
Now that I have a plan, watch out world! I can't wait to get the paint and flooring done so I can start the organizing.
Head over to Calling it Home to see what all the other One Room Challenge participants are up to this week. Hopefully, no one else was panicking like I was. Normally, that doesn't set it until week #4!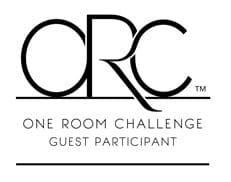 Renderings made in Chief Architect Home Designer Suite 2016. It's got a learning curve but is super powerful for the price since you can import materials and 3D images. It has limitations not like being able to handle our vaulted ceilings in the office, so I may be upgrading to the Home Designer Professional version soon.