I'm thrilled to share our game closet makeover with you today! It's been a while since I've done a big closet organization project, and for good reason. All the downstairs closets, like our master bedroom closet, bathroom closet, office closet, and entry hall turned cleaning closet were all finished and still working well. And the upstairs closets were both scary and out of daily sight, so easy to ignore.

However, as with most cluttered spaces, the upstairs combo linen and game closet was starting to create problems in other spaces. There wasn't an inch of free space in it, so we had all our newer games in a different cabinet on the stairs. Nothing was ever used in the packed closet. The best guest towels are stored in the bathroom. We certainly never played the games from the bottom of the closet because it was a disaster. If you think I'm exaggerating, here's the photo evidence…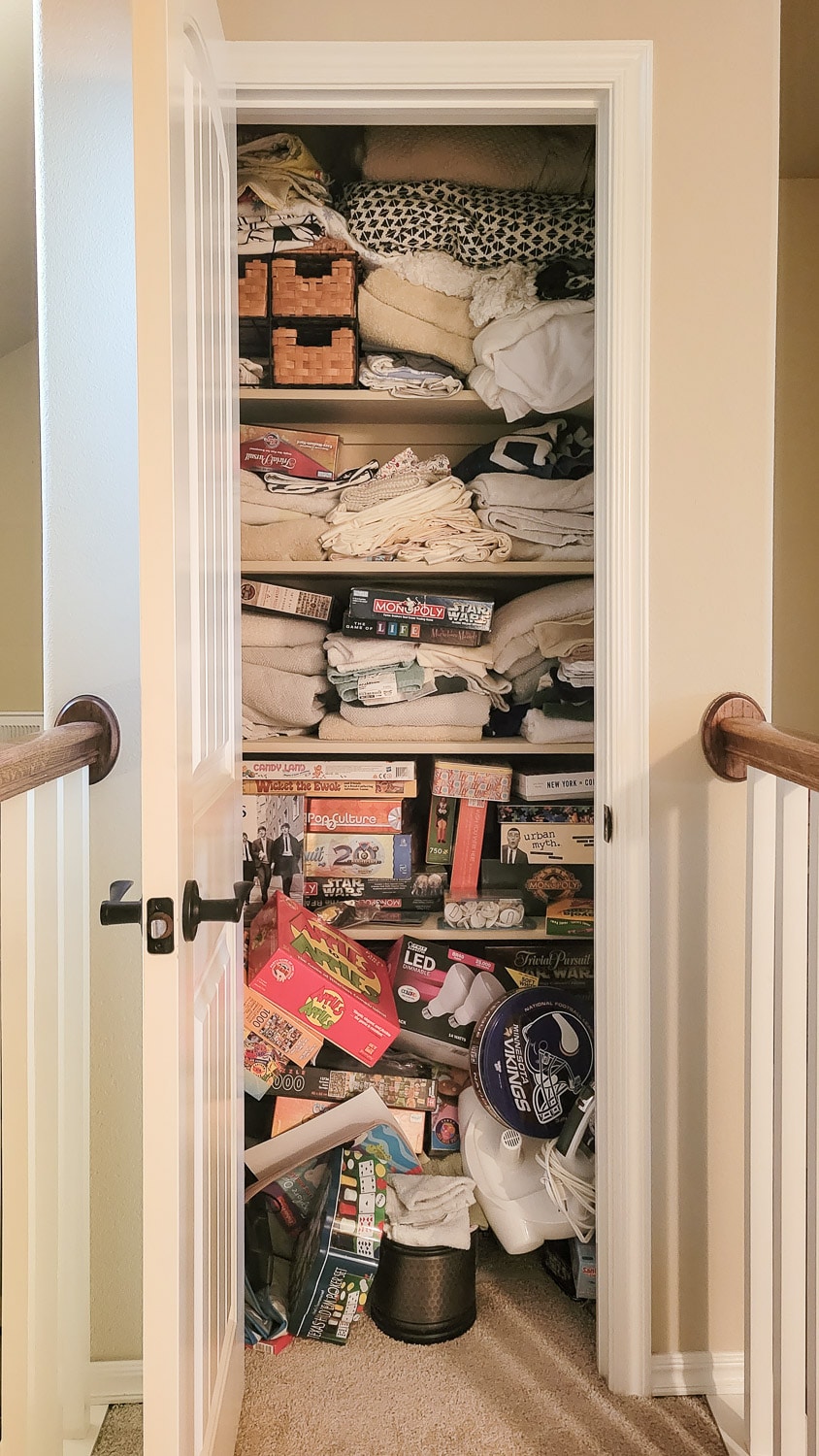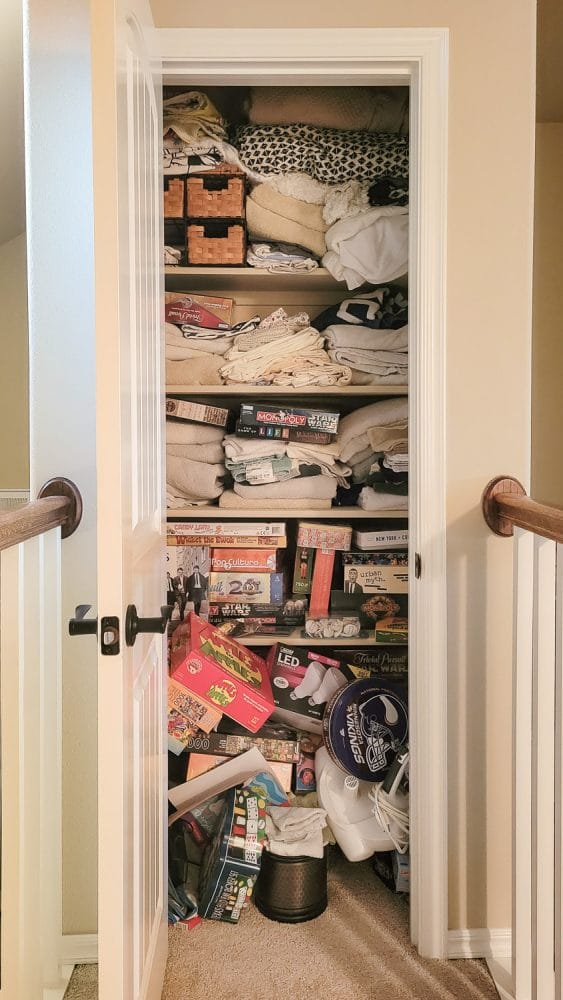 Before we started the actual decluttering and organizing, I needed a plan. There are three key questions to ask when you're tackling a closet or cabinet makeover.
Question 1: Is there anything in this space that shouldn't be here?
I knew I could get rid of every towel and washcloth because we have plenty for ourselves and guests in the bathrooms. This was a win-win project because our niece is involved with an amazing non-profit that recently purchased a shower trailer. It's set up in different locations in Tulsa for those experiencing homelessness and has been a huge blessing for so many. They can always use more towels, and our extras were still in good shape to donate.

We also needed to sort through the games, puzzles, sheets, and blankets to donate those we knew we wouldn't use again.

Question 2: Is there anything NOT currently stored here that should be?
I had a big dream of making room in this closet for all our non-Christmas gift bags and other wrapping accessories like tissue paper and gift tags. Our Christmas papers & bags are kept in totes in the attic, so they're thankfully out of the way the rest of the year.
Before this makeover, the non-seasonal supplies were spread out between my office drawers, office closet, and our 2nd upstairs disaster closet in Corey's office/the old craft room. That walk-in closet is a project for another day, but finding a new home for the gift materials was the first step.
Question 3: Which items need to stay, but be better organized?
The board game storage needed to be revamped to encourage us to use them more often. Plus, we needed to make room for all the newer games that had been stored in other places.
The Plan
Once I knew our needs, it was time for a plan. The first decision was easy. Adding an Elfa door organizer would give me brand new storage space for many of the smaller wrapping items like scissors, ribbon, and tape. Beyond that, the worst part of the old closet was the tall space under the lowest shelf. It was one large open cave.
To make the space work better for everything we needed to store, I invested in Elfa storage drawers once I realized they would fit perfectly with no construction needed. They are not the most affordable solution, so if you're on a budget, consider this unit of 12 drawers or this two-pack of larger drawers. That said, I do really love the Elfa drawers, especially after I realized they sold Elfa drawer dividers, which you'll see in some of the photos below.

The bottom shelf was about 2 inches too low for the drawers to slide underneath, however, we were able to carefully use a hammer to remove the shelf and then set it right on top of the drawers instead of buying a top or reattaching the shelf to the wall. I'm not sure how we got so lucky!
We also expected to move all the other shelves to optimize the spacing for the games, but they turned out okay too. I was just storing the games the wrong way before! Lastly, we thought we'd need to add an additional shelf at the top to maximize the height of the closet, but adding IKEA KUGGIS storage boxes for the extra sheets and blankets was the perfect solution. They come with lids, making them safely stackable to take advantage of the ceiling height without adding a shelf. Another big win!
Take it All Out
Once we had a vision for the storage, it was time to remove everything from the closet to sort it. Look how much better it looks empty!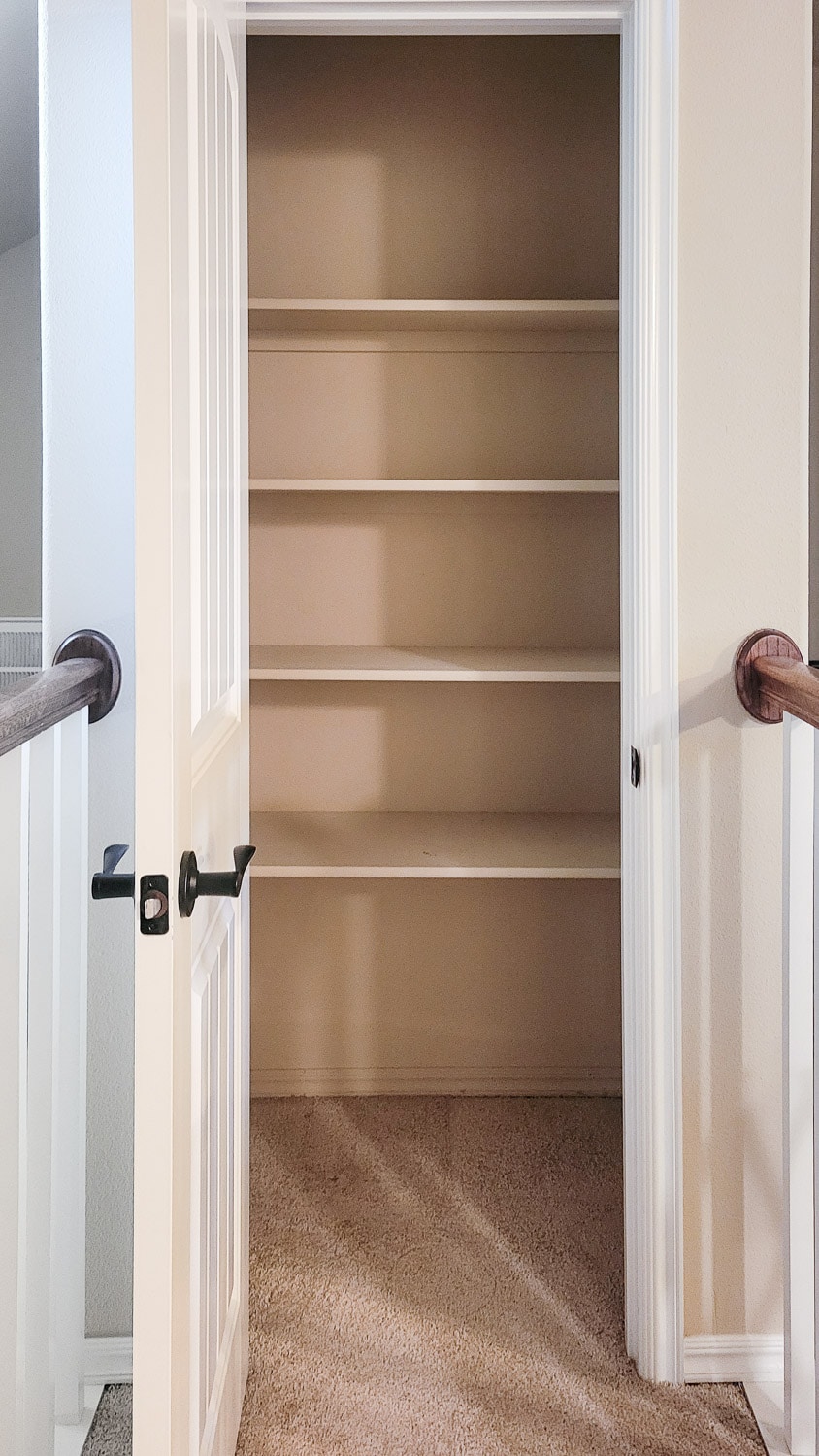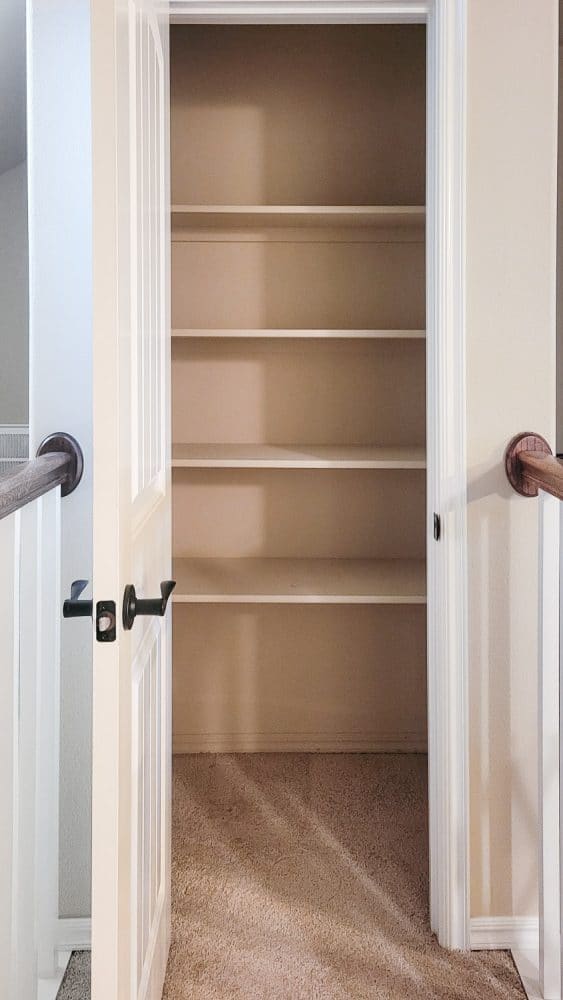 Group & Donate
Everything from the closet was placed into groupings as it was removed, with a few items going straight to donation piles, but the rest placed in different zones so we could talk through what we were keeping versus purging. It was fun to uncover old favorites like Mastermind and Othello!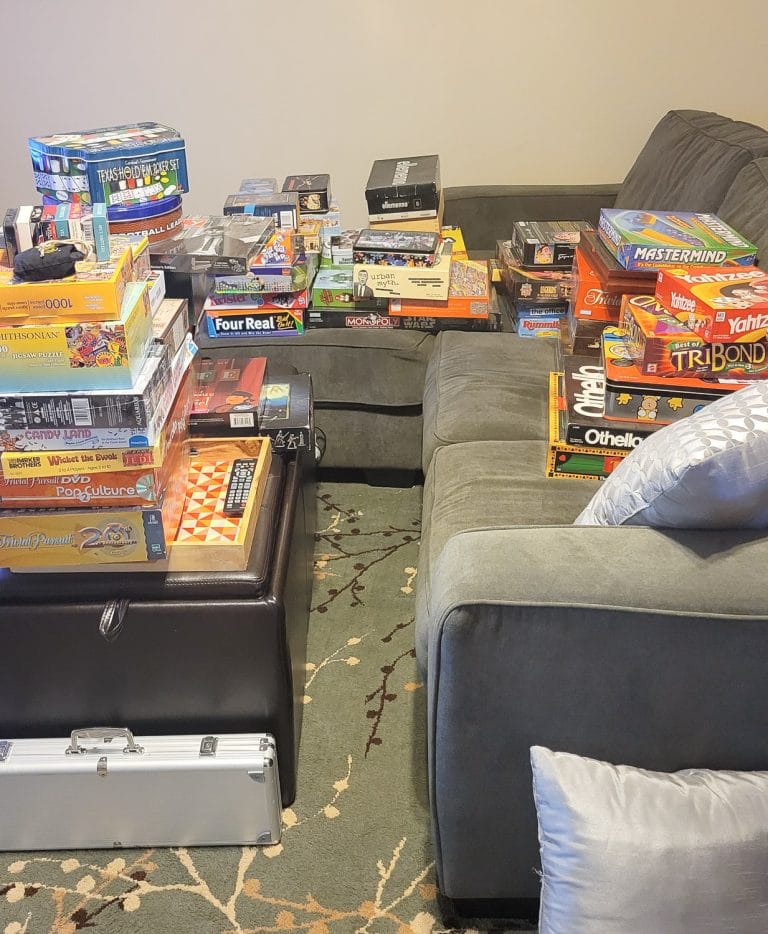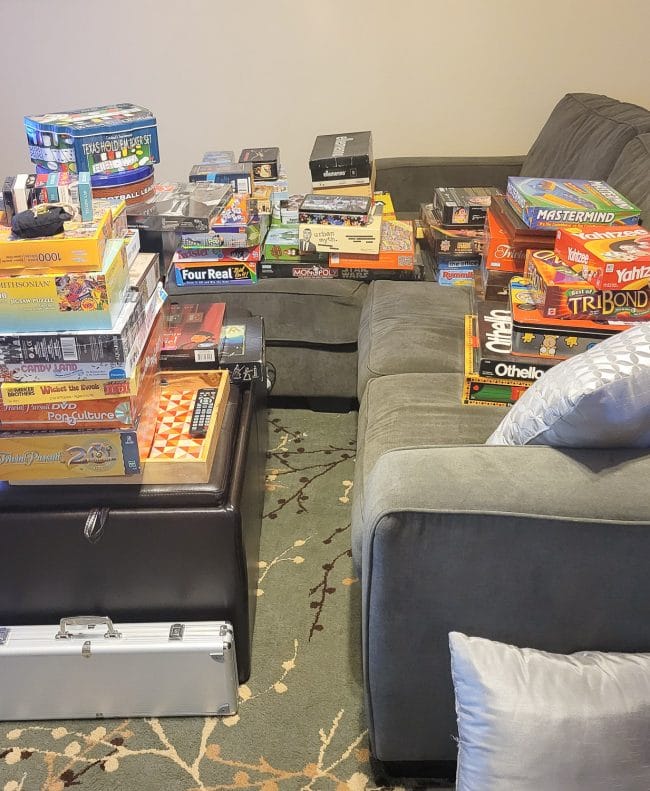 The Finished Closet
Are you ready to see what it looked like when we added the drawers, door unit, and re-filled the space?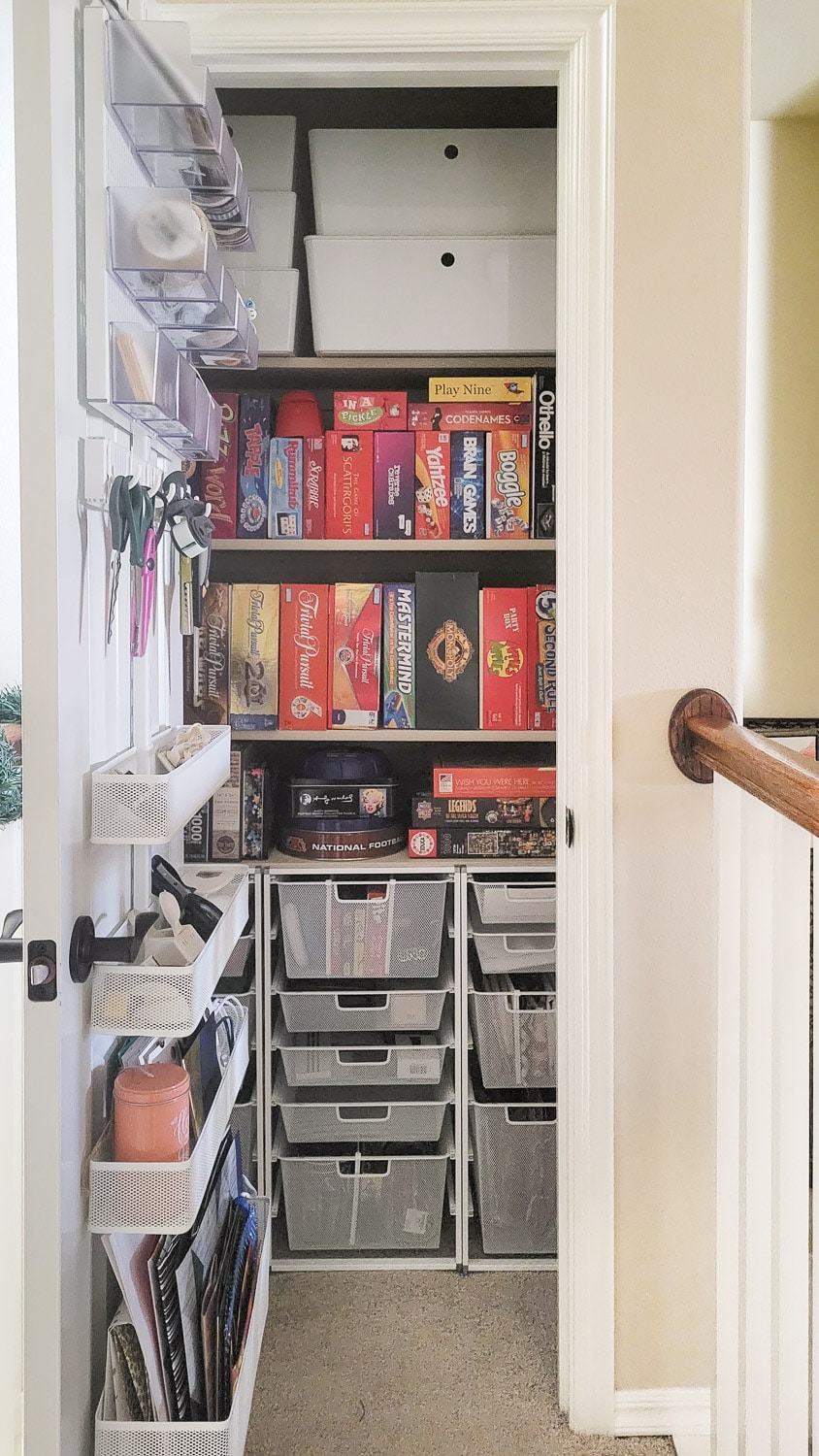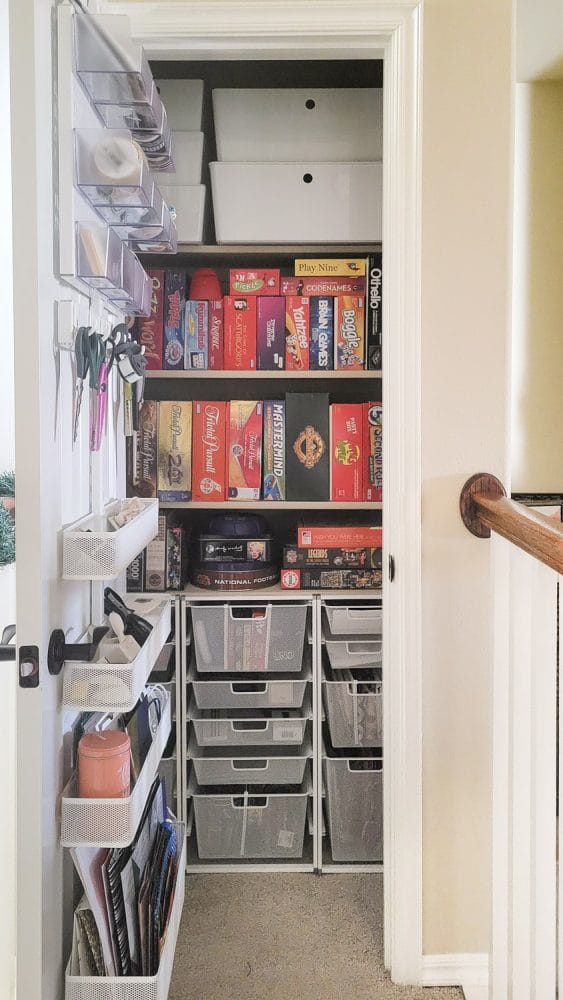 The large white bins at the top are the IKEA KUGGIS containers that hold the extra sheets. I haven't labeled them yet because I haven't decided what to put in the empty ones. After several days of pressuring myself to make a decision and labels so I could photograph the closet for you, I realized that would be a mistake. I'll make a better long-term decision after the holidays. Sometimes organizing projects need to simmer a bit before they're finalized.
Board Game Storage
Turning most of the boxed games on their side to be stored vertically was a double win. More games fit per shelf, and we can slide one out without disturbing the others.

We allocated two shelves to games and one to puzzles. In the future, it's possible we'll move the KUGGIS units with the sheets to a guest room closet to make even more room for games. But, for now, we were able to purge enough that everything fits on the shelves.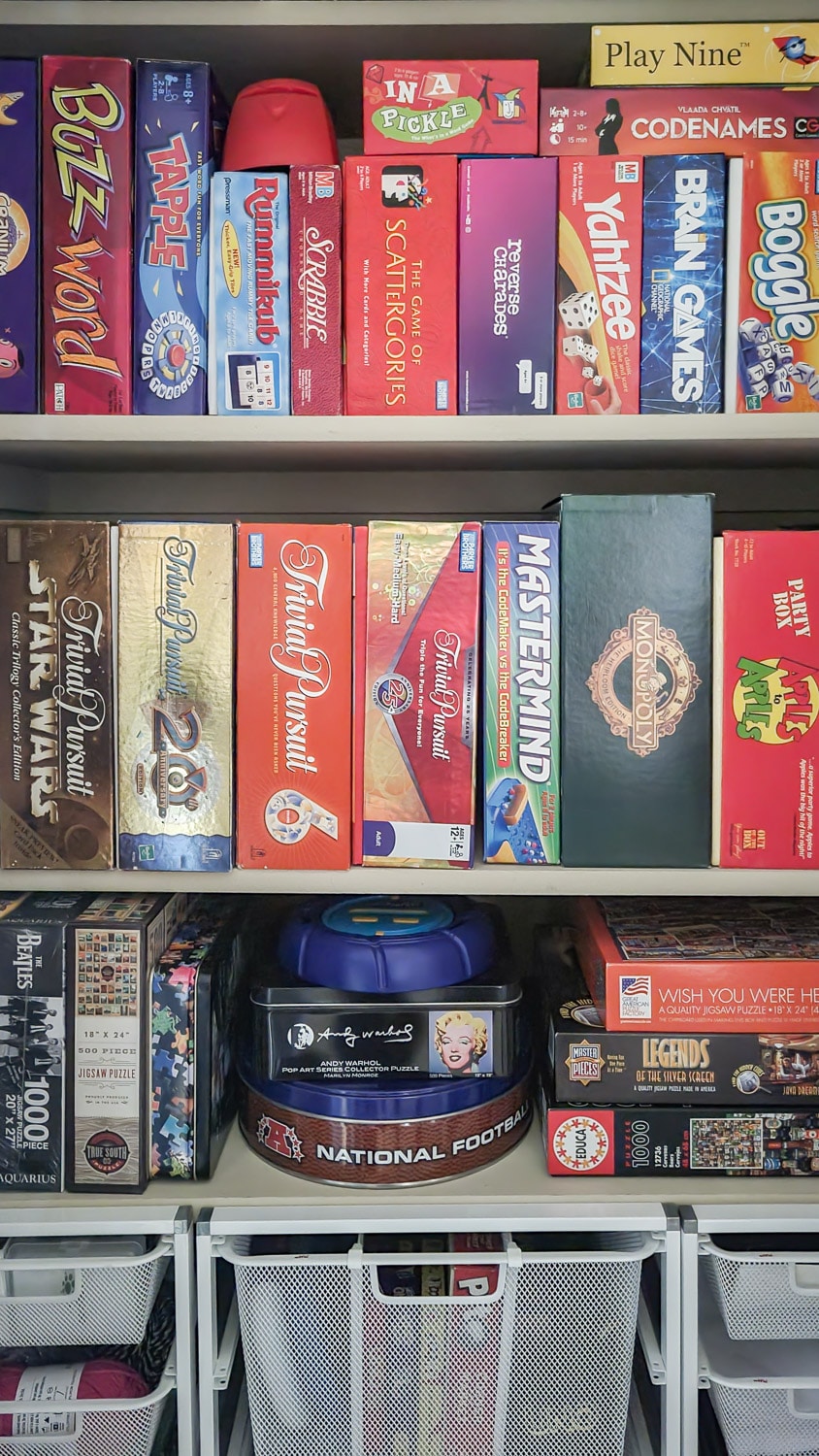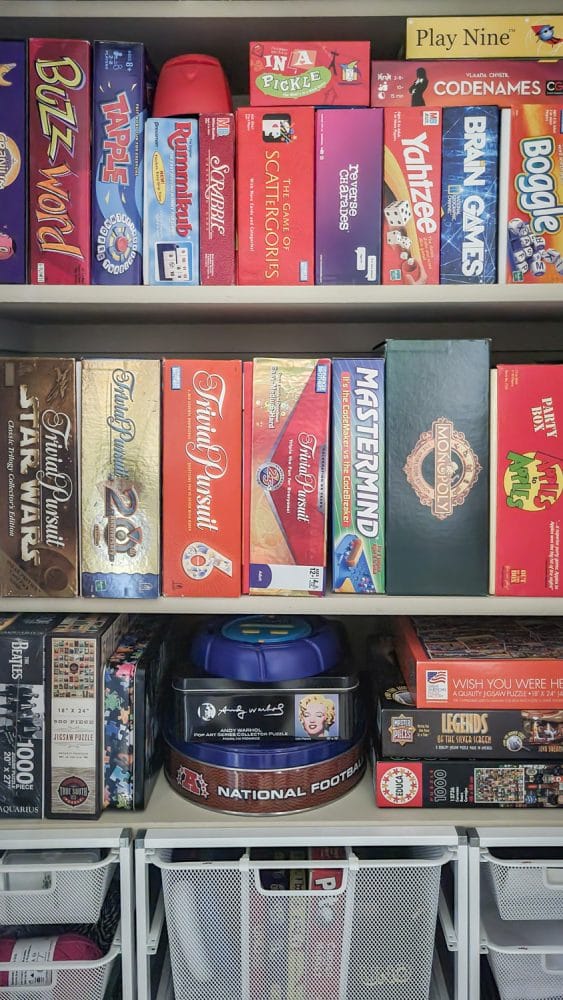 We also have a lot of smaller games, including our favorite games for a crowd, Catch Phrase and Pit. Our extended family has played both for years, and they never fail to deliver both fun and laughter. The medium 2-runner Elfa drawer is perfect for those games, especially once you add the dividers to keep it tidy.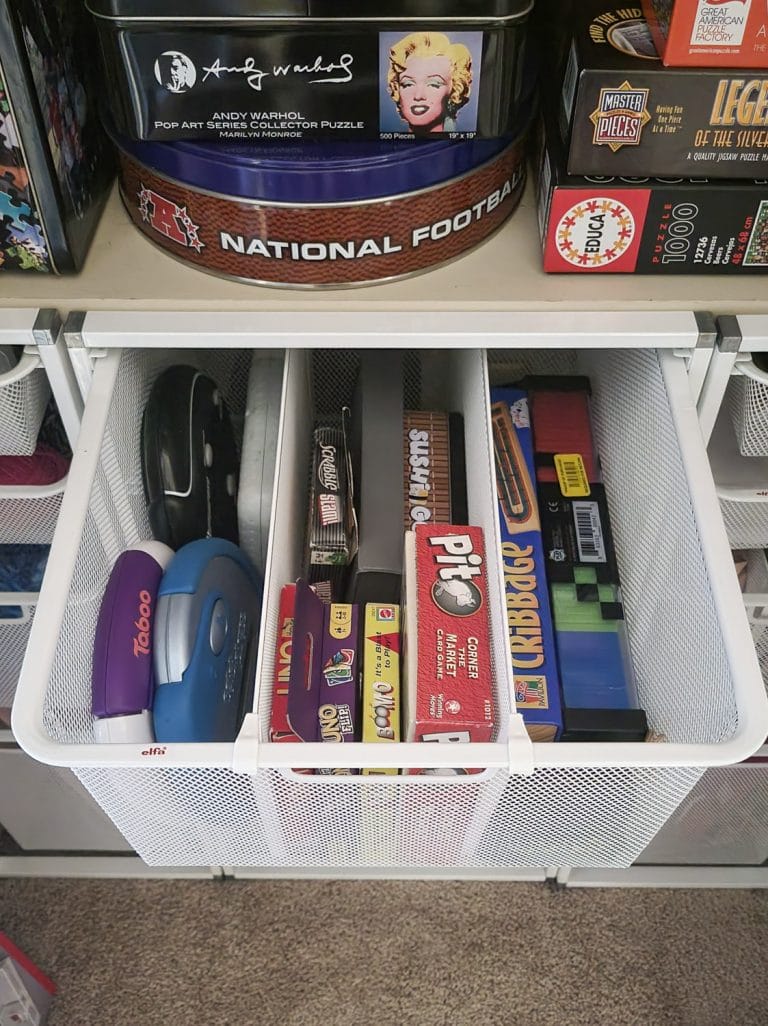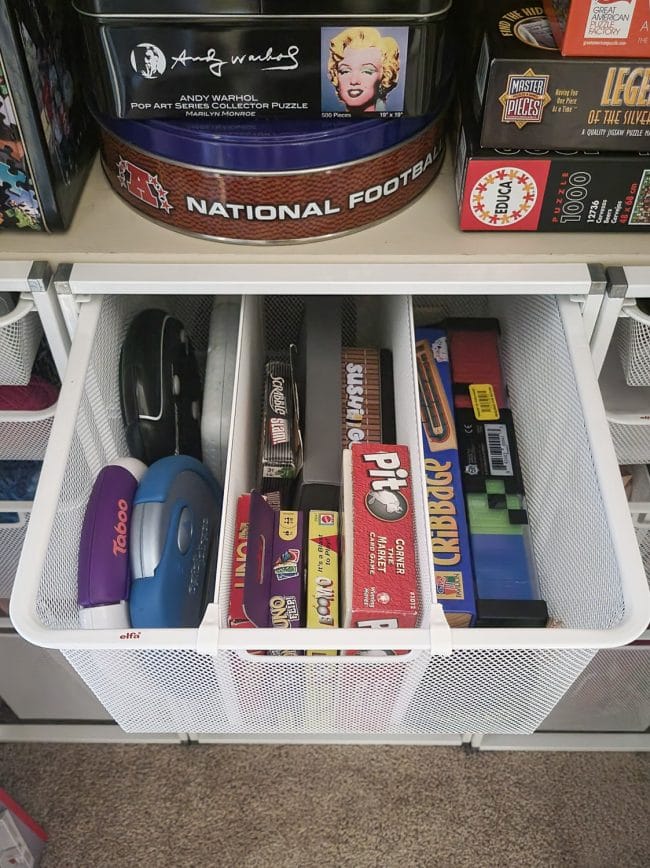 For regular playing cards, the 1-runner drawers are ideal.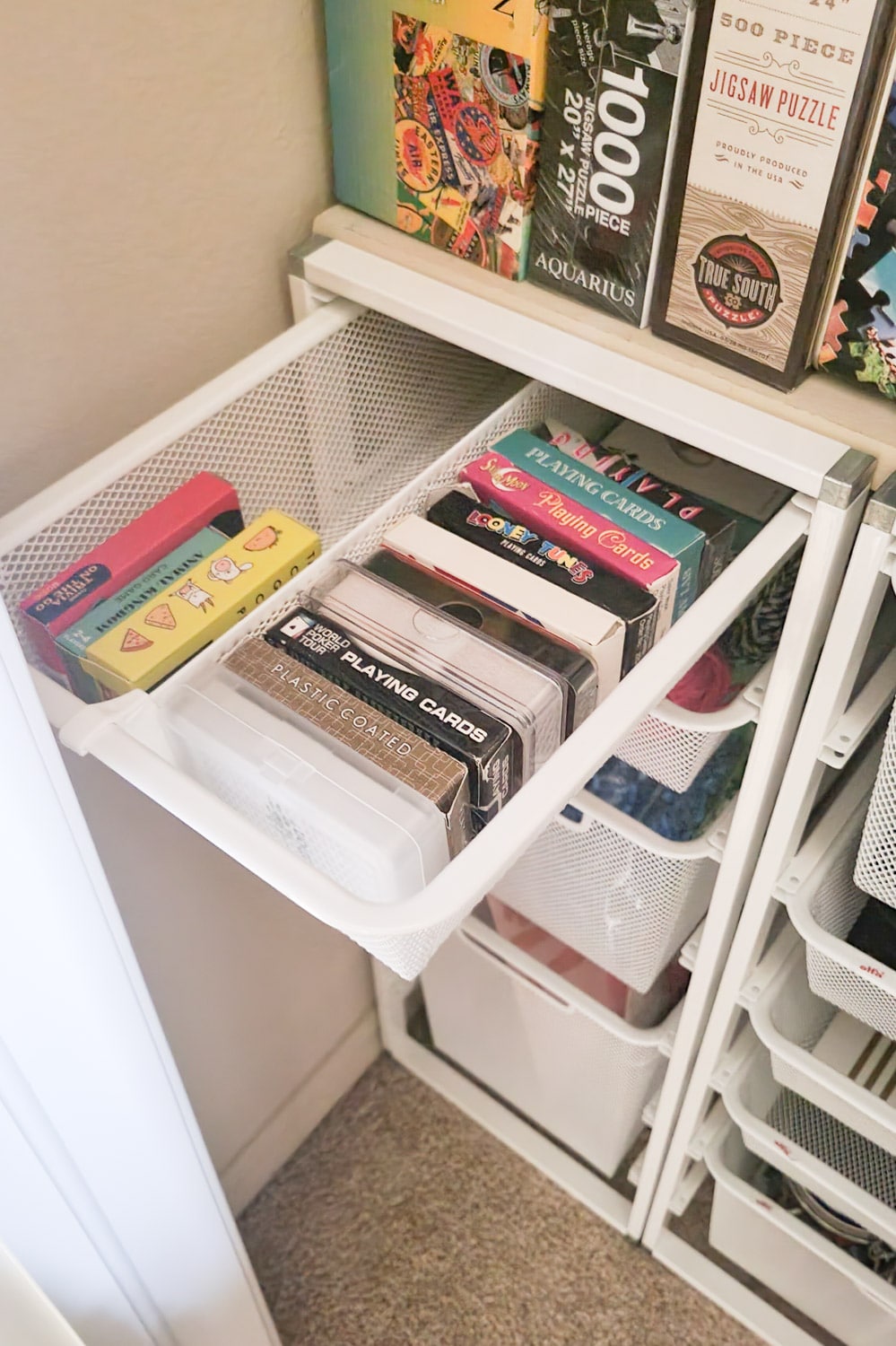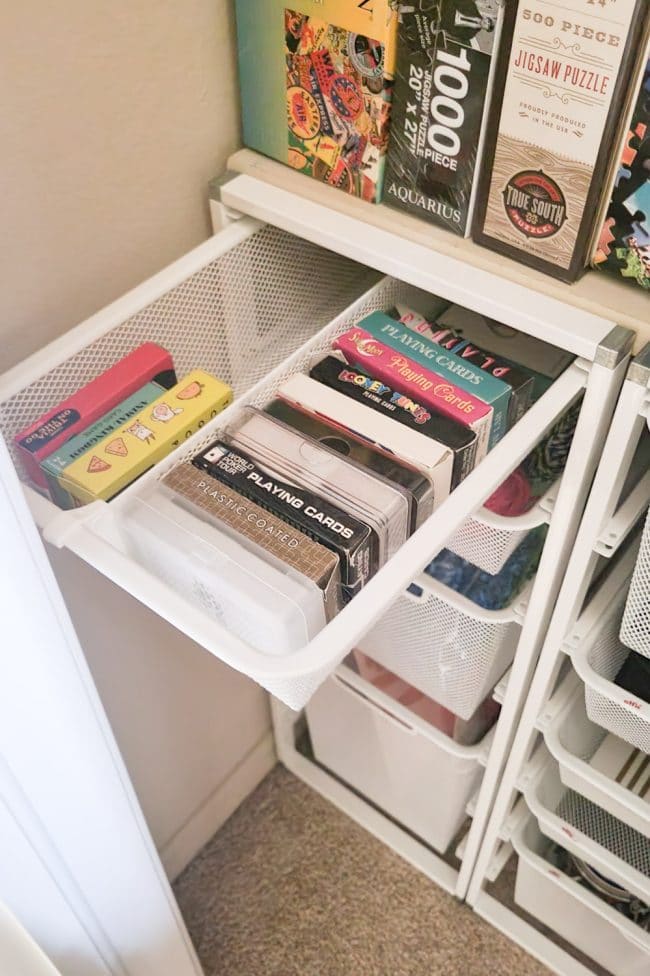 Organizing Gift Supplies
The remaining drawers hold various items like small gift boxes, birthday gift bags, shredded colorful paper for packing boxes, and white and colorful tissue paper. To help the tissue paper stand up, I added a divider between the solid colors and the patterns.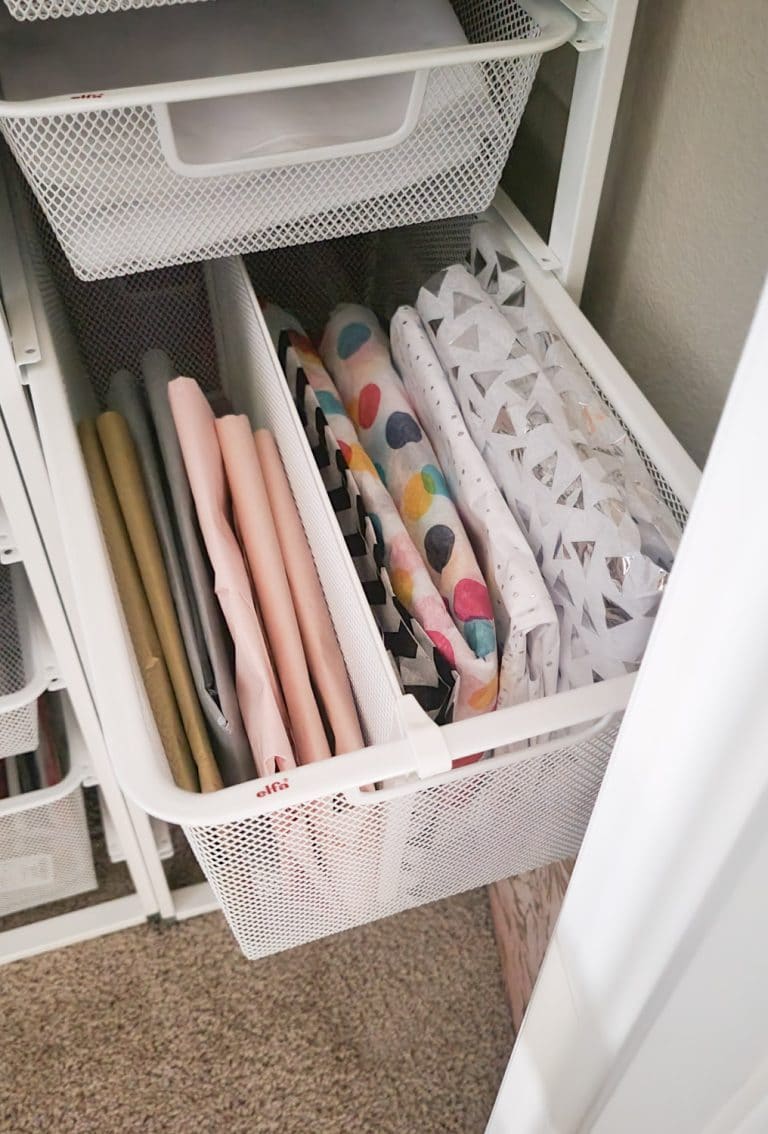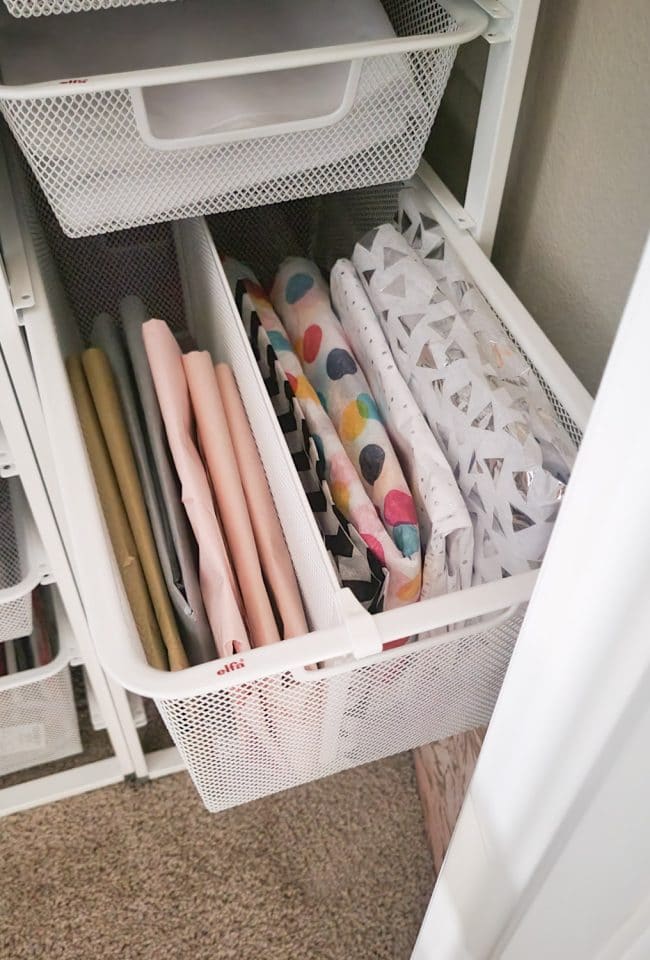 The remaining items were all placed on the door. The top section holds twines, ribbons, and gift tags that I gathered from several spots around the house. Now I know exactly where to find them!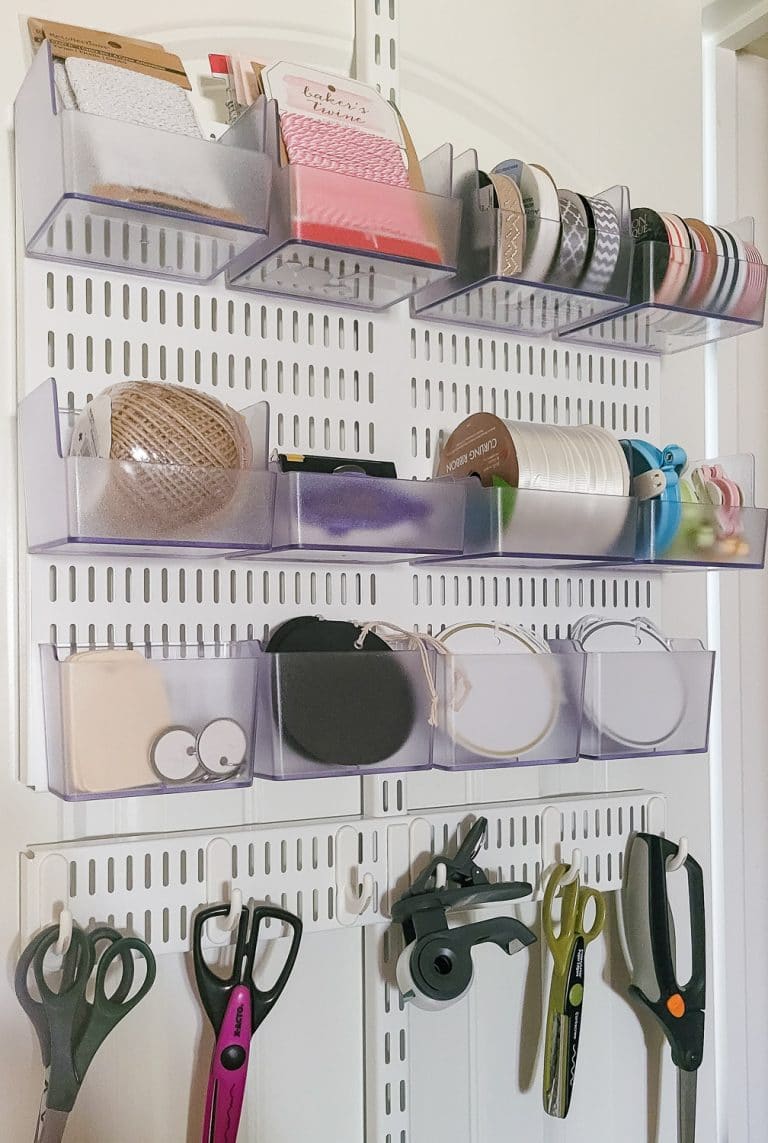 The bottom door baskets were perfect for our non-specific gift bags, sorted by size. Anything solid colored or geometric goes in the door, while bags with things like birthday cakes on them were assigned to a drawer.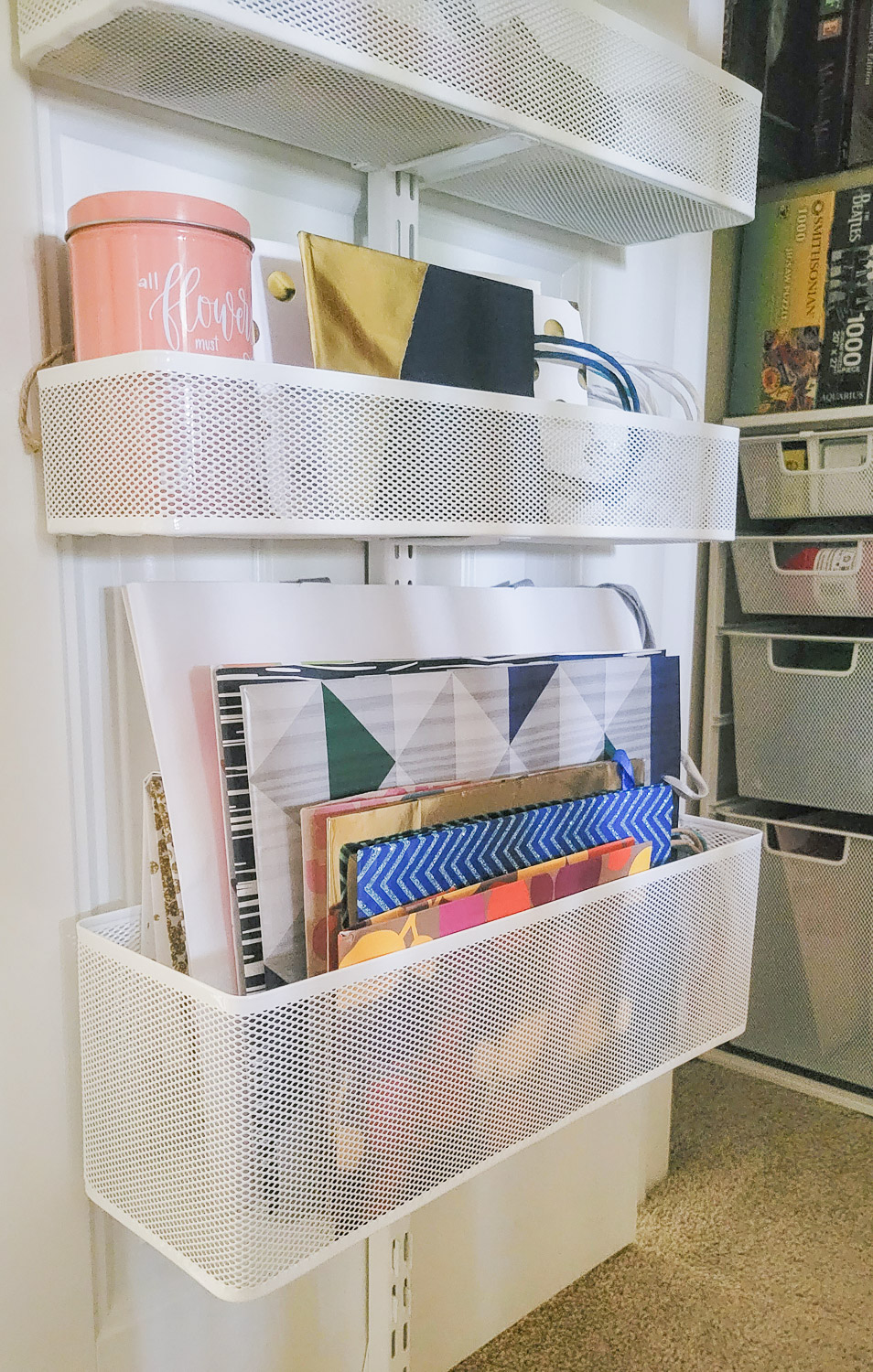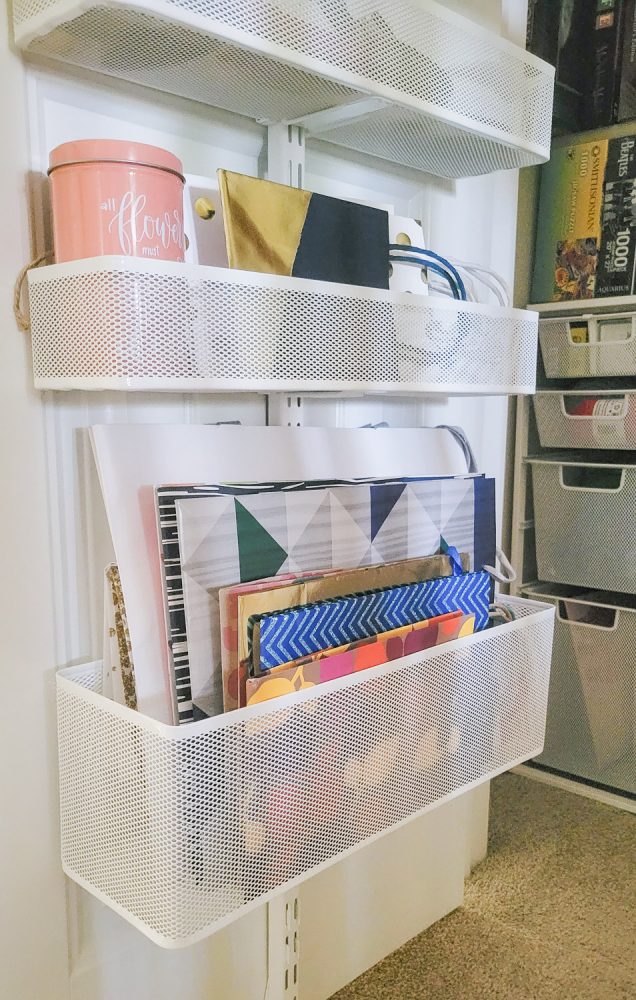 The one thing I've noticed I need to add is a few pens and sharpies for the gift tags. I've already used the closet to quickly put together a gift bag on the way out the door, and it was beyond handy that everything was so easy to access. It wasn't a big deal to stop in the office to fill out the tag, but it would have been fantastic for it to be a totally one-stop process.
Let's take one more look at the before and after below. It's gone from a spot I avoided to a closet I love visiting!