Six years ago, I organized our bathroom closet and went bold with the paint. It worked well for us for the first several years. Here's a reminder of what it looked like then.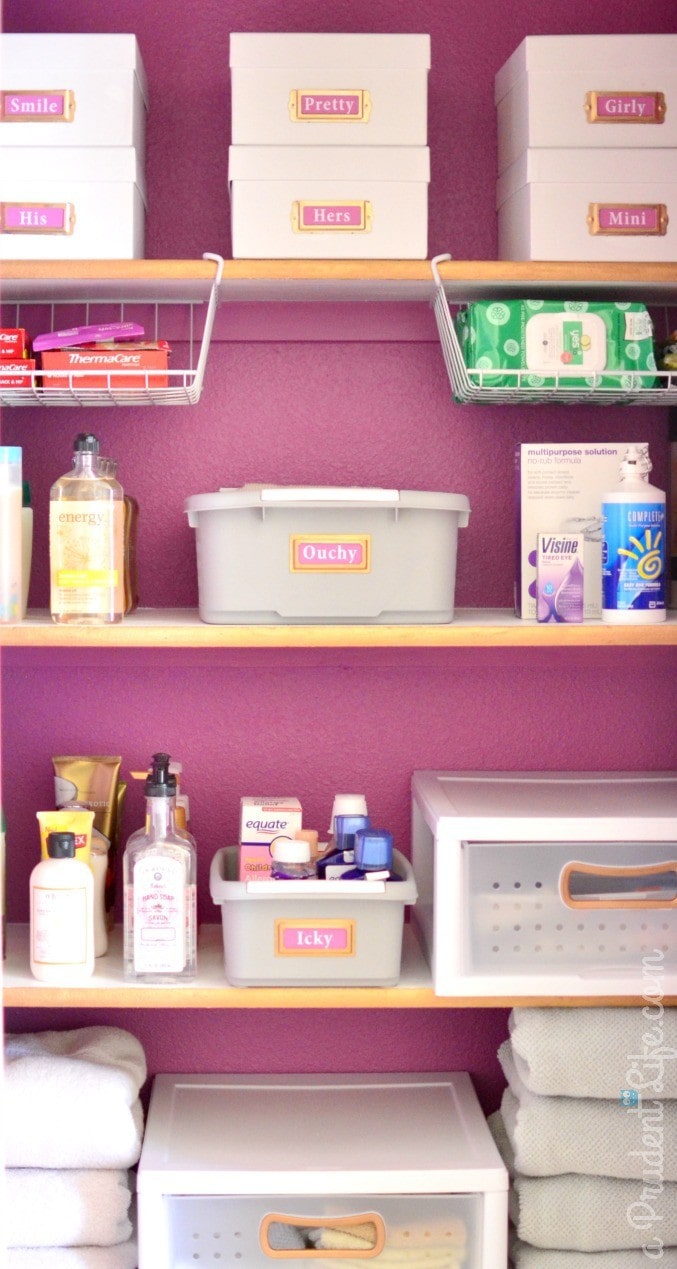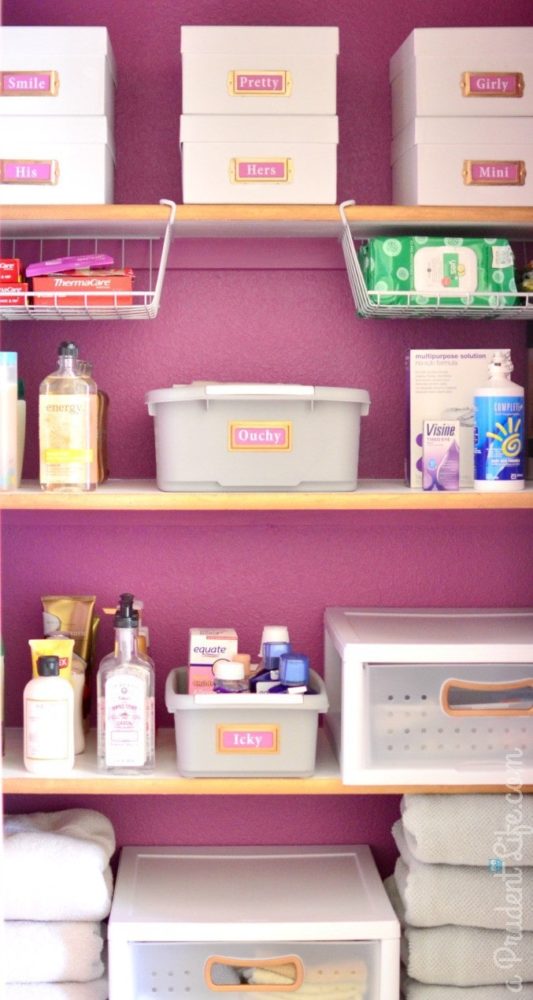 With all home organization projects, a time comes that you realize your needs for a space have changed. If you don't adapt, things get messy.
Our bathroom closet reached that point last year, but I kept putting it off, thinking that we needed to remove the builder shelving and start over with a new shelf configuration before I could make real improvements.
Last week, I challenged myself to see if I could make the space work well without doing any construction. With some planning and research, it worked!
Before I could even put a new plan in place, I had to declutter 6 years of accumulated stuff. I'm not going to walk through that because I used my standard process that you can read in my decluttering tips post. The most important step was taking EVERYTHING out of the closet.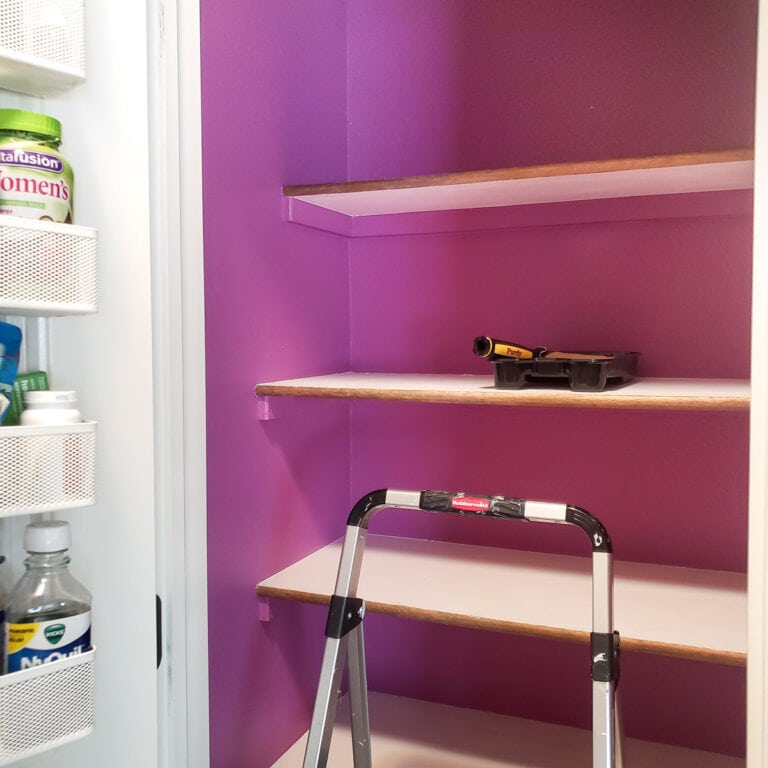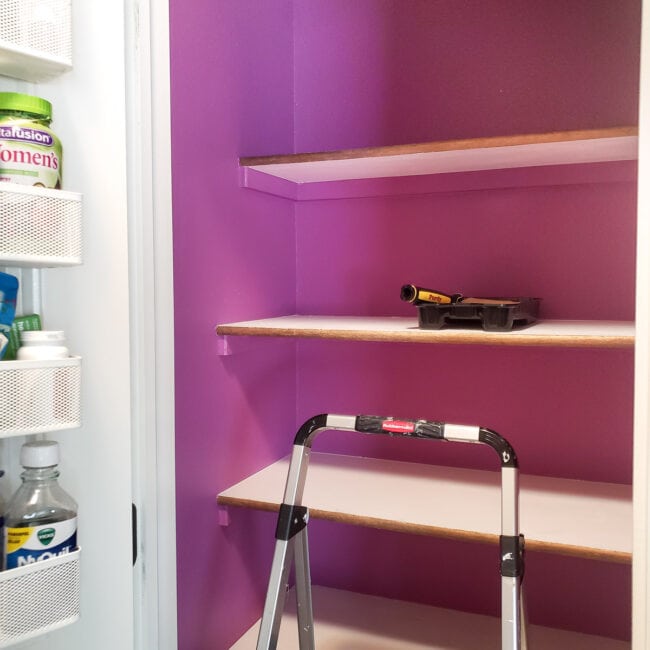 As I decluttered, it was a good reminder that we have less waste when things are organized. I found expired medicine that could have been used, but instead, we had newer duplicates because things had been buried over time.
With that in mind, I listed out my priorities for the closet:
A new configuration for medicine storage – it needed to be divided by type (stomach, cold/flu, pain relief) and also be in containers that let us see everything without digging.
Better first aid storage – it was a mess in one large bin and we could never find what we needed.
A better laundry hamper situation – The short containers had a tendency to get piled up beyond their capacity, causing co-mingling of whites, darks, and bath towels because there was so much space between the top of the bin and the bottom shelf.
Space for the extra sheet sets & pillowcases – They're on the top shelf of our master closet now and I can't reach them.
More visual storage for extra toiletries & beauty products – While I love photo box organizers, having to remove them from the high shelf to see if we had extra toothpaste or razors wasn't ideal.
I'm thrilled to report that we solved all those problems and more without constructing any new shelves!
After measuring the depth and width of each shelf, I spent some time on Amazon searching through bins looking for options that maximized our linen closet.

Here's our shopping list:

Tall, Skinny Laundry Baskets x 4
15″ Deep Storage Baskets (One Set of 3)
12″ Deep Storage Baskets (One Set of 3)
Small Clear Bins (One Set of 4)
X-Large Clear Bins (One Set of 4)
Under Shelf Bins (We already owned these)

Elfa Mesh Door Rack from Container Store
Cricut SmartLabel material (for labels)
Cricut Joy (Labeling Bundle if you don't have a Joy)
While I was waiting for my new bins to arrive, I took the opportunity to repaint the walls and shelves. I added a fresh coat of white paint, using paint we already had in the garage to create a much brighter space for free. Hooray! I like it so much that it makes me want to repaint the whole master bathroom.
Bathroom Closet Organization
Here's how everything looks now that everything is back in the closet. Using the space on the back of the door makes it so much easier to find anything we need! Elfa door units may be my favorite storage systems ever.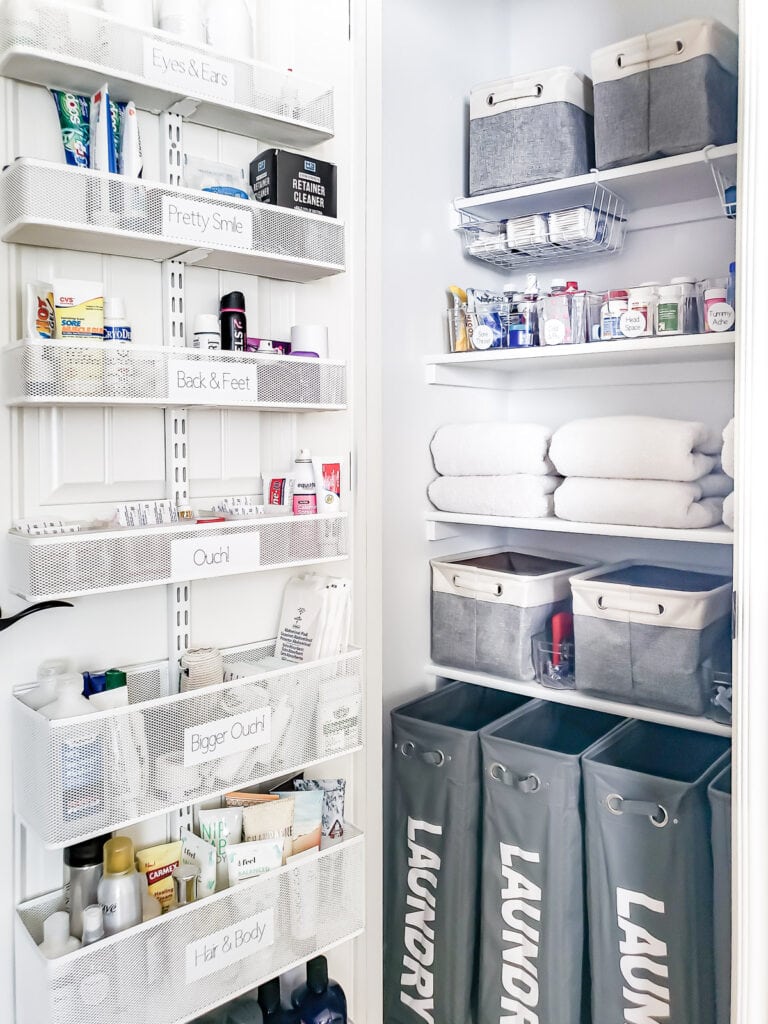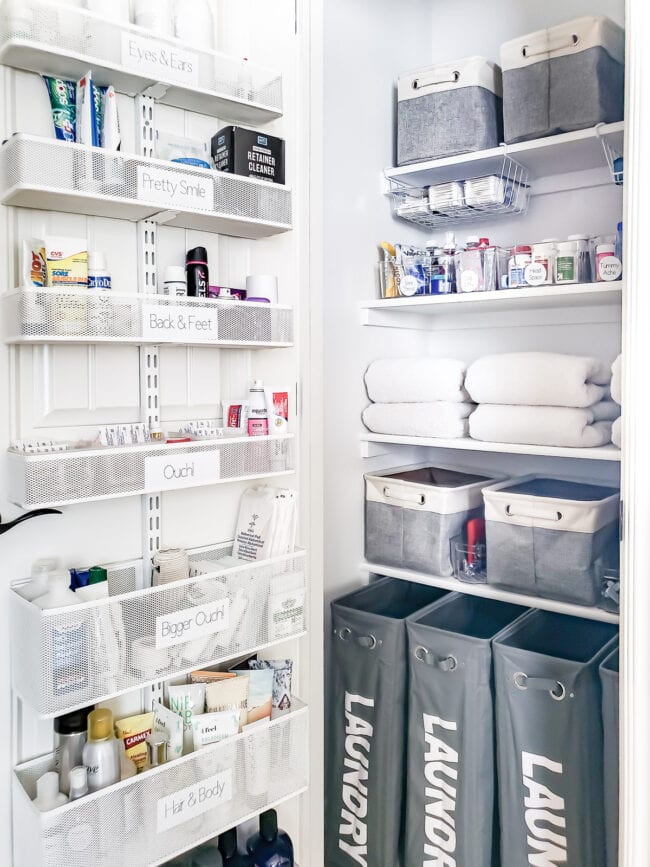 Let's take a closer look at how we solved all the problems I listed above, starting with medication.
How to Organize Medicine
I found a combination of two clear bin sizes that would let us maximize the width and depth of a shelf while dividing the medicine into 5 categories. It's such easy access to find what we need now.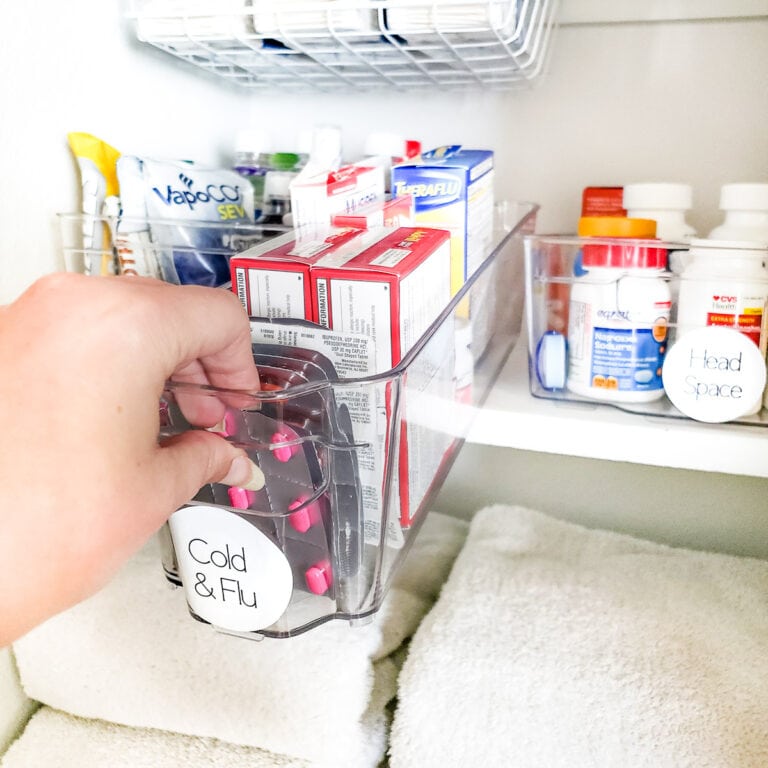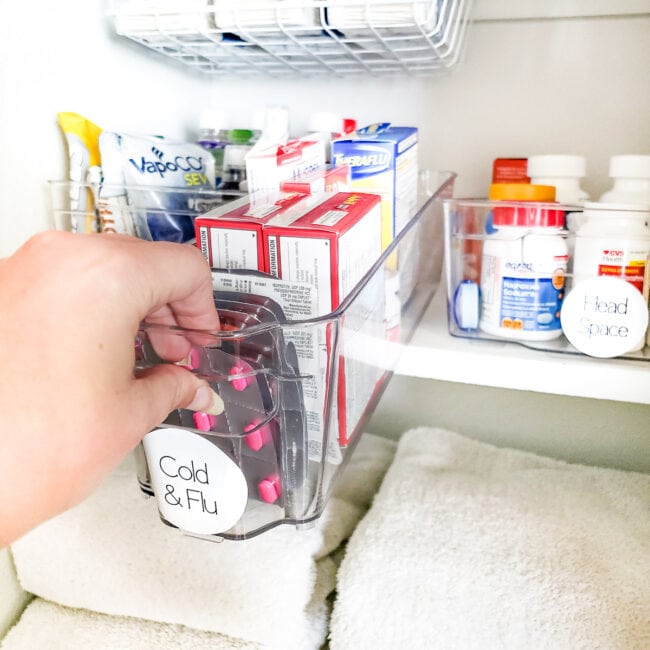 The five categories I used are:
Sore Throat
Cold & Flu
Head Space (pain relievers in front & a bit of free space in the back for unopened duplicates)
Tummy Ache
Stay Healthy (Prescriptions, Vitamins, and preventatives like Airborne)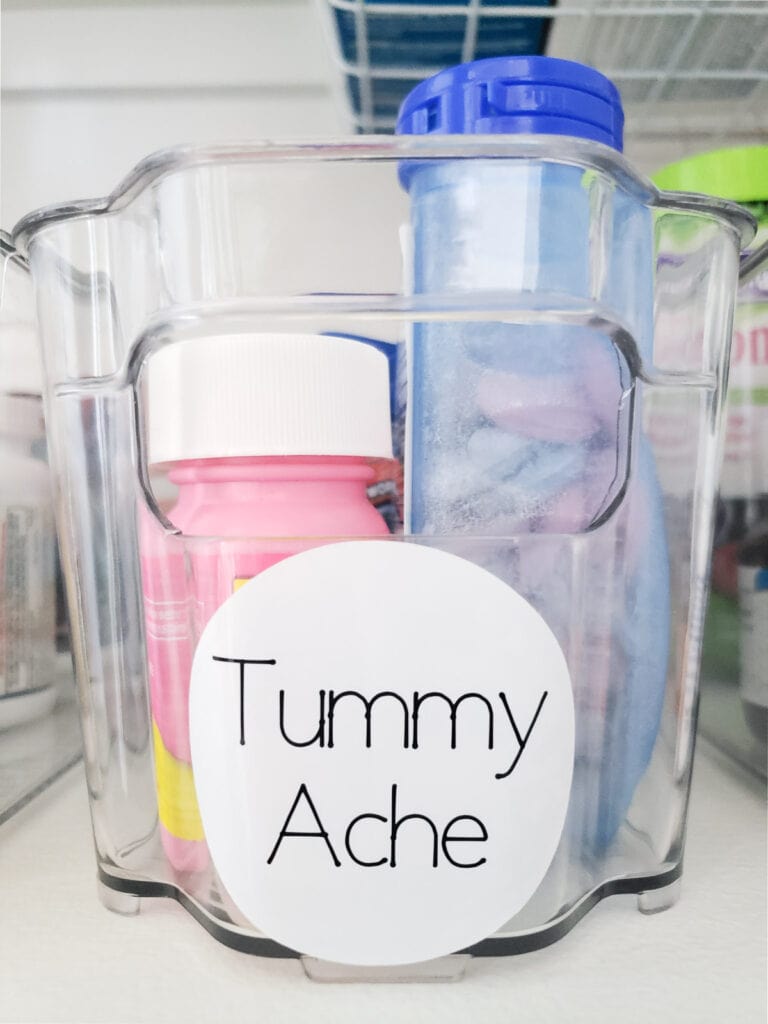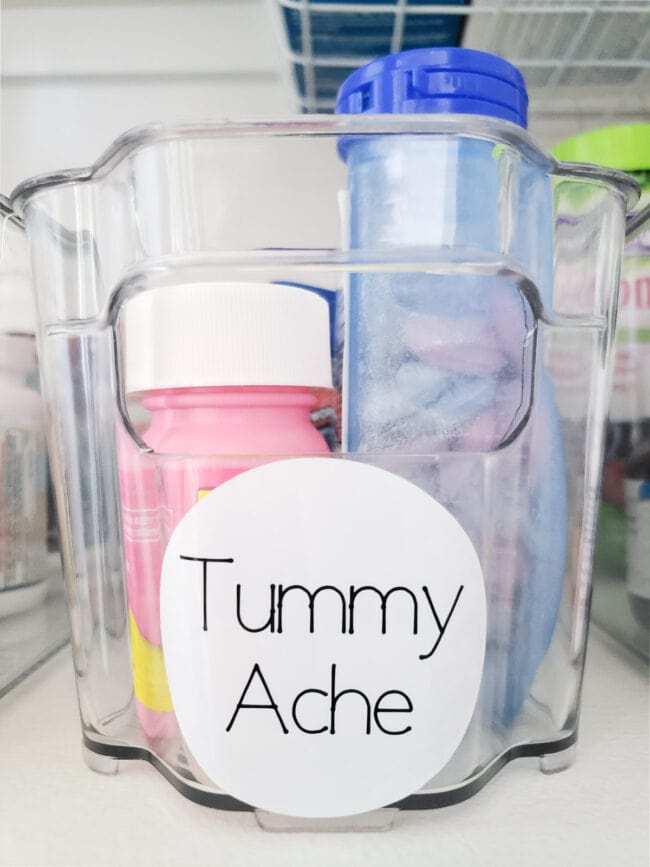 PS: This is NOT sponsored, but I used my Cricut Joy to make the cute custom labels. They worked perfected on the plastic bins, but did start to peel off the wire mesh. Stick with the Elfa labels for those!
How to Organize First Aid Supplies
For the first aid supplies, I used two baskets on the new door rack. I also reused a couple of small bins to hold different-sized bandaids in one of the baskets.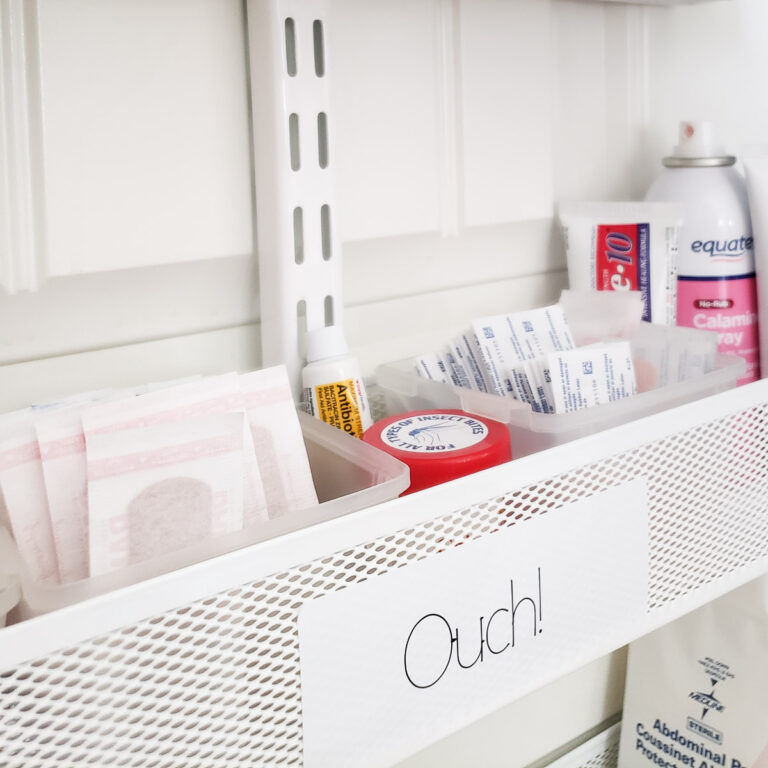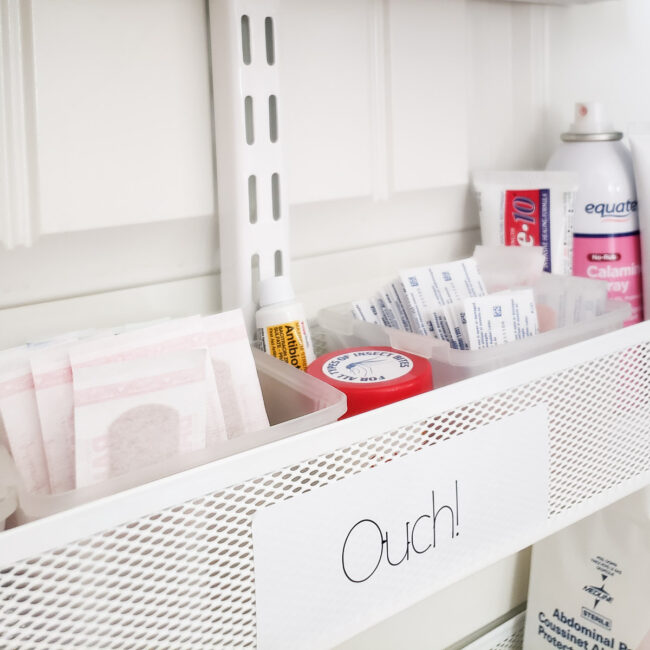 Under the "Ouch" bin, we have a "Bigger Ouch" bin that holds additional first aid items like various sizes of gauze, wraps, and jumbo bandaids. Altogether, it's the perfect first aid kit for our house.
Laundry Hamper Solution
The third thing on my list to fix was the laundry hamper situation. I thought we were going to have to custom-build something that would maximize the tall space under the bottom shelf and fit four hampers wide, but I hit the jackpot on Amazon.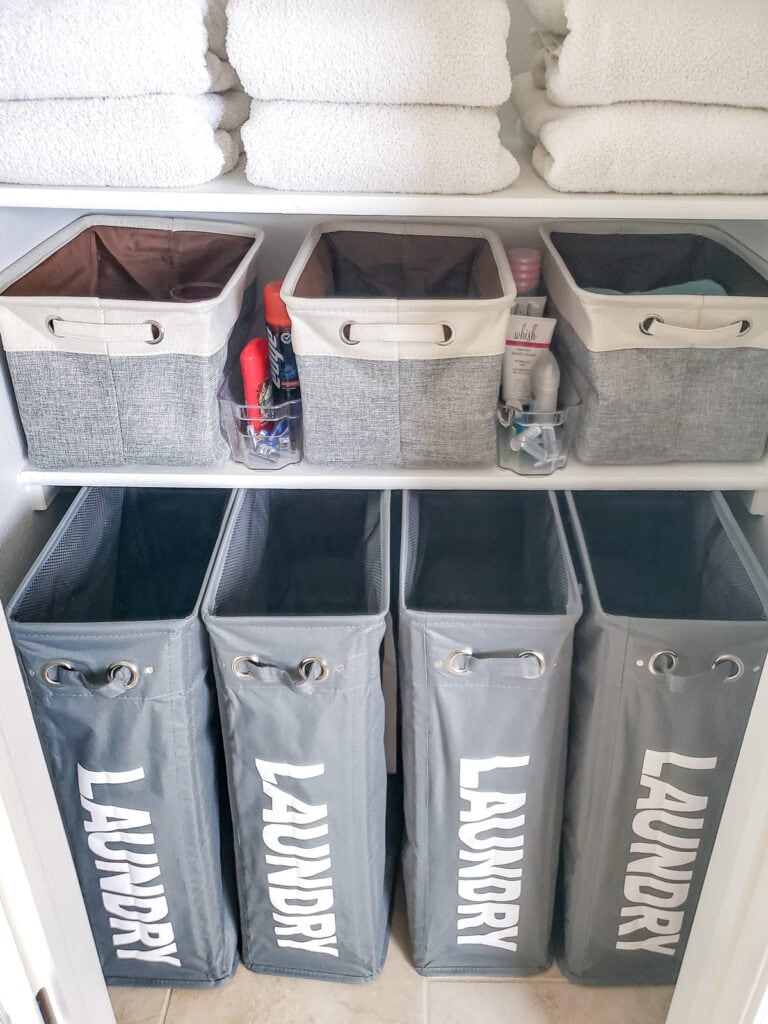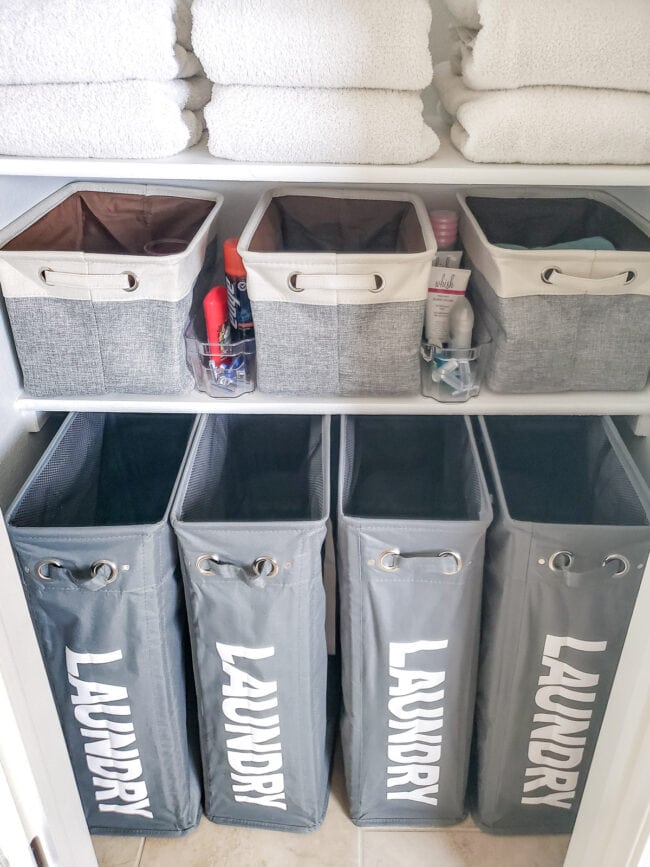 The separate bins are for – Delicates/Hand Wash/Dry Clean Items, Towels, Darks, & Whites.
We love not having to separate out the clothes on laundry day. It's especially nice to have a separate hamper for things that can't be washed normally. Each of the bins holds one load of clothes, so they're working out perfectly so far.
Storing Sheets in a Bathroom Closet
To store the extra sheets that were previously in our master closet, we used one of the grey bins at the top of the closet. It works so much better than having stacks of sheets on an open shelf.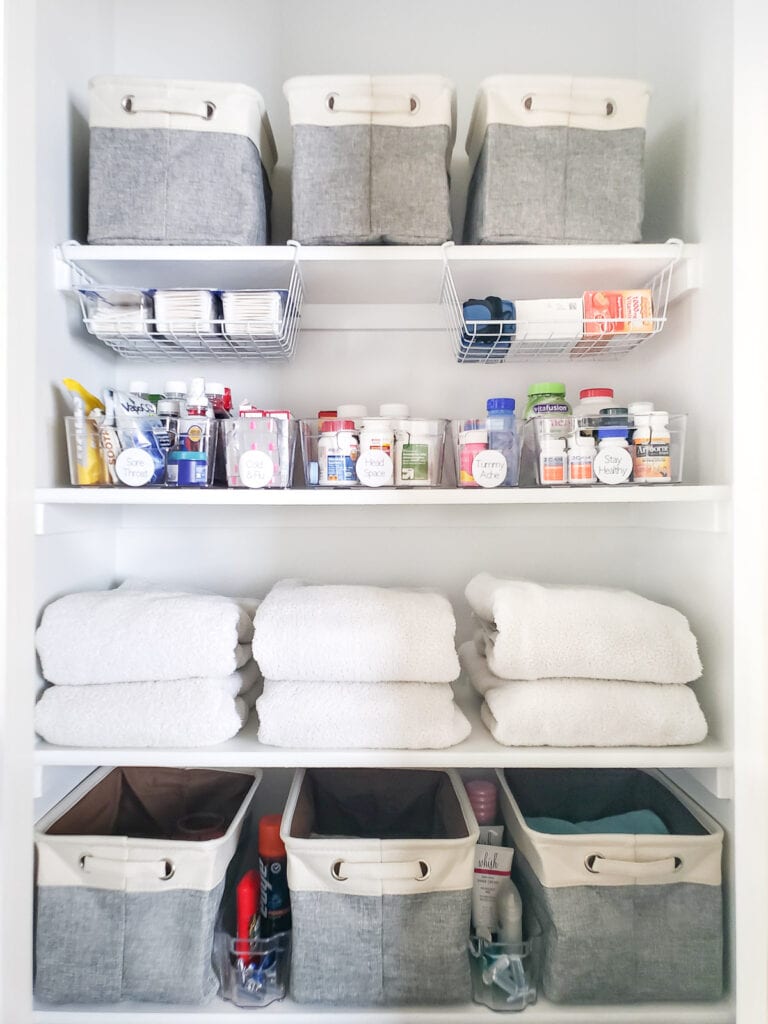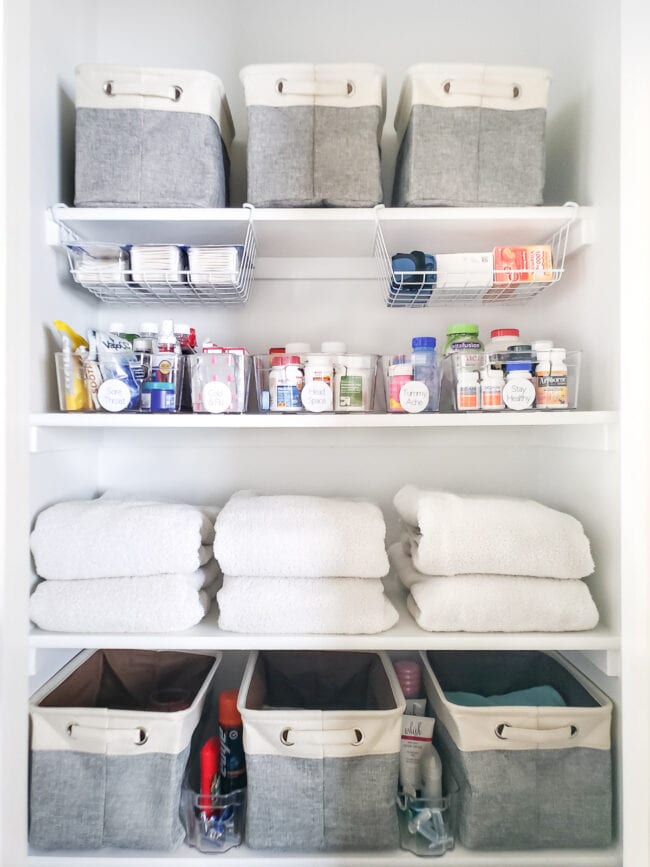 Another bin holds the electric heating pad and microwavable corn bag heating pads. They've never had a designated home together and instead floated around wherever we could stick them. Now I can always find them!

The bottom bins are also very handy for larger items. The first is for any extra stockpiled items. For example, we had one more tube of toothpaste on hand than would fit within the teeth bin on the door. Miscellaneous bins usually aren't a good idea, but in this case, it gives me ONE space to look to "restock" our normal toiletry storage area when needed.

The middle bin holds the hand towels and hair towels for the bathroom. Washcloths are all stored in the wine rack on the bathtub.
The last bin on the shelf is also exciting for me. It holds the beach towels, which used to be upstairs. All summer, we end up with beach towels floating between the entry, laundry room, and sitting on the island because I'm too lazy to take them up and down the stairs when we use the neighborhood pool.
How to Store Extra Toiletries
The last goal on my list was a better solution for extra toiletries.
In the photo above, you may have noticed two narrow clear bins between the baskets on the bottom shelf. One holds extra razors, shaving cream, and deodorant for Corey and the other holds the same three items for me. I can't believe I forgot to label them!
The hair products, body wash, and lotion are all at the bottom of the door organizer. It's amazing how much the baskets hold.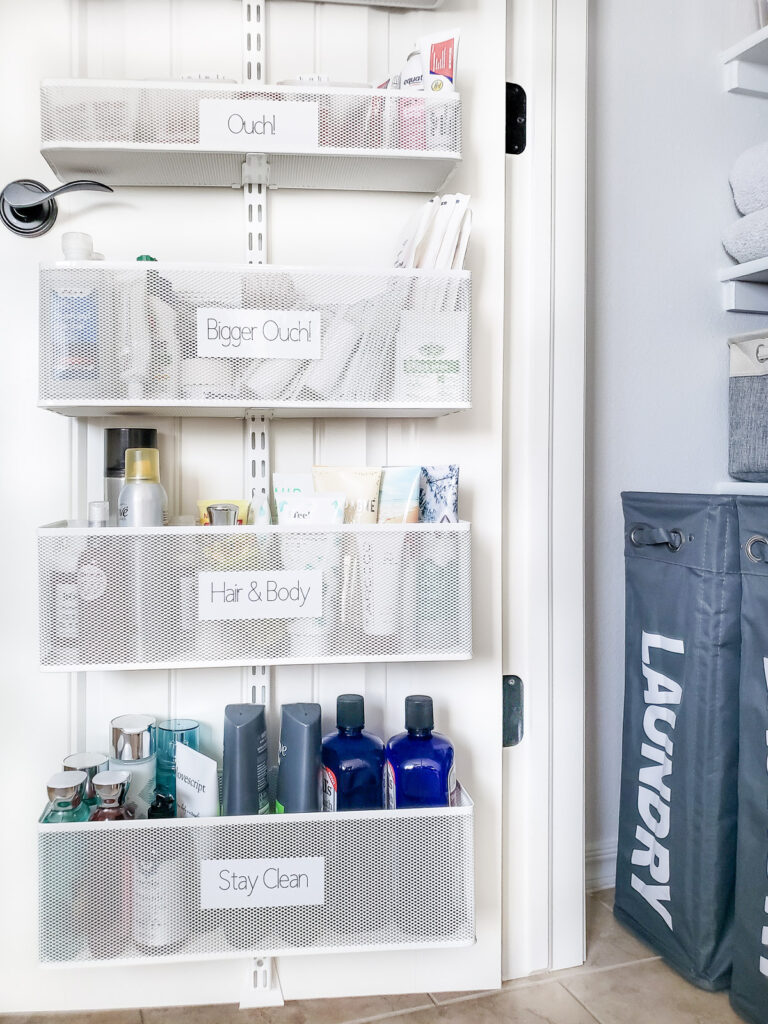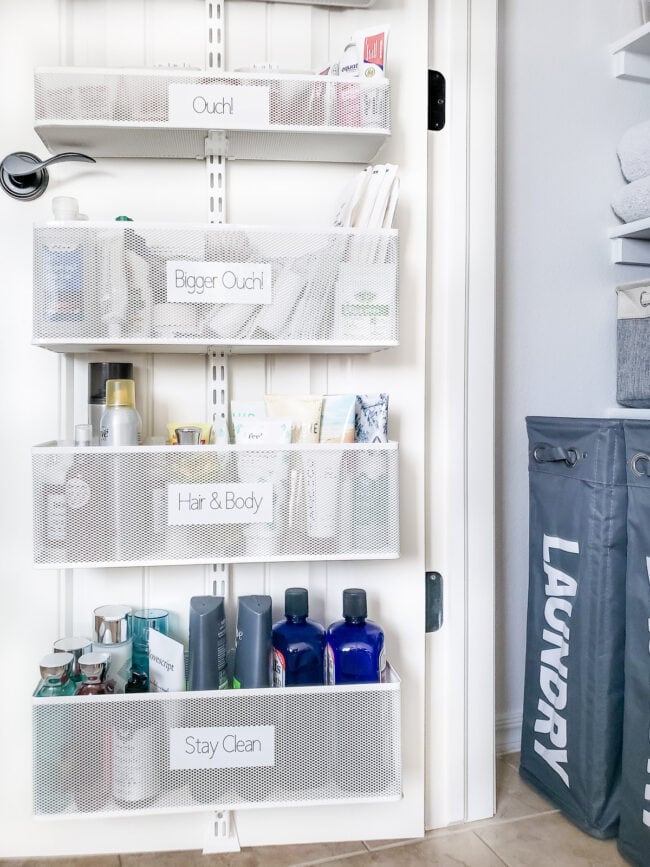 One of the features we kept from the old closet design was the under shelf baskets. These are perfect when your shelves are a bit too far apart and leave wasted space above items. I got a Costco deal on Qtips, which was great until I realized how much space they need. Putting them in the hanging baskets keeps them accessible, but doesn't waste any shelf space.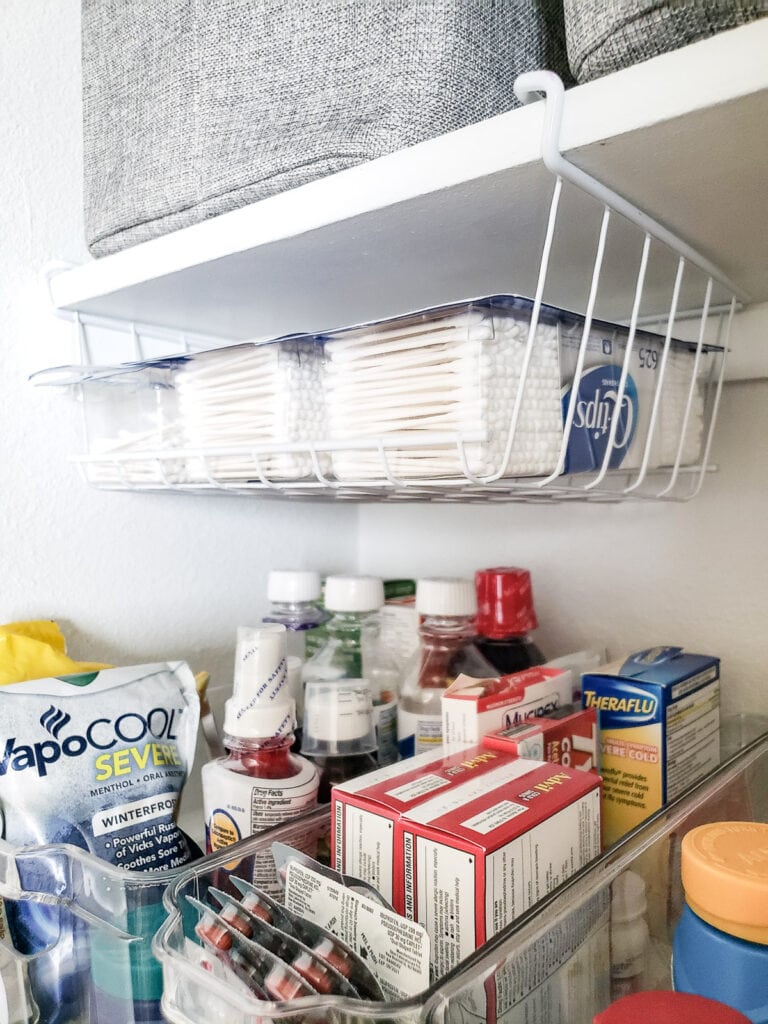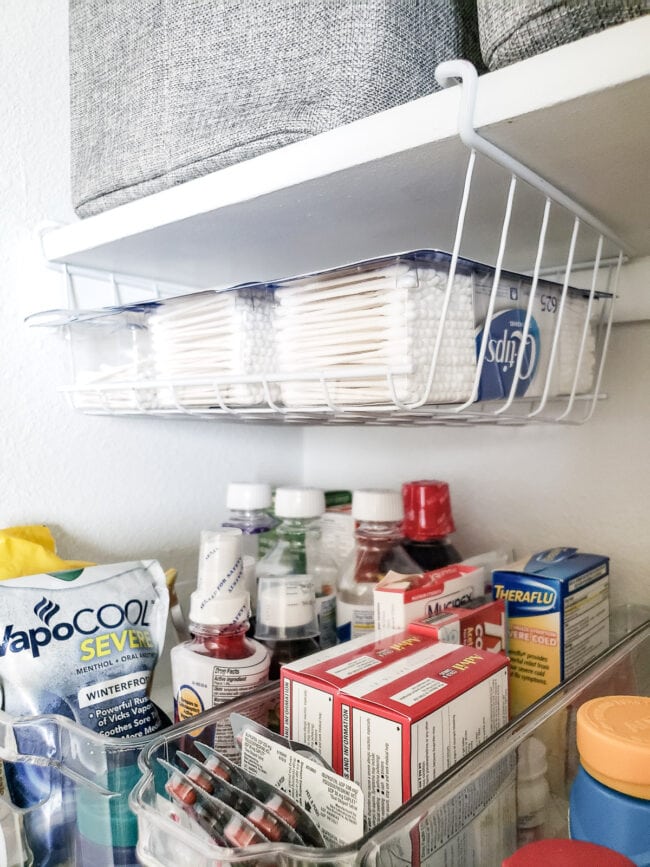 Whew! That was more new bins than I normally buy, but finding options that maximized the depth of the 15″ deep shelves was worth it.
I no longer dread opening the closet door and that's priceless!
Each house has different needs and closet arrangements, but I hope seeing how we've reconfigured our bathroom linen closet gives you a ton of inspiration for updating your own.
Linen Closet Organizing Products
Tall, Skinny Laundry Baskets x 4
15″ Deep Storage Baskets (One Set of 3)
12″ Deep Storage Baskets (One Set of 3)
Small Clear Bins (One Set of 4)
X-Large Clear Bins (One Set of 4)
Under Shelf Bins (We already owned these)
Elfa Mesh Door Rack
Cricut SmartLabel material (for labels)
Cricut Joy (Labeling Bundle if you don't have a Joy)
PS: If you're wondering about toilet paper or feminine hygiene products, we moved those when we added inexpensive shelving for storage above the toilet last year.