I'm part of the Amazon affiliate program and may receive a commission for items purchased from this post. 
Organizing makeup, hair products, and other beauty products is easier than you may think. I'll show you how I got mine under control and set myself up to create successful new morning and evening routines.
It's been over 5 years now that I've laid in bed at night telling myself I REALLY need to standardize a morning and before bed routine.
There have been studies proving them effective, in large part because when you do positive things on auto-pilot, you're not wasting decision-making energy. Plus, being disciplined is contagious. The small acts in the morning can lead to better eating, exercise, and work decisions the rest of the day.
My brain KNOWS and believes in these concepts, but I've struggled with implementation. I've learned time and again that I'm wired to do better when the spaces around me are organized and pretty. And my magnifying makeup mirror tells me the time to improve my skincare routine is NOW. Let's keep the cute fine lines just that before they prematurely turn into bigger wrinkles. 🙂
Before I can figure out my exact new year routine, I'm setting myself up for success by starting from scratch re-organizing my makeup vanity, bathroom countertop, and bathtub surround.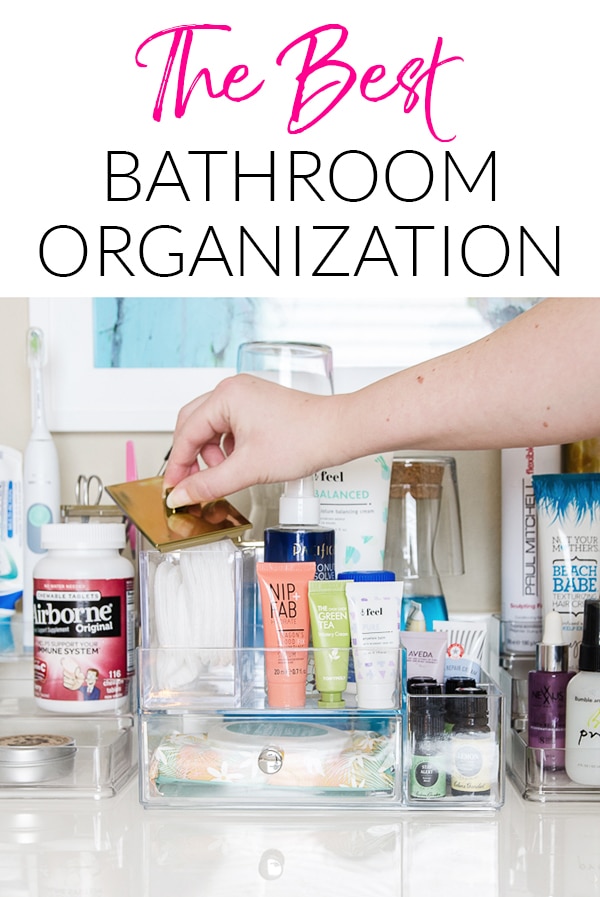 My friends at Interdesign were the perfect partners to sponsor this post so I could show you a variety of products that may be able to help solve your bathroom organizing dilemmas!
Let's start with the easiest fix – the bathtub.
Last year, I made big progress making the tub surround more functional and pretty. After living with it awhile, there were a few things that I knew I could make even better.
The basket I added for products, razors, etc did the job of hiding the clutter, but also became a jumbled mess inside. I hadn't followed my own rule of sub-dividing storage areas that are too large.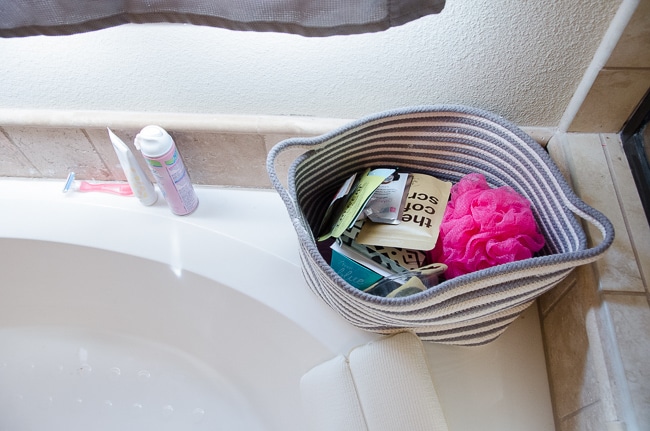 I switched to a Bath Caddy and now I can actually SEE what I have! I picked a soft gray in the small tote style, but it comes in lots of cute colors a few sizes.
It fits perfectly in the corner of the garden tub! There is a handle in the middle so you also have the option of storing it in a closet or under the sink and then bringing it out for bathtime.
Since the caddy takes up less space than the old basket, I also added a cute soap dish!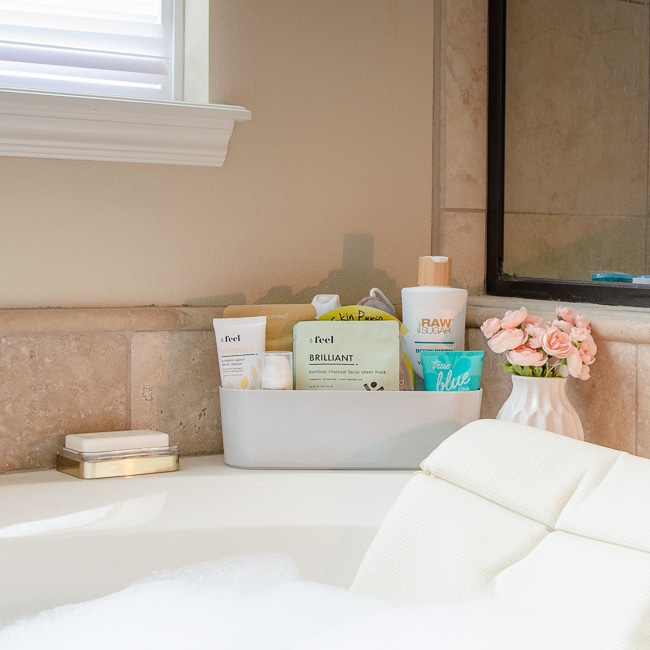 On the other side of the tub, the container I was using for Epsom salts looked good in theory, but had 2 issues. The biggest was that the opening was a bit small for scooping unless it was over half full. That meant salts were constantly spilled.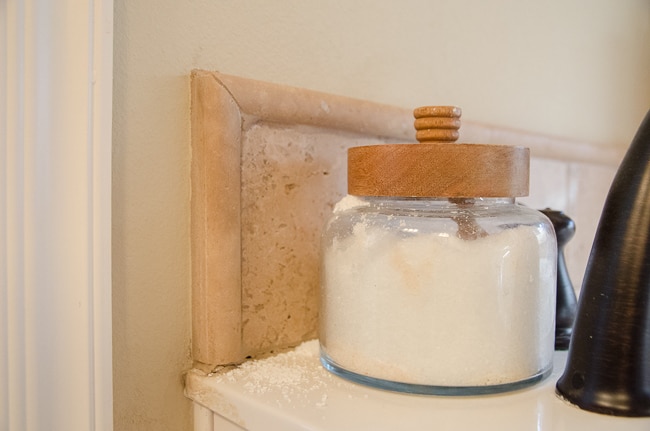 Problem two was that I usually have a lavender scented blend for sleep and then a muscle ache or detox/energizing blend for day. One or the other always had to be stored in the closet because there wasn't room for more than one glass canister
I found two small medicine boxes that are perfect because the full lid flips open. After adding some vinyl labels with my Silhouette machine, I was in business!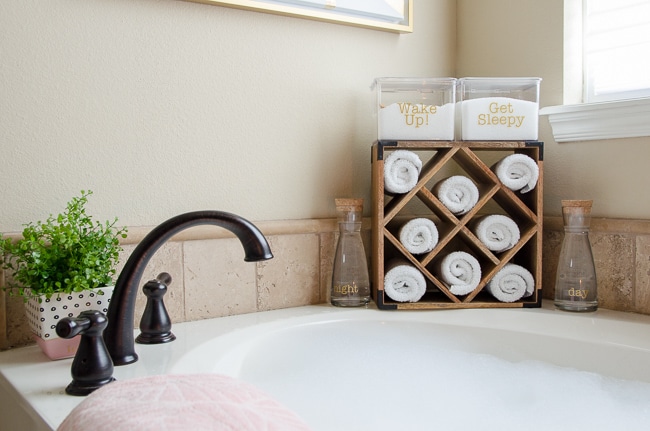 I was excited to realize that these containers actually hold more than the less efficient old canister.
I'm pretty obsessed with how this whole area looks now. All the chic organization helps me forget that I'd love to change out the tile. 🙂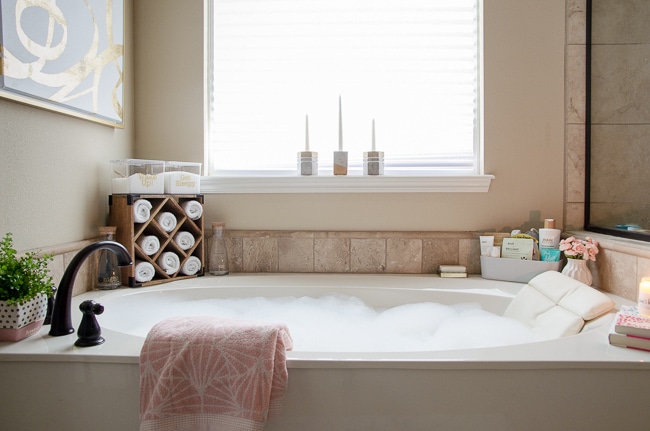 Across from the tub, our vanity seemed to be getting more dysfunctional by the day. Since I wanted to have better morning and evening routines for the new year, something had to change.
Here's what I started with. Not only is it a mess, the style doesn't really look like it's in our house.
I went radical and decided to get everything we use regularly out from behind doors and drawers and into the open.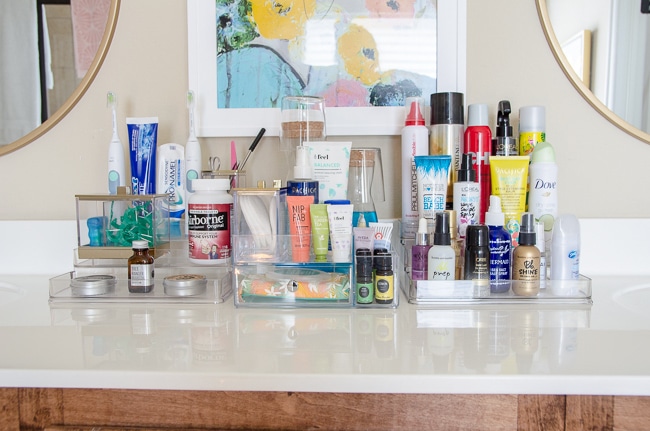 I had planned on using just one tiered stand on the counter, but once I started filling it, I quickly realized I wanted to move the one I had been using under my sink for hair products up to the counter as well.
In between the tiered stands, I added another organizer with a drawer and divided area for smaller items.
Using additional canisters on top of the larger organizers gives me a perfect space for everything.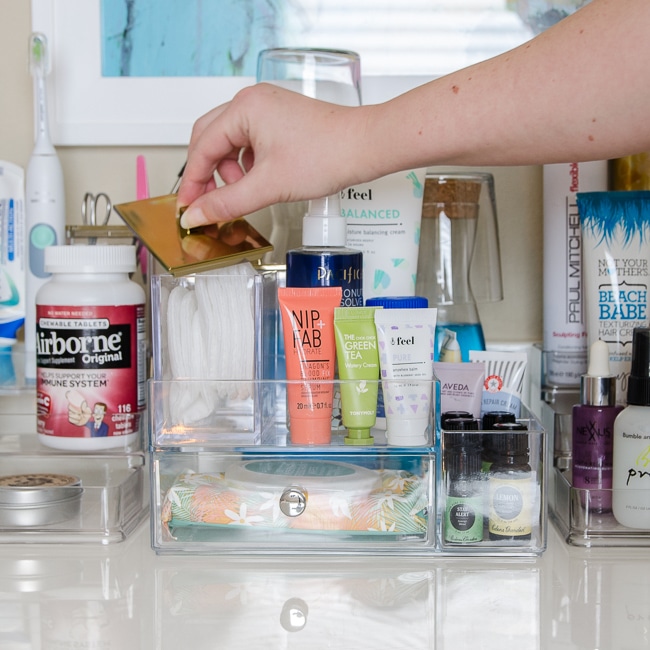 That decision to put everything in plain view led to a decor swap that I've been putting off for YEARS.
Our old bathroom mirrors were pretty but had a heavy dark frame. They didn't match the feel of the updated attached master bedroom or closet. I've had my eye on round gold frame mirrors at Target for at least 2 years but kept putting off the purchase.
With the additional products on the bathroom countertop being function, but looking a bit busy, it was the perfect time to simplify the mirrors.
Once those were hung, I had enough space to swap out a painting from the closet. I LOVE it and in this location, I'll be able to appreciate it even more!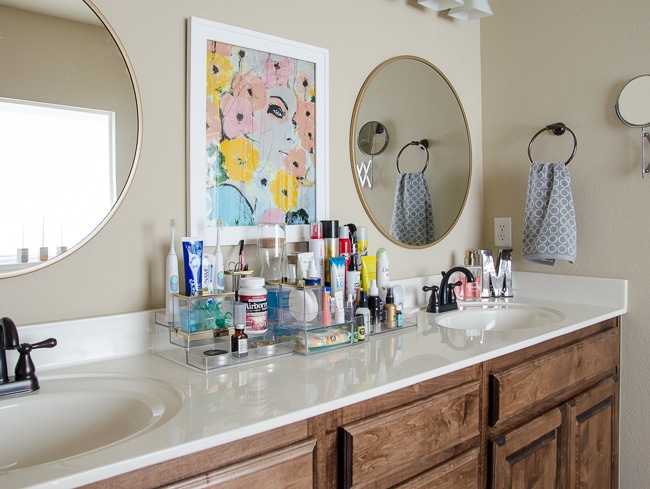 While I was changing things, I opted to swap our plastic foaming disposable soap dispensers out for refillable glass versions.
We've had the same style in the kitchen for several months now and it's so nice that they don't tip over during use when you get toward the end of the bottle!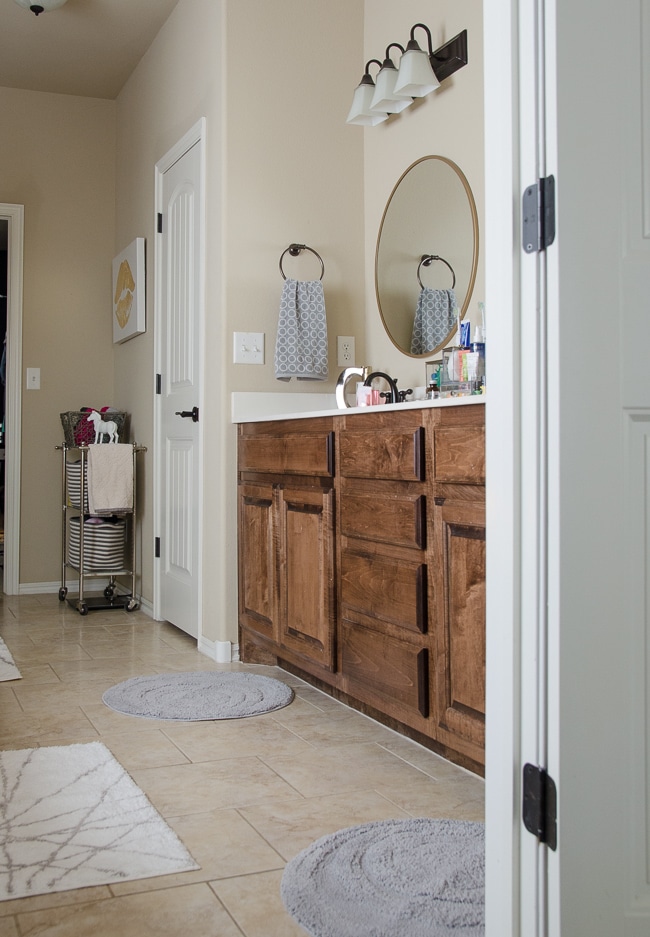 Did you notice those sweet new rugs?
I love that the round versions mimic the mirrors and the rectangle versions mimic the design of our geometric bedroom wall. It's nice to FINALLY have the rooms tied together!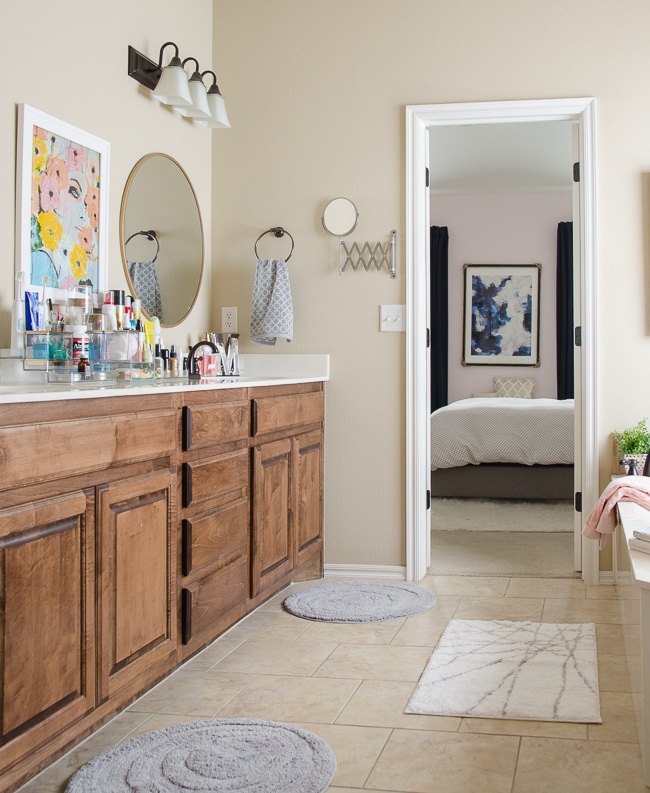 The new organization and decor makes me smile every time I walk through the bathroom!
Here's the list of everything I used all in one spot. Just click them to go straight to Amazon for details.
Round Rug
Abstract Rug
Bath Caddy
Soap Dish
Bath Salt Containers
Hand Soap Dispensers
Tiered Stand
Organizer with Drawer
Cotton Pad Container
Next on my list is the makeup and jewelry organization – both items have gotten out of the control in the years since we added the vanity to the master closet. 

I'll show you how I tamed the disaster next week!
Thanks again to my friends at Interdesign for helping me with this post!