I've been under sworn secrecy for the last few weeks waiting to tell you about the brand new Cricut Joy.
I was invited to Salt Lake City on a secret trip, only knowing Cricut was letting us in on a secret project.
I had no idea how perfect their new product was going to be for you.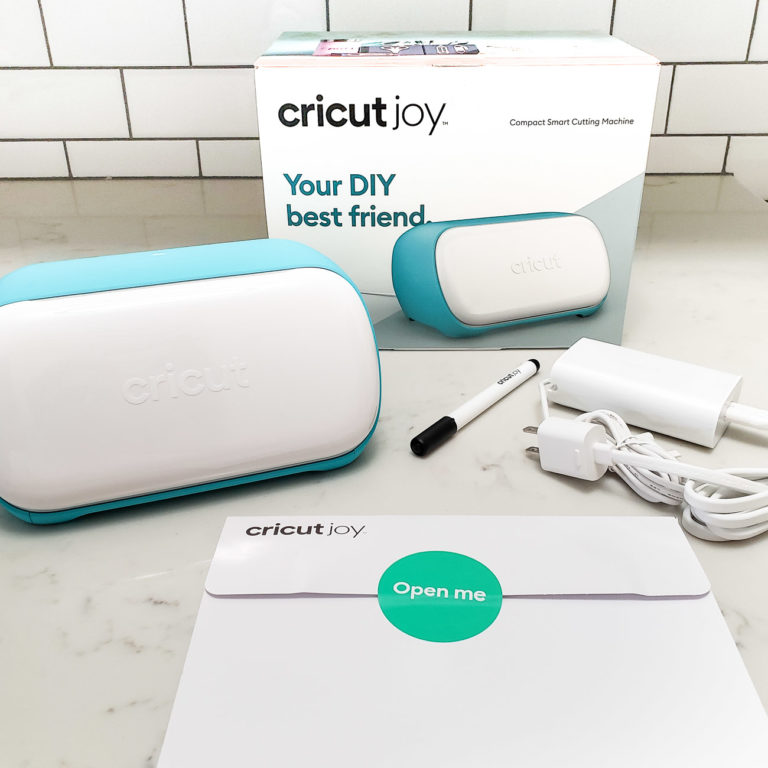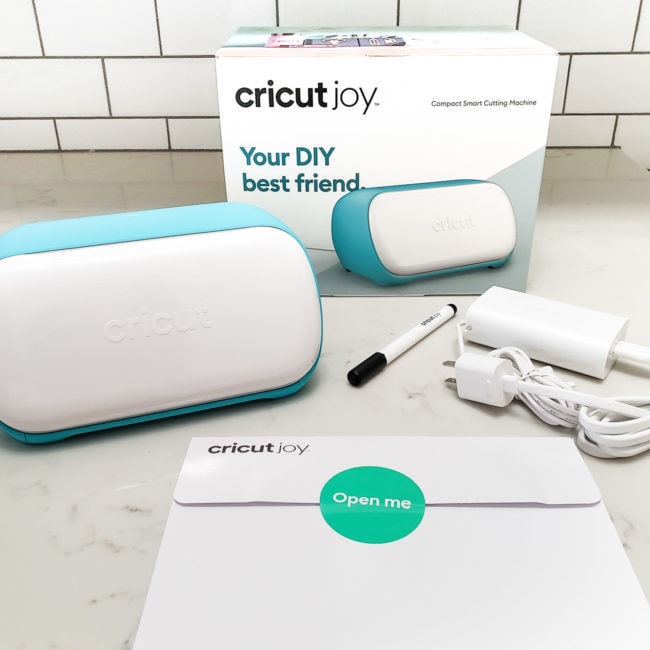 What is a Cricut Joy?
Cricut Joy is a small, but mighty new tool for every home. The box calls it "Your DIY Best Friend" and I agree!
You can use it for:
*DIY Vinyl Labels for Organizing
*Custom Home Decor, Such as Signs, Pillows, Coasters & Wall Decals
*Planner Stickers
*Custom T-Shirts, Tote Bags, & More with Iron-On or Infusible Ink
*Greeting Cards
*Addressing Envelopes
*Long Cuts!
Yes, that's right, this little magic machine has a matless option and can cut a FOUR FOOT long unique phrase or repeat a pattern or letters up to TWENTY FEET. For example, if you're cutting out dots to create a feature wall in your home, you can set it to repeat the dot pattern and walk away.
If you already own a Maker or Explore Air 2, you'll love adding this companion machine to your home. It's also a perfect first Cricut machine!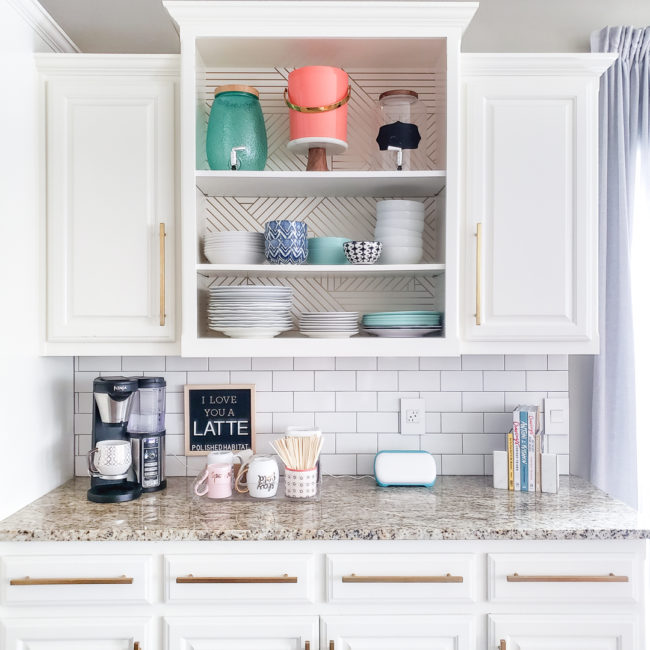 The Cricut Joy fits on any counter or shelf, so it's always ready to jump into service.
What Does Cricut Joy Do?
Cricut Joy has a small blade that cuts paper, vinyl, and Infusible Ink materials to create endless projects using the simple Cricut Design Space software on your phone or computer.
You can also swap out the blade for a compatible pen or marker to write or draw!
Whether you create your own projects, or simply select pre-made ideas, it's the easiest cutting machine I've ever used. It doesn't even need any buttons or cords beyond the power cord.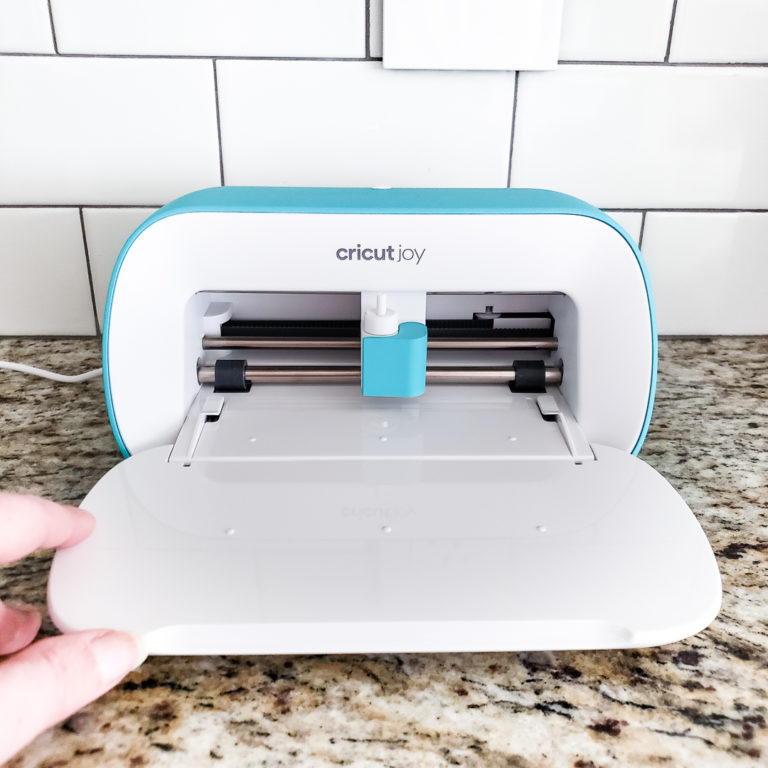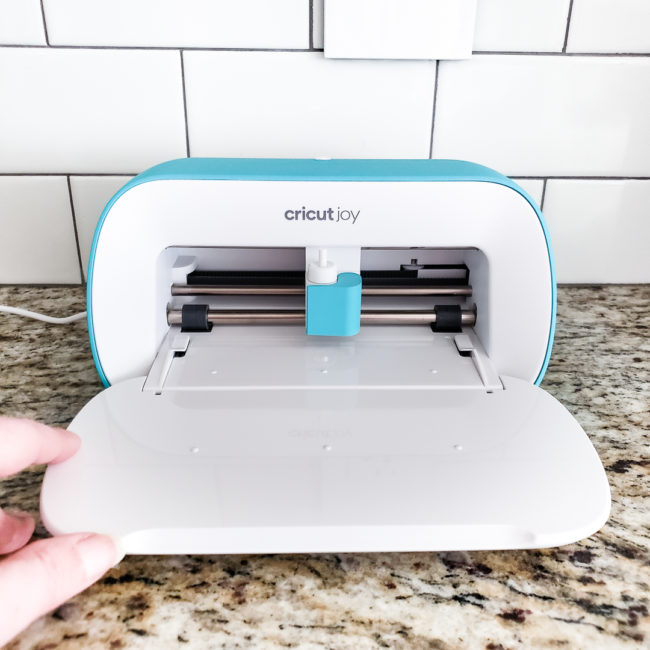 One of the most common questions I get from readers is about the labels I put on EVERYTHING to keep our spaces organized once I've worked on them.
The answer has been my Cricut Maker, which I LOVE, but I also understand that it's a big machine that requires some space. Or if you have one, you know it's easy to use, but a bit overkill for smaller projects.
The brilliant team at Cricut knew they needed to come up with a simple solution for quick projects and knocked that goal out of the park.
Let's take a look at the simple process for creating a label for my new vinegar jar from the stinky towels post. It's the perfect example of something I really wanted to label, but didn't want to mess with the Maker for one tiny thing.
How to Use Cricut Joy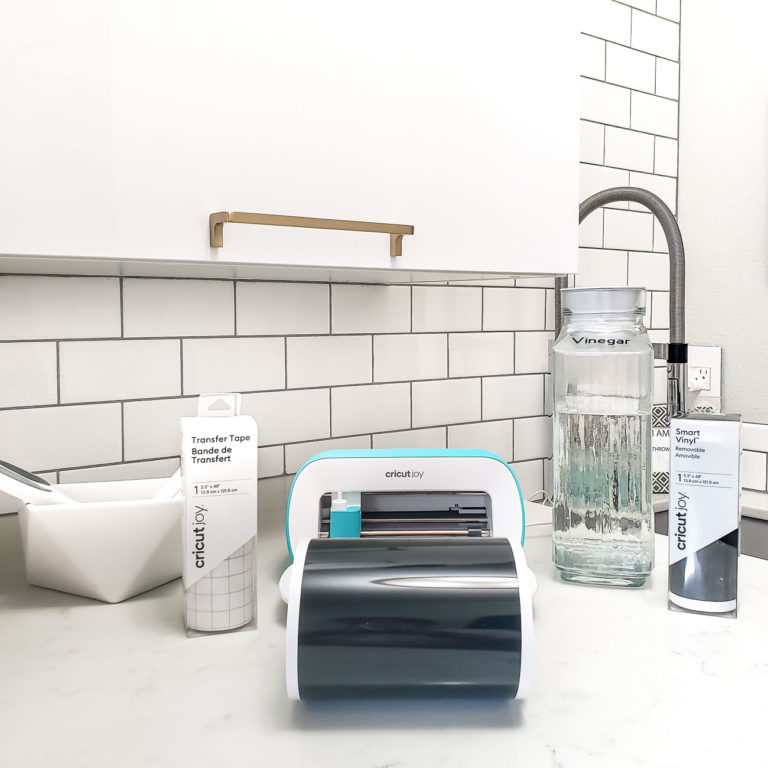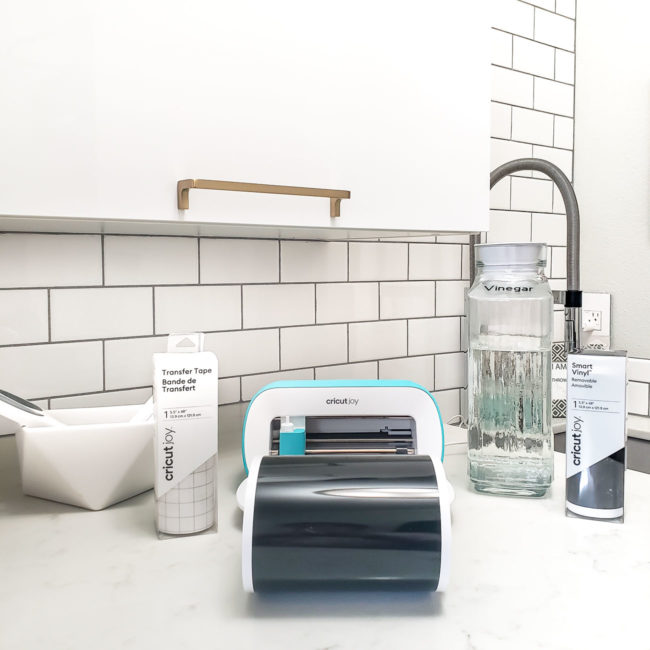 Cricut Joy Accessories & Materials
The Cricut Joy comes with a blade, pen, mat, and materials for a sample project to get you started.
The simple setup process will guide you through downloading the Design Space software to your computer or installing the app on your phone. Both are included at no extra cost and connect to your machine via Bluetooth.
I also recommend picking up the genius new patented Cricut Joy Card Mat & Insert Card Kits. I made this adorable note card from one of the pre-made options in Design Space in just a few clicks.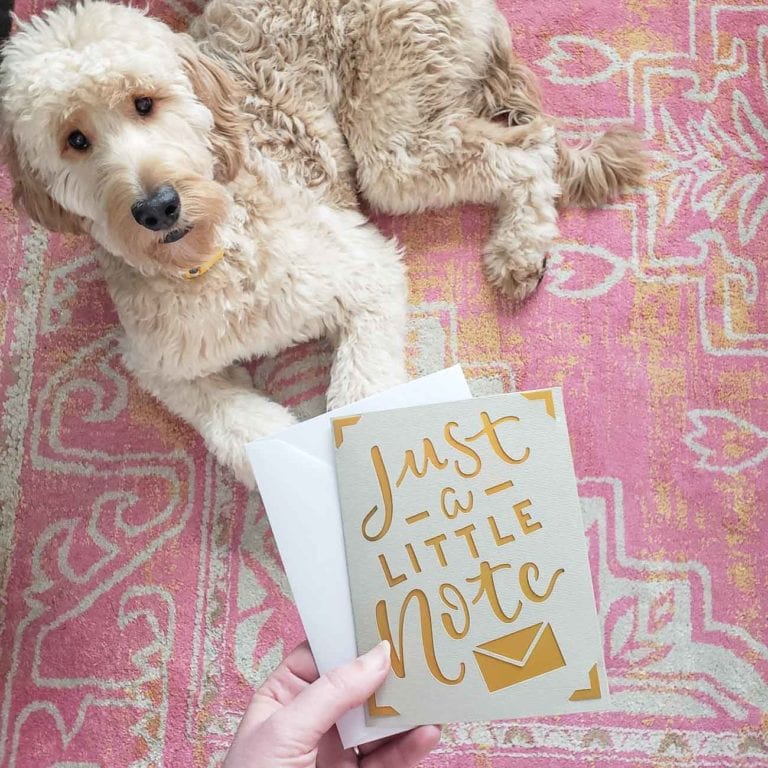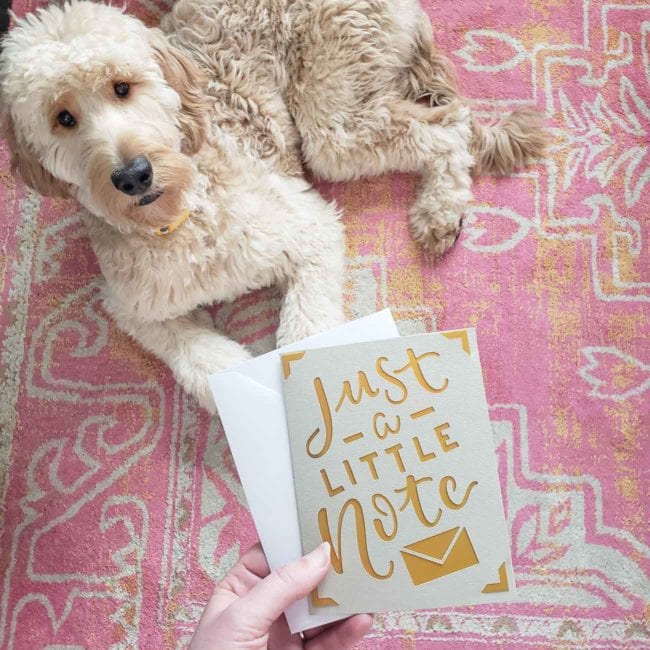 If you want to take your Joy to a friend's house to help with anything from organization to wedding favors, they also have a cute carrying case available.
You're going to love how much easier it is to store the smaller materials and accessories compared to the 12″ Cricut Maker & Air 2. I've already found the perfect way to organize them and will show you that in a separate post!
Can I Use Cricut Maker or Explore Air 2 Supplies with Cricut Joy?
The roll of vinyl shown in my pictures is the brand new Smart Vinyl that can be used without a mat. You are going to LOVE all the new color options they have created!
You CAN also use regular vinyl, you'll just need to place it on the included mat.
Just like the Smart Vinyl, you can get Smart Iron On to use without the mat or use your existing stash WITH the mat.
The pens, markers, and blade do have a smaller barrel to fit the smaller machine, so be aware that your Cricut Maker pens and blades won't work.
With the focus on simplicity, Cricut Joy does have not the pressure to cut materials like leather and wood or to emboss metal. For those features, print then cut, and for wider designs, you'll stick with the Maker.
When Can I Buy a Cricut Joy?
That was my first question after seeing the demonstration too!
You can learn more Cricut.com now, and Cricut Joy will be available for purchase in early March, so you don't have to wait much longer!