My garage panic level has been reduced a few notches since last week! Hallelujah!  We kicked some serious garage butt in the last 7 days. If you haven't seen weeks 1 and 2, make sure you catch up before reading!
It's possible that the butt-kicking was panic induced. As we tried to schedule out everything that needed to be done, reality set in that I am going to be in SLC for five days including a precious weekend when we normally get so much done. THEN after I'm home for two days, hubby is off to NYC for four days so won't be around to help. Yikes!
Can we pause together to mourn the fact that I realized I couldn't go to NYC with him because there was NO WAY the garage would get done if I went? I'm tragically sad about this. I haven't been in YEARS and have been dying to go back. I might have even encouraged him to pick this conference so I could tag along. Stupid adult responsibility told me I needed to stay home this time.
Okay, pity party over…because how could I stay tragically sad when the garage is going to be AMAZING?
We actually started and ended the week working on the masterpiece that is the copper floor. As with most things in life, it was the scariest, hardest, and most rewarding. Rust-Oleum provided the RockSolid Metallic System in Copper Pot after I talked to them about my ORC plans. Obviously I wanted it to look amazing for us and for all of you, but I also wanted to do a great job for them. Because you know they make my favorite gold paint. And it's got to be a good idea to impress the maker of your fav gold, right?
Are you ready to see it???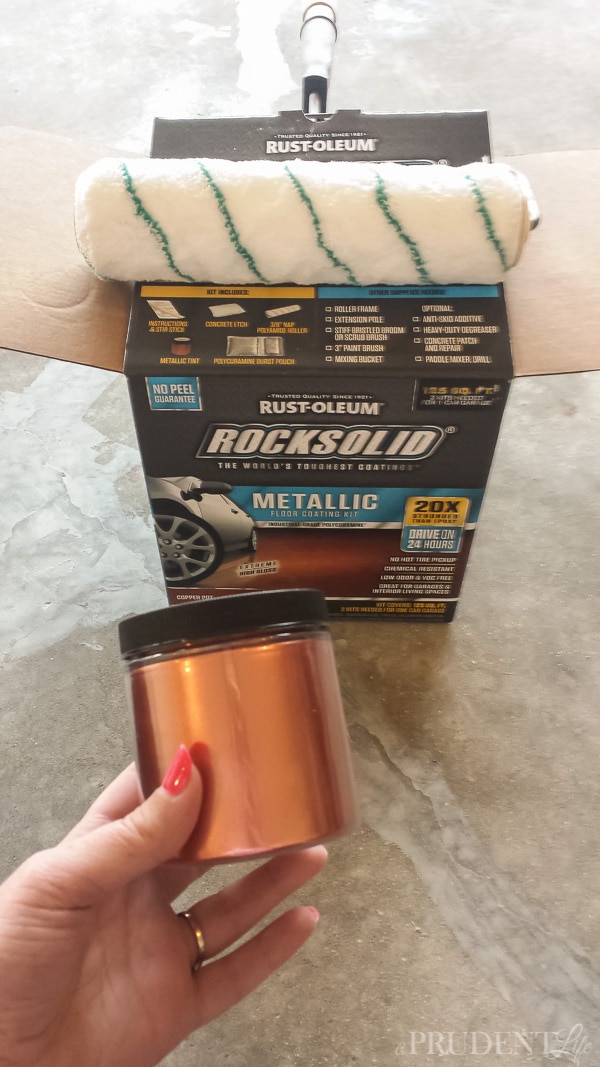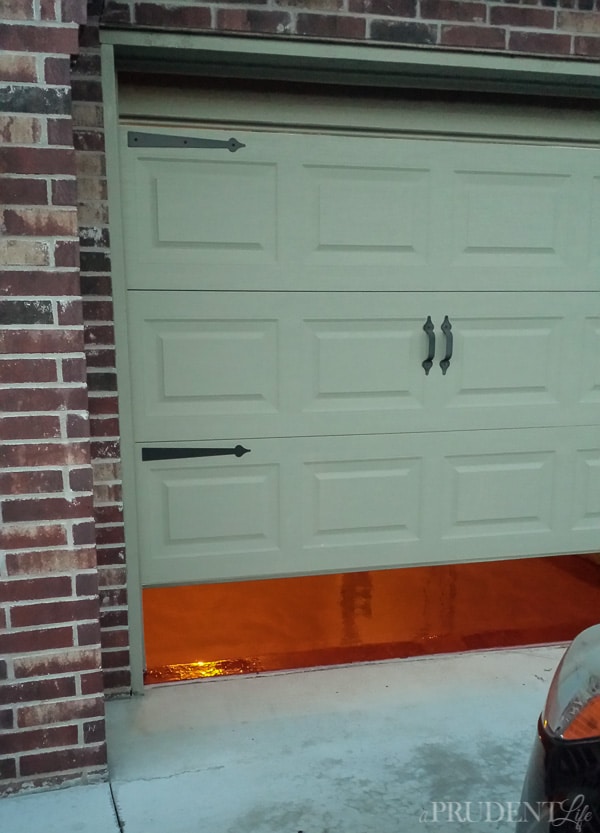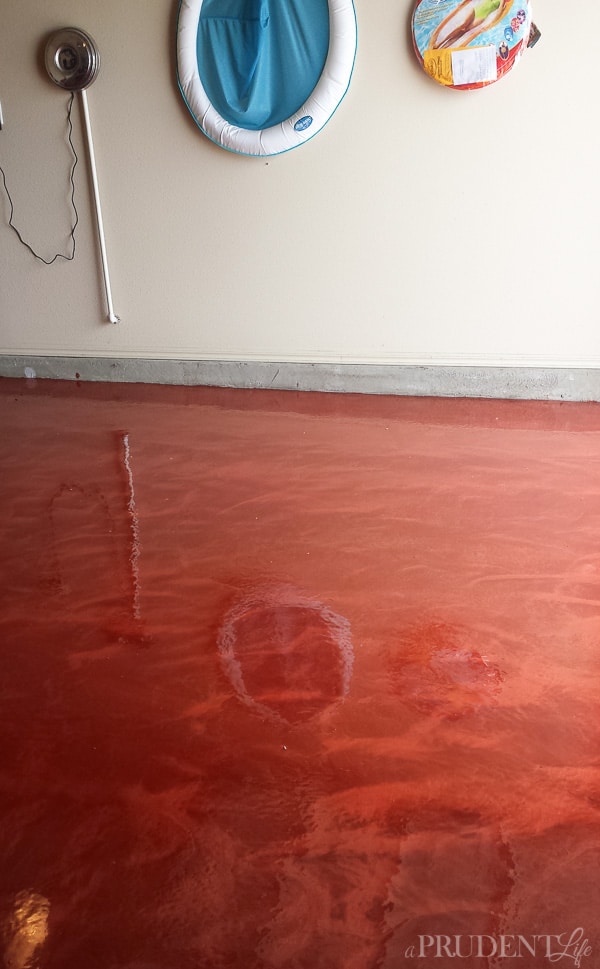 It's so shiny and reflective – I can see myself in it!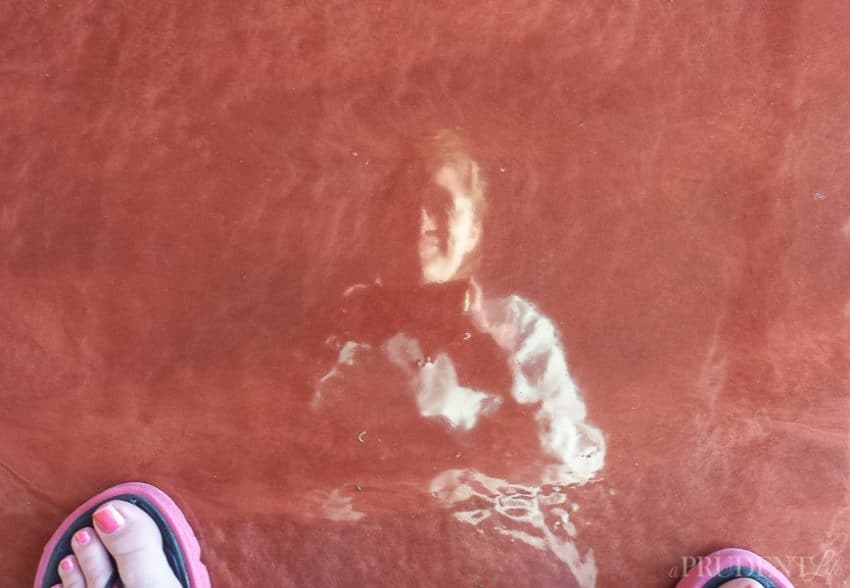 Crazy awesome right? In person, it is like a copper pool. It actually looks like you could dive in! The color variation gives it so much life and movement. And it feels as smooth as glass or granite. We have become total wierdos forcing neighbors to touch our garage floor because it's fascinating. But they understand when they touch it.
I admit, there was a day that the prep work due to our uber-dirty floor made me question my plan. But holy cow, it was beyond worth it! You might freak out when you see the whole thing in the reveal. I'm going to be selfish and make you wait a couple weeks to see more. After the ORC, I'll do a full tutorial on the process and share the little lessons we learned along the way.
In addition to the glorious copper floor, I assembled all three IKEA dressers we are using to build the work bench AND I got them spray painted (in Rust-Oleum Ultra Cover 2x Satin Midnight Blue). Woo hoo! I think I'm going to paint the inside of the drawers orange to add a little fun surprise and to tie in the orange IKEA Bygel containers I have for the pegboard.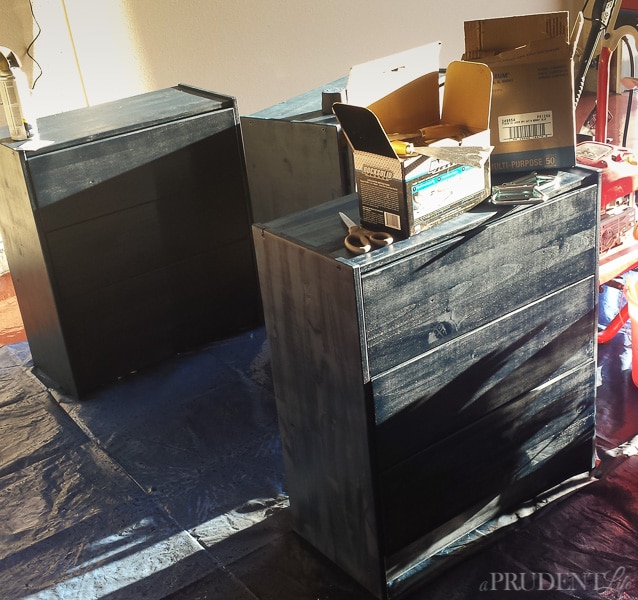 Tired of the manual labor, I also went and did a little shopping! I've got bins galore, a fun arrow shelf, and a mirror. Because how could I not buy a mirror that came with a little industrial-garage flare?
OH, and Amazon came to the rescue with some garage-chic pulls for the workbench drawers! Can't wait to get them installed! They are so beefy for $1.75 each. I added a convenient Amazon affiliate link below for all your hardware buying needs.
Whew, I think that's it for this week! There is a lot of work and organizing to go, but at least today it feels possible again. Putting the workbench area together is the next big task. I don't exactly know how much platform we will need to make the dresser height right, and I don't exactly know how we are going to do the top, but I'm sure we'll figure it out!
Now that you are up to date on my progress, check out the rest of the ORC linking participants over at Calling It Home!  AND you can see the 20 official participants progress here.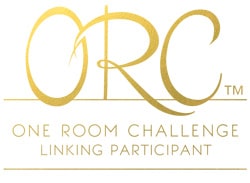 PS: Running is hard. Even with sweet new Mizuno running shoes. Because learning to run deserves fashionable and functional new shoes, right?