I'm in this weird place with the garage makeover that I could be happy if we stopped now. Of course, that would mean I couldn't find any tools, we couldn't park in the garage, and the lawnmower would live permanently on the back porch. I suppose I should probably keep moving forward. But I can't go out there without smiling. The floor, the workbench, the huge wall art…I'm just going to be un-humble and say that it is all freakin' amazing.
I've got 6 long days and nights ahead in the garage, so I might get over my smiley-awe really soon. Seriously, I've got nothing in the drawers or on the shelves, the packed rolling shelves need to be emptied so they can be organized, and let's not forget the huge stash of garage stuff being stored in the Expedition in the driveway. Yikes!
This week is also tricky because I don't want to show you guys too much. A girl's got to keep some things secret until the final reveal!
Here's a few sneak peeks to hold you over until the finale next week. Next week? Triple YIKES!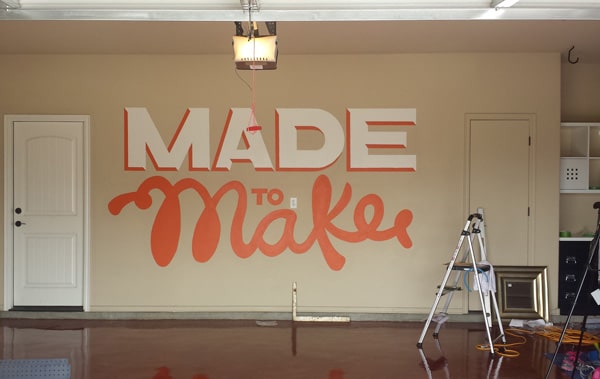 I would have been happy with the mural as it is in the above photo, but he isn't done yet!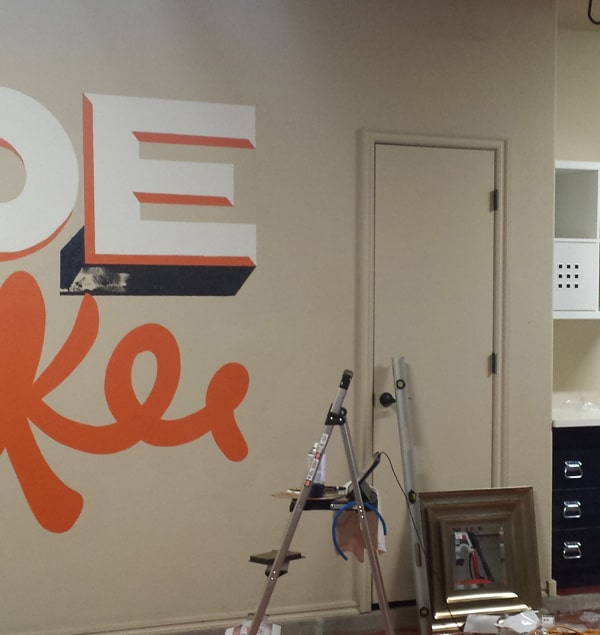 There is still lots of shadowing to do. We had a little creative discussion because I wasn't loving the black shadows (Under the E). We taped off a section (left side of the E) and sprayed it navy. The difference is super subtle, but the blue makes me much happier. Normally I'm all about adding some black to every space, and I didn't want it to be matchy matchy. BUT the black and orange was feeling too heavy and a little Halloween. I'm hoping by the time I add everything else the mural and workbench will look nice and cohesive and not like a color by number space designed by a toddler.
Did you notice the drawer pulls on the workbench? They are super fun! Let's not talk about the fact that each one has 4 screws x 2 pulls per drawer x 9 drawers. Totally worth it, but not the most fun install ever. That sums up my garage progress this week.
While you are waiting on me to finish up the garage, don't forget to check everyone else's progress over at Calling it Home!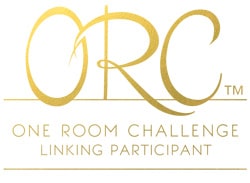 For anyone wondering about the conference in Salt Lake City I mentioned last week, it was FABULOUS. This was my third blogging conference, which meant I was reuniting with friends I had actually met in person before. Being able to strengthen virtual relationships in real life is priceless. One of my high school English teachers signed everything with Love, Laugh, Learn and that truly describes my experience. I've got a long list of ideas to implement that will help the blog grow, but more importantly, friendships are deeper.
And after that gushy stuff, I feel like a need a cheesy sign off….I'll just borrow Casey Kasem's that actually fits well with what we learned at the conference.
Keep your feet on the ground and keep reaching for the stars.    
See you next week for the big reveal!!!