How can we only have one week until the final One Room Challenge reveals? I need more time!!! My alternate title for this post is "Panic in the Pantry".
If you've got no idea what I'm talking about, I'm five weeks in to a six week challenge to makeover one room in my house. I selected our walk-in pantry and have named it's new personality "Vintage Modern Chic". You should start back at Week #1 to see the before photos! Oh, and don't miss my amusing battle stories from Grout is a Drama Queen week.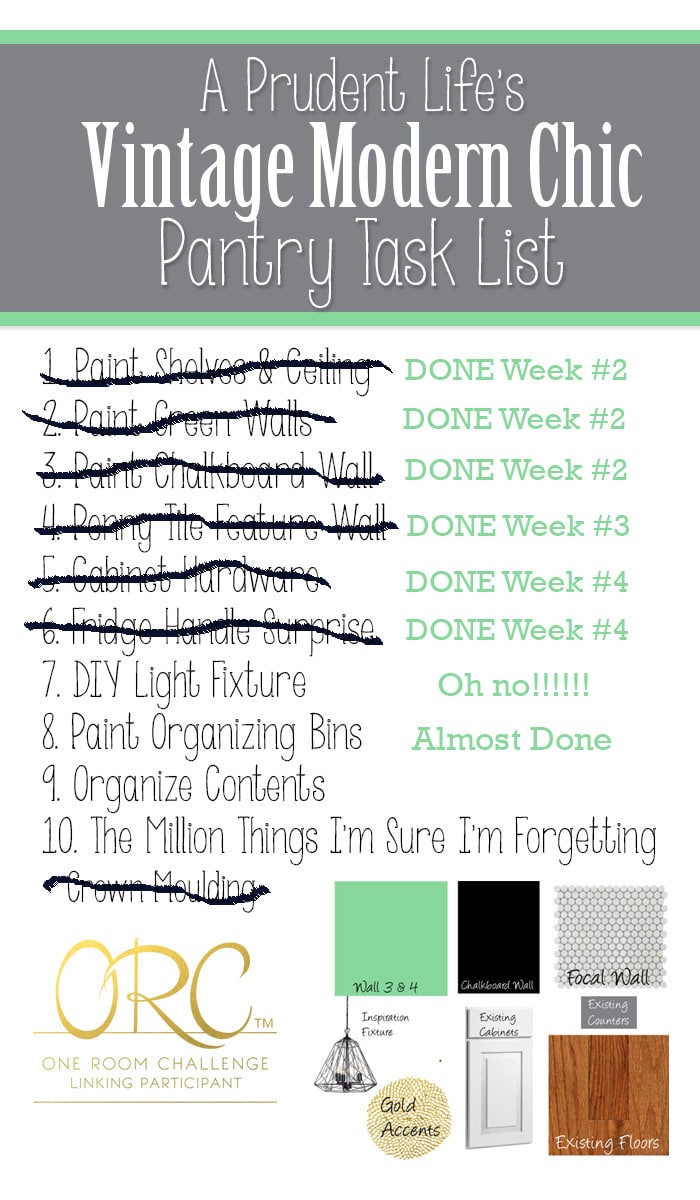 Back to the panic. Really, on one hand, I feel like I'm in great shape. Except little things keep popping up. And they are the kind of little things that I HATE. Like filling in nail holes and caulking. Bleck! I like doing BIG impact tasks like gigantic tile walls and painting a wall black. But I HATE spending time on the little details when I could be organizing and making it pretty. Whiiiiinnnnne!  I am beyond ready to start staging the space, and functionally ready to have all our food back in the pantry and off the kitchen counter!
Despite my hatred of this final touch up phase, I did make some awesome progress this week. I'm not entirely sure why I thought it would be super fast to pop up some crown molding, but we did get it done. Well, I have to touch up the paint tomorrow, but it's up on the wall! It really did add a nice finished touch to the top of the room.
Here is it before I filled in the nail holes and caulked.
Then there was my 70% insane light fixture idea. I found all these plant staking pieces at Lowes, and even though I had NOT been drinking, I thought…hmm….those would make a killer light fixture. THEN, I got really crazy and admitted to all of you that I was going to try and making something out of the pieces. Everyone was so excited, and in the back of my mind I was completely unsure how my little plan would work. Mainly because I didn't really have a full plan or vision.
Here is what I started with Tuesday afternoon.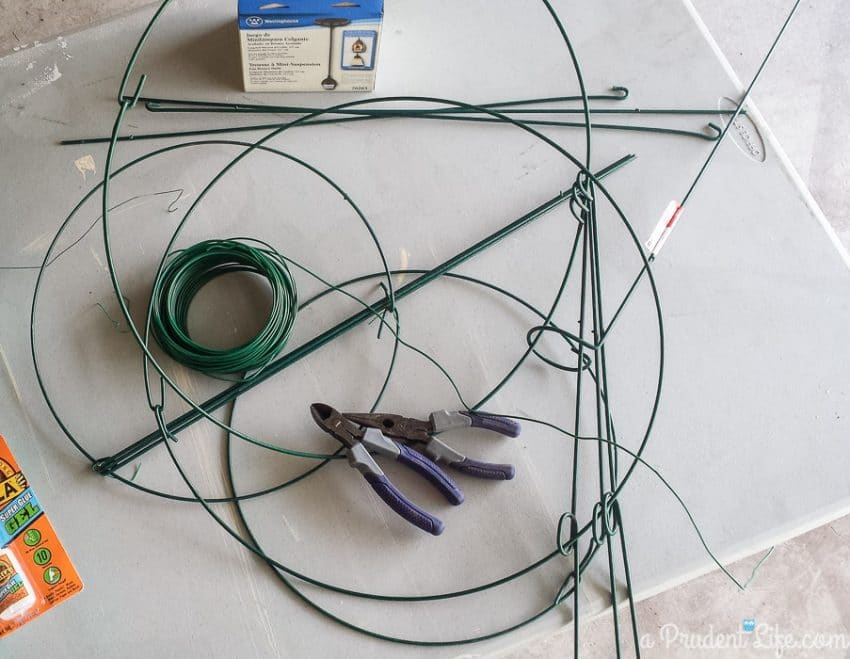 And you guys…I can't freakin' believe it, but it worked!!!
I grabbed a pair of pliers and wire cutters, and went to town pulling the hoops from their stakes and wiring them together into an orb with floral wire. Then I added some X shapes with this thick staking wire stuff. Honestly, at that point I wasn't sure if my project was done, or if it needed something else. So I did what any logical blogger would do. I painted it gold! Gold was my plan from day 1, and painting it helped me visualize it as something other than weird green garden supplies. I hung it to dry overnight so I could see it with fresh eyes Wednesday.
When I first saw it the next morning, I thought it was pretty cool. The I realized if I flipped it 90 degrees, it went from pretty cool to freakin' amazing.
Like, so amazing that I HAD to see it in the space ASAP. Luckily, when I really want something, my inner McGyver comes out. I put a command hook ON my existing fixture so I could use some twine to tie up my glorious orb and get a feel for it in the room. And it was perfect. I mean, other than the part that it is a little low and tied to a boob light instead of being wired. But, you get the idea…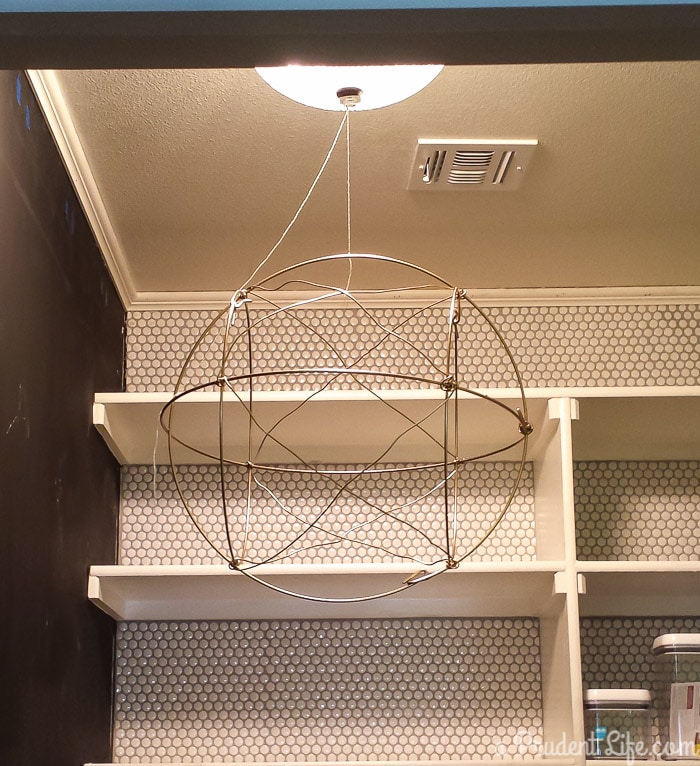 When it's wired (hopefully today!) there will be an Edison bulb in the middle attached to a plain pendant wire. How is the the orb going to connect to the pendant? Who knows! 🙂  All I know for sure is that I LOVE it beyond my wildest dreams of loving a light fixture created from the garden center.  It's been sitting on the kitchen island all day and I have to pause and admire it each time I walk by. Maybe that's what cause me to have so many things left on my to do list at the end of the day. 🙂
Um, see that beautiful update paragraph that is now struck out? I wrote that BEFORE the depression of October 2014 started. Everything was great, we got the new pendant installed and things were looking good. Then we turned the power on and realized my one beautiful Edison bulb was about 100 miles away from putting out enough light for the pantry. Whaaaat??? The crazy DIY portion of  my project worked, and the purchased part was a fail? I need wine to figure this one out. Ugh.
Let's move back to what did work. The open upper shelves on the green wall side of the pantry will have alternating white and gold bins. I finished painting half of them and just need to pick up some more paint to finish. I just couldn't have purple & blue storage mess up the look of the room!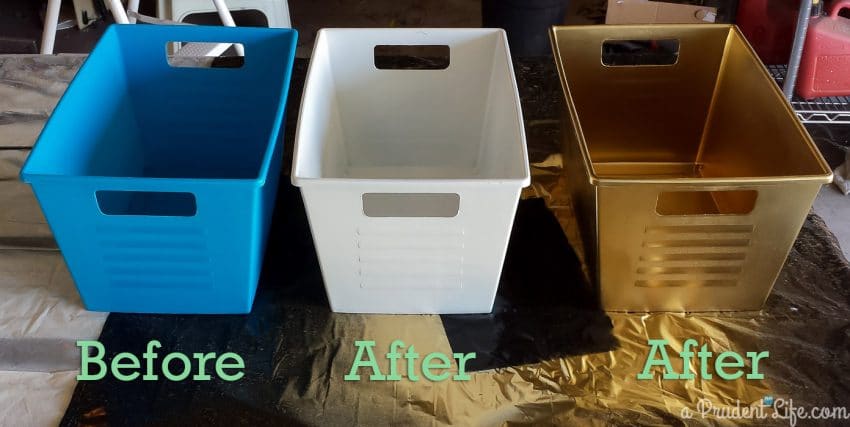 Until the lighting fiasco, the thing that caused the most panic this week was the realization that if I want my husband home to help with the photos while we have daylight, I'll have to take the reveal photos on Sunday. Like, THIS Sunday. YIKES!!! In my mind, I had a couple days next week to finish staging.
But planning helps relieve panic, so here is my outline of what needs to be finished over the next 4 days.
Thursday:
Final paint touch ups & clear room of construction junk (Hallelujah!)
Figure out what to do about lighting (without crying)
Buy more paint & spray remaining storage bins
Buy 3rd canned food organizer
Buy Halloween candy (totally unrelated, but it's freaking my husband out that we don't have any yet!)
Friday:
Season chalkboard wall
Determine bin contents & create labels
Get all the food back into the pantry!
Figure out what else I need for staging
Saturday AM:
Secret chalkboard wall art project (hubby)
Win big at the casino/my aunt's birthday breakfast & casino trip (Me)
Saturday PM:
Shop for any final staging items needed
Continue staging
Sunday:
Finalized staging
Pray for a sunny day
Take final photos
Whew! I can't believe in less than one week I'll have a fully finished Vintage Modern Chic pantry. I can't wait!!! I'm also getting SO excited to see all the final reveals next Wednesday & Thursday over at Calling It Home!
Be sure to check out all the week 5 posts today to see if anyone else is panicking as much as I am. I have a feeling I'm not alone!
[metaslider id=3850]