Some of you may think I'm crazy by the end of this paragraph. Remember when I updated our office last year with the huge wall of concert art? In 5 weeks, if everything goes right, the room will be unrecognizable.
I'm taking on that same office starting right now for the One Room Challenge. Now you may be thinking that we're just swimming in money, or that the house is finished and we're starting over on spaces. Both of those are very, very false. The money tree still isn't blooming (maybe I need to change fertilizer?) and major areas of the house need lots of love.
But, here's the thing.
I screwed up.
Last year's office transformation was spur of the moment. I had the opportunity to do a post with Sauder furniture. We needed furniture, they had some pieces I liked, it was a great fit! So far, so good, right?
Well..
Somehow I overlooked a major fact about the office. I'm supposed to be working in it every day and my husband is in there MAYBE one hour a week.
Yet, the space is way more masculine than any other space I've ever done.
What was I thinking?
We were trying to spend as little money as possible, so we made a huge gallery wall with concert posters we already owned. I like them, but I'd like them way better if they were upstairs in the game room. When I walk in and see them, they feel 'cool', but don't inspire me. It doesn't feel like "my" spot despite me spending so much time there.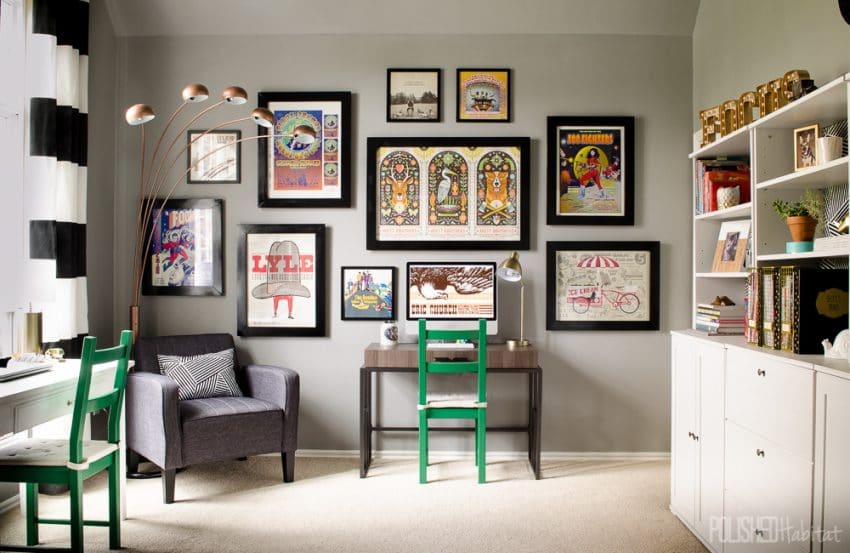 And then there is the issue of function. I end up weeding vinyl and packing up Etsy label orders in the kitchen.  I'm missing a big flat surface to spread out in the office. Things went from bad to worse when the printer cabinet moved to the kitchen nook. The contents of that cabinet exploded around the office.
Plus, the reading chair was moved to the living room. That meant the bentwood rocker from the living room had to move to the office. It makes no sense there. I'm telling you, it's chaos around here!
And my awesome black and white stripe spray paint drapes? The window faces west, so I have to close them every afternoon to block out the sun. Not only is that awkward around the desk, the paint started flaking off every open and close. Dang it!
Can you relate to having a room you thought you'd be happy with, but that makes you crazy instead?
Until last week, I thought I was doing our master bathroom for this One Room Challenge. Then, I realized it's ridiculous that I work from the couch or kitchen each day because the office set up is not working.  My productivity is suffering and the "living" areas are cluttered with work. And we won't even talk about all the hours I've spent lusting over organized, feminine offices on Pinterest.
My goal is to create a space that feels like the blog as soon as you see it. Black, white, gold, and pops of pink would be dreamy! Space to brainstorm on the wall would make me swoon. I'd be smitten with more space to spread out Etsy orders. Ahh, I can not wait for it to be done so I can take over the internet in style!
I'm a bit ahead of myself and dreaming about the end result. But, we need to start at the beginning. Here's the history of the room from bad, to better, to the current chaos.
RIGHT AFTER WE MOVED IN (2013)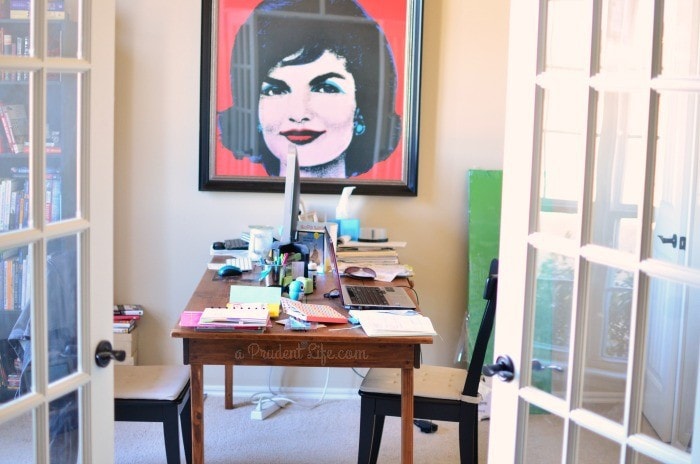 ADDED BOOKSHELVES (2014)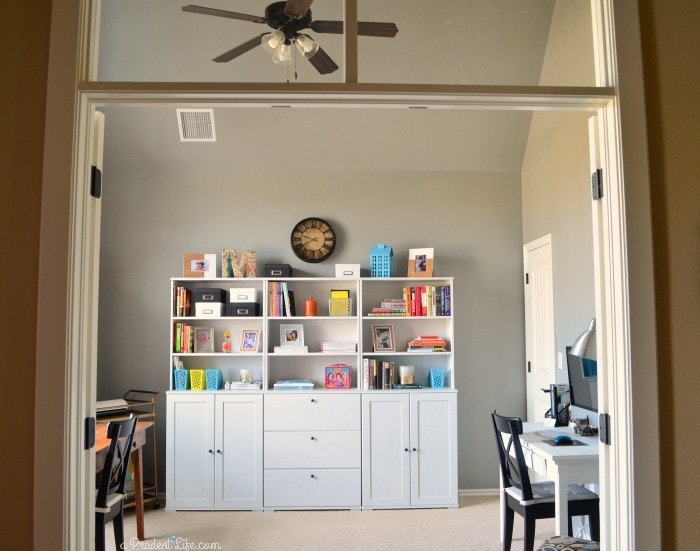 REVEAL LAST YEAR (2015)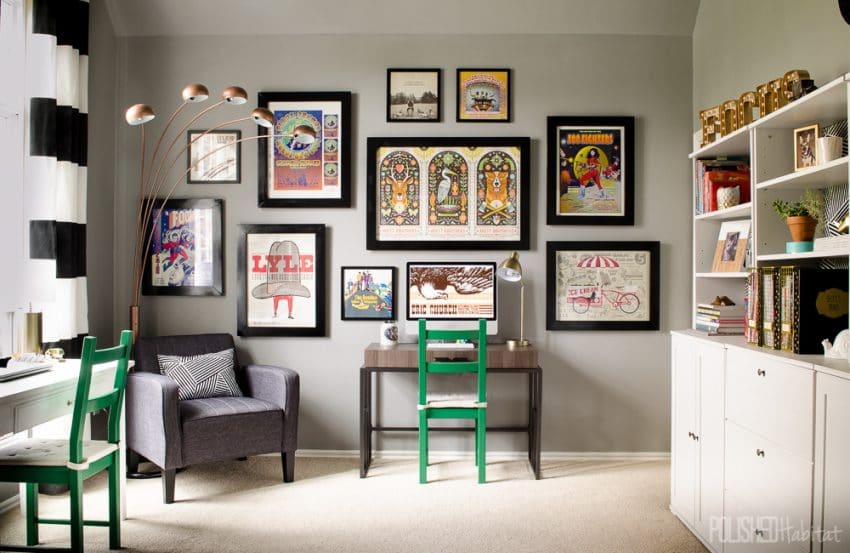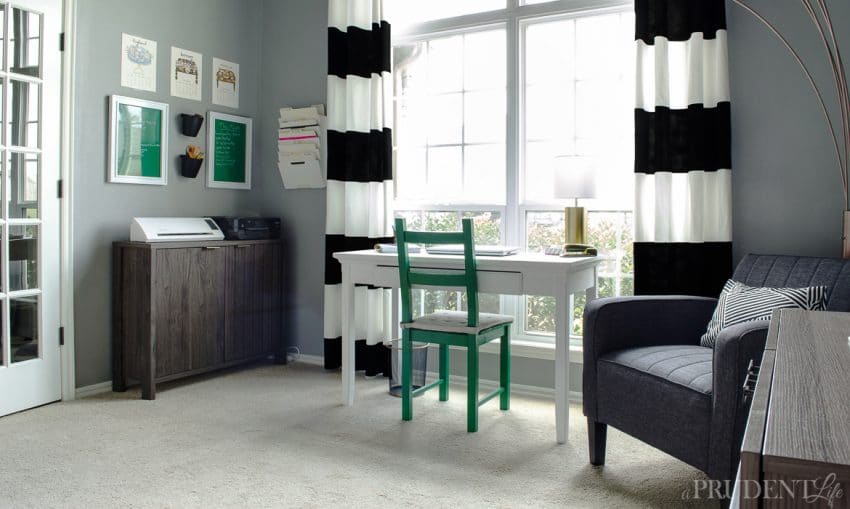 THE HORRIBLE, NO GOOD, SCARY CURRENT SITUATION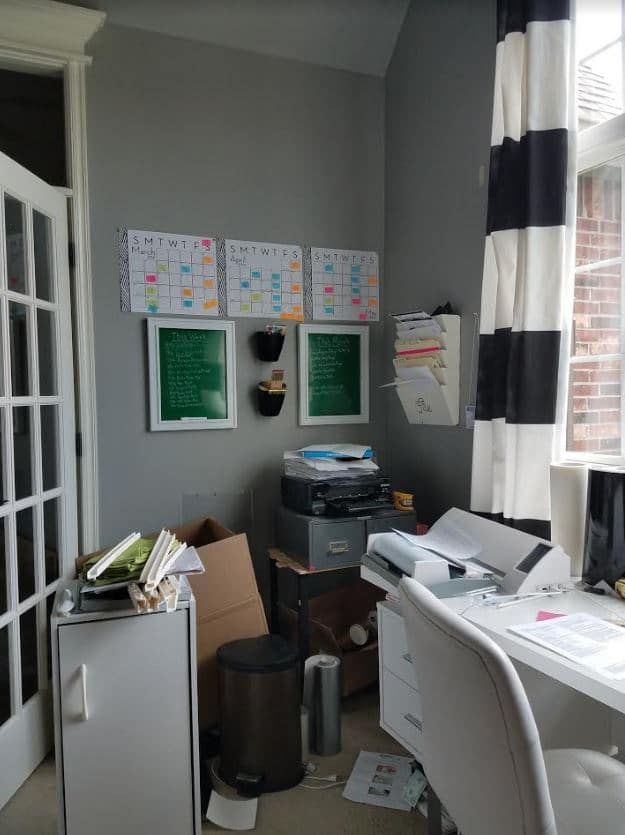 If you were averting your eyes away from the corner disaster, you may have noticed the desk and chair are different. I added those in January and the desk is AWESOME. It's staying, but getting moved to a new location.
And to get the horror of that office photo out of your mind, here's what happened to the cabinet. Hello, kitchen storage!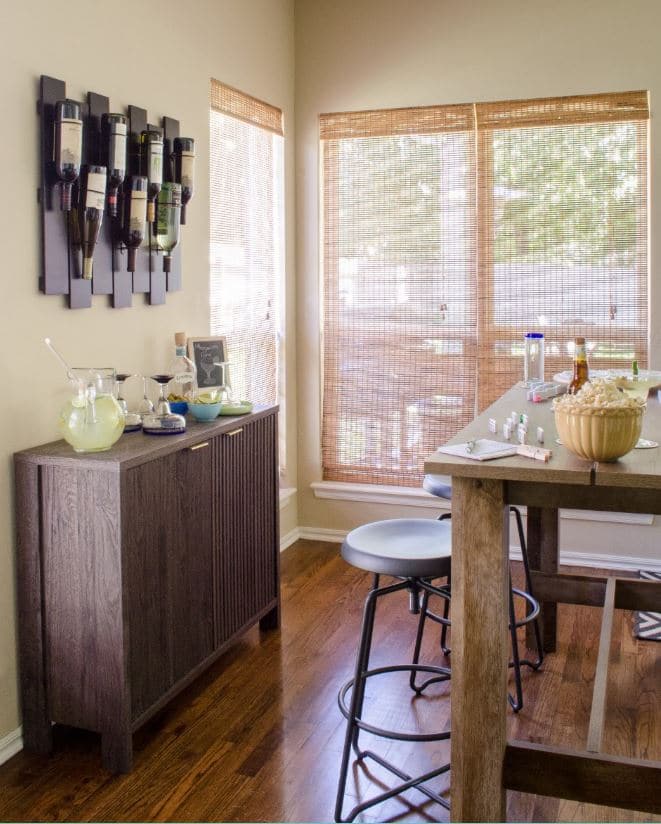 We've painted the kitchen nook grey since that photo, but you get the idea of how well the cabinet works between the windows.
So…..this is the part where I normally show you a rendering. I love that part of week #1 because it proves there is a plan of what my ORC space is going to look like in 5 weeks.
For example, last fall in week #1, I showed you this plan for our master closet.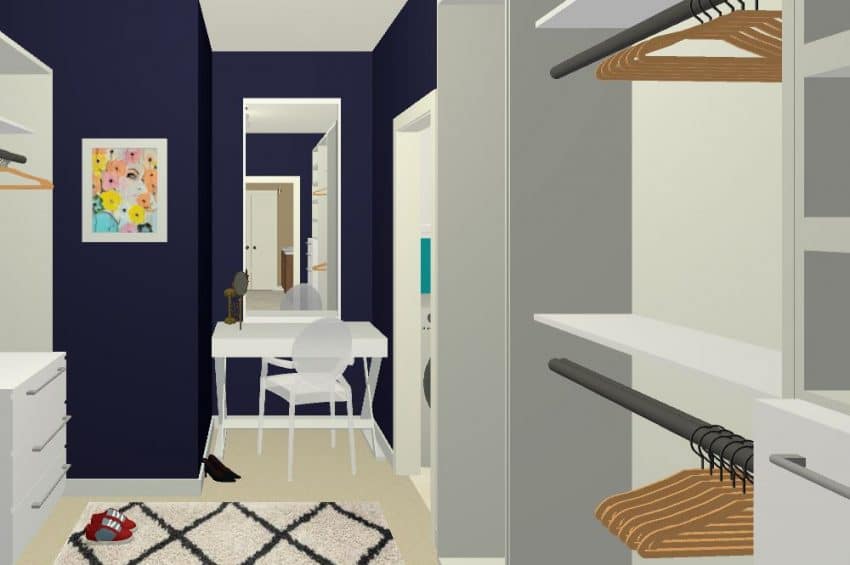 And then 5 weeks later, we pulled off a bit of a miracle and we had this!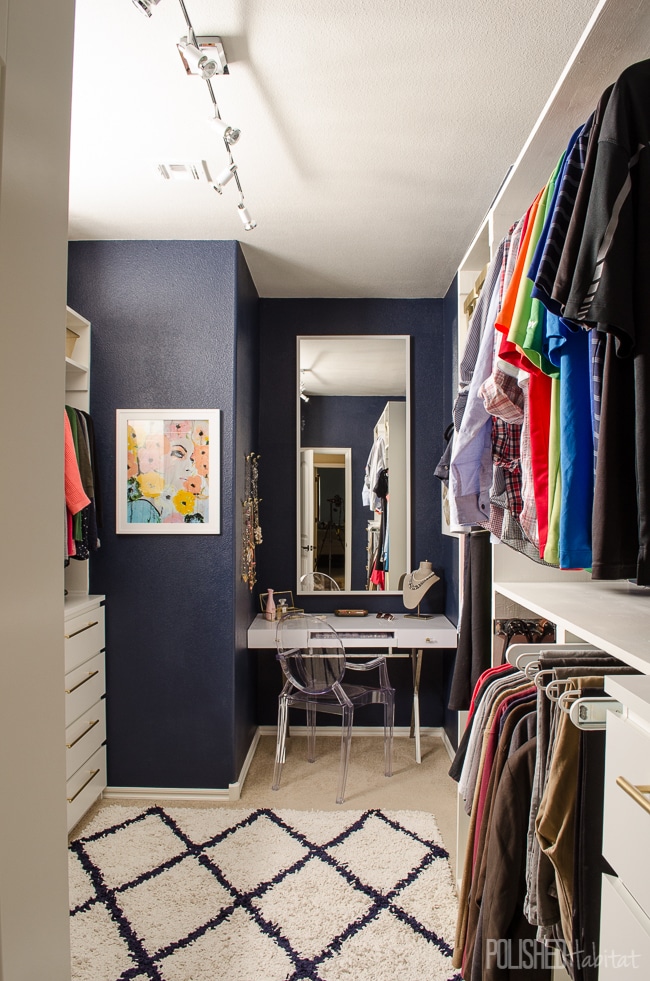 This spring, it was the master bedroom's turn and I showed this plan week #1.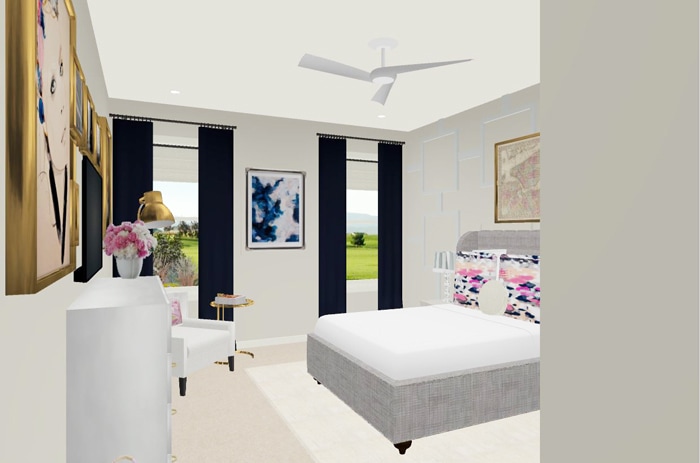 And 5 weeks later we had…drumroll…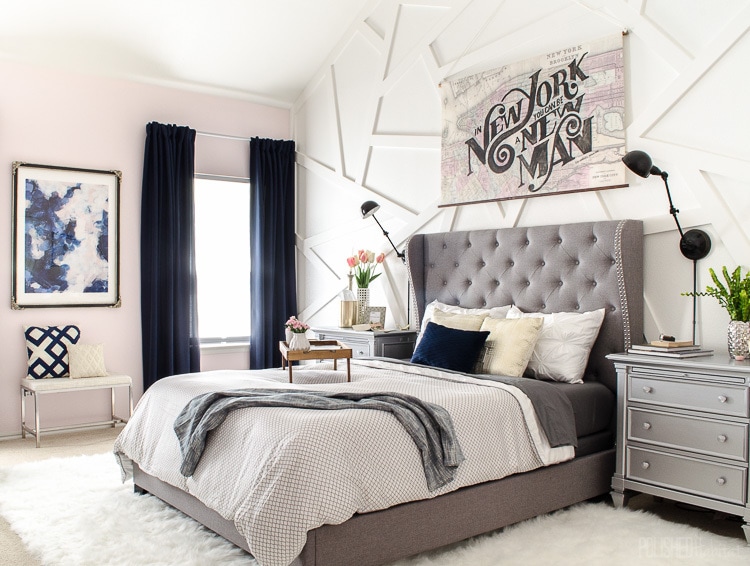 I can't tell you how much I WISH I had a perfect rendering to show you of the office. Instead, I have kinda-sorta-maybe thoughts running through my head. I don't think any major decisions have been made, and no products are on order yet. And yes, I am absolutely hyperventilating as I write this!
Luckily, I've got 700+home office pins to guide me. Scrolling through them, it's pretty clear I'm looking for a brighter space with girly, glam accents. And a huge calendar. And more function than any of us even knew was possible in a home office! And for it to have the same "feel" as my logo.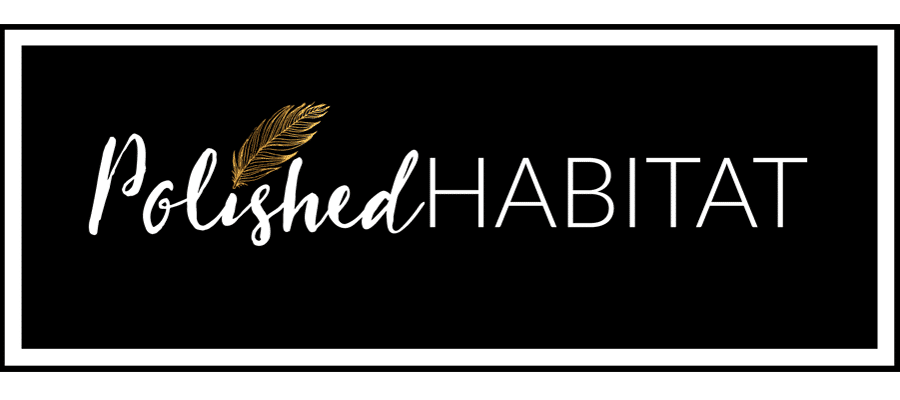 Obviously, the plan for the next week is to nail down a plan! Then, we'll empty the room and paint before next week's update. That should set us up to rip out the carpet (hallelujah) and do the flooring the next week. Send wine! If you've stuck with me this far, you're my favorite reader and I can tell you that I'm REALLY close to deciding on a dark herringbone floor. Wouldn't that be fabulous with white walls? We'll see if those almost-decisions stick next week!
Thanks so much to Linda from Calling It Home for hosting this shindig that is making my house gorgeous room by room. I can't believe this is my 5th time participating! Make sure you click over to the One Room Challenge page to see everyone that is playing along this round. I bet some of them even have a plan!
UPDATE: The room is done and came together better than I ever expected! See my new glam office here.