House tours are always one of the first things I check out when I find new blogs. I thought it was only fair for me to post mine in return!
We had this house built a little less than 2 years ago. It is house #3 for us, and the first one we purchased with the intention of staying more than five years. #1 and #2 were great houses, but we knew they were steps towards building a home that we would stay in with no exit plan.
Since we're in the middle of the holidays, I thought we'd go with "Christmas Edition" and focus just on the rooms that have some festive decor. We'll tour the office, master bath, and upstairs in a future post. Please excuse some of the very bare walls- just think of them an opportunity for more blog projects.
Grab your cocoa and/or wine and settle in – I've got a ton of pics to share!
Let's start with the outside. It's totally abnormal for us to have this much snow, but I love it!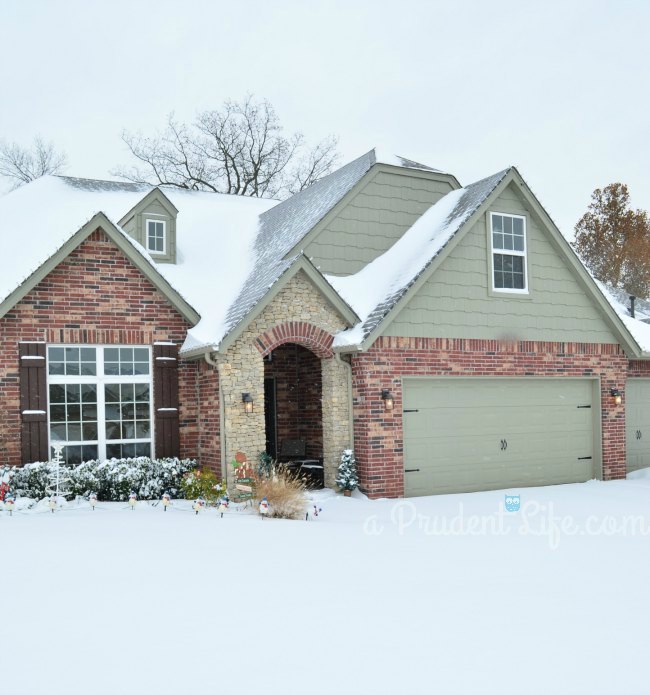 I'm into white Christmas lights vs. colored.
Not too exciting, but so pretty!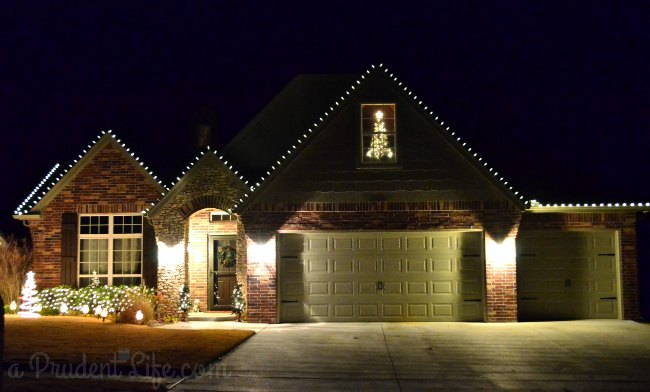 Welcome in!
Everything we buy for this entry wall seems to shrink on the way home.
I'm leaning towards doing a gallery wall and large console table, but it hasn't happened yet!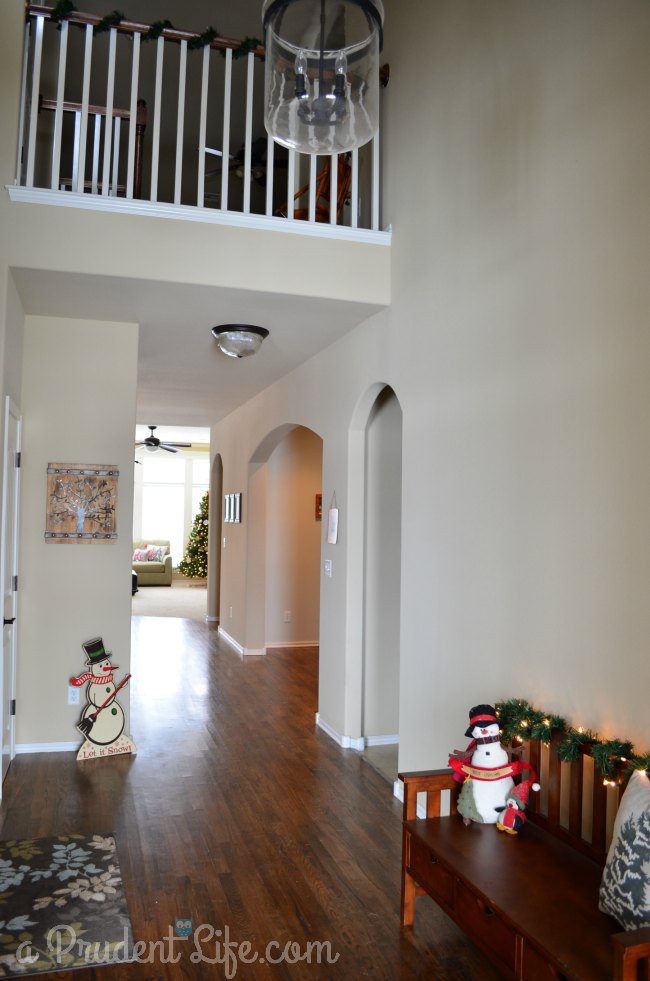 Here's the same bench & wall from inside the office.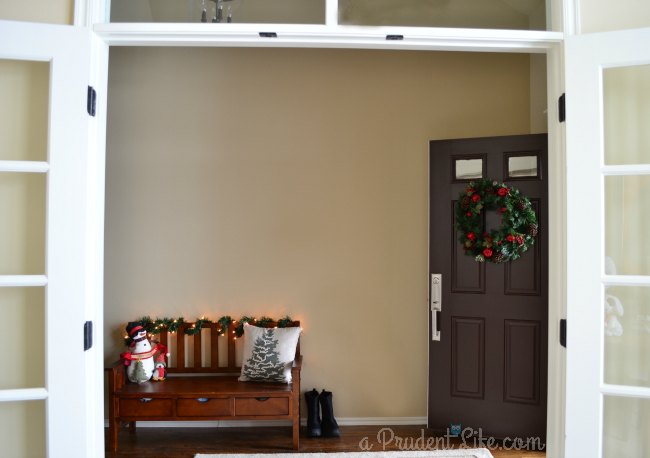 Next up is the dining room, I wasn't feeling centerpiece creative this year so I went very simple.

Dining rooms make me hungry, lets check out the kitchen next! Our first two homes had closed galley kitchens, so I couldn't wait to entertain in this one.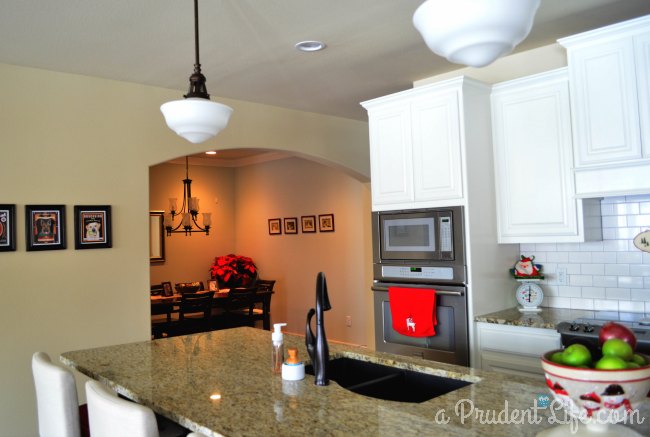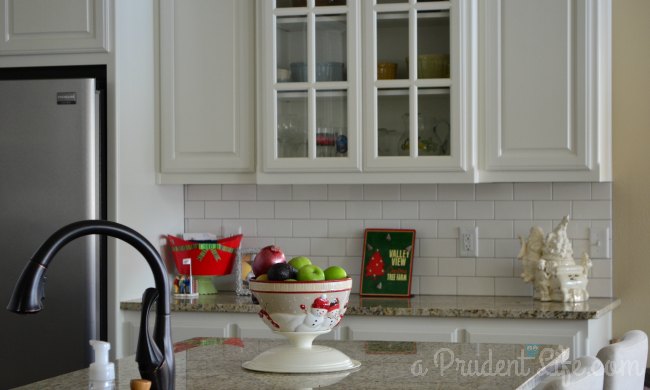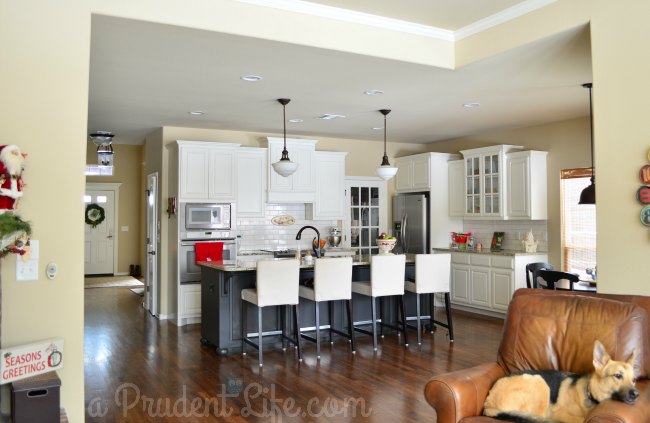 If your belly is full from the kitchen, come on into the living room.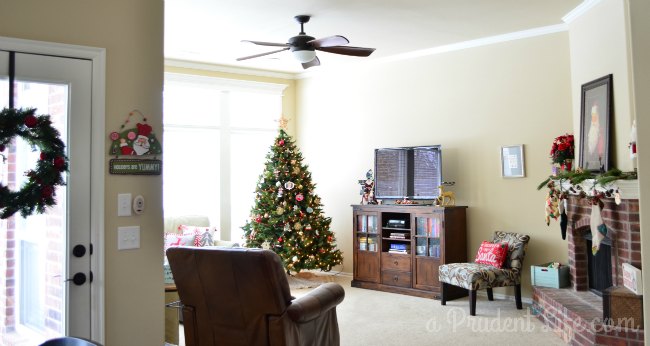 I think Maddie was upset I was running around taking pictures and none of them were of her. This wasn't posed, she just plopped down.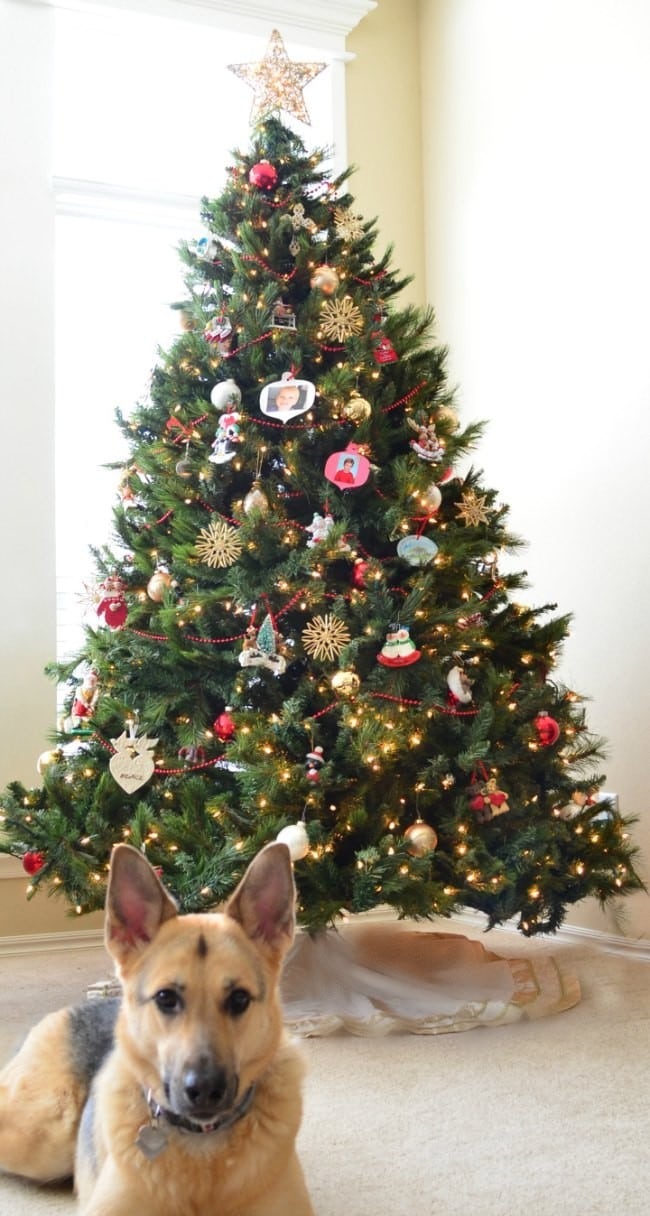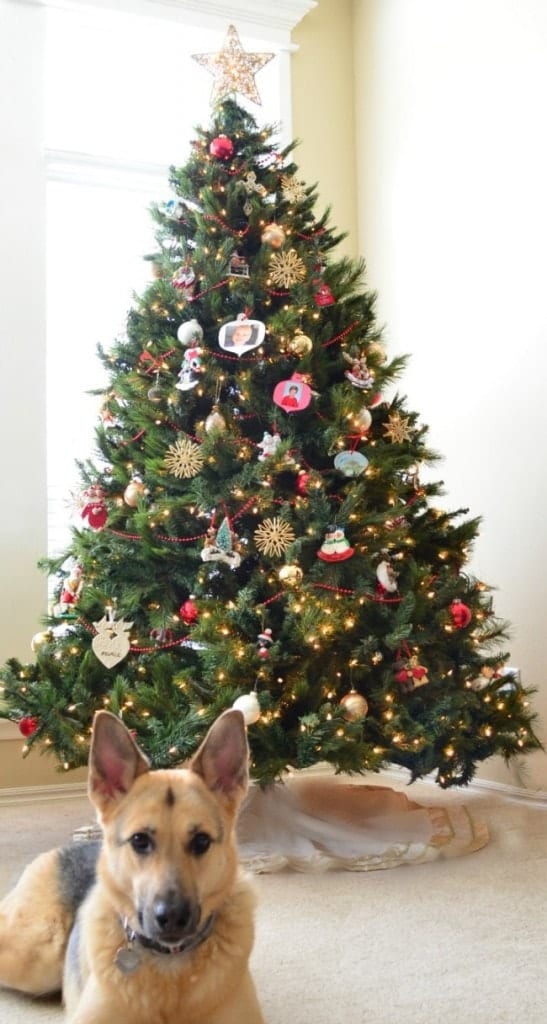 This is the first time I've used real garland on the mantle – I think I'm in love! Check out the close ups
here.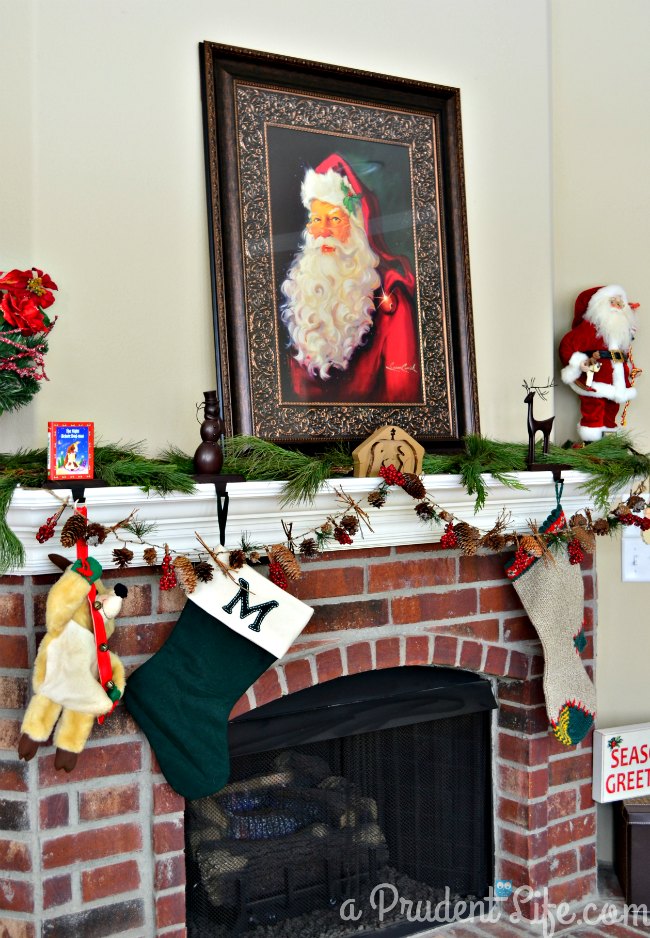 Next up, let's go down the hall to the guest bath.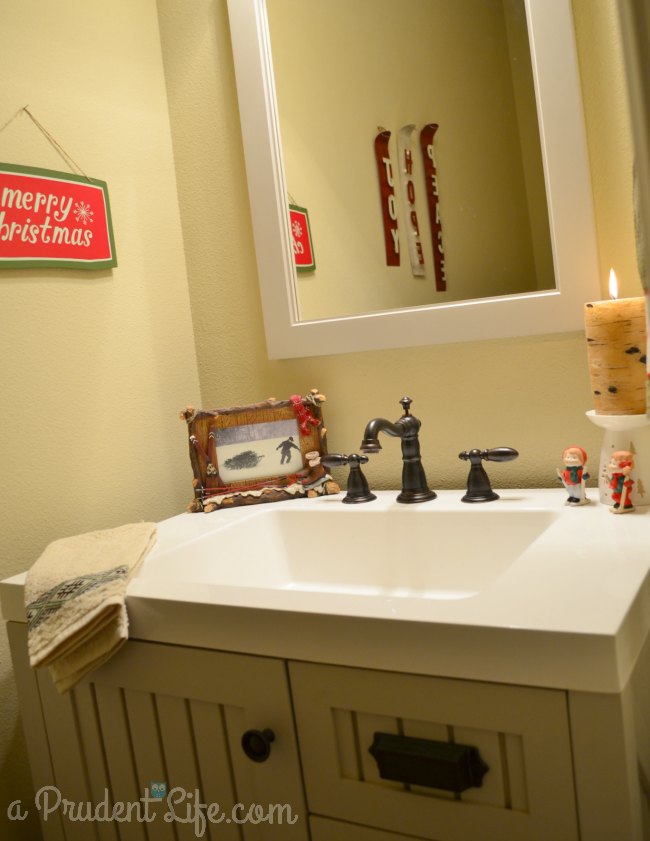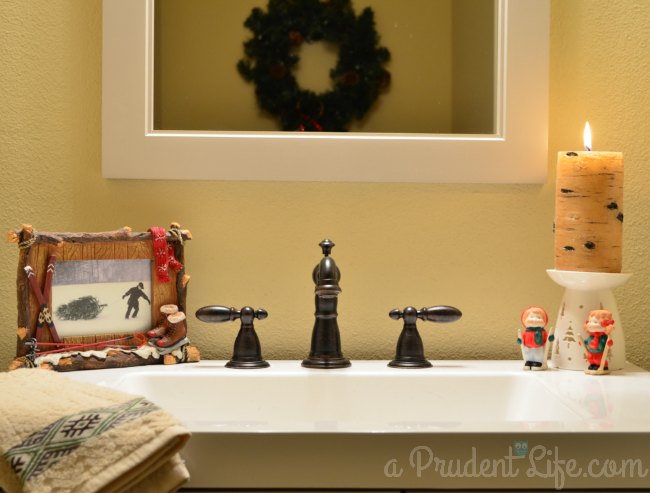 And just around the corner is the master bedroom…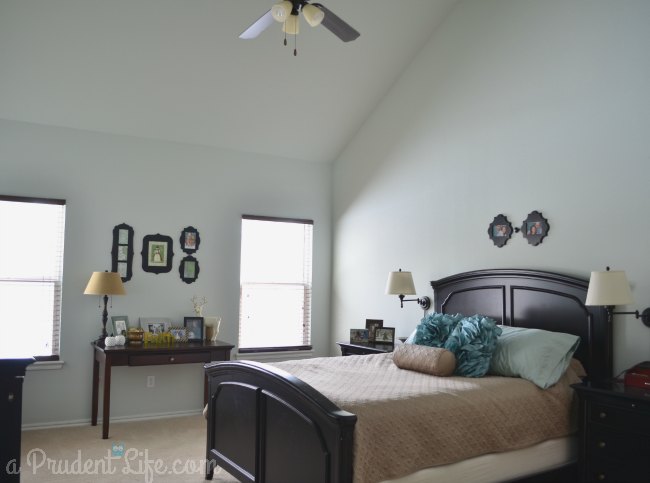 Okay, that's it for today. Let me show you back to the door! See the wreath? It's the rest of the garland from the mantle. I just tied it together with floral wire. I was thrilled to get a bonus decoration out of my one strand of garland!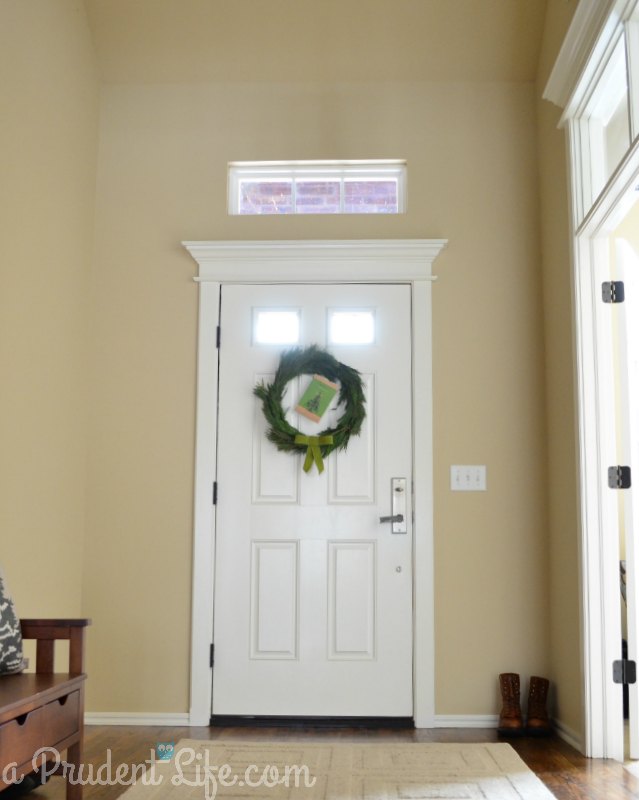 Thanks for visiting! Be sure to follow me so you know when the rest of the rooms are posted!
 Sources/Details
Interior Walls (Entry, Kitchen, Living, Bath) – Benjamin Moore Shaker Beige
Interior Walls (Dining & Bedroom) – Benjamin Moore Gray Cashmere
Interior Trim & Cabinets – Benjamin Moore White Dove
Let me know in the comments if you want anything added to the source list!