TOTALLY SMITTEN WITH: Continued improvements to the home office!
The office has been getting an extremely gradual makeover, which I think most people can probably relate to. Here's what my desk looked like this time last year.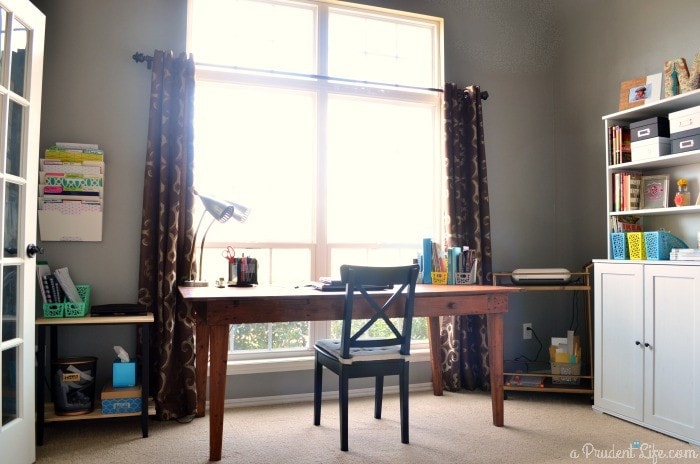 Last fall, it took a HUGE step forward with lots of updates. I switched from using a HUGE farmhouse table, to a small writing desk that we've owned for years. I loved that the switch freed up room for a reading chair, but as the months went on, the desk just wasn't cutting it for me to work at it for hours straight. I couldn't spread papers out and didn't have much room to fill ETSY orders. The drawer space was minimal and limited to things less than 2 inches tall.  The chair was an even bigger problem since it wasn't height adjustable and wasn't intended for sitting in longer than a meal.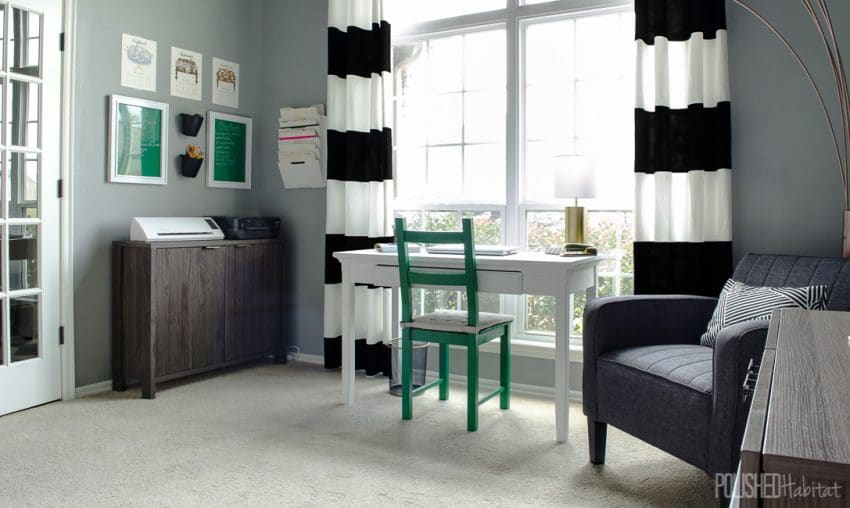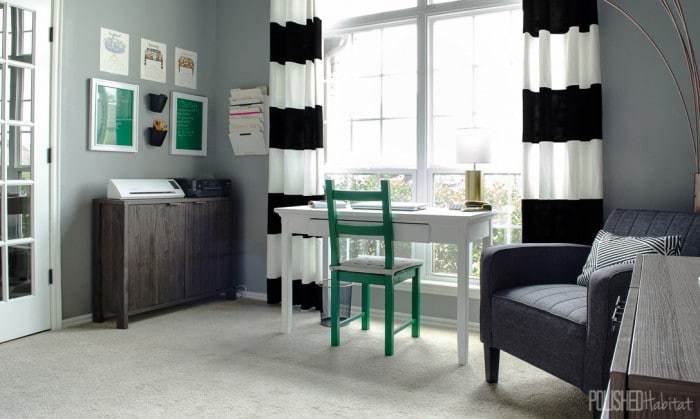 I realized a new desk and chair were legitimate business expenses and that I was starting my third year of self-employment still working from a dysfunctional set-up. FAIL! Some good old-fashioned internet research later, I found the perfect size desk and a chair that was cute, had positive reviews, and didn't cost a fortune.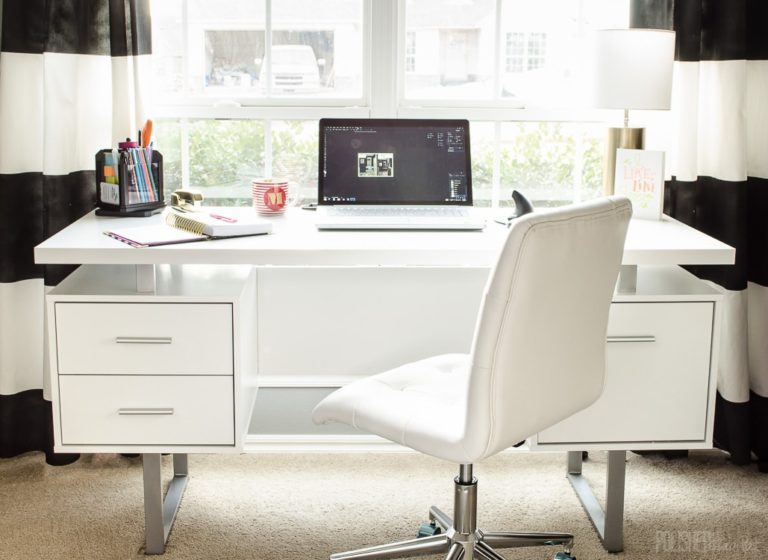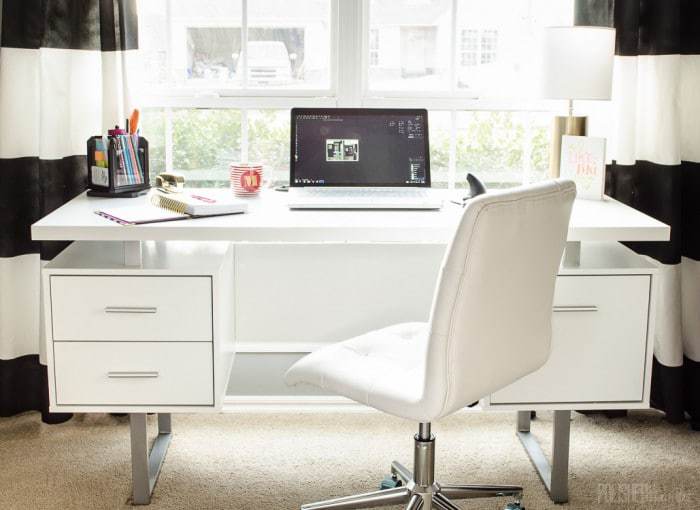 I've only had the chair for a few hours and the desk for a day, so I'm not ready to vouch for them yet. But, so far the set up is SO MUCH BETTER. I'll report back when everything is organized and I've had a chance to test it out.
ALSO SMITTEN WITH: The nailhead trim on the new headboard in the guest bedroom. What? We got three new items in one week? I swear, we sadly didn't win the lottery, nor lose all control of the budget. I got an opportunity to pick out an item from Wayfair in exchange for posting a review of it on their website. When I looked at the list of items I could pick from, I was shocked that it included this cute upholstered headboard. Ever since I took down the art above the bed to sell, the room seemed so unfinished. What a difference this made!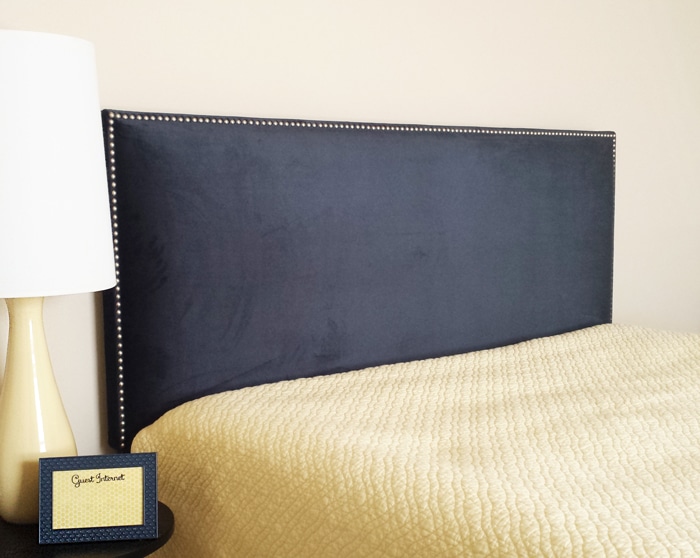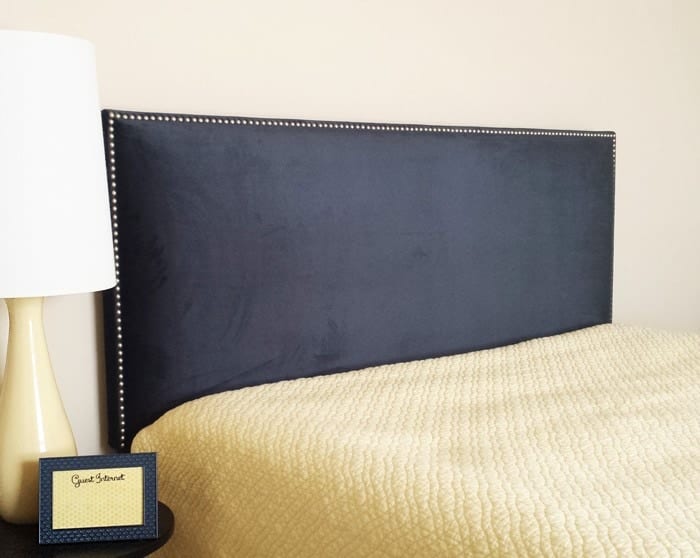 BEING INSPIRED BY: Paper – Sometimes I need a break from the computer, which is hard when I end up scrolling Pinterest for inspiration when I have a little downtime. I'm trying to make more of an effort to turn to real books and magazines instead, and it's so refreshing!


My Favorite Decor Books
Homemakers by Brit Morin (Brit & Co)
Styled by Emily Henderson
The Nesting Place by Myquillyn Smith
The Inspired Room by Melissa Michaels
(Book links are Amazon affiliate links – if you buy them, you pay the same price and I get a small commission. Win-win!)
That's the end of my smitten list for this week! What made you smile this week?