No matter how young or old we are, closets are magnets for serious dysfunction. After seeing the transformation in my master closet,  someone local asked me to come save them from the insanity happening in their baby girl's closet. I jumped at the chance to help someone else experience the stress reduction that happens when a cluttered space receives a sustainable, organizational makeover.
Here's what had the client ready to pull her hair out.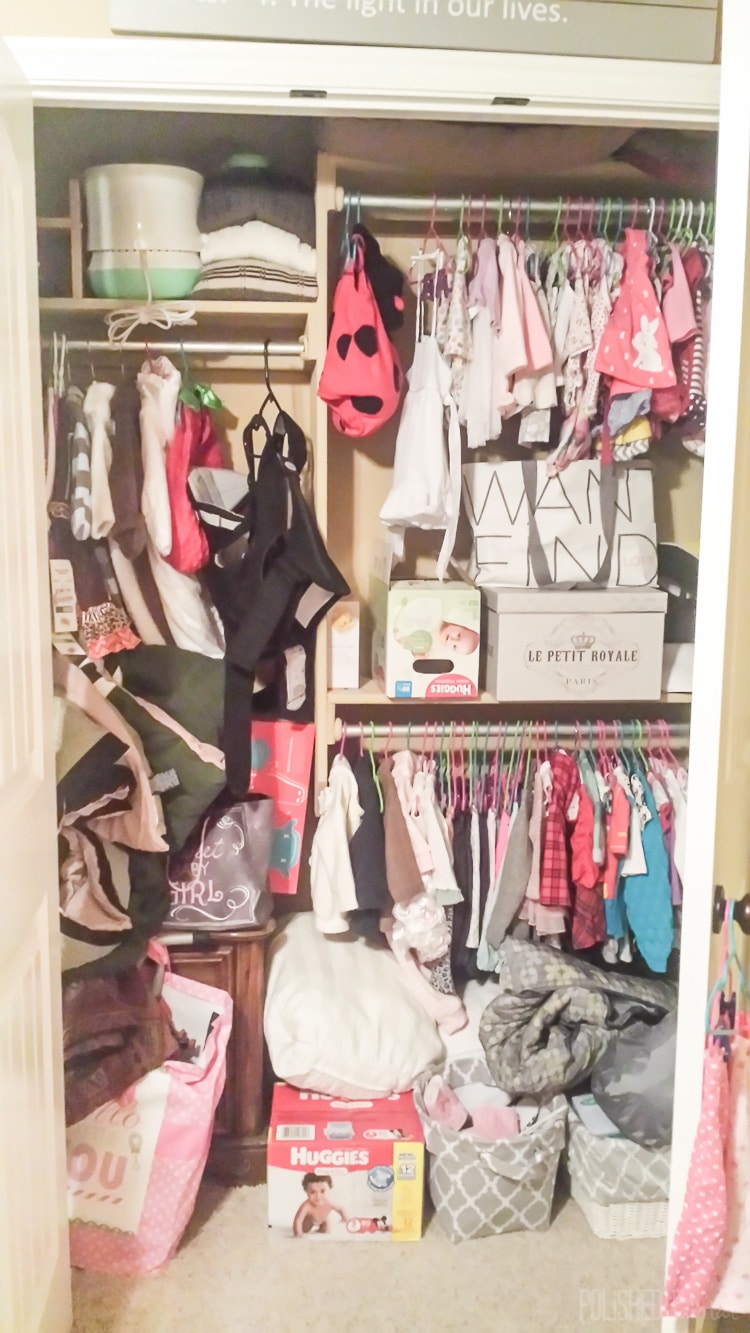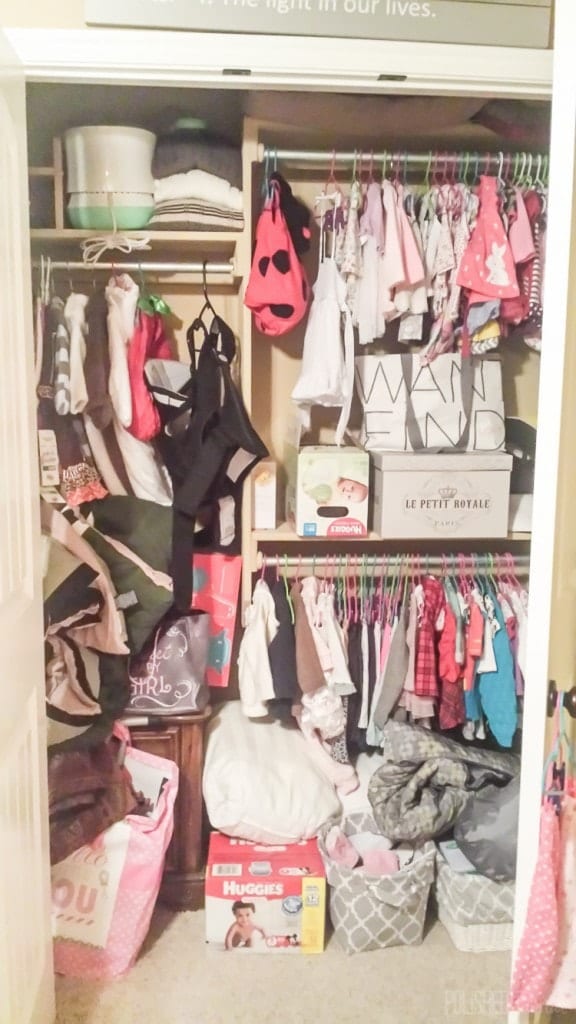 The bones of the closet were actually really good. It's not a huge space, but certainly not tiny. The hanging space extends both directions and the space is 27 inches deep.
We began by removing everything that didn't have a purpose for staying in Baby M's space. Since this was a guest room previously, some items lingered in the closet after baby was born. All those items were divided up to be relocated, donated, or sold.
With the stuff that DIDN'T belong in the closet out of the way, we could talk about what Mom needed to be IN the closet that wouldn't fit before.
Extra wipes & diapers
Shoes
Socks
Books
Toys
Space Heater and/or Fan (Seasonal)
Storage for Sentimental Items
Donation Basket
In addition to adding function, Mom wanted the space to be prettier. The room decor is yellow and grey, but I had free reign to switch things up in the closet.
The final step before I could start the serious planning was measuring the space.  I recommend doing this for any space you are working on in your own home. Carry the measurements with you for all shopping trips. It will save you so much time to know the little details, like the depth of each shelf.
To help with the space planning, I used software to mock up the closet. (I know people will ask, so here is the Amazon link to what I use. Be warned, it does have a big learning curve.)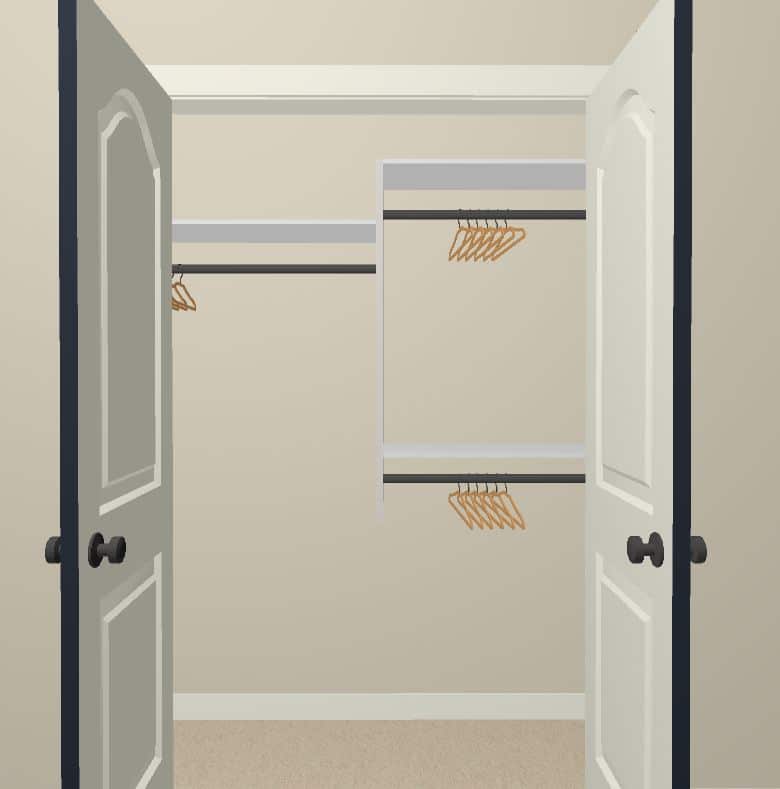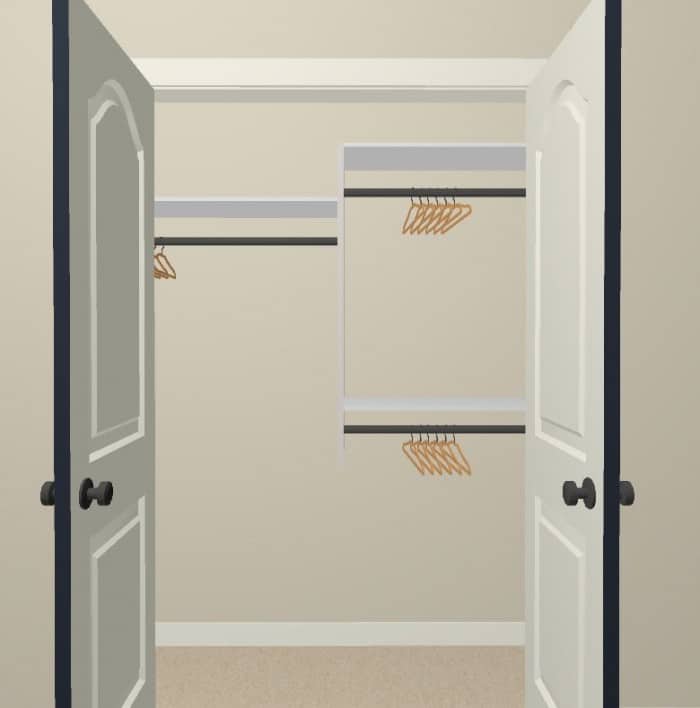 Ahh, doesn't it look better already?
In addition to the list of items we wanted to fit into the closet, another priority was keeping everything flexible as baby turns into a bigger kiddo. With that in mind, I researched lots of freestanding storage options and landed on the IKEA TROFAST combo below.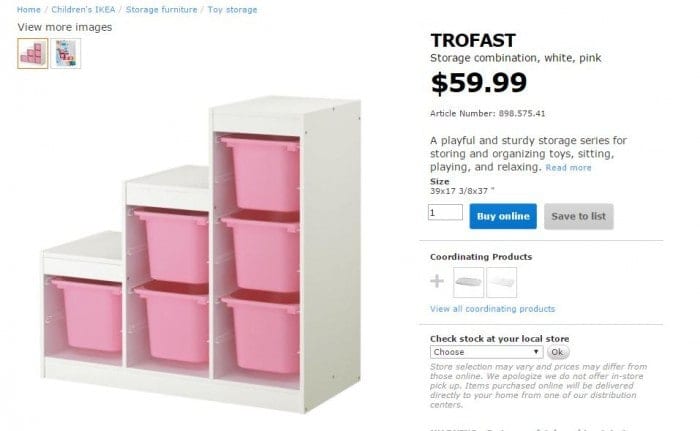 It's perfect to hold everything from the toys to extra diapers. And those bins are just begging me to add pretty labels that will help KEEP everything organized. It was a huge plus that the plastic bins can be pulled all the way out to bring a group of toys out for playtime.
It didn't hurt that the pink was a perfect complement to the gray in the room and the existing gray baskets we wanted to reuse.  On a scouting trip to Target, I made another discovery that finalized the "pretty" part of the plan. They have some killer mint green plastic storage baskets and lidded boxes (affiliate links) in a variety of sizes right now.  The mint is great because it doesn't feel like a "baby" color so will transition really easily.
Here's the plan I put together to incorporate everything on the "want" list.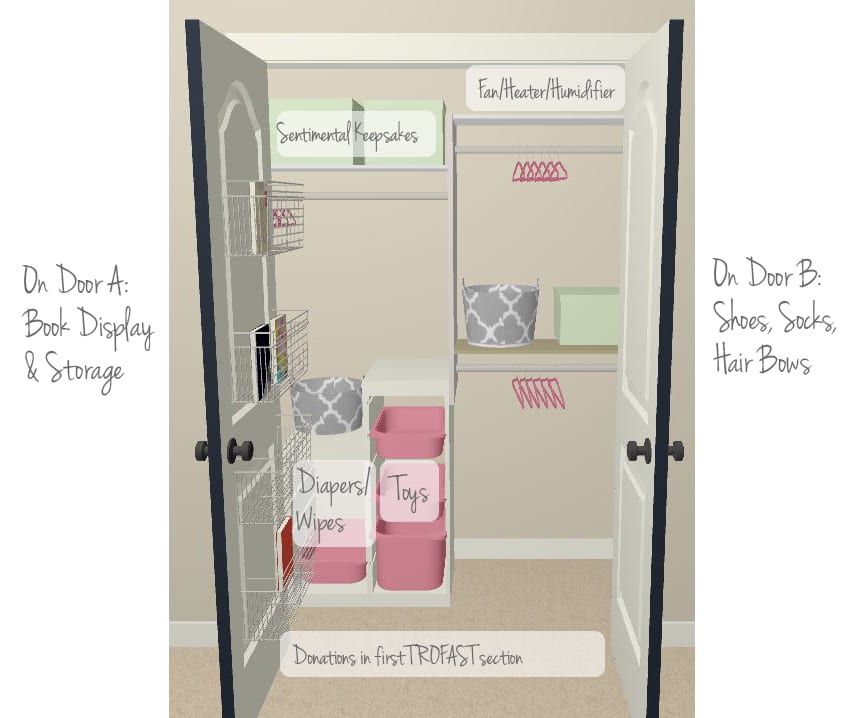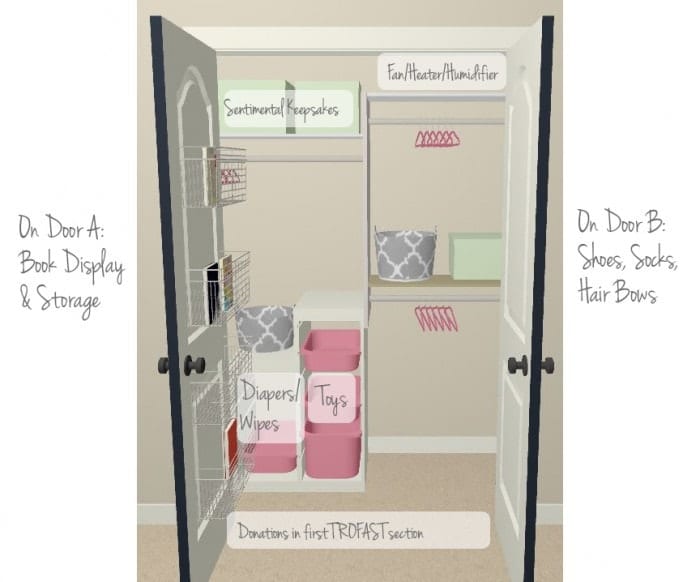 My favorite parts of the plan involve the closet doors. My exact plans weren't really conducive to mock up, but I CAN NOT WAIT to show you guys how the doors turned out next week. We finished that part of the installation and it worked out even better than I expected. One door was transformed into a library, and the other has a ridiculous amount of easy to access storage for socks, shoes, and hair bows.
The TROFAST unit was delivered this week, so I'm finishing up all the organizing and will have a full reveal ready for you next week. I am so happy to be a part of making every day easier for this sweet family. I'm hoping you guys will be able to use a lot of the ideas in your homes as well.