As much as I love a HUGE organizational makeover, sometimes all we need is a little tweak to make day to day life a bit easier.
And making life EASIER is what organizing is all about. Next time you've got ten minutes, try implementing one of these quick organizing ideas for your home.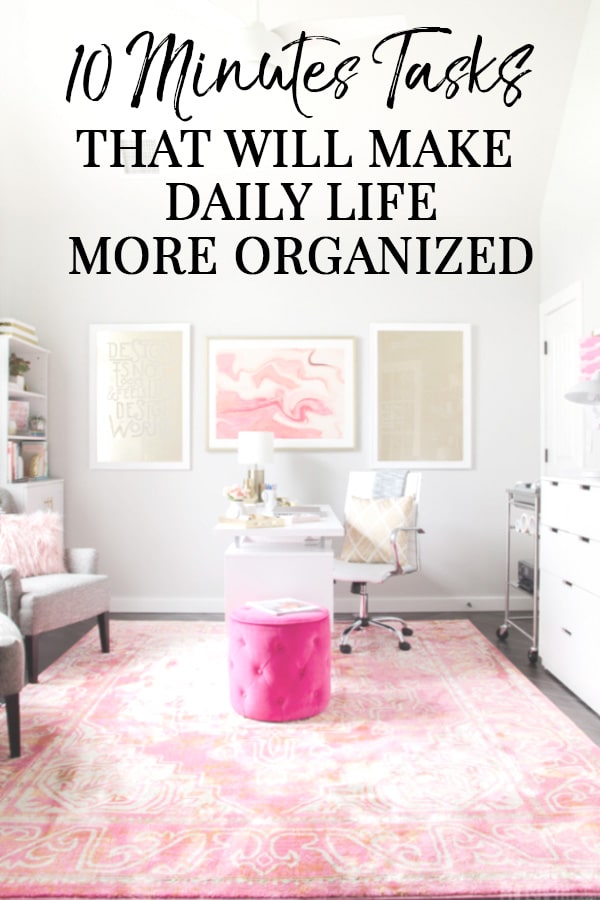 Schedule It
Repeating reminders on your phone or computer can be game changers!
Take your 10 minutes to add the following events so you never forget them again. I use Google Calendar, but iCal works too!
Birthdays – Add all your family/important friend birthdays and set them up to repeat annually. If you wanted to go really nuts, you could even add a 2nd reminder a week ahead of time to allow for shopping and/or shipping time.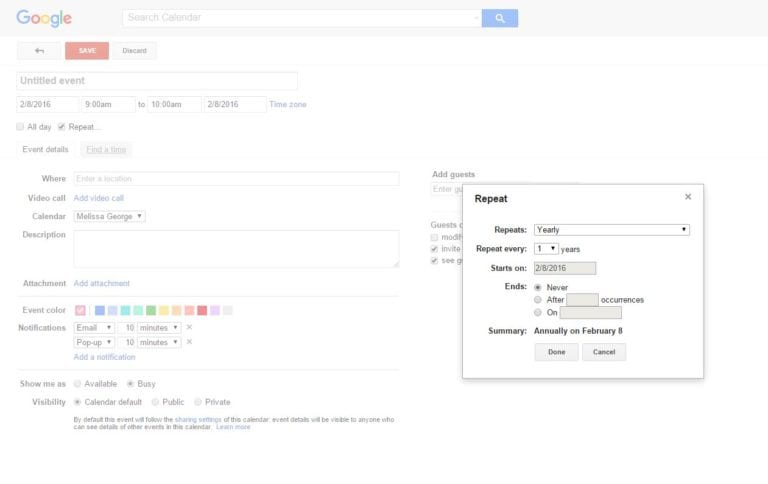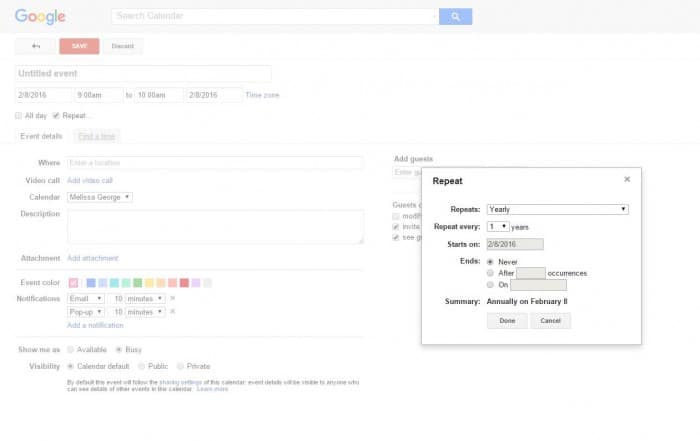 Home Maintenance – Ever forget to change your home's air filters? Set up a repeating reminder!
You can even add your filter sizes to the notes section so you can pull it up at the store! *My Husband gets full credit for this idea and implementation.
Gather It
Travel Toiletries – Do you have little product samples floating around all your bathroom drawers/cabinets?
Do a quick pass through everything and gather all the sample/trial sized items into one spot. A cheap photo box works well. Next time you pack, you'll save time and stress.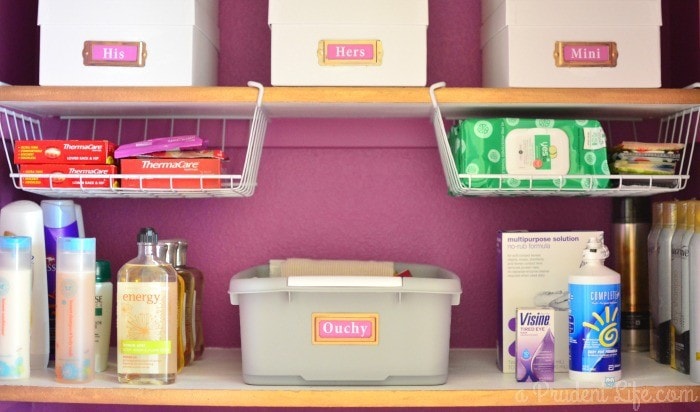 (BONUS TIP: Adding Under Shelf Baskets is another quick change that will rock your world!)
Nail Care – For some reason, we could never keep track of nail files or clippers. Years of frustration were fixed in minutes when I added a basket just for nail care under the bathroom sink.
I divided the stackable basket into three sections using old IKEA containers. Clippers now hang on the top and no longer go MIA because everyone knows exactly where they go when we are done with them.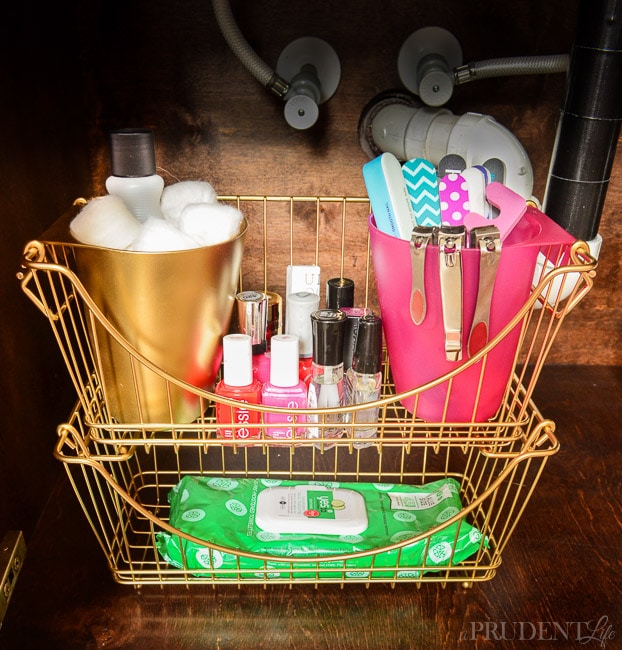 Photo boxes are also great for nail supplies.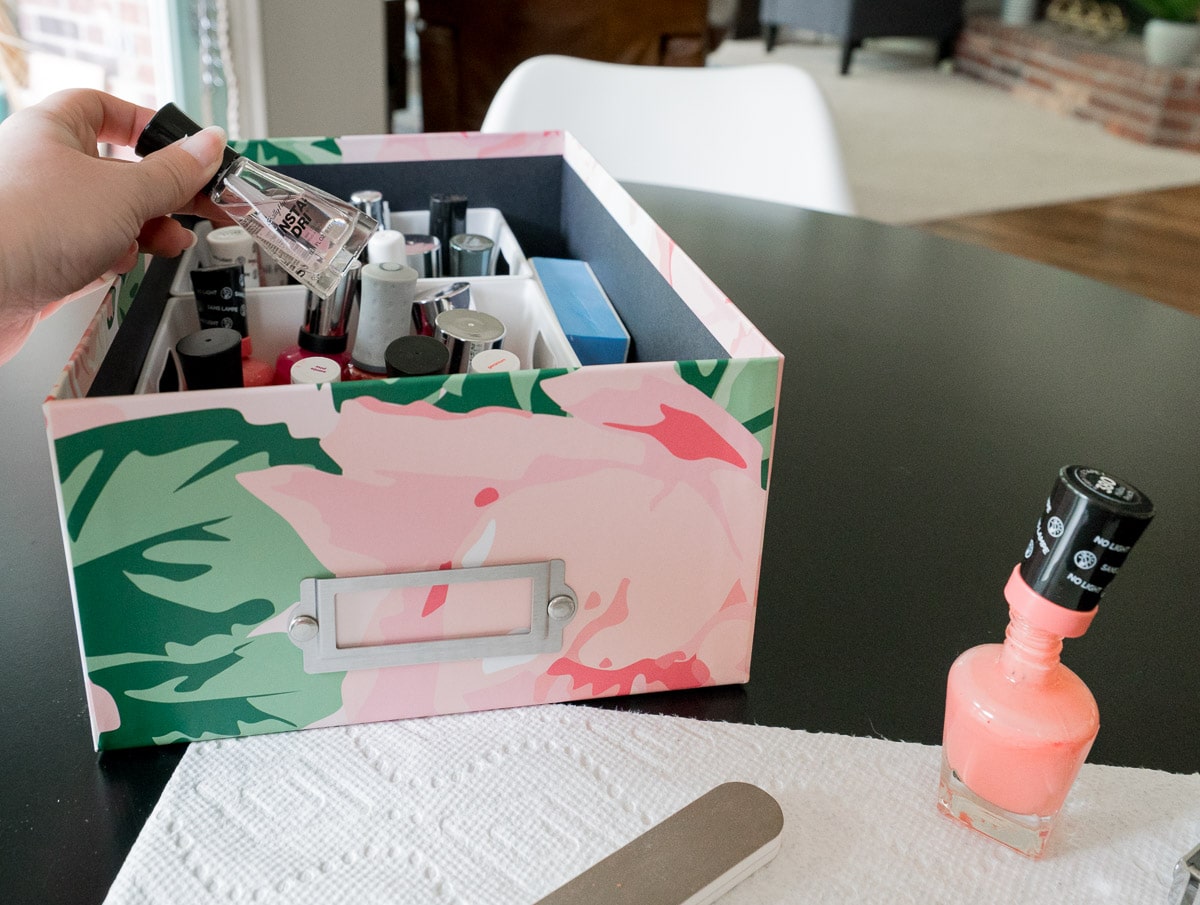 Purge It
Donation/Sale Box – Have you ever tried something on, decided you didn't love it, and then hung it right back up in the closet?
I think most of us have a tendency to want to purge all in one swoop. Instead, take 2 minutes to designate a spot in the house to hold things you no longer need. You'll fill it up over time and will be ready next time a pickup service calls to ask if you have any donations to put out.
10 Minute Attack -Think about the room, closet, or cabinet that is making you crazy.
Maybe it's the kitchen cabinet that things literally fall out of when you open the door. Set a timer for 10 minutes and purge. Grab anything that doesn't belong or that you haven't used in a year and fill up that donation box.
You aren't going for perfection, you are going for improvement, and you won't believe what I difference 10 minutes of concentrated effort can make.
Pack It
Pool/Beach Bag -I started this when we had a gym membership that included a pool. Year round, we have a bag hanging in the coat closet that is ready to grab for swimming.
It holds things like sunscreen, lotion, bug spray, beach towels, goggles, and even a couple magazines. The towels get washed and put right back in the bag. It's so much better than running around trying to gather things up at the last minute. I love that the bag is colorful, but still see-thru to make finding things easier. Here's a similar option on Amazon.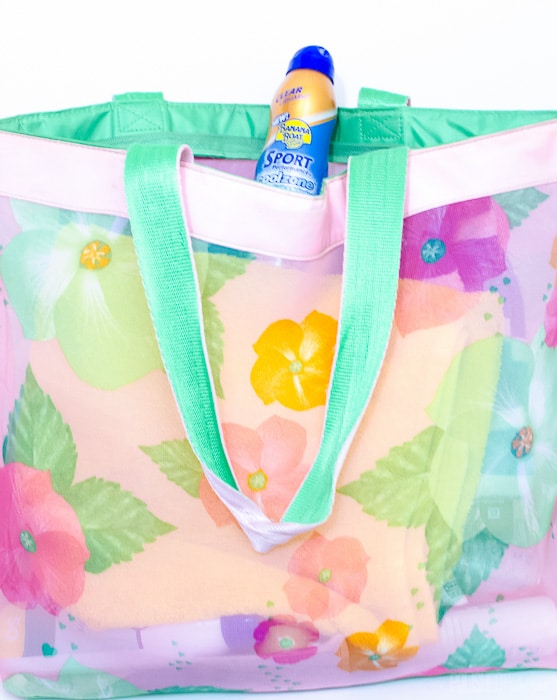 Sport Fan Bag – The other bag that's always ready is a nylon/washable drawstring backpack I take to football and basketball games instead of my purse. Because it never fails that someone behind us will spill a sticky drink and it will flow toward my purse like a moth toward the light.
In the bag, I keep things like chapstick, hand-warmers, gloves, and some Advil. I also have band-aids, which is funny since we're not the ones getting knocked around the field, but preparedness is a good thing, right?  On game day, I just throw my wallet and phone and we're ready to go.
Divide & Conquer
Pencil Cup – If you've ever found yourself searching the house for a Sharpie or highlighter, you'll love this. Instead of having one big pencil cup on your desk, switch to a divided rotating option.
You can use one section for pens, one for pencils, one for highlighters and sharpies, and the fourth for scissors and frequently used Post-It notes. It's a tiny change, but really does make day-to-day office tasks less stressful because it's easy to grab exactly what you need without digging.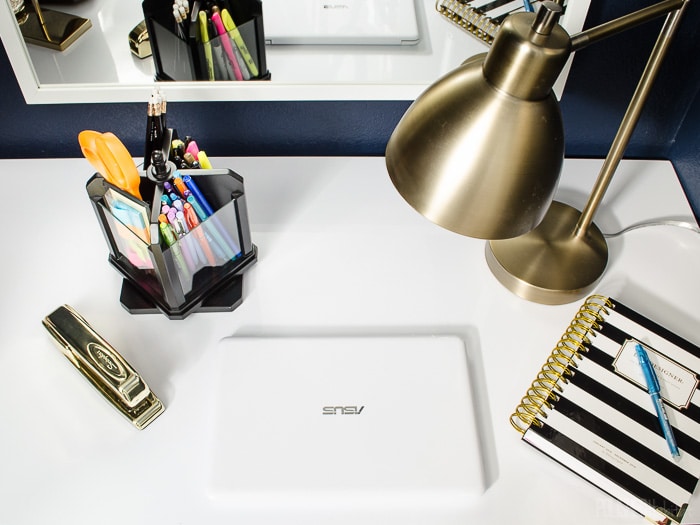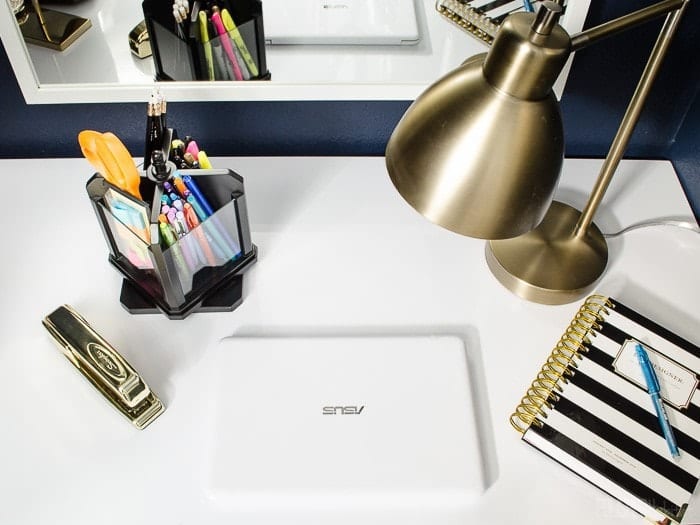 I couldn't find my exact option online, but I found a few others in a fun variety of styles like black metal, and chic acrylic.
Cookie Cutters – I used to have a giant mess of cookie cutters covering all the major holidays and more. I had tried to at least separate them into gallon sized Ziploc bags, but it was still an ordeal when I needed to find the right ones. Not to mention they were taking up valuable space in a cabinet when I really use them 2-3 times a year.
In 10 minutes, I solved years of frustration by dividing the cookie cutters into inexpensive labeled photo boxes for each holiday, plus one for sprinkles! Now they can be stacked on a top shelf out of the way AND it's easier to find what I need. Win-win!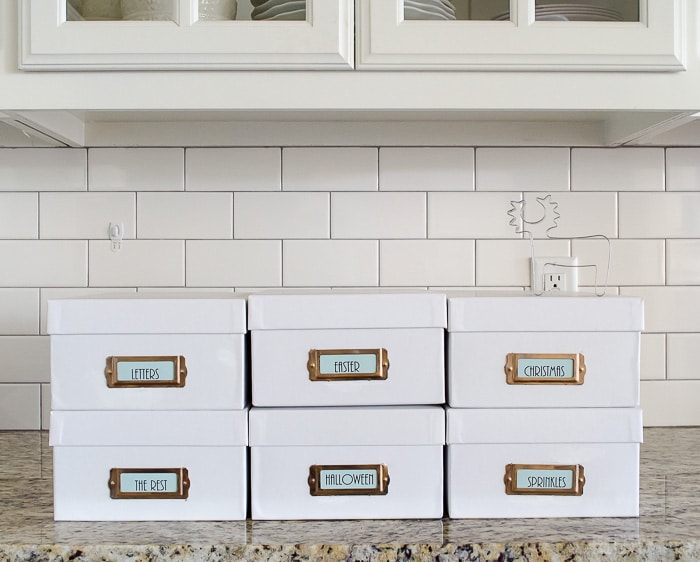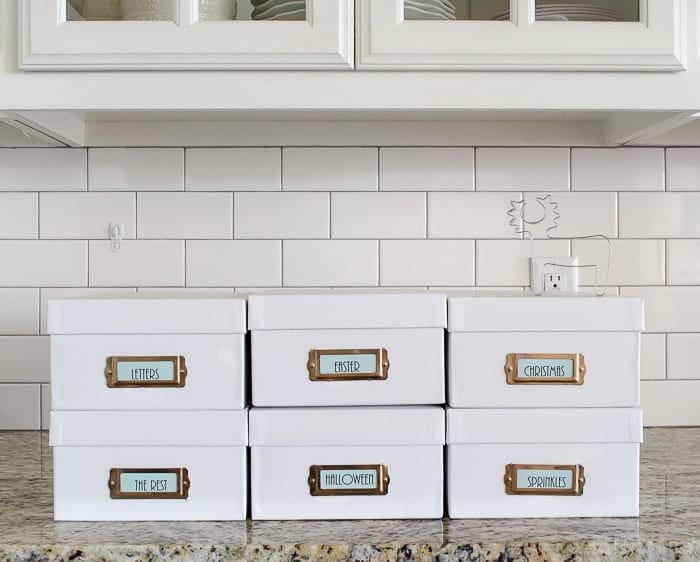 I hope you found some 10 minutes ideas from our life that will work perfectly in yours.
But more than that, I hope that reading the list of little changes we made inspires you to identify a few things in your own home and routine that you can tweak.
Sometimes we're guilty of assuming that getting organized is a major time commitment and process, but small chances really can make a big difference!
For more quick organizing ideas, head to see 11 Ways to Organize with Photo Boxes next!