One of the organizing myths I've talked about in the past is that it's too expensive to buy pretty organizing containers. No doubt that CAN be true, but some of my favorite organizing boxes are often on sale for $2 each!
Have you ever seen the photo boxes at Michael's? Other stores carry them as well, but I've never seen them for the same affordable prices.
They're often on sale for either 4, 5, or 6 boxes for $10…meaning the price ranges from $1.66 to $2.50/box depending on the offer. I think the normal price is $4.99, so if possible, wait for them to drop to at least $2.50.  PS: This is NOT sponsored, just where I've found the best deal. I'm not even adding a link to Amazon because they are $7-$10 for the same thing. 
Here's a video with the highlights & I've included more details on each plus additional ideas below!
Here are 11 different ways that you can use these cheap storage boxes to get your home organized!
Organizing Small Card or Dice Games
We have an abundance of playing cards, card games, and small dice games like Farkle. They are constantly falling off the shelf when we try to grab the bigger games. Not anymore – now they're tucked inside one box!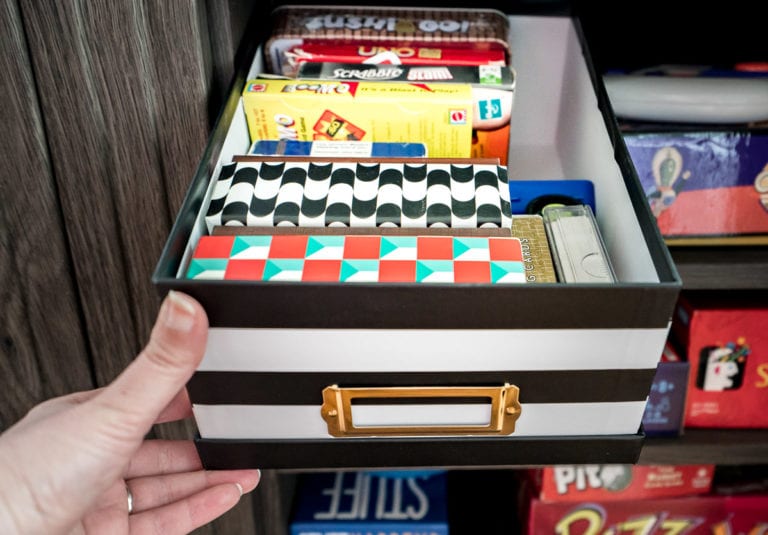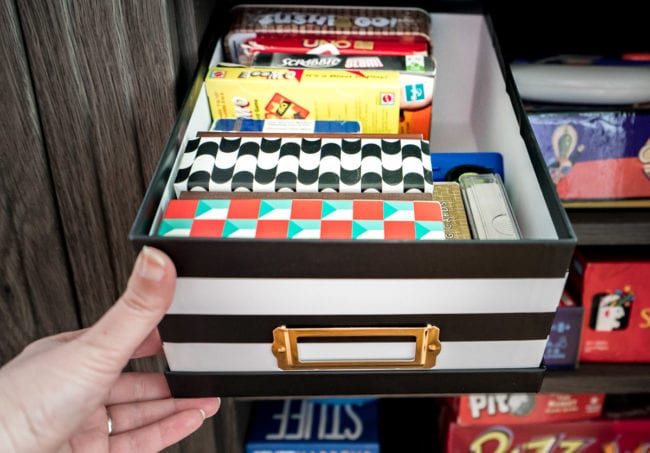 Storage for Thank You / Note Cards + Stamps
I love pretty note cards…and probably have enough to last a few years. But what can I say, I thrive when I have some options! A couple years ago, I finally went through all the office drawers and closet to gather all the notecards into one place and it's been great.
To make it even easier, I keep stamps and return address labels in the same box.  Now I don't have any excuses not to send a quick note to a friend!
Organizing Legos / Small Toys
These boxes would be perfect in a kid's room to store Lego bricks! I get a bit excited thinking about all the options – you could sort them by block size, by color, by set with the instruction books, etc.
The same thing could be done with any small toys, from Hot Wheels to Barbies & their clothes/accessories. For smaller kids, you can use photos of what goes in each box on the outside to help them clean up without you.
For us, the solution is perfect for the Play-Doh sets we have downstairs for our niece and nephews. From the outside, you'd never know there were colorful toys hidden inside!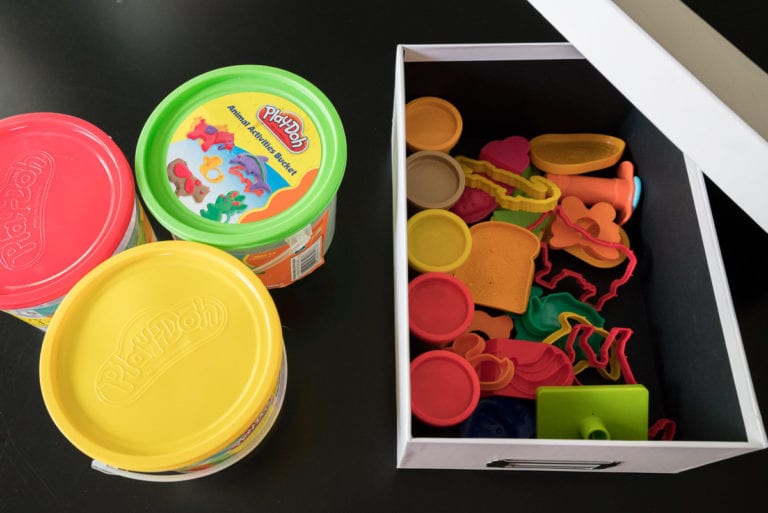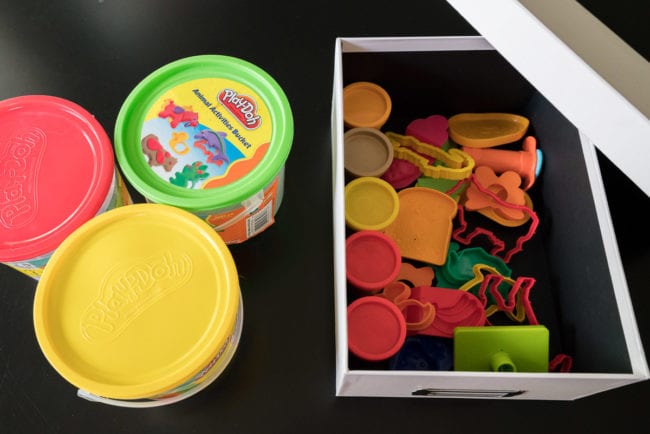 Tea Light & Votive Candle Storage
We recently updated our hallway storage closet organization and created a spot just for the Play-Doh box you saw above, along with boxes for votives and tea lights.  It's so nice having the small candles sorted by size and easy to find.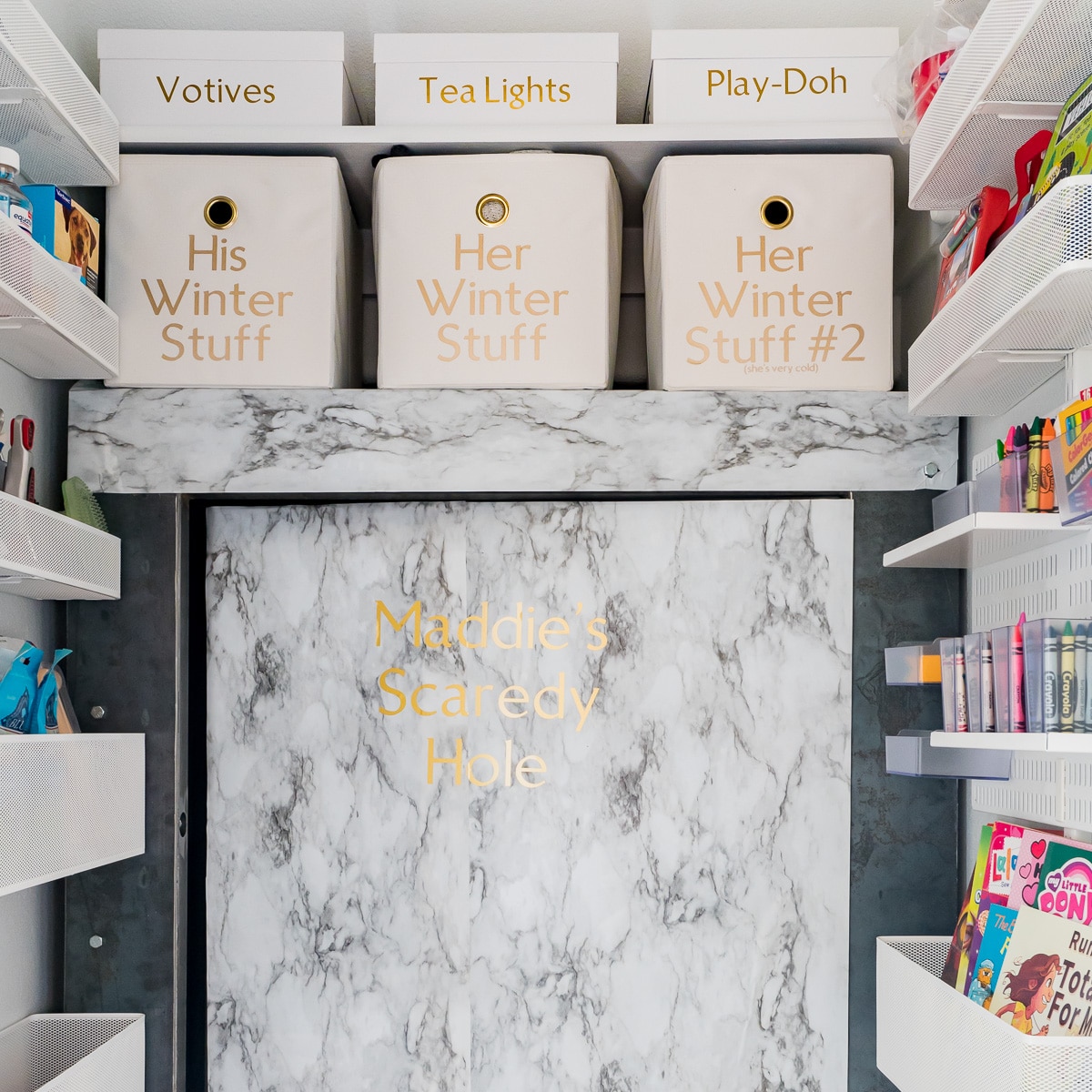 PS: I also have a separate post with more tips on how to store candles.
How to Organize Photos
I almost didn't include this one because it's the obvious intended use. But I also know I lot of people that have large boxes of printed photos, which can be overwhelming to tackle.
To make it easier, I wanted to give you ideas for a few different ways to separate the giant stash into these manageable smaller boxes.
First, designate one box (or two at the most) for your absolute favorites. Some people would say to only keep these, but I'm a sucker for old photos! Then, depending on your needs, create boxes for other categories. Some easy options are to separate by year, decade, or by event type (IE: Vacations, Birthday Parties, Christmas, Everyday Life).
Even though I'm giving you the a-ok to keep more than just one box of your favorites, I'm also giving you permission to throw some photos away. If there are 10 shots that are almost exactly identical, you really don't need every one.
Cookie Cutter & Baking Supply Storage
In the old days, I attempted to organize my cookie cutters by theme into gallon-sized Ziplock bags, and then those bags were shoved into a big reusable grocery bag. It took up a HUGE section of prime cabinet space and was just generally awkward.
Now, I've got photo boxes designated for each major cookie holiday and for sprinkles and supplies.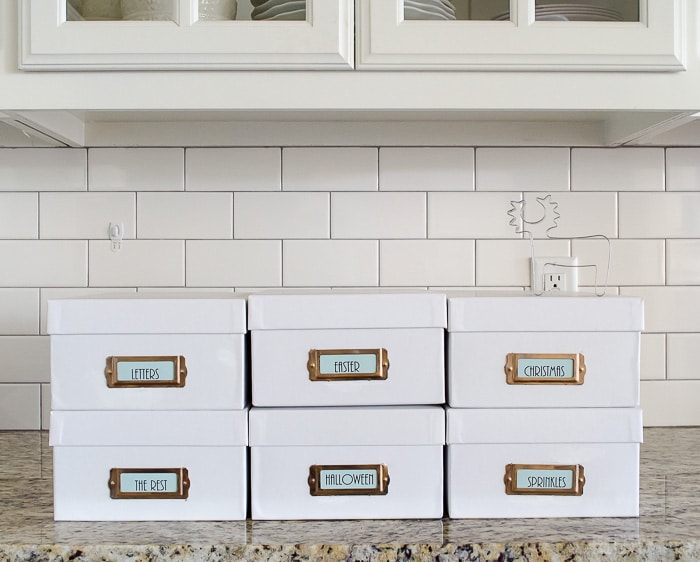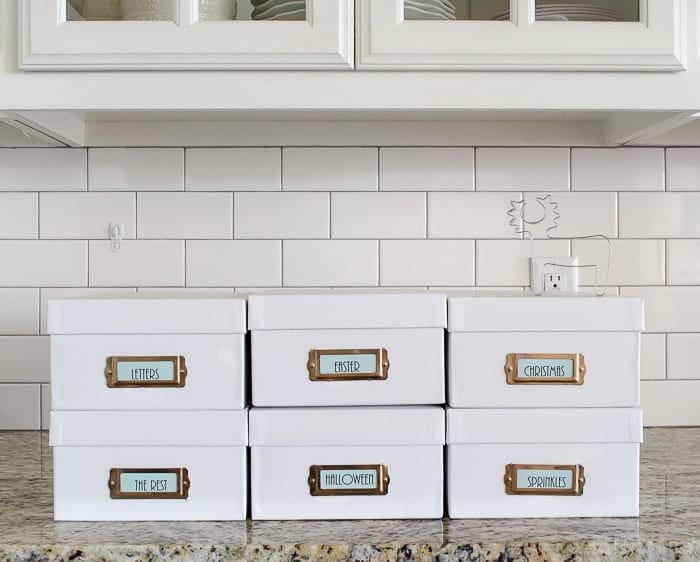 The boxes not only make it easier to find what I'm looking for, they are rectangle and stackable so can be stored anywhere.
I have ours on the highest shelf in the pantry since I only use them a few times a year. If kitchen space is at a premium, you could tuck them in any closet or even under the bed.
Crayons, Markers, & Colored Pencils
Why oh why did it take me so long to create a box for each of these? They've been spread out throughout the house for way too long. You can either keep the items in their original packaging or dump all the like items together into a box to make them easier to access.
The boxes also work great for art supplies like glitter and craft paint!
Glues & Adhesives
Ever spent 10 minutes trying to figure out where you put the tiny tube of super-glue? Or just basic Elmer's glue? Or that Velcro you know you bought last year?
Gather up all the different indoor adhesives into one photo box and you'll save SO much time!
Light Bulb Storage
We have a few different styles of light bulbs required for different fixtures, and grouping them together makes the closet look way less cluttered. And we don't have to worry about knocking individual packages of bulbs off the shelf.
Letter Board Letter Organization
Do you have a letter board / message board with changeable letters? I love changing mine out for the seasons and have several sets of letters. Dividing the sizes into different boxes would be an inexpesive way to keep them organized!
Extra Beauty / Toiletry Products
Ever buy the giant multi-pack of toothpaste, deodorant, or razors at Costco? Or stock up during a great sale? Photo boxes are perfect in the bathroom to corral all those loose items into cheap, stackable storage! We have boxes for teeth, his, and hers in our bathroom closet.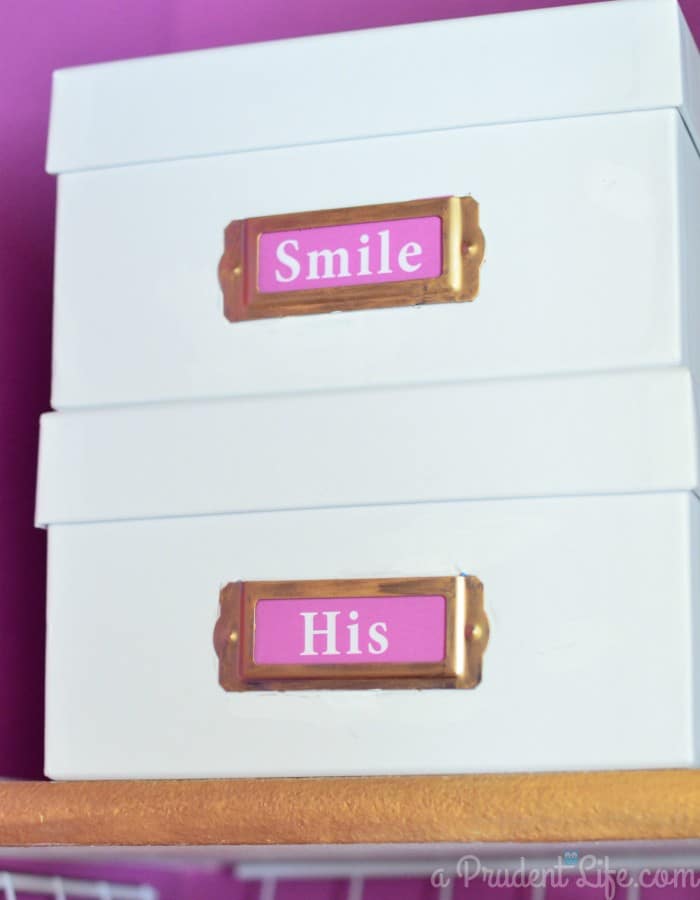 Manicure Supplies
I don't know about you, but I tend to do my nails somewhere other than the actual bathroom. It took years of adulting, but I finally figured out it was easier to store all the nail care supplies in one bin I could carry around. Clippers, files, nail polish, remover wipes, etc can all be stored in one photo box!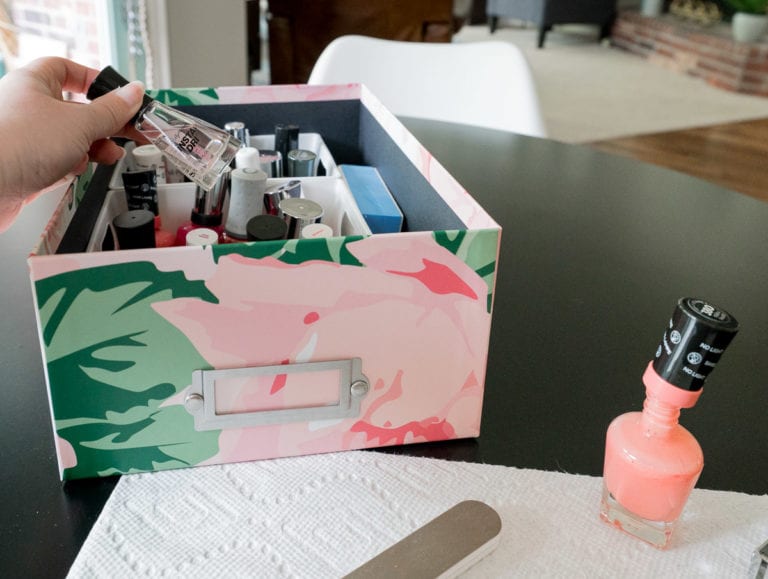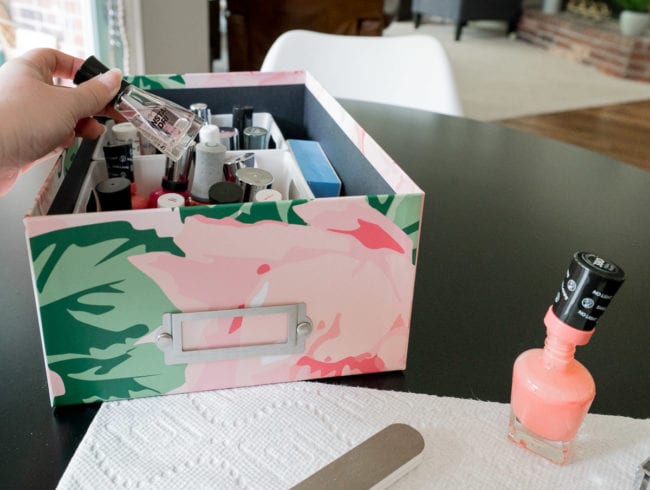 It might be worth adding a couple of smaller containers within your photo box to keep things more organized. Sub-dividing larger boxes is one of my favorite organizing tricks!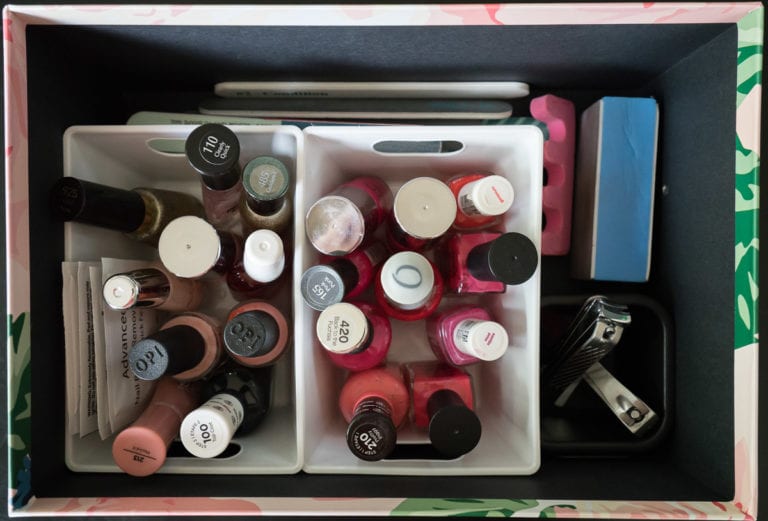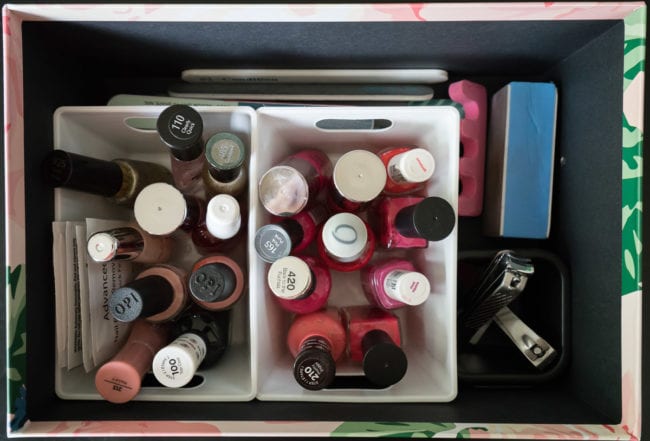 Simple Medicine Organization
Who has a cluttered medicine cabinet or shelf? As with most things, it's easier to KEEP medicine organized when there is a clear system in place that everyone can understand.
Every household has different needs, but consider boxes for First Aid, Vitamins, Pain Killers, Stomach Issues, Prescriptions, Allergies, and/or Children's medicine.
Is your mind turning with all the ways you can get organized with this one simple box? Those are 11 of my favorites, but the possibilities are pretty endless!
When the 6 for $10 price rolls around, I always stock up because I know I'll find new ways to use them.  Fair warning – the patterns available change continuously, so if there is one you really love, don't count on it being available again during the next sale.
Next up, see the 11 ways to organize Christmas stuff in photo boxes!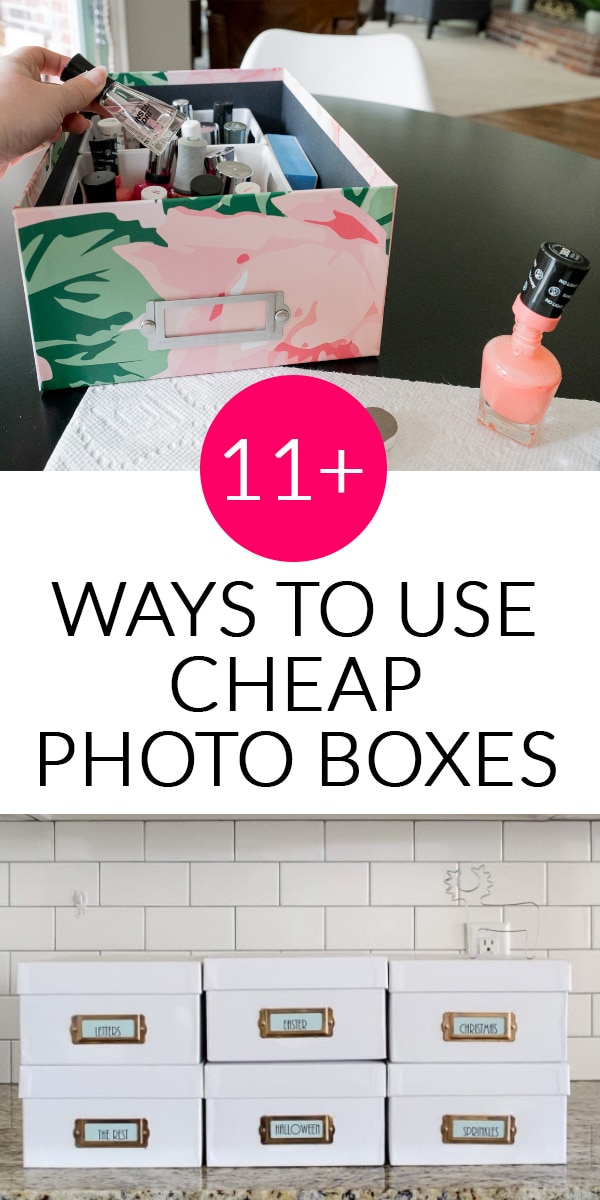 What other ideas do you have that I didn't mention? Add them in the comments below!