Until last week, we had a space in the house that was downright frightening.
It looked like a dungeon hiding behind messy wasted space. You probably think I'm exaggerating, but check this out…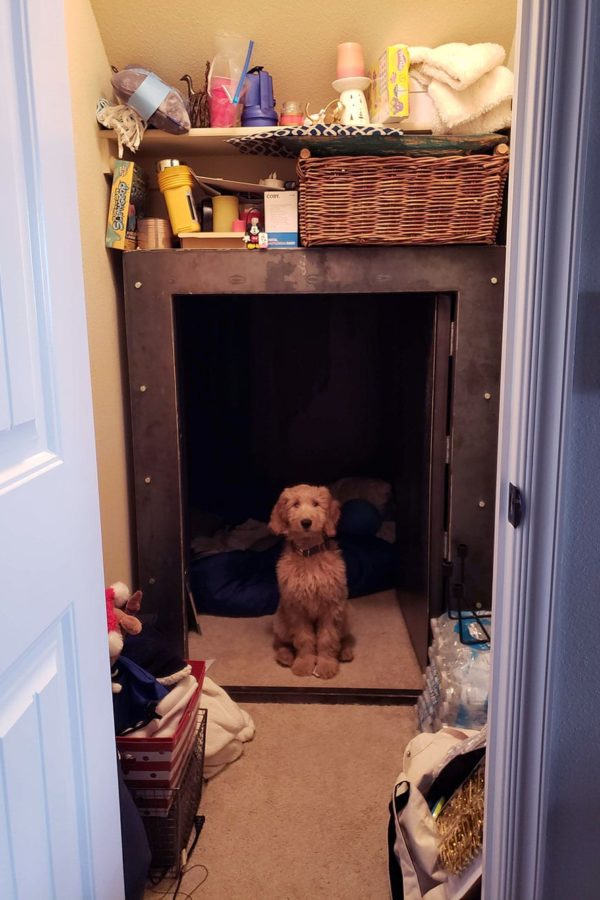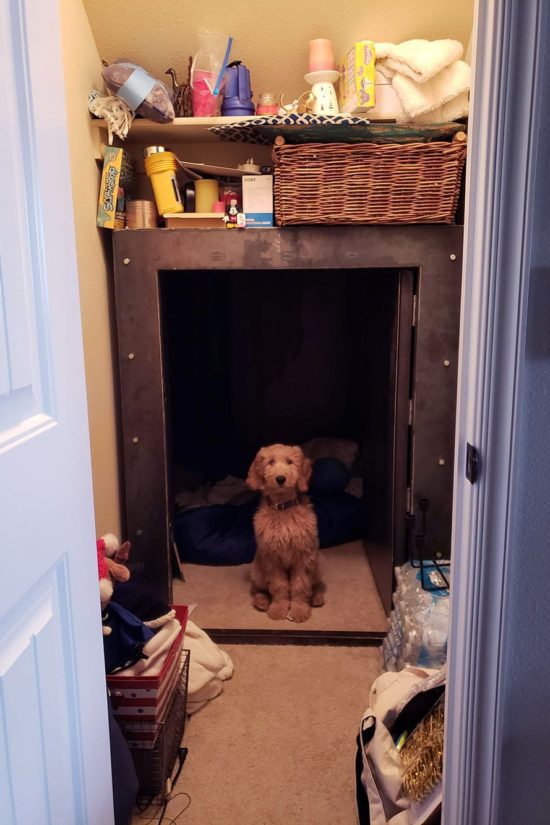 The scary metal box is there to keep us safe – it's the tornado shelter. But the space in front of it had no designated purpose. And areas without a set function turn into a mess quickly when I'm involved.
I know this exact closet configuration is pretty unique to our home, but I still wanted to show you what can happen when you stop ignoring the potential of small spaces.
DIY Small Closet Storage Ideas
Step one for us was maximizing the existing shelving. That meant taking measurements and finding containers that met our needs without wasting any space.
Since we turned the old coat closet into a cleaning closet, we've been storing coats on a coat rack, but didn't have an organized spot for winter gloves and hats. In the before picture above, they were buried in the wicker basket.
You may remember that I labeled fabric bins for winter stuff a few weeks ago.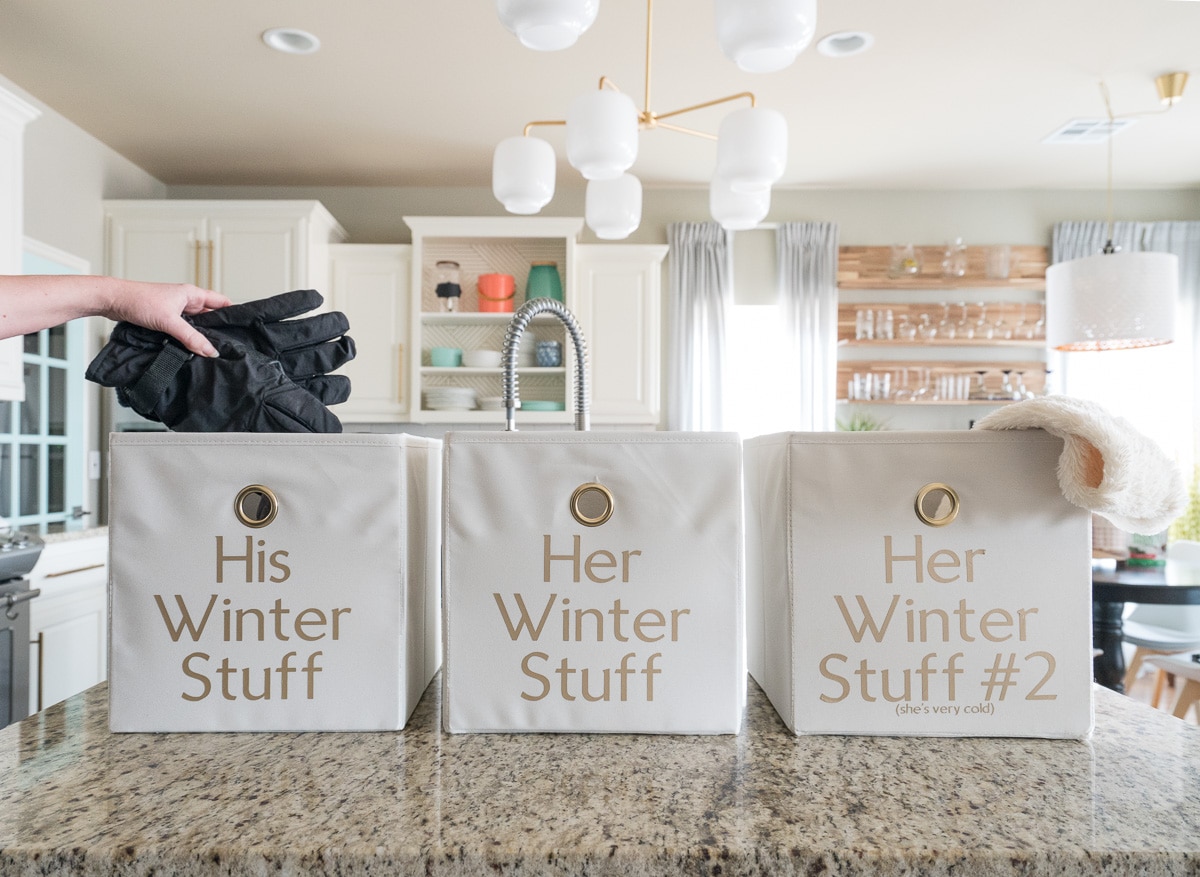 The fabric bins are perfect on the lower area of the shelf!
The top shelf of the closet runs into a slanted ceiling, so possibilities are limited. Luckily, my favorite cheap organizing bin – photo boxes – worked just right if I turned them sideways.
The photo boxes took care of some of the miscellaneous things previously piled on top of each other in this closet – candles and Play-Doh for my nephew.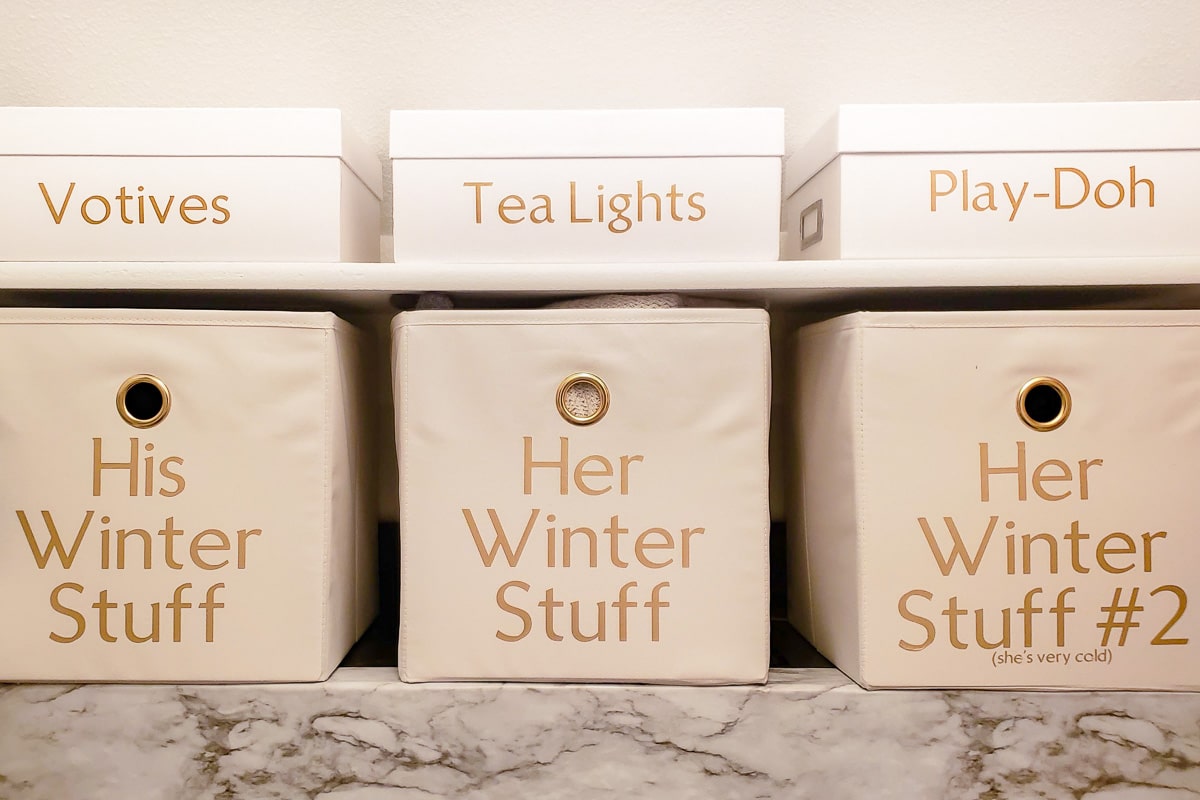 The existing shelves were the most obvious place we could improve the storage situation, but they were only the tip of the potential!
Bonus Tip: Painting a small closet white will make it feel larger AND brighter. We used Sherwin-Williams Pure White.
The real magic in this closet makeover happened on the small side walls. We couldn't add regular shelves because each side is only 7 inches deep as you can see below.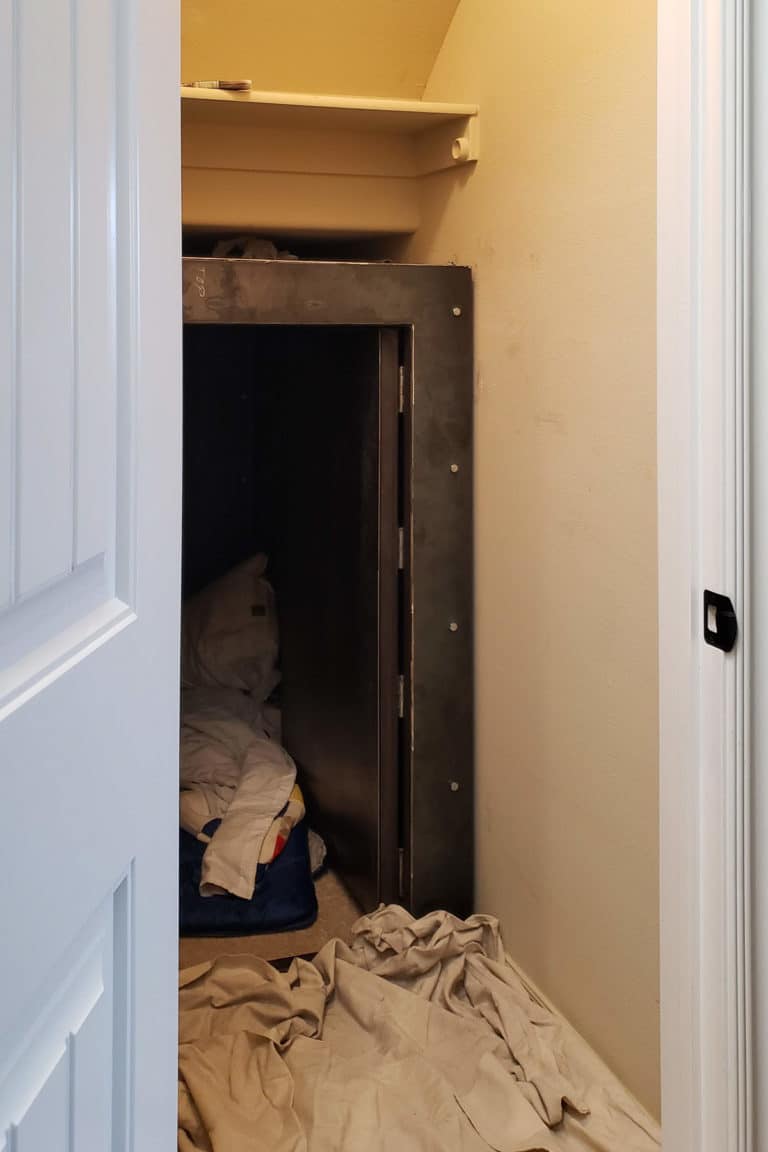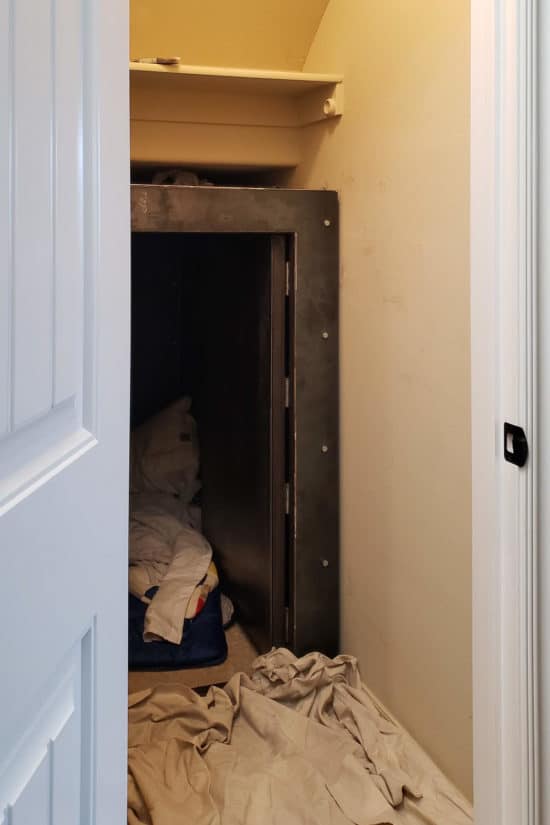 Vertical storage is key in small spaces, and this is no exception.
During the last Container Store Elfa Sale, I decided it was finally time to invest in the ideal solution to our storage problems.  I love going frugal when it makes sense, but sometimes it makes sense to buy a specific item for tricky spaces. Today's post is NOT sponsored, we bought everything and it was worth it!  
The Elfa system includes rails they call "standards" and then a variety of interchangeable bins, hooks, and containers to meet your specific needs. I love that as needs change, all the pieces can be moved around.
Installation is VERY simple. You can mount the rails on a door using these mounting hooks, drill the screws right into a stud, or use their mounting anchors if there isn't a stud available.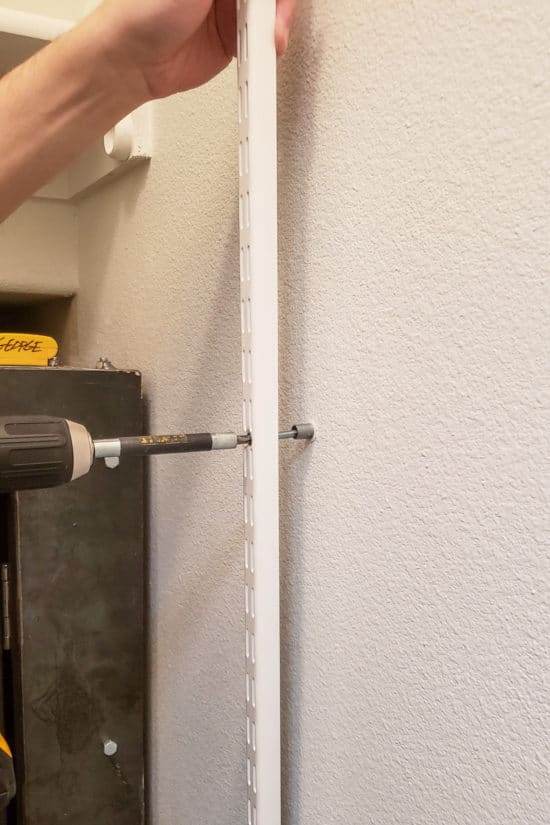 A few minutes after we started, the first wall was transformed!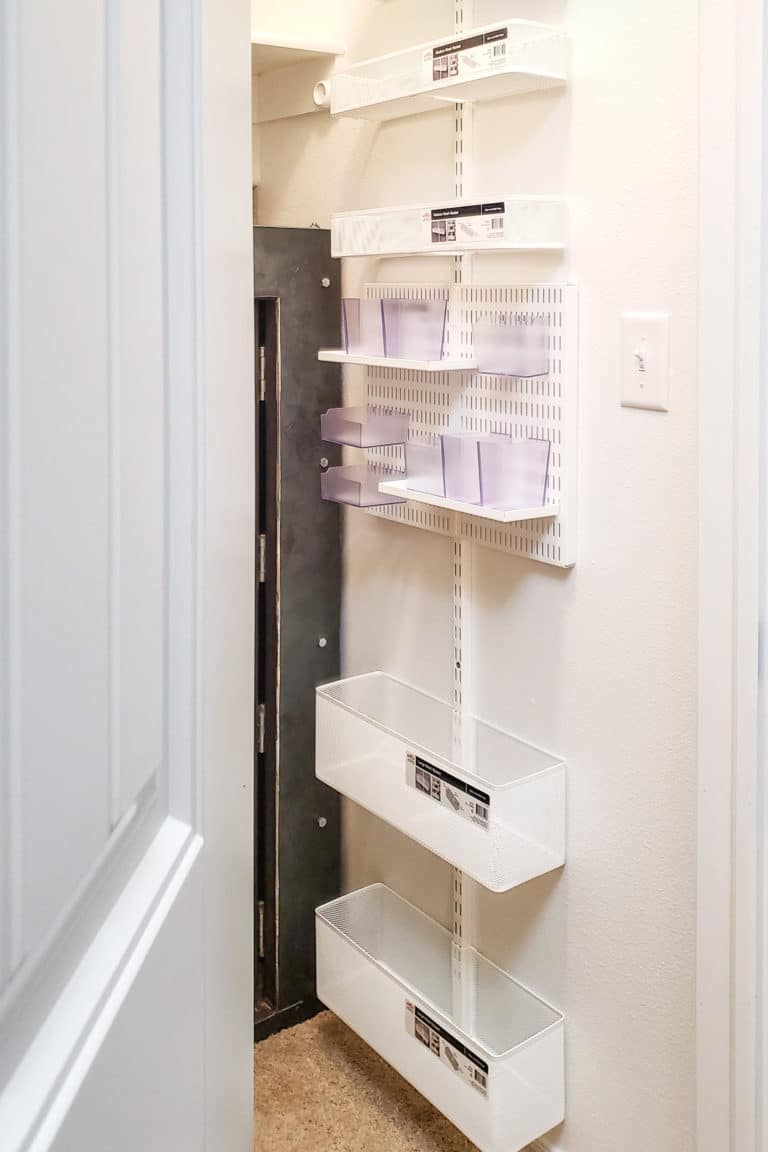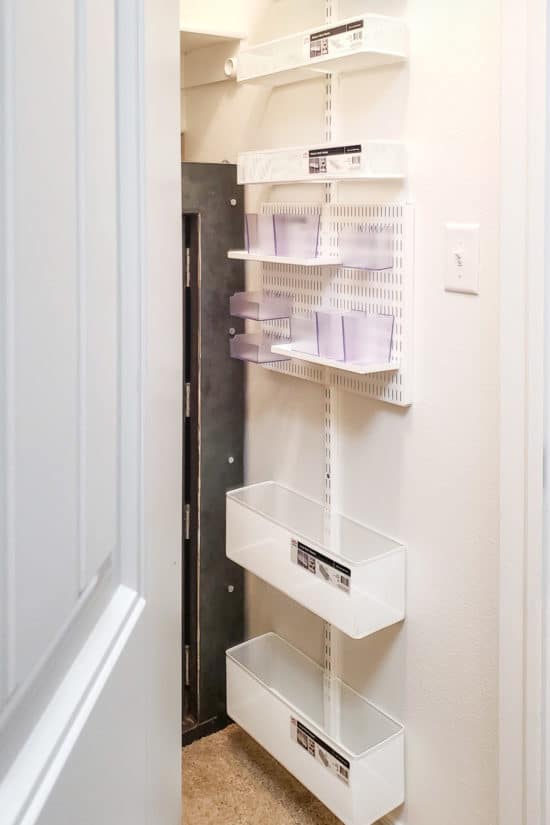 Now it holds all the goodies we keep around for our nieces and nephews!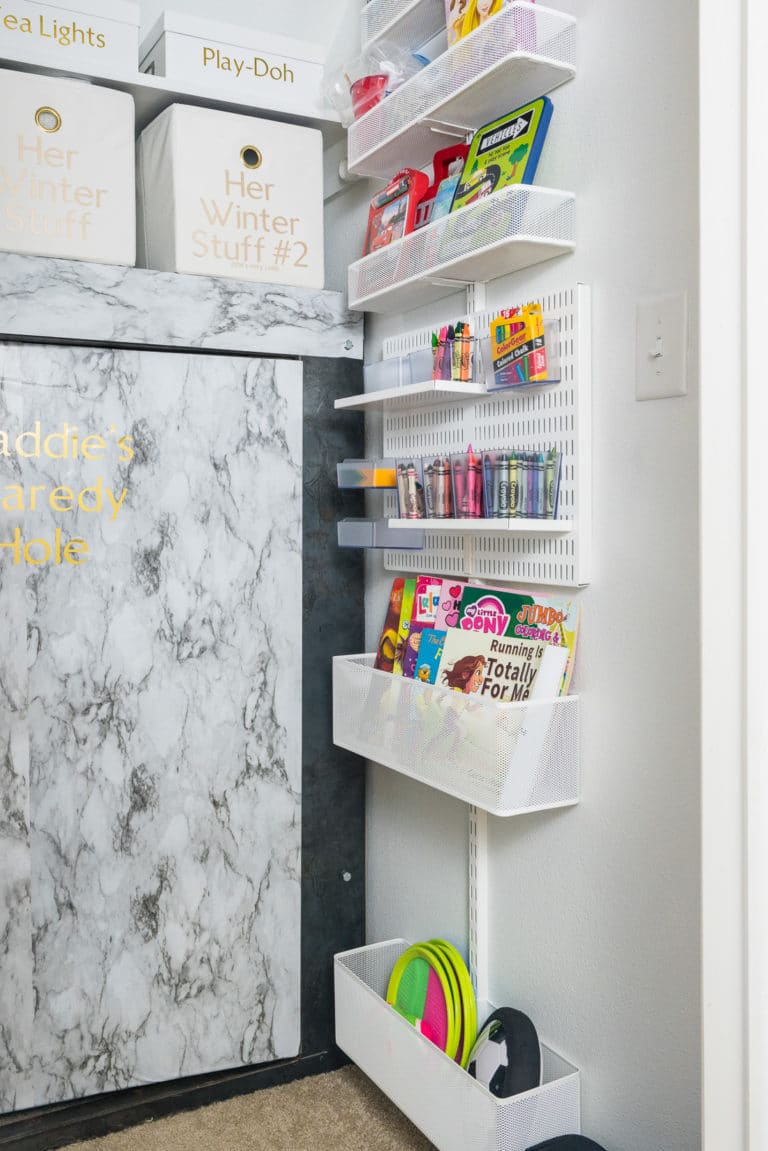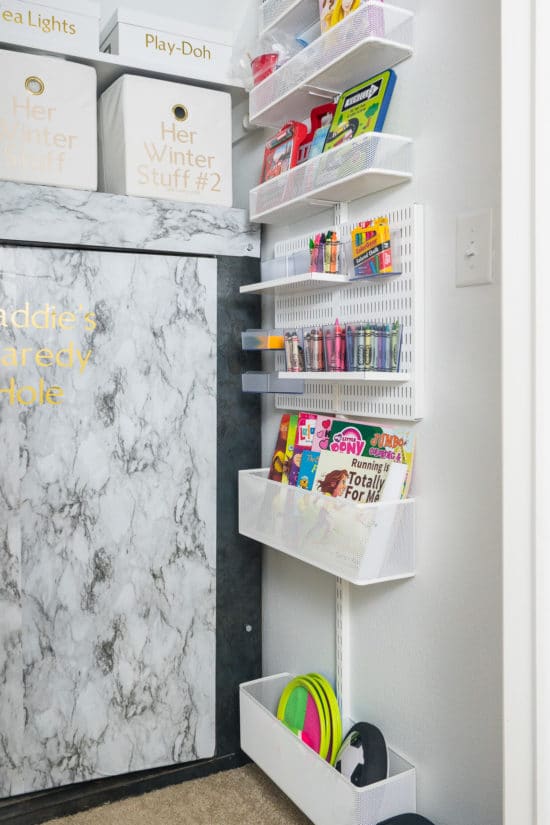 My favorite part of the whole closet might be the organized crayons.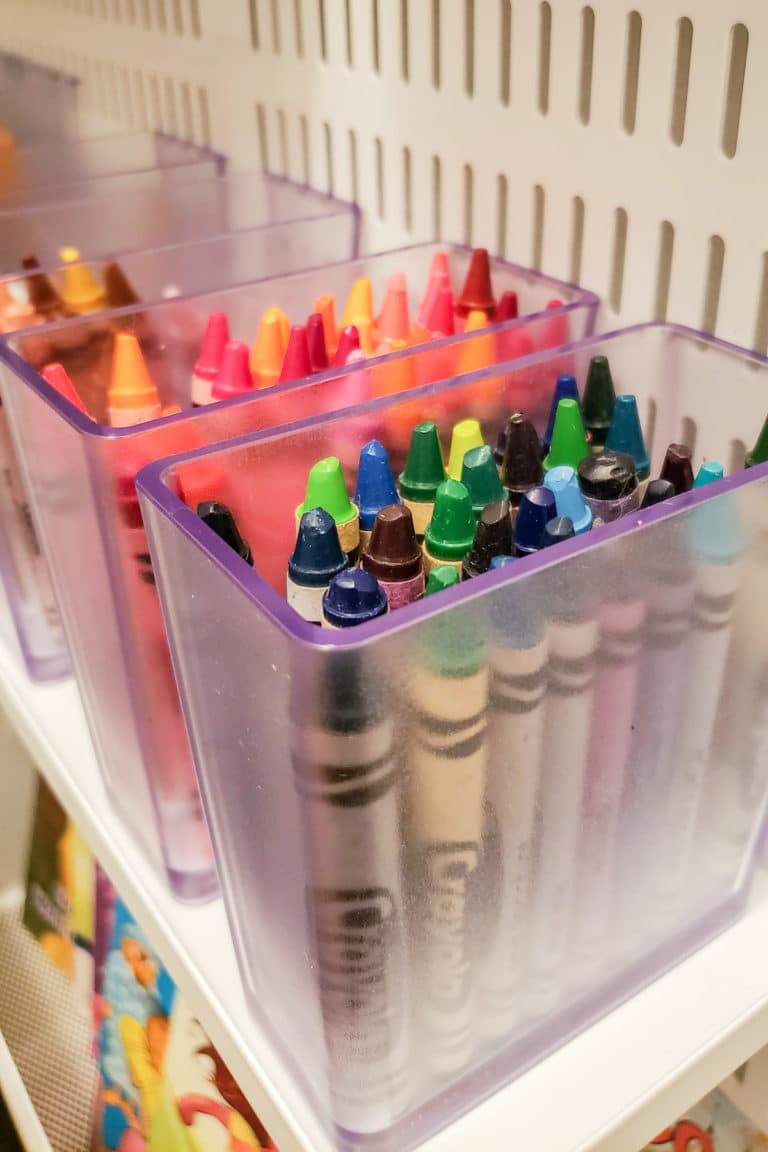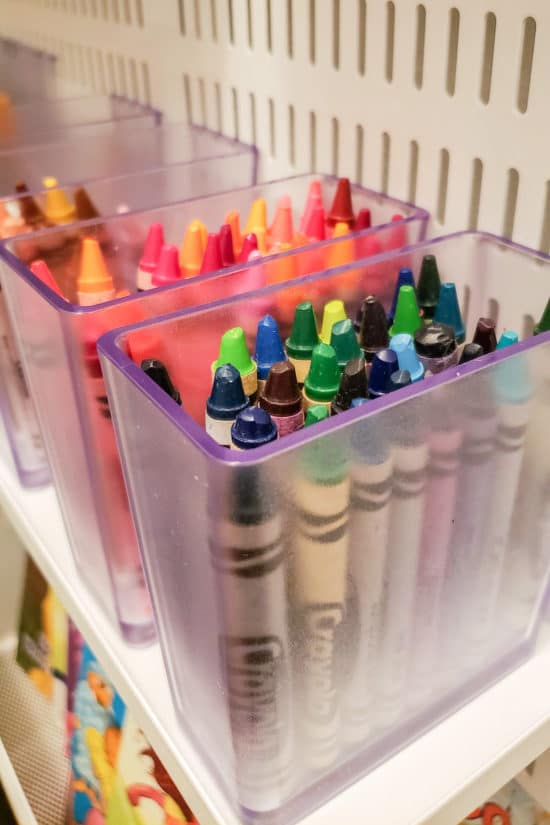 I even have a couple of extra bins available on the utility board to add more art supplies!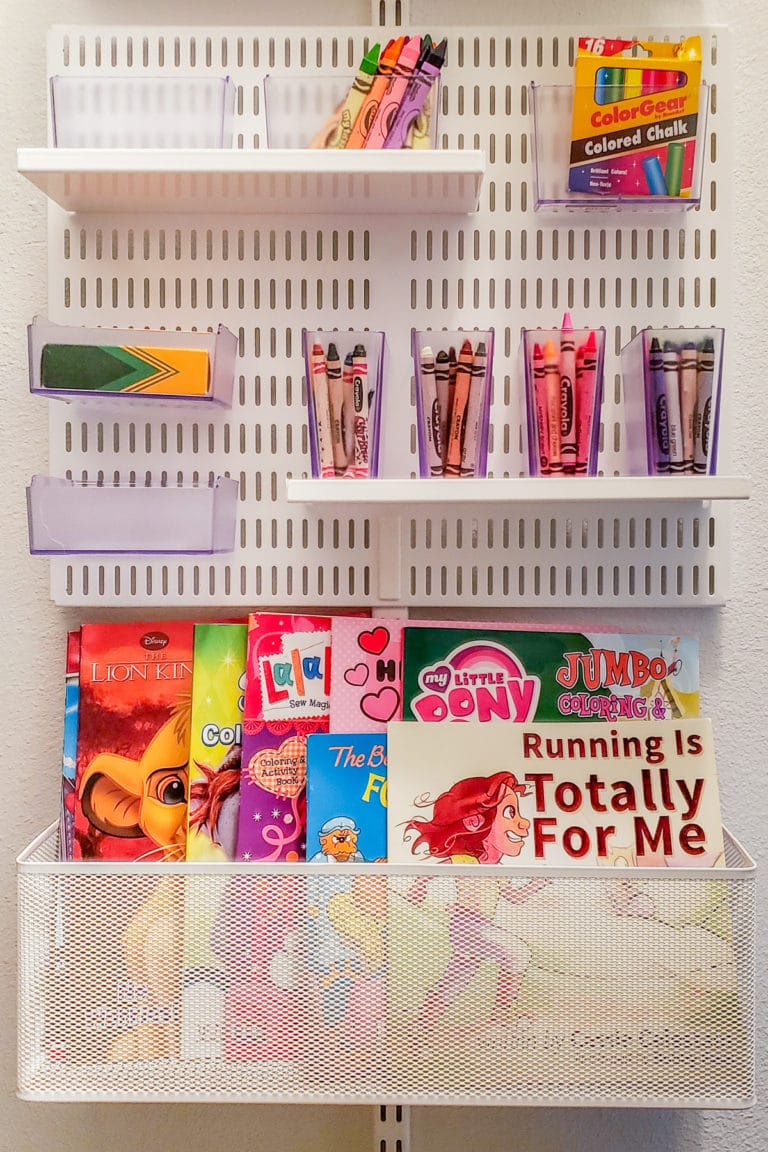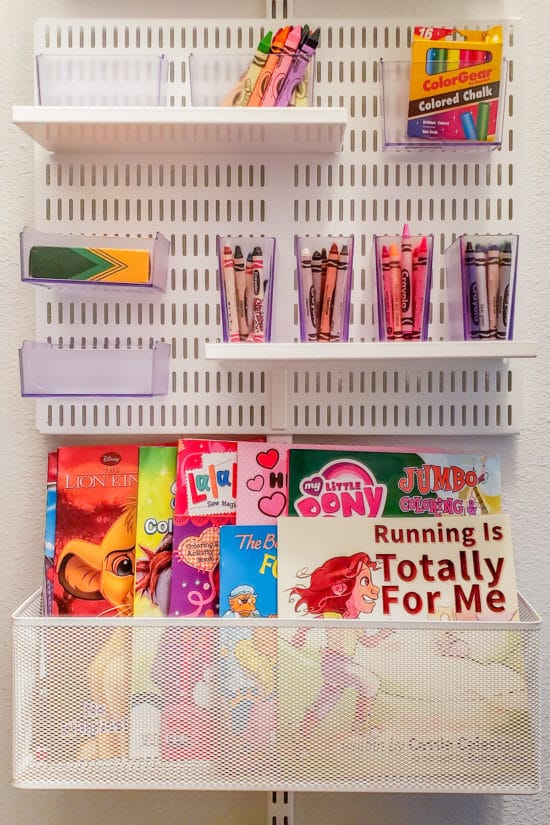 Across from the new kiddo center, I had another sad, blank wall.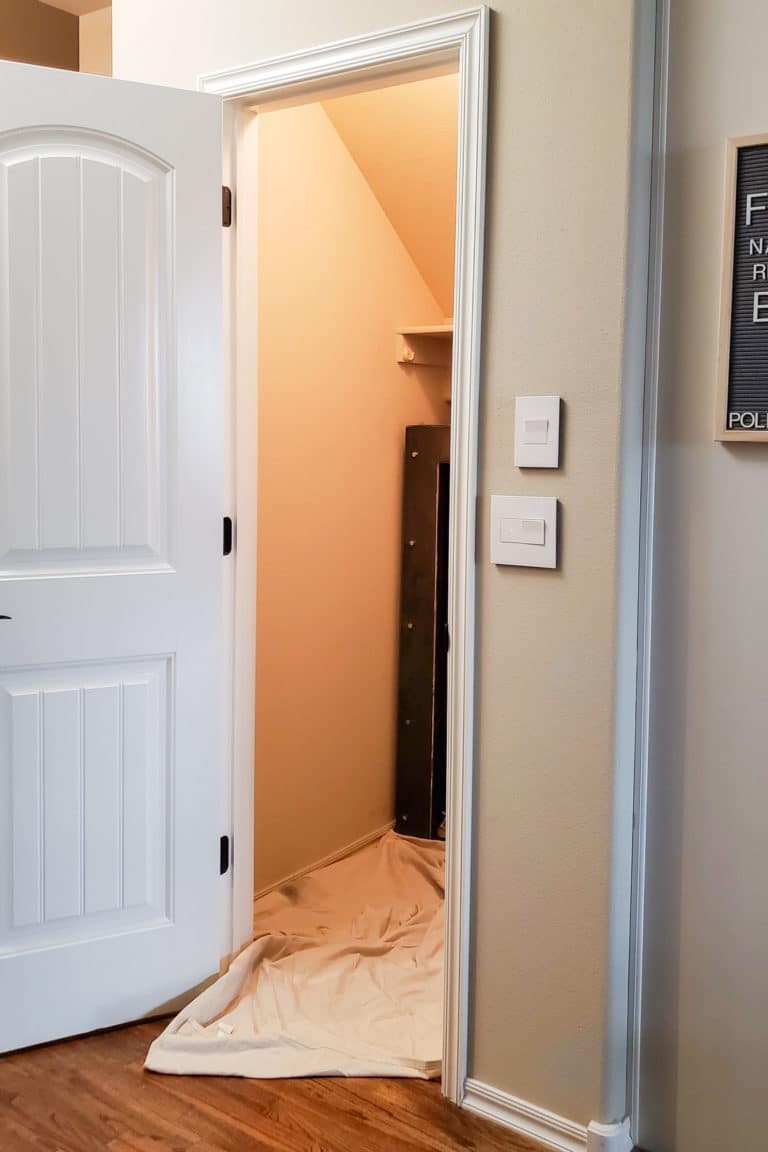 Because there wasn't a light switch to contend with on the left side, I REALLY maximized every inch and added TWO Elfa rails side by side.
They come in different heights, so I measured and went with the longest possible option for each unit, accounting for the sloped ceiling.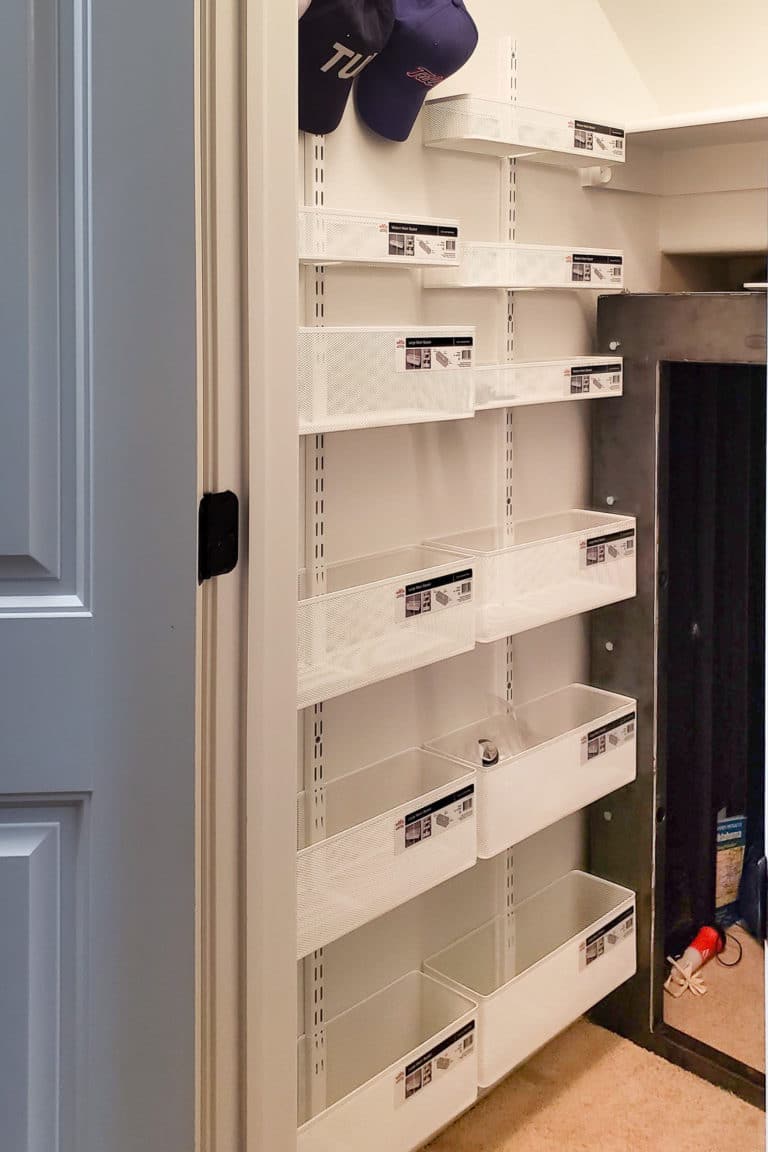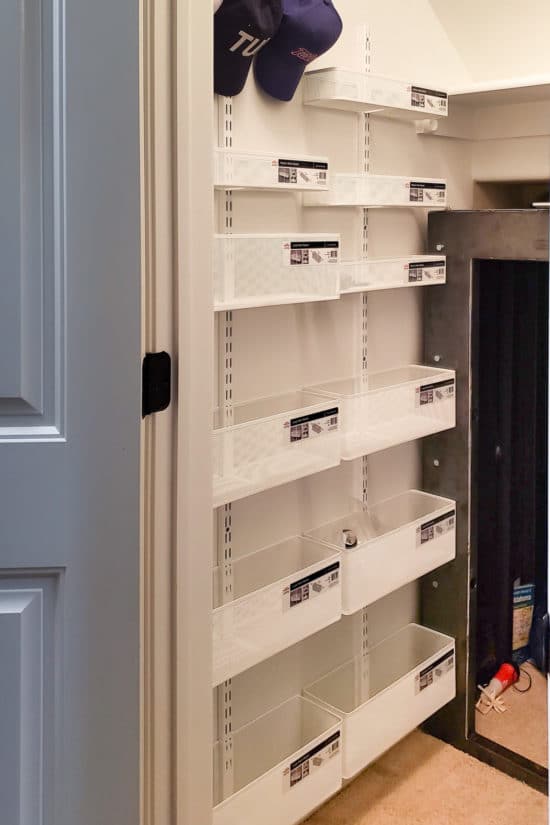 For this side, the left rail is specializing in all the things we may need to grab on the way out the door to different activities.
Ponchos, umbrellas, grocery bags, and smaller tote bags all have an easily accessible, dedicated home now.
The only thing on this side that doesn't fit the "on the go" theme is one bin of flashlights that we can grab in a power outage.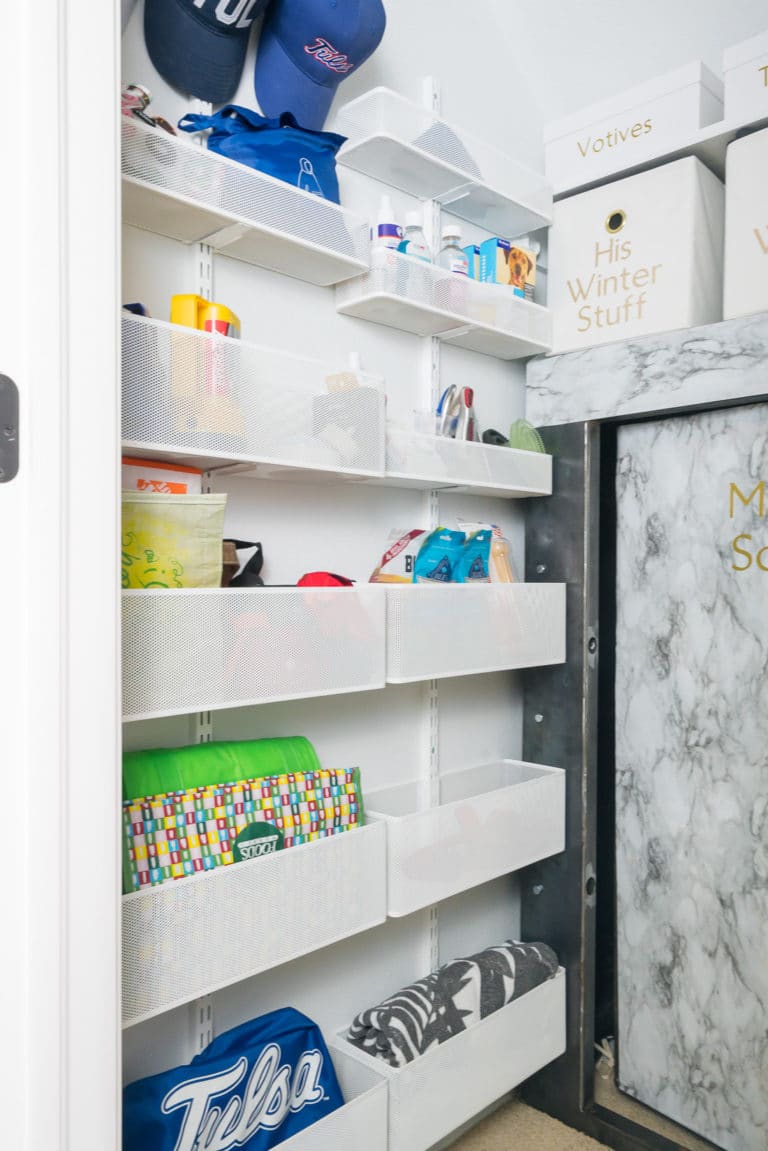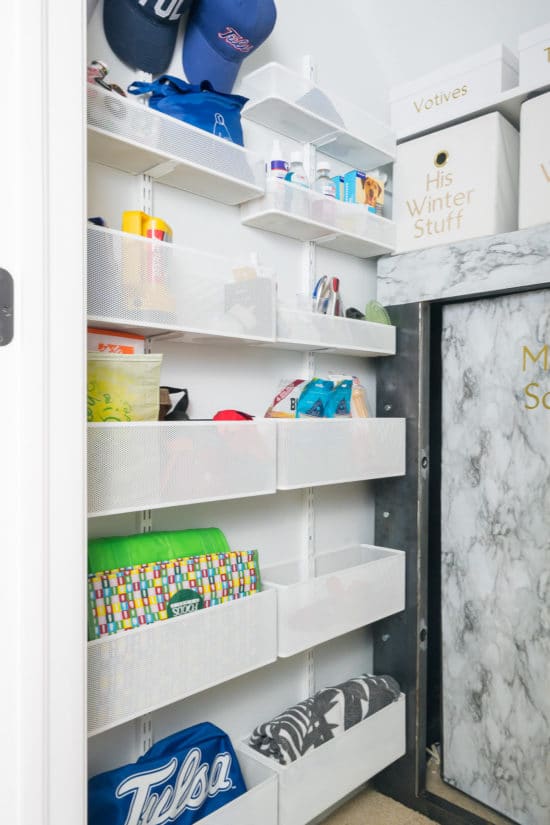 The top of this rail has two of the small utility boards with hooks that we're using for hats that are worn most often.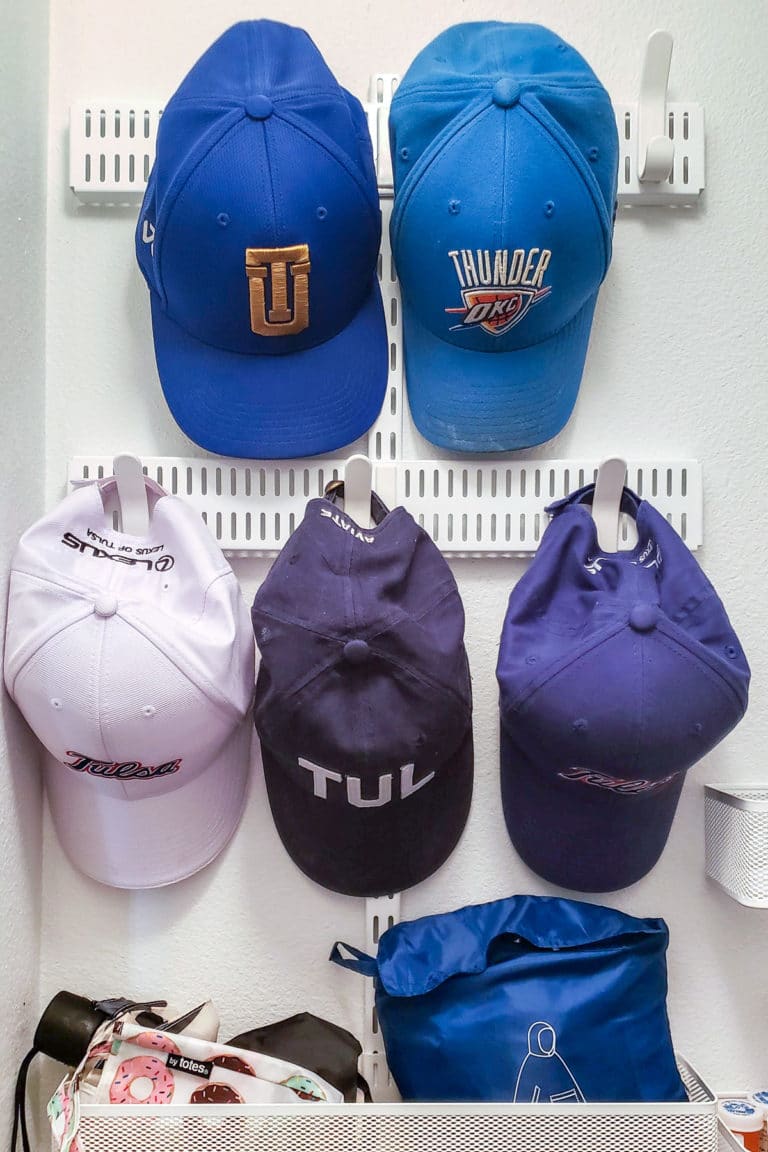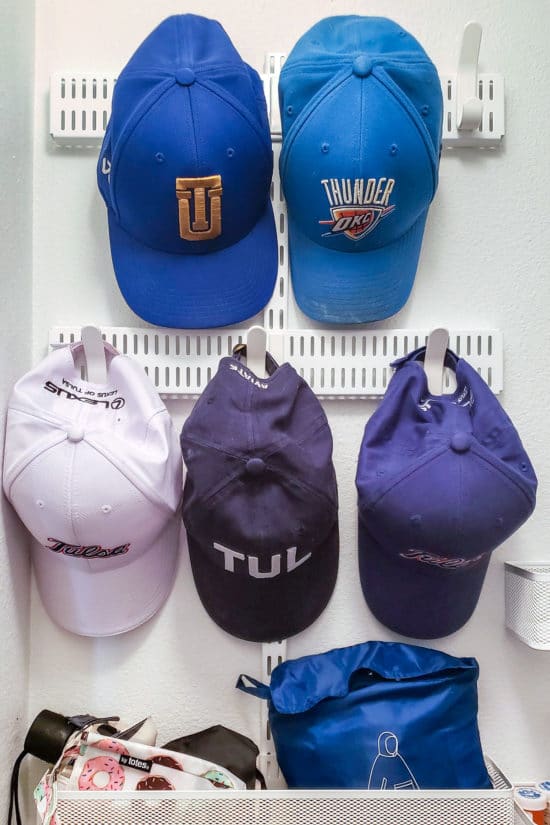 Moving to the right rail, this section solved a big storage/organizing problem that happened when we added Gus to the family.
When it was just Maddie, we had a whole pet station in the laundry room under the counter.
Adding food for Gus meant the rest of the dog stuff has been sitting on the laundry room counter taking up space. The new rail in the closet now holds everything that comes with having dogs.
I'm so excited that the medicine has a dedicated own bin. I've spent so much time looking for heartworm pills in the past.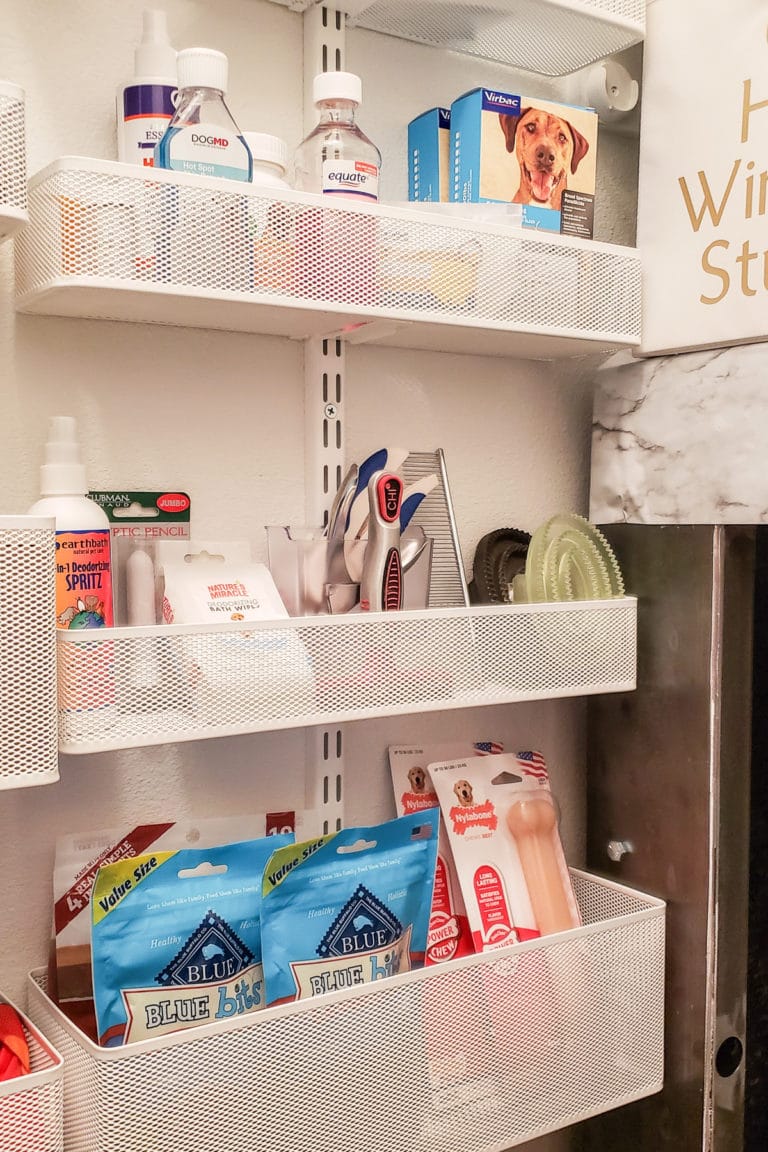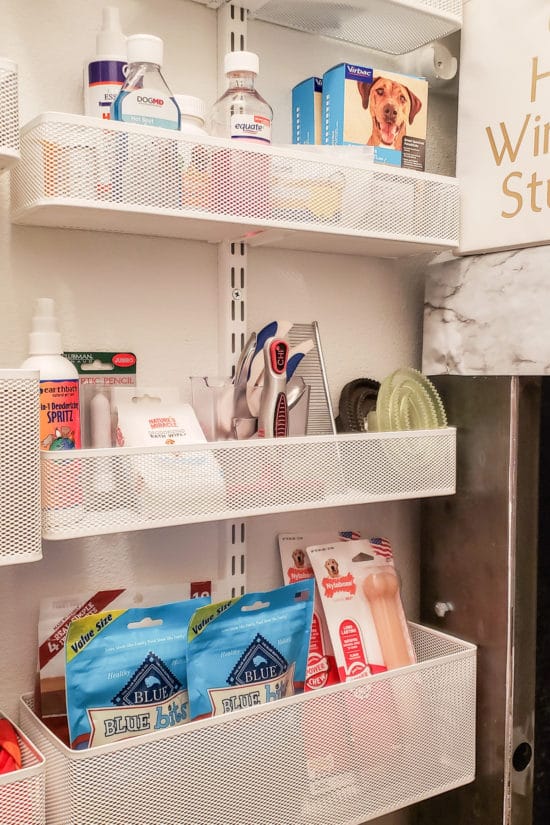 The other bins are separated into grooming supplies, extra treats & bones, leashes/collars + poop bags, and even the rainy day paw-wiping towel.
For small items, consider sub-dividing each basket as needed. I had an extra box from the utility boards, so it was a handy place to put the nail clippers.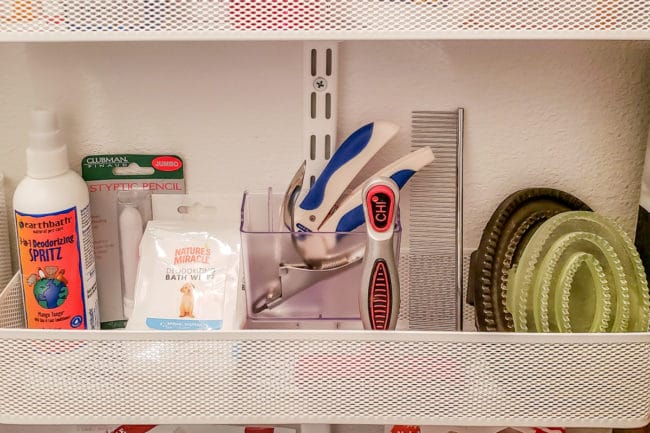 Now I'm convinced that all dogs should come with an Elfa system. It's SO nice to have everything spread out and visible in only 18 inches of wall space (or don't forget, they can also go on a door).
The last step in our small storage closet makeover was a little DIY touch for the ugly metal storm shelter. I added inexpensive peel & stick marble laminate to the door!
Corey's Granny called their storm shelter the "Scaredy Hole," so we're christening this "Maddie's Scaredy Hole." She likes to be in it any time it's thundering. It's crazy, but it immediately calms down her barking panic.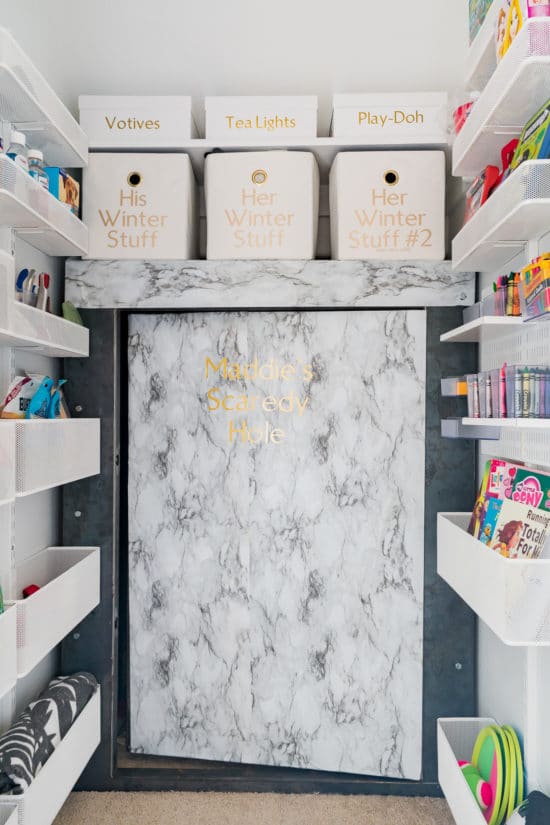 The BIGGEST tip for organizing a small closet is to start with a pen and piece of paper listing out all the things you would like to keep in the space.
It will make shopping for the right containers easier, and you'll be happier with the result. I had my list handy and then used the drag and drop Elfa design tool to configure each of our rails.
As I picked a bin for each item on the list, I crossed it off and that's how I decided how many containers of each size to order.
The Elfa pieces do go on sale, so I'd watch for them to be 25% off and then make sure to get your order in before the sale ends! We picked the mesh containers, but you can also stretch the budget a bit further using the wire baskets.
Here's one more look at the before and after of our storage closet.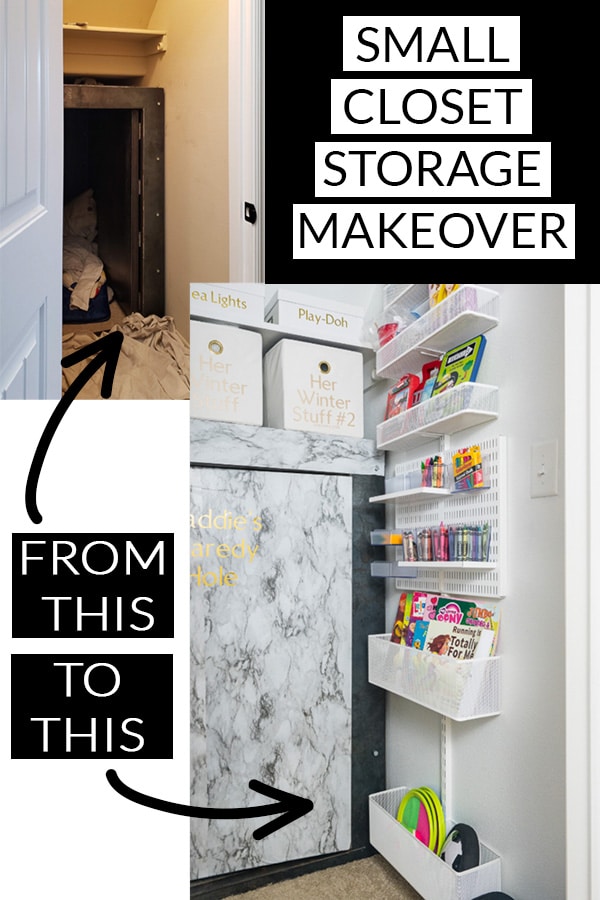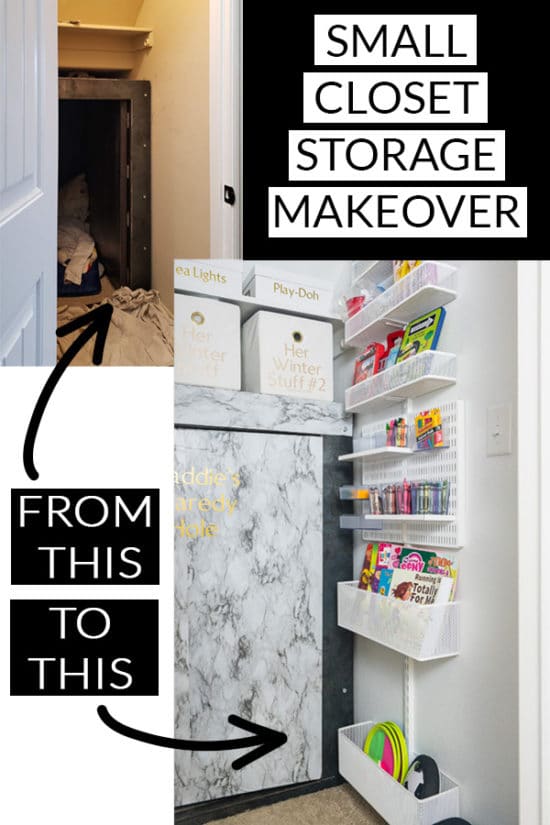 For step by step organizing tips, head over to see my home office closet transformation next!