It's no secret that I'm always looking for ways to make cleaning quicker or easier so I can spend more time doing things I enjoy. You'd think I would have been an early adopter to robot vacuums, but instead, I've been holding out for years, letting the technology improve and hoping for prices to drop.

Well, it finally happened! They're now available at budget-friendly prices, and I was offered the chance to work with one of the new brands that has been mentioned as the best affordable robot vacuum on multiple review sites, yeedi.
I admit, I was a little scared it would arrive and disappoint me for a few reasons I'll outline in the post, but I've been super impressed.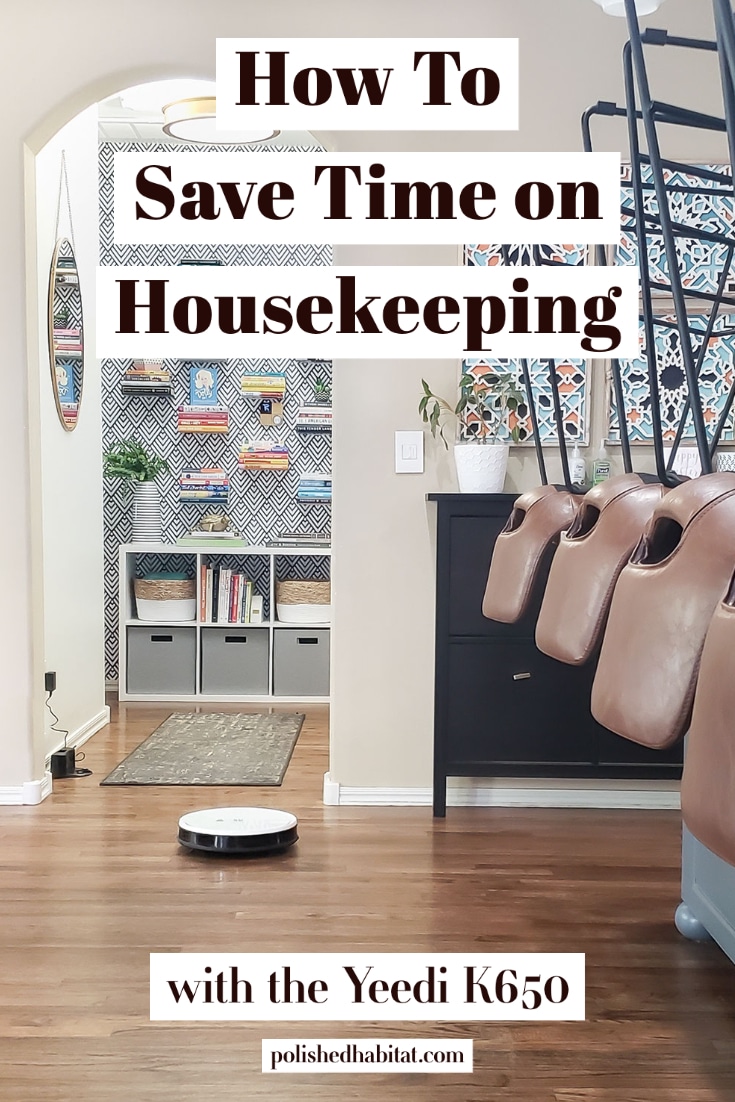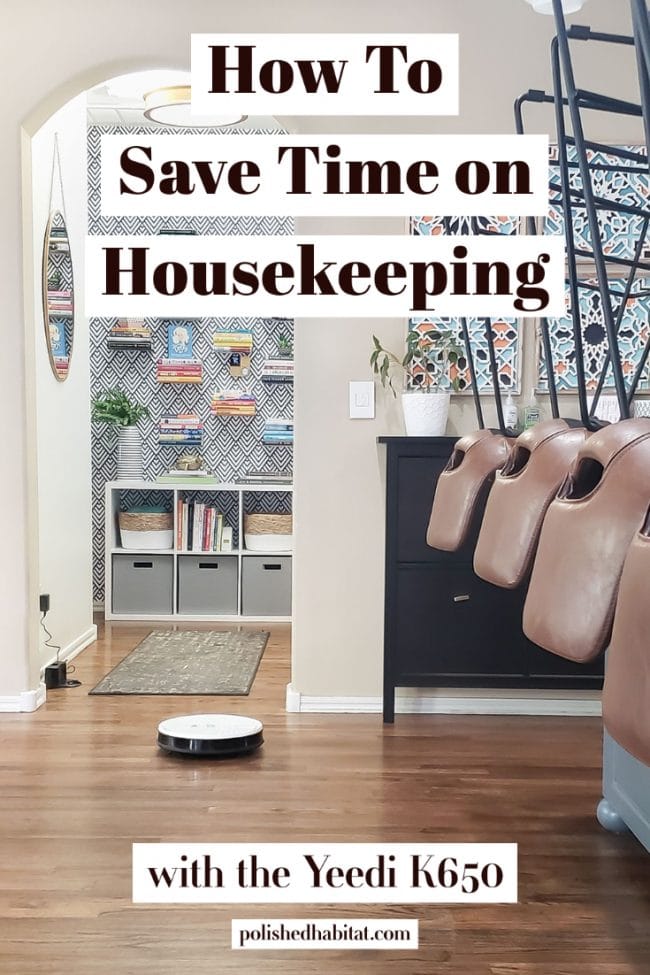 Before we get to that, let's look at why the yeedi k650 is the best budget robot vacuum.

First, the price is already great, but there is a significant instant coupon on Amazon right now, pushing the price under $150 as of 4/20/2021. Despite the low cost, it looks high-end. I love that it's white and looks sleek and fresh.


You might expect something bare bones at that price, but you'll find that everything about it is very well-designed, starting with the packaging!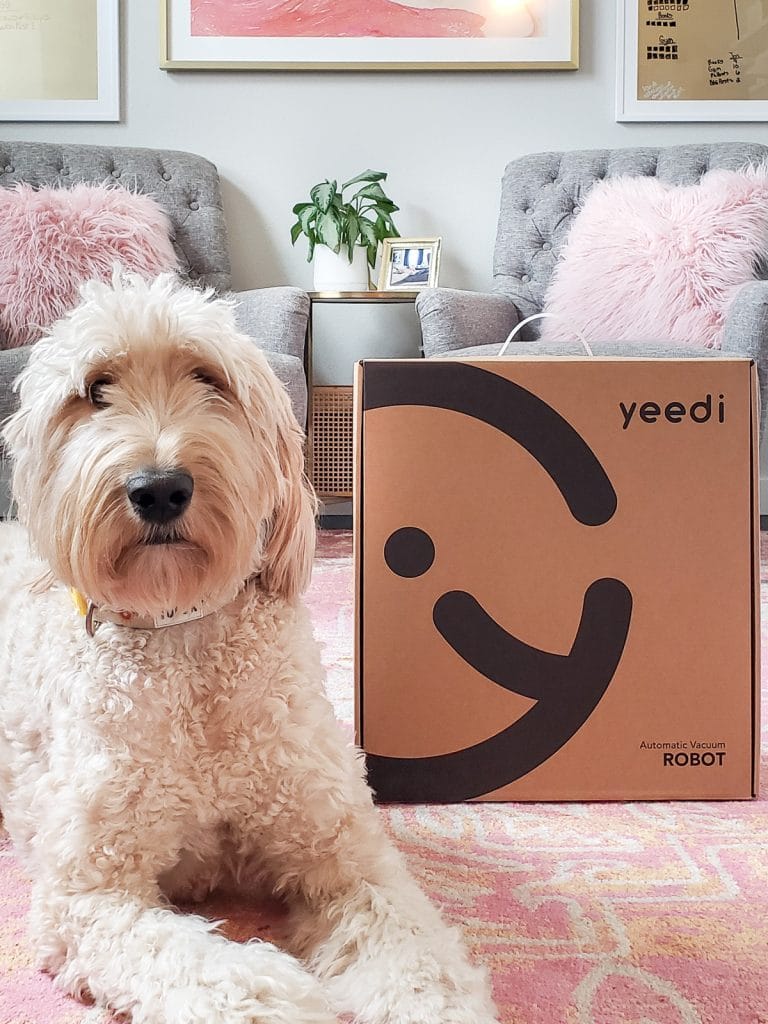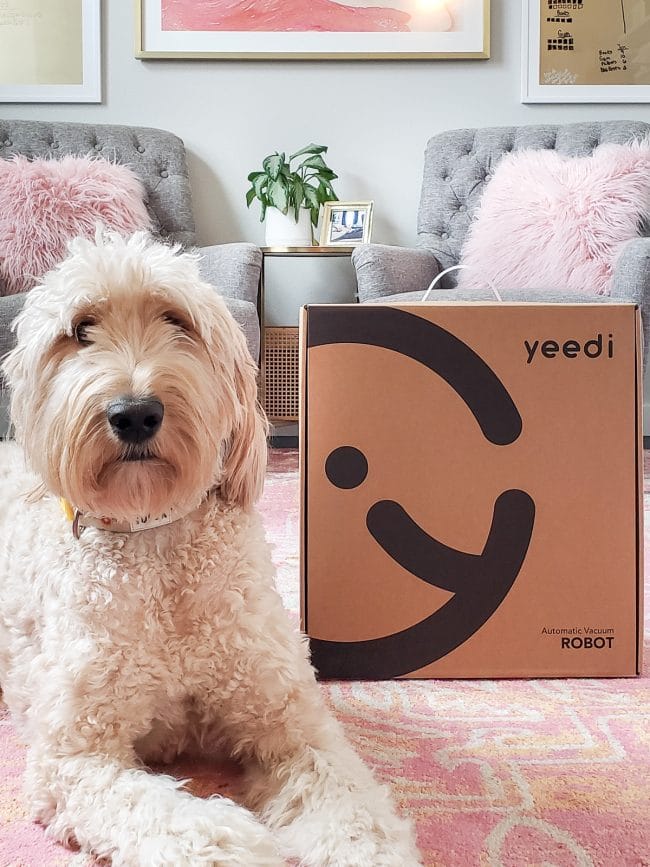 Gus was happy to learn that this model is perfect for pet owners because it has a large-capacity dust bin! Let's take a look at what's included in the box.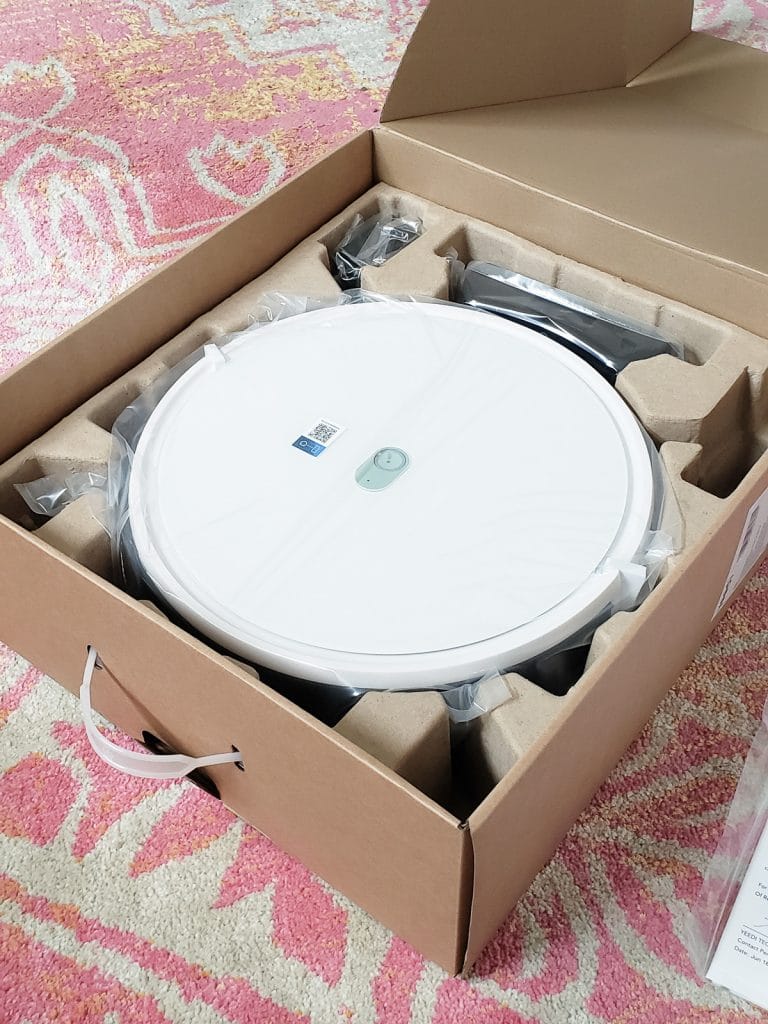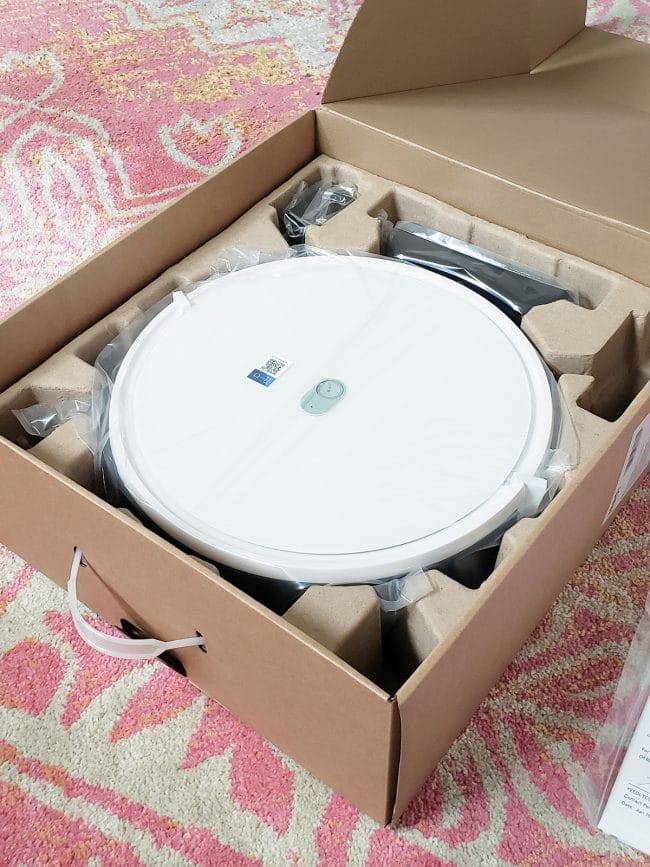 The K650 is so easy to set up that it can be off and running around your house in less than a minute.
There are two pieces of easy-to-remove tape on the sides, and then you pop the side sweepers onto the bottom. No tools are required, and they're even color-coded.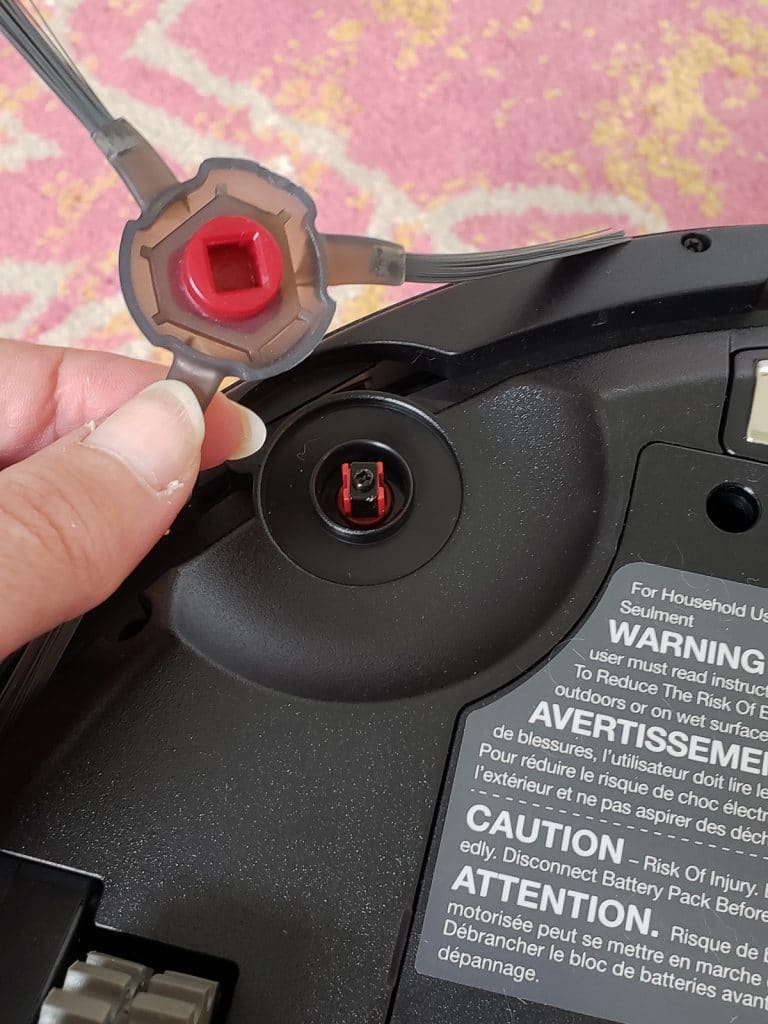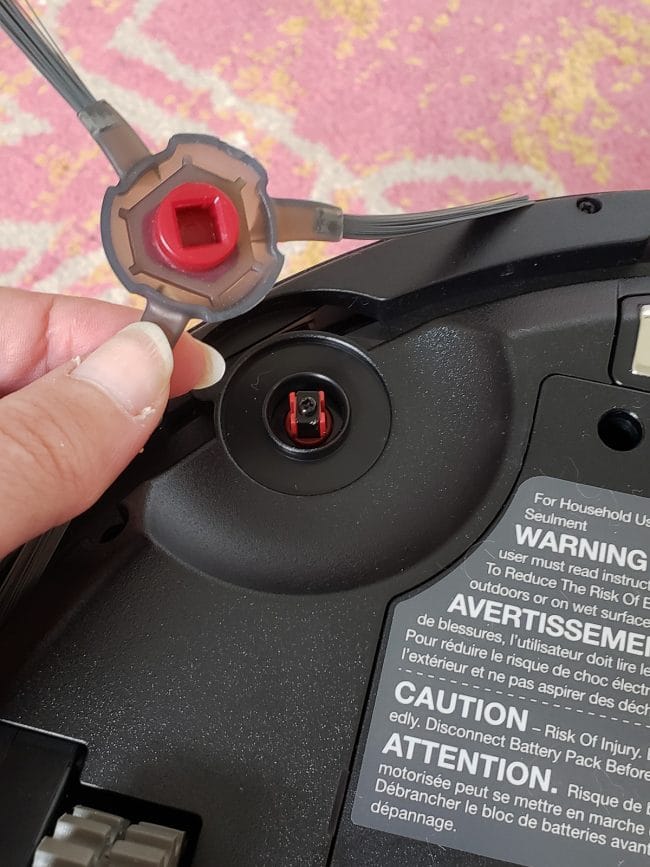 That's all the required set-up, although if you're more patient than me, you can go ahead and install the app before you set her free. We're calling our robot Rosie, so I'm constantly referring to it as she or her. I'll share more about the app in a bit.
Robot Vacuum Tips
Think of the K650 as having powerful four-wheel-drive capabilities. When I pushed the top button and she took off, she immediately raced towards a dog bone. Because it wasn't a tall item to detect, Rosie climbed right on top of the bone like it was a mountain to hike. It was a quick way to learn that we need to pick up things from the floor before vacuuming.

On a similar note, Rosie is persistent in reaching every possible area of your floor. She's not a quitter! I highly recommend trying to stay in the same room with your robot vacuum the first time you run it to get a better idea of obstacles and possible efficiencies.

For example, we were shocked that Rosie could fit under our end table in the living room. In every other case, such as cleaning under the table in our entryway, this was a huge win. However, in the living room, there is a mess of cords between the end table at the wall. She tried to snack on them – whoops!

It was an easy fix just blocking the opening under the end table with a throw pillow, but we'll probably pick up some magnetic boundary tape to put under the table so she'll stop before the cords and we won't have to remember to protect them. You can also get a bundle that comes with the vacuum and boundary tape if you'd like.
The bases of our barstools are close enough to the ground that Rosie could navigate over them, but that meant vacuuming the kitchen took much longer as she was constantly having to climb up and over each base as she tried to clean every nook and cranny. I quickly realized that it would be more efficient and effective to flip the barstools onto the island to create a clear path.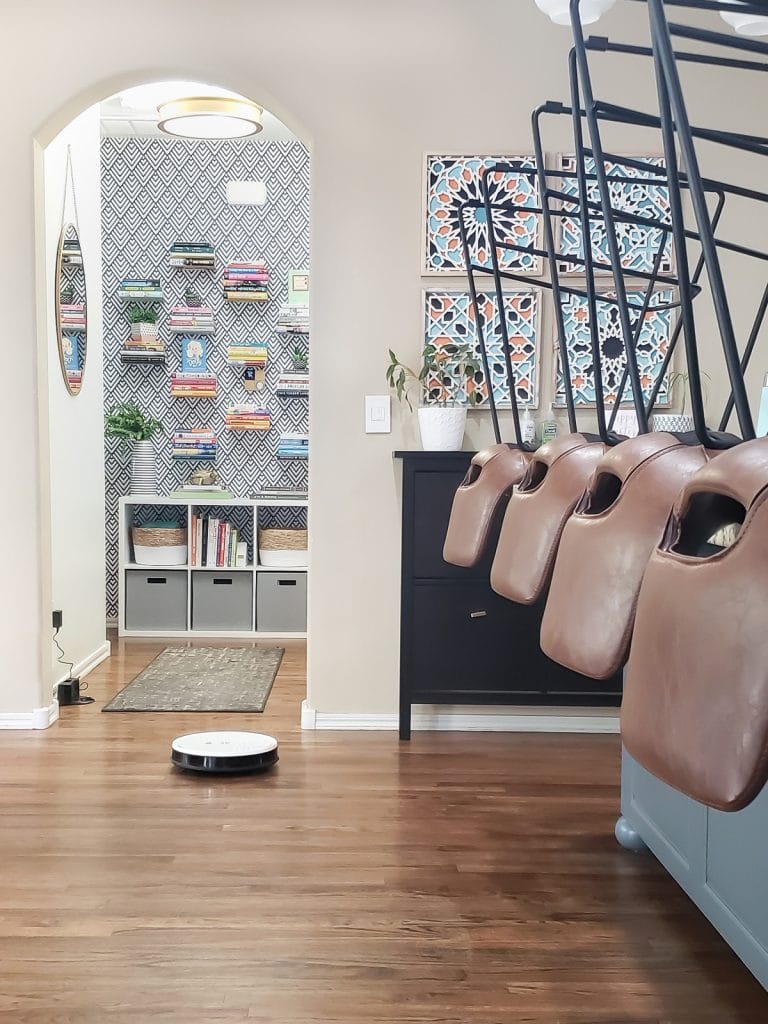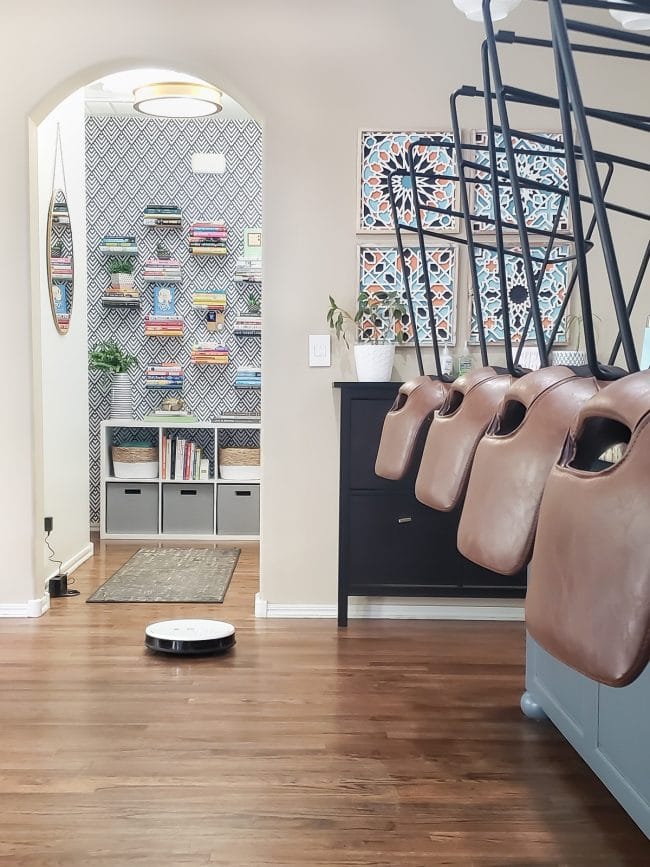 Our floorplan isn't ideal for random robot vacuum paths because there aren't distinct rooms and the whole floor is a circular path because the laundry room is attached to both our master closet and the main entryway. It turns into a comedy sketch when we're looking for each other or the dogs.

Another way to make vacuuming more efficient is to have Rosie clean three smaller segments rather than opening all the doors and letting her try to figure out our layout. I close her in the office and let her finish this room before opening the doors and letting her clean the open entryway/dining room/kitchen/living room. While she does that, I close the bedroom and laundry room doors to separate that side of the house.
Maintaining Your Robot Vacuum
My organized heart was so happy to see that yeedi includes the perfect little tool to extend the life of your filter and roller brush. It snaps right into the top of the dust bin, so it will always be handy!

Here's what it looks like.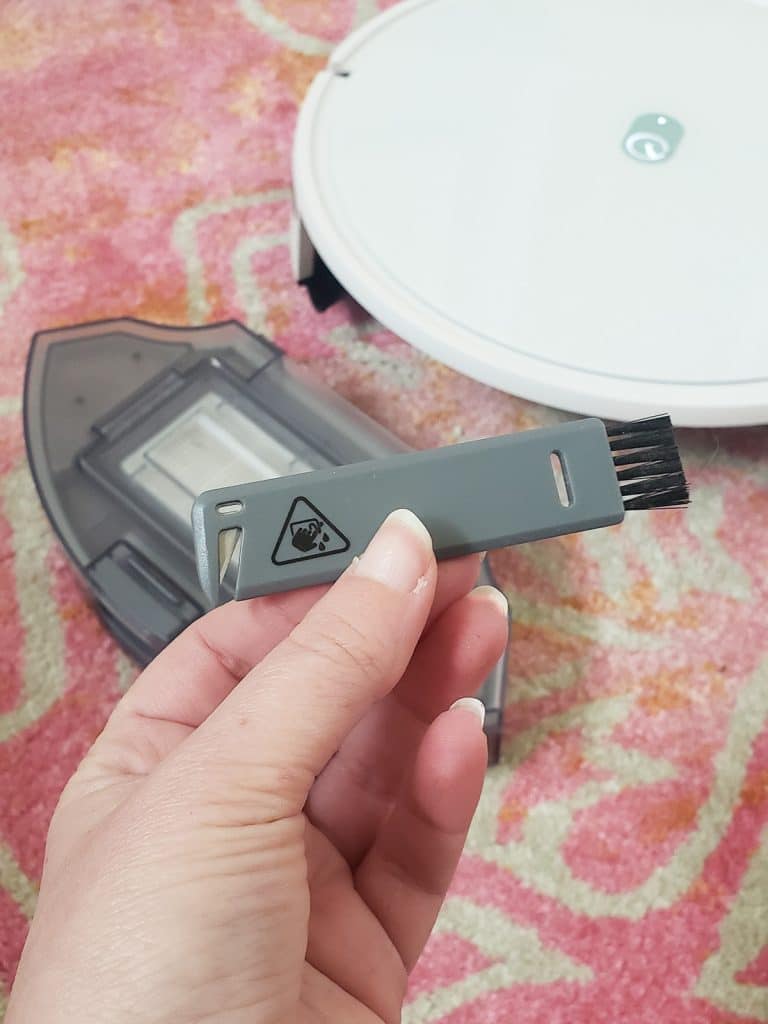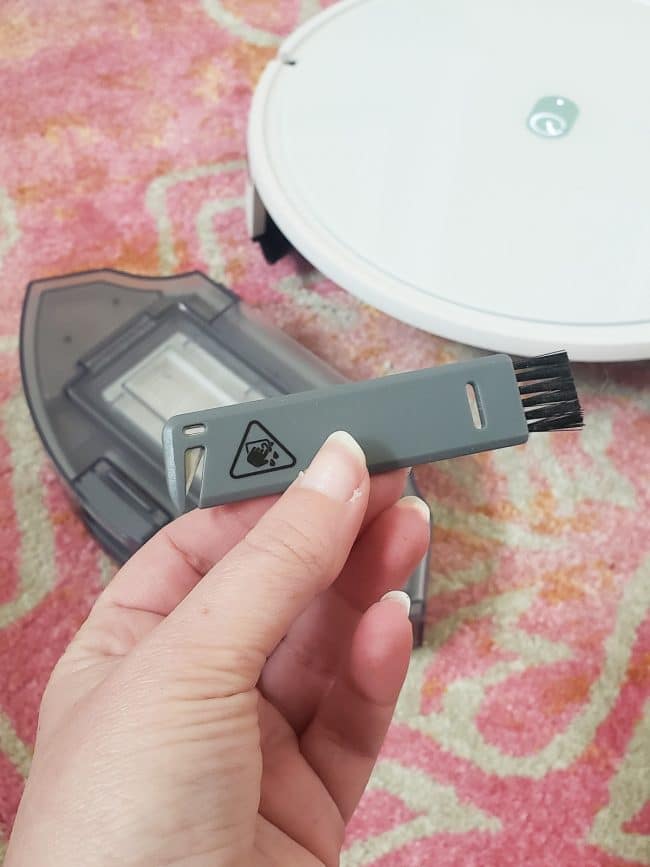 The brush side makes it easy to clean the dust from the filter cover. Keeping this clean will help the filter work better. It's so fast to dust off when you're emptying the bin.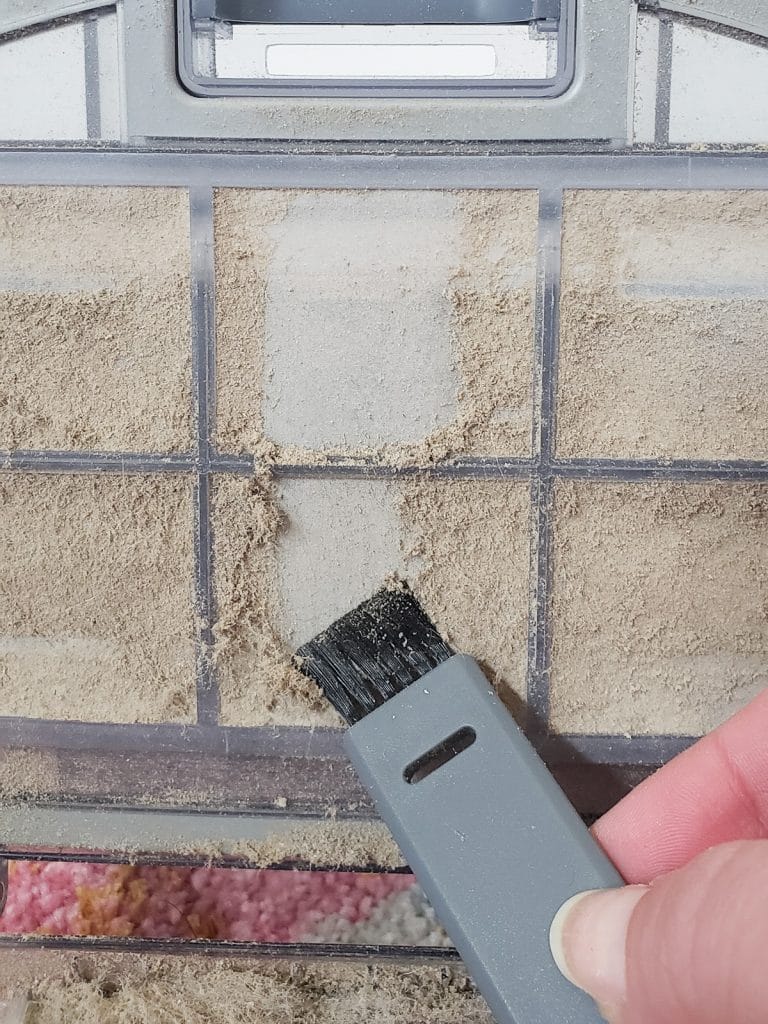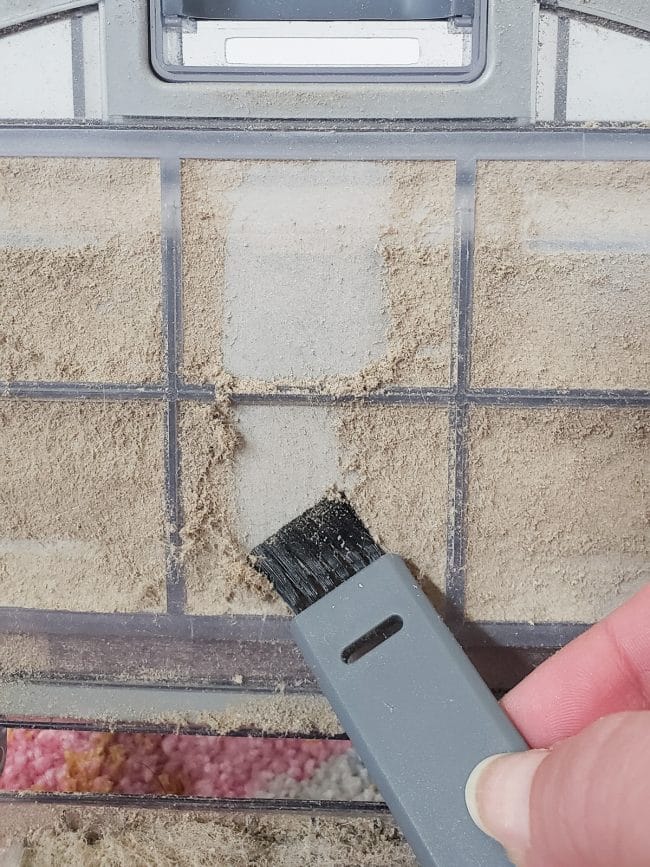 The other side has a blade, which is ideal for quickly cutting any long hairs trapped on the brush. Where has this brilliant tool bin all the years I've spent trying to cut hair off of our upright vacuum?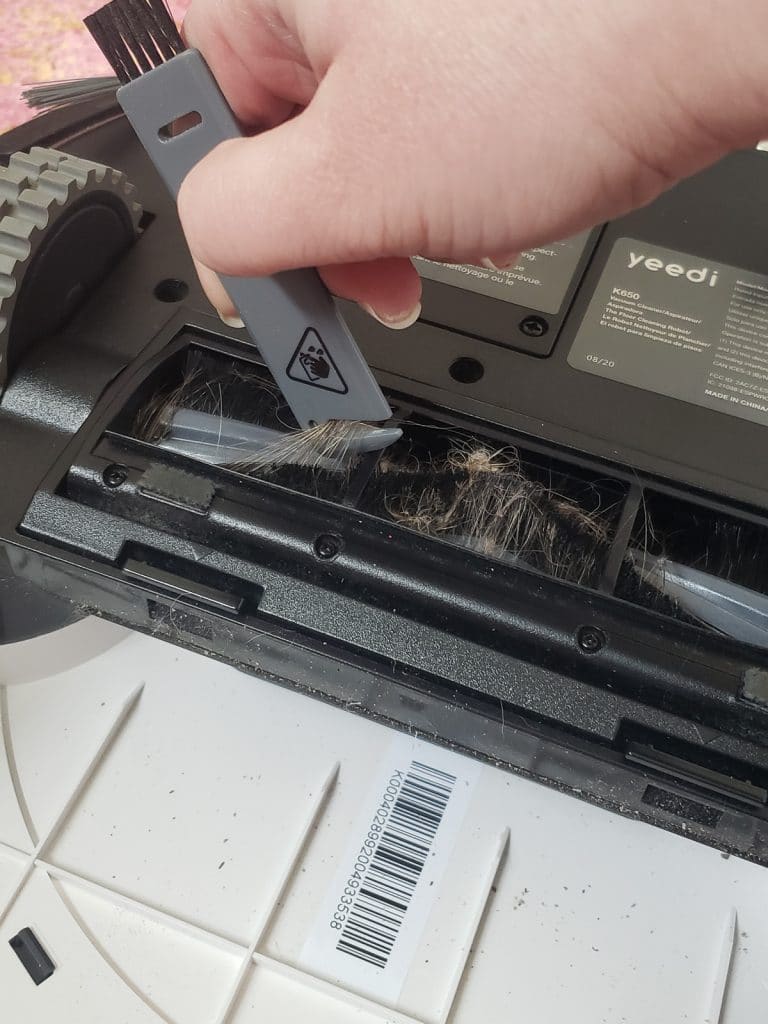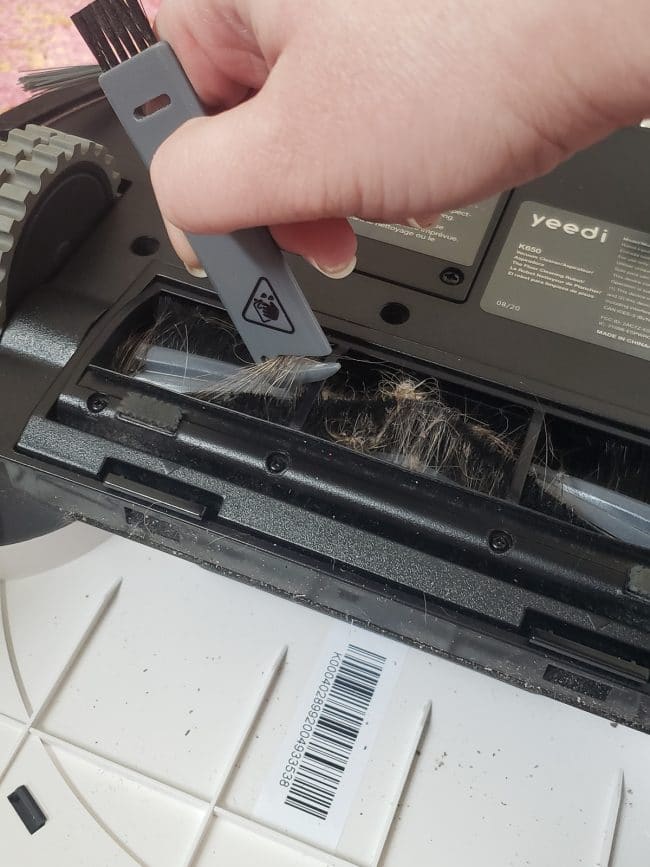 As you may have guessed by this point, they also make it each to change the air filter. It's located on the top of the dust bin. You can also see how the brush/razor tool fits on the top of the dust bin in the photo below.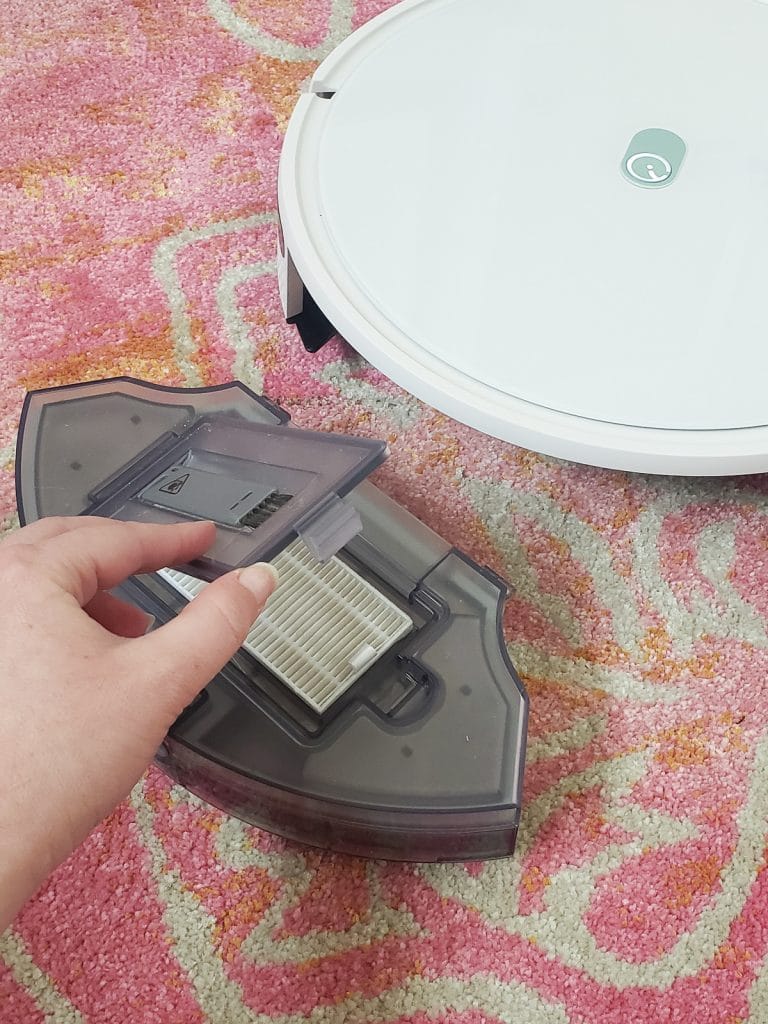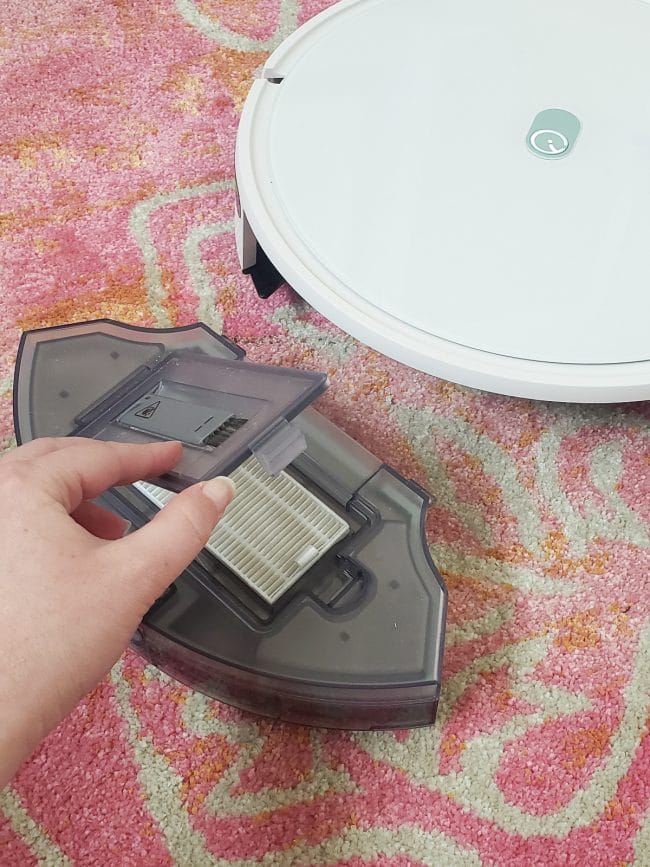 Since I was impatient and unleashed Rosie to start vacuuming before even downloading the app, and she did a good job, I wondered how necessary the app really was.

But of course, I wanted to test it out for you and make sure it worked. The setup was simple, although it's important to note that it does need a 2.4 GHz wifi connection. If your router ONLY does 5 GHz, it won't work. Our same router does both, and I think that's pretty common.

Once I got into the app, I realized that it is a helpful companion and does more than program start and stop times. Instead of trying to remember when it's time to replace your filter, the app logs the hours your robot has been running and tracks the length of life in the replaceable parts based on your usage.

Here's a screenshot from my phone: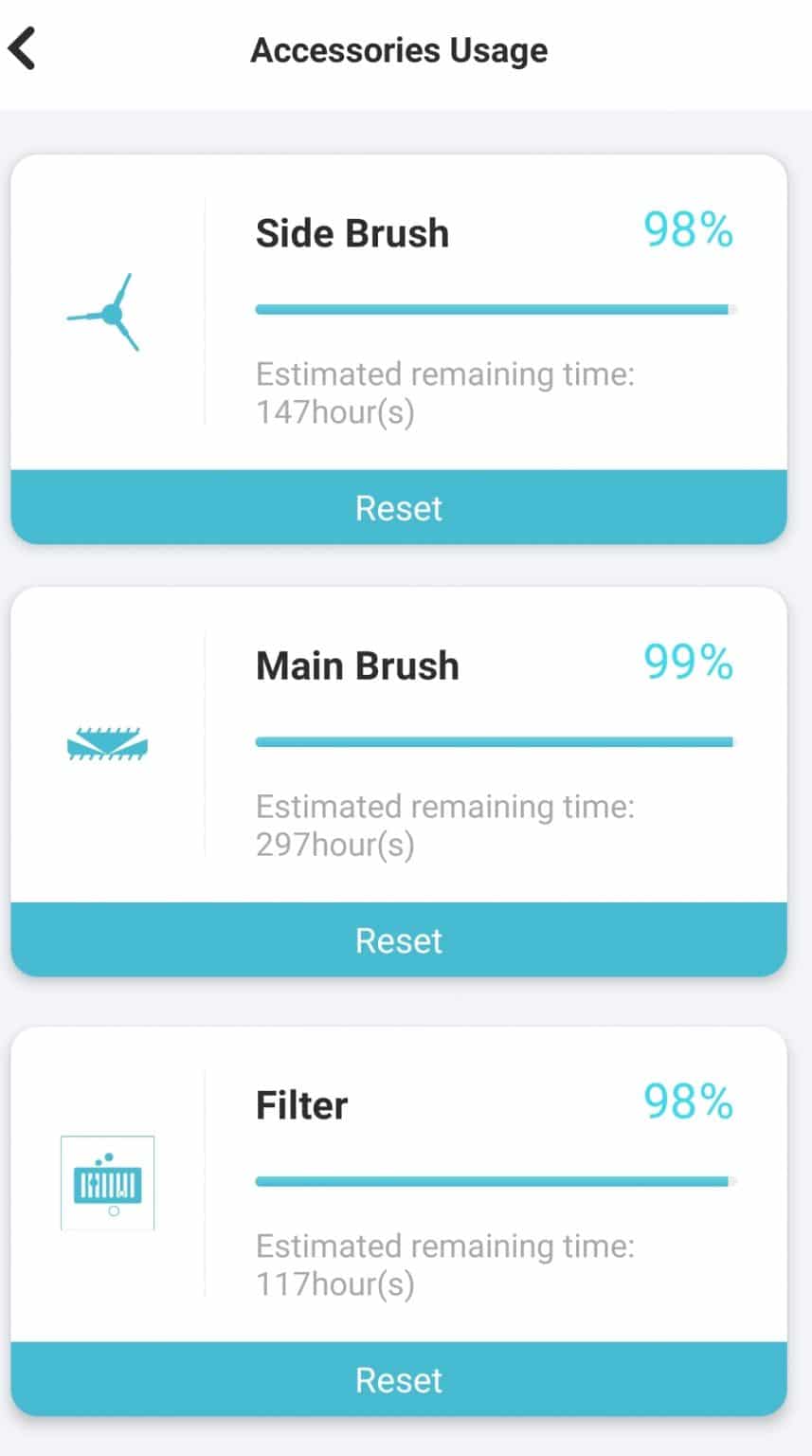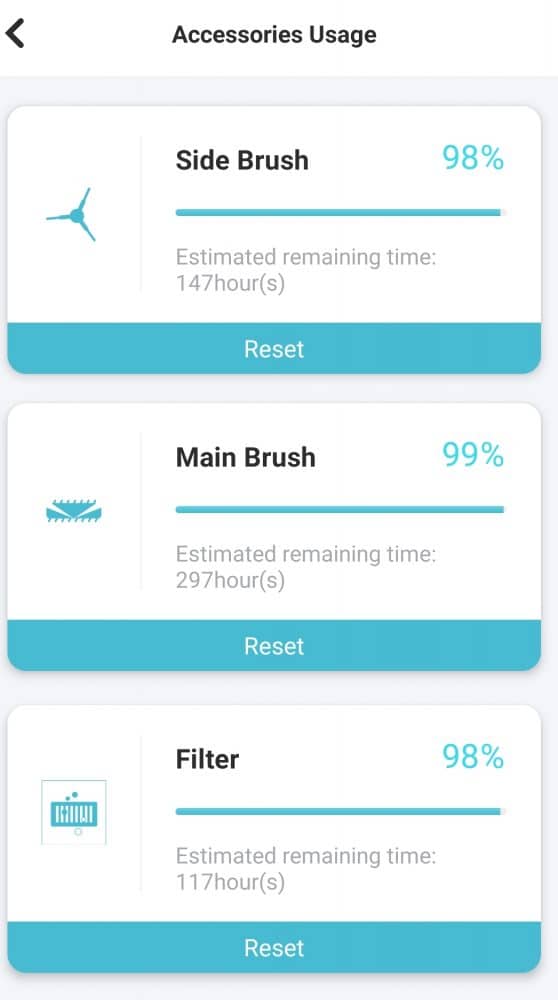 It came in handy again when Rosie asked me to clean her anti-drop sensors. Before I could wonder what that meant and grab the manual, my phone got an alert with a picture showing me the little spots on the bottom to wipe off. So handy!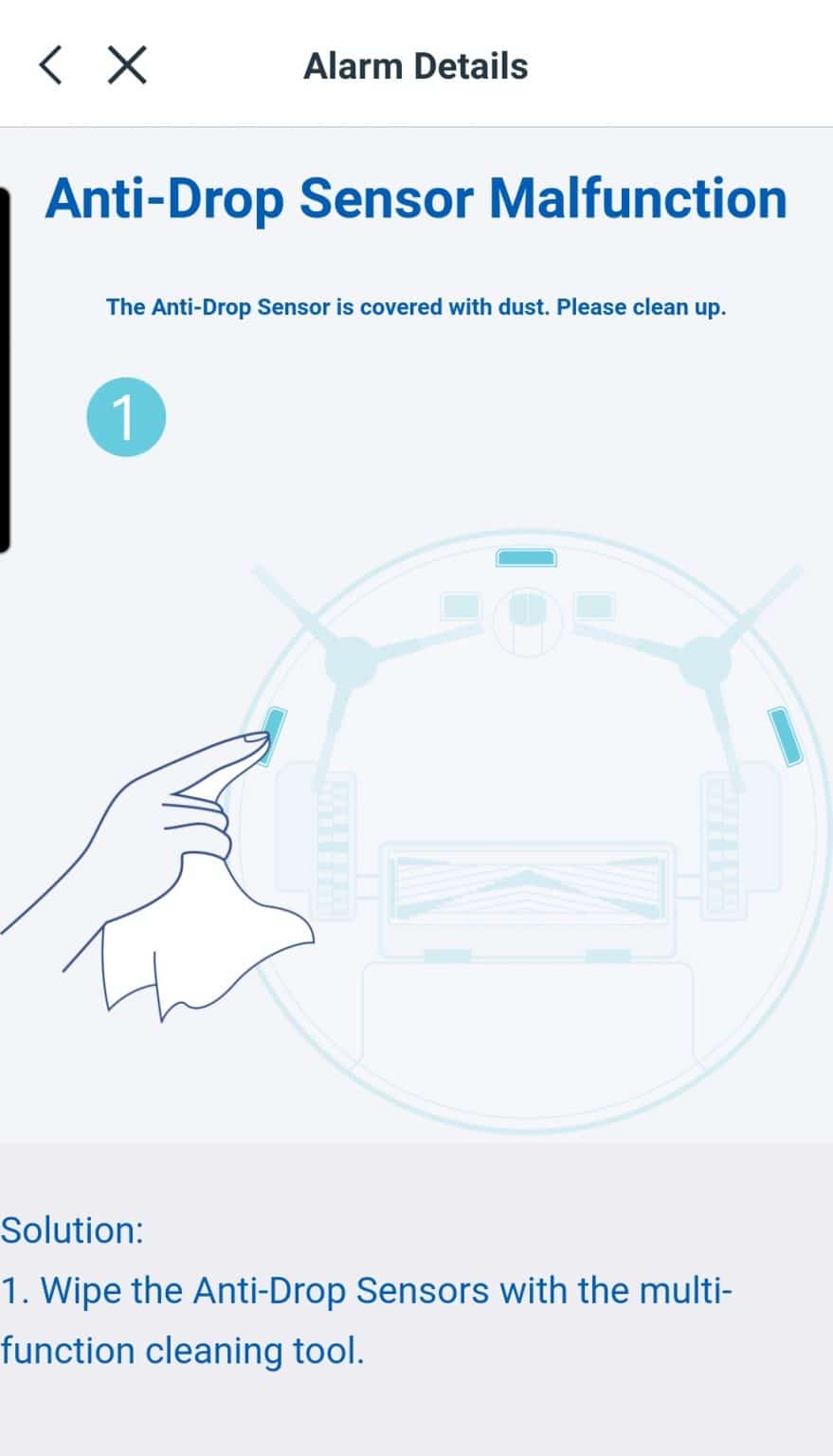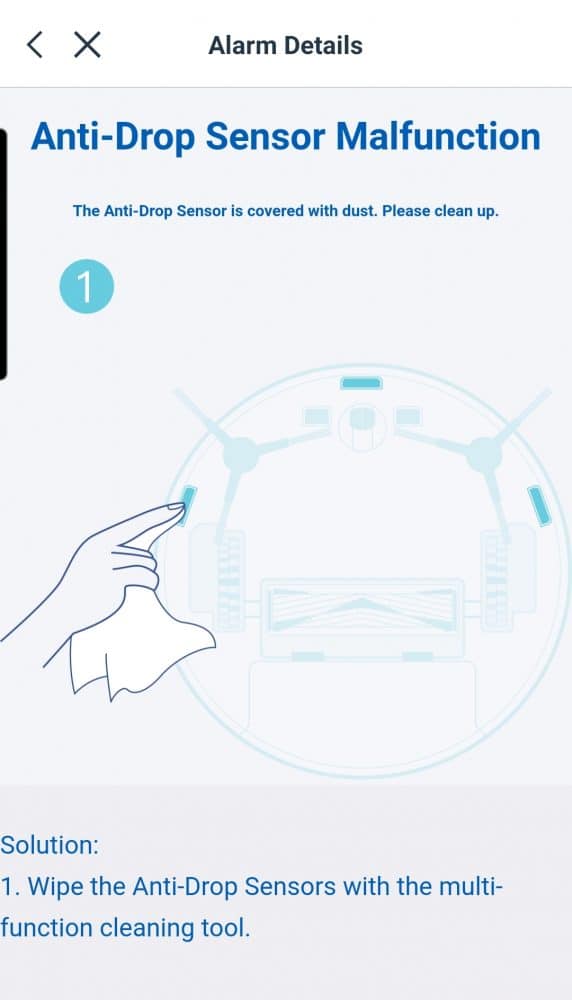 As Rosie worked, I realized a few things.

First, she has an incredible 4-wheel drive-like capability to navigate up and down the transitions between flooring surfaces. Going from floors to rugs doesn't even slow her down, and she handles the transitions between different flooring heights like a champ. I was worried about that because there is about a 1/2 inch change between the office and entryway. Most of the time, she plows right over the threshold, but if she approaches at an odd angle and appears to get stuck, she works herself back and forth until she's free and then continues on her way. It's pretty incredible to watch.

It's tempting to help her if you think she's stuck, but really, she'll keep working on it and tell you if she needs human assistance. That only happened to us once, and now we know to adjust to prevent it before we run Rosie.

Of course, nothing in life is perfect, and I know you count on me to tell the whole story. Thankfully, none of the downsides are major enough to be concerning or prevent me from recommending this model at this price.

One is that when they say Rosie cleans in a random pattern, they really mean it. Sometimes I can tell what she's thinking, for example, she's brilliant at realizing something is a chair leg and making a tight circle around it. Other times, her pattern is chaotic. If you love perfectly lined up vacuum paths on your floor, Rosie might not be your girl. There is a K700 model that can have a pattern programmed instead of being random (and it also has a mop function!). I already have my eyes on it for the downstairs so I could move the K650 upstairs.

Because she's all over the place, sometimes it takes her a while to find the charging station on her own. When the battery gets low, she announces that she's returning to the dock, and sometimes you'll see her set off in the wrong direction. She's very persistent, but sometimes we take pity on her and move her closer so it's easier to find her way home. This may not be an issue in houses with different floorplans.
All of that said, the two biggest questions I've always had have been answered through our testing. Do robot vacuums work on carpet? And are robot vacuums good for dog hair?

The answers to both are a resounding YES, at least with the yeedi K650. The dust bin is large to handle pet hair, the side sweeper brushes grab hair from the most obscure corners of the house, and I'm shocked how much dirt and dust it pulled out of our carpet and rugs. It's very satisfying to empty the bin and see everything that has been collected while I cozy up with a book.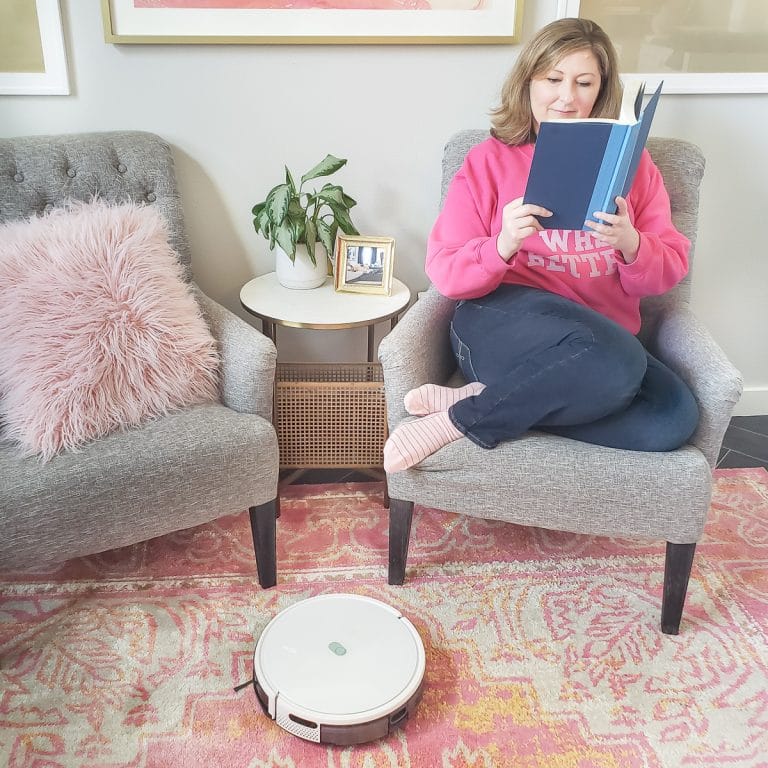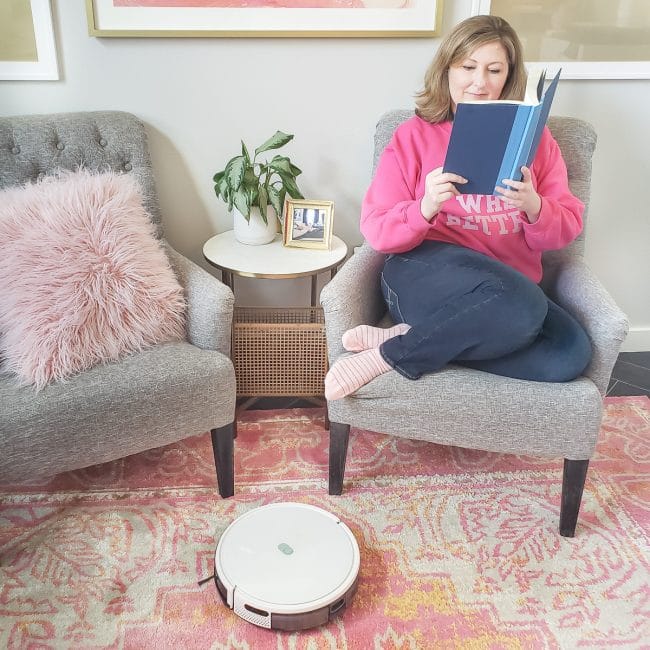 Despite Maddie being much more anxious in general, she was totally fine with Rosie from the beginning. Gus was a little skeptical as he was walking up to investigate, and she turned around and headed for him. He got acclimated quickly and will move of out her way if she comes toward him, but doesn't seem anxious about it, which is perfect!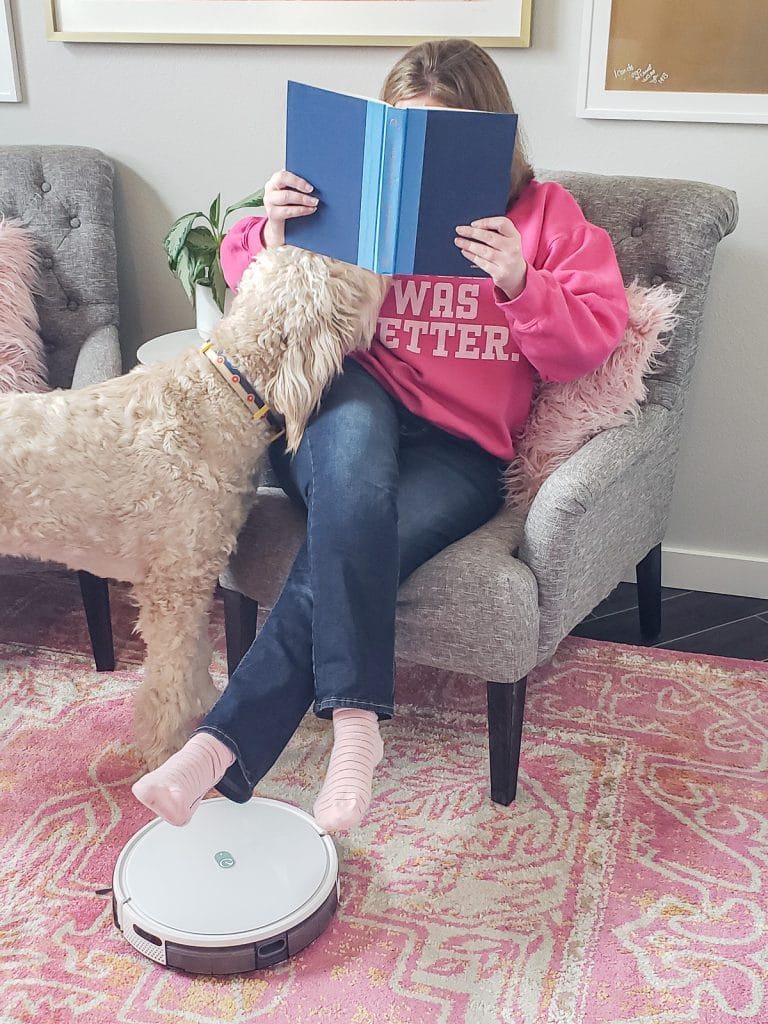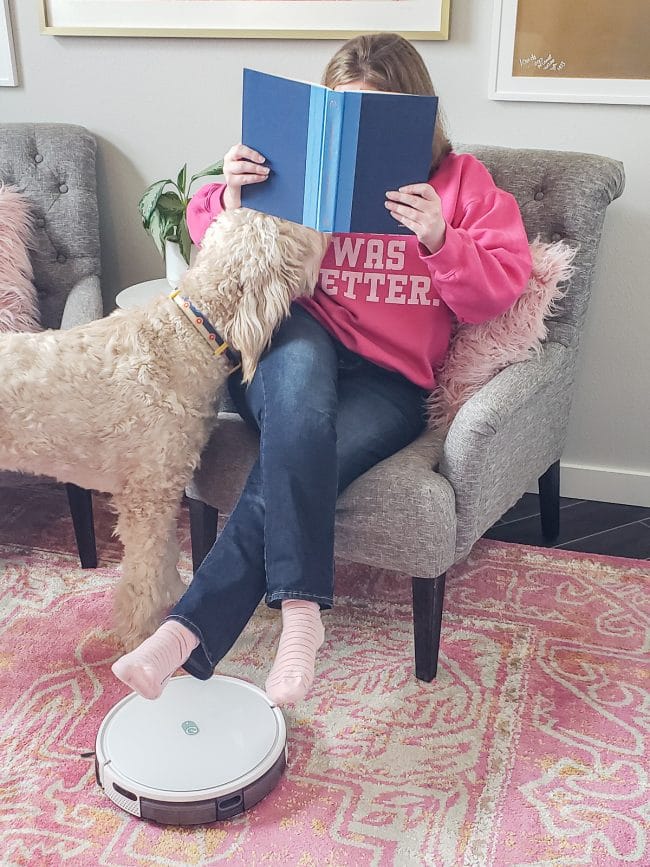 If you've been like me and have been curious about robot vacuums, but didn't want to make a huge investment, head over to Amazon while the coupon is available and start thinking of robot vacuum names!