In the past, I've written about different techniques for dealing with clutter in your home, like the root cause worksheet that helps things STAY decluttered. But there's actually a very important step before anything we've talked about before.
Shopping.
More specifically, our shopping habits have a huge impact on how tidy we can keep our homes and how we feel about spending time at home. I've been on every side of this equation, and have a huge closet full of reasons I've changed my outlook.
Keep in mind that process is more important than any of the individual examples in the post. There may be things that I choose for our house that would feel like clutter in yours and vice versa. We'll all have a different combination of things that make us happy at home!
Tip #1: Stay Out of Your Danger Zones
For a while, I was grocery shopping at Target and always took at least a quick cruise through the home decor islands to see what was new, or if anything great was on clearance. I rarely went crazy, but often found SOMETHING I liked to throw in the cart.
The problem is that you can only display so many little accent pieces at once. The rest have to go somewhere. I enjoy having some things in the closet to swap out and freshen up the feel of our decor, but I didn't have a plan or limit.
Now, I skip the frequent mindless stroll and only visit those aisles with a purpose. It could be that I'm working on a specific space or even that I'm browsing for seasonal inspiration.
The biggest takeaway from this tip is to consciously identify what categories of items are creating clutter in your home. Avoid visiting the spaces those items are sold unless you have a purpose.


Tip #2: Commit to Creating a Home for New Purchases BEFORE They Come Home
The joy of something you love in the store quickly wears off if there is not a legitimate place for it once you get home. For seasonal items, it's twice as important. You need to know where you're going to hang that adorable Christmas sign before it jumps into your cart AND where you are going to store it the other 11 months of the year.
The same rule applies to smaller items. Before we started our pottery wheel class, I bought some polymer clay and tools to play with. They lived on the kitchen counter for two weeks because I hadn't planned ahead anywhere to put them – whoops.
Even storing candles can become a problem if you keep adding to your supply before burning the ones you own. Think about where you will put them before stocking up during a sale.

Here's a perfect example I just found on my phone. I took a photo of this gorgeous wood charcuterie board instead of purchasing it because I couldn't think of any place I could store it.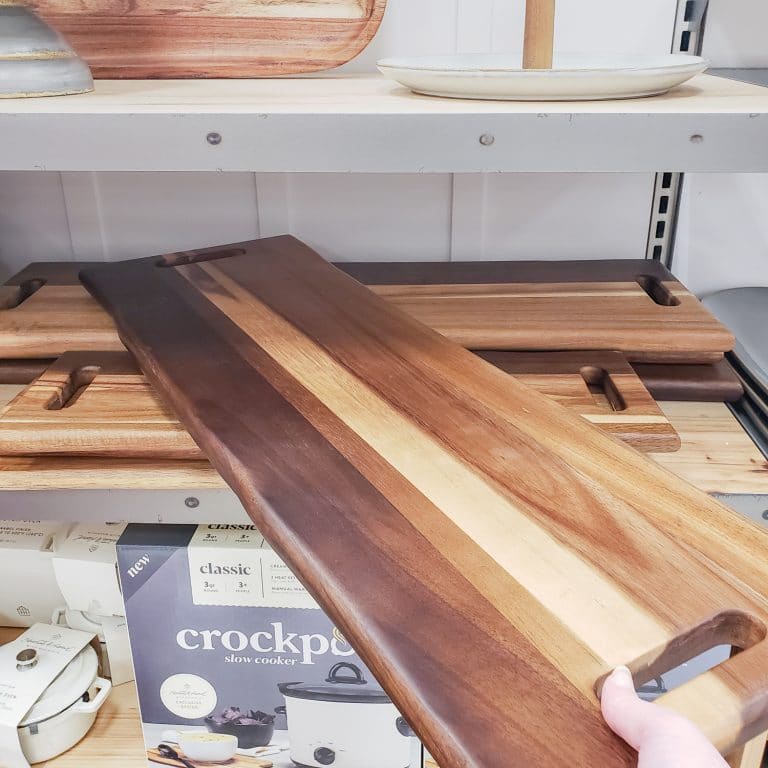 I LOVED it, but I told myself I couldn't take it home until I made room for it and thought about why I needed it in addition to other wood boards. I promptly forgot about it until finding this photo, saving me $30 and the long-term hassle of fighting to store a 2 ft long board in the kitchen.
Tip #3: Ask What Will Make You Happier
Instant gratification is a delightful thing…until it's not. Sometimes I find an item I adore in the moment. And sometimes that means I should take it home and enjoy it for years to come. But that's not always the case – sometimes it's just a version of lust that will quickly fade.
One example for me is different colors of gorgeous serving dishes. I ooh and ahh over them in the store, but in the long run, I really love having white and neutral wood serveware that fits every season. It's flexible and can be used for a casual BBQ or a nicer holiday meal.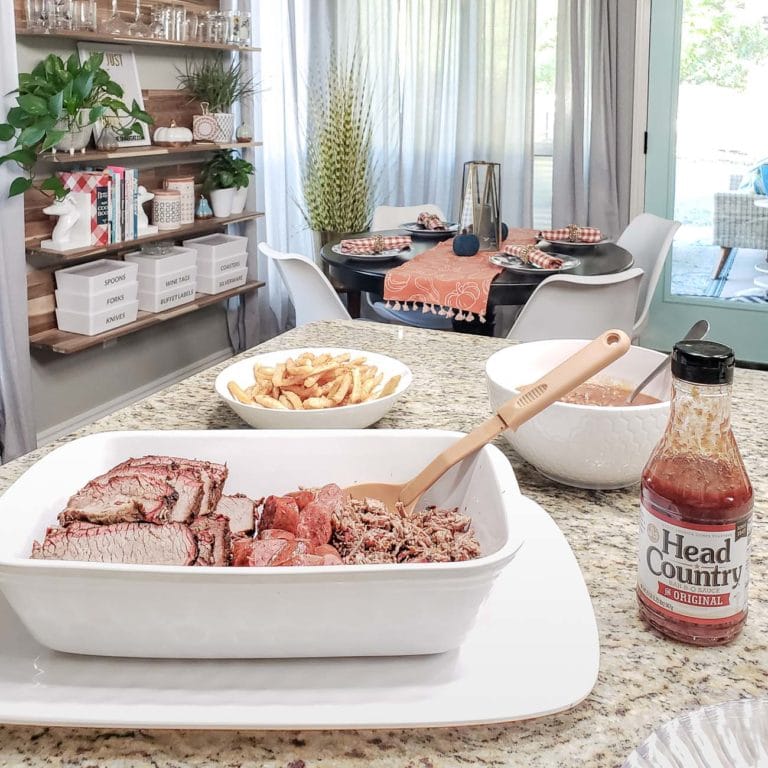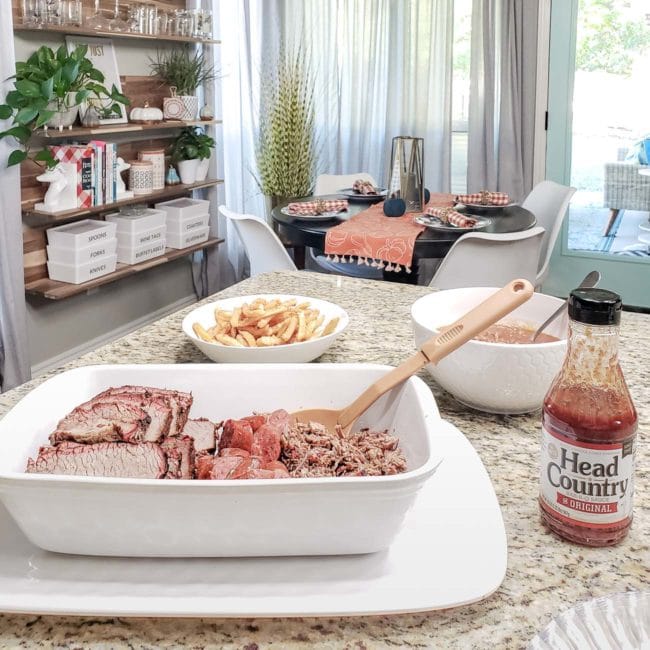 When we have people over, everything coordinating makes choosing dishes simple and also means I don't have to find places to store multiple similar-sized pieces in a variety of colors. And THAT makes me happier long-term than the temporary joy of buying something new that doesn't fit with the pieces we already own.
Tip #4: Articulate the Function & Frequency of Use
This whole process of shopping with more intention can be tricky, I love adding things to our home that either make it more functional or more beautiful, so I don't want to come across as telling you to stop shopping all together.
Instead, just pause to think through these tips and why you're making the purchase. In some cases, the function and frequency of use are clear. If the coating on your daily-use non-stick pan is scratched, it needs to be replaced ASAP. But if your kitchen space is tight and you make rice once a year, skip that clearance rice cooker no matter how much someone tells you it's fabulous.
The function can even be to make you happy IF you'll use the product. But if you have an entire craft room full of supplies, commit to using those regularly before adding anything new.

I also try to select decor that is flexible to be moved around different spaces in our house, so when I'm tired of something in the living room, it fits just as well in the guest room. The more ways I can think to use something, the more likely it is to find a home with us.
Tip #5: Prioritize
Knowing your priorities will also help you make better shopping decisions. When I realized how happy it makes me to decorate with books all around the house, I had to acknowledge that I'd have less room for other accessories. Before adding anything new, I have to make sure I like it enough to replace something existing.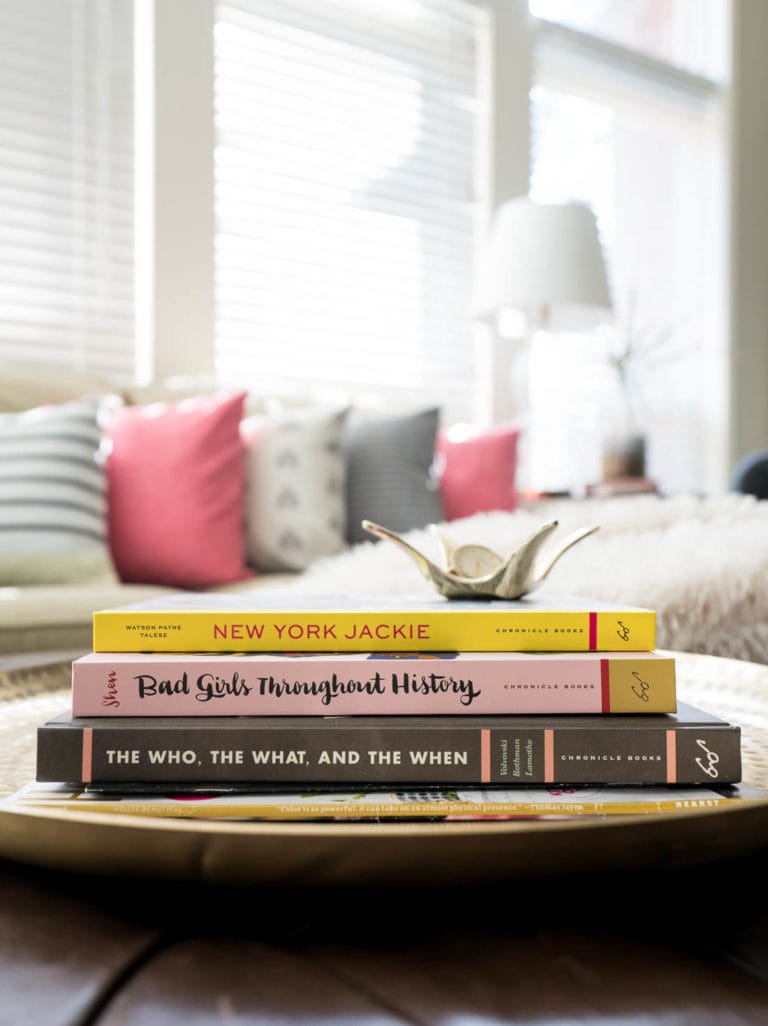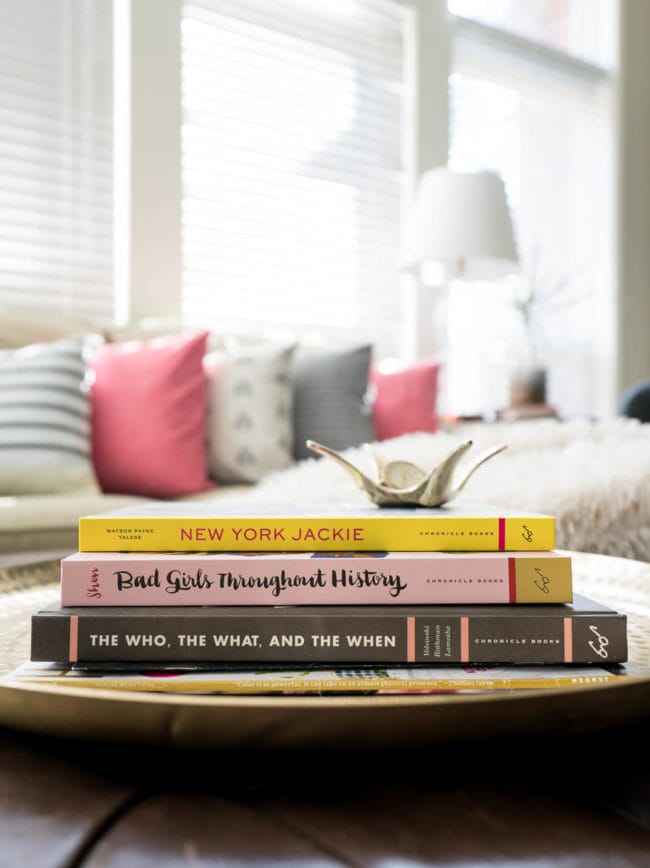 In the kitchen, the coffee station, stand mixer, and air fryer are priorities and used regularly. I don't have room for any other countertop appliances, which means if I wanted to jump on the Instant Pot craze, I'd have to make room inside a cabinet. Looking at the other items we own, there's nothing I consider a lower priority, so we skipped that purchase. For other houses, the opposite is true and it's used so often that it's the highest priority.
I also think about our financial priorities. Somestimes I'm tempted to buy new things for the living room to spruce it up, but what I really want and need are the higher priced things for the space, like new carpet and a new couch. Stopping myself from buying little items for the space will help me get to the big goals faster.

None of these shopping decisions are one sized fits all, but I hope this helps you pause and reframe some purchases that could lead to clutter in the future, as well as making you more confident with the pieces you buy.