While I love the layout of our home, it doesn't actually have many areas of solid wall space downstairs. That's an issue when you love books and need lots of book storage ideas!  I've also heard from readers asking what to do about book storage in small spaces.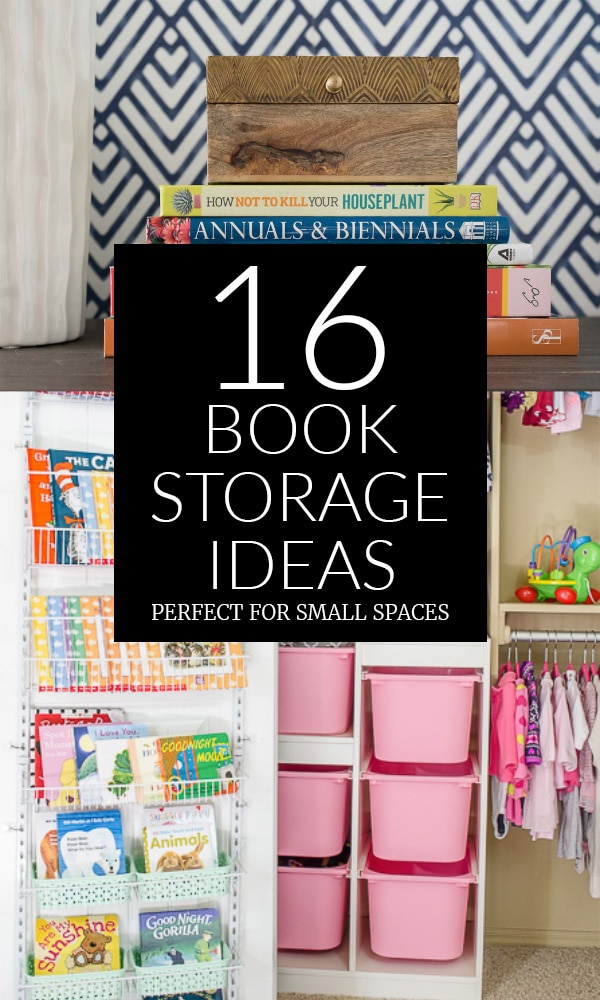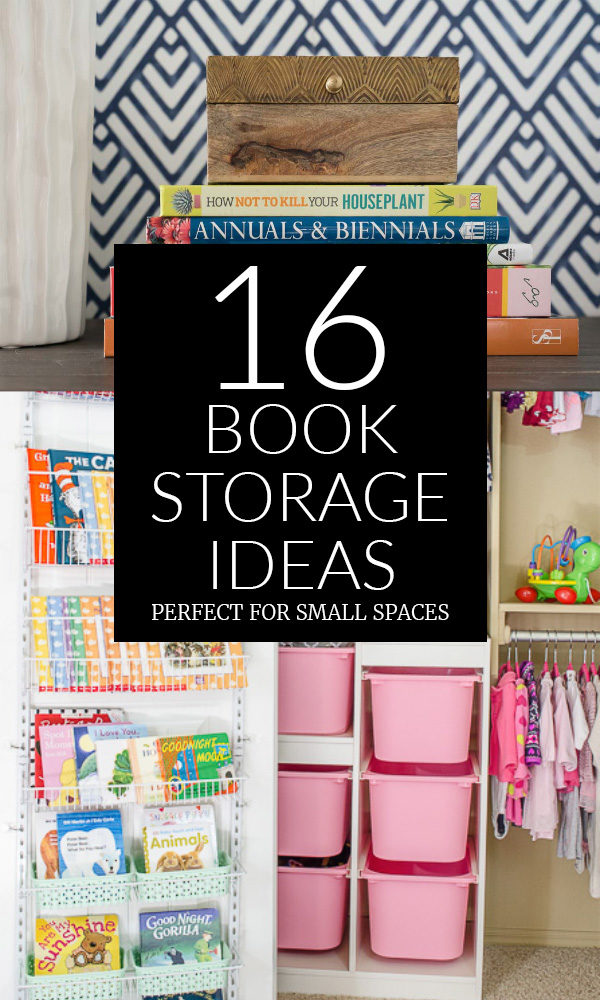 Thankfully, books are beautiful and make really great decor! I've used a few here and there for years, but there wasn't really a system involved. I just grabbed whatever I needed to fill in a spot on a table or wall shelf.
I'm ashamed to say I found out my husband had been hoarding heavy design books in the backpack he carried every day. Apparently, he was "losing" books around the house because I was always moving them around to suit the decor. Whoops.
A few weeks ago, we went through the books from the various rooms around the house. We boxed many up for the next garage sale, and separated all the "keepers" by theme so they could fill in all of my book storage ideas around the house!
When we were done, I realized than we had stashed books in 10 different spaces around the house. It's like living in a carefully curated library now!  I added a few extra ideas for kid spaces at the end of the post as well.
Simple Book Storage Solutions
Over in the living room, I wanted to be more strategic about what books were on the ottoman/coffee table.  We have two books full of fascinating one-page stories that make for great conversation if a guest were to pick one up. Plus, I always forget to read them myself and wanted them handy.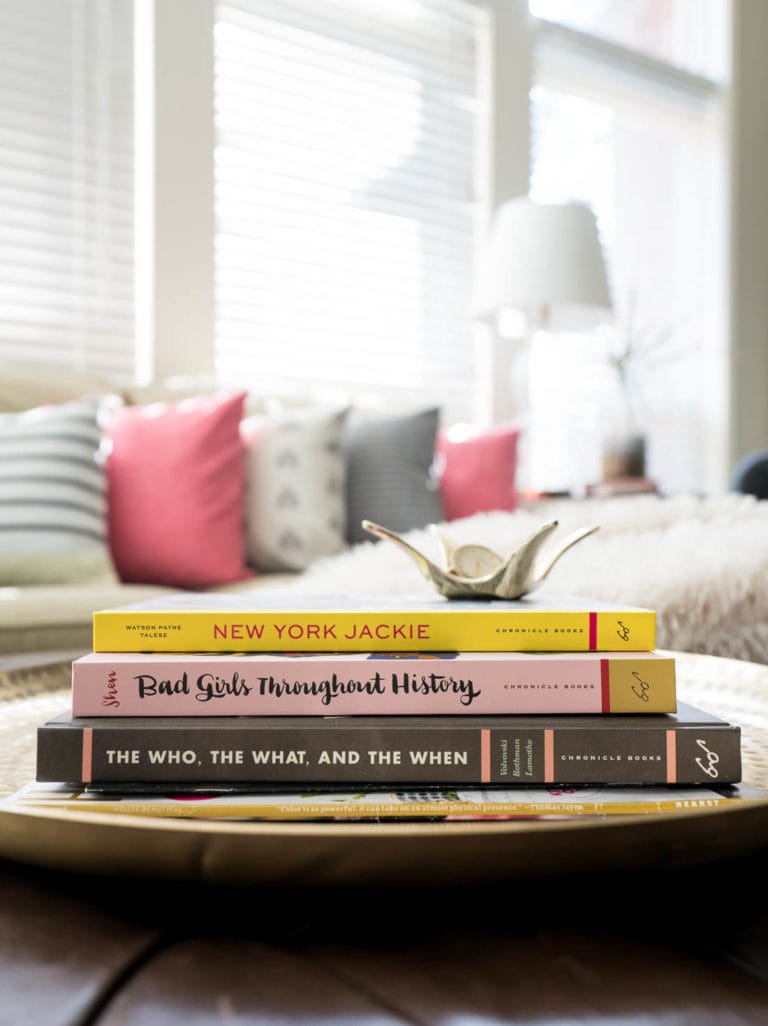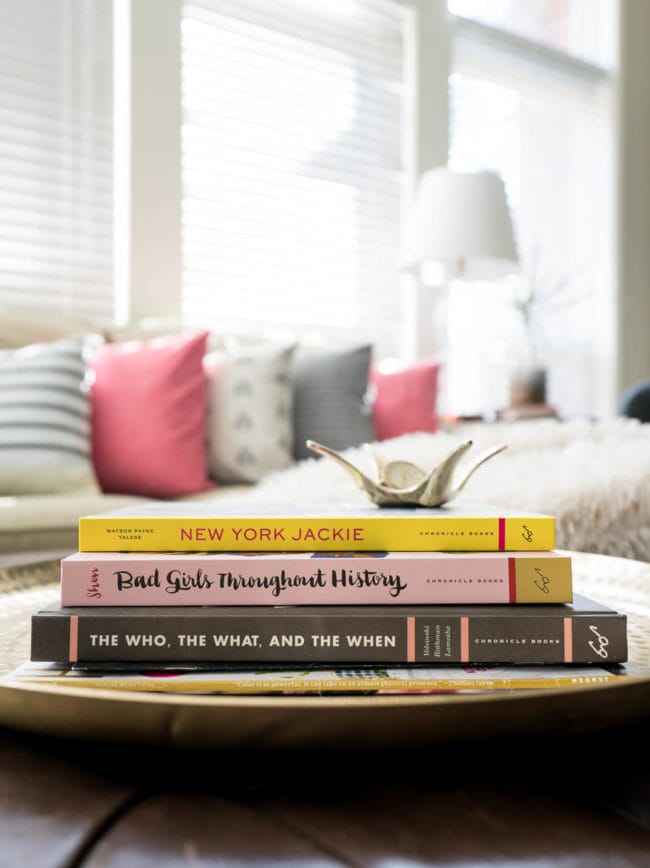 If I zoom back a little, you'll find one more book hiding on the end table under the plant. Books are a great decorating tool when you need a little extra height in a vignette. But I made sure it was also a fun one for us to grab and look at – 1000 Record Covers!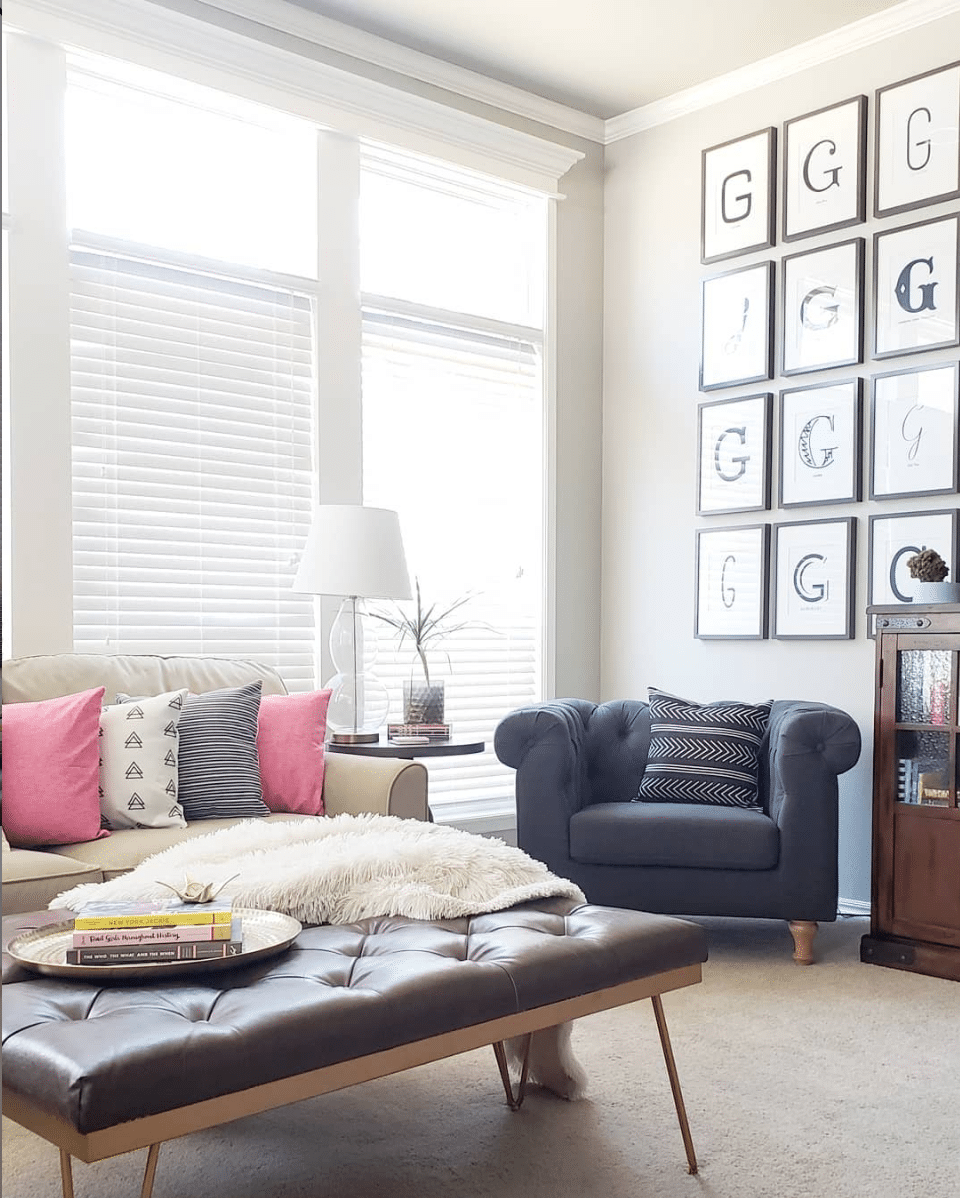 Nearby, we do have some actual shelf space in the TV console. Instead of filling it with movies, we use it for books. After Project Book Organization, we separated them into fiction books on one side and biography/history books on the other.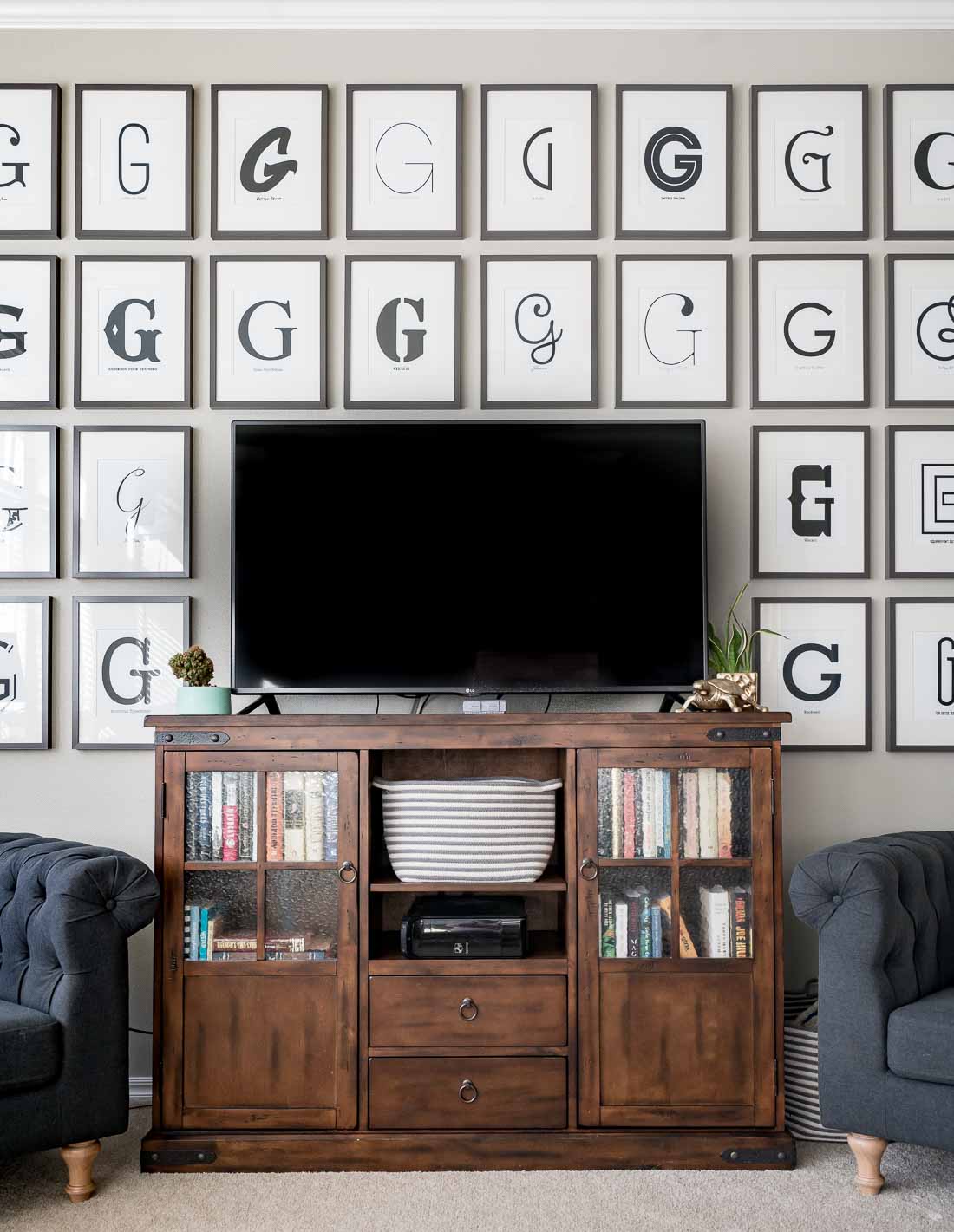 I almost forgot! We have some bookends on the other end table as well. These are usually books we're currently reading,  but the photo below was a from a photo shoot I did for a brand using color coordinating books.  No flat surface is safe from my book storage / book decorating ideas!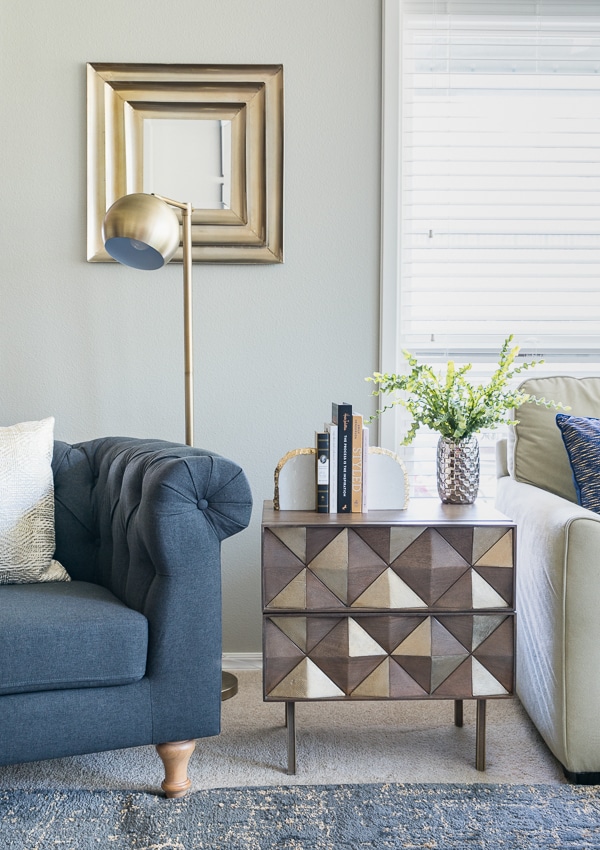 Want in on a little secret? The rug you see in the photo above is actually the runner from our hallway, cropped to look like the full rug. Never judge your real home against cropped pictures from the internet! 
In the kitchen nook, I put some cookbooks on display using book ends on the new open shelves. Because they're out where we can see them, I tend to use them more often! Plus, having my Gram's vintage Better Homes & Gardens Cookbook as part of the kitchen decor makes me smile every time I see it.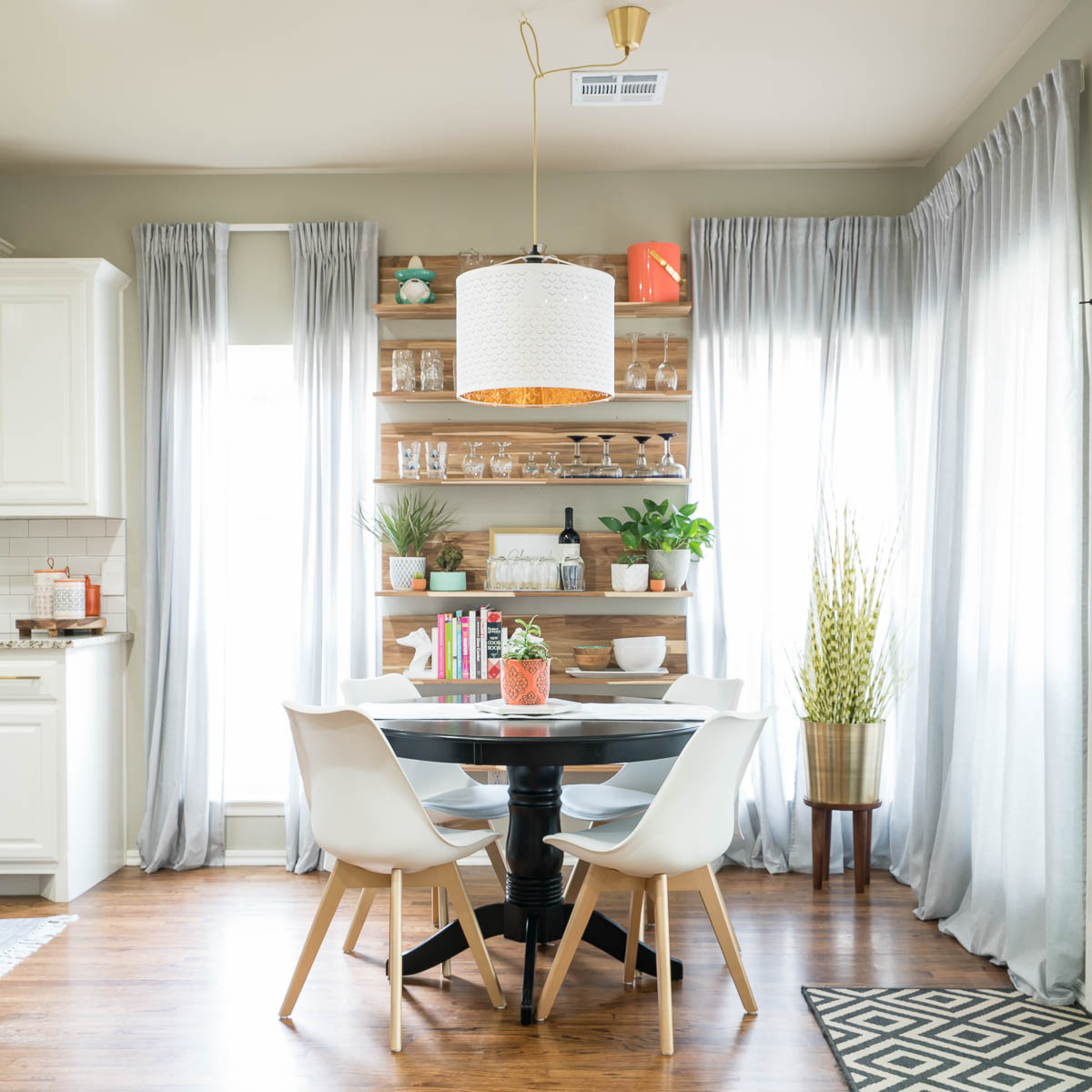 Moving down the hallway to our bedroom, I grouped all the plant and gardening books together in a stack to add a little height and interest to the storage cabinet.  When I need to reference something or just want to read up on plant care, I finally know exactly where to find the right book.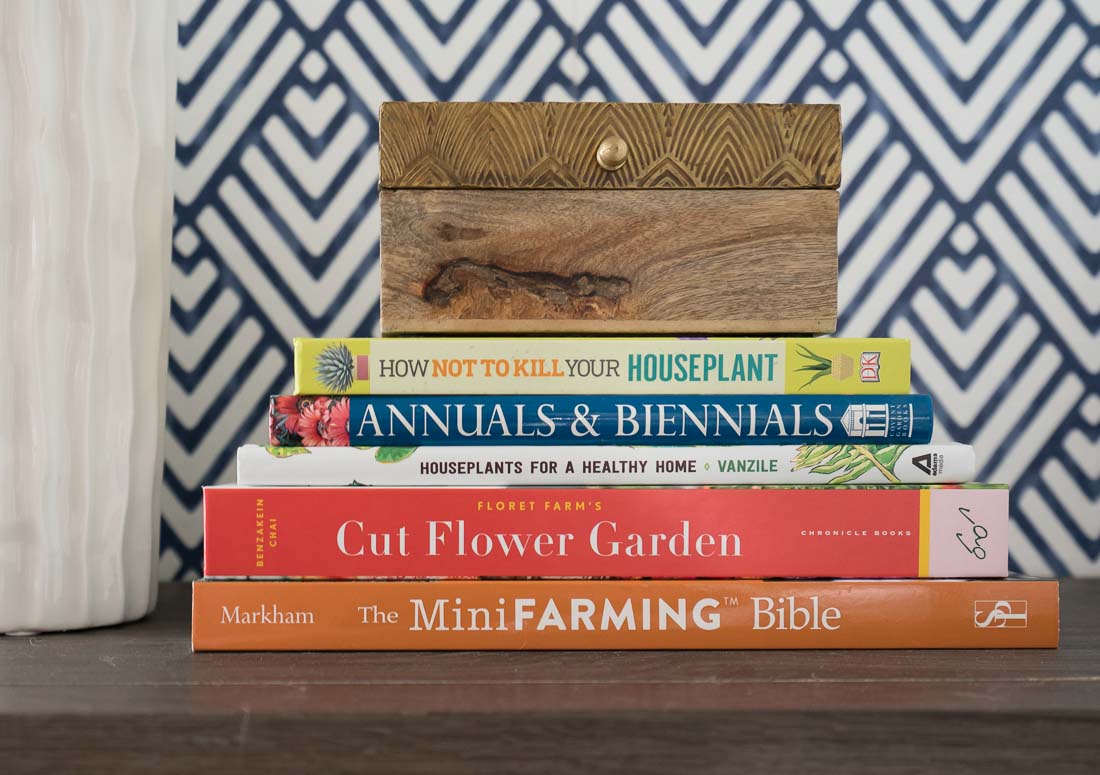 In the bedroom, I have a cute, small table that was my mom's. It's the perfect spot to put the more classic books from our collection. When we have a larger group of books to store on a smaller space, I like to mix things up and do some horizontal to create a free bookend and add some visual interest.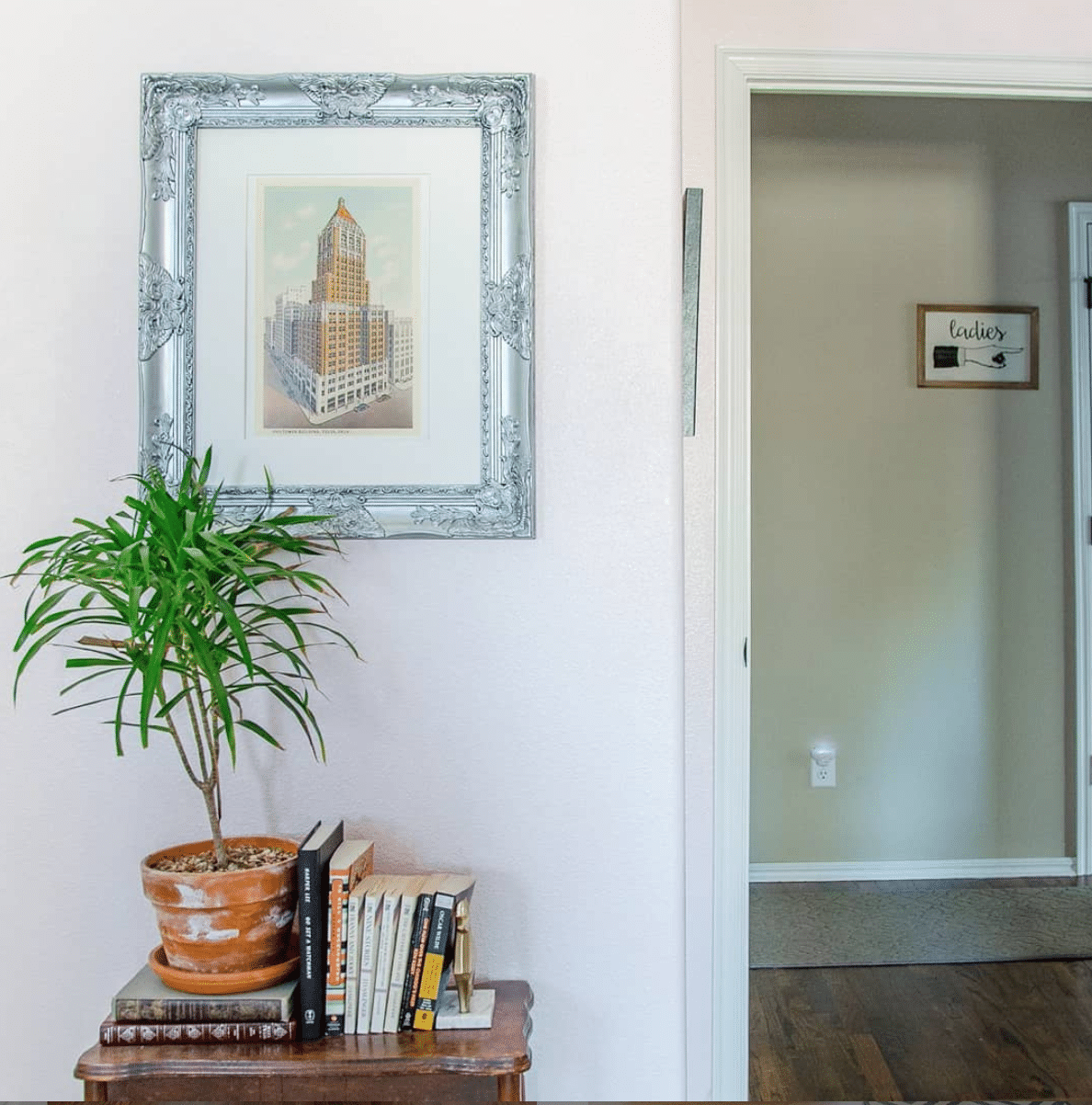 Our nightstands are another spot we love to stash books in a decorative way. They hold books we're reading or hope to start soon.   Corey's side is getting a little crazy because he has a tendency to get lots of LONG books for Christmas.
A few stacks of books also look great on a dresser. Limiting them to a neutral color palette that fits the rooms helps it look intentional.  Storage in plain sight for the win!  We've since moved these books around because I was craving an almost empty dresser top after it was overly cluttered during Christmas, but it's a great option for most bedrooms.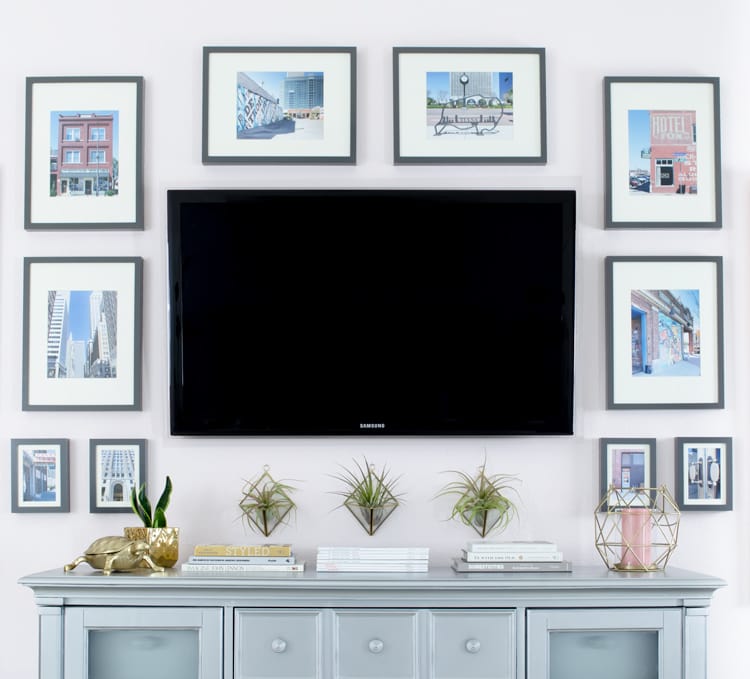 Circling back to the public areas of the house, I took advantage of the lower shelf in the entryway and added…you guessed it…books! Since the rails on the cart are short, bookends were definitely in order.
During the big book organization, I grouped all the books about Tulsa here!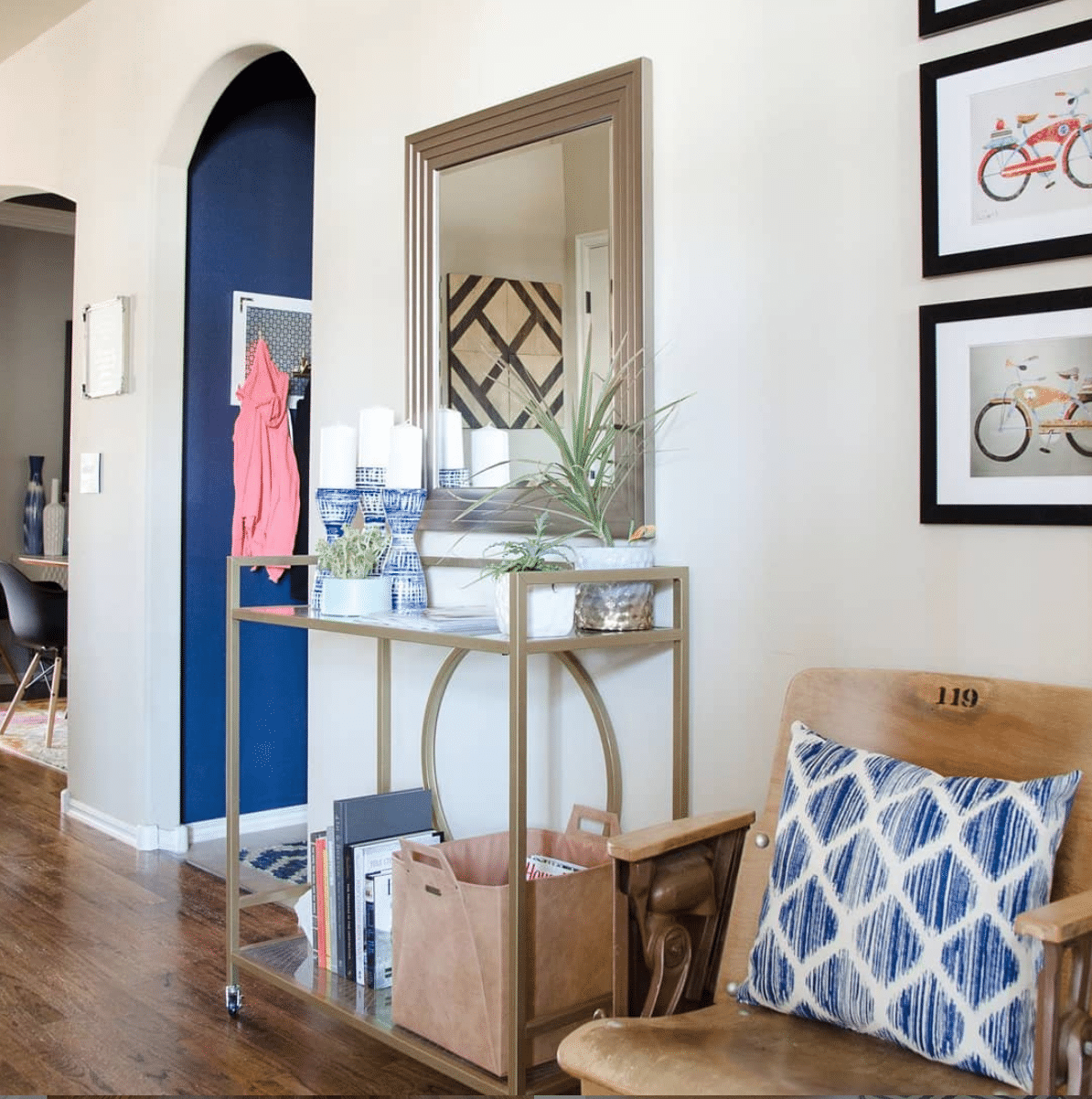 Remember my poor husband hauling his graphic design books around so his decor-crazed wife wouldn't take them?
It was purely accidental that he didn't have a designated spot for them! Now, the newest ones live in the dining room on the buffet, which is perfect because the colors happen to match that room and nowhere else in the house.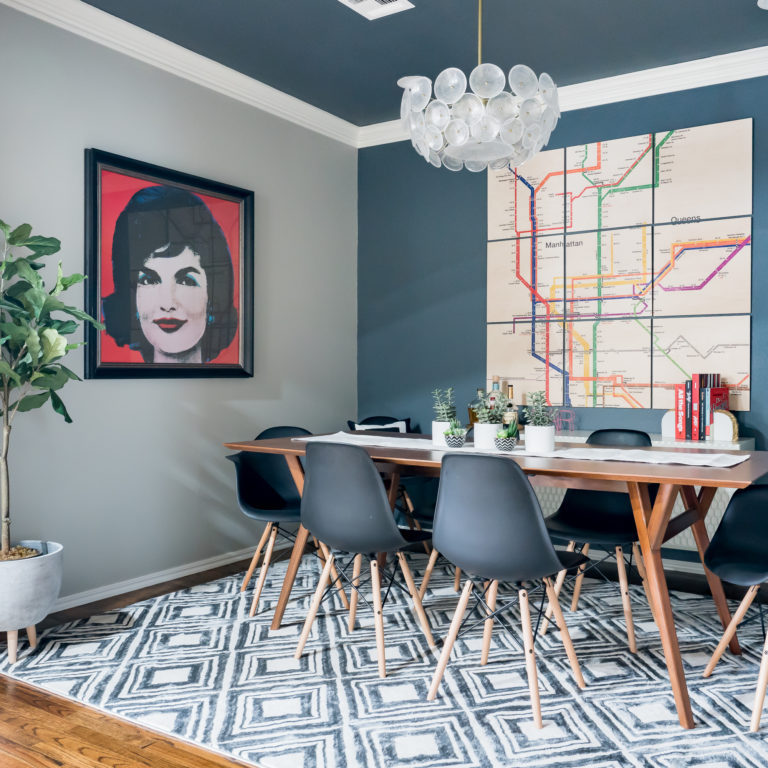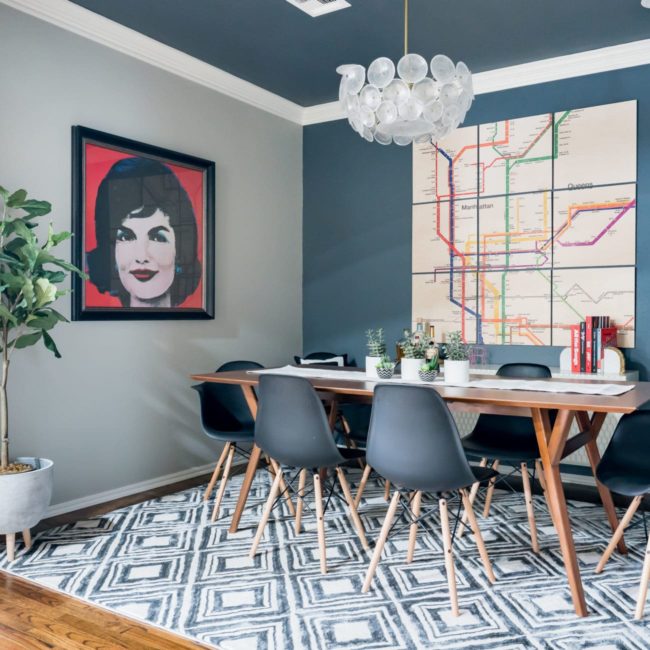 Rounding out the downstairs books, let's check out the office. It's the one place we have actual bookcases!
I separated the books into shelves for interior design, biographies, business development and personal development. There are also a few fiction books I haven't read yet grouped on one shelf.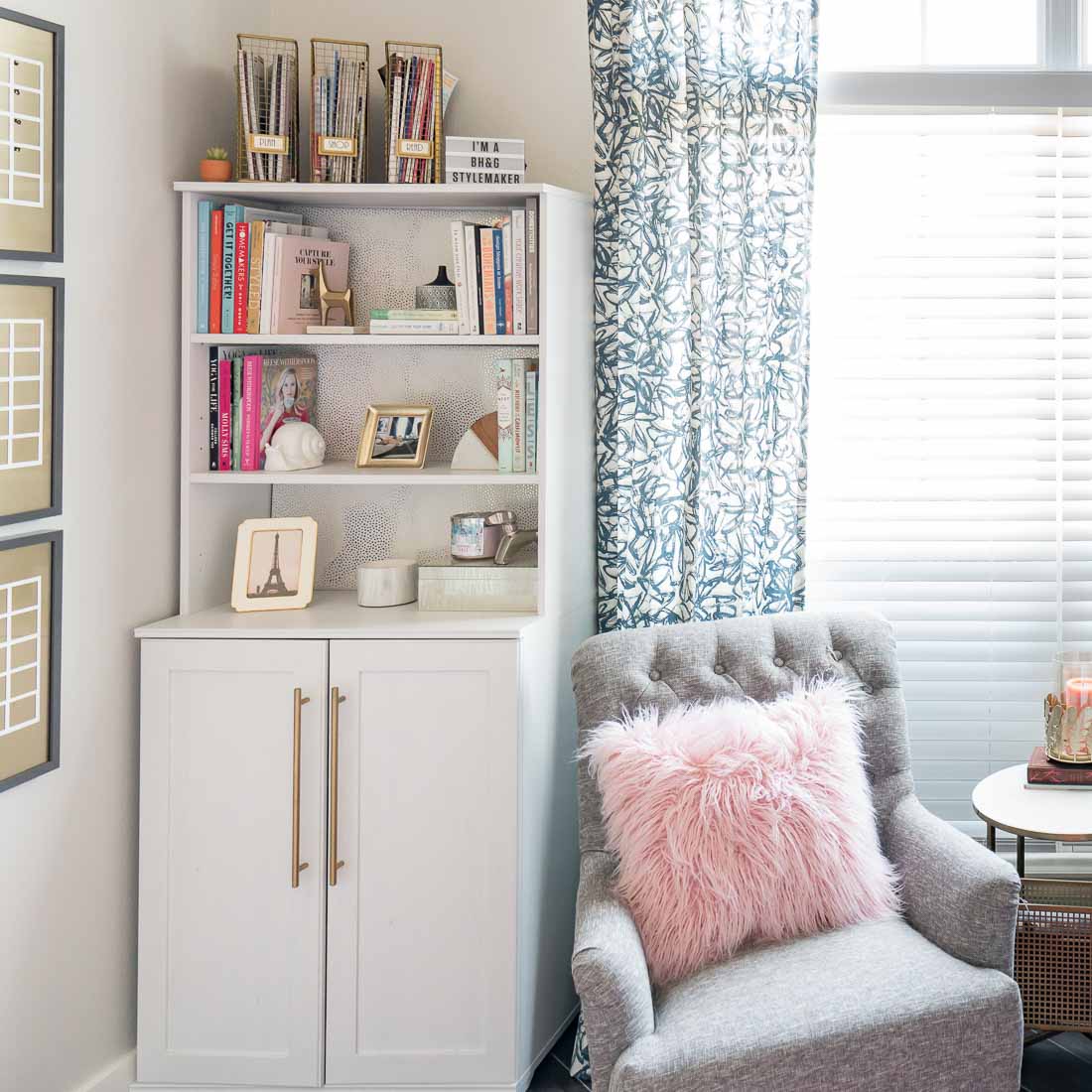 Upstairs, we've got two final sections of book storage!
In the game room, the music related books live with the record player.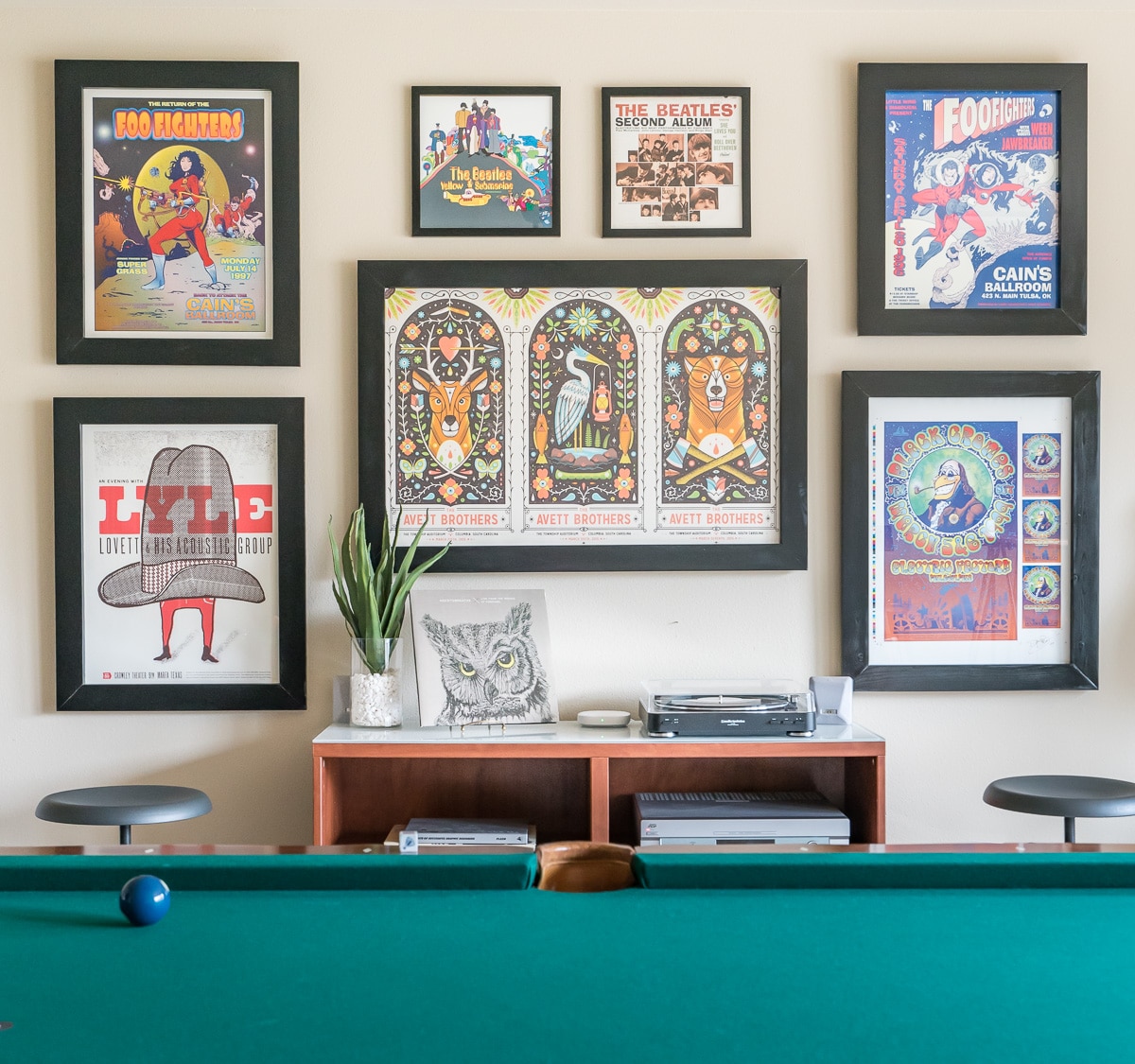 Since Corey has a desk in the guest room, the rest of his art books that don't work in the dining room are stored in a small bookshelf that doubles as the nightstand.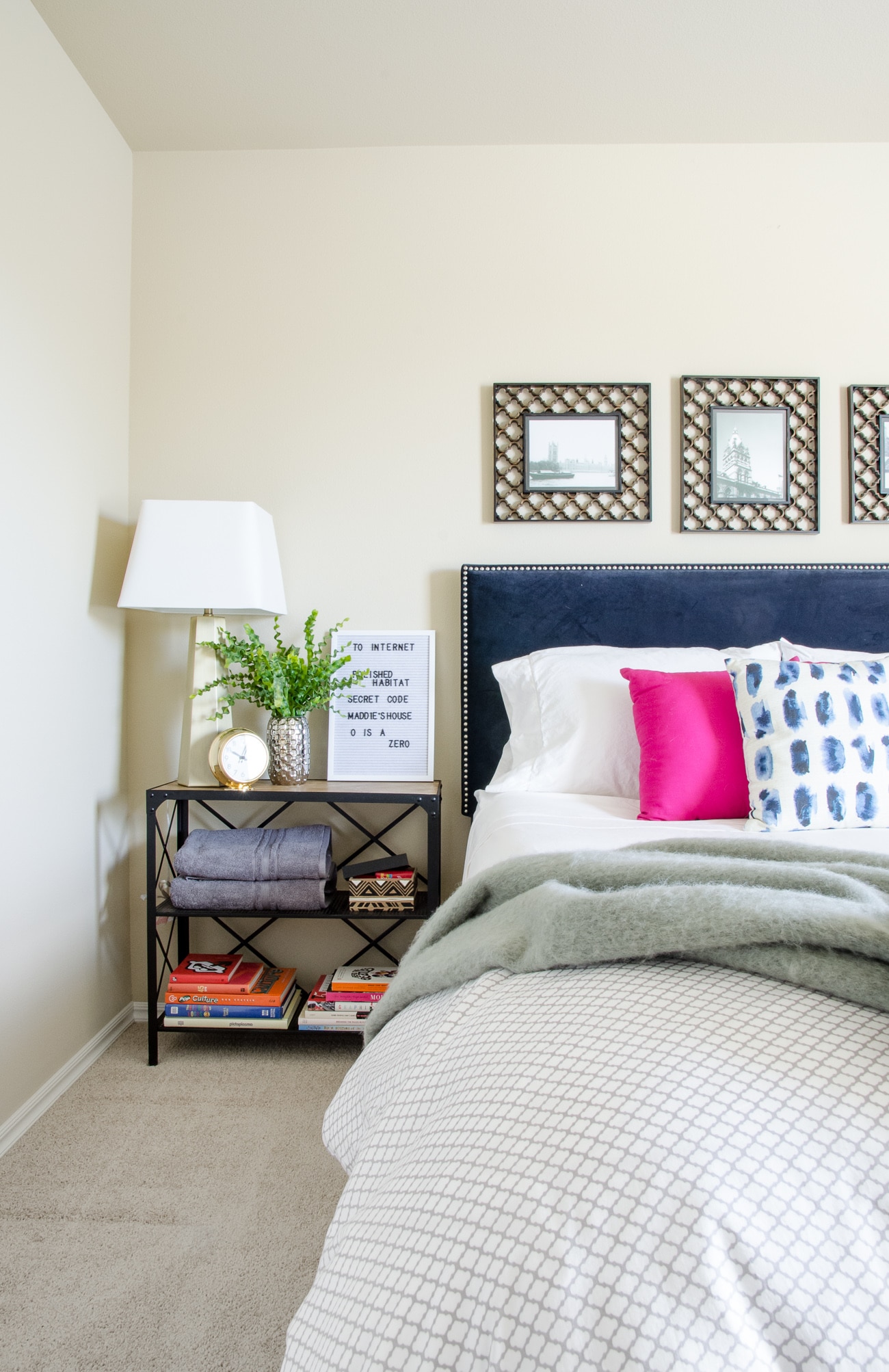 Children's Book Storage Ideas
It's not just my house where I love to organize books! When I helped the neighbor organize her daughter's closet, we added tons of book storage on the back of her closet door.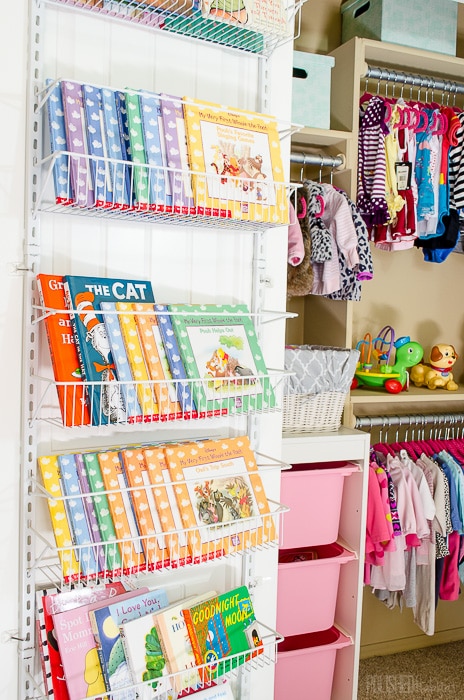 Then in my nephew's room, we painted some IKEA racks to hold favorite books on his wall in a way that makes it easy to find what he's looking for. The books can then be rotated out based on the time of year. So cute!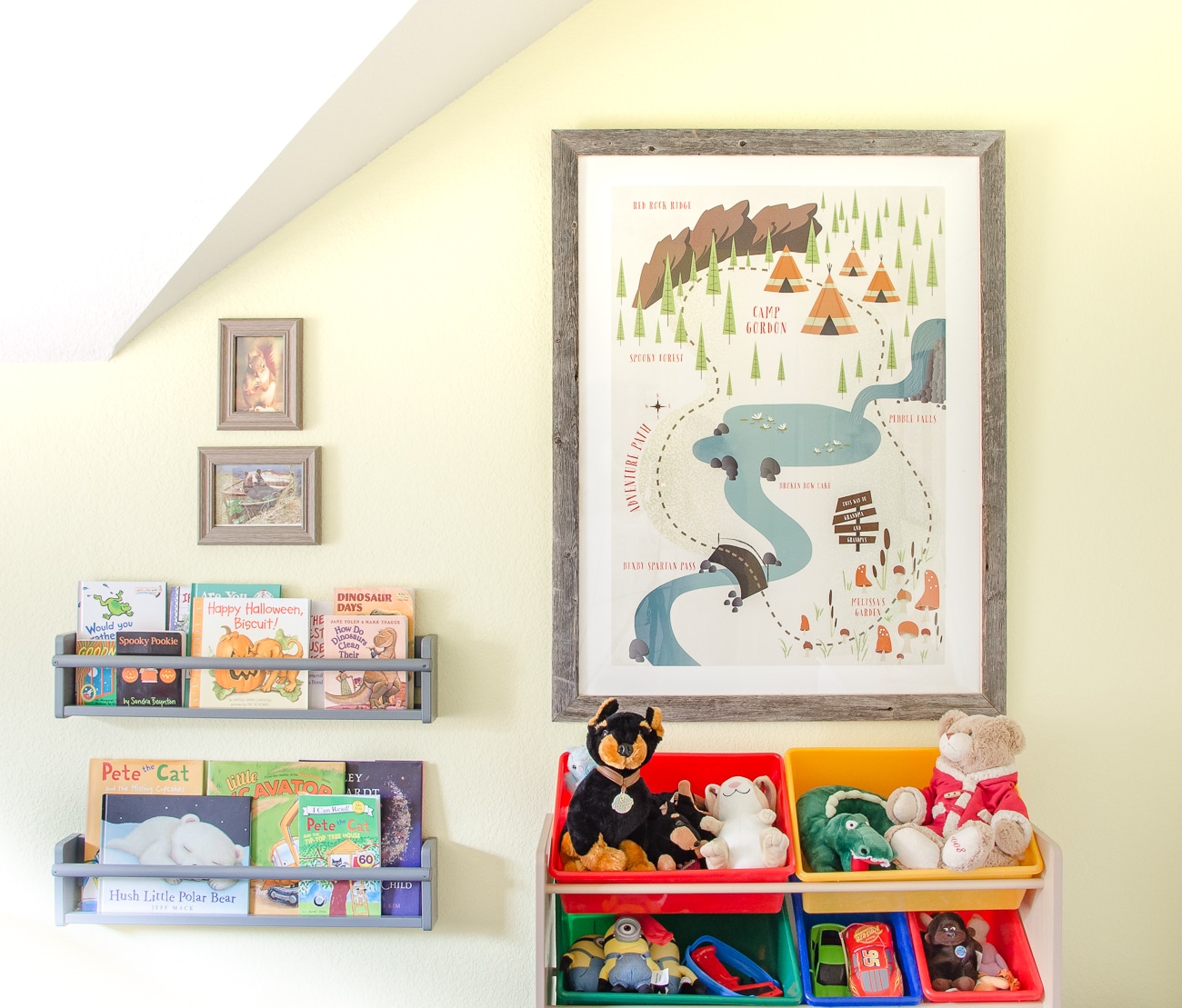 Whew! Are you newly excited by all the spaces around your home you can fit in some book storage and organization?
Even if we had a dedicated library, I think I'd still spread books throughout the house. They add such a feeling of warmth and life and make your home a unique representation of your family!
Next up, check out how to add pretty storage to your kitchen with an IKEA shoe cabinet! 
vvv Don't Forget To Pin Me! vvv