This is a sponsored post written by me on behalf of VELUX Skylights. All opinions are 100% mine.
When I showed you the state of our storage closet, it probably seemed like it was our worst secret mess. Not by a long shot. The real disaster is happening in the walk-out attic.
In the model home, the room was finished living space, but we opted to save the money and leave it as attic storage since there was already another game room we didn't have furniture to fill. Without shelving or any storage systems in place, seven years later, that attic space now looks like this.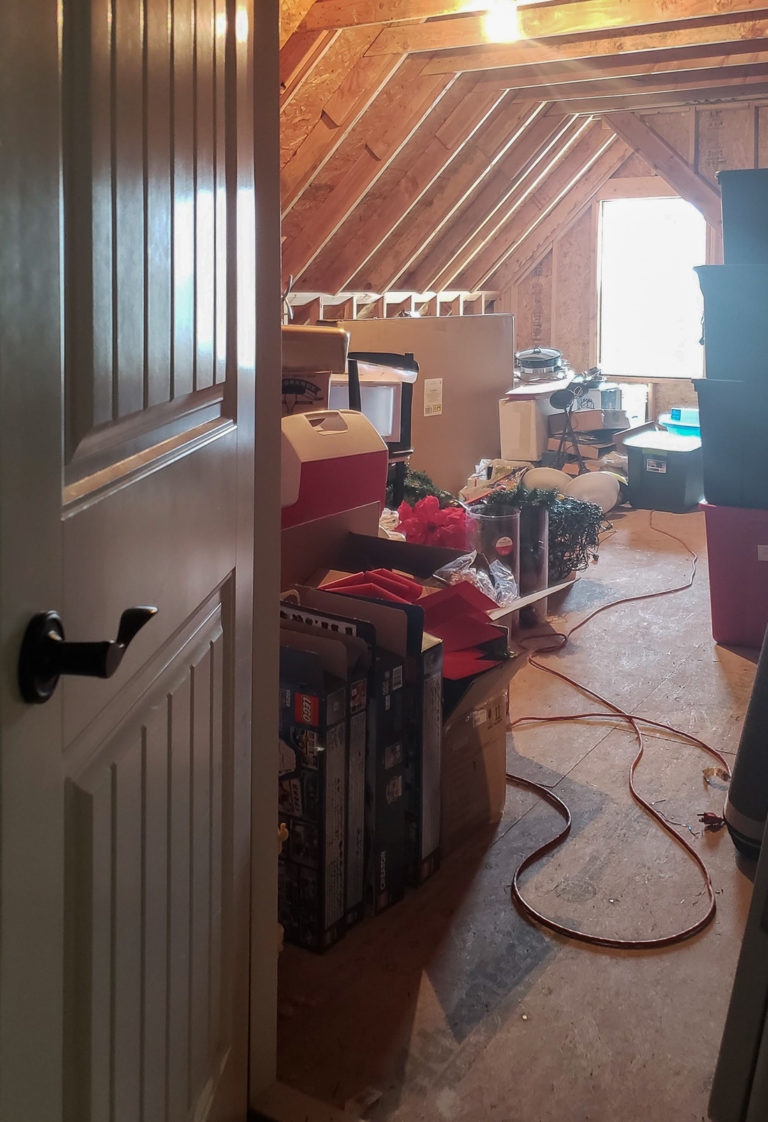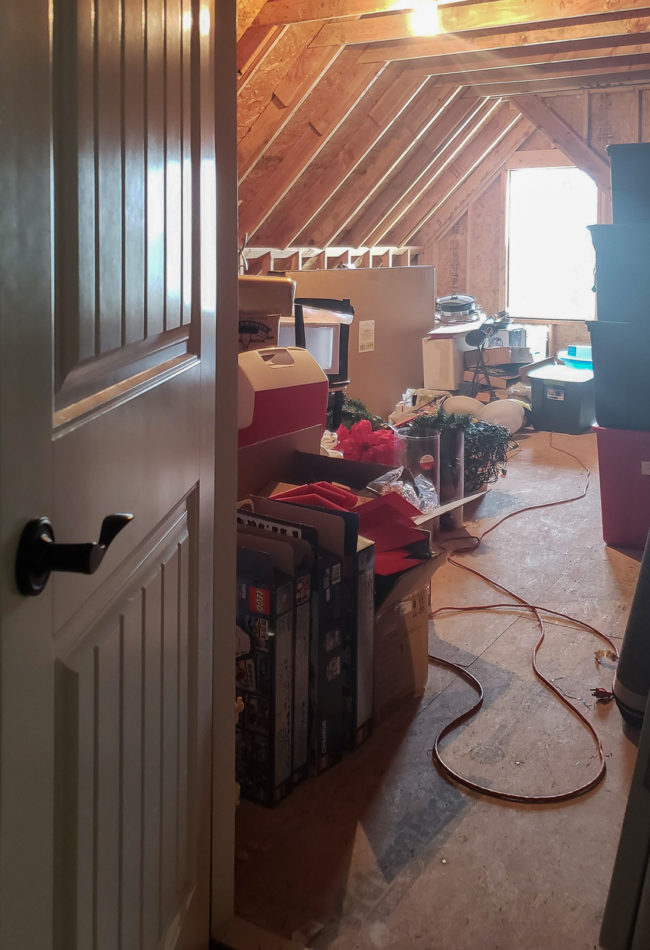 Most of the space has full-height ceilings, and it's a big room. You just can't tell because of the chaos.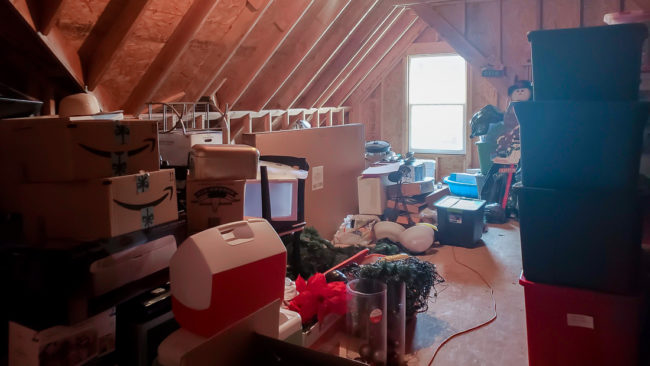 Even though it's a hot mess right now, we always had the idea in the back of our minds that we'd eventually turn the room into a home theater. The time hasn't quite arrived YET, but I'm better at saving money toward something if I have a vision of it in my mind.
I keep thinking that we need to organize the attic to motivate us to move forward with this big project, but I found another motivator that required less manual labor and no time in the cold – working on the design plan for the room!
Almost every home theater we see on home tours has lots of dark wood, dark leather, and feels formal. None of those aspects would be right for our style. I spent an afternoon filling out the Design Method worksheets and scouring the internet to come up with a perfect plan for our modern and relaxed home theater.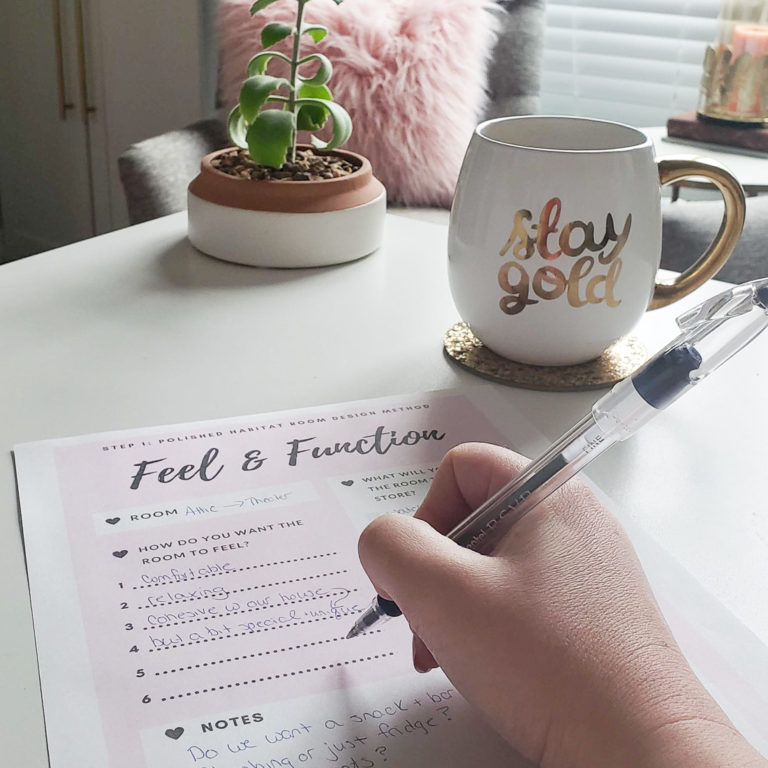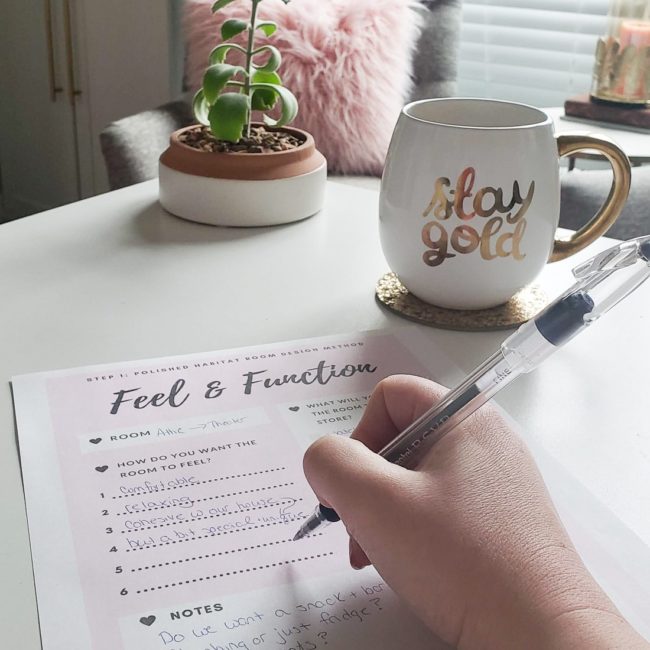 Once I had the worksheet done, I came up with a mood board to inspire the space!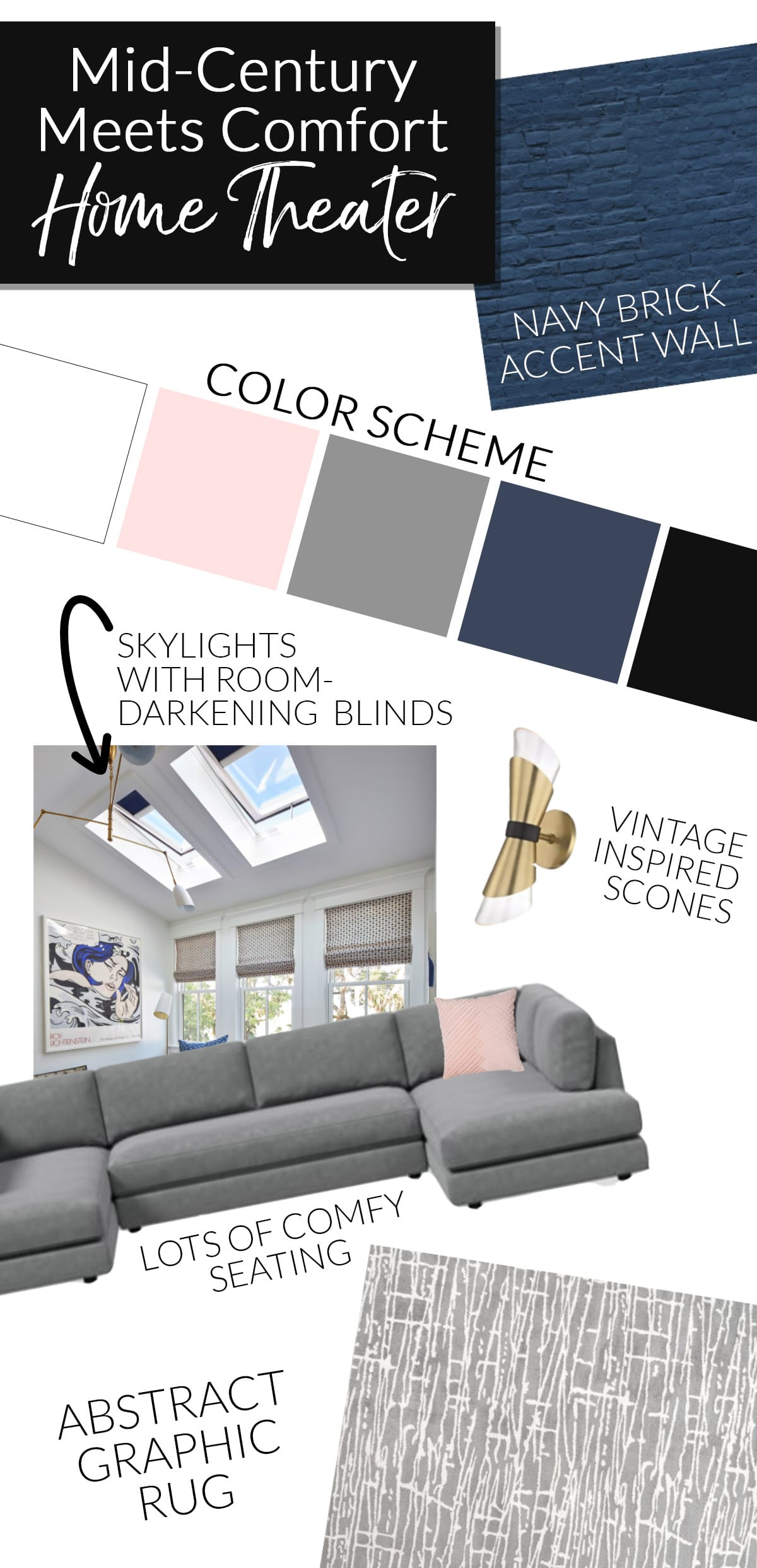 One area that had stumped us when we talked about making a theater was windows.
There's only one small window at the far end of the room, but I always imagined curling up in the space with a book on a lazy Sunday afternoon without needing a lamp. There isn't a way to add regular windows on any of the side walls, but FINALLY, I realized that the answer was simple – I could use the angled wall!
It would have been "wasted" surface space since it wouldn't work for hanging art and you know I love everything in our home to have a purpose. Adding VELUX No Leak Solar Powered Fresh Air Skylights would give me the natural light I wanted for reading and keep all the colors in the room true during the day.
They also have solar powered room darkening blinds in case we want to watch a movie during the day! With the push of a button, the room would be dark. It's not just the shades we could control remotely either – if we needed to air the fresh popcorn smell out of the room, we could open the skylight.
And VELUX is smart. If we forget to close the skylights, and the weather changed, the rain sensing feature would automatically take over and close them for us. Can you tell I'm more excited about this new skylight possibility than whatever projector, speaker, screen setup we'd have?
Now that we have a design plan, I can calculate a realistic budget for the design aspects and we just need to figure out the construction costs! Meanwhile, I'll be dreaming of being curled up on the comfy sofa staring at the stars.
Speaking of that, if you'd like to add some skylights to your home, VELUX is hosting a giveaway for two skylights, including installation, that you can enter here! 
NO PURCHASE NECESSARY. Void where prohibited. Ends on 3/6/19. Open to legal residents of U.S./D/C,18+ and who own their own home. Official Rules here: https://bit.ly/2SGLfWp.  Sponsor VELUX America, Inc.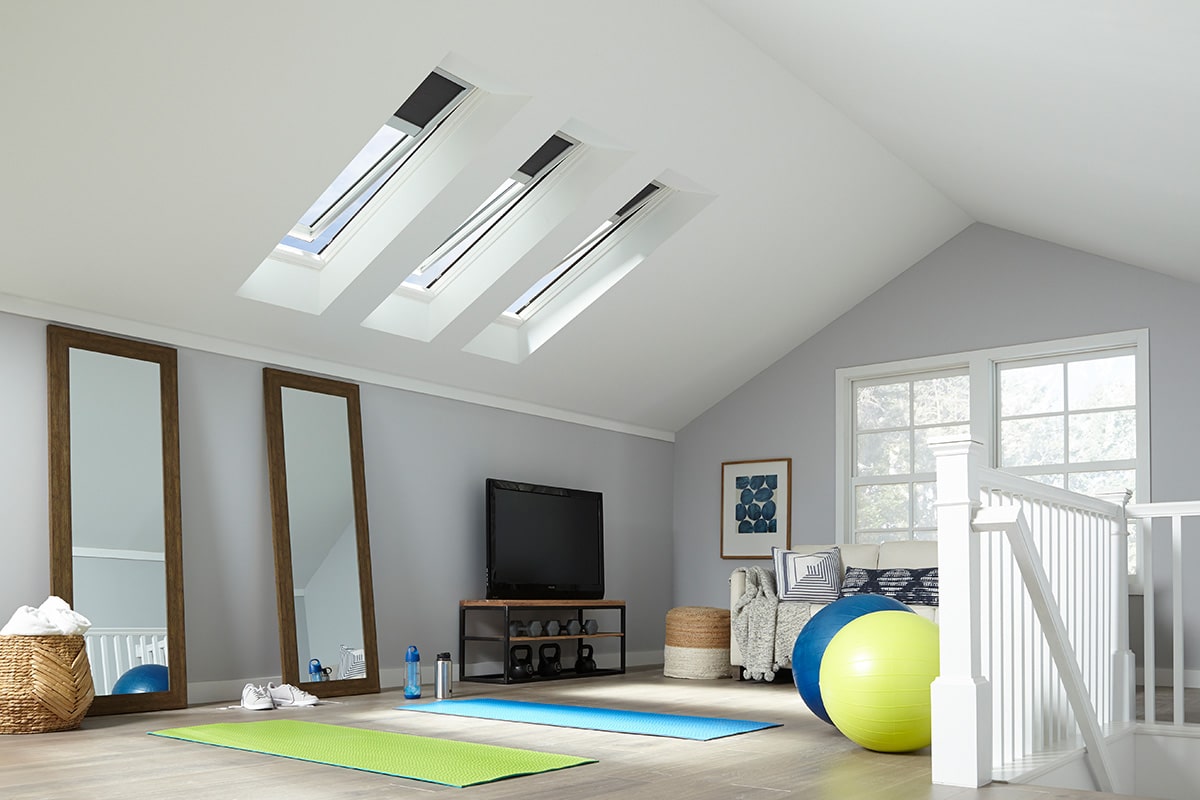 I would LOVE one of you to win and get this awesome addition to your home, so be sure to enter before the deadline! While you're waiting for them to choose a winner, you could make your own mood board of the space you dream of updating with VELUX skylights!
The No Leak Solar Powered Fresh Air Skylight is available in more than 80 colors and patterns, so no matter your style, they'll have a great blind option for you. Find a skylight installer in your area today!
Product Sources from the Mood Board
In case you fell in love with anything from the mood board, I added the links below. I keep thinking about ordering that rug for our living room!
VELUX Skylights | Rug  | Couch |  Sconce | Blue Brick Wallpaper | Pink Pillow
What room do you DREAM of making over?
Let me know in the comments below!