If your kitchen cabinets are a mess, or you've ever wished you had more cabinet space, this IKEA shoe cabinet post is for you!
I'm on a mission to organize all of our kitchen cabinets. And by organize, I mean starting over.
I'm reconsidering everything and making sure all the kitchen items are in the cabinet that makes the most sense. PS: That project is done now and you can see it here!
BUT, before I could organize the regular cabinets, I realized step one was really figuring out the best things to store in the IKEA Hemnes Shoe Organizer we added to the hallway by the kitchen.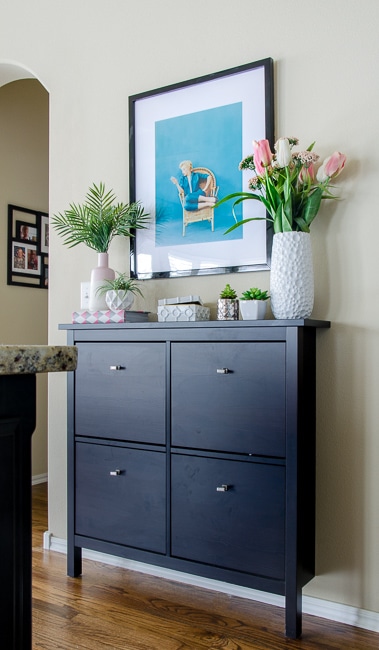 As I brainstormed options, I realized that these IKEA shoe storage cabinets could add much-needed storage to most kitchens.
They are so skinny that they fit almost anywhere and the hardware can be updated to any style!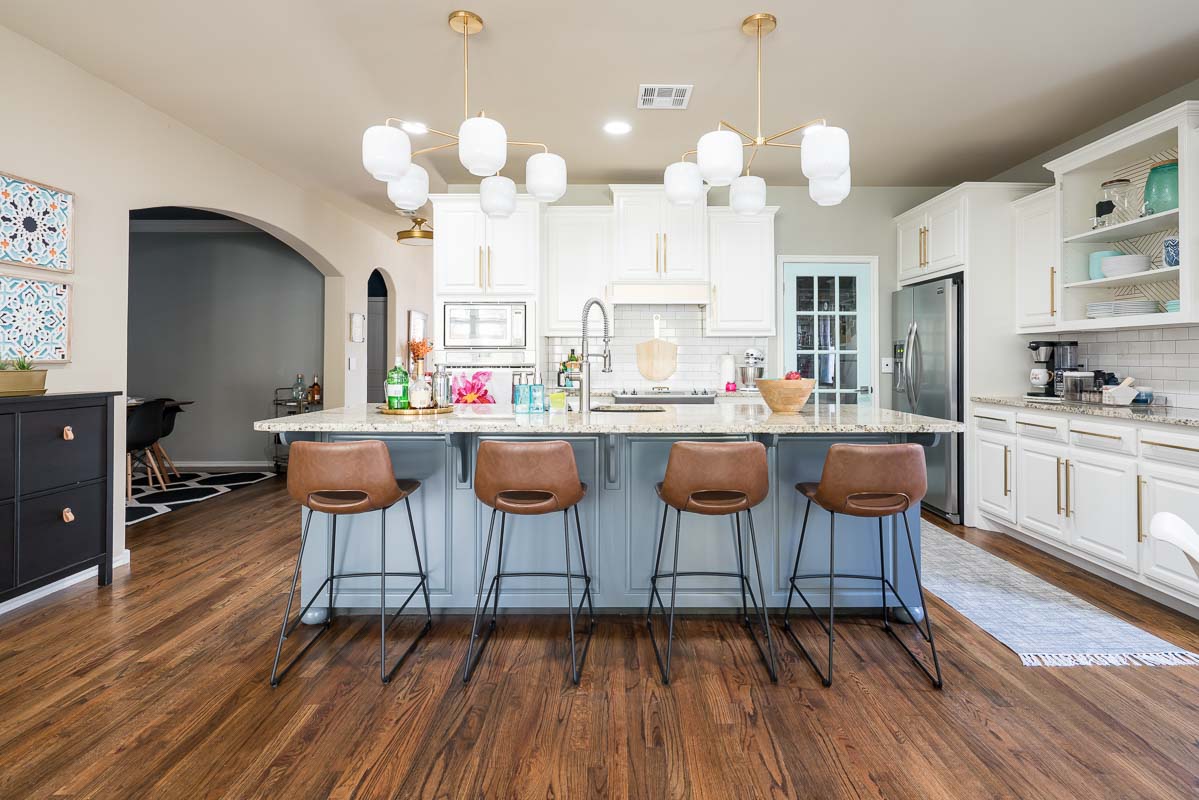 There are four pull out "drawers" and we were really only using two of them functionally.
My husband uses one of the top ones as a drop station when he comes home for things like his wallet.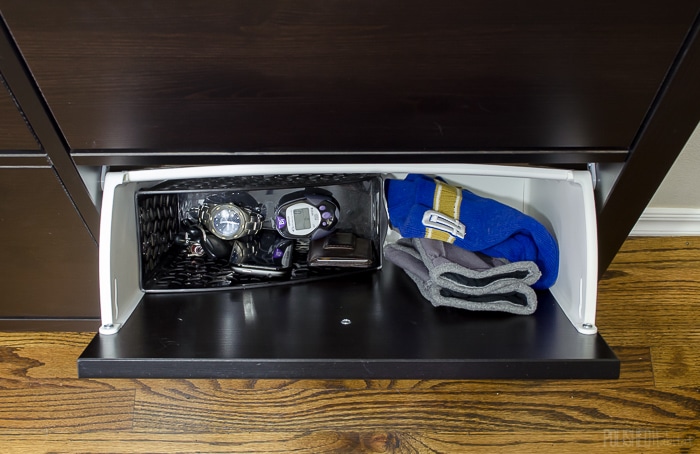 I also used one of the lower drawers for reusable grocery bags. So handy!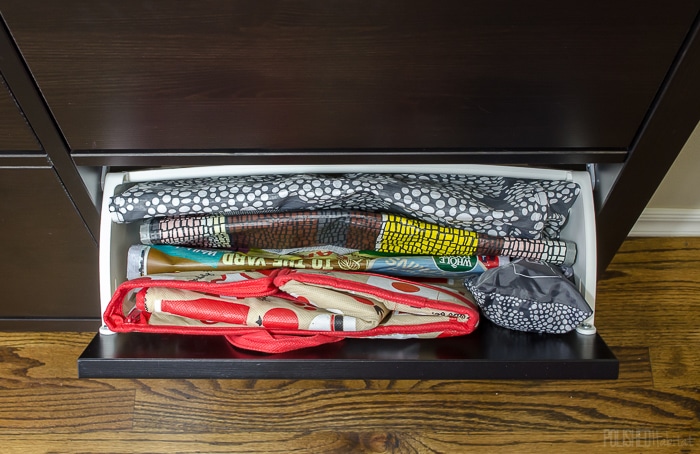 With those two sections working well for us, I still have two more to fill. The good news/bad news is that I came up with way more than two options.
Altogether, I thought of 14 things you can store in one of these shoe cabinets, freeing up space in your main cabinets. Woohoo!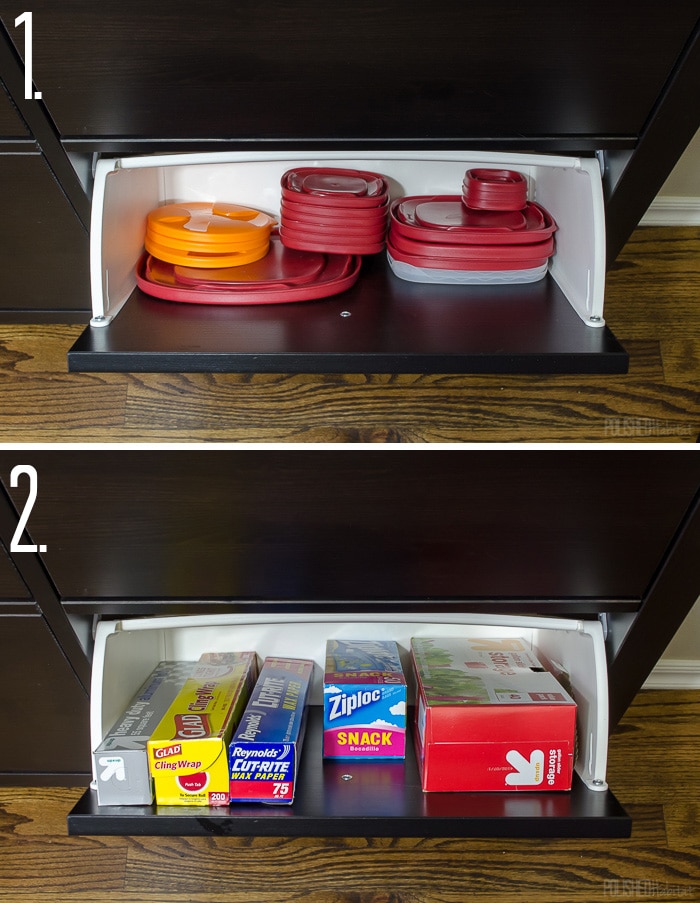 Tupperware Lids – Never hunt for lids again since you can clearly see them all at once. This is SO much better than having them take up limited shelf space.
Food Storage Stuff – Right now, I keep foil, baggies, and related stuff in a drawer. I love the idea of freeing up that drawer!

Disposable Plates & Cups – These currently live in our pantry cabinets, but I love the idea of using one of these shoe cabinets as a whole entertaining zone.
Water Bottles – Seriously, why do these multiply around our house? And they take up SO MUCH SPACE in our cabinets. I'm thinking we'll narrow it down to 6 bottles. This idea is a top contender for one of the two drawers I have available. The idea of water bottles being out of our cabinet is so exciting.
Koozie Central – This is another favorite. They are in a drawer right now, and I can think of so many things that would be better in that drawer.

Bar Cabinet – No room for a big bar cart? You can still entertain in style!
Cereal – Cereal is another thing that takes up tons of precious cabinet space. I fit three boxes in one drawer, but they were smaller Aldi boxes. PS: If you have an Aldi nearby, they have the best cereal, and it's crazy cheap!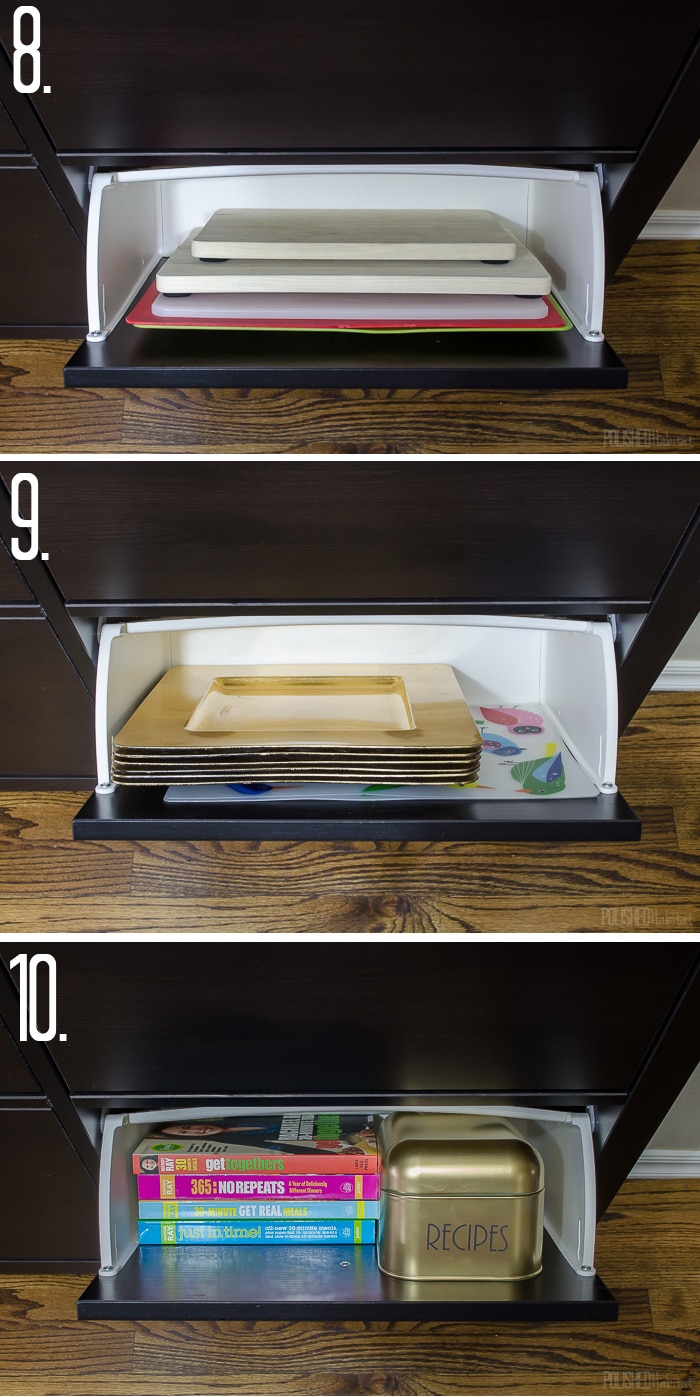 8. Cutting Boards – These seem to be a common storage problem. At this house we have space for them over the wall oven, but previously there was never a good spot. I REALLY could have used one (or three) of these shoe cabinets in our prior kitchens.
9. Chargers and Placemats – Yep, they both fit right in!
10. Cookbooks & Recipes – If you have a library-sized cookbook collection, this isn't the solution for you. But, if you just have a few favorites and nowhere to display them near the kitchen, it could work out well.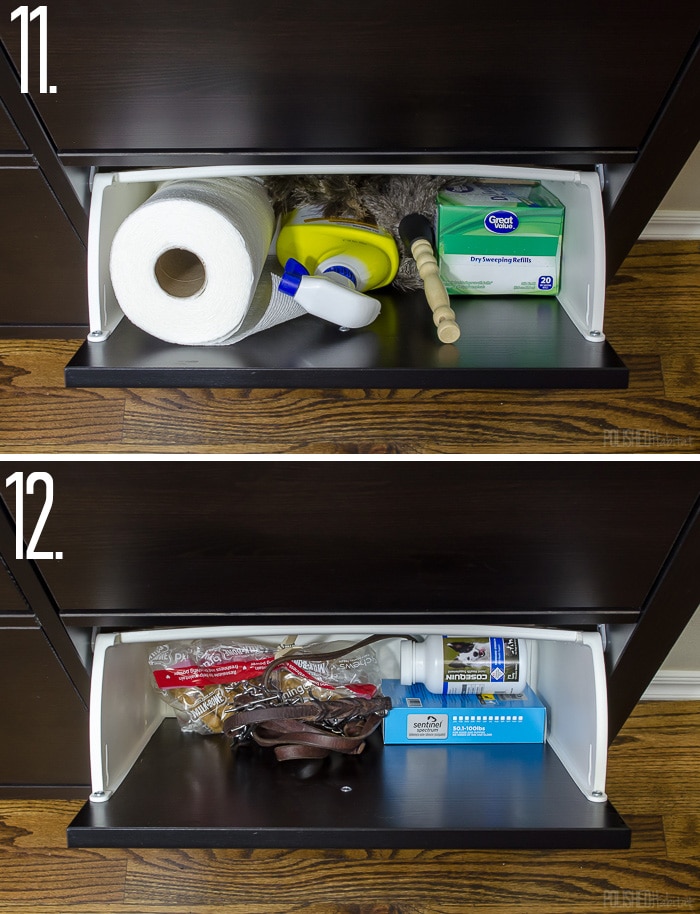 11. Cleaning Supplies – I love the idea of using one of the drawers for a little clean up kit!
12. Pet Supplies – The dog leash, treats, and medicines could all be combined together in one easy-to-access pet station. I already keep Maddie's stuff in a laundry room cabinet, but if we didn't have that, I'd be keeping this set up for sure.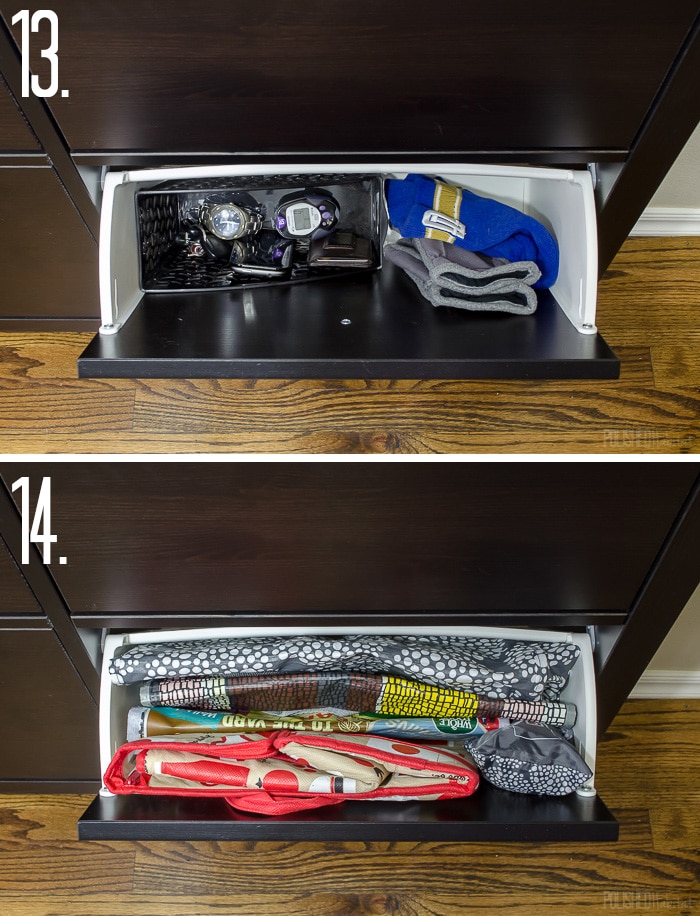 I know I showed you those two at the beginning, but I wanted to add them to the nice numbered list too.
13. Drop Station – Keep things off the countertop by assigning a drawer to each family member as a drop station.
14. Reusable Bags – These makes grocery shopping much easier because they hold so much more than plastic bags, but they used to be a big pain to store. I love how I can file them right in this drawer after I put up the groceries.
So there you have it, FOURTEEN ways to add storage to the kitchen with a shoe organizer. If you need me, I'll be deep in the pantry cabinets getting them organized so I can move on to the kitchen!
The Hemnes cabinets are great in more than the kitchen – my friend Angela from Blue i Style came up with TWENTY more great ideas for the slightly larger version of this cabinet. Click here to pop over to her post!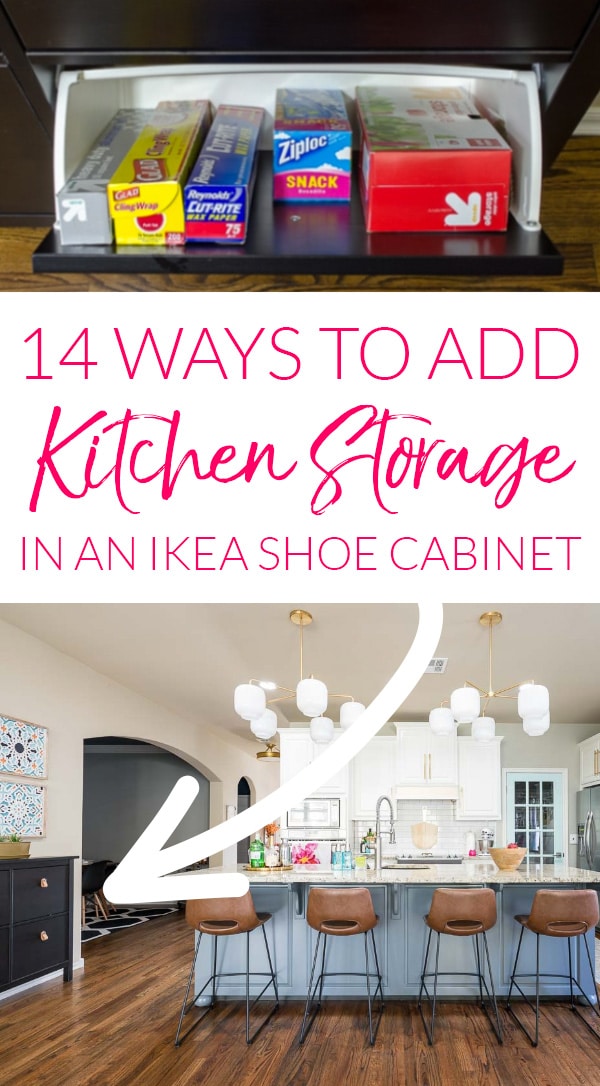 Can you think of any ideas I missed?

In 2013, Melissa founded Polished Habitat to share her passion for intersecting style and function to make everyday life more beautiful and less stressful.

She does this by sharing easy home organization tips, home decor tutorials, and creative ideas to help readers think outside the box, no matter their budget.

Her work has been featured in print in Better Homes & Gardens and Room to Create Magazine, and online by HGTV, House Beautiful, Buzzfeed, & more.

In 2018 & 2019, Melissa was named as a Style Maker by Better Homes & Gardens. In 2019, Polished Habitat was shortlisted for the Amara Blog Awards Best Interior Styling Blog - International.

Latest posts by Melissa George (see all)