I made quite the mess for awhile in the kitchen this weekend, but it was for a great cause. When we moved into this house, I tried to plan out the best use of each kitchen cabinet. I got a few of them right, but not all. Since I'm all about efficiency and organization, it seemed nuts that I hadn't fixed the problem areas. If you're in the same boat with scary things happening behind cabinet doors, I've got some ideas to help organize your kitchen!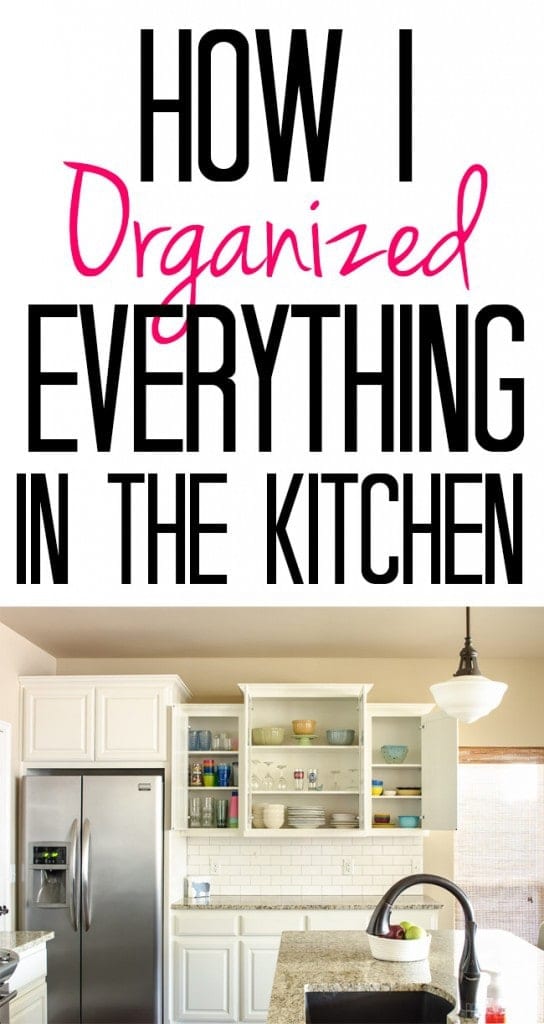 To start, I listed out all the little annoyances that I wanted to address.
 The Problems:
The measuring cups, spoons, and mixing bowls were in the furthest cabinet away from the stove.
Stand mixer attachments were never in the same spot because they got put wherever they would fit after each use.
The cabinet intended for a pull-out trash can was full of tupperware and miscellaneous other stuff because we never bought the pull-out trash can.
I couldn't reach ANY of the top shelves without a ladder and had to do some serious stretching to even reach the 2nd shelf. Annoying.
The spice/oil cabinet needed to be both purged and cleaned.
The serving trays and dishes were like a game of Jenga and the whole thing could come crashing down at any time.
The serving trays and dishes included TONS of Christmas items that we don't need 11 months of the year.
The serving trays and dishes had some baking dishes included, that were never used because they were buried in the cabinet of doom.
Seriously, I don't have before pictures of everything, but I wasn't kidding about the serving cabinet situation.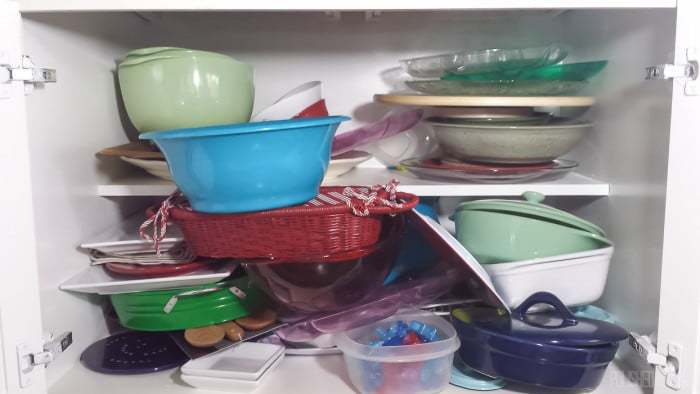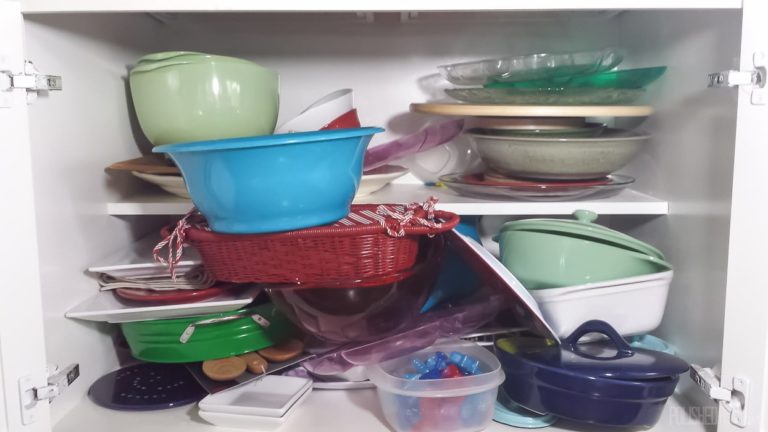 Before I started emptying out cabinets, I made a new plan for what made the most sense to be stored in each section. It seems obvious in retrospect, but I realized that everything we need for preparing food should be in the zone between the stove and sink. Things for serving and storing food could then be together on the secondary wall with the fridge.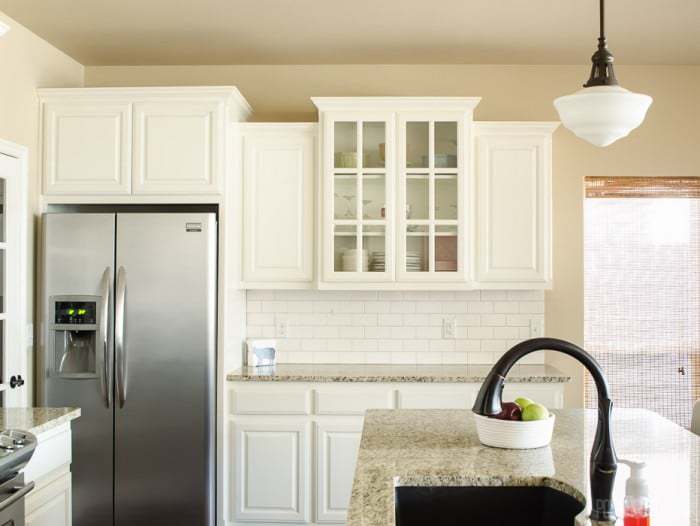 The cups have always been next to the fridge, so it made perfect sense for the plates and bowls to join them. Imagine that, everything together! The "pretty" dishes went in the glass cabinet, and plastic items got a new home in the cabinet closest to the window. That's the same cabinet that used to hold the mixing bowls and measuring cups/spoons.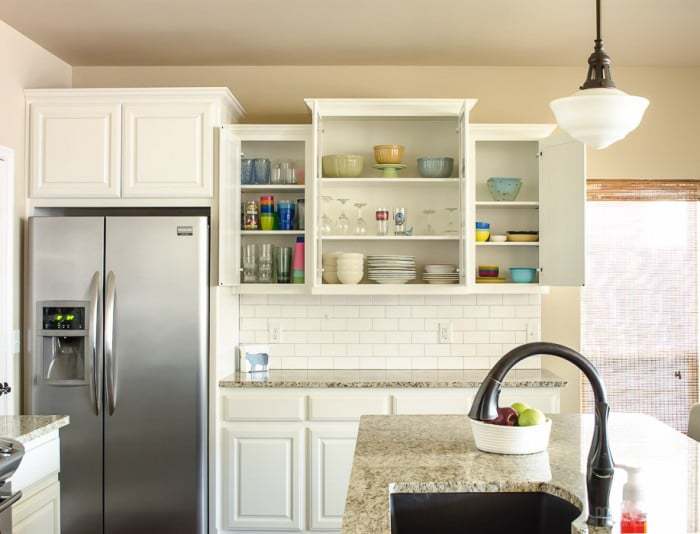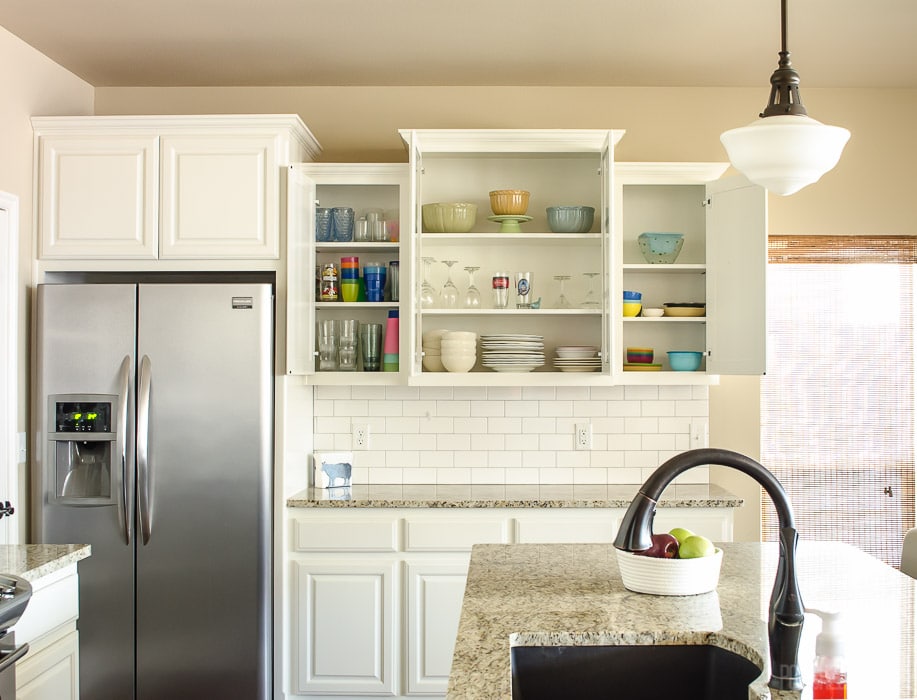 The section below the cups was previously for small kitchen appliances. You'll see where they ended up in a moment, but this cabinet is now the perfect Rubbermaid container space.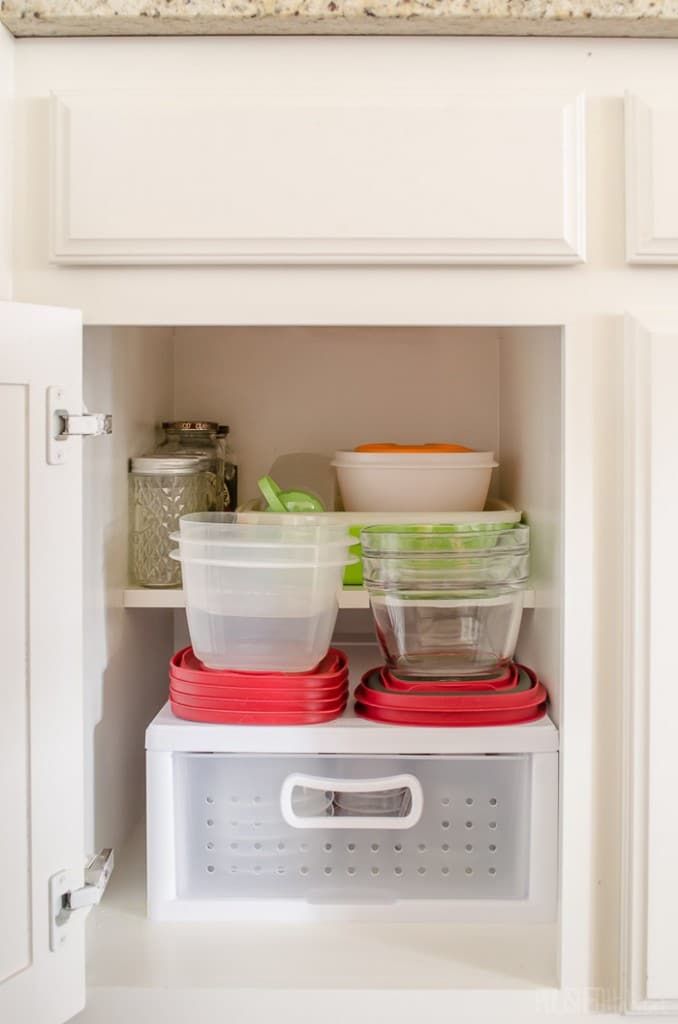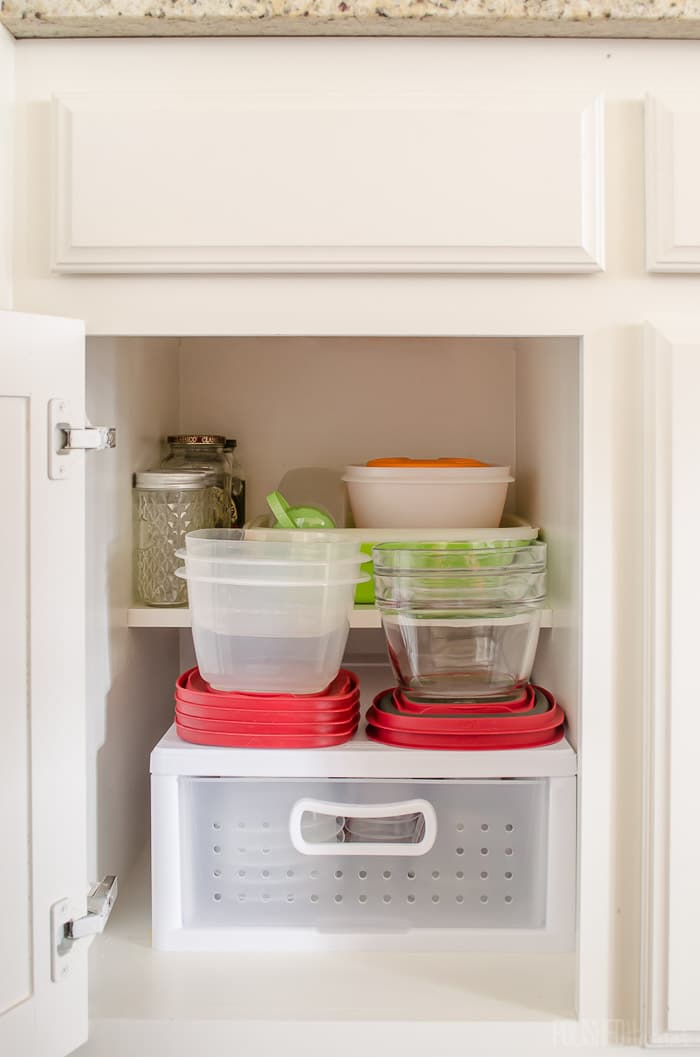 I added a storage drawer
 for the smaller containers, and stacked the larger ones on top. Over the past few years, I've switched to using these Rubbermaid containers with stackable lids. They are almost life-changing and completely affordable on Amazon.  The glass ones are a little pricier, but not outrageous.
I can't advocate enough getting rid of your mismatched containers via donation or garage sale and using the stacking lid versions. It's a small change that makes dinner clean up much more pleasant!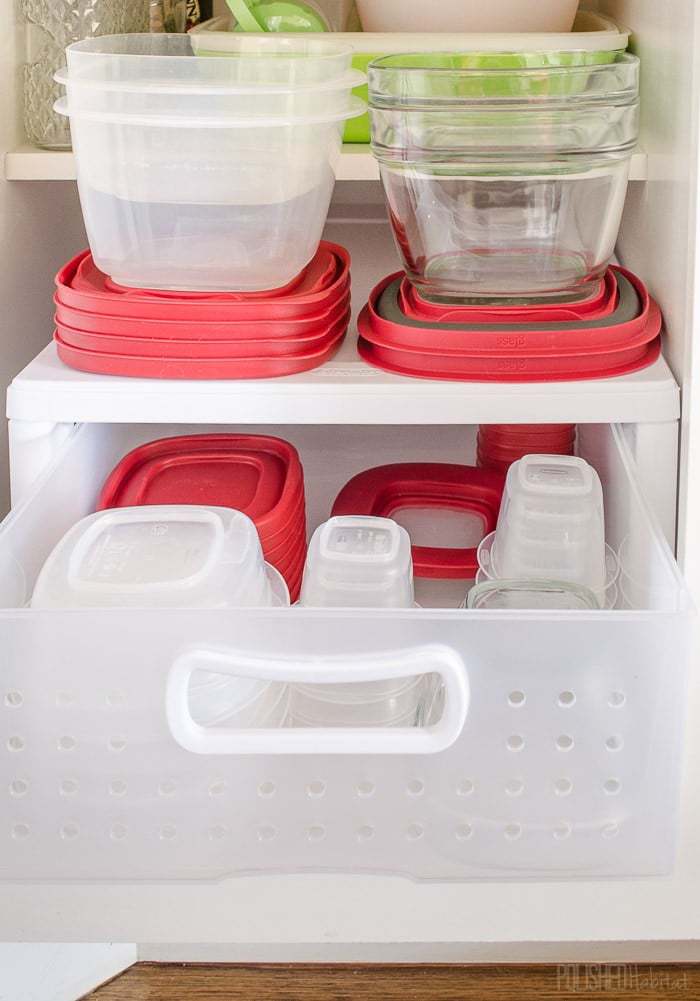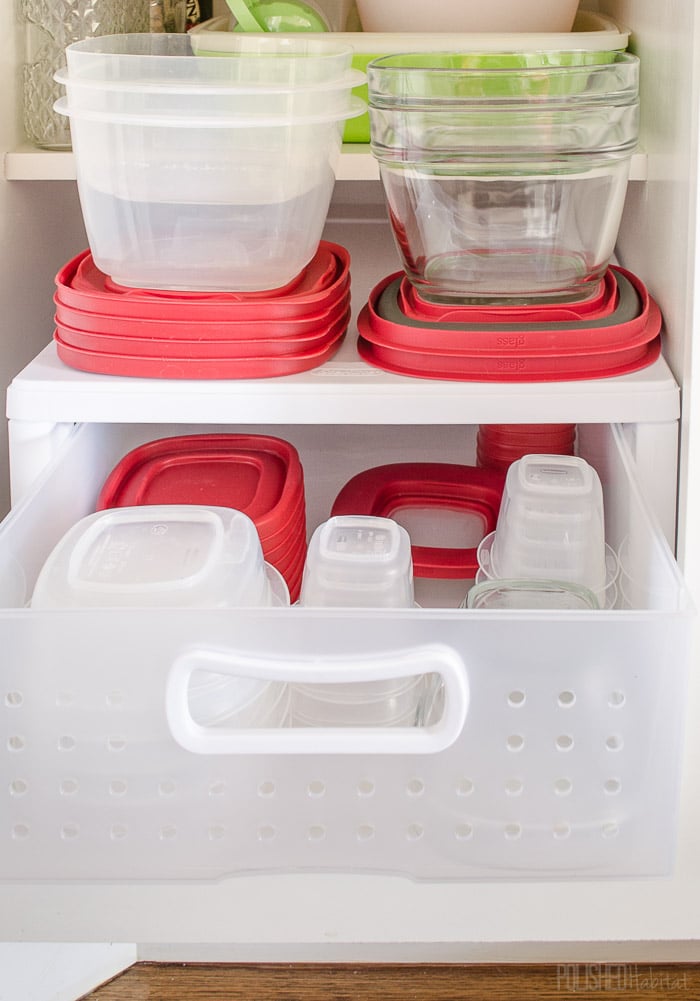 Ready to see what the former CABINET OF DOOM looks like now?
I used four dish pans (even cheaper in store at Target) and separated the contents of the cabinet into groups. It isn't my prettiest organizing project ever, but holy cow, I can find everything I need! I even came up with an assortment of mexican food items that had been in three different cabinets for one of the bins. Holiday specific items were moved into the cabinet above the fridge, and a pile of items we never use went to the garage sale box. SO MUCH BETTER.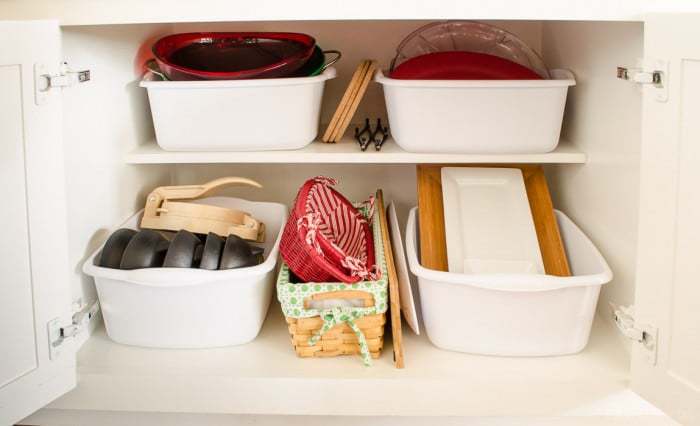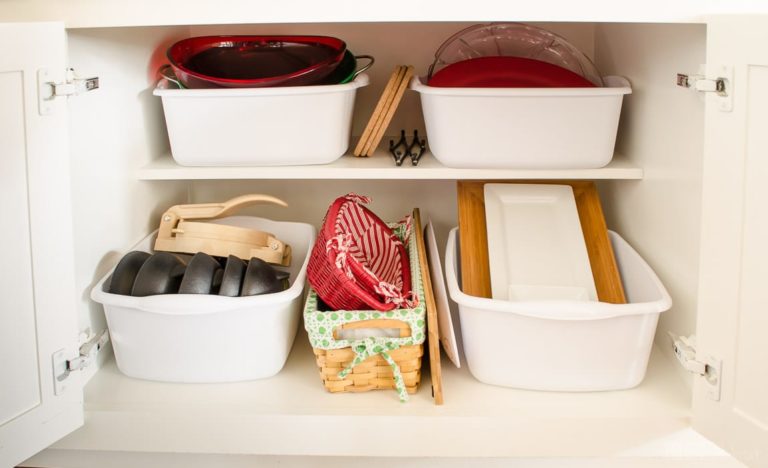 Moving to the other wall, all the mixing bowls and strainers went to the cabinet that previously held our plates and bowls. The cooking items like oils and seasonings stayed in the same cabinet, but I did take every one of them out so I could clean the shelves. I also checked expiration dates and found a disturbing number of items best by 2011. Wow. In both of these cabinets, I moved the shelves down to better suit my height, or lack of it! I'm 5'4″ and the shelves must have originally been installed by an NBA star.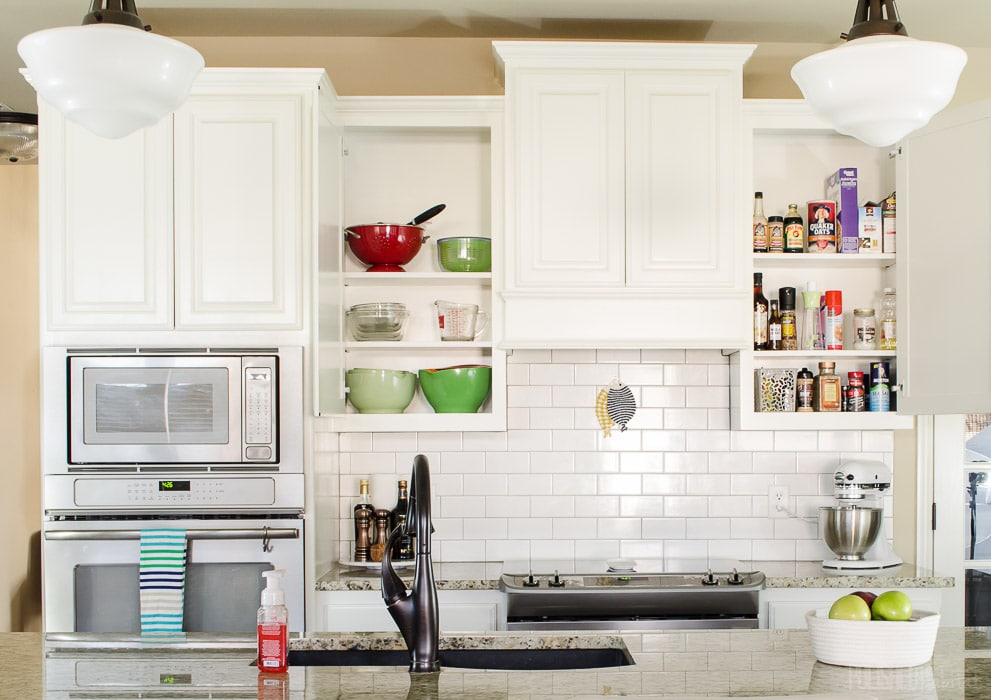 I like to keep the counters pretty clear, but we added something that has been working SO WELL!
Since I dream of marble counters, but don't want to pay to replace all the granite, I found a little marble lazy susan at World Market.   It's totally perfect for daily use items like the salt & paper shakers and olive oil. Since I've never committed to a paper towel holder, they look so much better sitting on marble than they did randomly placed on the counter.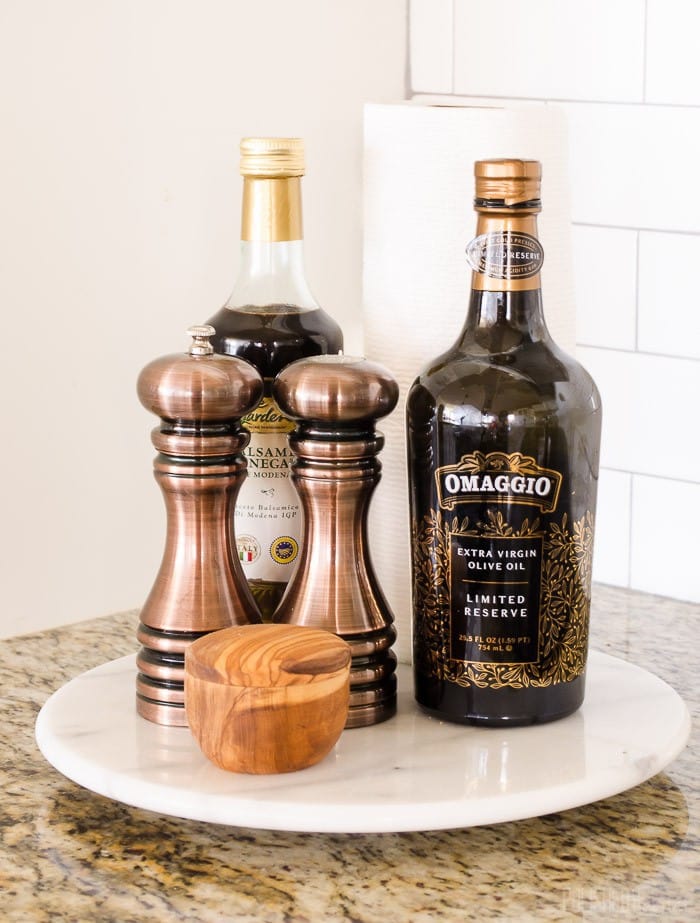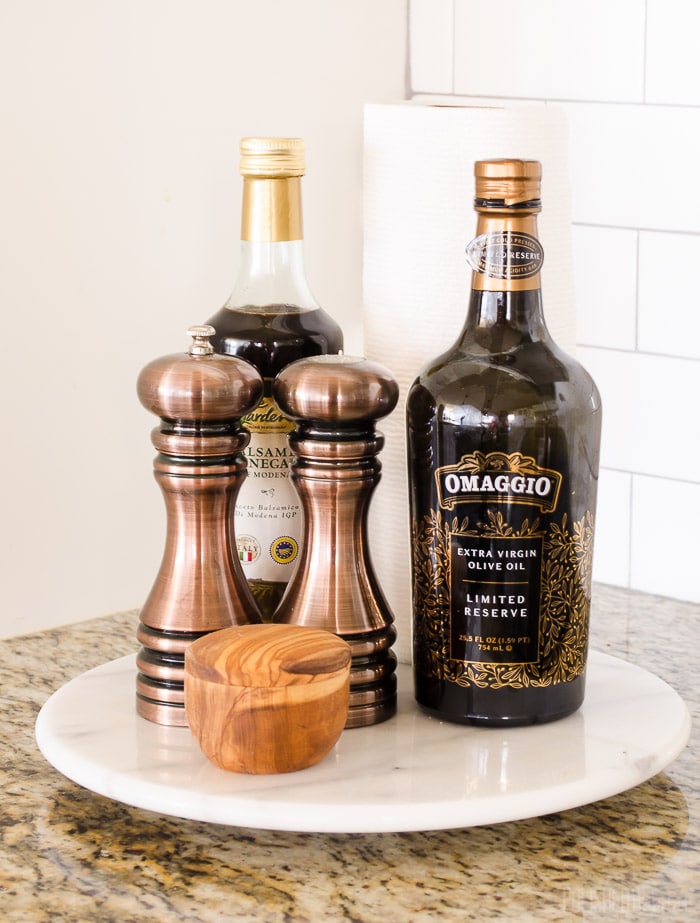 Under this section, I added a cabinet door shelf  (less expensive at Target in store) to hold the measuring cups and spoons. I'm beyond excited that they now have one set home and it's a location that makes sense!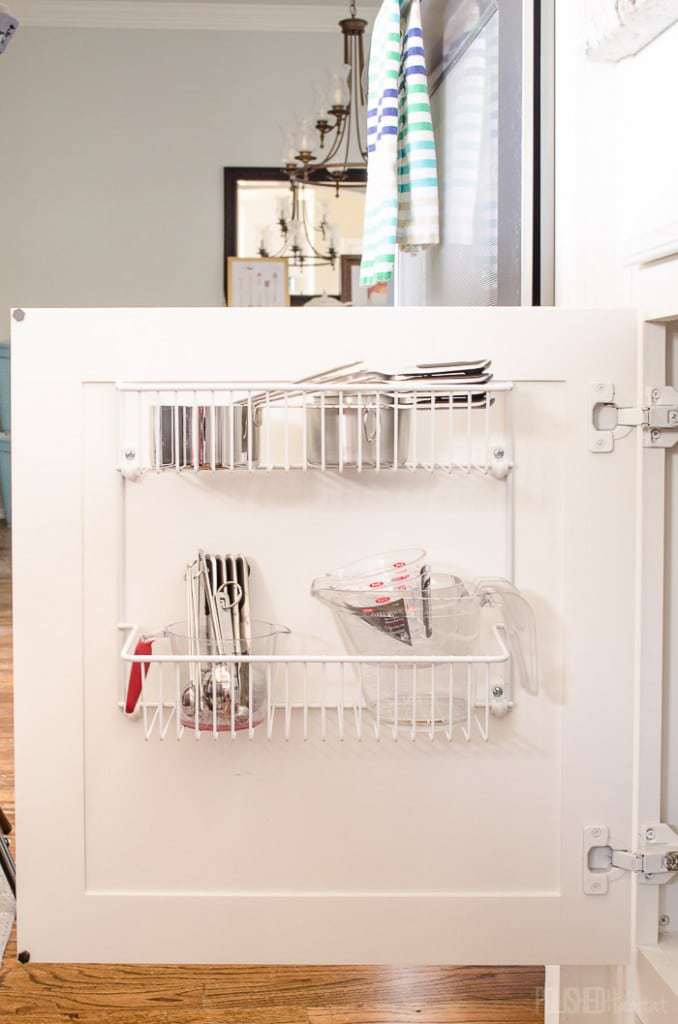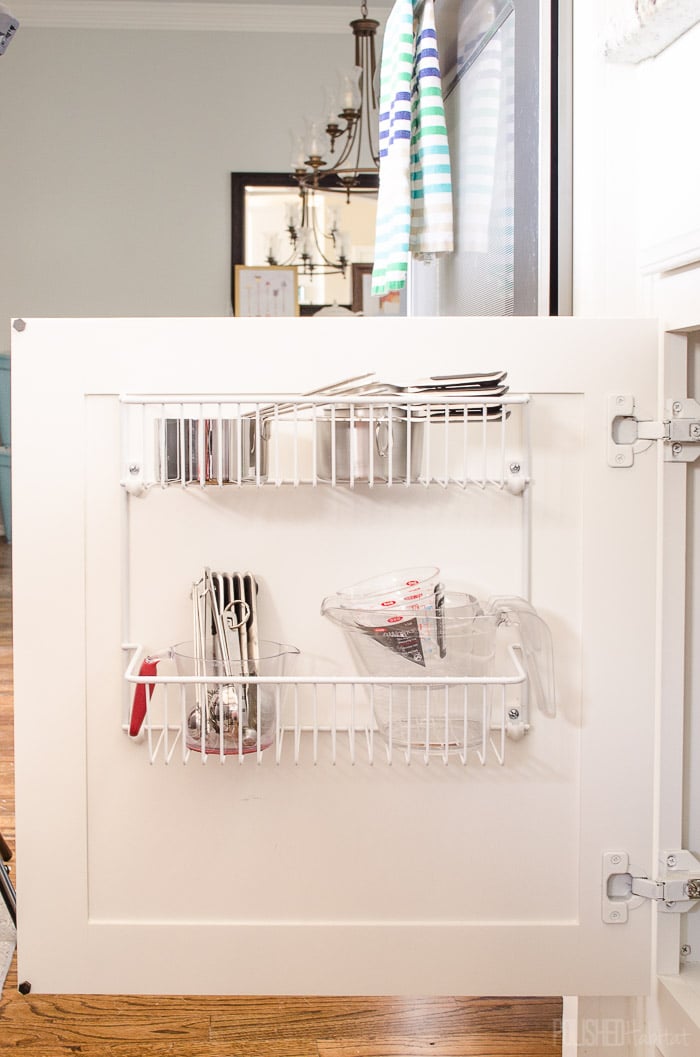 The inside of that cabinet holds all the baking dishes (cookie sheets are above the microwave). I wish I had a picture of this cabinet before, because the turkey roaster was front and center. Which made no sense since we use it once or twice a year. Now my clear Pyrex dishes that we use all the time are the easiest thing to grab. I was also able to make room for the casserole dishes that were previously buried in the disaster cabinet.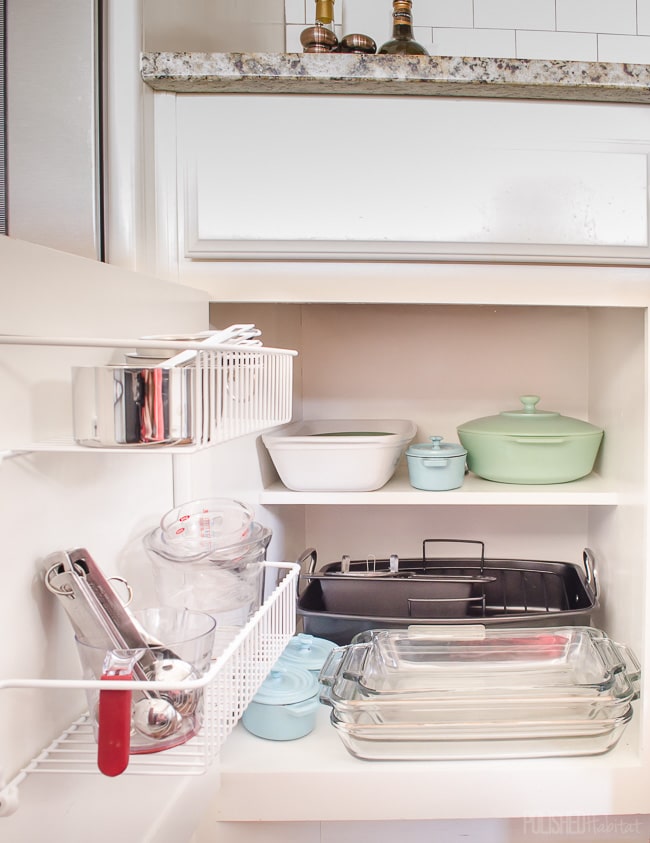 On the other side of the stove, the spices live in the drawer, which I HIGHLY recommend. Even when we had limited drawer space at our prior house, I found a way to make a drawer for them. It's just so much easier to see them all at once.  If I absolutely didn't have drawer space, I'd use something like this cabinet door/wall rack so they could all be vertical.
The drawer was jam packed until I checked expiration dates. I also moved the packets of spices to a small bin and put it in the cabinet above.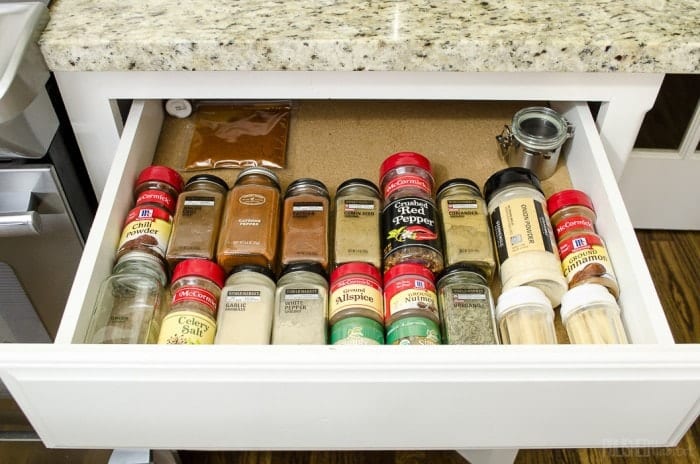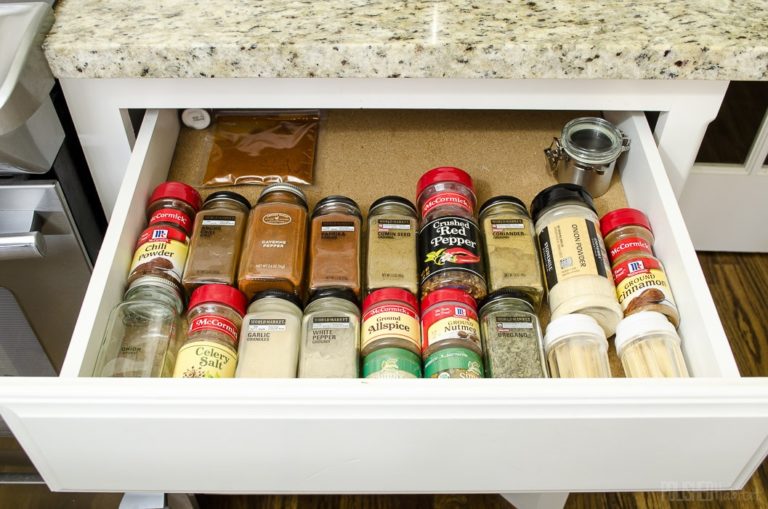 Below the spices, I solved another big problem. What the heck do you all do with mixer attachments? I LOVE my KitchenAid mixer, but the attachments are bulky and we never seemed to put them in the same spot. It was more of a "wherever we can shove them" scenario, which wasn't the best when we needed to use them the next time.
Now they live in a door-mounted rack right below the mixer. Imagine that! And the extra food processor blade is now with the food processor. Insanity!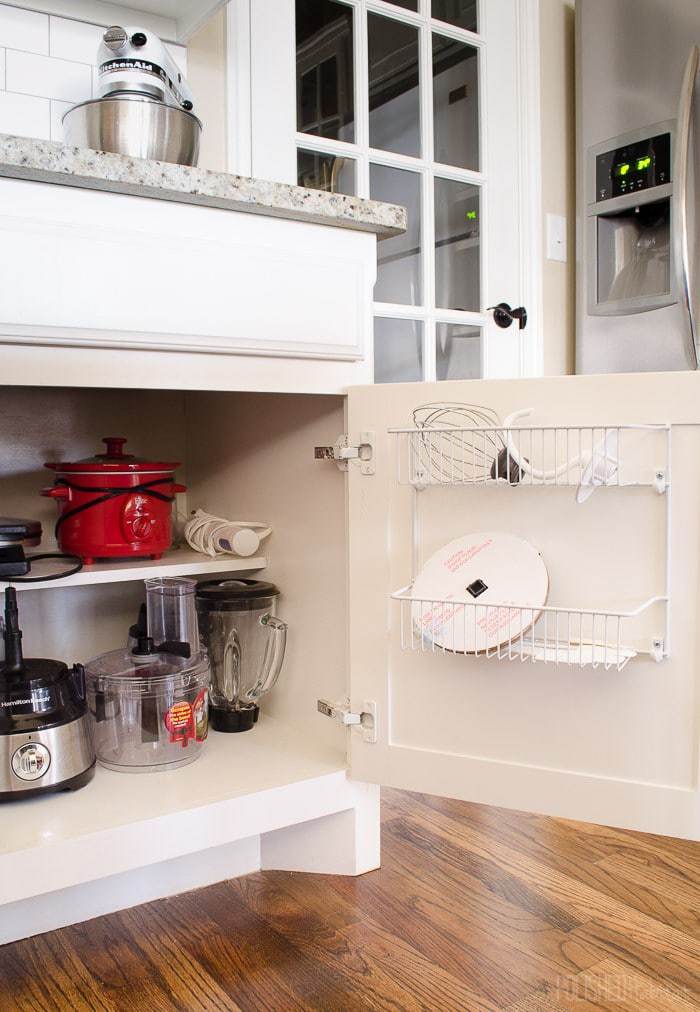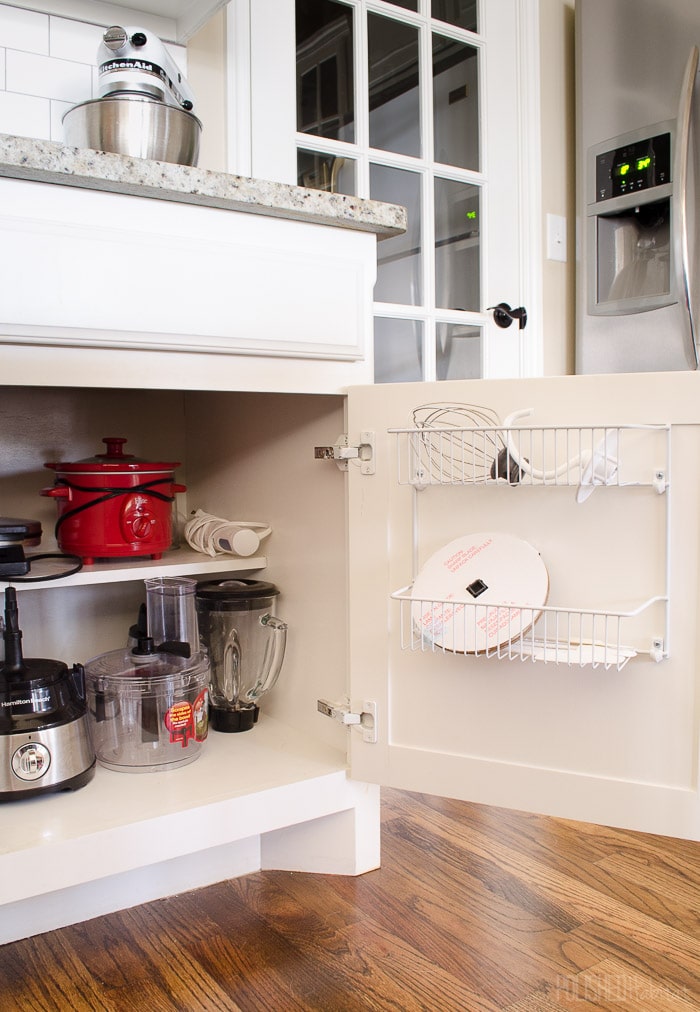 And then there was the crown jewel, which prompted all this organizing in the first place. With the plastic containers in their new home, I finally had room to install an under cabinet trash can! In a moment of partial frugality and partial stubbornness, we refused to pay a completely insane price for the builder to install the pull out bins. I think it was something like 4 times what it should have cost. We had them leave the cabinet without a shelf so we could buy and install the trash cans ourselves, but four years later we hadn't done it. Whoops.
Who knew that it was going to be so easy to actually install them. I used the Rev-A-Shelf 35 qt double bins  and decided to install it myself while Corey was at work. The whole thing installs with only four screws and I was pretty shocked I was able to do it on my own in under 30 minutes.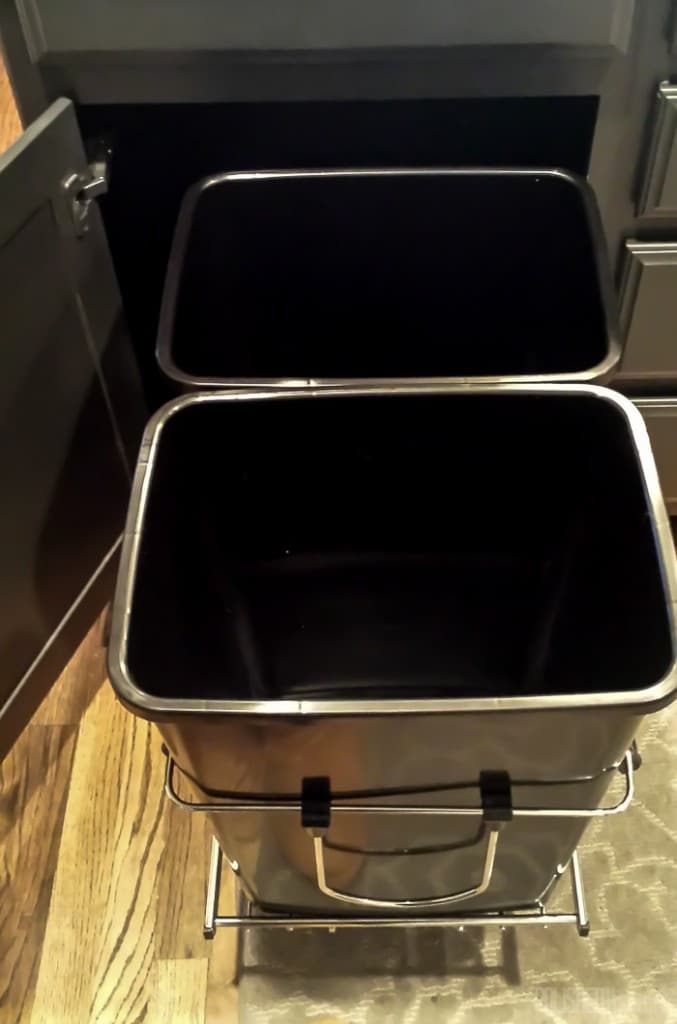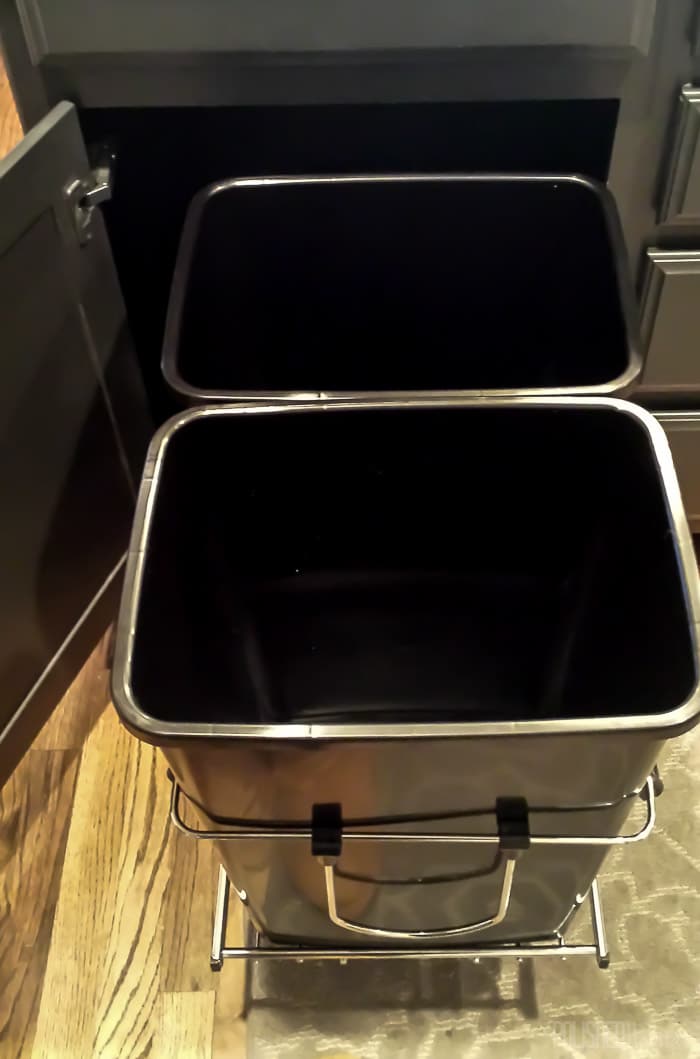 This is HUGE for us because Maddie (the German Shepherd) likes to occasionally catch us off-guard by dumping out the trash and dragging it all over the house while we are gone. It didn't happen very often, but not only was it a big mess, we were concerned she was going to make herself sick.
On top of the dog issues, the trash can was never convenient when we were cooking. Now it's right below the prep space. Handy!
I'm so relieved to have the entire kitchen clean and organized. It's amazing how much a hidden mess can annoy you on a daily basis.

If you are looking for more kitchen organizing ideas, check out my posts on organizing under the kitchen sink, pantry organization, and organizing the refrigerator.
I even tackled the area around the kitchen sink!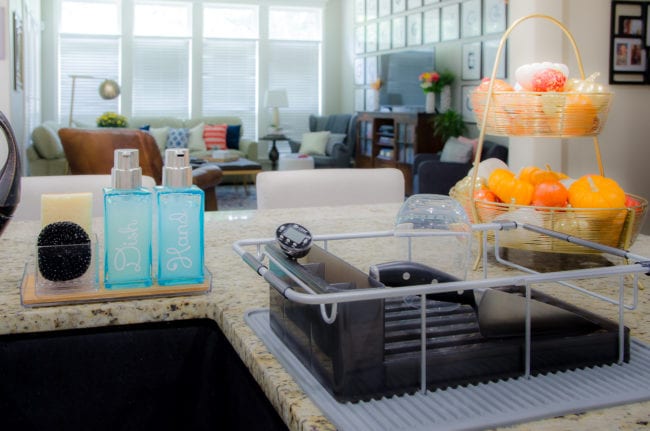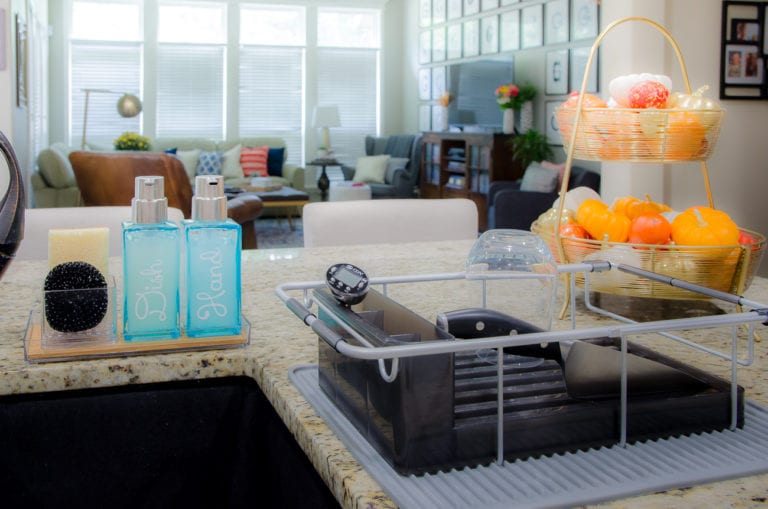 If you need MORE cabinet space, check out these tips for using an inexpensive shoe cabinet as kitchen storage. Wondering how to store all those grocery store bags or disposable party ware? Check out the pantry cabinet post!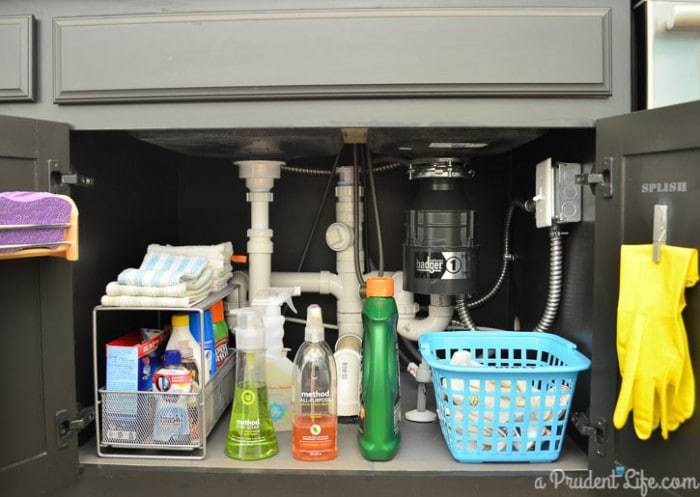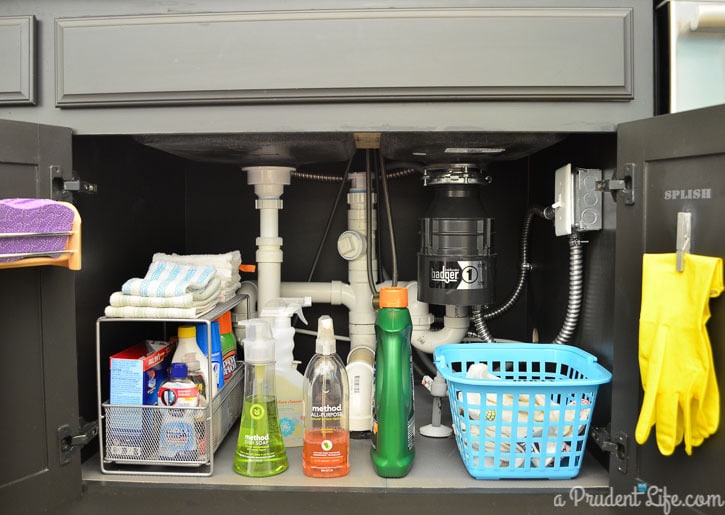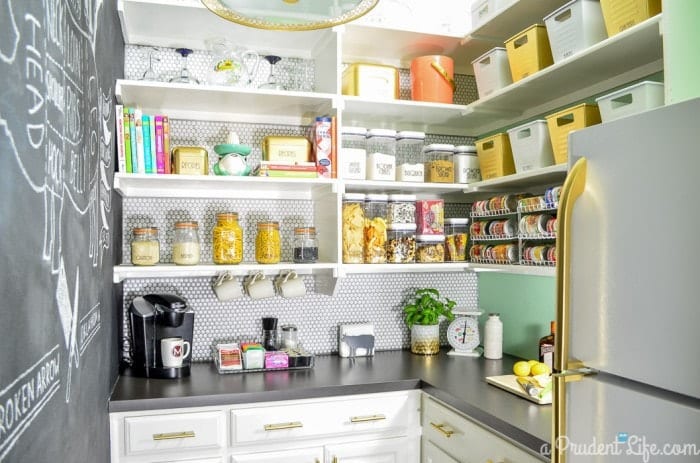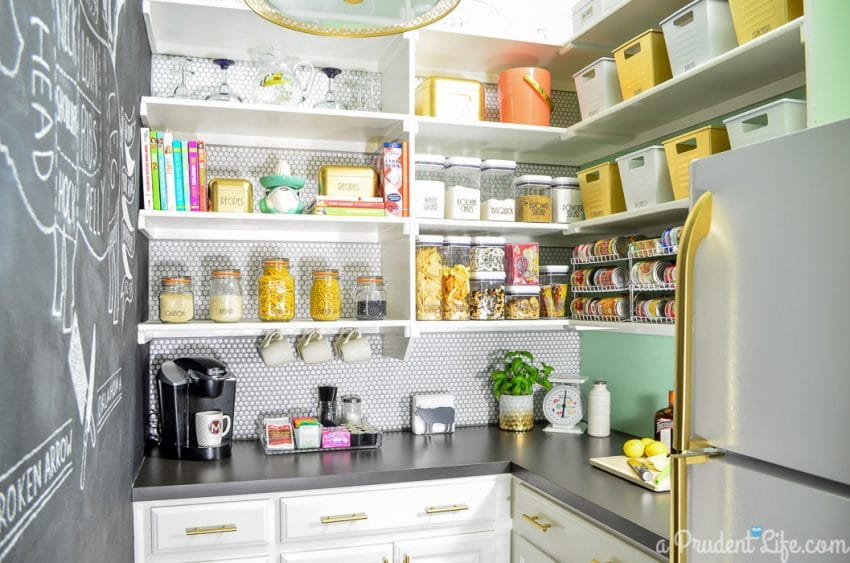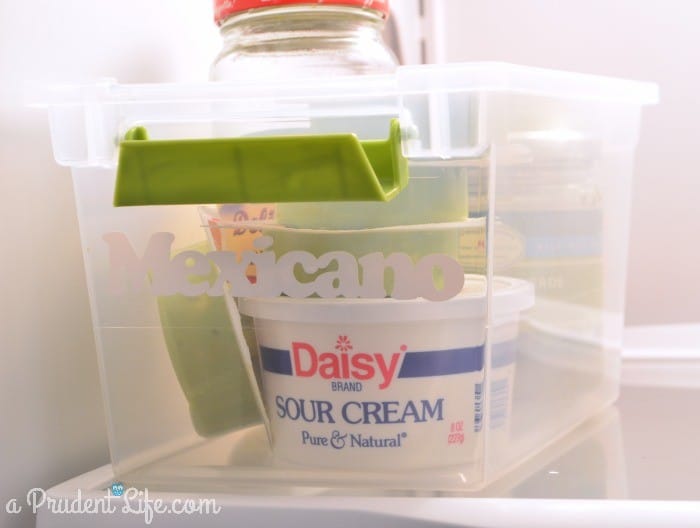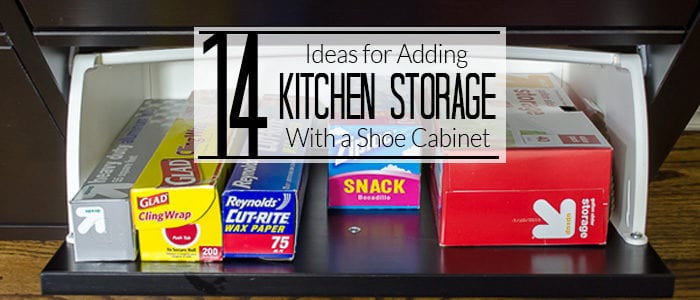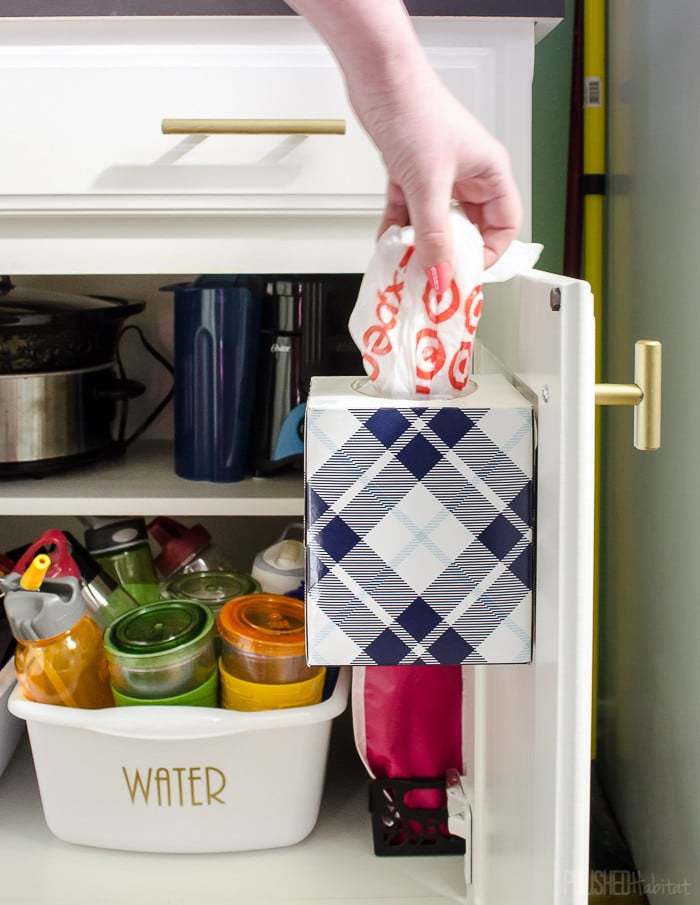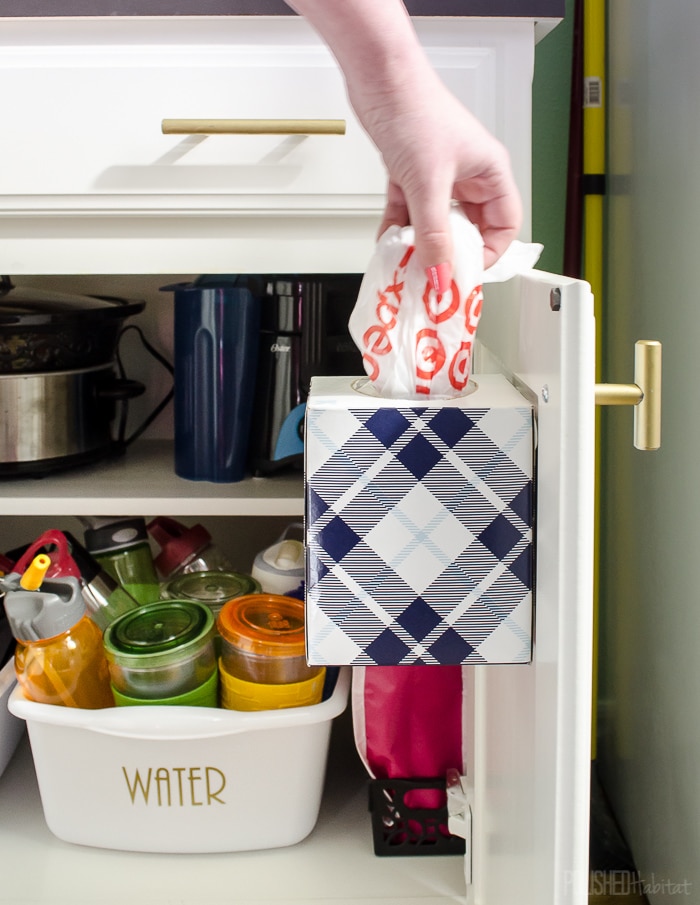 Did I miss anything you struggle to keep organized in the kitchen?

Home interior stylist and maker obsessed with organization & office supplies.

Latest posts by Melissa George (see all)