My fall organizing checklist prompts me to tackle some part of the kitchen each year. This time, the drawers were at the top of my list. A few of them were in great shape, but others were total chaos. I was frustrated every time I opened them, and who needs that?
This week, I got them under control AND put together a little tour of ALL of the kitchen drawers. I hope you'll get some ideas for your own space after seeing how we laid things out.
We have one drawer on each side of the stove, so I wanted to make sure we prioritized that space for items used while cooking.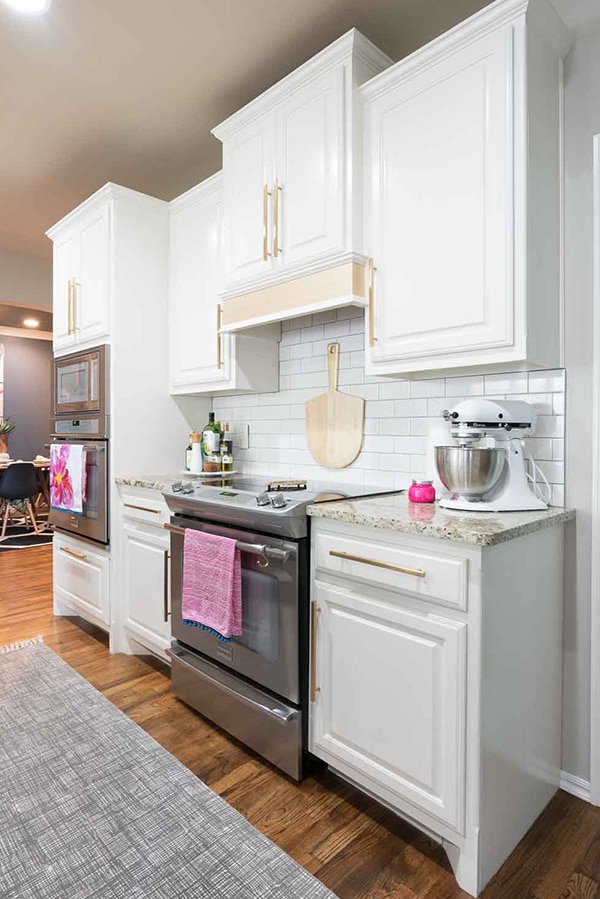 The left side holds cooking utensils. I ordered wood dividers and now instead of a huge mishmash of items, things have logical homes. PS: Make sure your drawers are at least 18″ deep for the dividers to work. I love that they are really sturdy and don't move now, but it was a tight fit getting them in. 
It seems like such a tiny detail, but not having to dig through a huge pile of utensils trying to find the meat thermometer is delightful.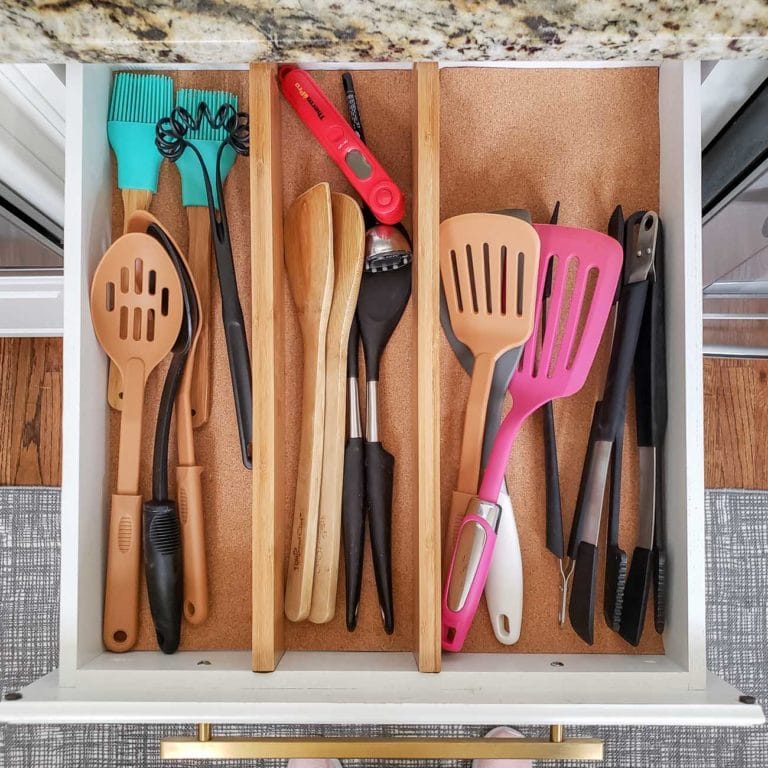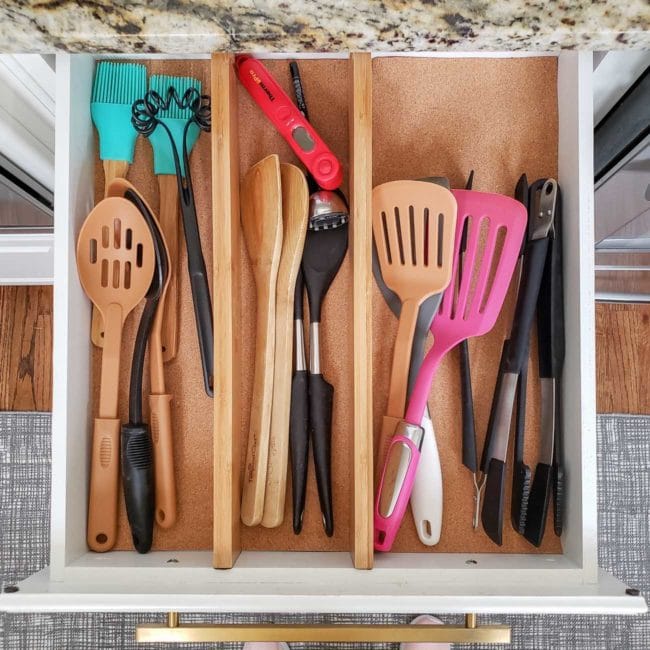 The drawer to the right of the stove is the spice drawer I organized earlier this year with new spice labels. It has been working really well for us and the tiered organizer keeps everything in place.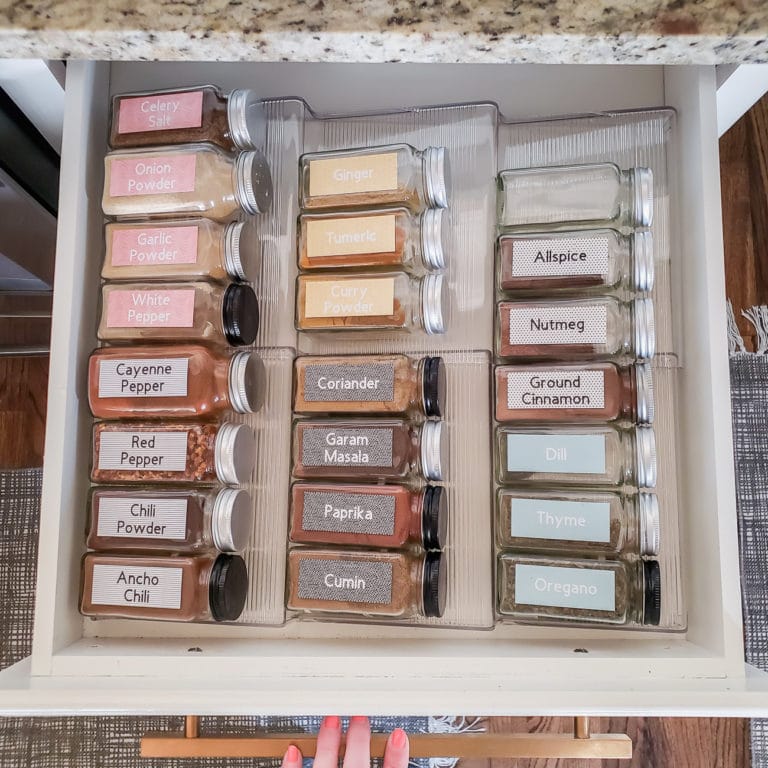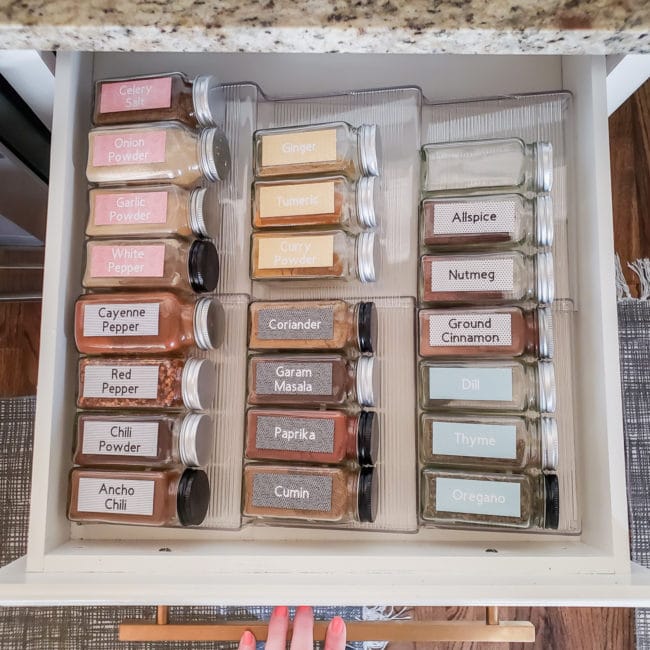 The other outer wall of the kitchen has four drawers, and that section was the biggest mess.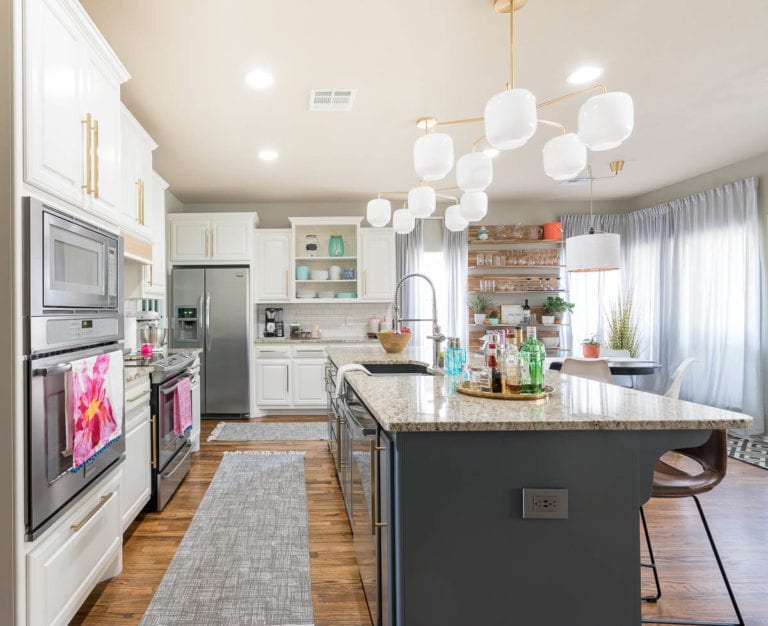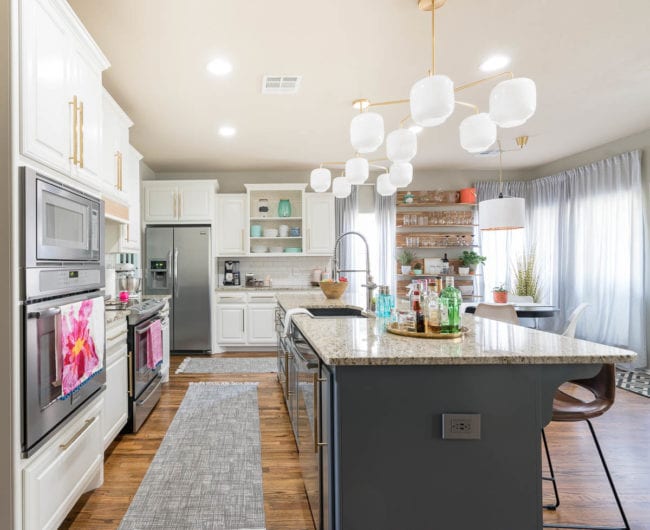 I was in such a decluttering zone that I forgot to take before pictures of all but one drawer. See why I was so frustrated with the hidden chaos?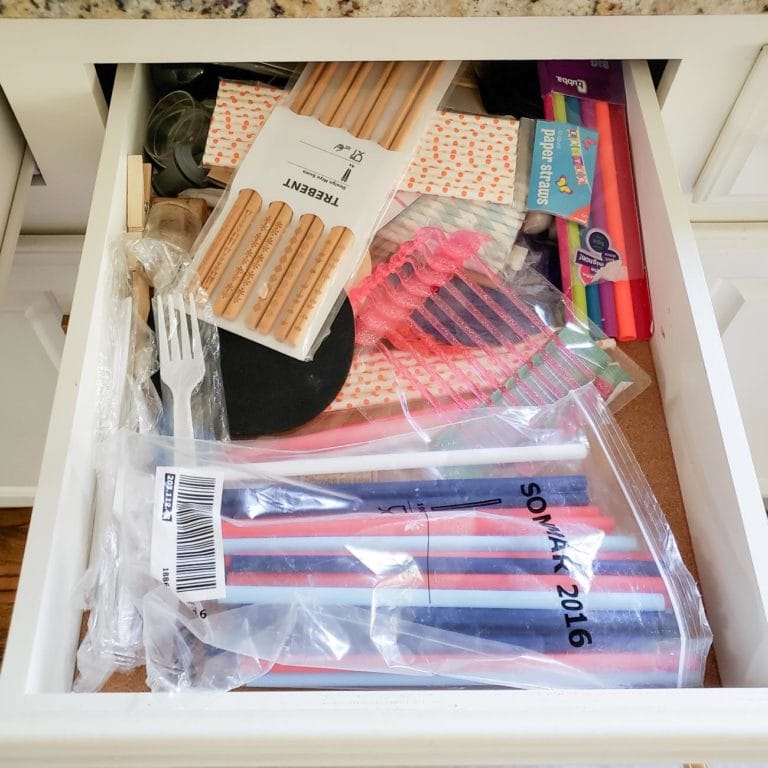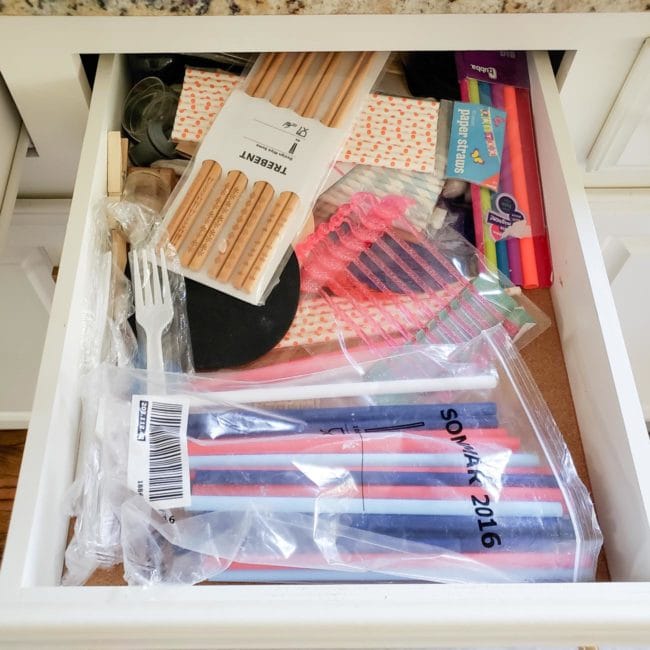 I started this section by pulling everything out of both middle drawers because I needed to rethink what they were used for.  I added the 4 other wooden dividers from the set, and realized one drawer could be for food prep while the other could be for serving. 
In the past, if we need serving spoons, it would be common for us to find them in 3 different places.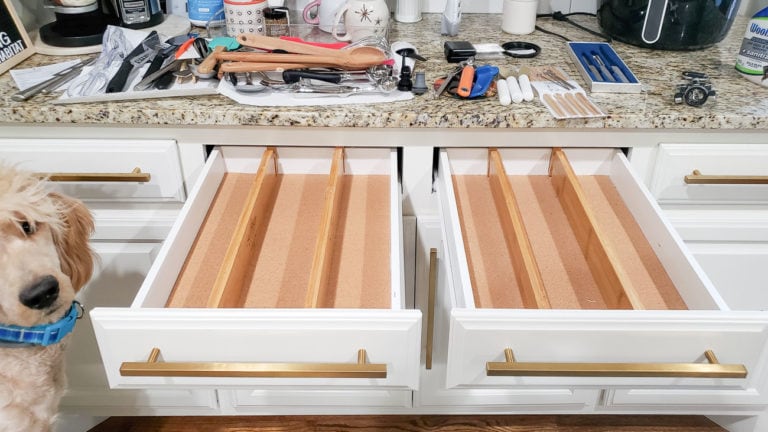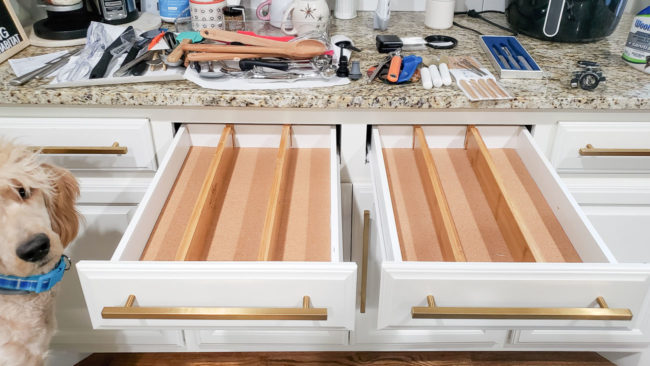 Before I show you how those turned out, let's start back at the first drawer, which already had a good purpose. I asked for the knife organizer for Christmas like 10 years ago and I still love it!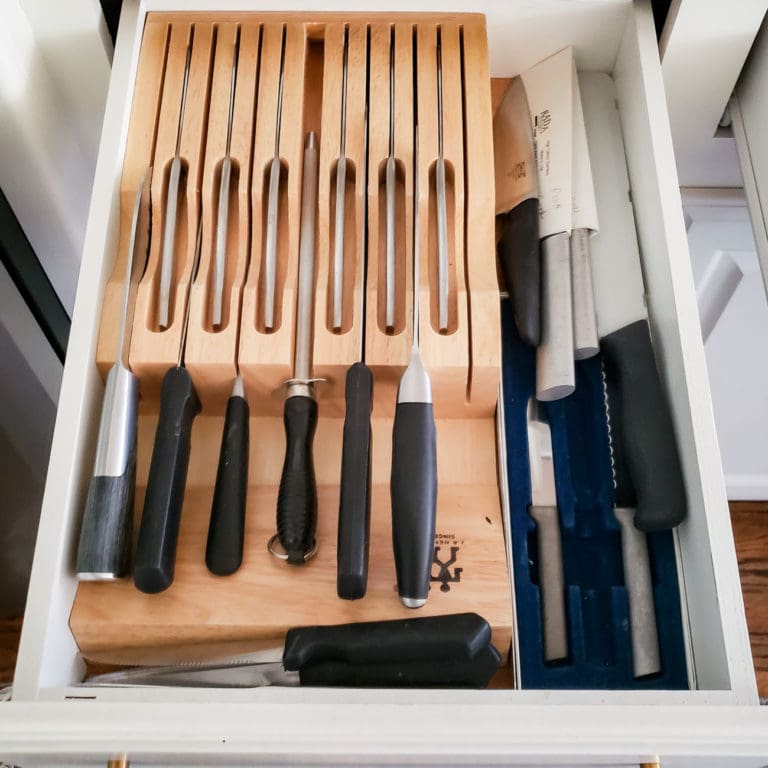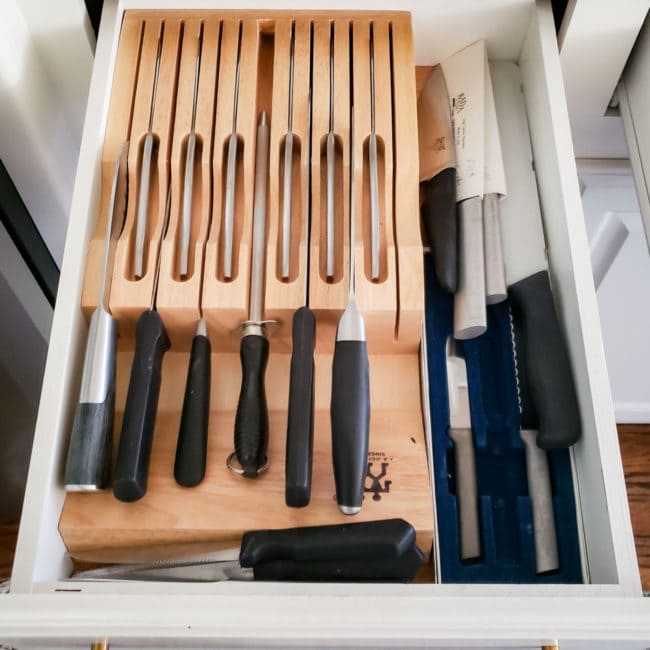 The next drawer turned into a baking station…plus wine & beer openers because they fit so well in the same section as the metal scoops.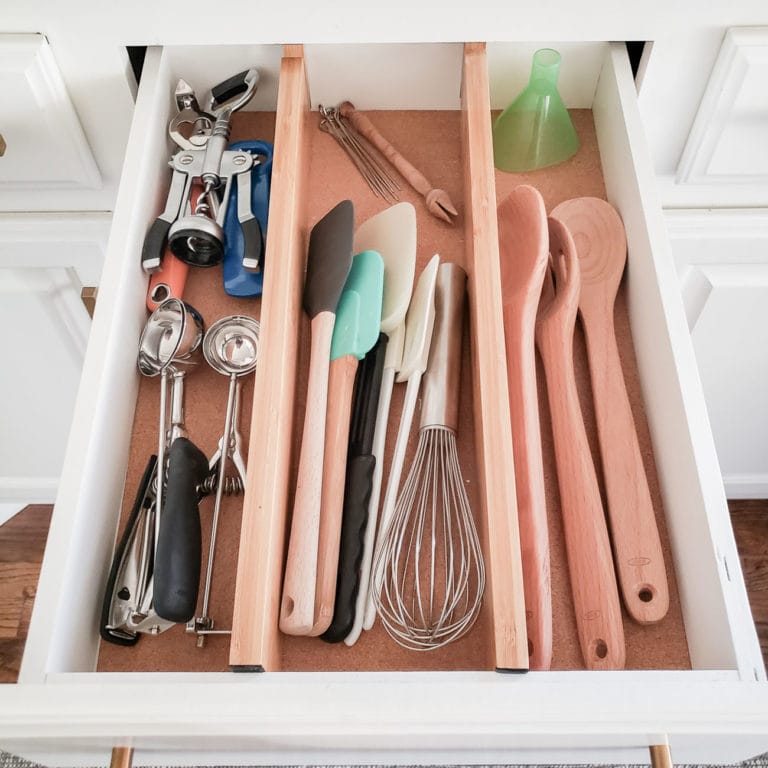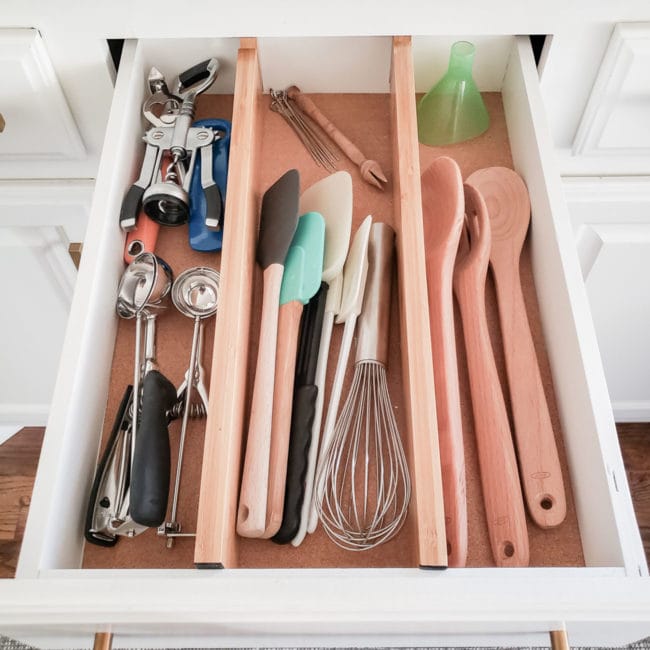 The third drawer was dedicated to serving ware. Everything from spoons to tongs to cheese knives fit into the newly divided sections. This is the same drawer that had the mess of straws and chopsticks before. We rarely either of those items, so they were both sent to the pantry.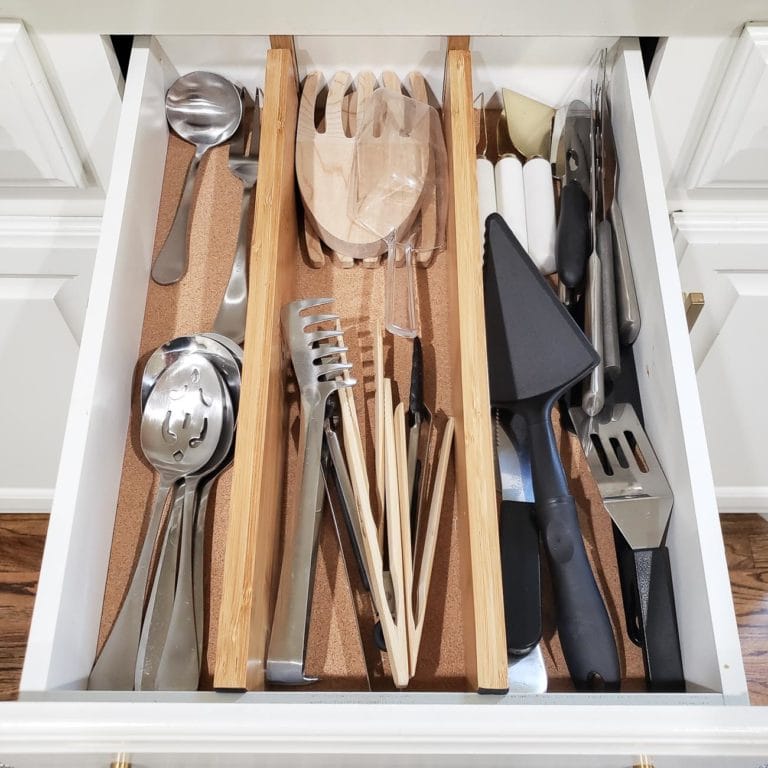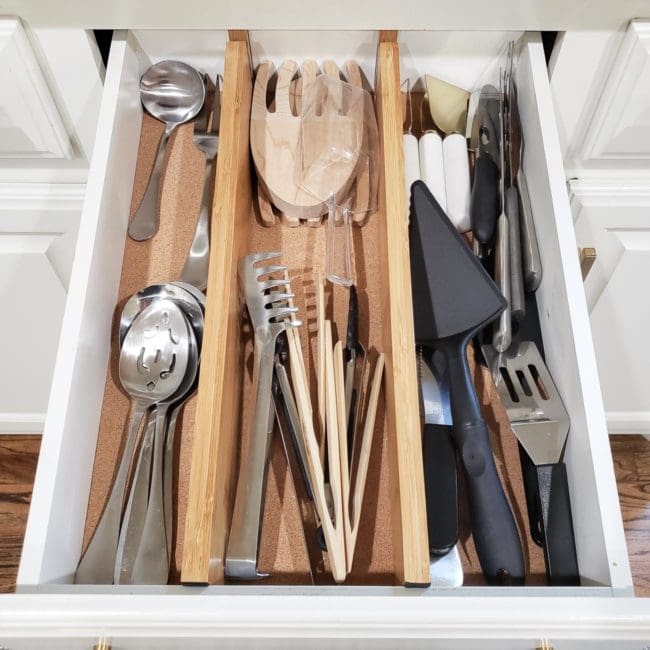 The last drawer in this row is our "junk drawer". The last time I had organized it was before 2014, because I found 2014 Christmas photos mixed in with the matches and scissors. Yikes! I emptied everything out and after seeing what was left, I used clear desk organizers to get everything under control again.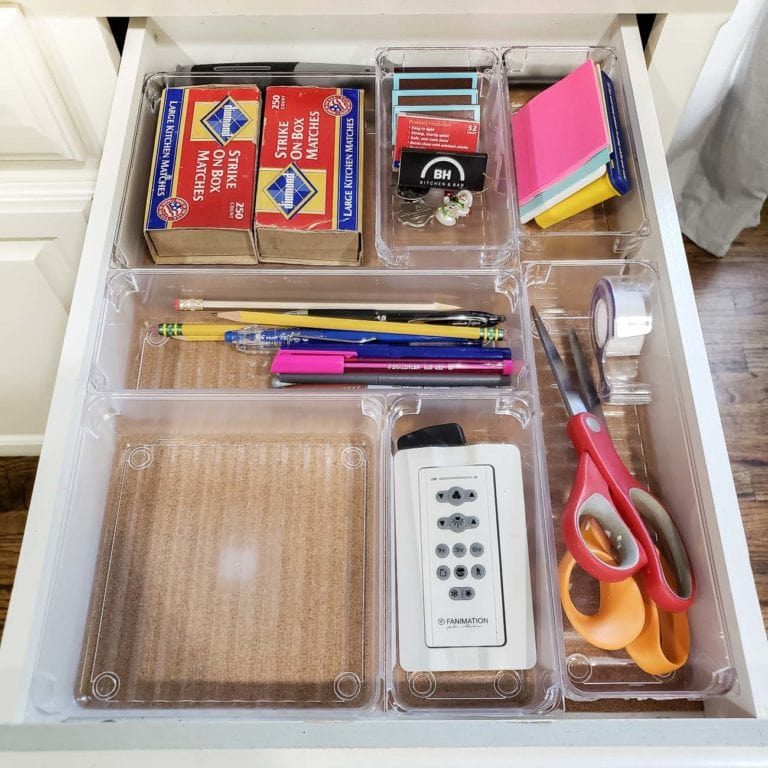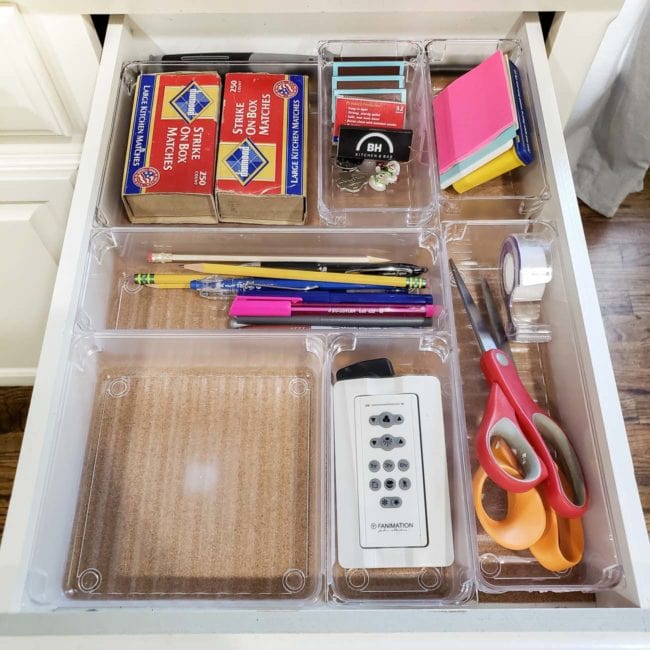 I even have a whole open space now!
My favorite part of the drawer is that my food scale fits right on top of the empty section + patio ceiling fan control. I use it all the time, but had to leave it on the counter or put it in the pantry before. This is so handy!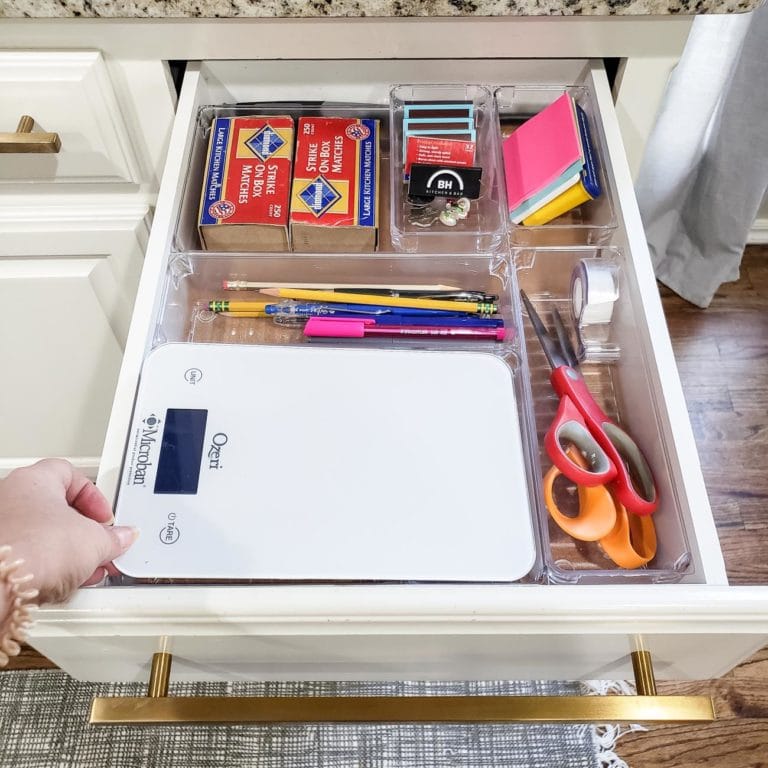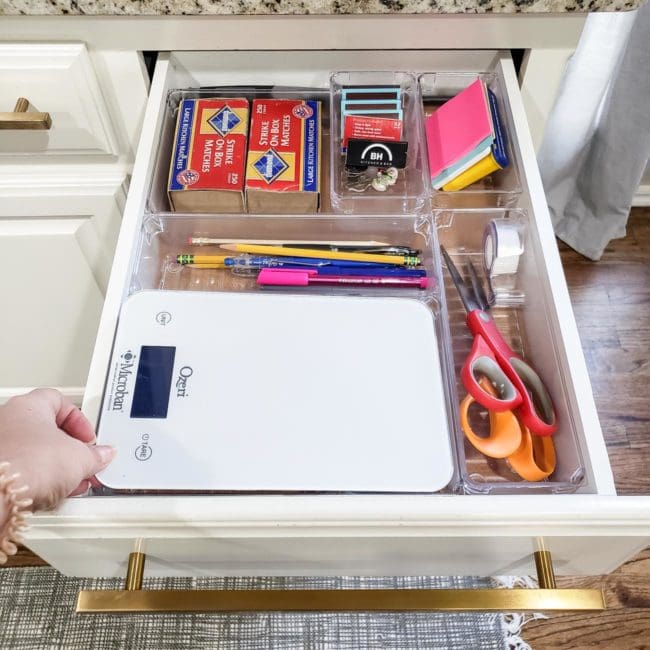 We're lucky that we also have a bank of drawers in the island.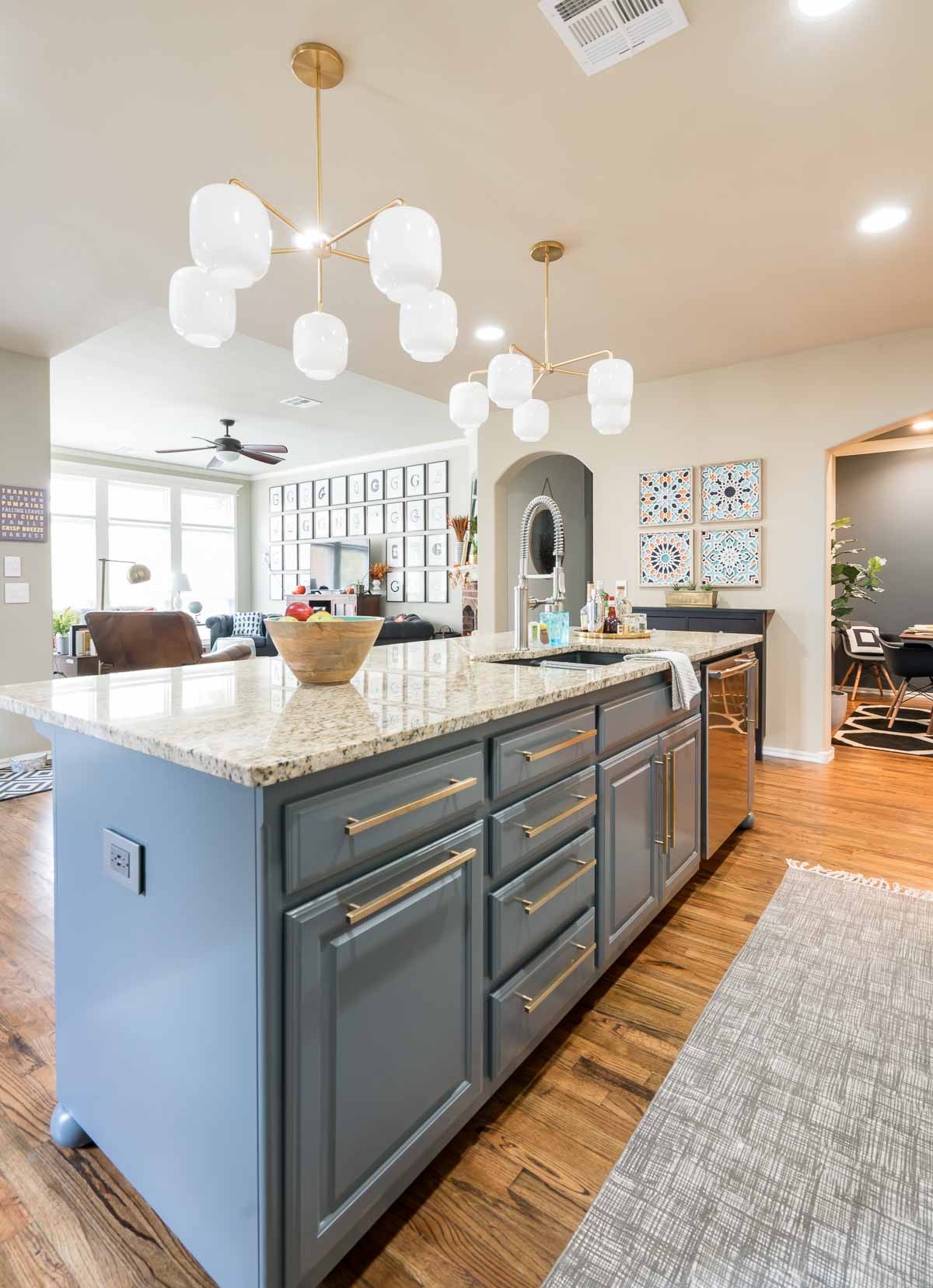 Starting from the left, we have our silverware drawer, which we updated with a wooden organizer last year. I wish we would have made that change years ago!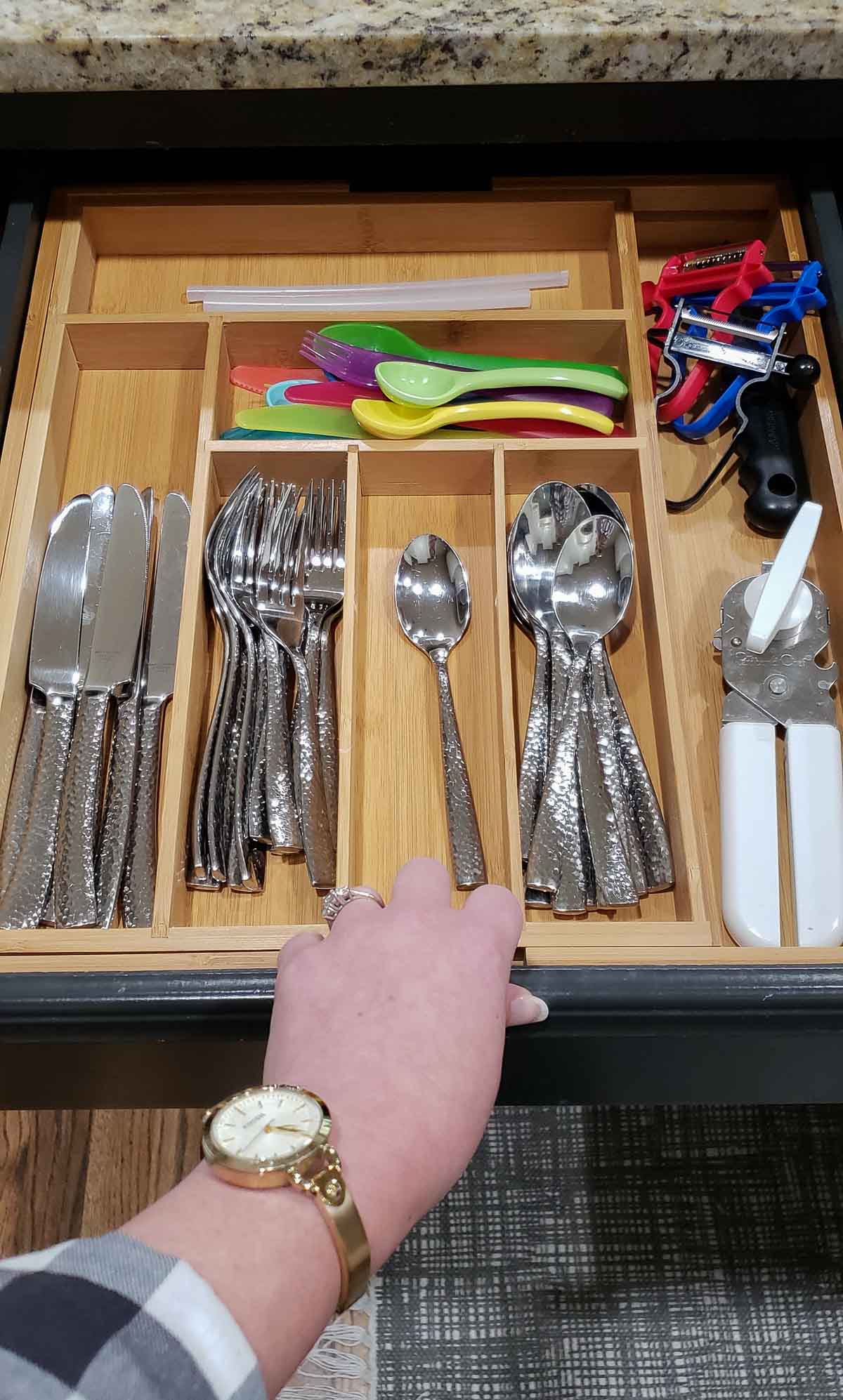 Next to the silverware, there is a stack of 4 drawers. The top 2 are for dish towels and pot holders, and I somehow missed taking a picture, but they aren't anything special.
The bottom 2 drawers are a little deeper and more flexible. When I switched to the wooded utensil organizer, I repurposed the old metal organizer into a plastic baggie station. It works so well!
Since I took this photo, I realized that I could actually flip the organizer the other way and now I have room for trash bags in this drawer as well.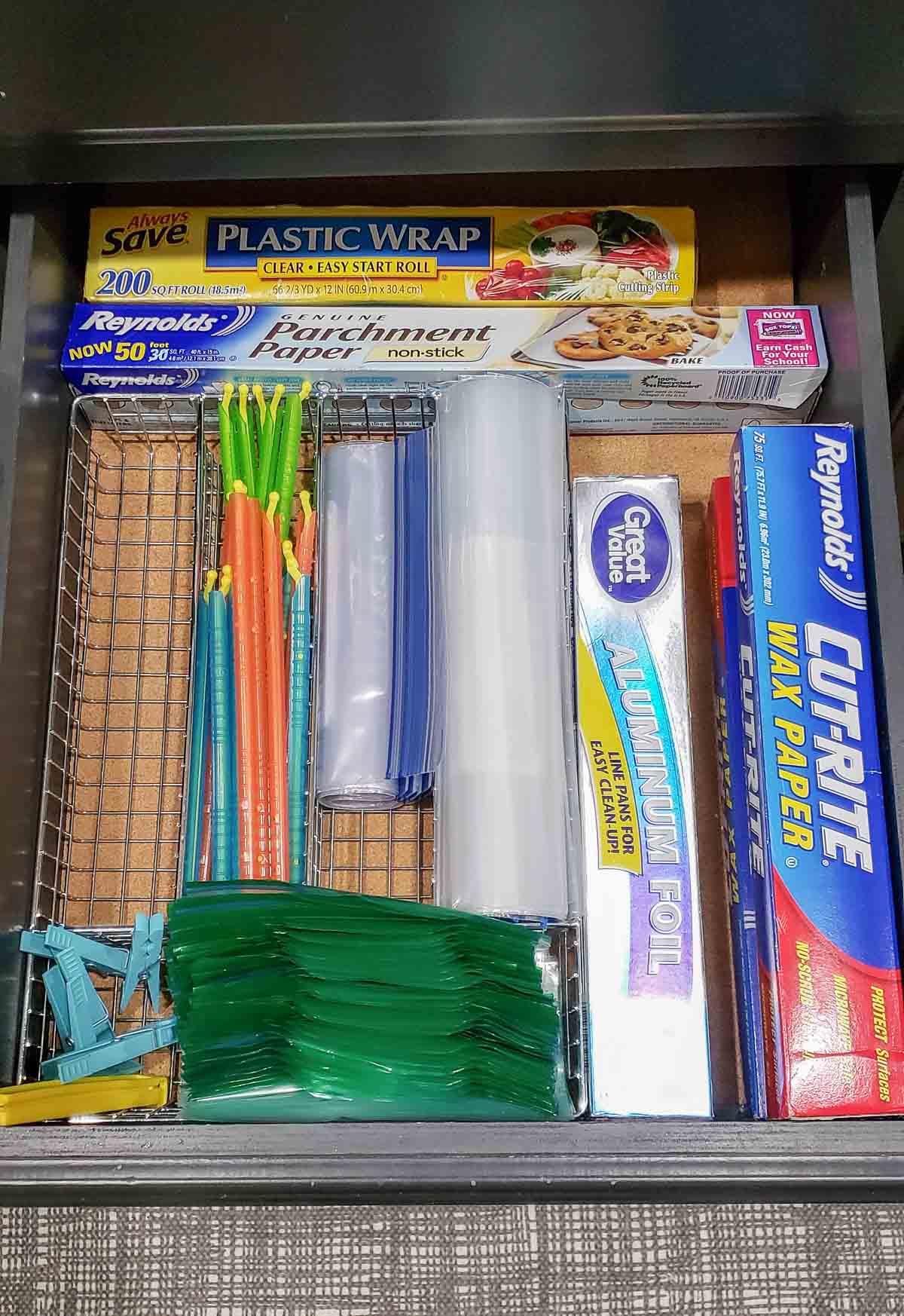 The bottom drawer is another one that has always been a mess! It's for all the other random cooking tools, and perfect for things like a box grater that wouldn't fit in any other drawer. But without any dividers or bins, nothing ever stayed in one place.
I had some leftover long plastic bins from another project and while the drawer still looks a little chaotic, everything has a logical place. Before, the pizza cutters were NEVER put back in the same drawer so there was always a hunt involved to find them.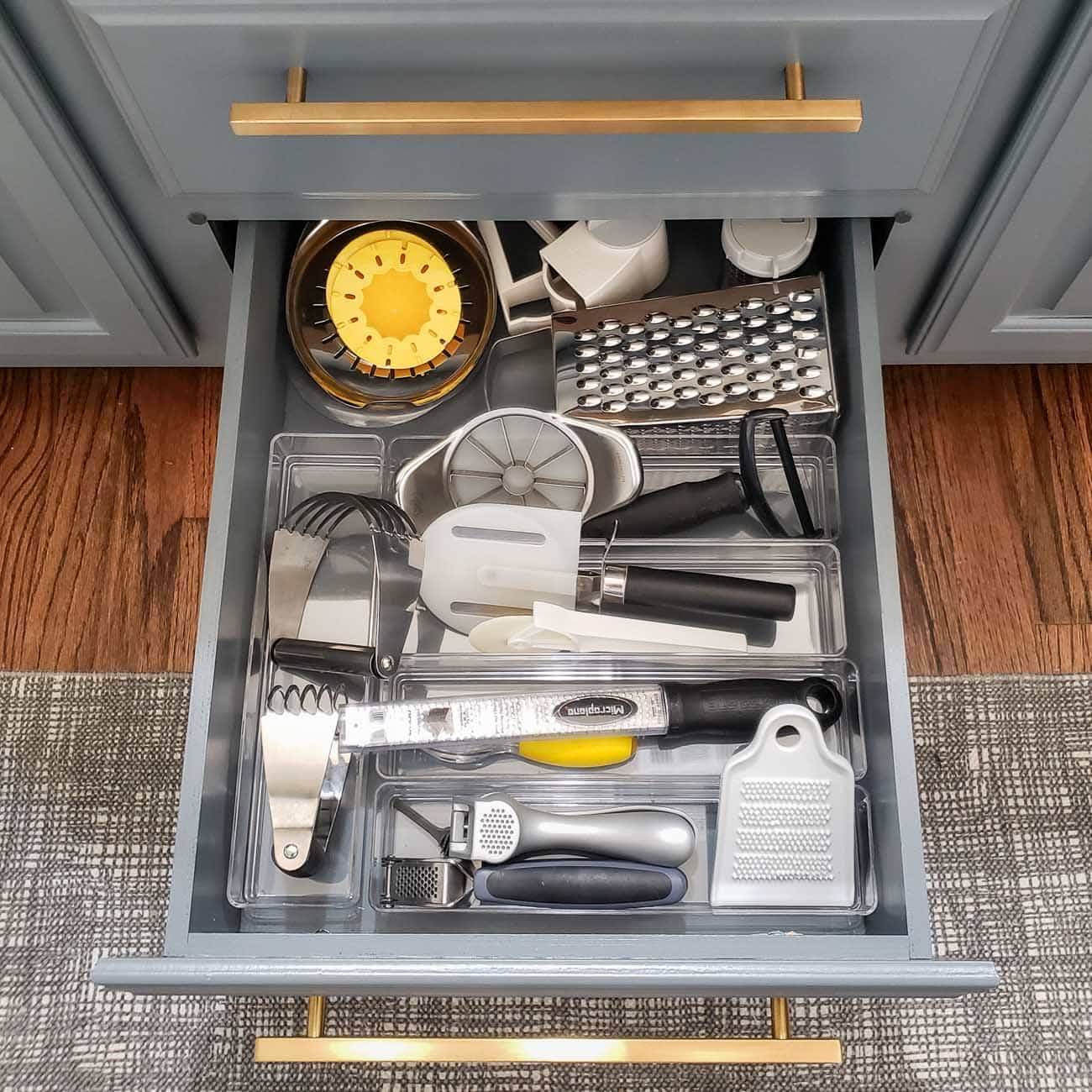 We're going to have so much free time now that we'll be retired from hunting down things in the kitchen!
The only other drawer we have is under the wall oven, and it's for pots and pans. You can see inside that drawer and get some other cabinet organizing tips over in last year's kitchen organizing update!
It's taken us almost 8 years of living in this house to finally have organizers in every drawer. Now that we're done, I wish I would have prioritized adding them sooner. They really do make both cooking and putting away the dishes easier.
Every one of them has been worth the expense, and we could have spread buying them out over several months instead of years. That said, it's still great progress to work through one drawer at a time.
Let me know which of your own kitchen drawers is most frustrating in the comments below…and then tackle it this week!