Part of my overall organizing philosophy is that home organization is an evolving process. Each year, I step back to reevaluate what's working for us and what isn't. We've slowly been improving the organization in our kitchen and pantry each year.
I love the new changes we made this weekend!
I had some goals/problem areas that I wanted to make sure we addressed.
1) Pots, Pans, and Baking Dish Disasters
2) Pantry Clutter Clean Up
3) Add Smoothie & Oatmeal Stations
4) Fix the Miscellaneous Bowl/Plate Cabinet Mess
I found a few products online at Home Depot that solved the problems VERY quickly. As a bonus, every one of them is rental-friendly!
How to Organize Cookware
The pull out drawer we have for pots and pans has been one of my most AND least favorite spaces in the kitchen. It's more convenient than a lower cabinet, but it's also a bit like playing a game of Jenga. Here's what it looks like on a typical day.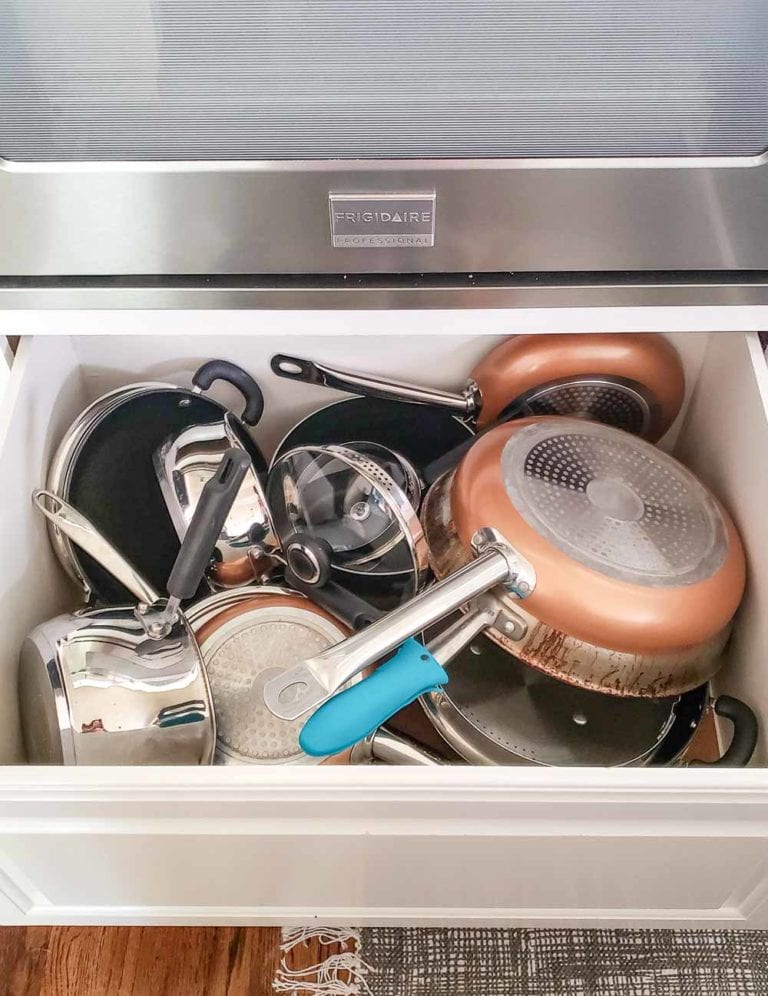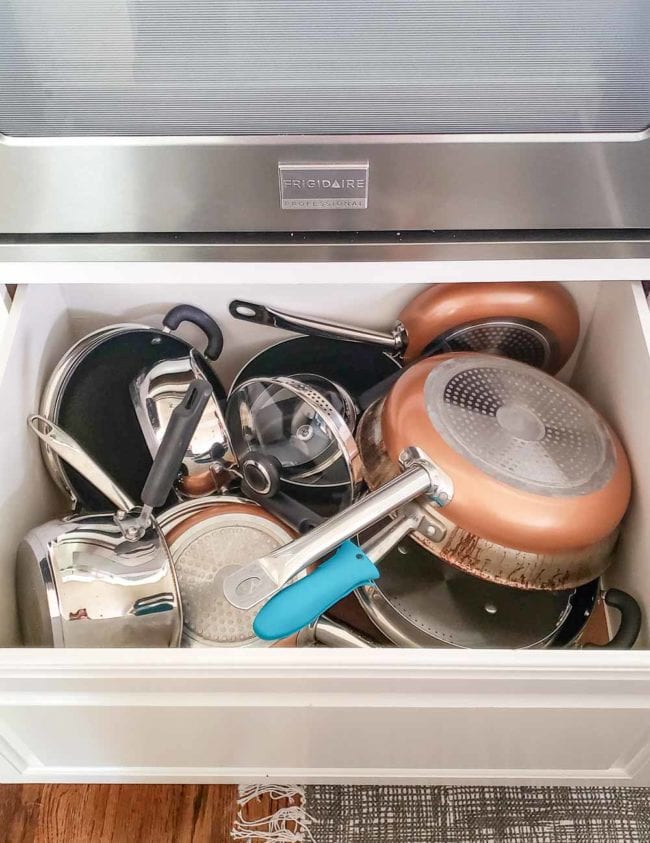 I took everything out of the drawer and then added a rack that acts as a file for pans, so they don't have to be stacked on top of each other. No install is needed, the rack just sits in the drawer or cabinet. It's SO much less frustrating now!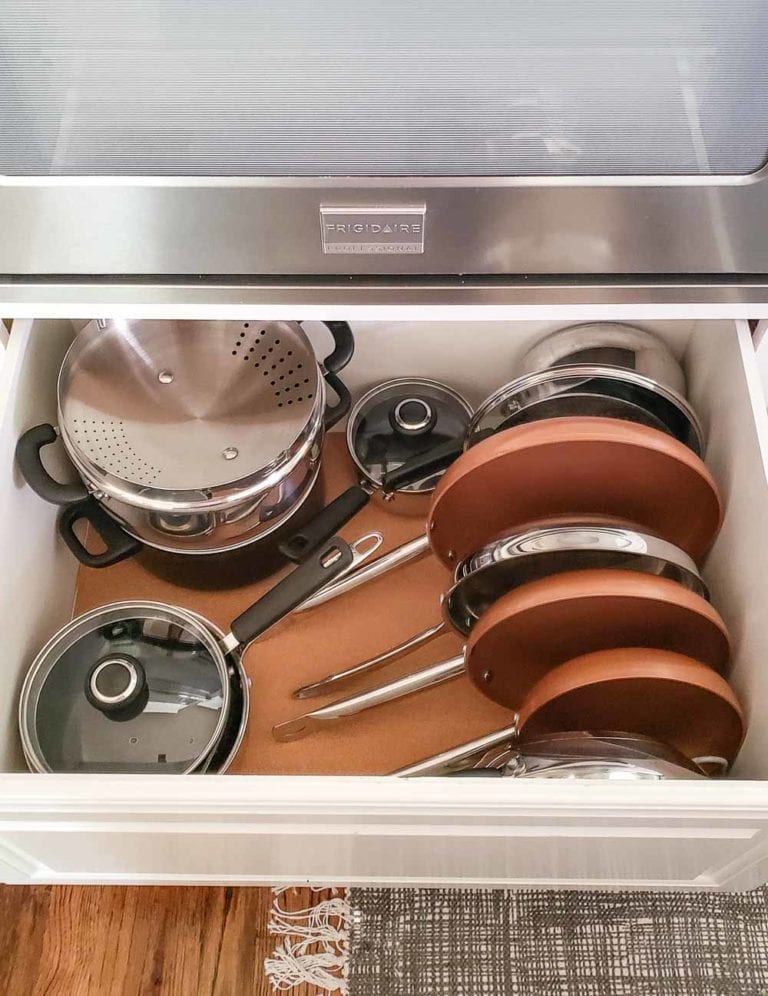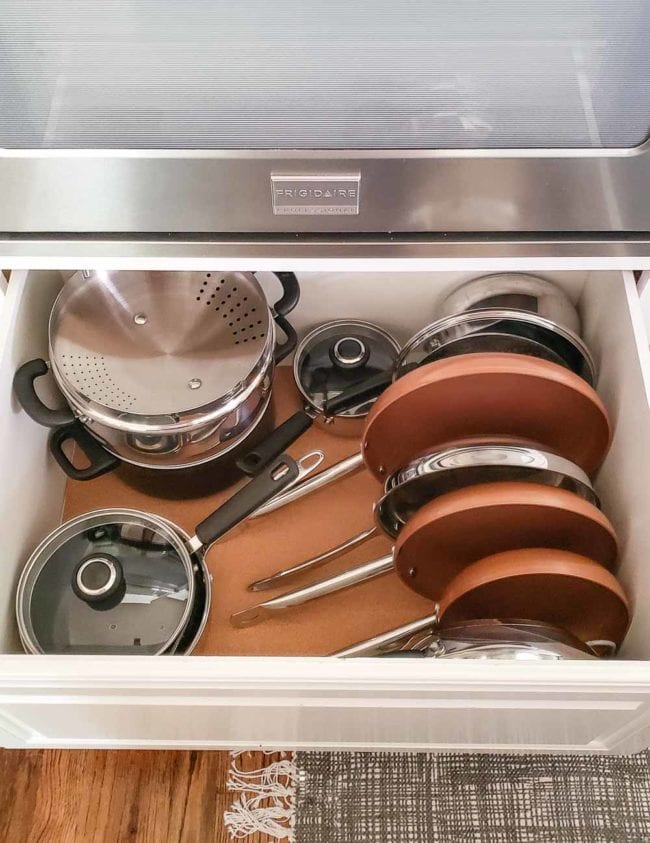 We only got rid of 1 pan that had seen better days, and one lid. Everything else from the before photo is in the after! Unbelievable, right?
Bonus tip: If your pots & pans go in a cabinet versus a drawer, you can also try this pull-out version. It does have to be screwed into your base cabinet, but it's a quick install and would be so handy!
I loved the pan rack so much that I realized it could solve another big problem. I hated getting out glass baking dishes because they were also always in a pile. Here's what they looked like last week.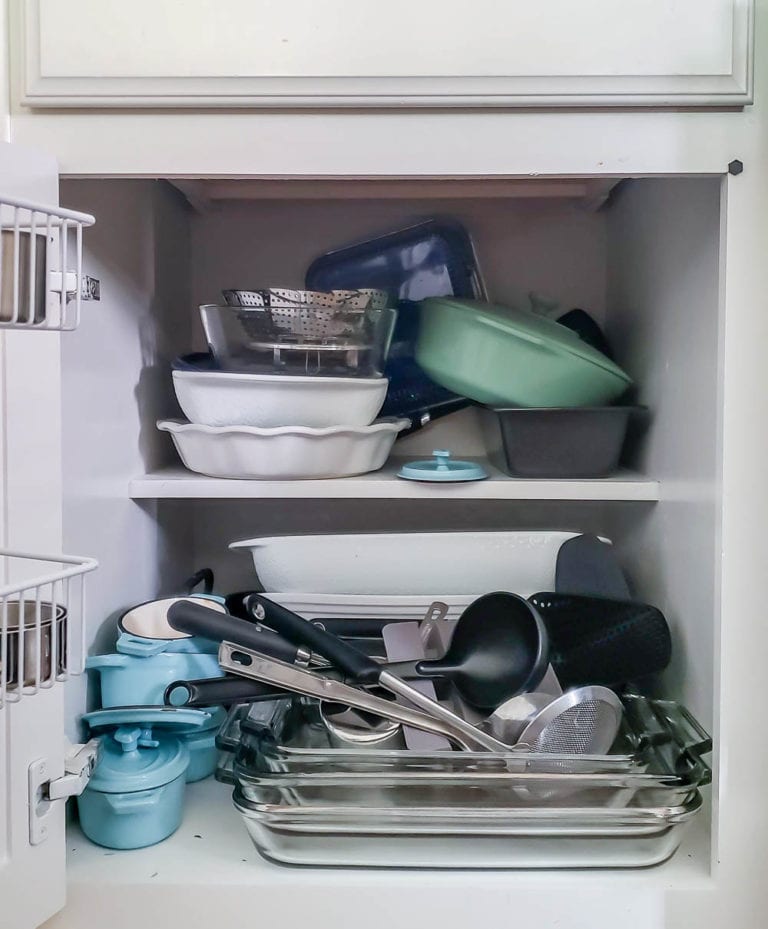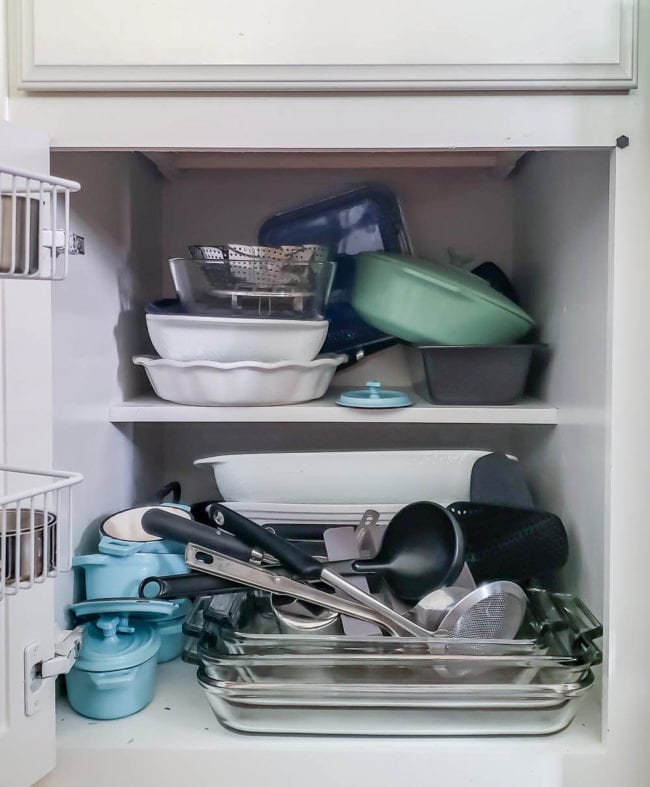 And now, they're all filed nicely! I can grab the one I need without causing an avalanche. Ahh..it's a thing of beauty.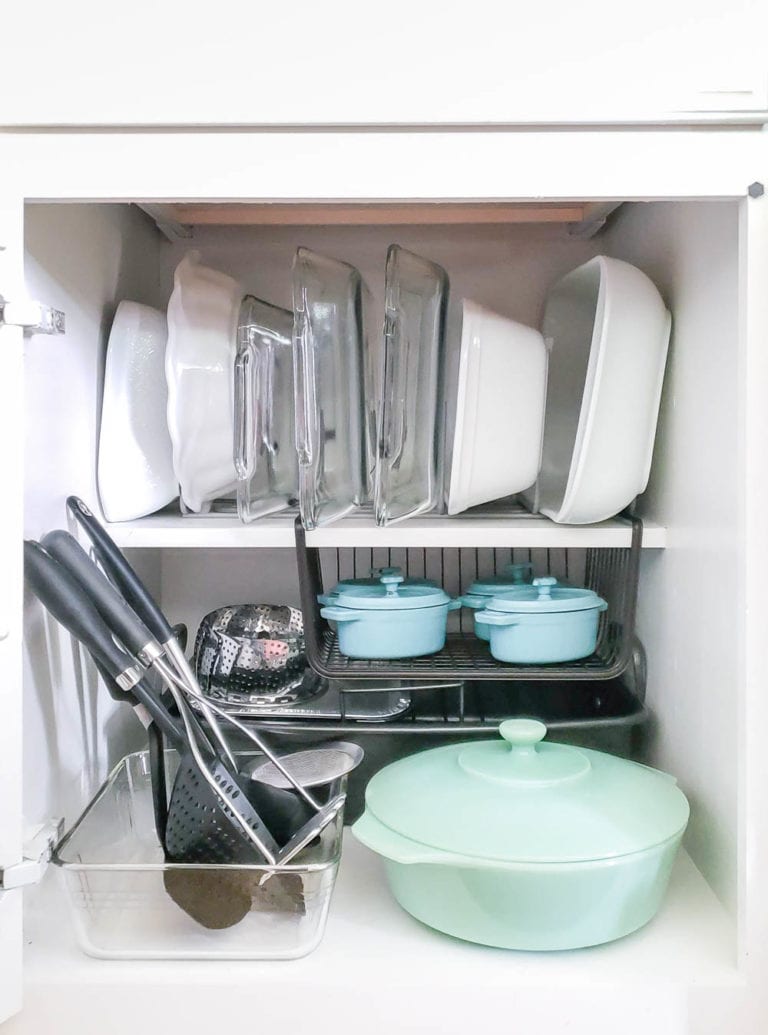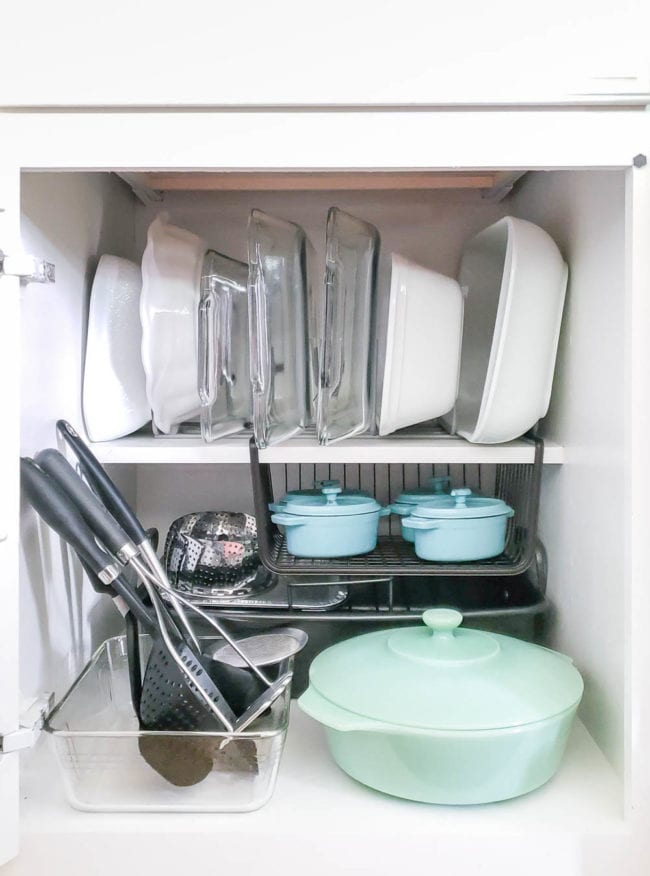 To make the cabinet even more functional, I also added one of these handy slide-on shelf baskets. We have some individual-size cast iron baking dishes that I love, but they have ALWAYS been in the way. Now they have a dedicated home, and I don't have to move them to access anything else.
The only item we have to move things to access is the turkey roaster, but since we only use it for the holidays, it makes sense to be stored in the back.
You may have also wondered why the heck we have utensils in a lower cabinet. I realized that anything bulky, like a ladle or potato masher, always caused a big problem in our short drawers. Something as simple as unloading the dishwasher was a fight to get them back in the drawer. I was fed up one day and put them in the lower cabinet next to the stove. SO MUCH BETTER!
Pantry Organization Update
When we finished the original pantry makeover four years ago, the organization was perfect for us. This is an excellent example of the evolving needs of a space.
Here's what the pantry looking like last week. It had a rough summer and started collecting clutter, which is an indicator to me that I need to evaluate why that was happening.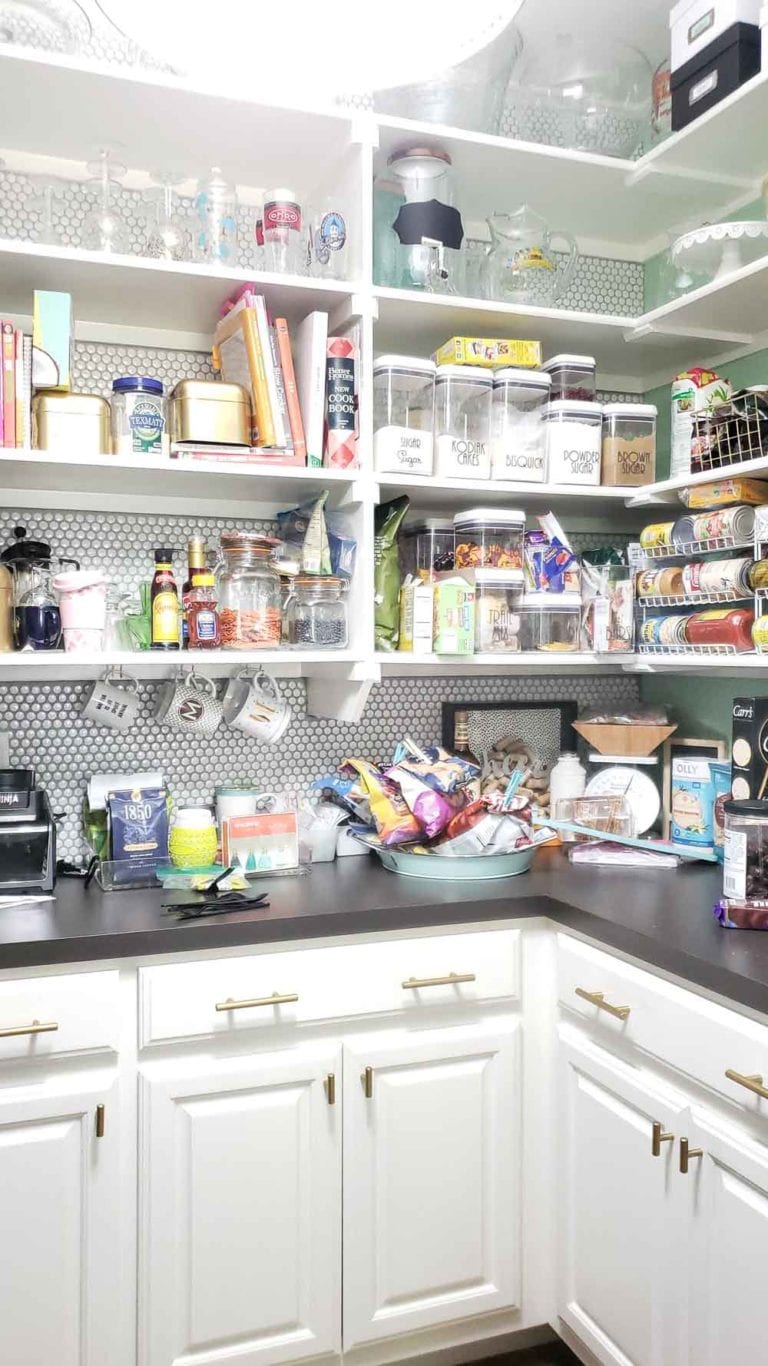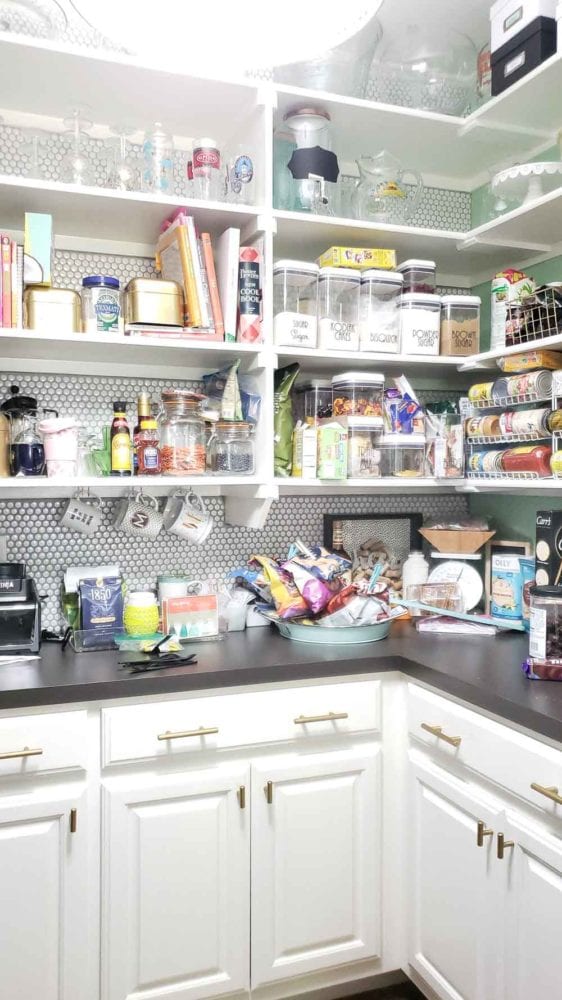 We had done a swap and put the coffee pot in the kitchen and blender base in the pantry, but never bothered moving everything needed for either of those appliances. I cleared out some unnecessary items from the shelf above the blender, which left enough space for the blender accessories.
Having the blender in the pantry was ideal for setting up a smoothie station. In addition to the blender accessories, I also moved the peanut butter, protein powder, and bananas to this area. Frozen fruit is bagged with spinach in individual smoothie servings in the pantry freezer, and insulated cups were already stored in the pantry cabinets. Now making a healthy choice in the morning is as simple as possible.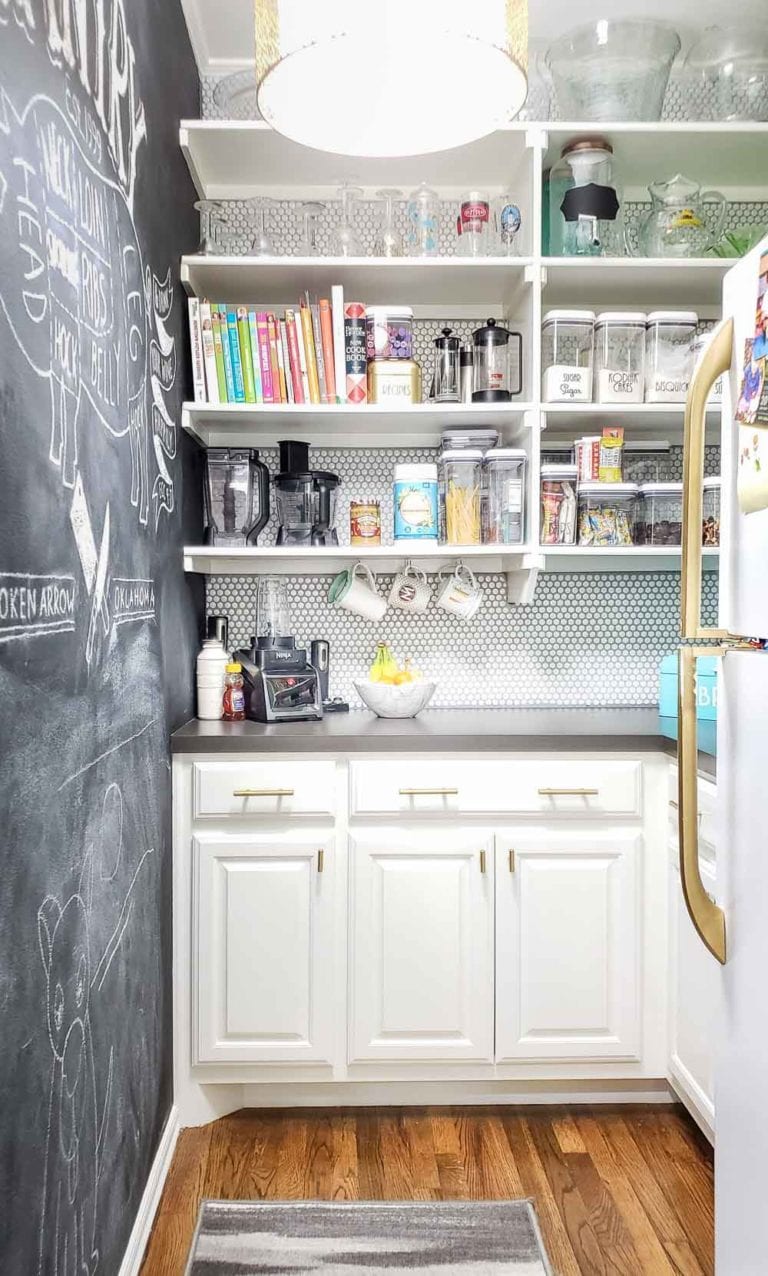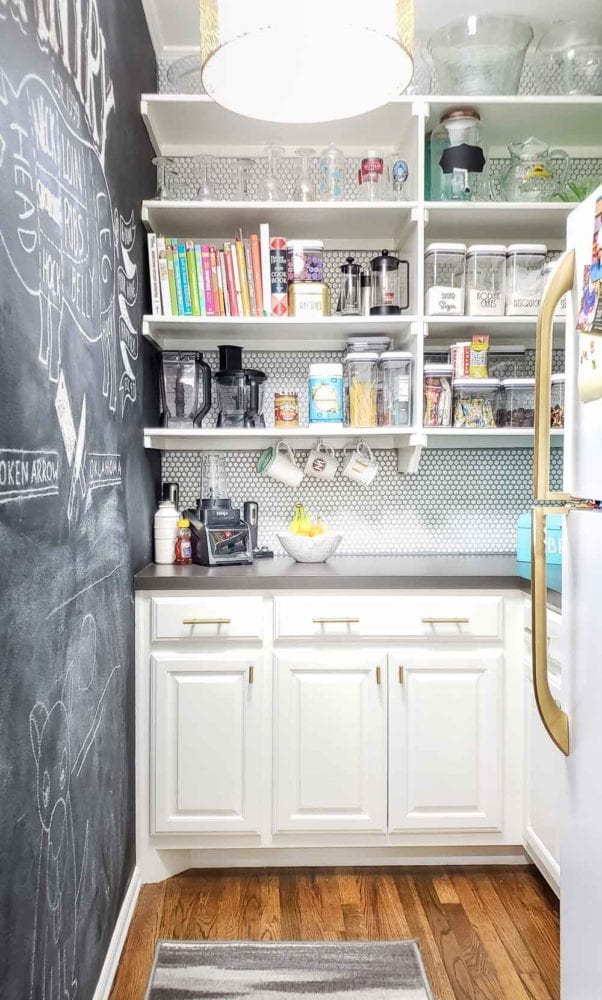 To free up some room for the blender accessories, I swapped out the round glass pasta jars to square containers like the ones we were already using for all the other bulk goods. I wish I would have invested in them years ago!
We made other simple, but significant improvements in the pantry as well.
I found a really cute breadbox for the counter. Before, we were storing bread on a higher shelf, in a bin that I couldn't see inside without the stepladder. We'd forget about hamburger buns, or the last few pieces of the old loaf would stay in the bottom of the bin for way too long. Yuck.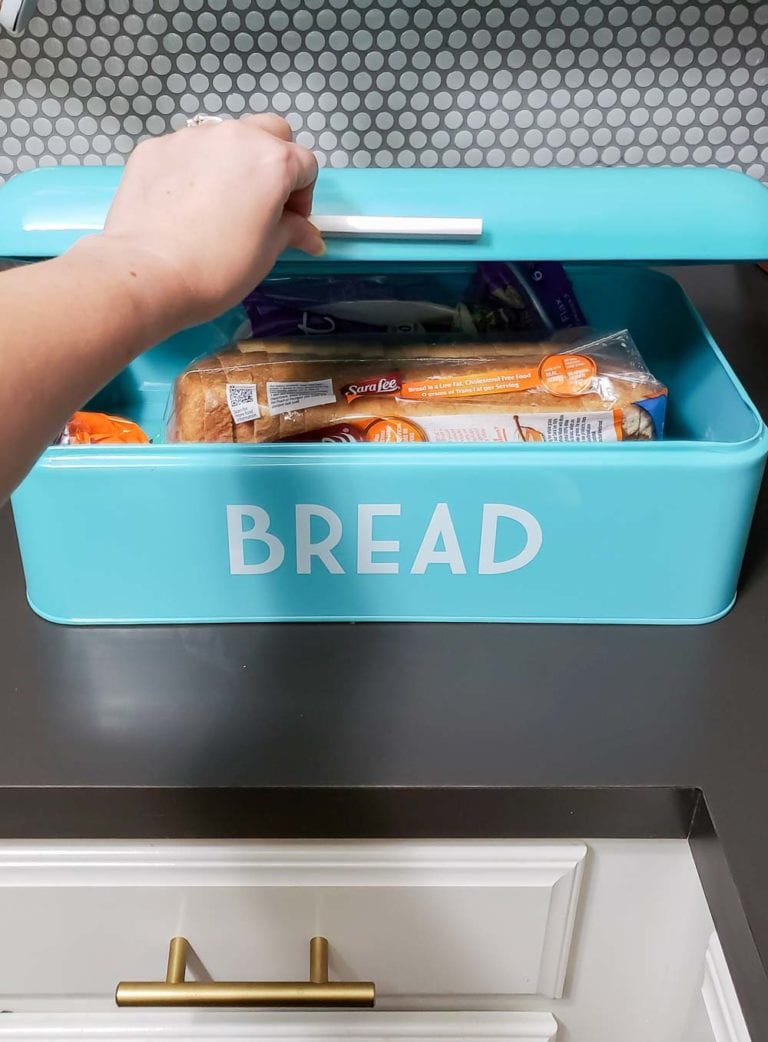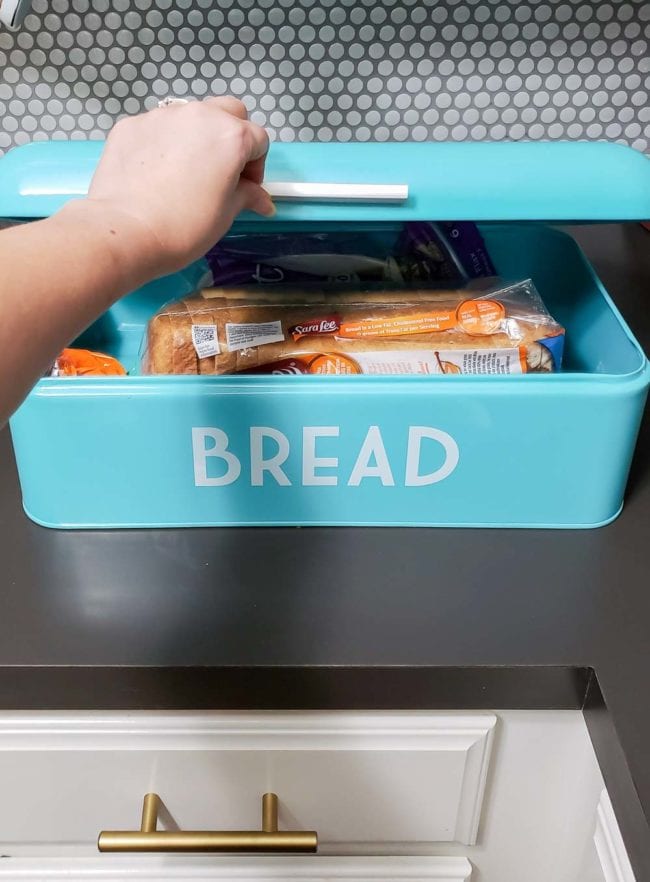 Plus, moving the bread to the counter meant I could use the bin on the shelf for something else. Win-win.
Remember that slide-on shelf basket I used in the bakeware cabinet? I used two more in the pantry!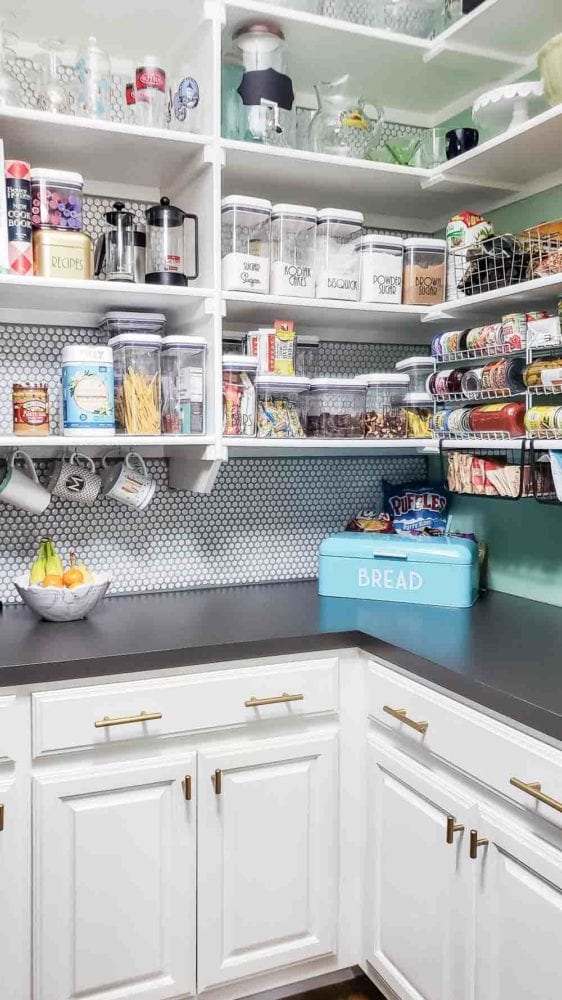 One holds oatmeal packets, which previously were above the stove in the kitchen…in a cabinet I could BARELY reach. The other is perfect for all the oatmeal & yogurt toppings like granola and walnuts. I can't wait to add more of these magic baskets around the house!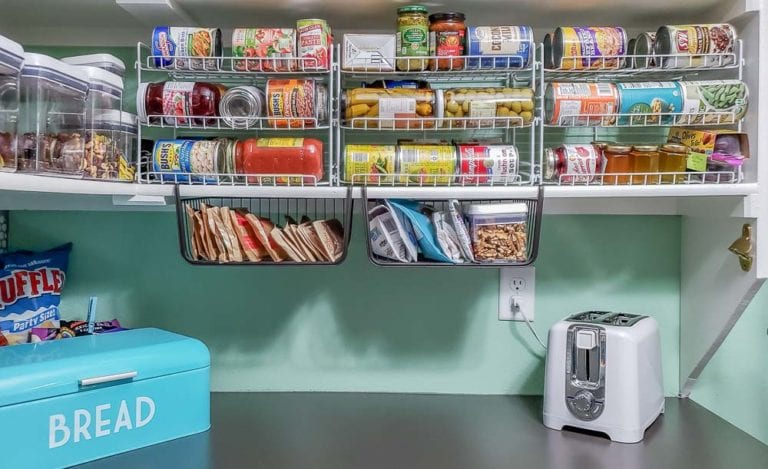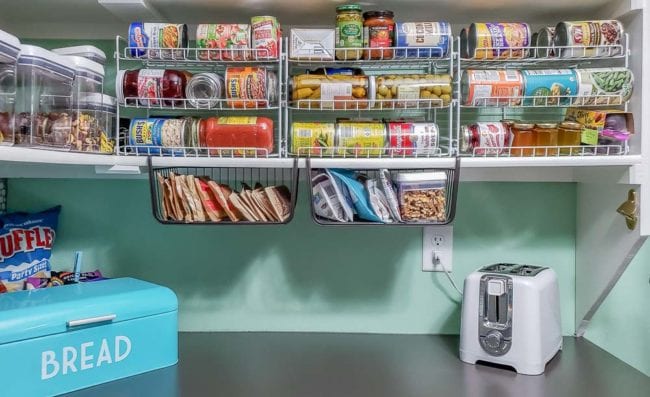 The can organizers are still working brilliantly, and I'd recommend them.
I actually have 3 of the cheaper version that were a pain to get put together and have mediocre reviews, but ours have lasted 4 years so far. Highly-rated versions that are a little bit wider are also available.
Miscellaneous Plate/Bowl Cabinet
We have a smaller upper cabinet that holds small bowls and plates that we use for both prep and serving. Like the pans and bakeware, things are stacked up and require a bit of balance to pull from the cabinet.
For example, we use the aqua plates all the time, and it's not the end of the world to pick everything else up to grab one, but it could be easier.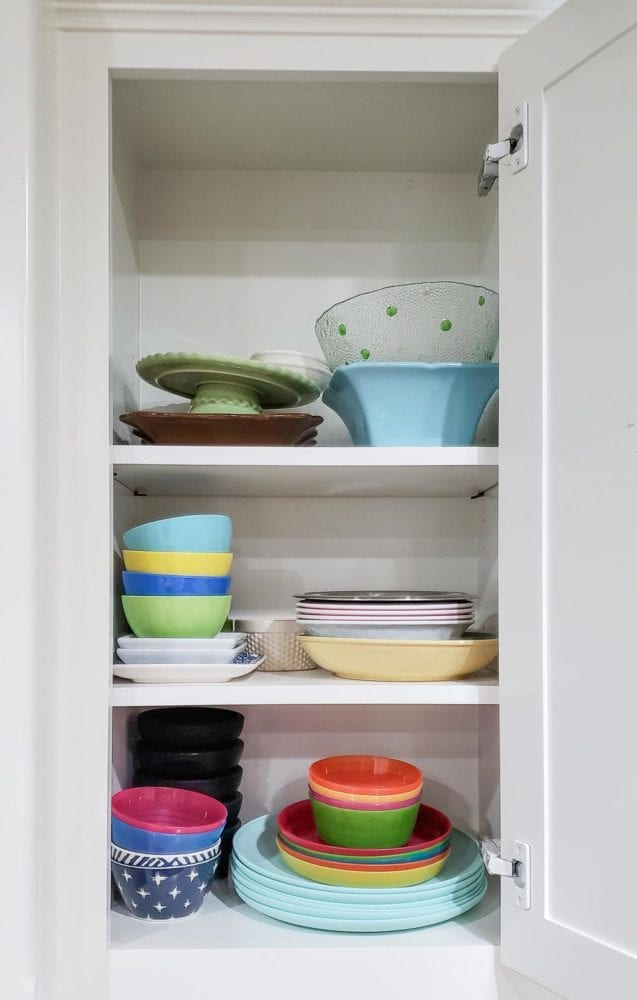 To add more storage to this space, I found a sturdy shelf unit.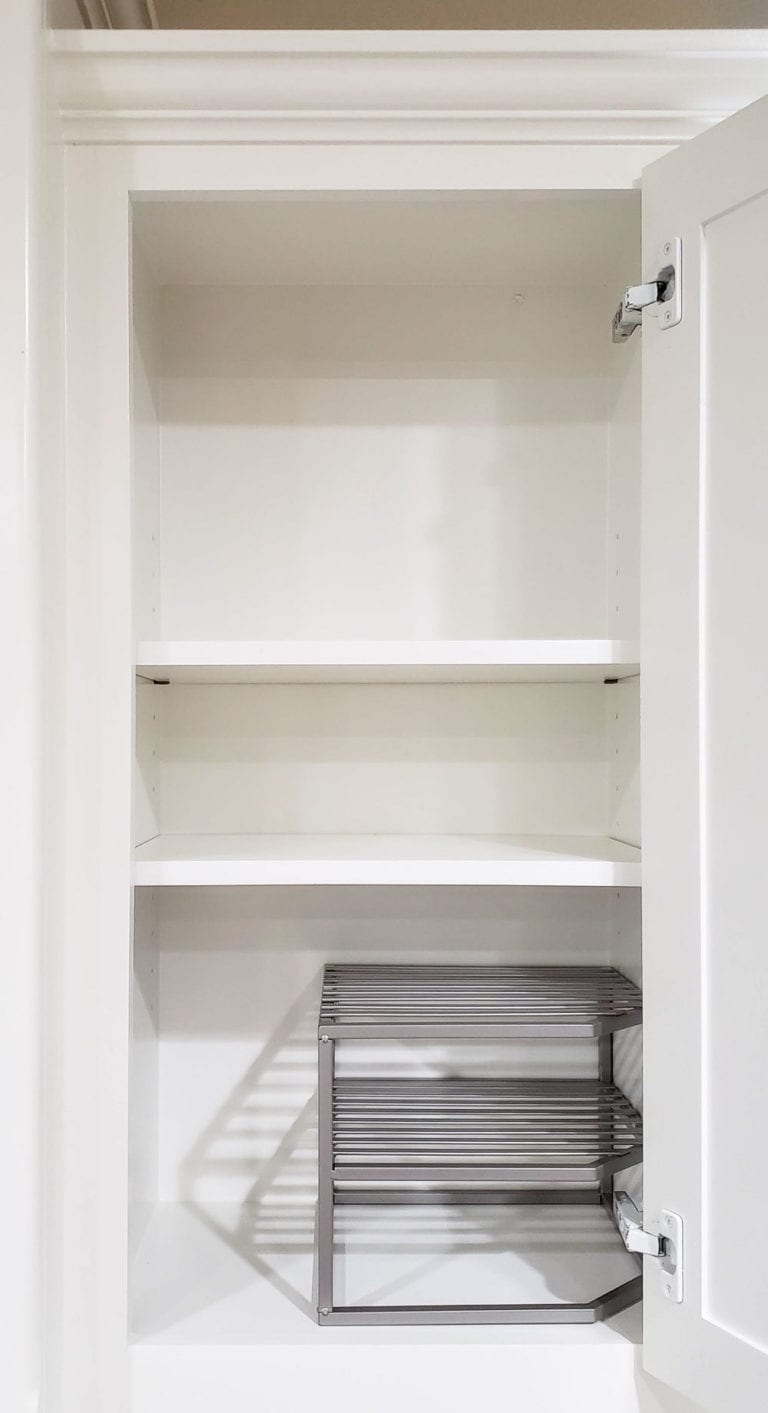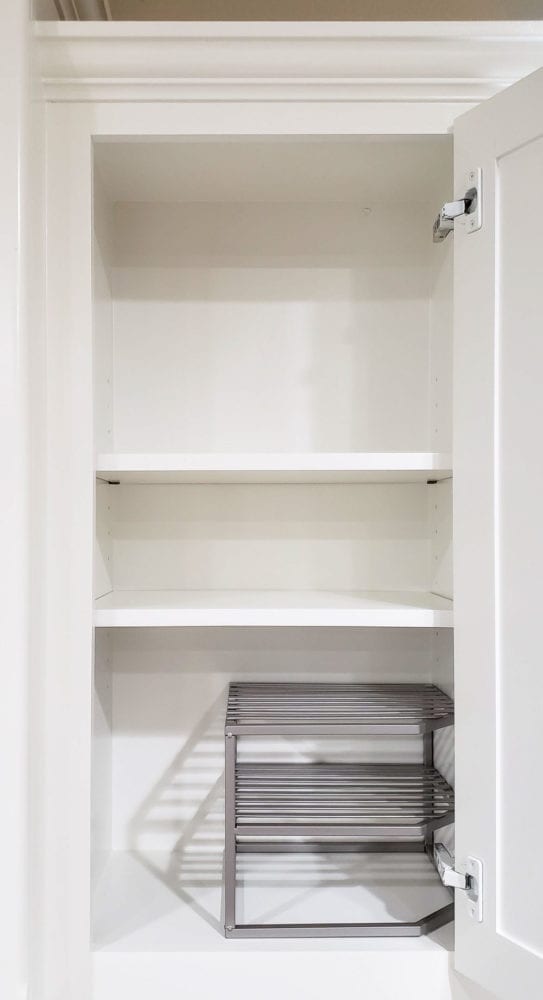 Now I can grab anything I need with one hand!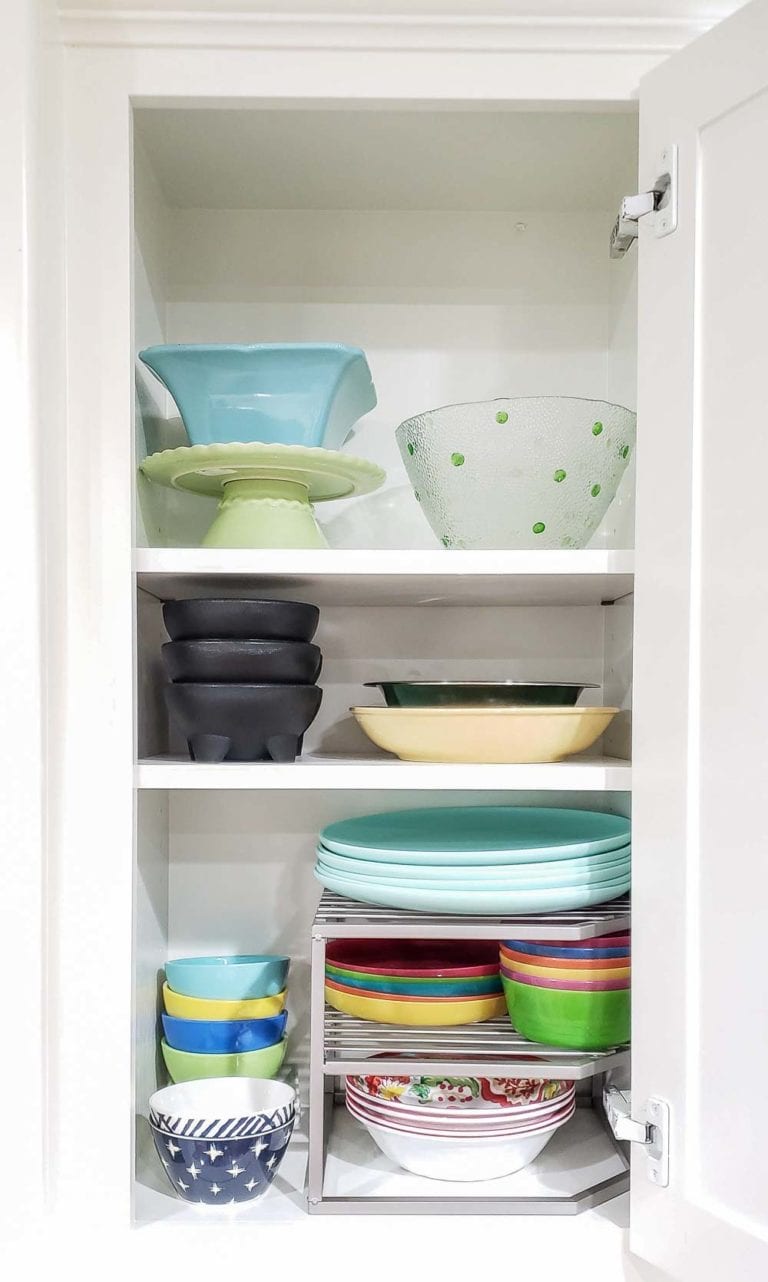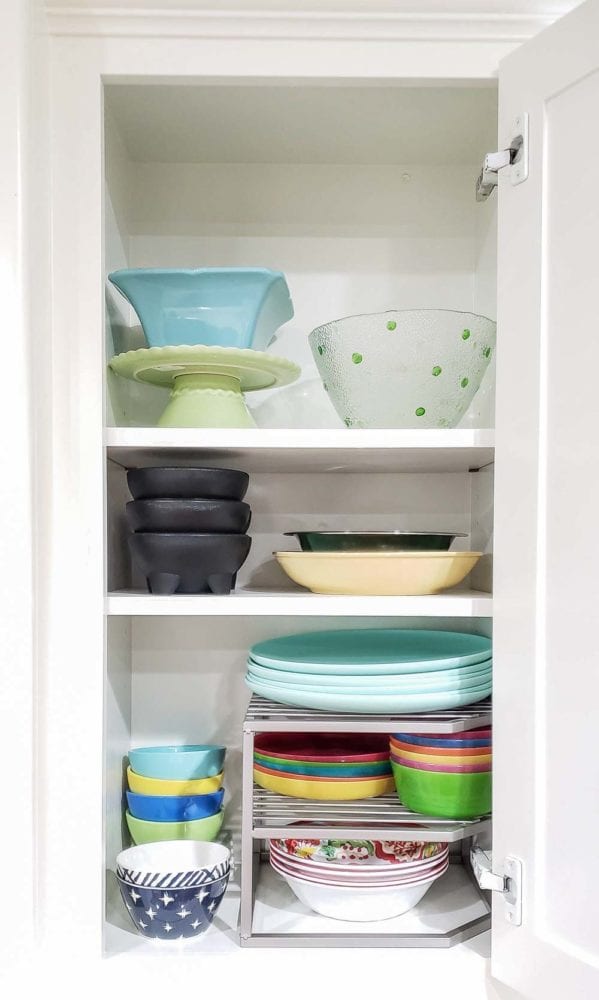 I might need to order another one of these shelves for our "real" plates and bowls! Since those are on an open shelf, maybe I'll go with this pretty copper option instead!
All of these small changes only took a few minutes each. I love that none of the products require any kind of installation, so they'll work in rentals also.
Don't be like me and put off ALL the kitchen organizing projects because you can't afford to tackle everything at once. For years I thought it was too expensive so I tried to ignore the things that agitated me.
FINALLY, a few years ago I realized I could start with the most frustrating problems and slowly work through them. Each round of improvements has made the kitchen more and more functional and pleasant to cook in.
Here are the links to everything I showed in this post for easy shopping:
Pan & Baking Dish Rack (The exact model I used was discontinued right after I ordered, but this is similar)
Plate/Bowl Shelf
Under Shelf Basket
Bread Box
Can Organizer (Mine)
Can Organizer (Sturdier, higher-rated version)
Dry Good Storage (Square)
Dry Good Storage (Rectangle)
Dry Good Storage (Multi-Pack – WAY better deal)
Cabinet Door Storage Rack (Not shown, but one of my favorites ways to add storage)
Which would be the most helpful to you?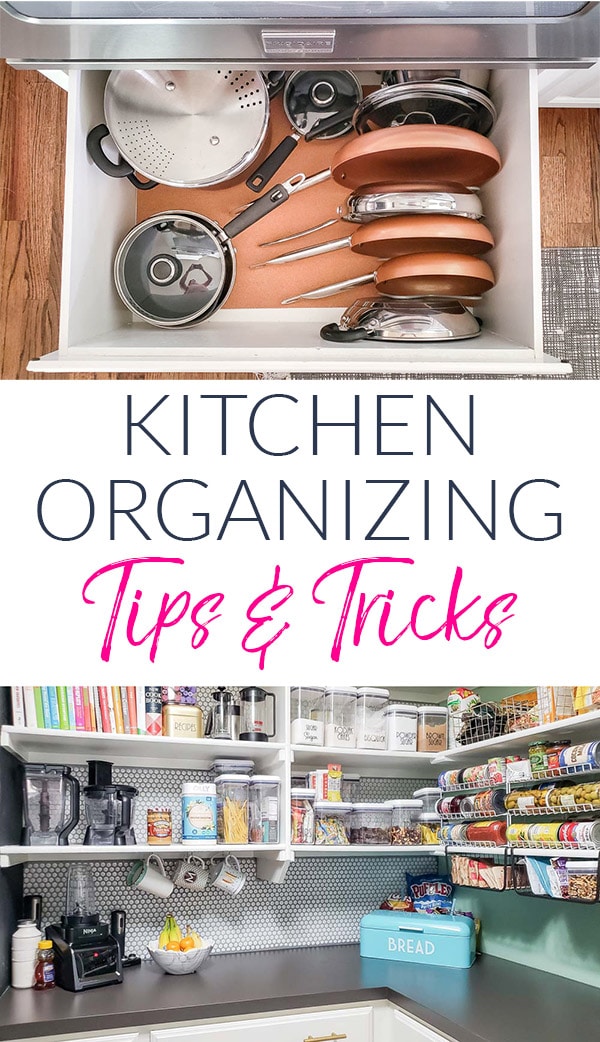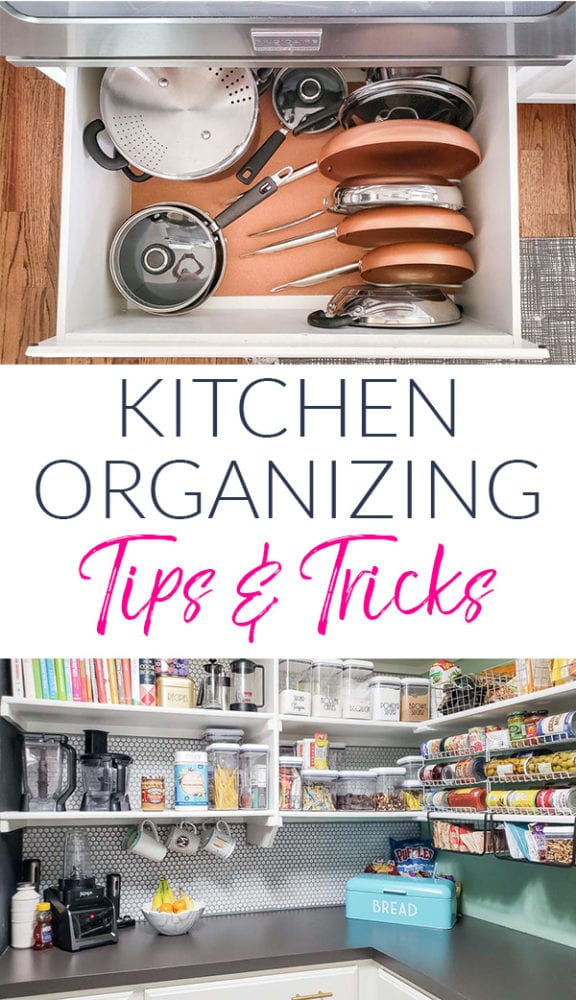 For more kitchen ideas, check out my kitchen makeover!
Make sure you pop over and check out those ideas next!