After sharing the before and after pictures of my office closet recently, I received a flood of emails from readers with their own overwhelming projects. Like me, they had been putting off big projects even though the current situation is adding stress to their home.
Here's one of the specific questions that I think many of us can relate to:
"We moved into a new house about 8 months ago and we still have "several" totes in our third bay garage that need to be sorted through and emptied, recycled, goodwill, etc. I look at the totes every day and turnaround – going back into the house overwhelmed and getting nothing accomplished. Any suggestions on conquering that project?" – Linda G .
As you'll see throughout the examples and tips below, we've created our share of big messes. The great news is that conquering my own spaces has taught me some strategies that I can share with you!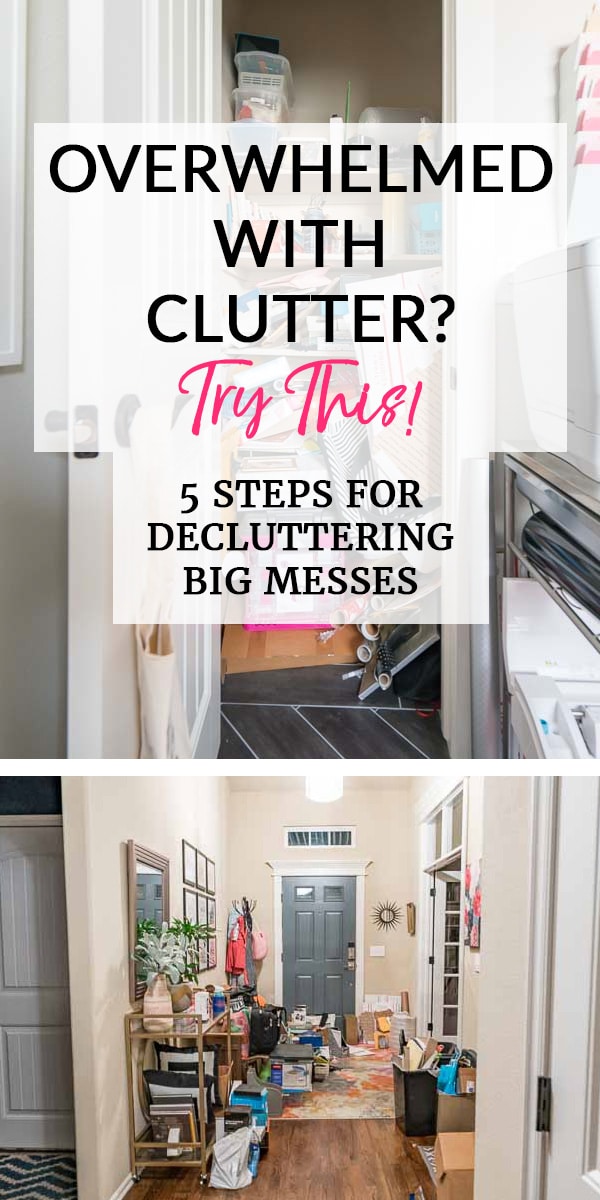 How to Tackle Overwhelming Projects
1) Create an External Deadline
With fall around the corner, it's a perfect time for a garage/yard sale.
Schedule one 4-6 weeks from now and then figure out how much progress you need to make each week to be ready. You can also schedule a donation pickup in the future if you don't want to mess with a sale.
We never would have finished our master closet or our garage if there hadn't been external deadlines attached. We played along with a weekly challenge in which we had 5 weeks to fully transform a space. I had to post updates each week, which kept us moving.
This is part of the mess we started with in the garage…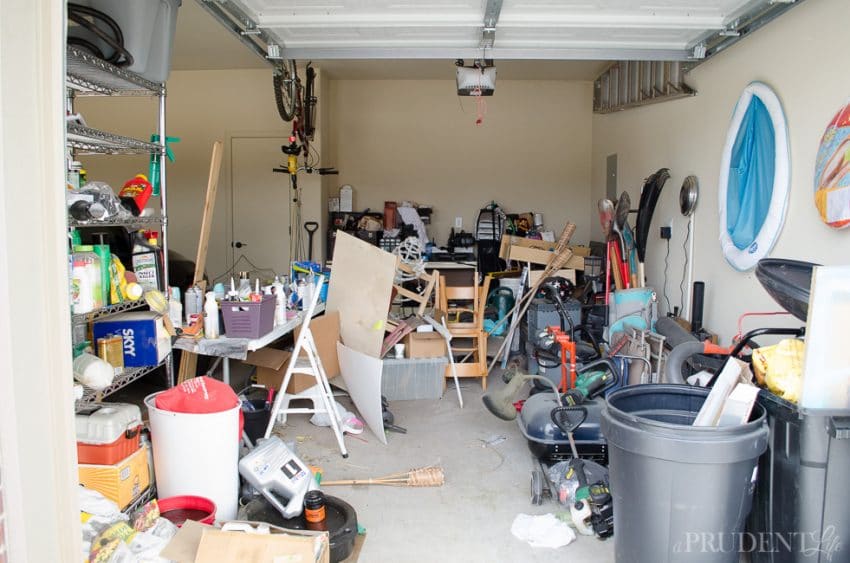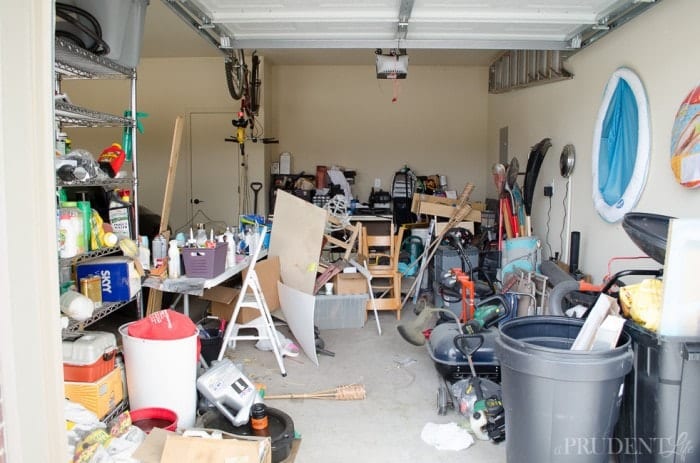 And here's the closet mess…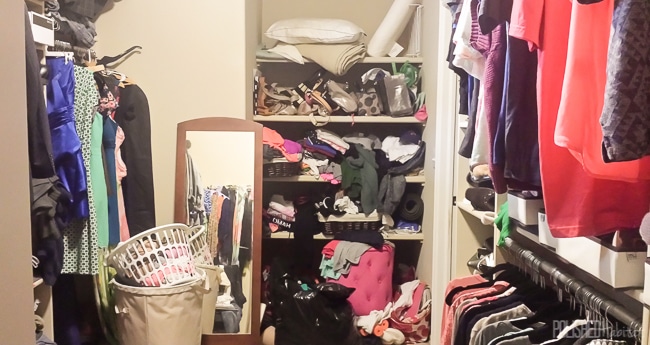 Five weeks after the before photo, the garage looked like this.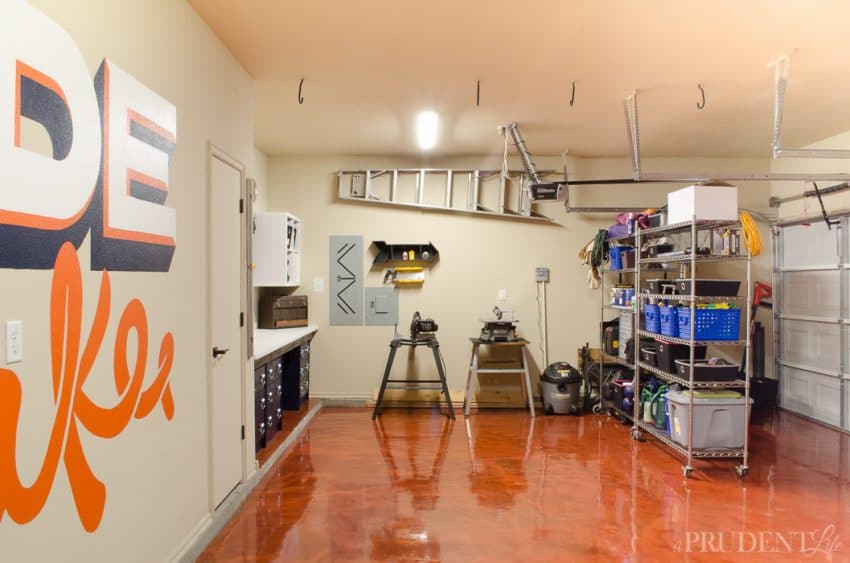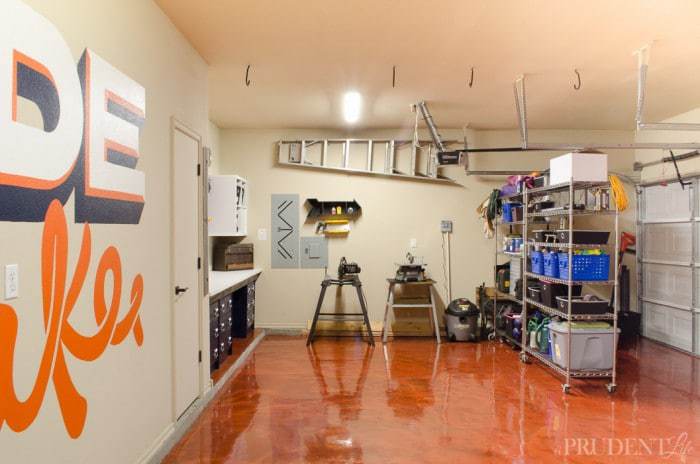 And five weeks after the closet before photo (a different 5 week period), I had my dream, organized space.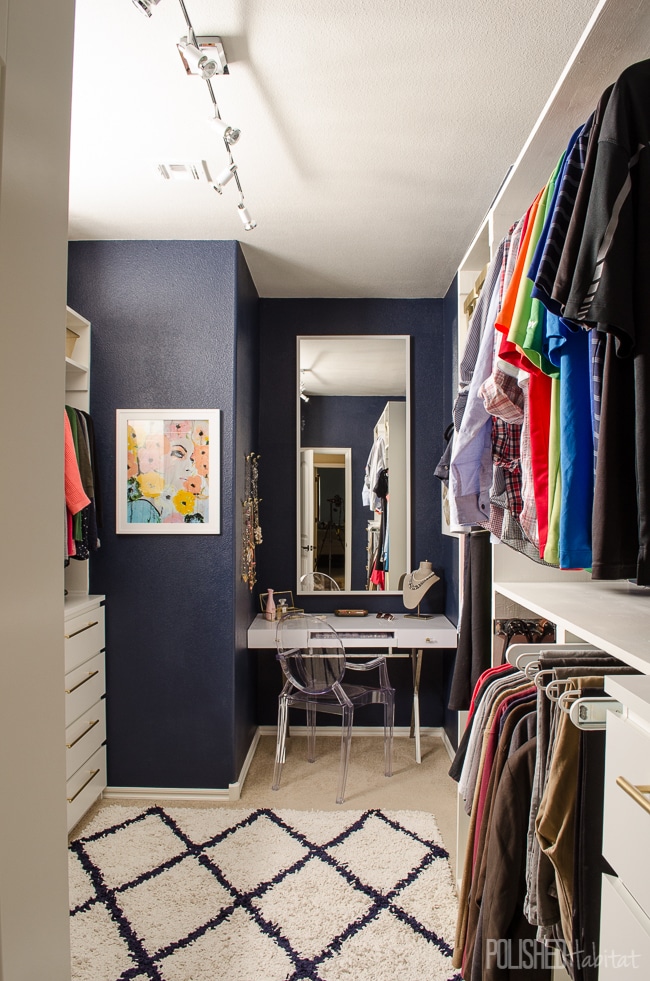 There is NO way we would have pushed ourselves to get these big projects done without the external deadline.
It's the same concept that helps you suddenly tackle things you've put off for years when you decide to sell a house. But we shouldn't wait until we're moving to make our home the best it can be!
2) Create a Reward
Is there somewhere around town you rarely go, but love to visit?
Whether it be a spa trip, museum, or special restaurant, figure out a treat. You can probably even sell enough of the items you no longer need to pay for your reward.
Or, you reward could be free – plan a quiet picnic lunch for yourself and a book at a park. Or if you love entertaining, plan a dinner or game night to show off your newly de-cluttered space.
3) Recruit Help
It's amazing how much more you can focus and push through wanting to quit when there is someone by your side. Especially if you're either paying them OR they're one of those friends you KNOW will stay on track.
When it came to going through 20 years of files in my office, I had someone help me. It took us 5 hours (and we actually tackled a couple other little things too). I 100% know I would have quit that day IF someone wasn't being paid to be there.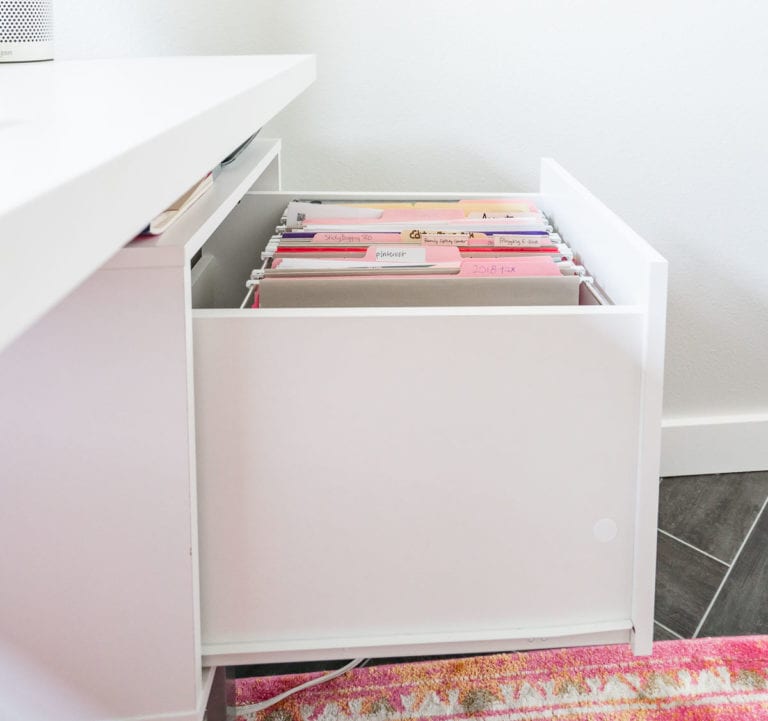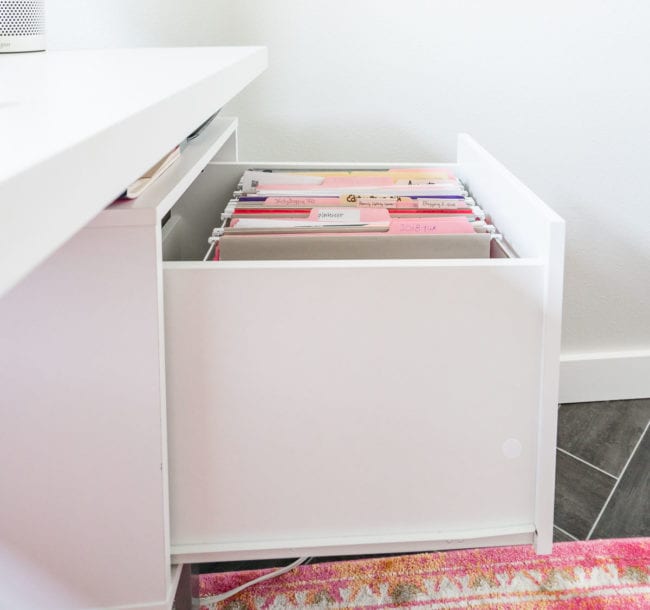 PLUS, I booked her in advance, creating a deadline to have the rest of the office done before she arrived. Win-win.
4) Visualize
Pause right now to think about how you feel when you see the area you need to work on.
Now think about how you'll feel when you know it's no longer hanging over your head! Better, right?
Life's too short to put off handling something that will make you feel less stressed every day when you're done. And I say that as someone who constantly has to tell myself the same thing!
5) Start
Starting your big project will usually be the hardest part. To help take that first step, I HIGHLY recommend playing your favorite music and grabbing a favorite beverage right before digging in. Take a deep breath and then go, go, go!
Once you have the satisfaction of seeing progress, it's much easier to keep going.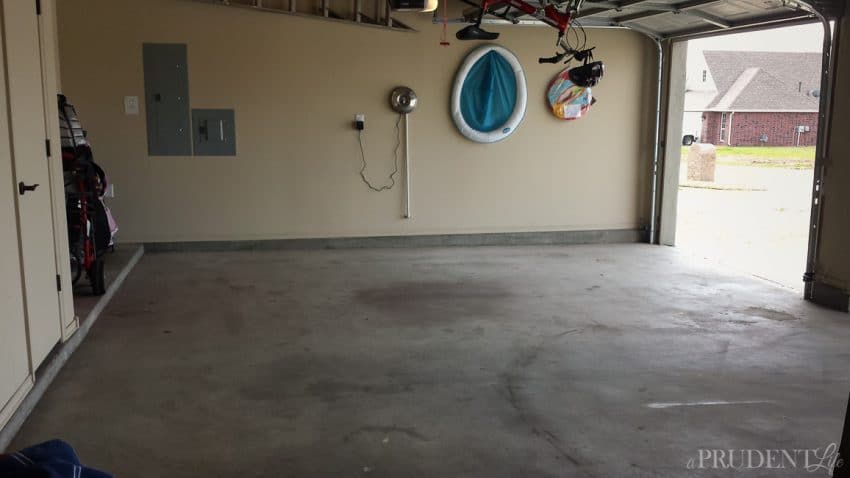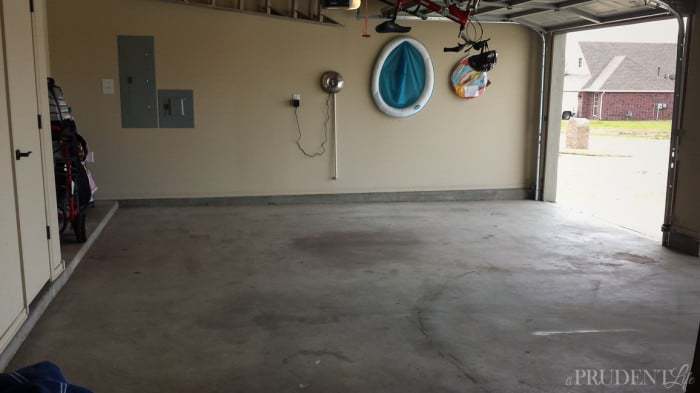 However, you may still get overwhelmed and want to quit right in the middle.
It's tempting, I know. I've been there too. To keep going, set some mini-goals along the way.
If you feel that pull to quit, find a natural pausing point that just a bit further along that you are. So, in Linda's case, I'd say do just ONE more tub and then take a break. Or if your project isn't clearly dividable, set a time goal. If you want to quit at 3:18, keep going until 3:30.
Going a bit past the point you'd stop in the past will help exercise your mind to know that you CAN get this done and tackle other hard things as well.
Before you start your break, you also need to commit to a time to resume the clean-up. Whether it be 15 minutes later, the next morning, or next Saturday, decide on the next work time BEFORE leaving the room.
The final little trick I have to keep myself going is asking how I would feel next month if:
A) I keep going and take care of everything?
OR
B) Walk in to still see the same mess?
I've never once regretted tackling a project that overwhelmed me, but I certainly have regretted not tackling things sooner!
Now that you've got the mental game conquered, head here to read the 7 Things I Learned About Organizing Our Home Effectively.