Back in July, while looking online for somewhere local to donate extra art supplies, I stumbled on the Family Safety Center in Tulsa. They help victims of abuse, assault, trafficking, elder-neglect and more.
The center steps in to assist with everything from medical exams and protective orders to legal counsel. In fact, 14 different agencies work together in one location to make things as smooth as possible for clients…at no charge.
While reviewing their wishlist, I noticed they needed some furnishings and decor.  My brain started spinning…
Before I knew it, I sent a note to a friend (Mia Fleming) asking if she wanted to stop talking about doing a charity space makeover together and start doing.
We're so excited to team up for some volunteer organizing and decorating! She's a former news anchor who got tired of reporting the bad and set out to share things that help people look, feel, and DO good instead.
Mia is full of positive energy and gumption – the perfect mix to help me pull off a project that often feels too big and scary.
We toured the Family Safety Center and found most of the spaces welcoming, with beautiful art and furniture. However, an increase in clients served meant expansion across the hall into a different area. Those spaces needed some love and attention to make the clients feel more welcome and to become more functional.
Instead of sanely offering to start by making over one space, we decided to take on three.
1) Combo kitchen/dining/teen waiting area
2) Mom's nursing room/private waiting area
3) Open hallway waiting area
You know I can't turn down a chance to make a room more functional AND stylish!
Here's what the combo room looked like during our first tour.
| | |
| --- | --- |
| | Living/Waiting Side |
Functionally, we wanted to make the waiting portion of the room feel more intentional and cozy. It also needed additional storage and the whole space needs a bit of a spruce up.
Here's the exciting new plan for the room. We're using large Tulsa canvas art to help divide the space into three separate, but cohesive, spaces.
In the waiting zone, the couch will be rotated 90 degrees to add a bit of privacy. A rug and storage unit help the zone feel more like a living area.
Corey's working on a hand-lettered mural for the back wall  – "You're braver than you believe, and stronger than you seem, and smarter than you think." – Christopher Robin
The storage unit will be stocked with snacks, school supplies, and blankets the clients will be welcome to take as needed.
For the middle part of the room, we're adding a slim desk. It will be great as a workspace for clients, but will also give the staff a bit of extra kitchen counter space when needed.
The dining area of the room will get a new rectangle table and chairs that will help the flow of the rooms. One edge can be pushed against the wall to free up the walkway, but the table will still accommodate seating for four.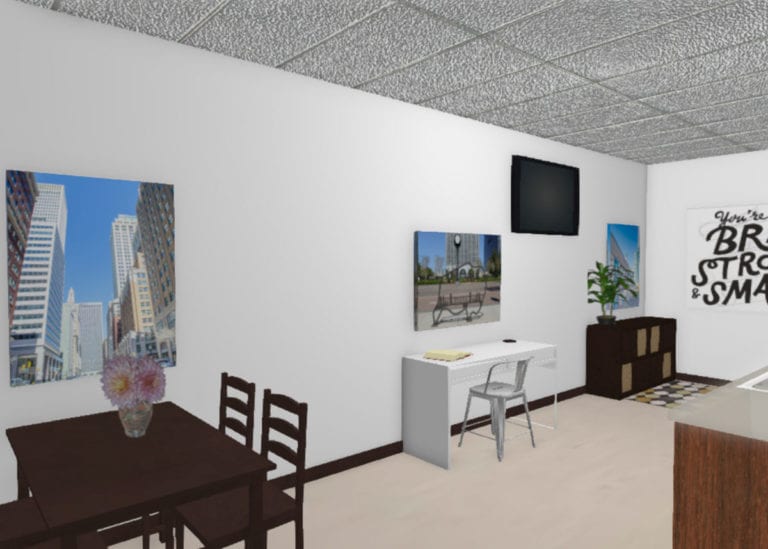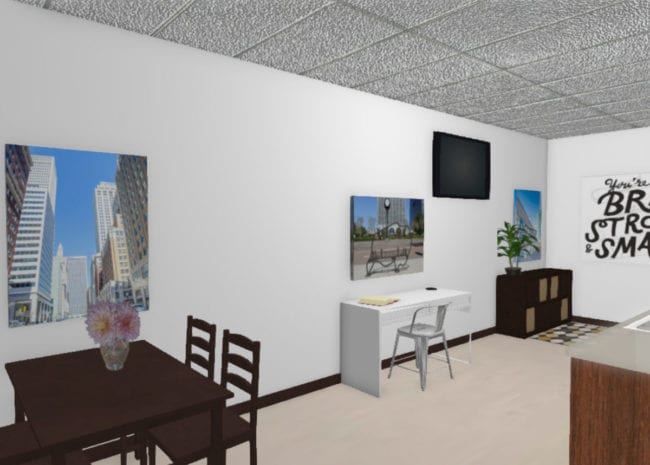 Next up on the list, we had the small mom's nursing/waiting area.
Here's what it looked like when we toured.
Our goal was to reuse as much of the existing furniture as possible since much of it was in almost brand-new condition. While it may not have been the fabric I would have picked out, it was a fun challenge to make a beautiful room with the existing pieces.
The talented artist Catherine Freshley was kind enough to donate a print for this room, along with a gift card for framing. It's the perfect size for the column between the chairs. The green grass complements the chair fabric and the sky introduces a calm blue.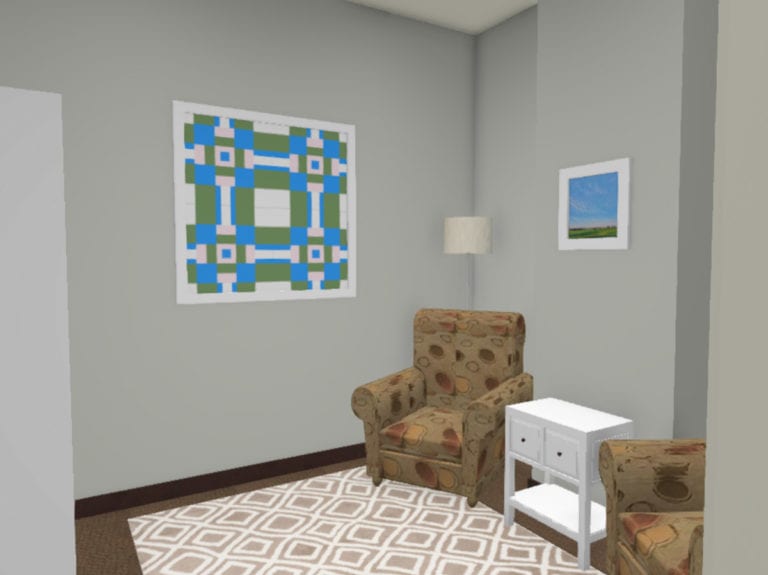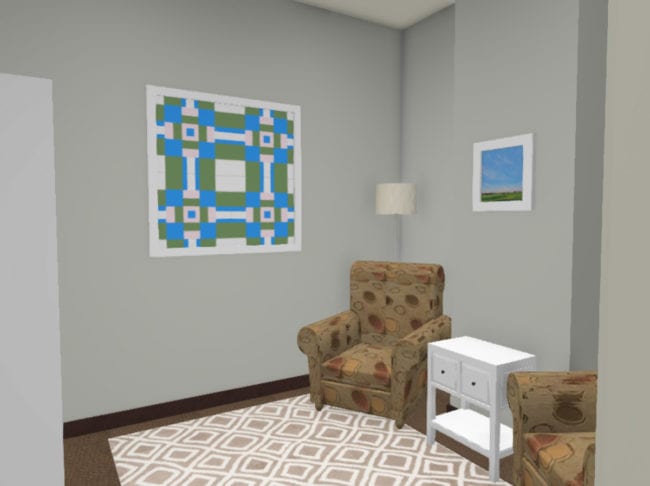 Using the same colors, we're making a custom quilt inspired art print for the larger wall. Across from the chairs, there will be a new bookcase that will have a mix of decor and functional supplies for guests (diapers, etc). The walls will be painted a shade darker than the kitchen in Revere Pewter.
Last up, there's a waiting area right off a main hallway. Here's what it looked like before.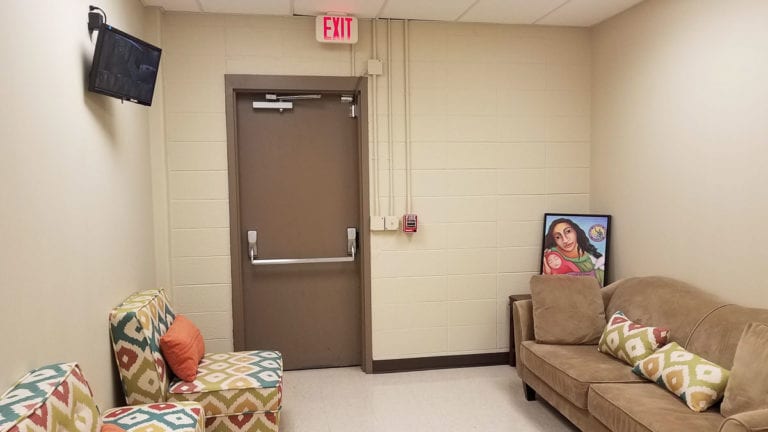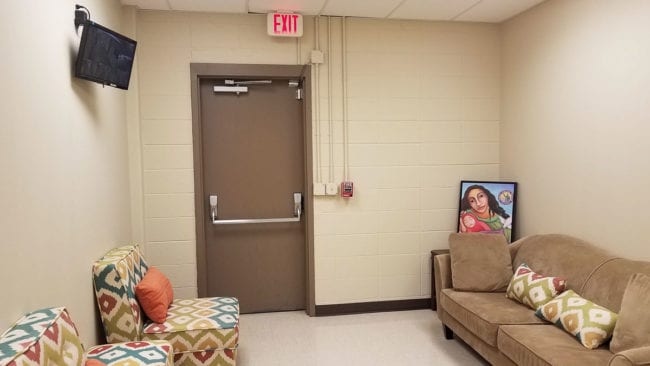 Because the area only has 3 walls, it felt a bit exposed. Similar to the teen space, I wanted this space to feel a bit more private and comfortable without any construction.
Going with a darker color on the walls added depth and separation in an even bigger way than I hoped! We picked the color based on the teal accent in the chairs. They felt a little out of place before, but now the fabric feels 100% intentional and stylish.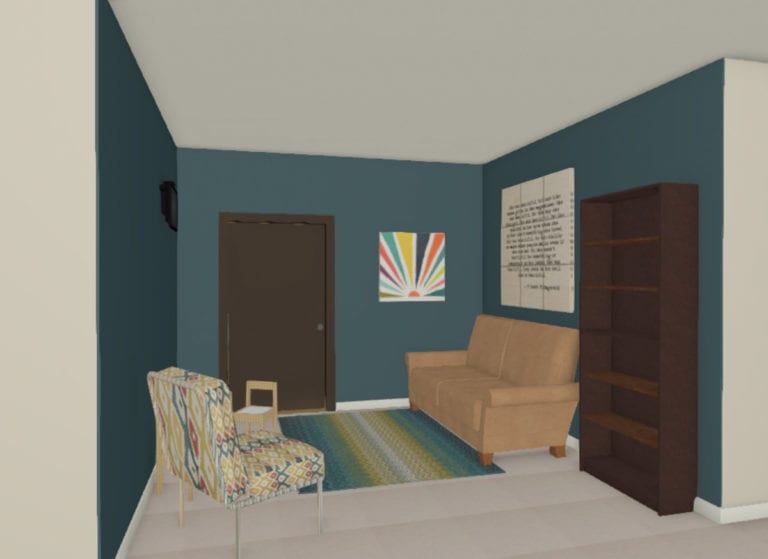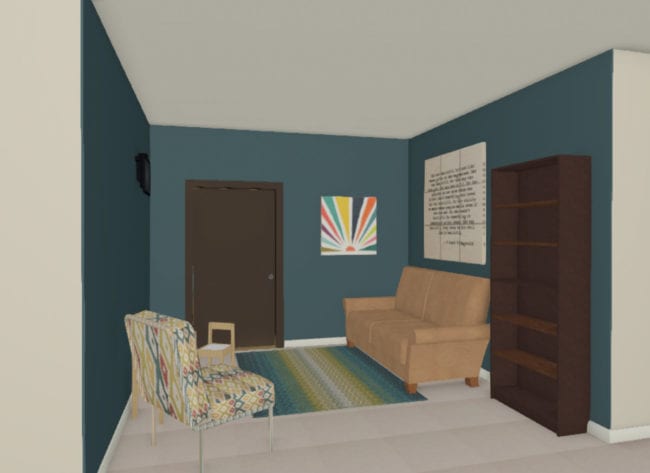 We also added physical separation with a bookcase between the couch and hallway. Like the bookcase in the mom room, we'll add a mix of function and decor on the shelves.
Above the couch, I got the chance to use one of the wood wall art signs (affiliate link) I fell in love with when I updated the dining room. My friends at Society 6 generously donated it to the center for us!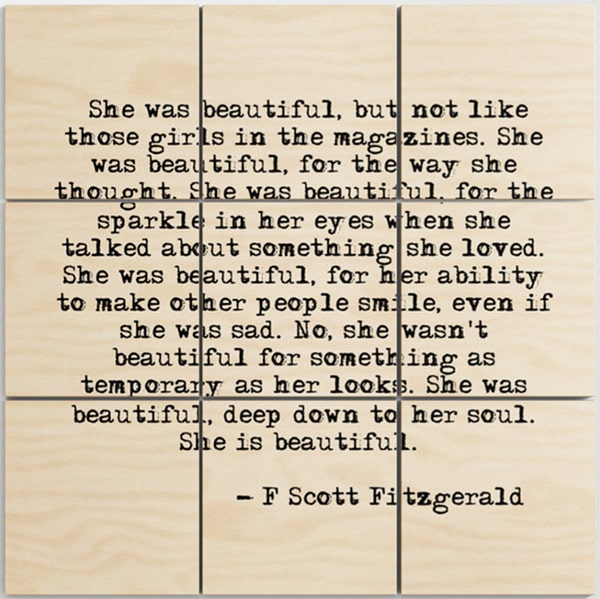 Across from the couch, we'll add an adorable kid's table and chairs to create a small art area. This isn't in the mock-ups, but the wall in the art zone will be a display spot for kid's art.
Last Friday for the Day of Caring, a hardworking (and fun) team from the Tulsa County Juvenile Detention Home volunteered to paint all three rooms for us. They did a great job and it was a huge relief that we didn't need to come up with a crew (or a couple days of our time) to get everything painted.
Mia got in on a little painting action too.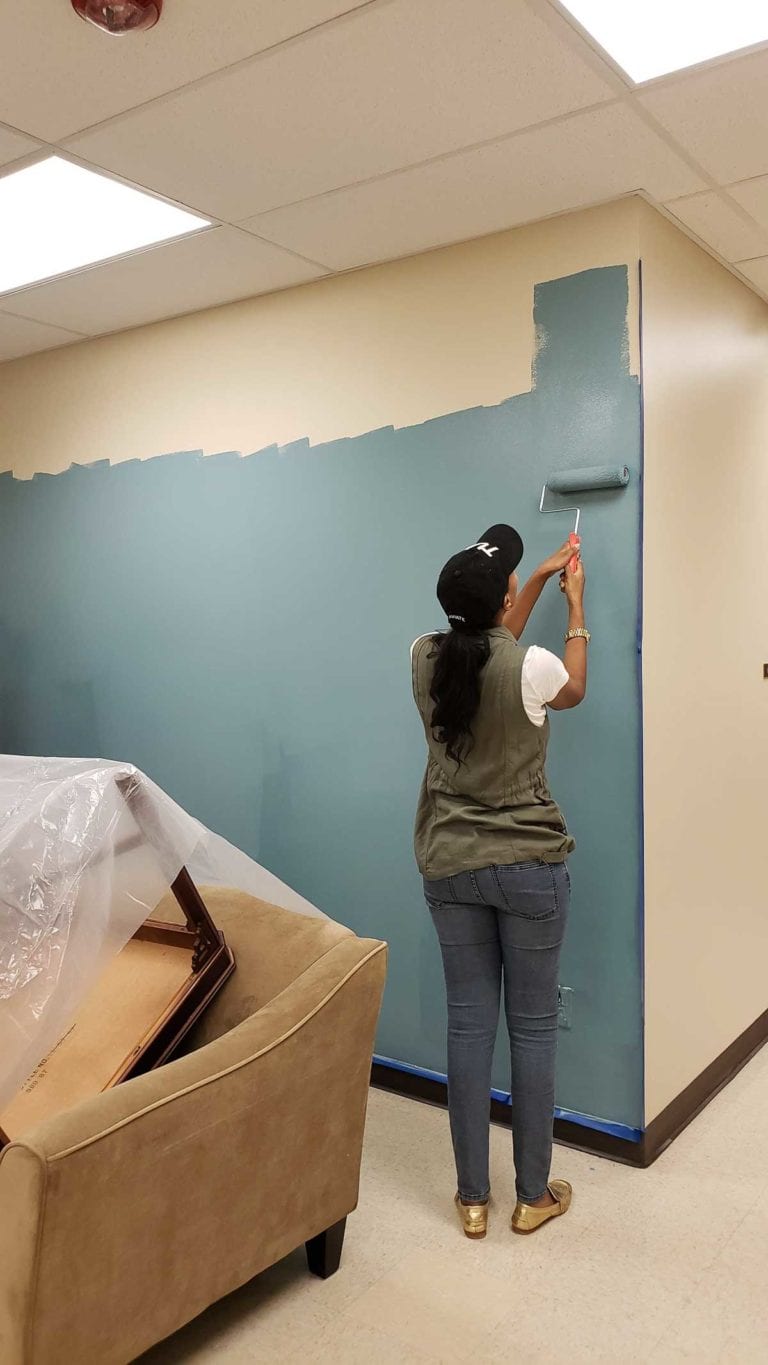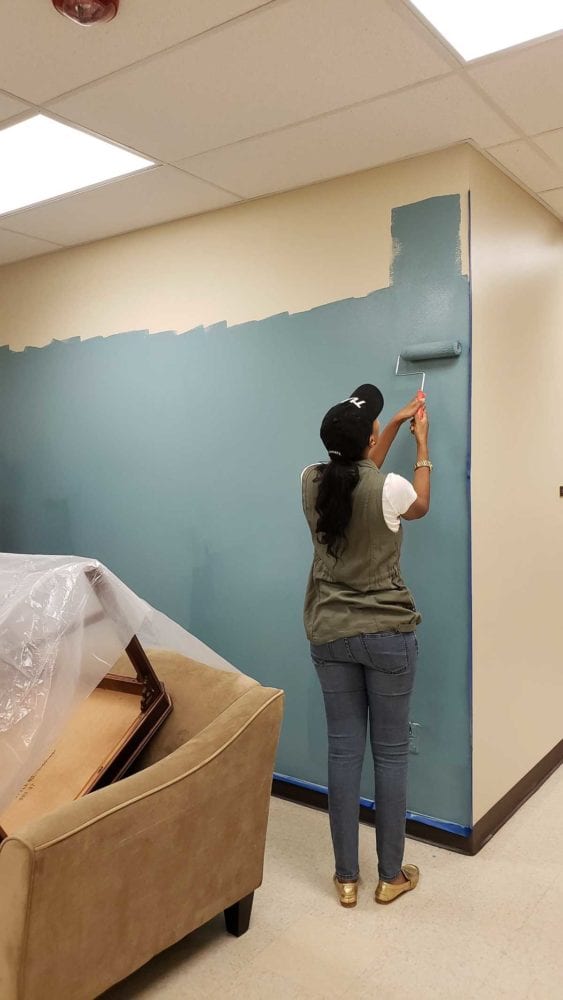 Speaking of paint, the paint and supplies were donated by the downtown Tulsa Home Depot. Then, they went a step further and volunteered employees to help us hang art, move TV brackets, and assemble/anchor furniture next month as we finish the project. We are beyond grateful!
It's been amazing to watch so many different people and brands come together to help us pull this off. We still have a lot to do and buy before our big install day mid-October so send lots of thoughts and prayers our way!