Last week, I talked about how well the bathroom organization under my sink was working after a year of use. I also mentioned that I hadn't conquered keeping the bathroom counter clear from everything yet. Well, I may have figured out the solution!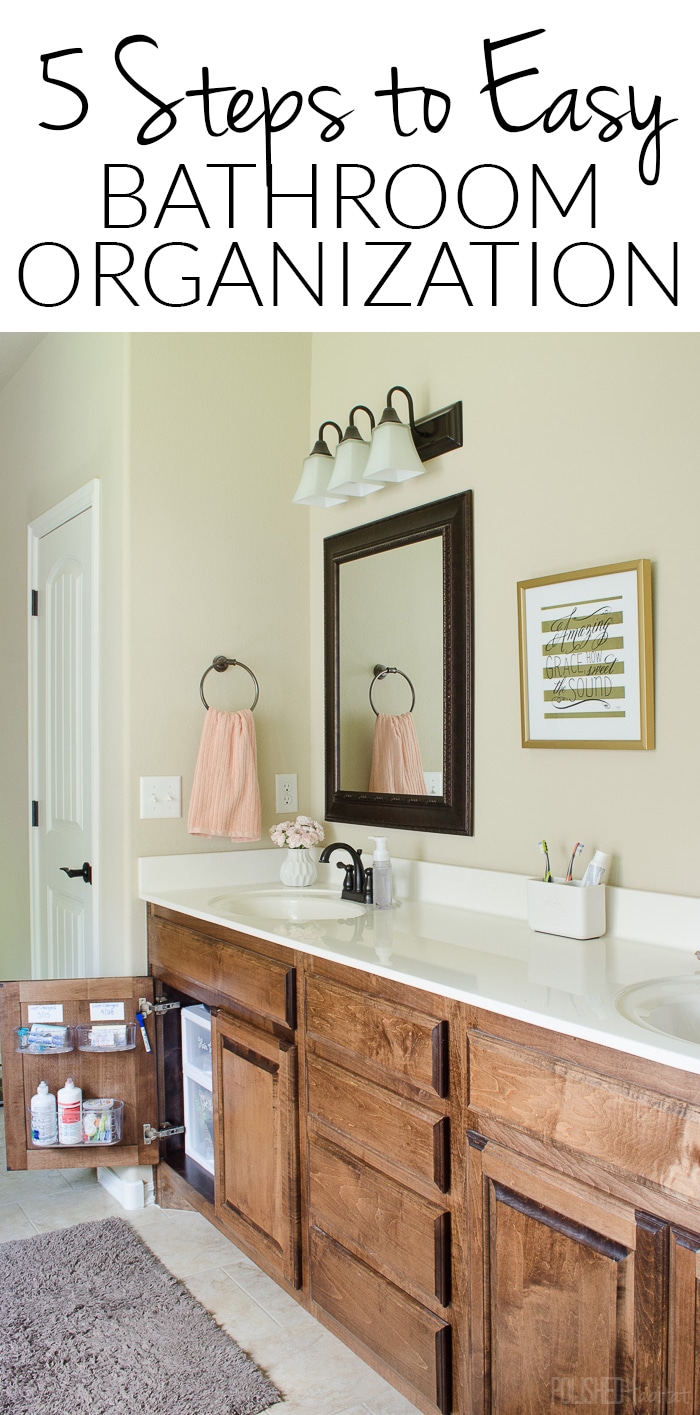 I've been intending to tackle my husband's side of the bathroom for awhile now. It always taunted me knowing there was a mess under his sink, but at the same time, I always pushed it to the bottom of the list because I rarely opened the doors.  Now that it's done, the bathroom feels so much happier.
The before picture would have been worse two weeks ago, but we had to get to the plumbing and my husband did a purge, not knowing I needed a photo of the REALLY bad state it was in. Even after that, it still wasn't good. PS: That's a cleaning toothbrush, not a toothbrushing-toothbrush. We're cluttery, but not disgusting. 🙂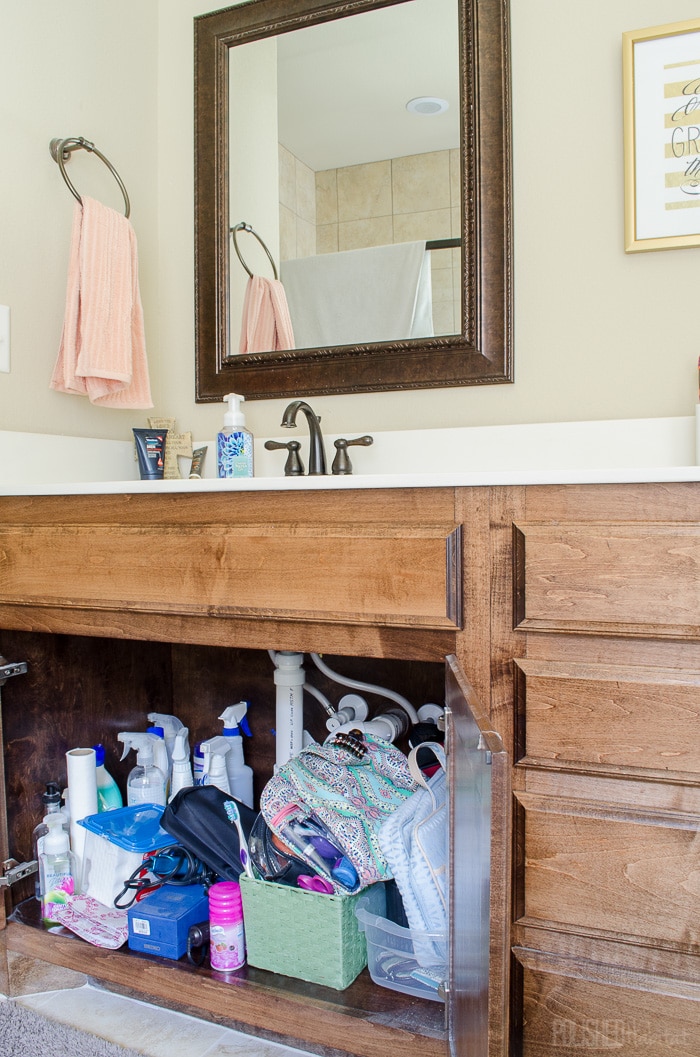 Here's how I fixed the mess in 5 easy steps that you can use to conquer your own organizational challenges.
1. EMPTY IT OUT
This is a VITAL step we've all tried to skip over to save time. Before you even shop for bins, every single thing needs to come out of the cabinet and be sorted. This is a great time to send stuff to the trash and donation or garage sale pile.
2. SORT WHAT'S LEFT
Group like-items together and start to think about what kind of containers would work for them. Would anything make more sense in a different cabinet? Do you need to add anything that is currently stored elsewhere?
For us, contact-related supplies are often left out on the counter because the solution goes in the linen closet and the cases go in a drawer. Instead of putting them away, they just get left out. I decided to put them both in this cabinet, even though they weren't here before. More on that later!  I also knew I needed bins for toiletry bags, cleaning supplies, and hair tools (curling iron, crimper for 80's parties, etc).
3. MEASURE & DREAM
Grab a tape measure and some paper to sketch out your space. This may seem a little silly, but you wouldn't believe how helpful it is when you are shopping for the best containers for the job. If you are working on an under the sink cabinet, make sure to include the measurements around the plumbing. This saved me so much time at the store! The first set of drawers I wanted, I realized were two inches too tall. Then I picked out a drawer for under the P-trap and it was 1/2″ too tall. Eyeballing it, I would have sworn both would fit!  I made sure to roughly plan space for each grouping of items, which was so helpful when shopping for containers. Don't forget to use the space on the back of the doors!

4. SHOPPING!
I was completing this project somewhat impulsively, so took my drawing to Walmart and tracked down items that would work. Normally, I'd plan ahead and find the perfect items on Amazon.
5. LOAD IT UP & LABEL IT
Finally, the fun part! Get all your new bins loaded into the cabinet and fill them up. To keep things organized long term, make sure you add labels.
I mentioned needing a home for our all contact supplies, and this is my favorite part of the bathroom now! We each have a bin for extra contacts and our current case up top, along with a piece of dry erase vinyl to help us keep track of when our monthly contacts need to be replaced. Dry Erase Tape would work great too! Below that, I used a larger bin for the solution and extra cases. The contact bins came with suction cups for the shower, which I removed and instead attached them with Command Picture Hanging Strips. I used one strip on the small bins and two on the larger size.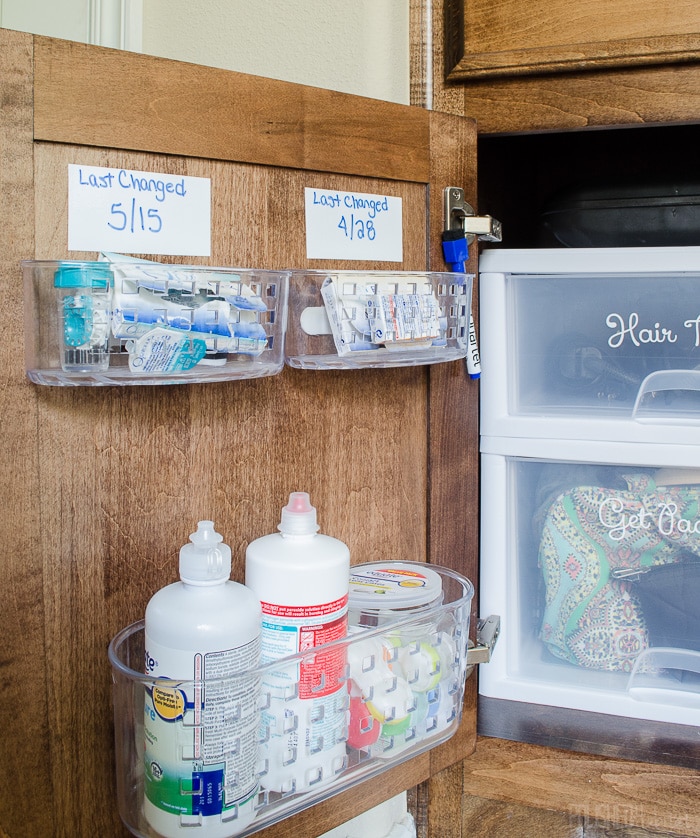 On the other door, I found a basket designed to hang over the door. I wanted something to hold the cleaning tools and this was perfect! Instead of using the over the door hooks that came with the basket, I opted for clear command hooks. The included hooks would have shown on the outside of the door and I didn't want that. A simple clothes pin works to attach my gloves to the basket and keep them handy.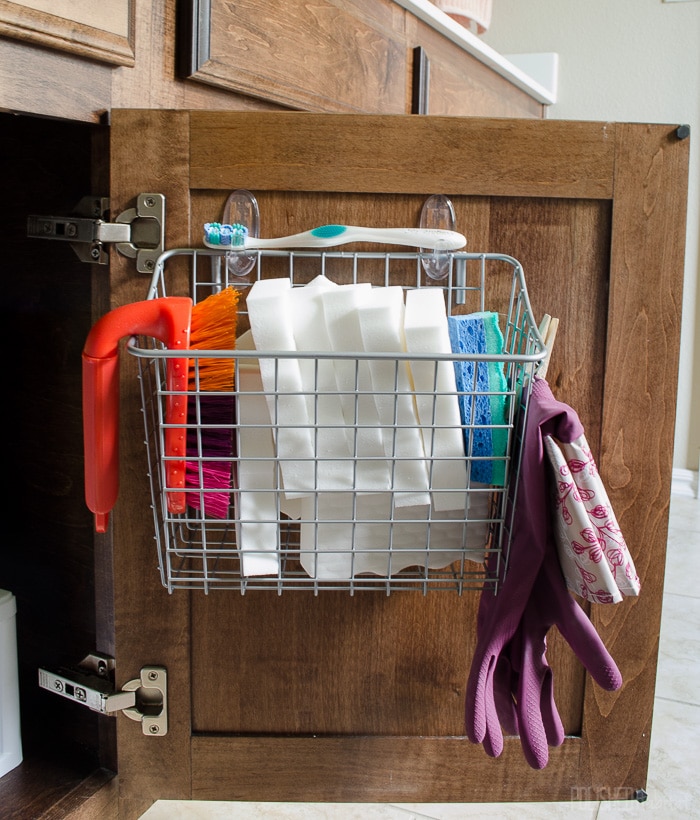 Drawers are my favorite and I managed to fit FOUR in under the sink! Remember my drawing with all the measurements? You can totally see where it pays off here. I was able to come up with a combo of drawers that fits perfectly around the plumbing. Hooray! I started with the tall drawer we needed for travel toiletry and jewelry bags, then added a shorter drawer on top that had to have been designed just to corral hair tools. It's perfect for them!
Under the plumbing, I used a smaller size for all our travel toiletries. Anytime we get sample size items, they go here. Next to that, my husband got a drawer. I mean, it is his side of the vanity, so he deserves a little space, right? I had a gold tub leftover from the closet makeover, which fit right on top to hide the cleaning products.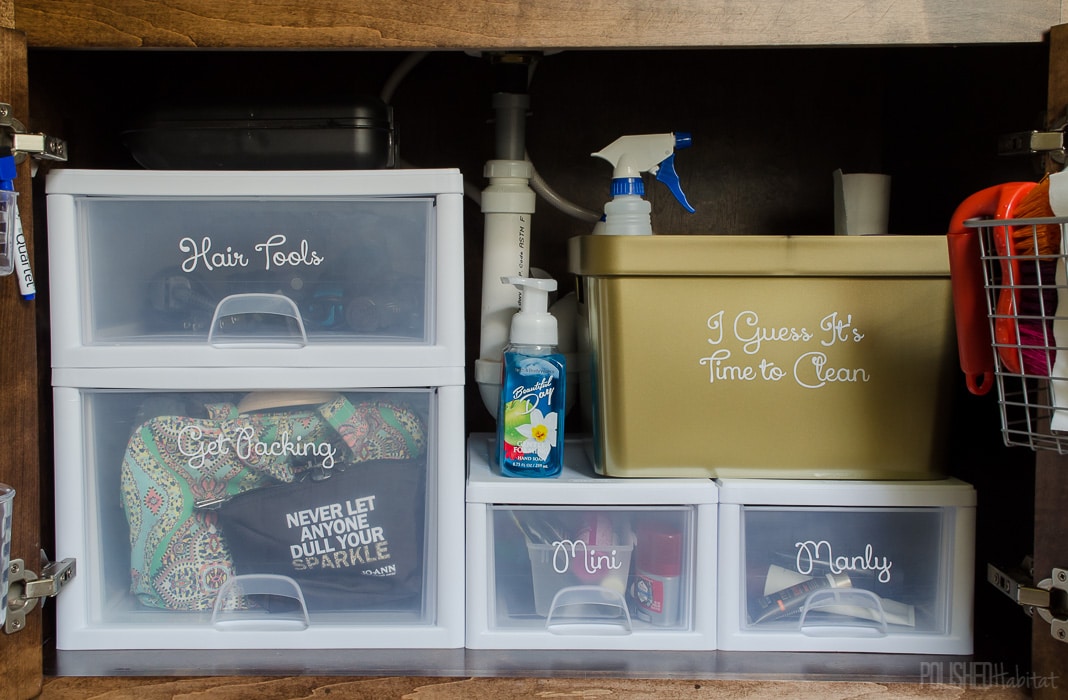 Ah, so much better than before!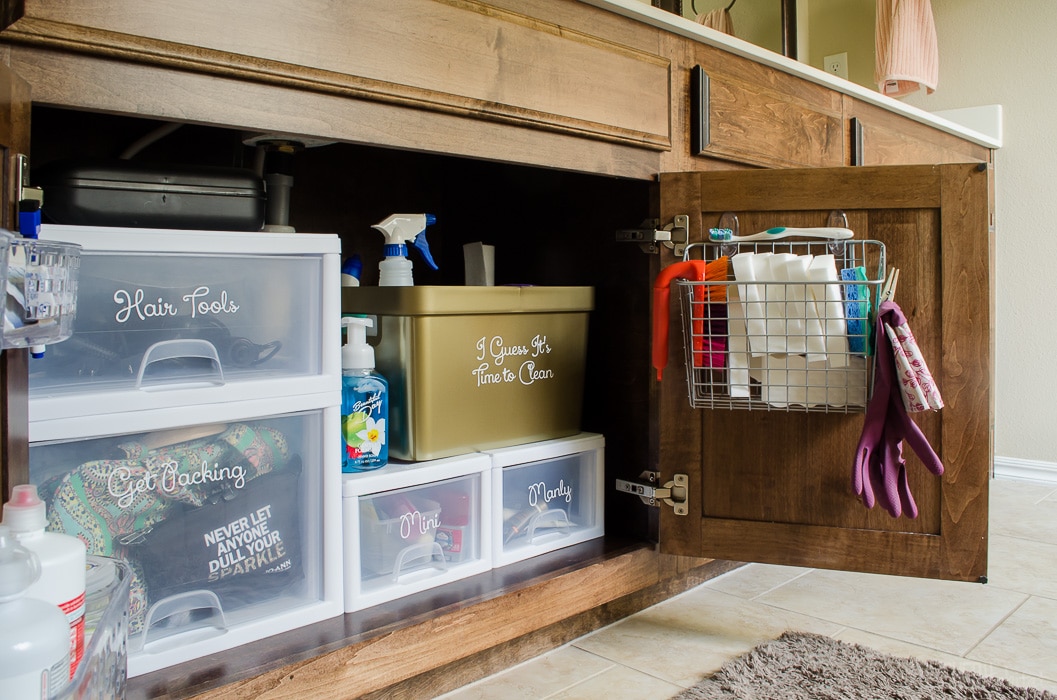 Now that everything has a home, we should be able to KEEP the counter clear all the time!
Lots of studies talk about the impact of clutter on your mood, and I'm convinced that even hidden clutter is an issue. Which is a problem for me, because I have a lot of it! I'm so glad to get this cabinet checked off the list. Now it's time for a bubble bath before I move on to the next project!
Now that things are tidy under the sink, it's time to see how to organize the bathroom counter!
You can also find more cabinet organization ideas in my kitchen organizing post!