Happy Memorial Day! I always consider this weekend the start of summer, even though technically we've got a few weeks of spring left.  It's definitely close enough that I was ready for a little summer spruce up around the house. I'm participating in a summer tour hop today, so if you are visiting from Blue i Style, welcome! And at the end of the post, I've got a link for you to visit Jess from Bright Green Door next. I think you'll love her! There are also links to 18 other tours. So much inspiration!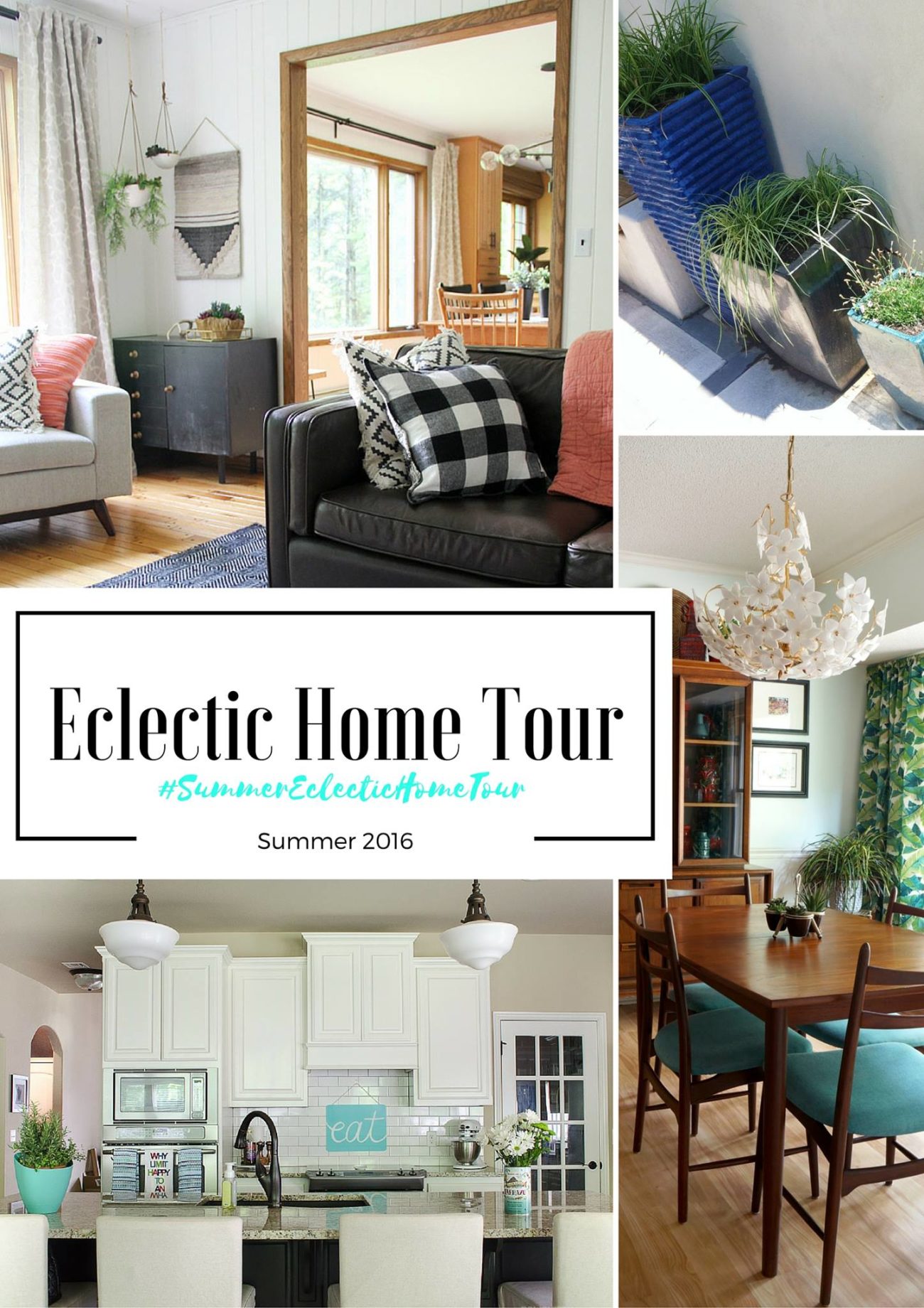 When I signed up to participate in this tour, it was way back before we finished the bedroom and my plan was actually to spruce up our front porch and back patio for an outdoor tour. Then the rain AND the birds came. So much rain, so many birds. We've got two nests with eggs on the back porch and one in the front, right above the front door. They make a new mess everyday, so there wasn't much hope for pretty outdoor photos.
Plan B worked out pretty well though! I found some great ways to add inexpensive color throughout the living areas. It's all fresh and summery, but almost all of it can easily transition into fall and work in the spring. Here's the floorplan to give you idea of how the spaces flow today. I've got new pictures of the garage entry, dining room, kitchen, and living room in today's tour!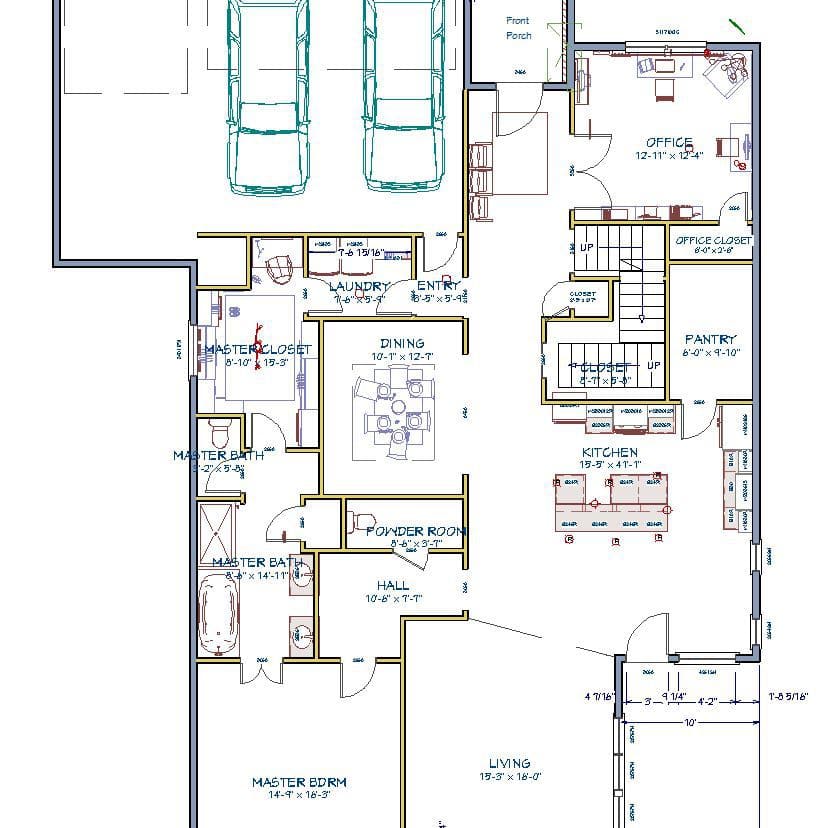 Starting out in the entryway from the garage, I swapped out our scarves and gloves for colorful pool towels and a beach bag on my DIY coat rack. I love it when decor is functional!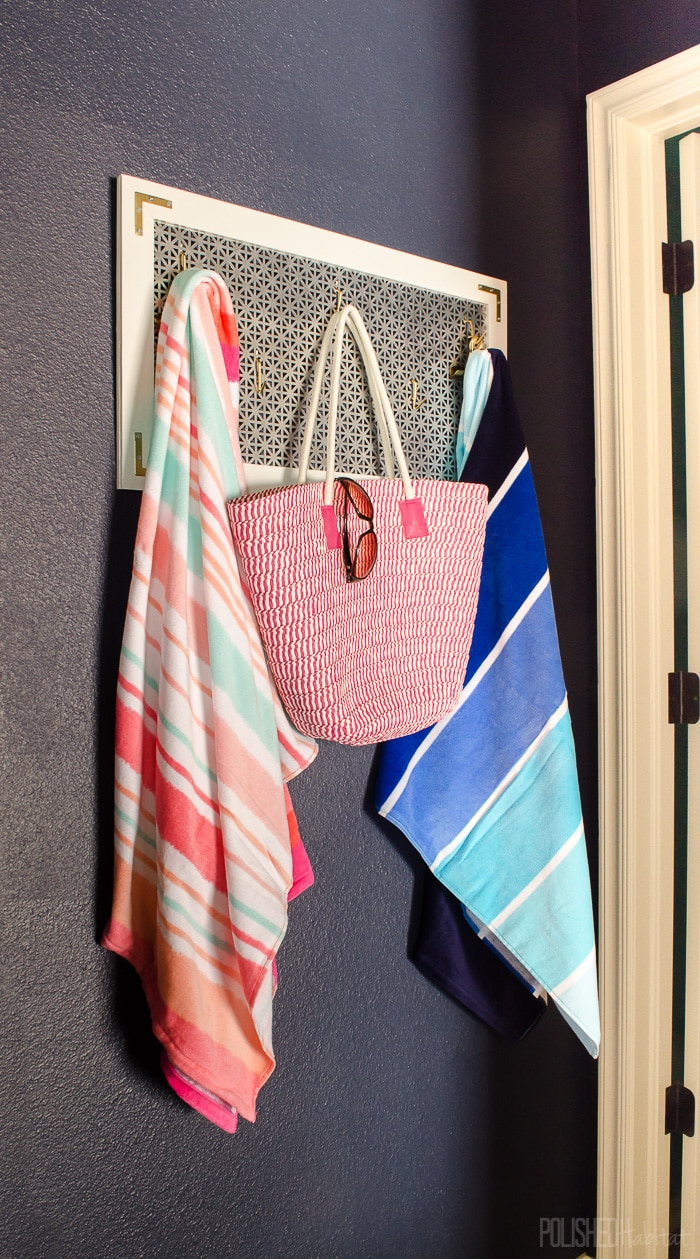 Over in the dining room, I started with my relaxed glam spring table and changed a few things to make it more casual and summery. Instead of the metallic chargers, I picked up some navy placemats from Target and combined them with a natural woven charger that I already owed. The $2 placemats were the only thing I bought for the table. That makes the bank account happy!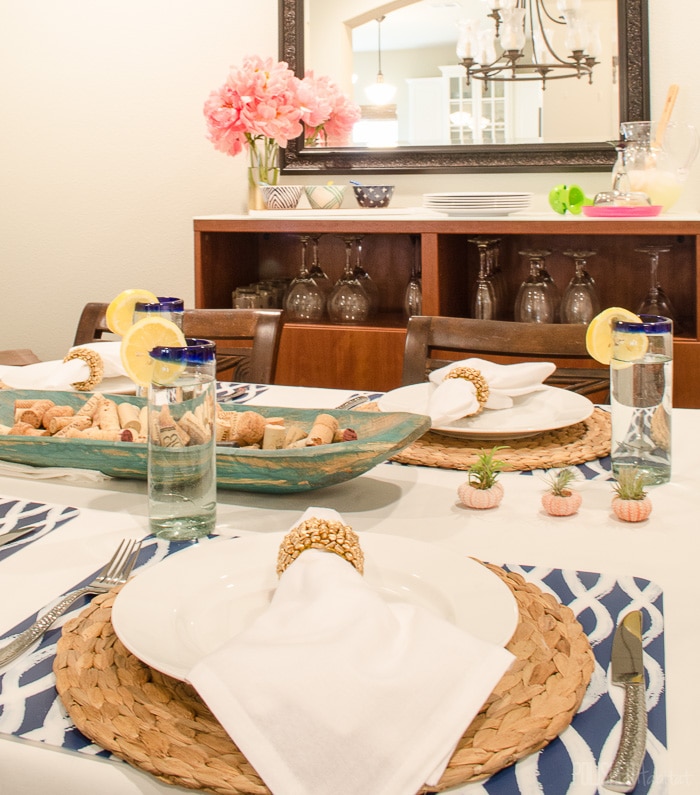 Placemat / Woven Charger  / Silverware / Glasses / Napkin Ring / Dough Bowl (similar)
Mexican food is our go-to, especially in the summer when we can get fresh local tomatoes for our favorite pico-style homemade salsa. I figured we should be ready for the feast all the time, so I set up the server in the dining room with some essentials. I couldn't pass up some new teal plates when I saw the LOW price. They'll be perfect for outdoor dining!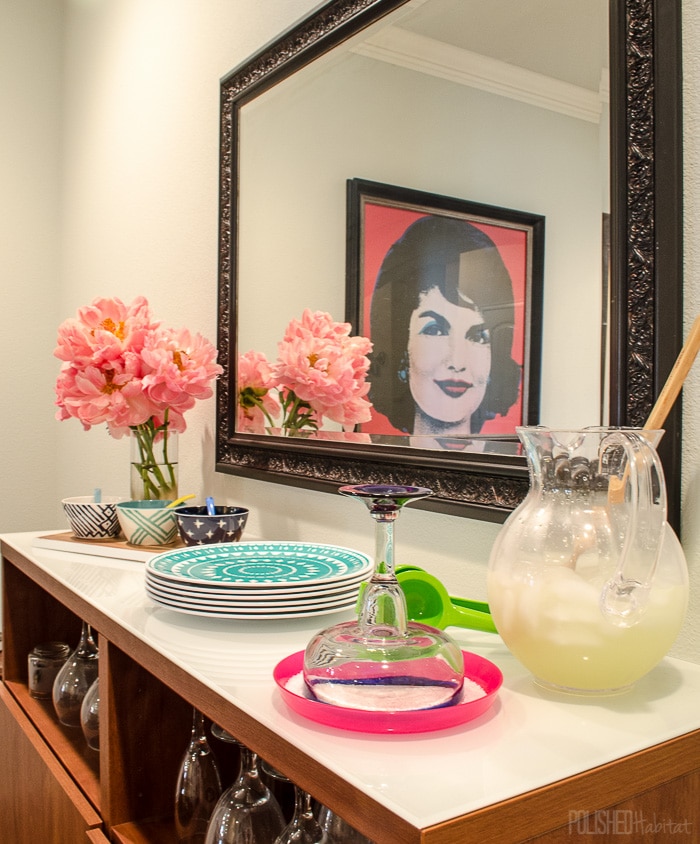 Small Bowls (Target In Store) / Plates / Margarita Glass / Lime Juicer
The kitchen was begging for some pops of color. It only took about 5 minutes and $10 to make it feel like summer. When I was picking out the patterned navy $2 placemats, I saw the teal version that said "eat" and fell in love. But I didn't want it on the table, I wanted it on the backsplash! Since it's plastic, it's easily cleanable if we have any stovetop splatters. To hang it, I just taped on a piece of rope and hung it from a clear command hook that we already had on the tile. Perfection!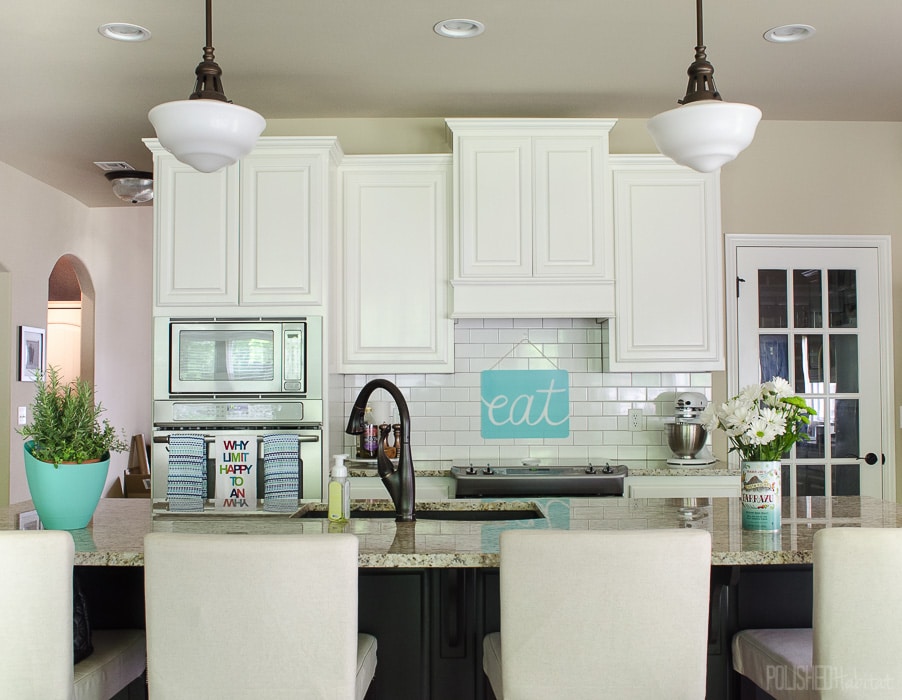 Most of our hand towels in the kitchen had seen better days, so I was pretty excited when I saw an endcap of colorful options at WalMart for $1.96 each. Because who doesn't need a reminder that we shouldn't limit happy to an hour!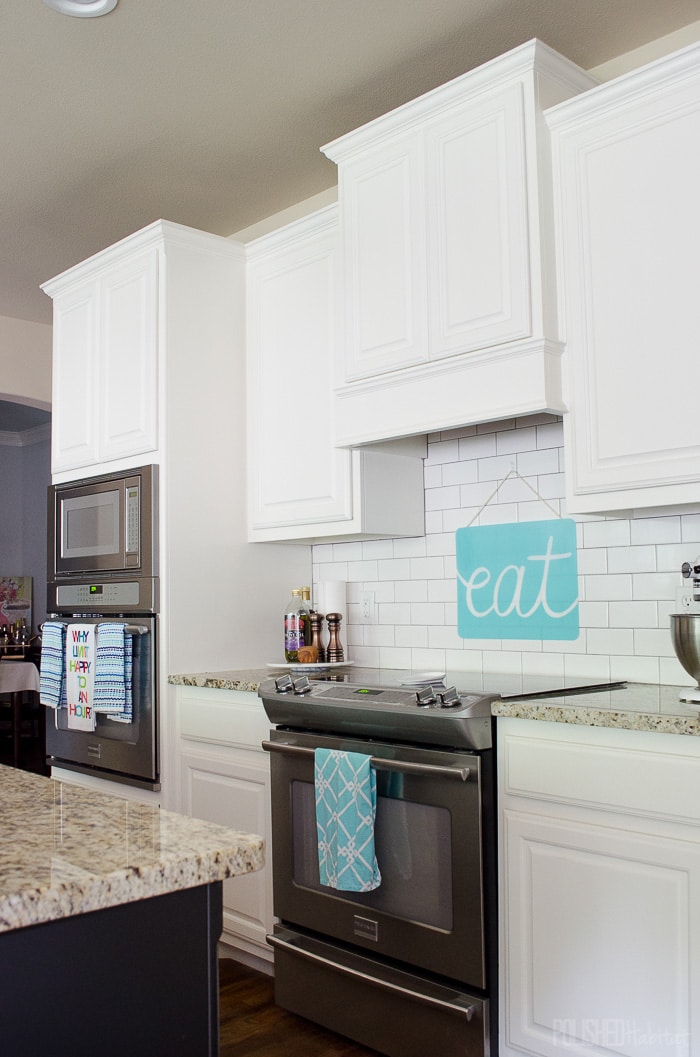 Our first Trader Joe's opened a couple months ago, and I'm a bit obsessed with the tins their coffee comes in. I save all of them to reuse. The Costa Rican coffee can conveniently fit right into the kitchen color scheme and works perfect as a vase for their $3.99 bouquet.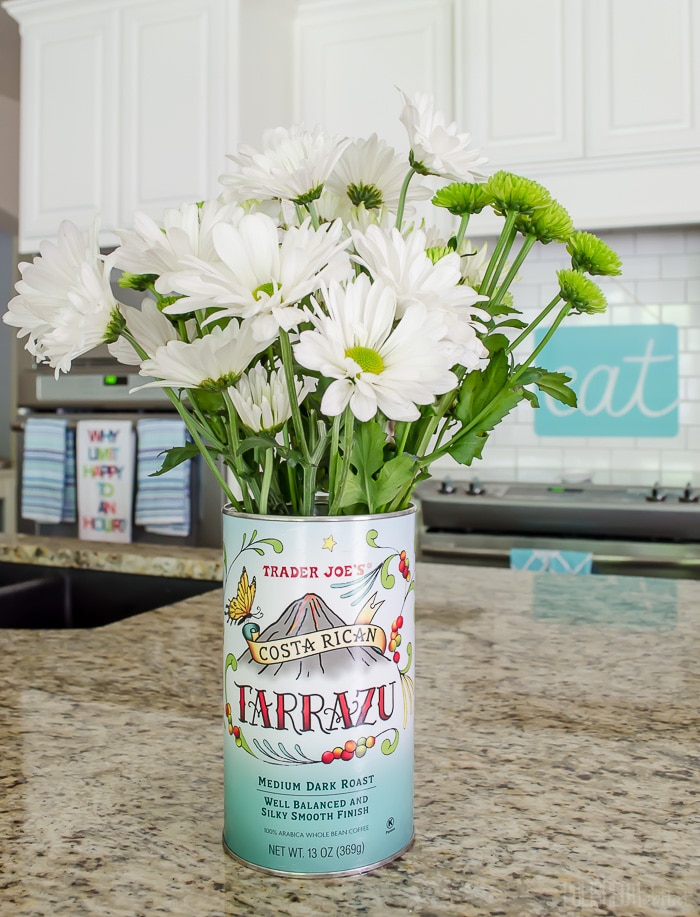 The last stop in my summer tour today is the living room. The navy from the entry and dining room are tied all the way into the living room with our year-round couch pillows. In the spring, I picked up a fun floral pillow at Lowe's, so the only thing I added for summer was a $5 pink Bullseye Playground pillow from Target. It adds just the right pop of color to the couch. Maddie approves.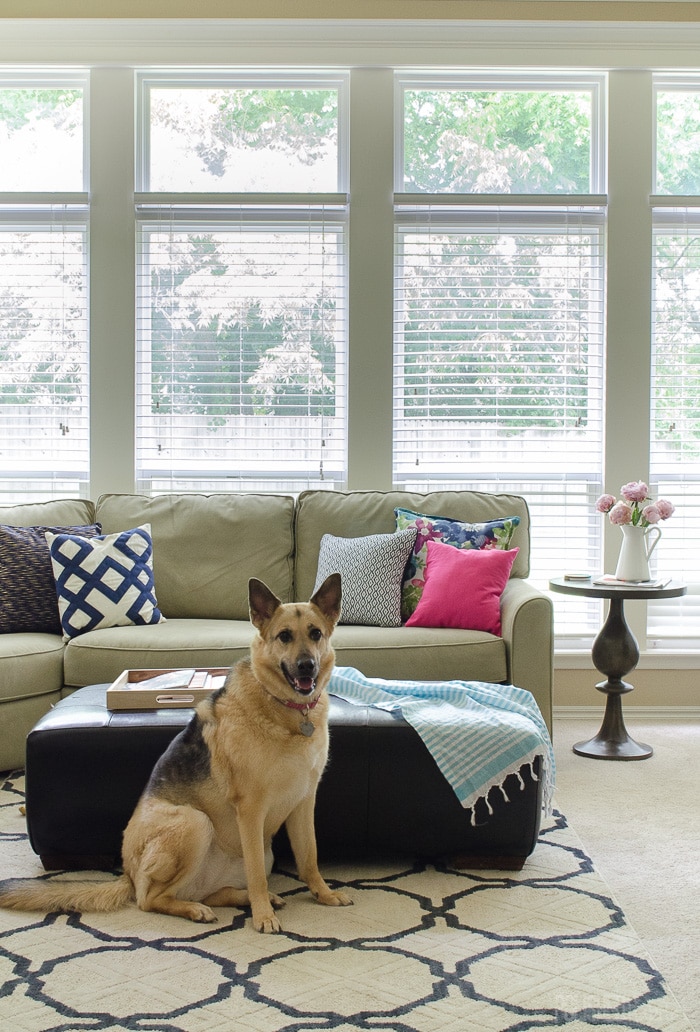 That's it for summer, but if you're a new reader, I've got room tours of most of the first floor available. You can choose your own adventure:
As I mentioned at the beginning, I'm just one stop of four today! Next up, click over to visit Jess from Bright Green Door. She always comes up with great ways to decorate on a budget, so I can't wait to see what she put together for the tour!
There will also be more houses added each day this week, so make sure you come back to click through the updated list every day!