Our first volunteer makeover is complete! It was such an honor to be able to add a little bit of comfort and coziness to the Family Safety Center in Tulsa.
The staff is the kindest group of people you'll meet, and it's reassuring to know that they spend every day hearing the most horrible stories, but then pulling together the resources from several agencies to help restore peace and hope in their clients lives.
You can read more about their story and how I got involved in the original post from September here, but today is all about showing what a difference can be made with a lot of heart and a small budget!
Let's start in the kitchen! It's both an overflow waiting area AND a kitchen for the staff. We talked to the director before we started the makeover and they were hoping to create a spot for teenagers to feel more welcome.
Here's what the "waiting" zone in the kitchen looked like before. They had a couch and ottoman for us to work with, but it faced out into the room and felt a bit like you were on display if you sat on it.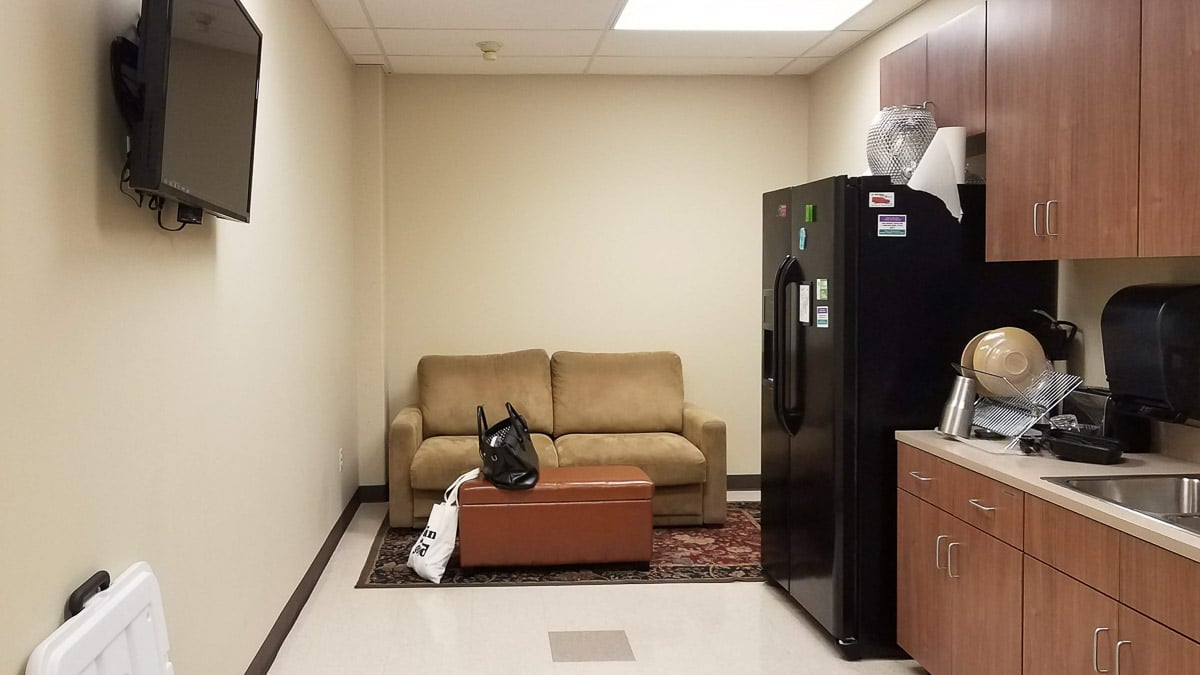 We measured and realized the couch could squeeze into the area next to fridge, which gave us the opportunity to make this space feel more private. You can't see it in the pictures, but the downtown Tulsa Home Depot provided a new mount for the TV that means it can now swivel to face the couch when needed!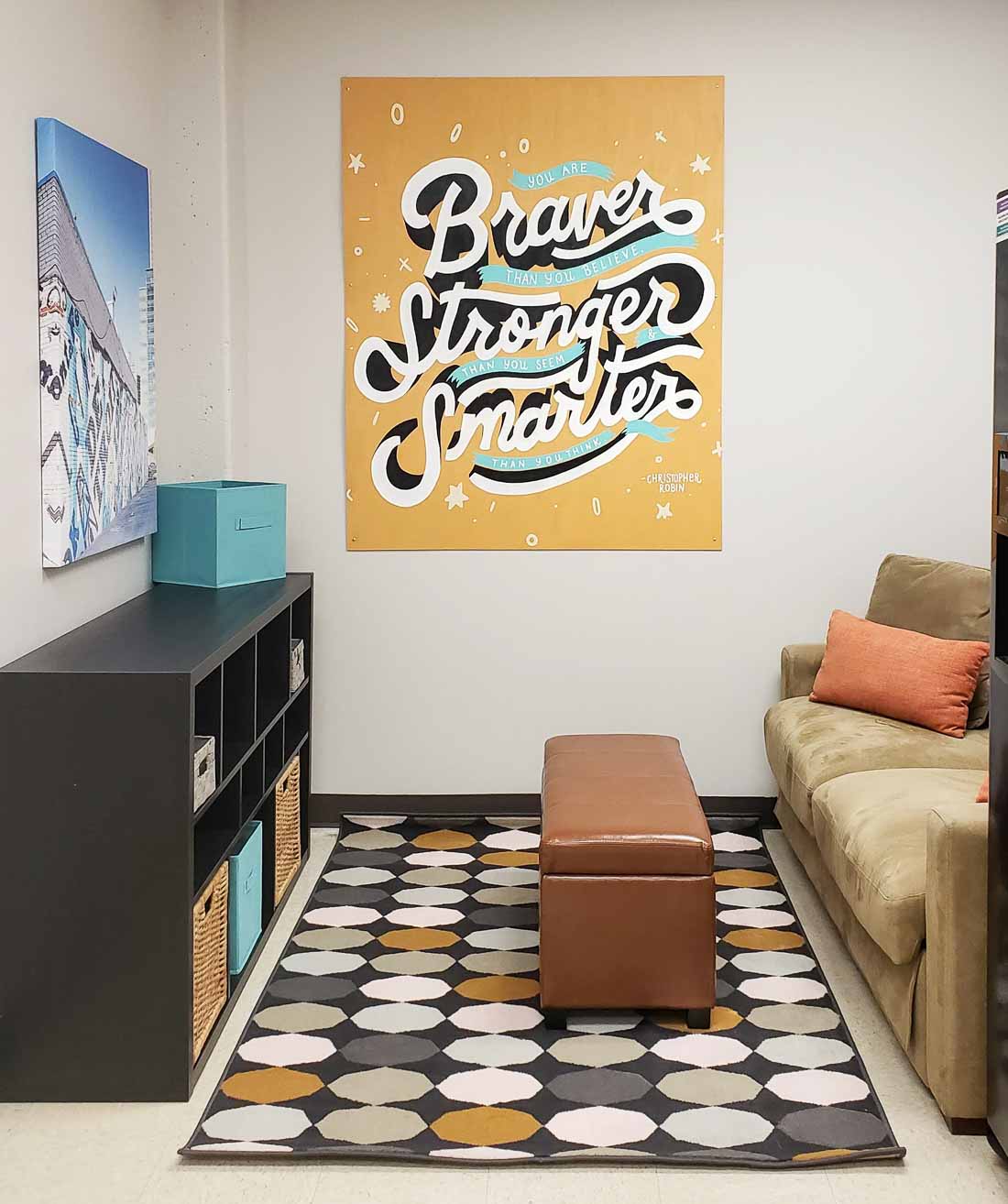 And while we're mentioning donations, that canvas came from one of my new favorite companies – Canvas on the Cheap. They gave us a $150 credit to use on the project and with that, I was able to get THREE 30″ x 40″ pieces of art made. I just uploaded photos I had taken from around downtown Tulsa and soon we had affordable custom art! You'll see the other two on the other side of this room.
For the back wall, I asked Corey to paint a custom mural and he delivered big time. Literally. It's giant – 4 ft x 5 ft!  I'm so grateful I'm married to someone talented & generous.
To finish off the area we picked up a Kallax unit at IKEA so they can fill it with books, magazines, art supplies, and most importantly, snacks! Oh, and we snagged the rug at IKEA as well, it ties the old items to the new updates perfectly.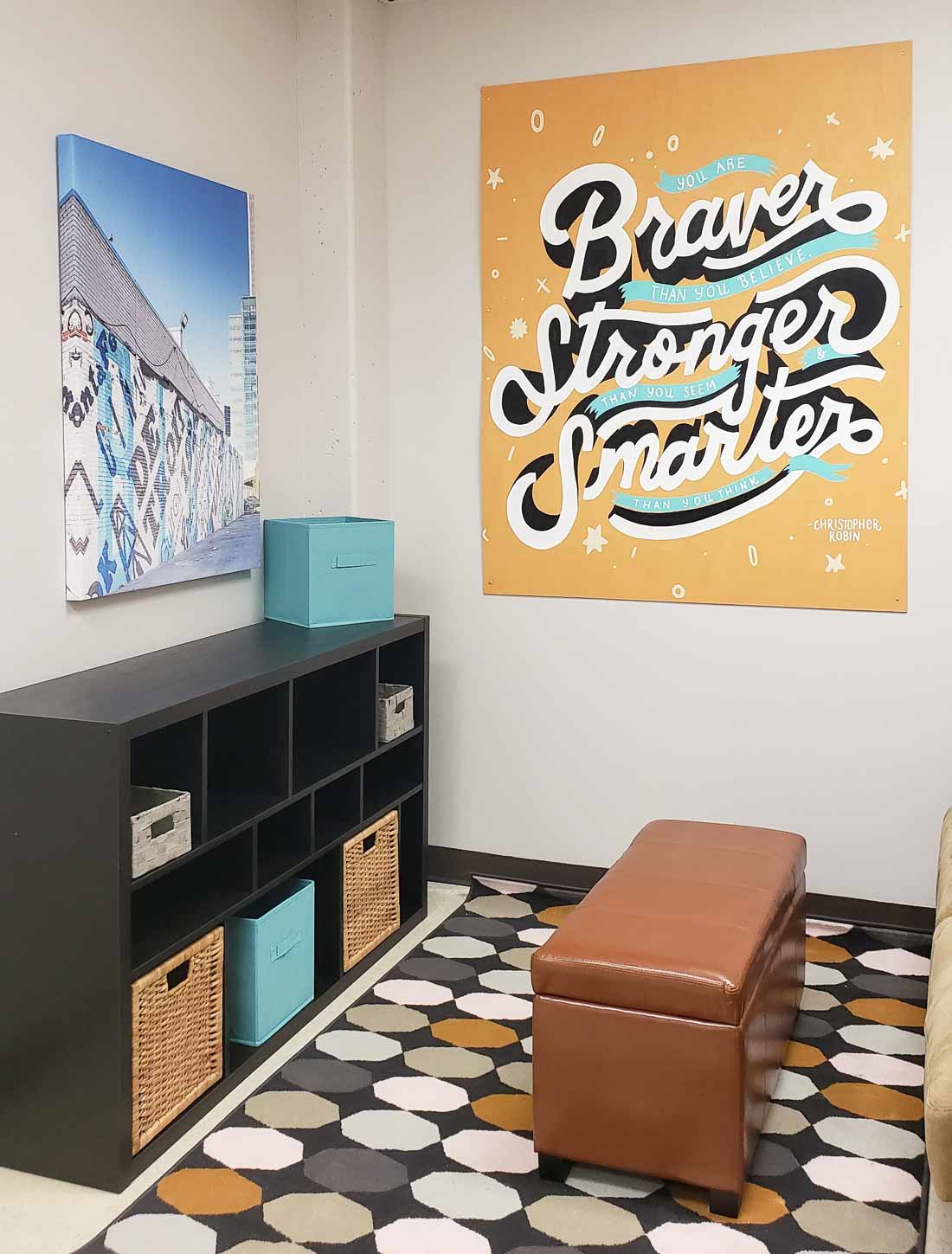 The other side of this same long room looked like this before: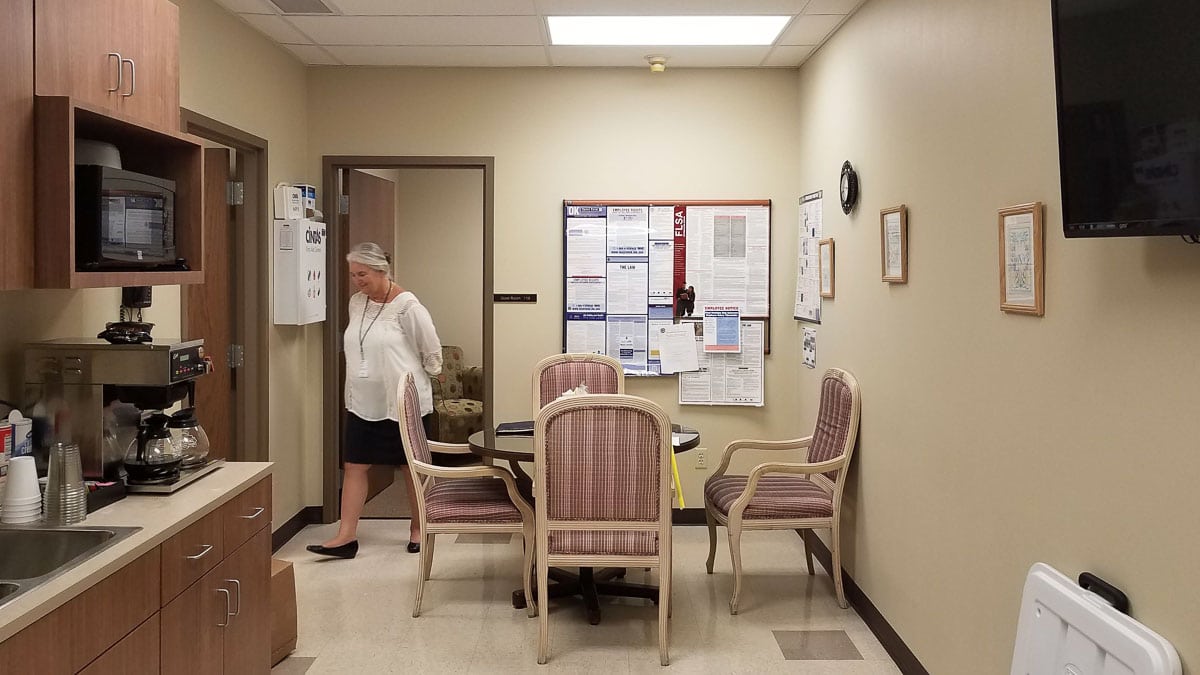 We swapped the round table for a rectangle so they could still have four seats without impeding the walkway. The yellow chairs add a fun pop of color to tie the two sides of the room together.
Some of you savvy readers might recognize that the photos of Tulsa are the ones I took for our bedroom gallery wall.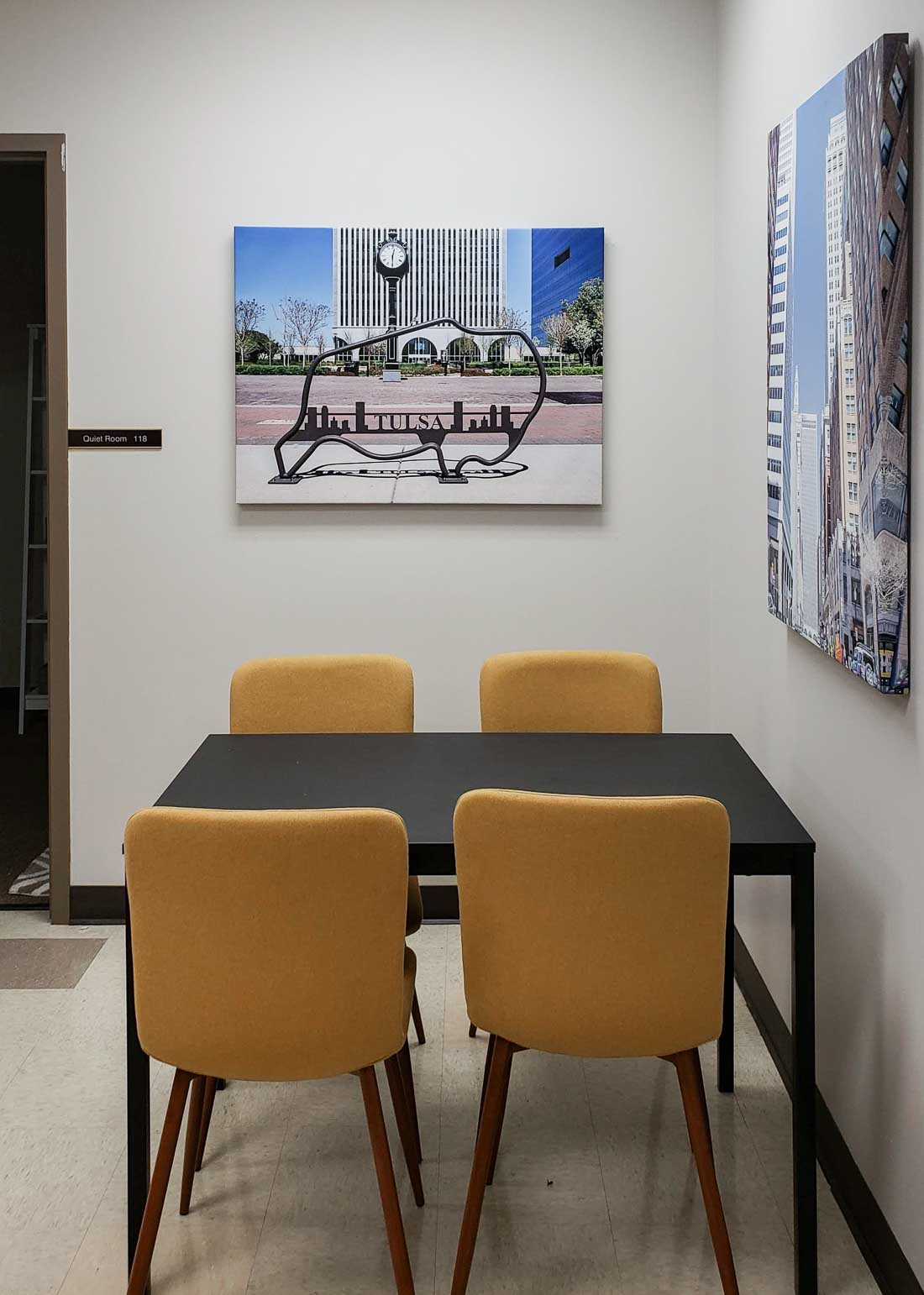 You can see a doorway in the photo above. It leads to the Quiet Room, which is the spot for nursing mothers to have a bit of privacy if they would like.
Here's what it looked like before.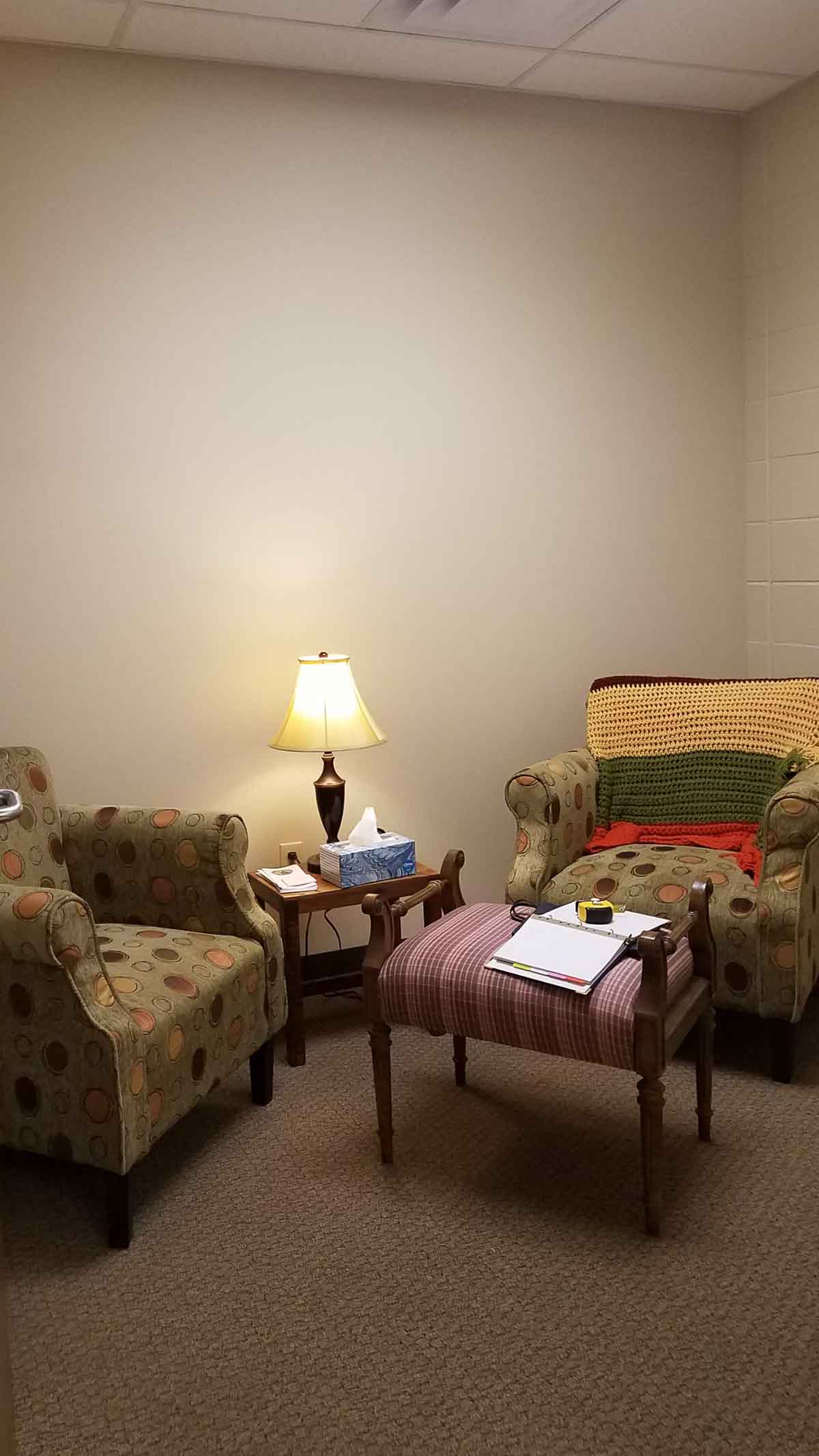 It already had comfy chairs, but we wanted to somehow make it slightly more cheerful while still being cozy. To do that, we found a very soft rug that worked with the existing items but added some brightness.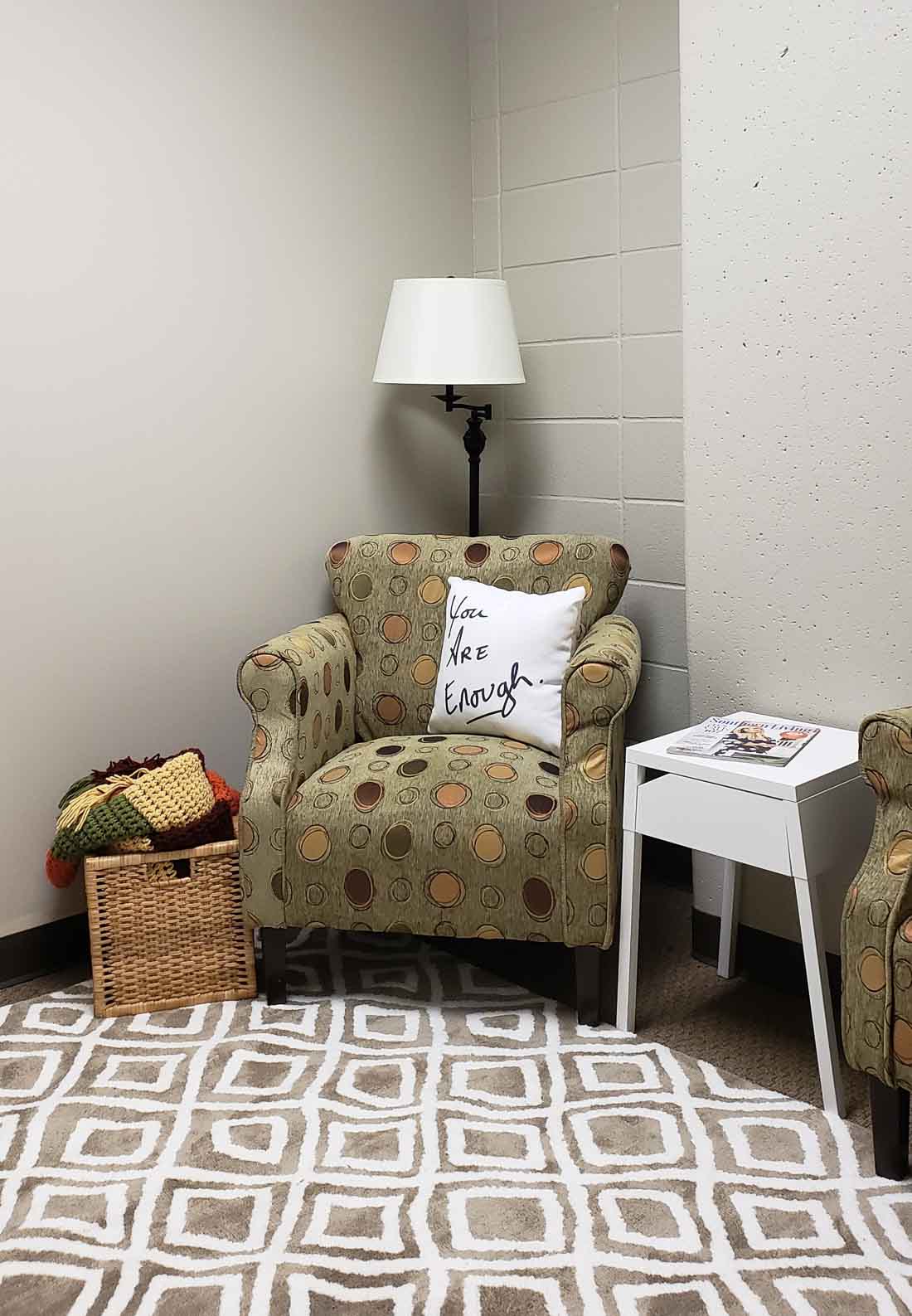 We also swapped the chairs to another wall, which made room to add a bookcase full of essentials for the moms.
My favorite part of the room is the print one of my favorite artists, Catherine Freshley was kind enough to donate. It's so peaceful!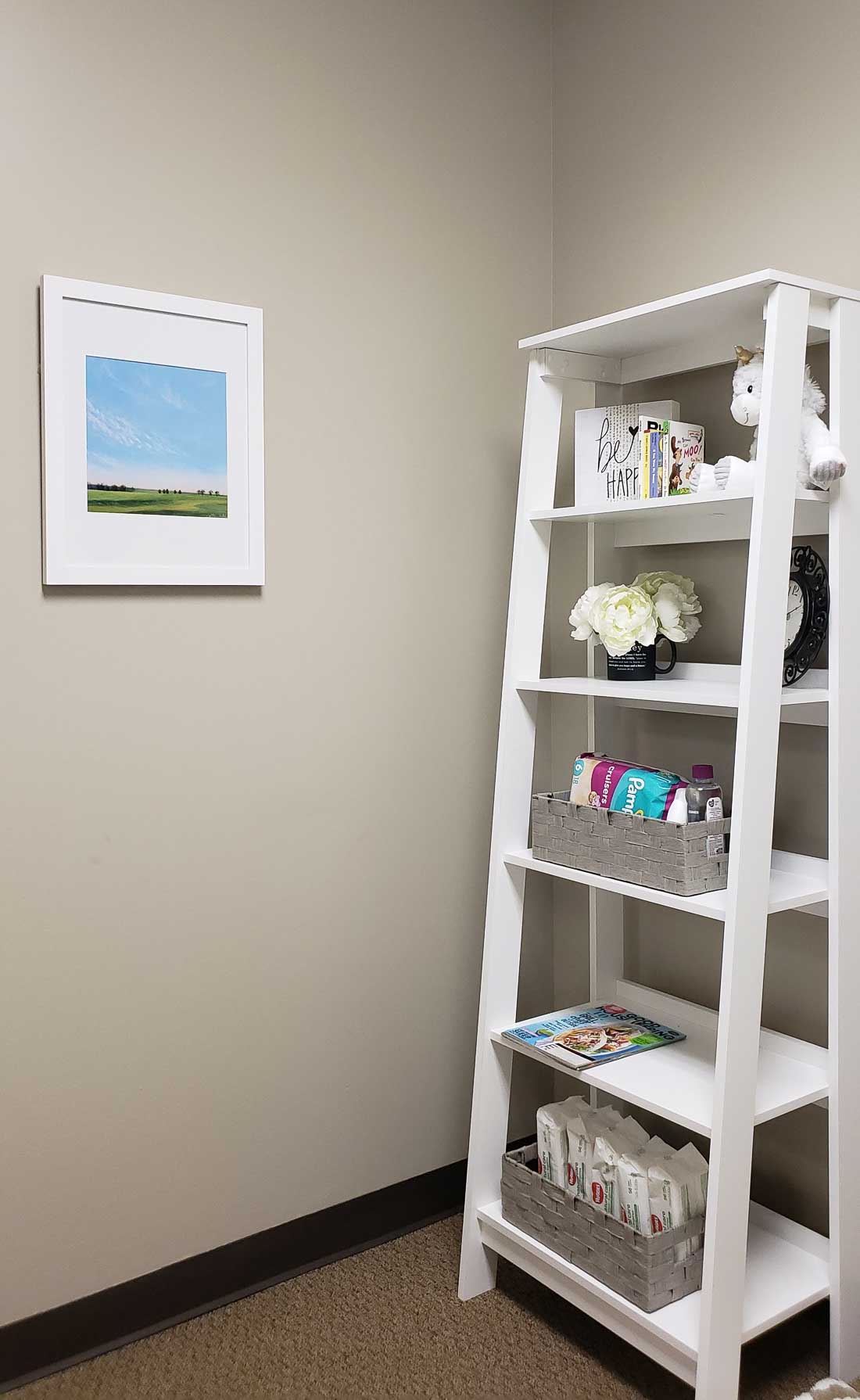 Last up, there was a tricky waiting room with only 3 walls. The fourth is open to a wide hallway. Like the other spaces, they already had some comfy furniture, but the room needed a little spruce of style and functionality.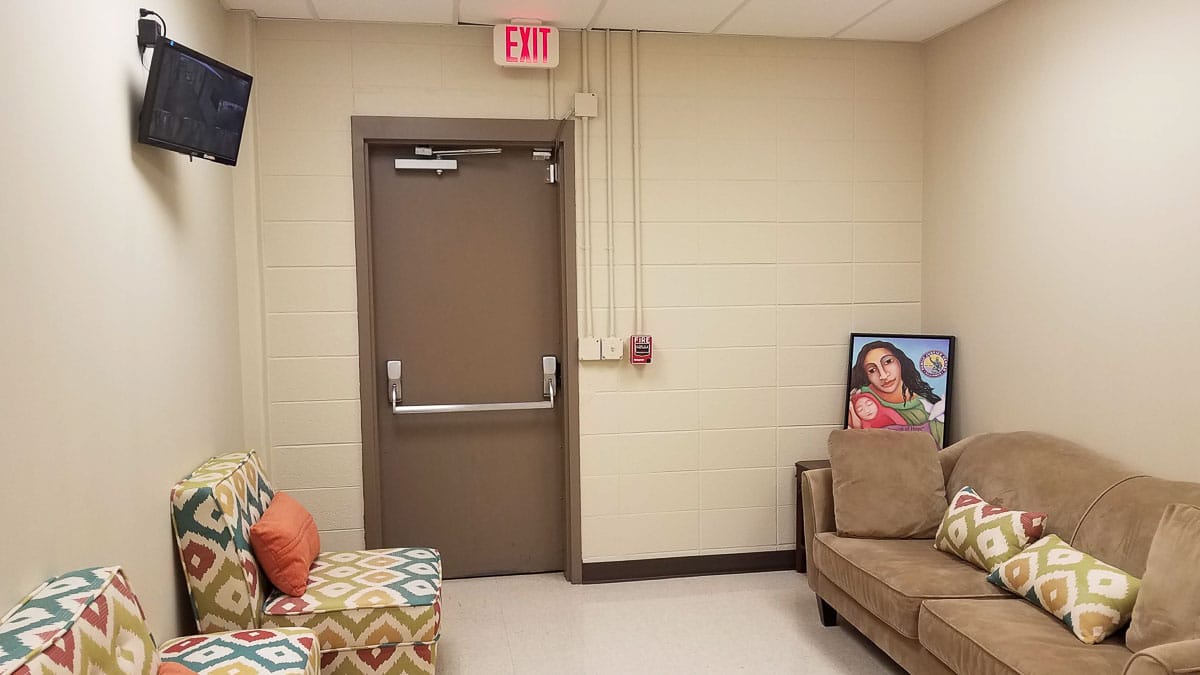 The paint color changes in the other room are subtle in the photos, but this one sure isn't!
To make the space feel like a separate space from the open hallway, I wanted to paint it a dark, cozy color. I went bold and opted for the teal color from the existing accent chairs! We also added a bookcase full of toys and books for kiddos to play with while their parents are waiting.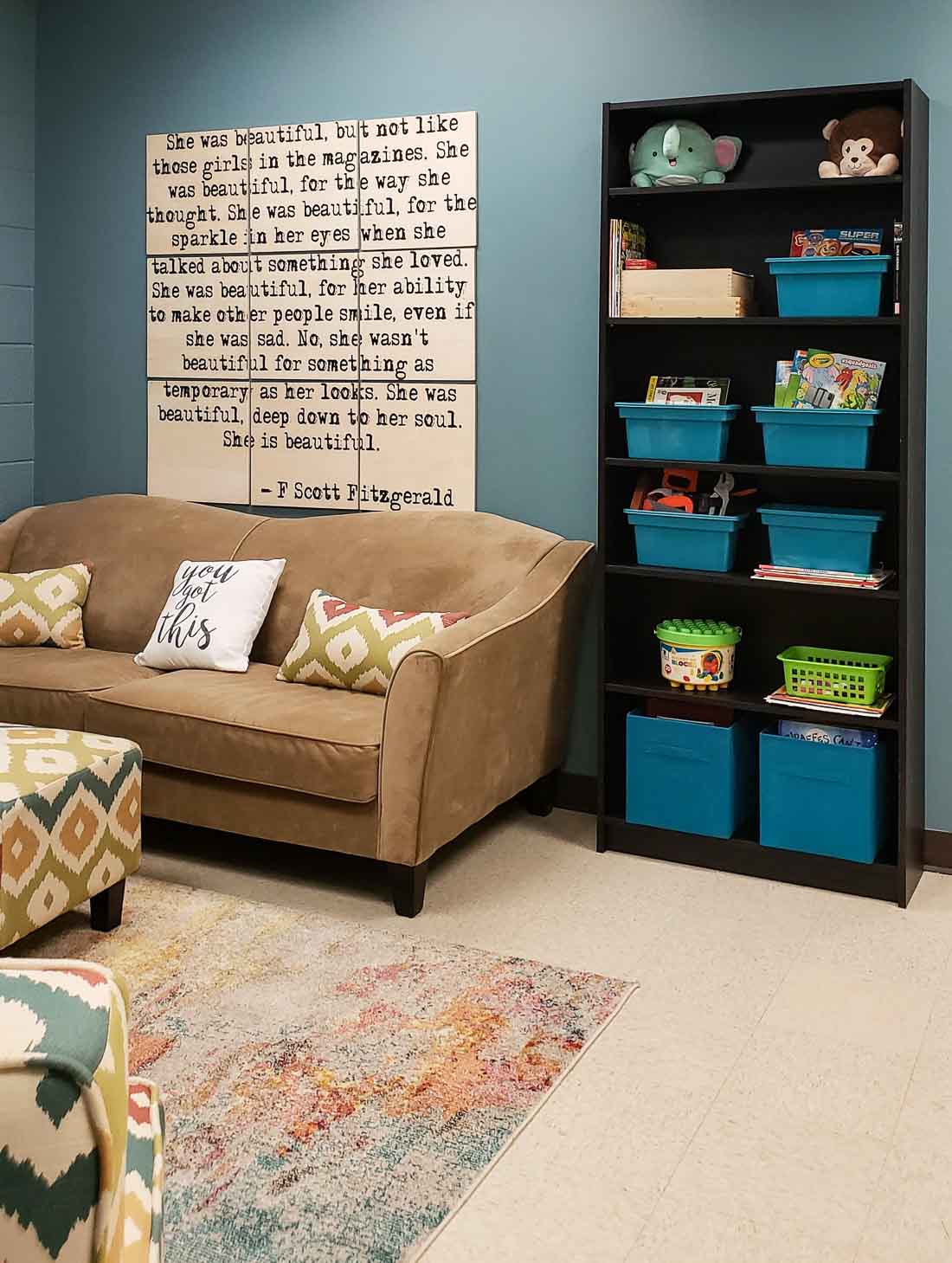 The wood art panel above the couch was donated by Society 6. I saw it when I was picking out our dining room art and am so glad they were willing to provide it. I hope some of the clients find encouragement in the quote!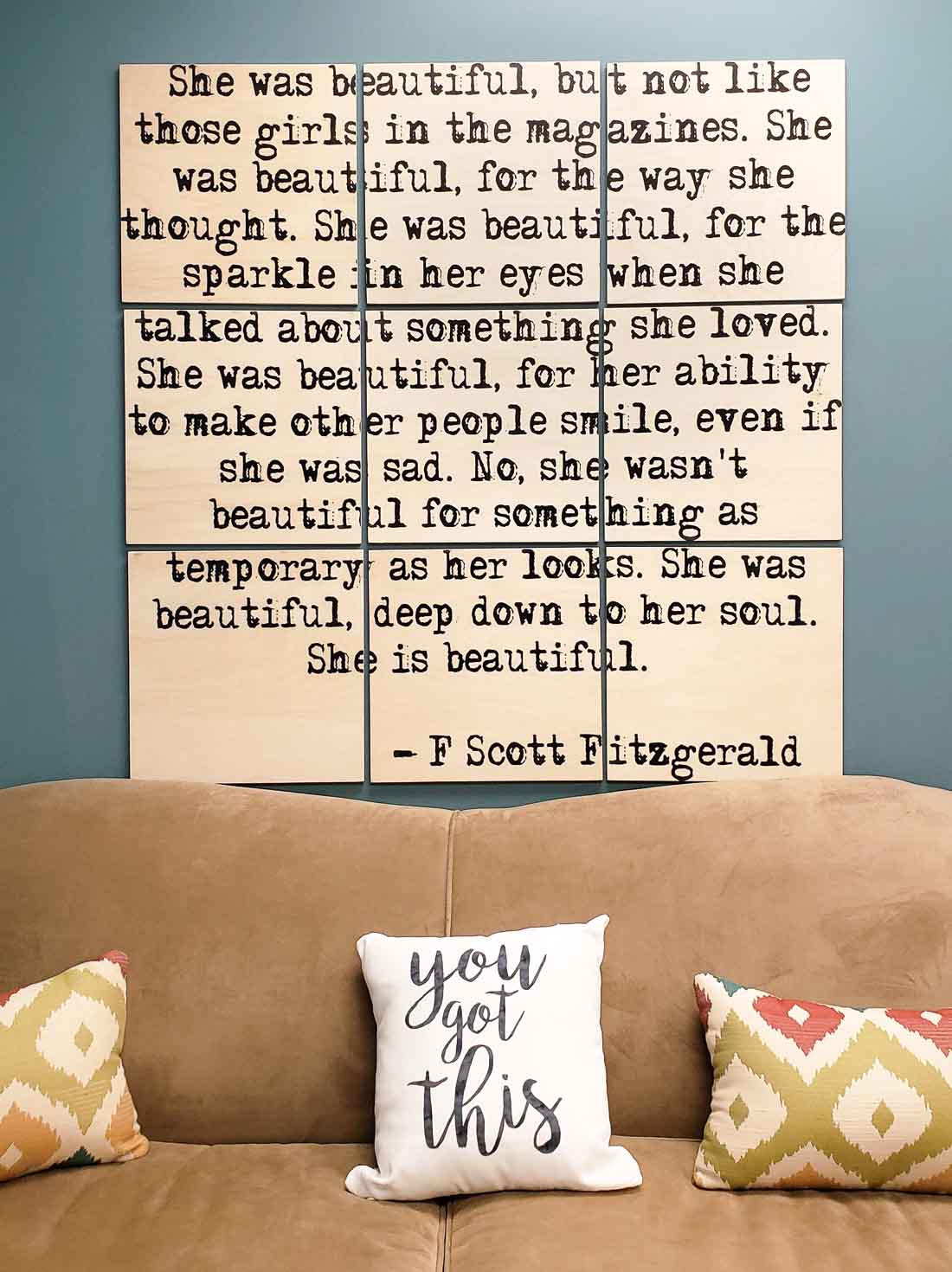 On the other side of the room, we added an ADORABLE kid's art/play table from IKEA. Instead of adding art to this wall, I DIYed some art rails so the kiddos can put their artwork on display.
The final step in making this space feel welcoming was adding a beautiful rug!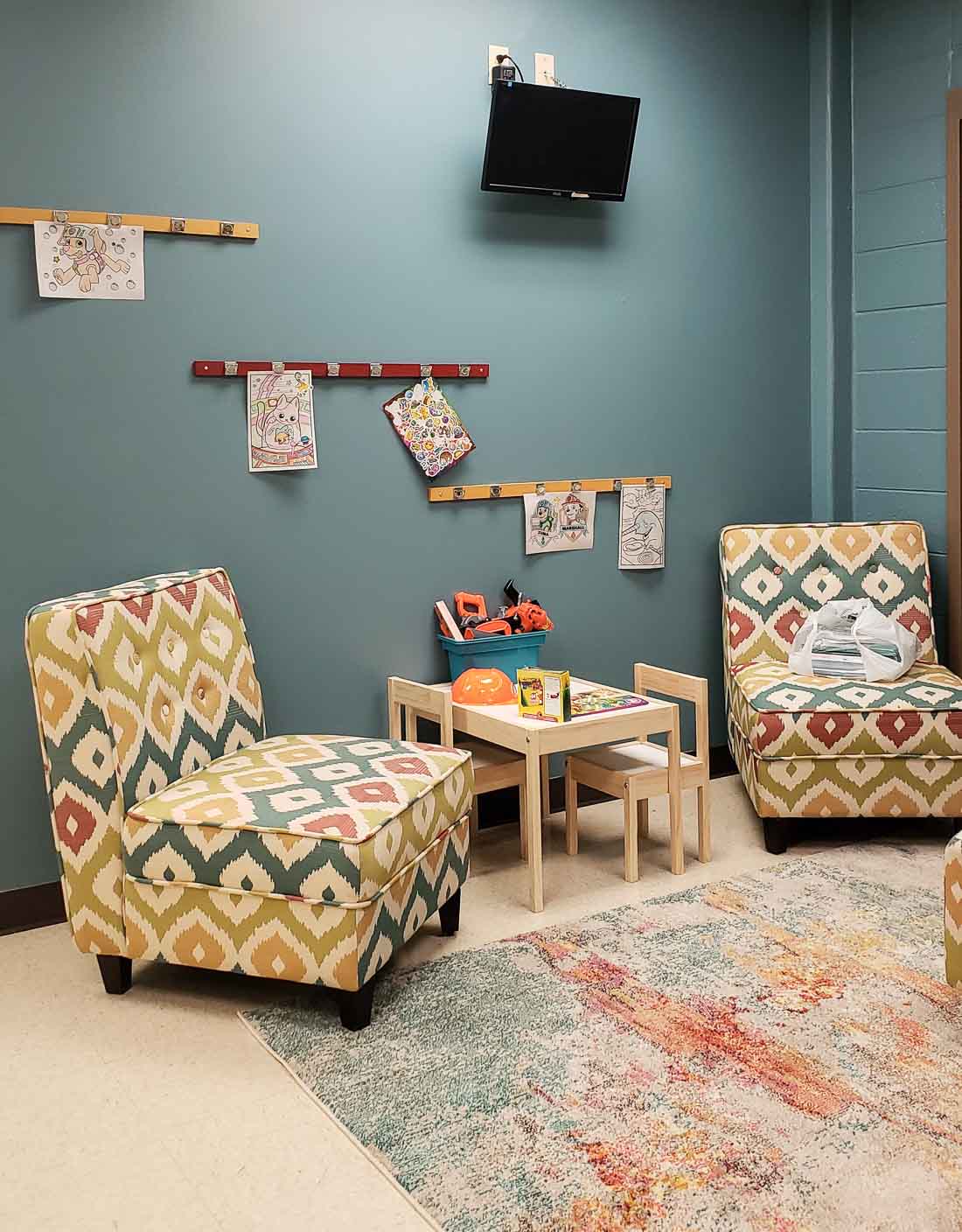 I've got a few people to thank for making this all possible, starting with Jan, the Associate Director of the Family Safety Center. She was encouraging, accommodating, and all around fantastic. My partner-in-crime/decorating, Mia Fleming, was essential. Her positive attitude and never-ending smile convinced me we COULD get it done. I never would have been brave enough to take it on without her help and support!
The Downtown Tulsa Home Depot proved not just the TV mount I mentioned earlier, but also all the paint, a lamp, and most importantly, a fabulous manager who hung all the artwork and anchored the furniture to keep everyone safe.
Our timing worked perfectly with the United Way Day of Caring, and we were blessed with a FUN crew from the Tulsa Juvenile Center who knocked out all the wall painting in a day. I'm beyond grateful for that!
And finally thanks again to everyone who donated art to help pull the rooms together – Society 6, Canvas on the Cheap, and Catherine Freshley! And of course, Corey. Because of them, we were able to focus the budget we had on the furniture and rugs to make the spaces feel more like home.
As soon as I'm recovered from this one, I can't wait to find a charity project for 2019! If anyone has suggestions, let me know!