When my projects/ideas end up being really fast, I don't do blog posts about them because I feel like they are too simple.
Last week, I realized that you all lead super busy lives and would benefit from these quick, super-doable ideas even more than the more complicated projects. Face palm.
Today, I'm introducing the first Fast Fix Friday to share quick tips and ideas for decorating and organizing your home!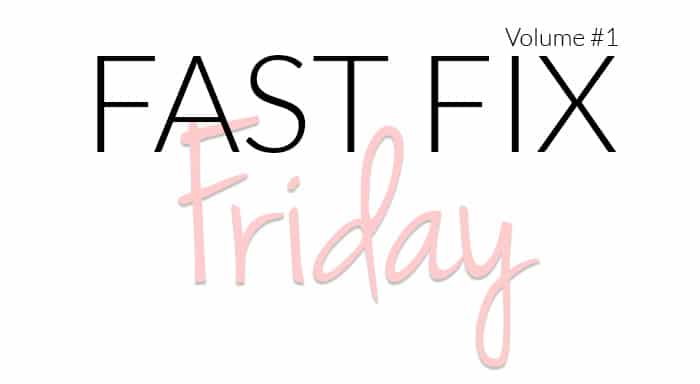 Today's Fast Fix is perfect if you've got a black thumb!
Pre-arranged faux planters are pretty limited in color and style, so now I put my own together in seconds. Ready for an example?
Grab a succulent or bush stem and a pot that matches your decor.
Bend the stem of your faux plant to fit in the pot.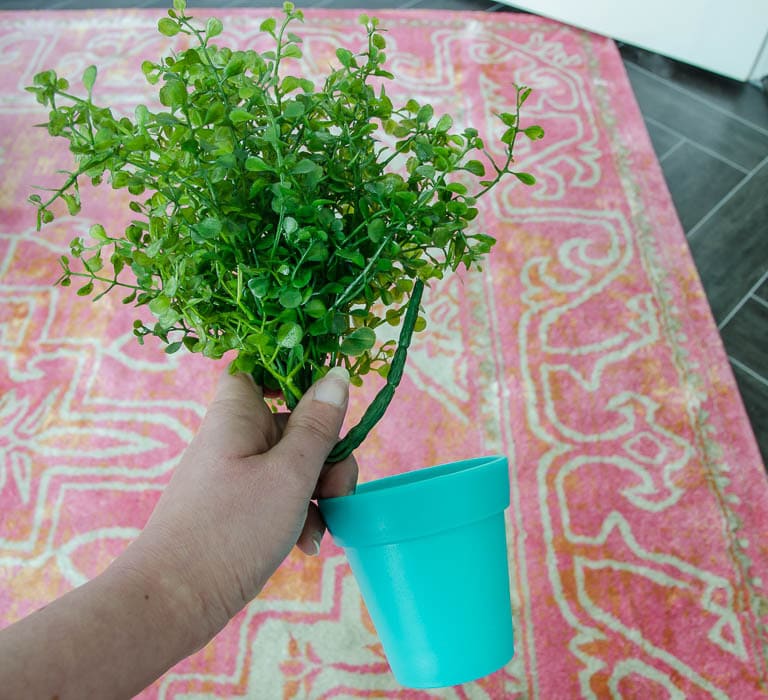 Tada! Keeping the stem intact helps hold everything in place.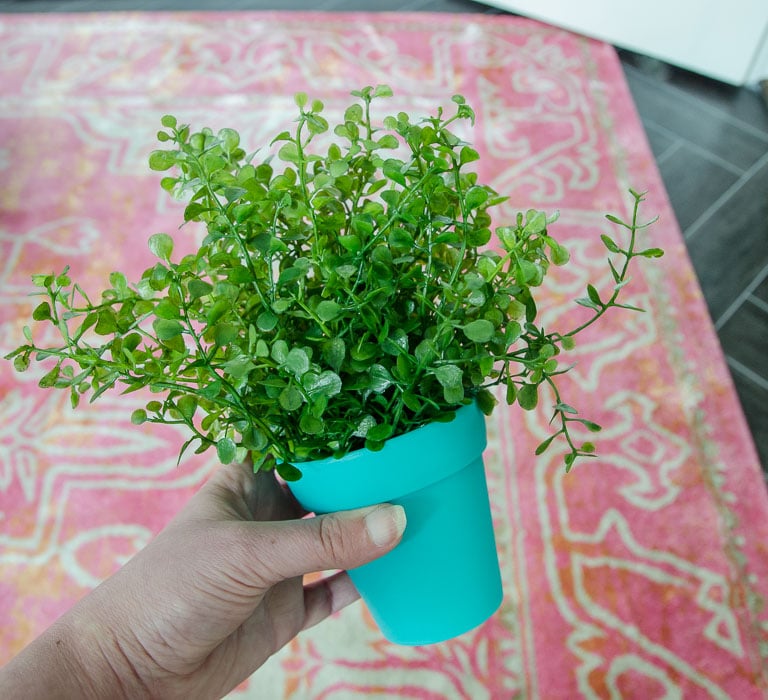 This small teal pot was $1.19 in the Hobby Lobby Spring section, and the mini-bush was $3.50 during their 50% off sale. I should have called it Frugal Fast Fix Friday!
I keep moving this little guy all around the house, but today, he's looking good in the office.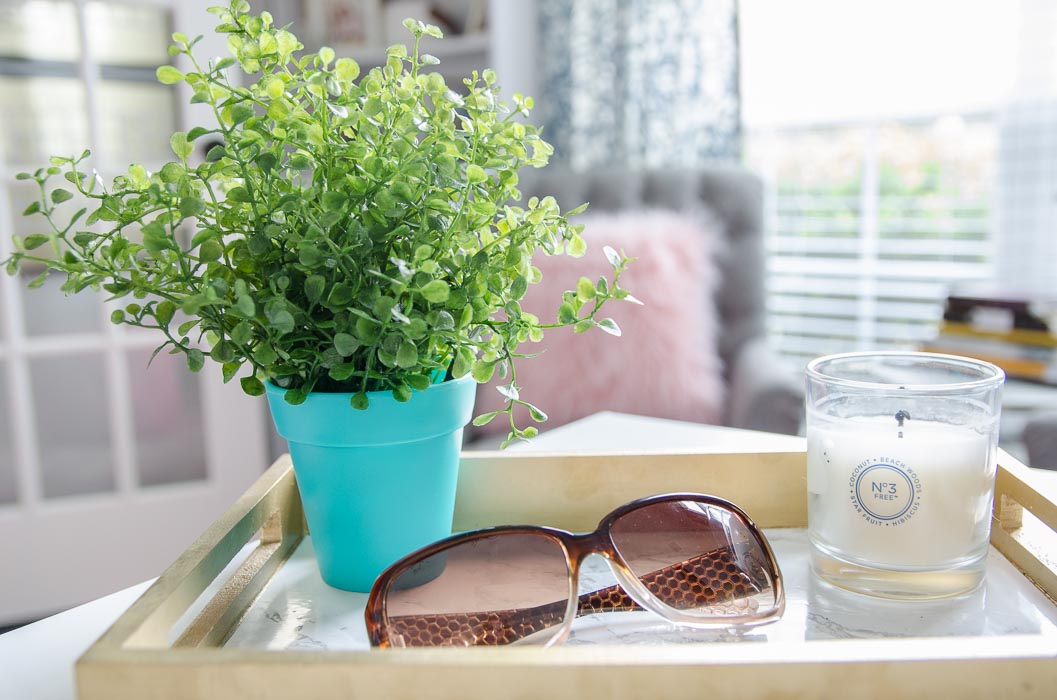 If you need something a bit larger in scale, the palm leaves in the pink vase below are also all on one stem (from Old Time Pottery). So much easier than buying them individually!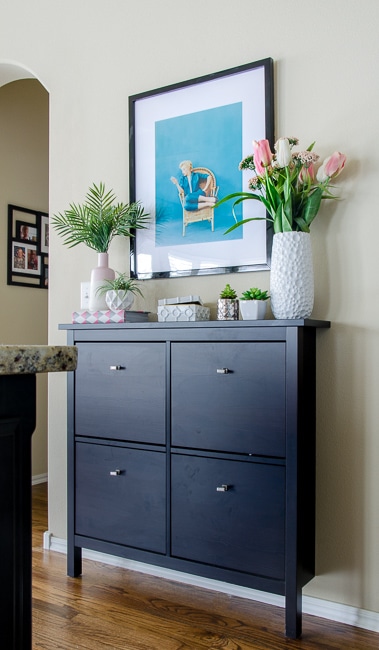 The first time I learned this trick was during the bedroom makeover. I had flowers on my nightstand, but wanted something less…flowery…for his side. One clearance faux greenery bush later, I had the perfect solution.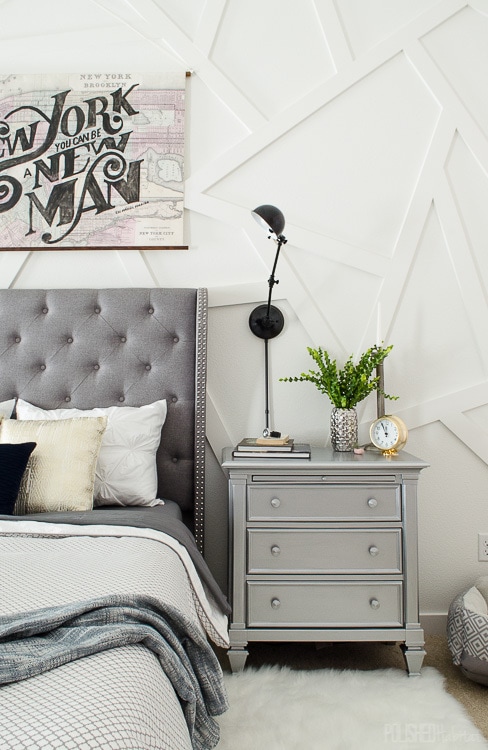 Here's a few tips before you head to the store to start your own collection:
When you're shopping for faux plants, I've found that the most realistic and modern versions are succulents and other waxy plants. Since those tend to look fake when they are real, it seems to be way easier to find realistic fake ones.  The more fabric-y the leaf, the less I want it in my house.
Make sure the widest part of your stem/bush is about twice the width of your pot/vase for the most natural look.
If you can see into the pot, fill it up with small pea gravel to conceal the faux-ness.
Keep an eye out for sales on vases and pots that you love. Then when Hobby Lobby has their regular 50% off sales you can find the perfect filler – all on one affordable and easy to "plant" stem!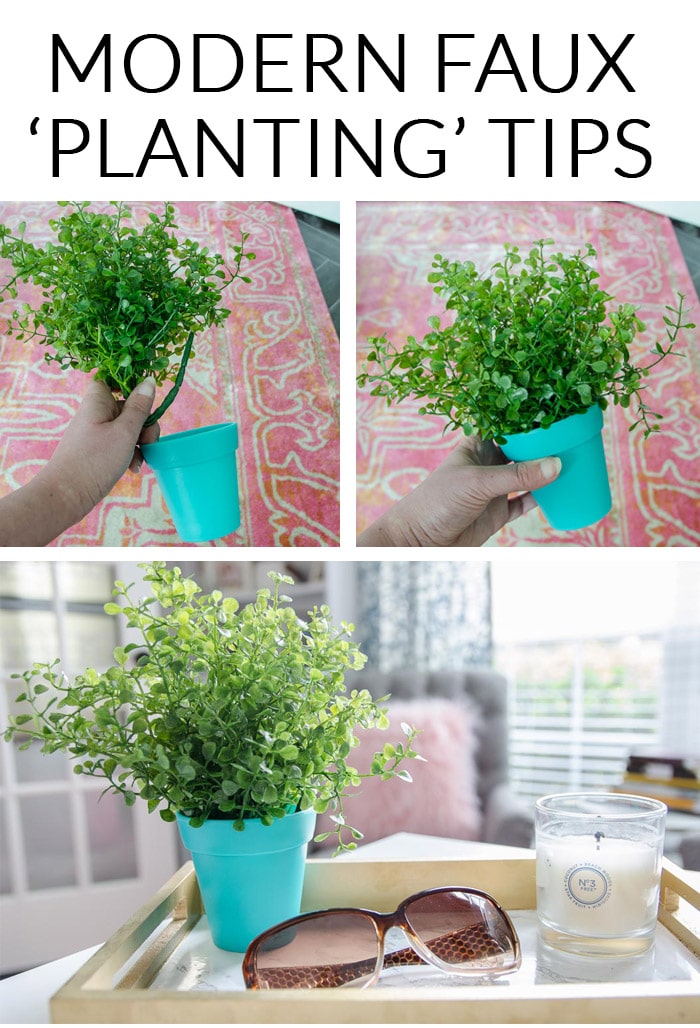 In 2013, Melissa founded Polished Habitat to share her passion for intersecting style and function to make everyday life more beautiful and less stressful.

She does this by sharing easy home organization tips, home decor tutorials, and creative ideas to help readers think outside the box, no matter their budget.

Her work has been featured in print in Better Homes & Gardens and Room to Create Magazine, and online by HGTV, House Beautiful, Buzzfeed, & more.

In 2018 & 2019, Melissa was named as a Style Maker by Better Homes & Gardens. In 2019, Polished Habitat was shortlisted for the Amara Blog Awards Best Interior Styling Blog - International.

Latest posts by Melissa George (see all)